Costa Rica is one of the top family friendly countries thanks to being one of the safest countries in Latin America and very tourist friendly. Additionally, it's not very far from the United States and Canada. Even from Europe, you can find direct flights from England, France, Germany and Spain. It's not too difficult to plan a family vacation to Costa Rica because of these reasons.
If you're looking for some activities for the whole family, here are our top things to do in Costa Rica with kids. And don't forget to check our Costa Rica itinerary for families so you can get planning right away!
La Fortuna Hot Springs
La Fortuna is one of the top destinations in Costa Rica for families. As a leading adventure area, there are many exciting activities suitable for kids of all ages. One of those activities is the hot springs and it's one of the best things to do in Costa Rica with kids.
Though Tabacon is the most well known hot spring, it is also the most expensive and geared more for couples or adults. Kids can enjoy it as well but for more fun hot springs with kid friendly amenities, head to Baldi or Kalambu.
Baldi and Kalambu
Why go to these hot springs? First, they're much cheaper so easier on the wallet for big families. Baldi is $62.68 USD per adult, $31.34 USD per child for entrance + dinner/lunch. Kalambu is $22.72 USD per ticket + one meal. Tabacon is $94 USD per adult, $42 USD per child for entrance + lunch/dinner.
Second, both these hot springs have kid friendly sections. Baldi has a dedicated kid area separate from the rest of the resort so they can play with other kids and it's easy to watch them. Kalambu has lots of waterslides which is super fun!
Another great hot spring resort is the Springs Resort & Spa and Club Rio. The Springs is a luxury hotel with their own hot springs, a wildlife refuge and their own outdoor river center called Club Rio. You can get a hot spring day pass to enjoy their pools or spend a fun day at Club Rio. We absolutely loved The Springs because they have a huge, beautifully landscaped property. They have a waterslide, two separate hot spring sections, a swim up bar and a mix of man-made and natural pools.
To get the full Springs and Club Rio experience, Club Rio offers a multi-adventure package that includes hot springs, lunch and 2 activities like white water tubing, kayaking, horseback riding and rock wall climb. This is one of the best things to do in La Fortuna with families because you get relaxation, fun, animals and adventure all in one day! And all the activities are great for kids minimum age 5.
Another nice hot spring that isn't as expensive is the Los Lagos Hotel. Their hot springs also has waterslides and there is also have a butterfly conservatory and nature walk kids can enjoy.
La Paz Waterfall Gardens
The La Paz waterfall gardens seems like it was designed specifically for families as it has 5 different waterfalls, short trails and animal exhibits. It's a fun way for kids to get up close with wildlife and experience the rain forest without getting tired out. You can get 7% off the entrance fee for La Paz here.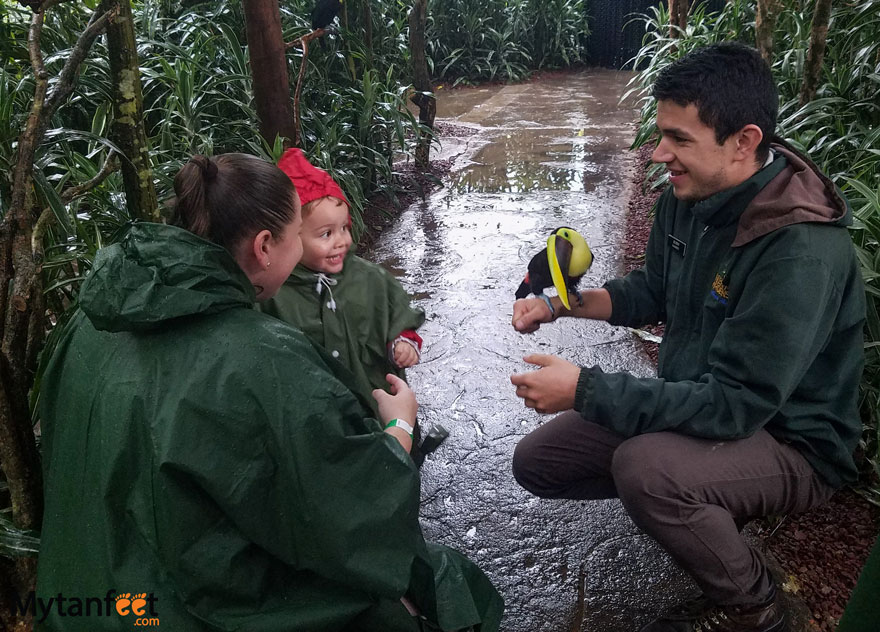 If you're looking for a nice, more upscale hotel in Costa Rica with kids, you can stay a night or two at the Peace Lodge. They are right next to La Paz Waterfall Gardens and all guests at Peace Lodge get early access to the park.
Chocolate Tours
Do your kids love candy and chocolate? Let them learn how it's made! The best chocolate tours are in Puerto Viejo, Sarapiqui and La Fortuna. During the tour, you will see a cacao tree and learn all about the process of turning the cacao into the delicious sweet treat we all know and love. This is a super fun and interactive tour for families in Costa Rica. The kids will learn about where their chocolate comes from, how it's processed and get to sample some delicious chocolate!
We enjoyed our chocolate tour in Puerto Viejo with the BriBri indigenous community, Rainforest Chocolate Tour in La Fortuna and Costa Rica Best Chocolate in Sarapiqui. The Rainforest tour was especially fun and interactive, the other two were more educational.
Family Zipline
For adventurous kids, ziplining is a must! For young kids, we highly recommend the beginner or family ziplines just in case they are a little nervous or you aren't sure how they will be when they are up high. La Fortuna, Manuel Antonio, Tamarindo and Samara all have beginner/family ziplines which are excellent. Some of the ones we recommend are Ecoglide and Arenal Canopy Adventure in La Fortuna, El Santuario in Manuel Antonio, Black Stallion in Tamarindo and Wingnuts in Samara.
For adventurous or older kids, Selvatura Park in Monteverde, Sky Trek in La Fortuna and Diamante Eco Adventure Park (get 10% off) in Gulf of Papagayo are excellent options.
We went ziplining once with a family with a 6 year old boy and at first, he was nervous. But at the end, he was SO happy and had SO much fun and wanted to do it over and over again. His dad was pretty happy about it!
**Make sure to inquire about the minimum age and weight for ziplines before you book!**
Guanacaste Beaches
Guanacaste is the province in Costa Rica known for having some of the most beautiful beaches in the country and many of them are kid friendly. Plus no trip to Costa Rica with kids is complete without some beach time!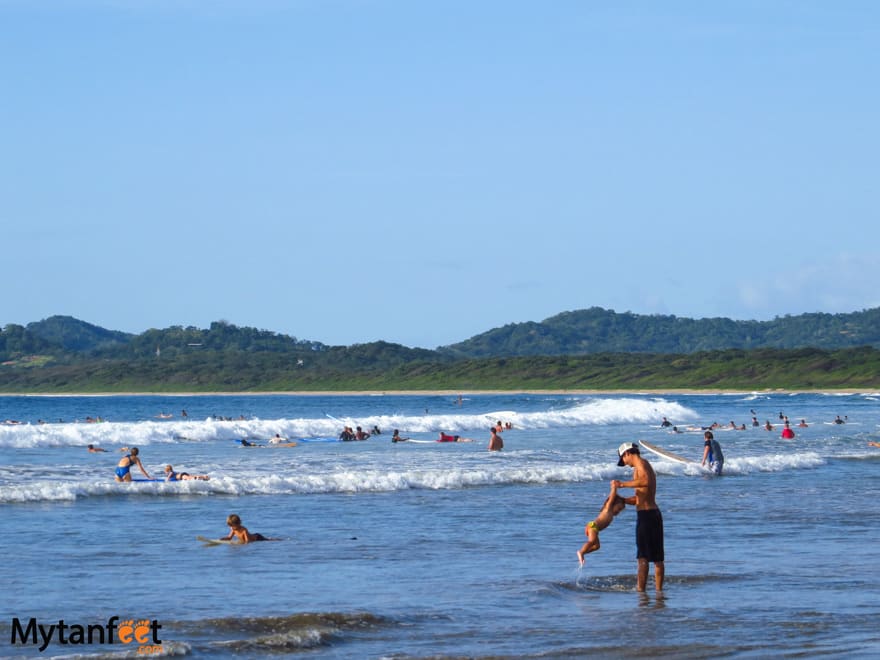 Some of the best beaches for families with young kids are Panama, Hermosa and Ocotal. As these beaches are inside a bay, the waves are very calm. They can play in the sand, swim and run around. For older kids, they can also take surf lessons at Tamarindo, Samara or Grande.
Other great beaches and beach towns for kids in Costa Rica are Cahuita, Uvita, Manuel Antonio and Samara.
Short Nature Hikes
Nature walks is one of the best things to do in Costa Rica with kids. Look for a short hike (around 2-3 kilometers, no more than a couple of miles) so they don't get too tired or moody but can still learn and experience a lot.
Additionally, it is highly recommended to get a guide to learn about the flora and fauna. You won't believe how much kids absolutely love seeing frogs, snakes and monkeys in the wild! Plus it gives them a good chance to practice their own wildlife watching skills.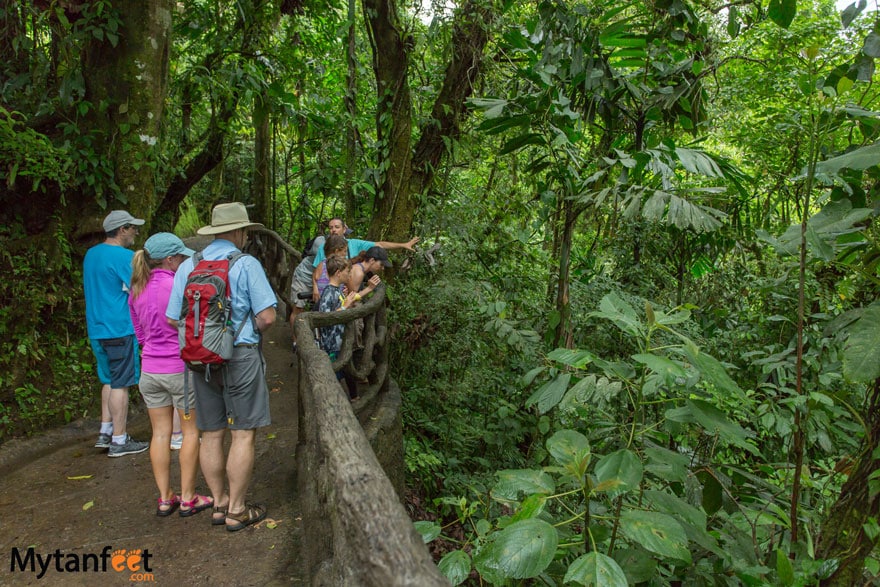 Some great nature walks for kids are the hanging bridges in Monteverde and Arenal, national parks with short trails like Arenal Volcano, Cahuita, Manuel Antonio, Poas Volcano and Rincon de la Vieja and private reserves like Hacienda Baru in Dominical or Arenal 1968.
The hanging bridges walk is one of the best things to do in Monteverde with kids. They are ideal for kids who don't want to go ziplining or are too young to do the longer trails. You can go to Selvatura Park or Sky Adventures.
Visit Wildlife Rescue Centers
Costa Rica has some great wildlife rescue centers for kids to learn about conservation and importance of taking care of nature. Not only it it an incredible learning experience but they'll be able to get up close and personal with animals like toucans, sloths and monkeys.
Some of the best rescue centers are Jaguar Rescue Center, Toucan Rescue Ranch and Proyecto Asis.
Children's Museum and Oxigeno in San Jose
If you have a day in San Jose, there are actually several interesting museums and cultural things to enjoy. One of those is the Museo de los Ninos, or the Children's museum.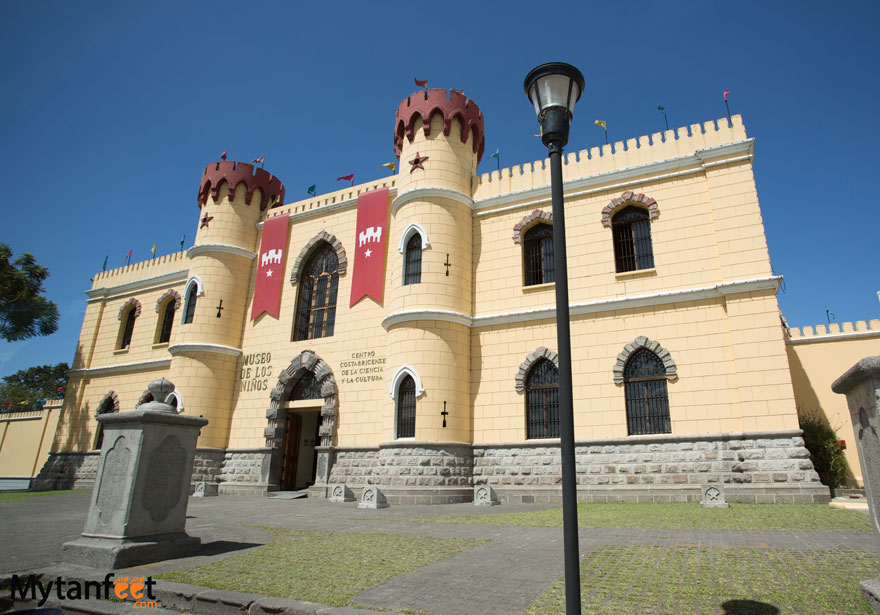 There are a number of interactive exhibits and displays that focus on history and educating kids on various topics. What is even more interesting is that the building used to be a military prison and since Costa Rica abolished their army many years ago, the museum stands as a symbol to future generations of what it would be if the civil war and political turmoil continued.
In 2018, San Jose opened up the new Oxigeno Human Playground. This large center has stores, restaurants, cafes and a very big kids play area. This is an excellent place for families to visit and mingle with other local families!
Small Waterfalls
Catarata Llanos de Cortes
In Guanacaste, there is a beautiful waterfall hidden in the dry tropical forest that is easily accessible and has a big pool for swimming. This is the Catarata Llanos de Cortes waterfall.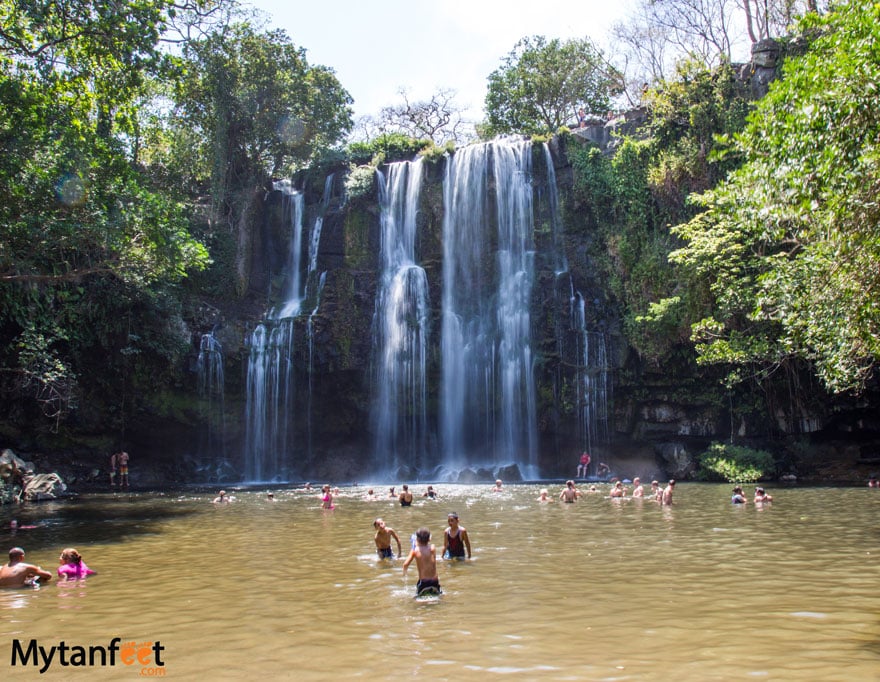 The walk to the waterfall from the parking lot is very short. The pool isn't super deep so it's perfect for kids to swim and toddlers to float with parents. Just be very careful if you're visiting during the rainiest months of September – November.
This is one of the best things to do in Guanacaste with kids because it's easy to get to, cheap (only $2 for parking) and has a very calm pool to swim in.
**As of 2019, they no longer allow people to go on the rocks behind the waterfall. There is a lifeguard there who will blow a whistle and watch for people trying to go behind. Swimming in the pool only.*
Cascada el Pavon
This is another waterfall in Uvita near Ojochal and it's great for families visiting Costa Rica. It's quite small and the shallow pool is fun for swimming and bathing. The best thing is that Cascada el Pavon is free!
Safari floats and river boat rides
If your kids don't want to walk a lot, a safari float is an excellent choice. I went on a safari float (boat ride down a calm river) from Arenal with a family of two young girls who had an absolute blast. They went crazy when they saw monkeys and sloths! They got really good at pointing out wildlife, one of them even spotted an otter!
This is one of the best things to do in Arenal with kids that are too young to walk more than a couple of miles. The best ones are the Penas Blancas or Rio Frio safari floats from La Fortuna or the Palo Verde National Park or Hacienda El Viejo boat ride in Guanacaste. The Sierpe mangrove boat ride down in the South Pacific is also a great one.
This is definitely one of the best things to do in Costa Rica with kids who want to see wildlife but don't want to walk long distances. For any tours in La Fortuna, get 7% off in the link!
Map
Below is an interactive map of the places mentioned in this post. I also included a category for top family friendly places in Costa Rica.
Tips for Visiting Costa Rica for Families
Plan an easy itinerary
I highly recommend giving yourself plenty of time in each destination. Since most of the touristic destinations are fairly spread out, you don't want to be in the car for too long with kids. The average driving time can be anywhere from 2-4 hours.
For the driving days, make sure to pack plenty of snacks and water. Even though Google Maps or Waze may say it's *only* 3 hours, it can very well turn into 4 or 5 depending on traffic, the weather and how many stops you take along the way.
Pick places that aren't too far apart and stay at least 3 nights in each one. Some of the most popular destinations in Costa Rica for kids are Arenal, Gulf of Papagayo (Guanacaste), Manuel Antonio, Samara, Uvita and Tamarindo. Avoid going to very remote and rural places like San Vito, Osa Peninsula or Boca Tapada if you have young kids/babies/toddlers or a short itinerary.
Consider staying at an all-inclusive resort
For multigenerational travel, it may be easier to book your trip at an all-inclusive resort, especially if you're only in Costa Rica for a short period of time (less than 1 week).
All-inclusive resorts provide more kid friendly services on big properties so it's much easier to coordinate when it comes to food, activities and rooms. And then you can do day trips from the resort if anyone wants to go hiking or do any excursions. Each family can plan their own thing with ease without causing the main planner much stress and headache at a resort.
The Westin Playa Conchal is a really nice luxury family resort. So is JW Marriott Guanacaste, Planet Hollywood, Four Seasons and Occidental Langosta.
Book a vacation rental/home
If an all-inclusive resort isn't an option for your large group, then definitely check out vacation rentals instead of hotels. You can find large houses for rent in Costa Rica with multiple bedrooms. Another option are condos and each family can rent their own condo. That way you can have all the amenities and comforts of home so you can cook, have a living room, separate bedrooms, etc.
Rent a car or book private transportation
We also recommend renting a car. It's the most comfortable way to get around Costa Rica with kids. You don't need to work your trip around buses which are not the most comfortable or efficient for families with little ones.
By renting a car, you can stop whenever and wherever in case the kids get hungry or need a bathroom break. You can't do that on the bus or shared shuttle! Car rental companies also rent out baby and booster seats (read about Costa Rica booster/baby seat laws) and when you rent your car, make sure to ask the company to send you a photo of the car seat they have so you can be sure it will work for your family. Most companies have seats for kids of all ages except infants (less than 1 year old).
Save $$ on your car rental and get free booster and child seats with our Costa Rica car discount.
If you don't want to drive, you can hire private transportation which is much more comfortable than buses. Private transportation can stop whenever you want too which is is very nice. You will also have the entire vehicle to yourself which is very nice as you will have no limitation on luggage.
Check kid ages for tours
Some tours have a minimum age for tours. This includes Pacuare river white water rafting (minimum 12 or 14 years), 5 for canyoning and 8 for white water tubing and horseback riding for some tours.
Don't forget to check the weight and height limit. Some ziplining tours like Diamante Eco Adventure Park have a minimum weight and height limit for their zipline.
Nanny services are not readily available
Unfortunately nanny services are not readily available in Costa Rica. Only the resorts like Westin Conchal or JW Marriott Guanacaste have a kids club with nanny services. If you have small children that can't do certain activities, you'll have to plan accordingly. Either one parent goes one day and the other parent goes the next. Or you'll have to save them for when they get older!
I know in Tamarindo there are some babysitting services available like Sunshine Babysitting. Contact them before your trip so you can plan accordingly.
Take note of allergies, medicines and health conditions
If your kids have severe food allergies, make sure to learn how to say it in Spanish or write it down so you can show the waiters. Then if your kids are taking any prescription medicines or are allergic to any medicines, make sure to write it down and bring the prescription in case of emergency. Also write down if your children have any health conditions. For any medications that you don't have the name in Spanish, write down the name of the active ingredients.
We also recommend to eat only at the hotel restaurants or the touristic ones. Since food allergies are not that common in Costa Rica, local restaurants (sodas) may not take it seriously and they often cook everything in one pan with the same oil. If you don't speak Spanish, they may not understand correctly or take it seriously.
I would also recommend researching where the clinics and hospitals are in your destinations if your children have medical conditions. Hospitals are not found in every town so the closest one may be a 30 minute to 1 hour drive away. This is one reason why we don't recommend visiting rural or remote areas with kids that have severe medical conditions or something that may require immediate medical assistance.
Touristic beach towns have public and small private clinics but the hospitals are only in the big cities.
Get a local phone number
I highly recommend getting a Costa Rica pre-paid sim card so that you will be able to contact someone in case of emergency. The emergency number in Costa Rica is 911 and they have an English speaking option.
Read more tips for traveling in Costa Rica below!