Flying is an excellent way to get around Costa Rica for those on a flexible budget and straightforward itinerary. Not only does it saves a ton of time but the entire experience is an adventure in itself as you fly in a small airplane over the lush rainforests, vast coastlines and beautiful beaches.
If you plan to take a local flight in Costa Rica to get around the country for your trip, here is what you need to know.
Costa Rica Domestic Airlines
There are not many domestic airlines anymore compared to before COVID. Right now, Sansa Airlines is the one with the most flights. There is another airline called Costa Rica Green Airways but with only three routes.
There is also a Costa Rican charter company called CarmonAir for private charters (domestic and international).
Sansa Airlines
Sansa has been operating for 40 years and currently, Sansa offers the most destinations and flights. They fly to all many main tourist destinations in Costa Rica: Liberia, Tamarindo, La Fortuna, Nosara, Puerto Jimenez, Golfito, Drake Bay, Puerto Limon, Quepos, Tambor and Tortuguero as well as Managua in Nicaragua.
Costa Rica Green Airways
The only destinations Green offers as of this moment are Quepos and Tambor from San Jose. They also go to Bocas del Toro in Panama.
Costa Rica Domestic Airports
You can take domestic flights from the two main international airports in Costa Rica: Juan Santamaria International Airport (San Jose International Airport or SJO airport code), Daniel Oduber Quirós International Airport (Guanacaste Airport or LIR airport code). There are also domestic flights to the Limon International Airport with Sansa.
There are also small airstrips throughout Costa Rica, open only for charters and private flights (such as Sirena Aerodrome in Corcovado National Park or Punta Islita).
What to Know About the Domestic Airports in Costa Rica
Some local airports charge a fee to guests use the airport which is to be paid upon arrival.
The local airports are a bit away from the town, usually around a 10-15 minute drive. Car rental agencies can deliver cars to local airports, and you will also find local taxi drivers when you land offering rides.
Most of the domestic airports are more like airstrips, particularly in the more rural areas like Drake Bay, Puerto Jimenez, Tamarindo and Tambor. They're not huge airports, sometimes they're just in a cow field and have a small office building for check in.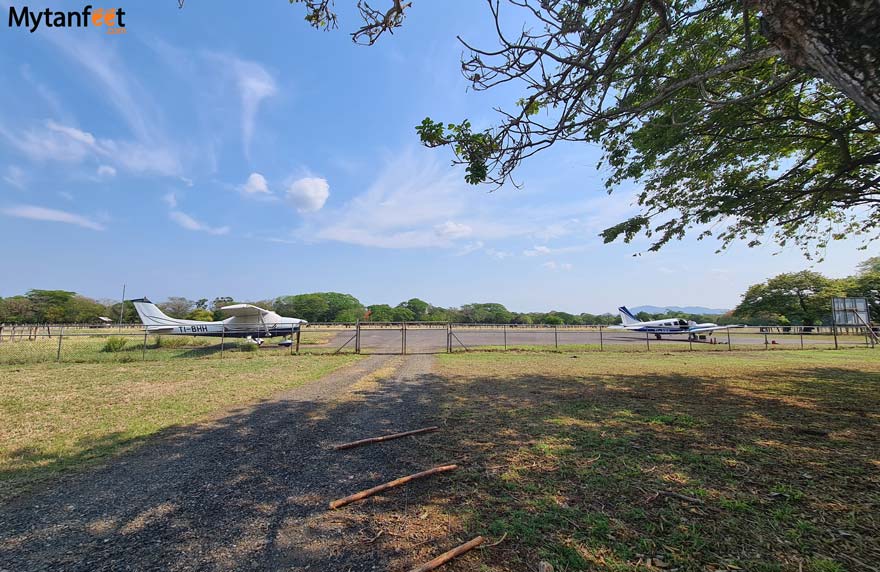 However, the San Jose Domestic Terminal is a proper terminal being the launch point for nearly all the flights.
San Jose Domestic Terminal
The San Jose Domestic Terminal is right next to the San Jose International Airport, designated for local flights only.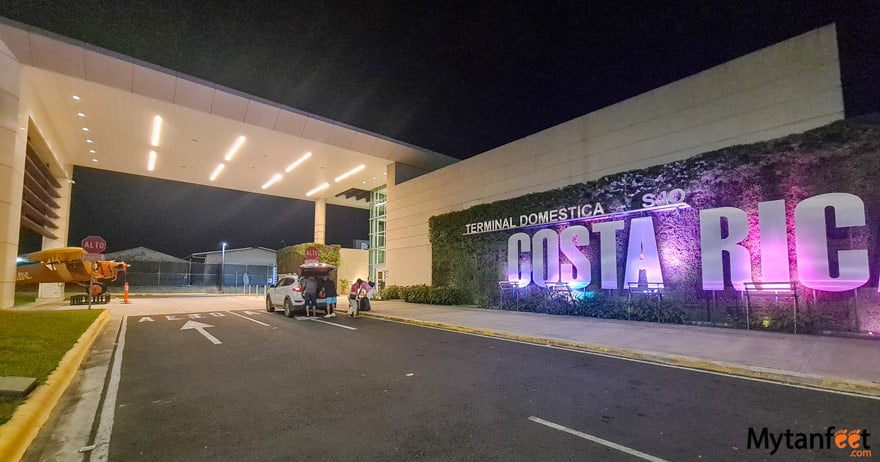 How to Get To the San Jose Domestic Terminal
You can get there directly via taxi or Uber, they will drop you off right at the front of the terminal.
If you are taking the public bus, you'll get off at the stop in front of the SJO International Airport and then you walk to the terminal. The walk is only about a 2 minute walk on the sidewalk so it is doable with luggage.
For Uber, set Terminal Domestica SJO as your destination.
Check In
For local flights, you need to be at the airport to check in one hour before your flight. You do need to go through security (metal detector) and take out your laptop and check your bags.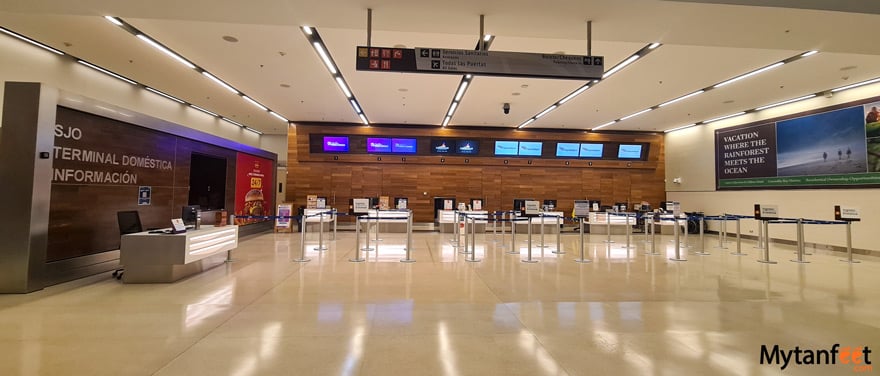 The Sansa Air counter opens around 420 AM and security opens at 5 AM. If you arrive earlier than 430 AM, the airport is open and you can wait in the seated area for the counter to open. After check in, they give you a plastic boarding pass with your destination on it which you need to hold onto.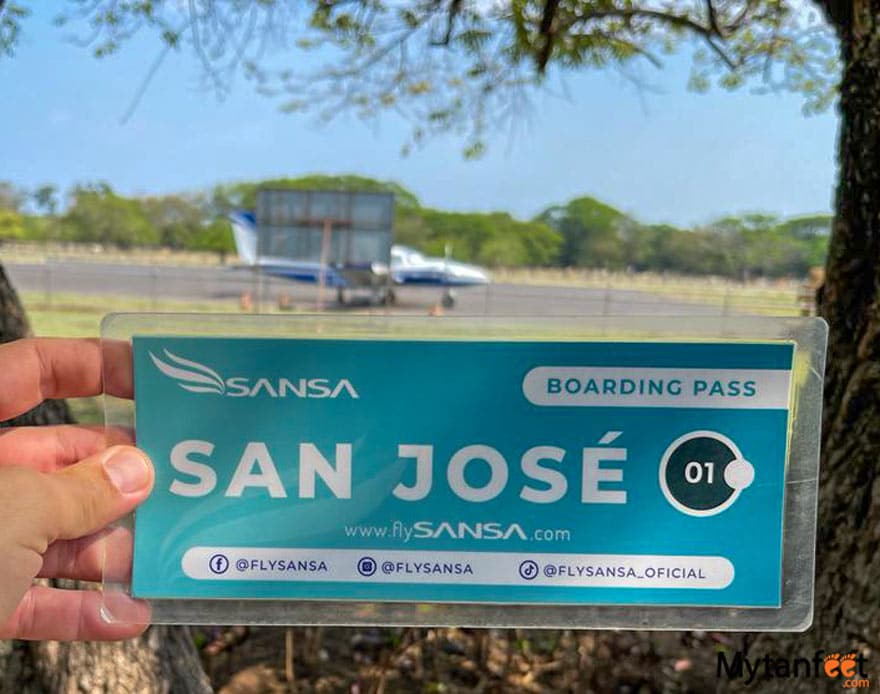 Once you pass security, there is a waiting room with a cafe and souvenir store and bathrooms. The cafe opens around 515 AM.
They do not give you a boarding time but about 20-30 minutes before your flight, they will start calling out flights (for example, Sansa FLIGHT NUMBER 550 AM to Tamarindo) so line up, show your ID and give your name to the agent and then follow them out to the boarding area.
For domestic flights, you'll walk right out into the runway and walk up a narrow ladder to get onto the plane.
Guanacaste Airport Domestic Flights
There isn't a dedicated domestic terminal in Liberia so you will go to the normal Guanacaste Airport (Liberia International Airport) and Sansa has their counter inside the main terminal. You'll go through the same security and airport terminal as international flights.
Routes and Schedules
An important thing to know about schedules and routes for local airlines is that there aren't going to be routes for all destinations.
For example, you will readily find routes from San Jose to La Fortuna or San Jose to Tortuguero, but there won't be schedules for direct routes such as Tortuguero to Puerto Jimenez. For those routes, most likely you will have to stop in San Jose and book two separate flights.
Luggage
Each airline has their own luggage rules and restrictions. Airlines offer different price points to include less or more luggage. There are super saver fares with really limited luggage and no check ins, or more flexible fares. In case you go over your allotted weight limit allowed for your fare type, they will charge you at check in.
Every passenger will be weighed with their carry on luggage before getting on the plane. They are extremely strict with weight so make sure you weigh your luggage beforehand.
Costa Rica Domestic Flights Reservations and Prices
All Costa Rica domestic flights have to be prepaid and most have a nonrefundable policy like commercial airlines. We always recommend to purchase them as soon as you know your dates because there are only so many flights and seats on these planes.
As for prices, local flights are not cheap in Costa Rica. For example, a one way flight from San Jose to Tamarindo is around $90-155 USD for a 45 minute flight in high season. Low season prices are cheaper though (like May, June, September and October). If you're flying around Christmas and New Years or Easter, book your tickets asap.
Our Experience on Costa Rica Domestic Flights
We have flown around Costa Rica quite a bit, mostly Tamarindo – San Jose as we live in the Tamarindo area. But we have also flown to La Fortuna, Quepos/Manuel Antonio, Drake Bay and Puerto Jimenez.
Each time has certainly been an adventure and we've flown in all sorts of conditions from rain storms, high winds and clear days. I will say that as someone who gets car sick easily and still is a nervous flier, I do not particularly enjoy these domestic flights all that much due to the movement of the plane. You feel every single movement on these little planes and it is nerve wracking if it is windy.
So if you are like me, take anti-nausea before you go. Breathe in and out deeply and don't take that many photos or use your phone – you will get dizzy.
I also recommend to book flights as early in the morning as possible. I've taken the 5-6 AM flights which were amazingly stable with barely any movement and have also taken afternoon flights where it was so rocky I thought we were going to drop out of the sky!
But overall, I absolutely love how much time it saves and the views are INCREDIBLE! Here are some photos of the flights we've taken.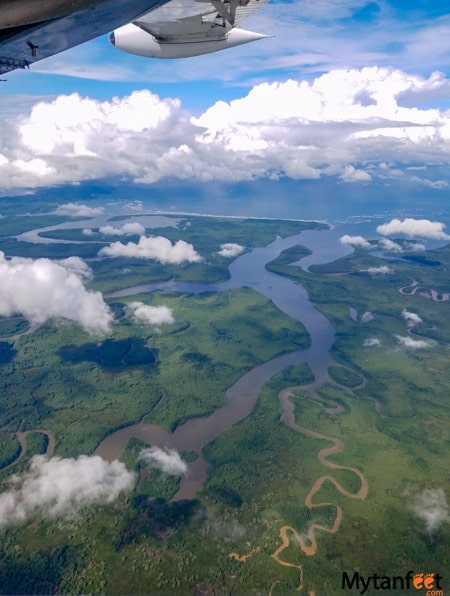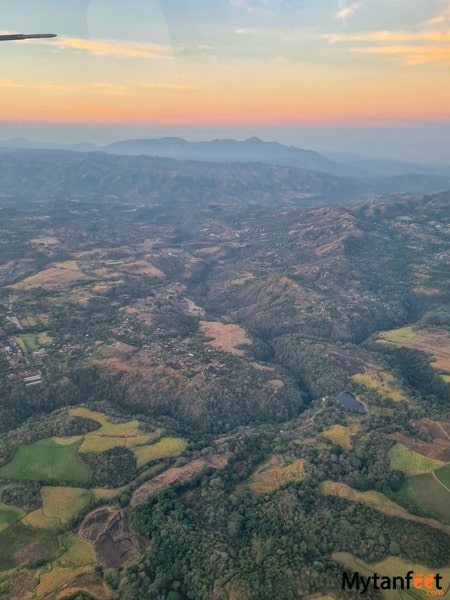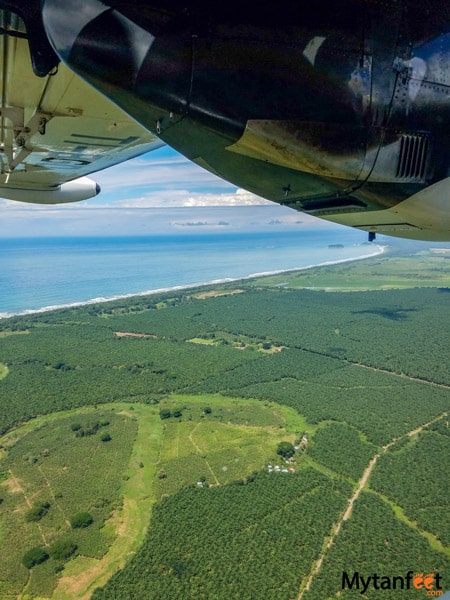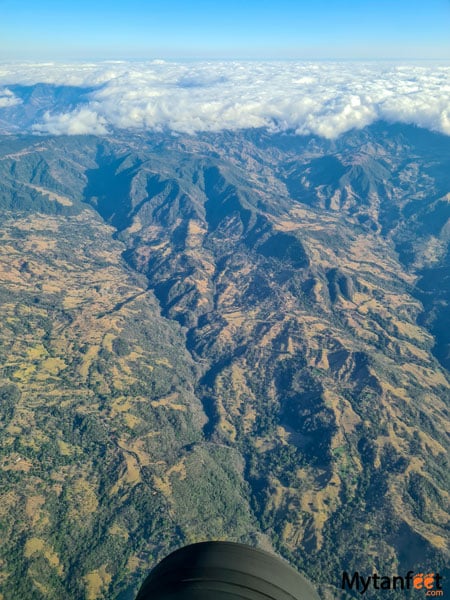 Sample Itineraries That Include Costa Rica Domestic Flights
You don't necessarily have to fly the entire time to get around Costa Rica. More likely than not, you can't anyways due to limited routes and schedules. For those who don't want to take public buses or shuttles, don't want to drive that much or just simply want to save time, many people will mix it with a rental car or shuttle.
Want to rent a car? Get our Costa Rica car rental discount!
Some examples are below.
San Jose – Tortuguero
As Tortuguero is a water locked village with no land access, the only ways to get there are by boat or plane. If you take the boat, it's a very nice ride through the river and canals but from San Jose, this can take around 3-4 hours (ground + boat transportation). Tortuguero has an airstrip so you can fly from San Jose – Tortuguero in about 30 minutes.
From the Tortuguero airstrip, you can take a boat to your hotel. Then you can fly back to San Jose after your time in Tortuguero or take the boat/shuttle to your next destination.
San Jose – Tamarindo/Nosara/Liberia in Guanacaste
If for some reason, you are flying into SJO Airport instead of LIR Airport and going to destinations in Guanacaste, you can take a domestic flight to Tamarindo, Nosara or Liberia. When you land, pick up your rental car and drive off to your next destination.
Normal driving time: ~4-5 hours. Flight time: ~40 minutes.
San Jose – Tambor
Many people will fly to Tambor airport and pick up their rental car or take a taxi to get to Santa Teresa or Montezuma. If they take a taxi to Santa Teresa, a lot of people will rent an ATV while in Santa Teresa to get around.
This saves a TON of time as the travel time from San Jose – Santa Teresa/Montezuma is around 5-6 hours. Flight is around 35 minutes, drive from Tambor airport to Santa Teresa is around 40 minutes, to Montezuma is 30 minutes.
Other Notes
If you are landing from an international flight and want to take a domestic flight to your next destination the same day, we recommend to give yourself at least a 3 hour layover in between. It's better NOT to plan a tight connection.
You need to check in one hour before domestic flights and it's important to consider that immigration and customs at SJO Airport may take longer than anticipated.
Then if you are checking in luggage, you need to wait for it to come out. Additionally, if your inbound international flight has any delays, you will be happy your domestic flight is later.
Also, you need to walk to the domestic terminal which is super close (like 2 minutes normally) but if you're bringing a lot of luggage or traveling in a big group, give yourself more time to walk there.
Read more Costa Rica itineraries here!