Flying around Costa Rica is an excellent method of transportation for those on a flexible budget. Not only does it saves a ton of time (5 hours driving vs 30 minutes flying) but the views are unbeatable. Taking a Costa Rica domestic flight is truly an unforgettable experience!
Since 2018, a crop of new airlines popped up, offering tourists competitive rates and more routes throughout the country. Now in 2019, tourists can choose between 5 different local airlines to take them around Costa Rica.
If you plan to take a local flight in Costa Rica, here is what you need to know.
Costa Rica Domestic Airlines
Unfortunately due to COVID, some local airlines closed. There are a few that have resumed operations and Sansa Airlines is the one with the most flights. Green is very active with pretty much daily flights and is the ideal option for those going to Manuel Antonio/Quepos or Santa Teresa/Tambor/Montezuma.
Sansa Airlines
Sansa has been operating for 40 years and currently, Sansa offers the most destinations and flights. They fly to all the main destinations in Costa Rica as well as the Costa Esmeralda in Nicaragua.
You can book flights from their website easily.
Green
The only destinations Green offers as of this moment are Quepos and Tambor from San Jose.
Costa Rica Domestic Airports
All of Costa Rica's international airports serve domestic flights. These are Juan Santamaria International Airport (San Jose International Airport), Daniel Oduber Quirós International Airport (Liberia International Airport), Limon International Airport and Tobías Bolaños International Airport (Pavas).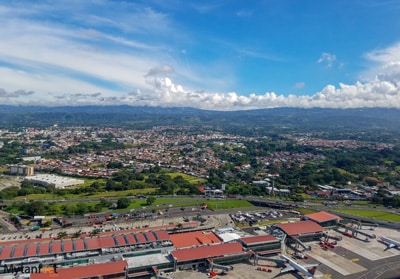 Although classified as international airports, Tobias and Limon don't serve commercial international flights.
Then there are many domestic airports throughout Costa Rica. These are the places that have a local airport.
Tamarindo
La Fortuna
Tambor
Nosara
San Isidro de Perez Zeledon
Puerto Jimenez
Quepos
Palmar Sur
Drake Bay
Golfito
Tortuguero
San Jose (Pavas)
Coto 47
There are also small airstrips throughout Costa Rica, open only for charters and private flights (such as Sirena Aerodrome in Corcovado National Park or Punta Islita).
What to Know About the Domestic Airports in Costa Rica
Some local airports charge a fee to guests use the airport. Quepos Airport is $5 USD per person, Fortuna Airport charges $7 USD per person and Bocas del Toro airport is $15 USD per person.
Additionally, the local airports are a bit away from the town, usually around a 10-15 minute drive. Your options for when you land is to take a taxi to your hotel or have your rental car delivered to the airport. If you have a car rental and need to return it, car rental companies will pick it up at the airport.
San Jose Domestic Terminal
In San Jose, domestic flights now have their own terminal completely apart from the international airport. It is right next to the San Jose International Airport and the local airlines depart from there.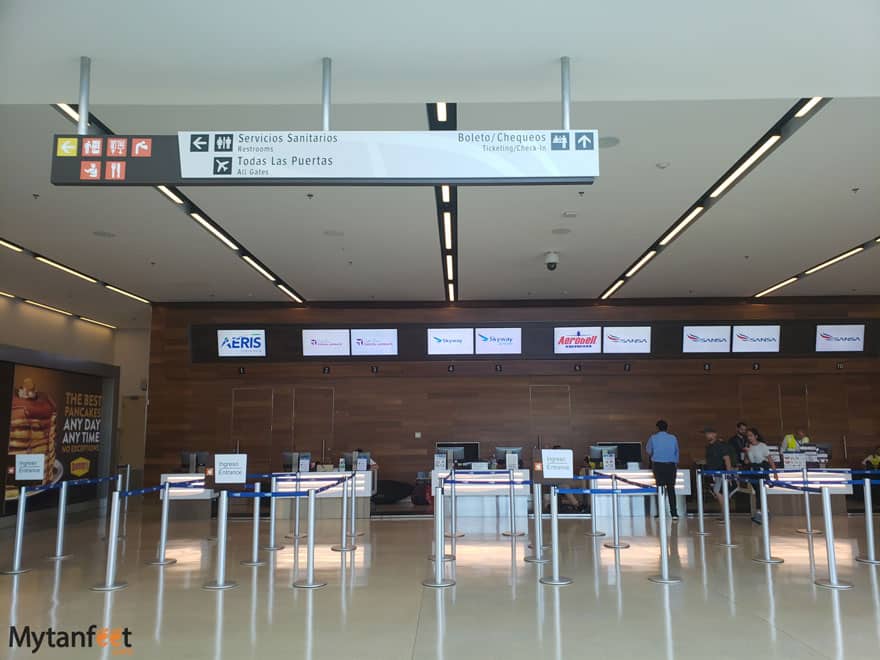 If you are using Uber to get there, just search for Domestic Terminal San Jose. It is very nice with one cafe and souvenir store, bathrooms and seating. You do need to go through security (metal detector) and take out your laptop and check your bags.
Check In
For local flights, you need to be at the airport to check in one hour before your flight. For the San Jose International Airport, I would get there 1-1.5 hours before because that airport is much busier than the other domestic airports so security takes a little more time.
Routes and Schedules
An important thing to know about schedules and routes for local airlines is that there aren't going to be routes for all destinations.
For example, you will readily find routes from San Jose to La Fortuna or San Jose to Tortuguero, but there won't be schedules for routes such as Tortuguero to Puerto Jimenez. direct. You will need to spend some time checking out all the websites. You will need to be flexible in planning.
Luggage
Each airline has their own luggage rules and restrictions. Generally, passengers are allowed one carry on that has a maximum of 10 pounds and one check in. Airlines offer different price points to include less or more luggage.
Every passenger will be weighed with their carry on luggage before getting on the plane. The airlines will charge for excess luggage weight from $1.50 – $2 per extra pound.
Overall, you will need to be very aware of how much your luggage weighs if you fly as you cannot pack a full 50 lbs you normally would on a commercial flight.
Reservations and Prices
All Costa Rica domestic flights have to be prepaid and most have a nonrefundable policy like commercial airlines. We always recommend to purchase them as soon as you know your dates because there are 12-19 seats on one plane so most of the times, they are sold out especially in high tourism season (December – April and July/August).
As for prices, local flights are not cheap in Costa Rica. For example, a one way flight from San Jose to Tamarindo is around $80-100 USD for a 30 minute flight depending on the time of year. Low season prices are way cheaper, at around $40 USD one way. The airlines also sometimes do a last minute fares or promos. If you're flying around Christmas, Easter or New Year, be prepared to dish out more.
Getting Around Costa Rica
Flying is one way to get around Costa Rica that is a little expensive but efficient and fun. Many people will mix it with a rental car or shuttle so you don't have to just fly to get around Costa Rica.
You can read the following post for more information on getting around Costa Rica.