Children's Eternal Rainforest or Bosque Eternos de los Niños is the largest private reserve in all of Costa Rica with 23,000 hectares (56,834 acres)! However, it surprisingly is also one of the least visited reserves in the country. If you love hiking, nature and off the beaten path places, then you have to go to Children's.
In this post, you'll read about Bajos del Tigre and Pocosol station (our favorite) in Children's Eternal Rainforest. Updated April 6, 2020.
Children's Eternal Rainforest History
The reserve's name, Children's Eternal Rainforest comes from the founders, a group of Swedish children who campaigned to gather support from countries around the world to protect this unique piece of land in Costa Rica. Thanks to them, the Children's Eternal Rainforest is now an important watershed and houses an enormous variety of flora and fauna.
There are 4 stations in the Children's Eternal Rainforest. Visitors can hike or stay overnight in the reserve at these stations. The easiest and most accessible is Bajos del Tigre in Monteverde.

Bajos del Tigre Station
Even though it's the cloud forest, the climate at Bajos del Tigre is considerably drier than the other stations and reserves. They call it a "rain shadow forest." It's not a very long or hard hike, perfect for families with little kids or those who are short on time.
Location and Getting There
From Santa Elena town, drive on the road that takes you to Curi Cancha Reserve and Monteverde Cloud Forest Reserve. You will pass the El Establo Hotel on your left and the road will turn into a gravel road. Continue for about 5 minutes and you will see a large sign for Bajos del Tigre. Turn right and continue a couple more minutes to reach the parking lot.
Entrance Fee
For a self guided hike, the entrance fee is $15 USD for foreign adults, $13 USD for foreign students, $10 USD for children 6-12 and children 0-5 are free. It's $24 USD for a guided night walk for adults and $33 for a guided nature day walk.
The Trails

The trail is very well maintained and this section had no elevation climb, just a very straight forward path. All their trails are less than 1 kilometer so it's quite easy and short.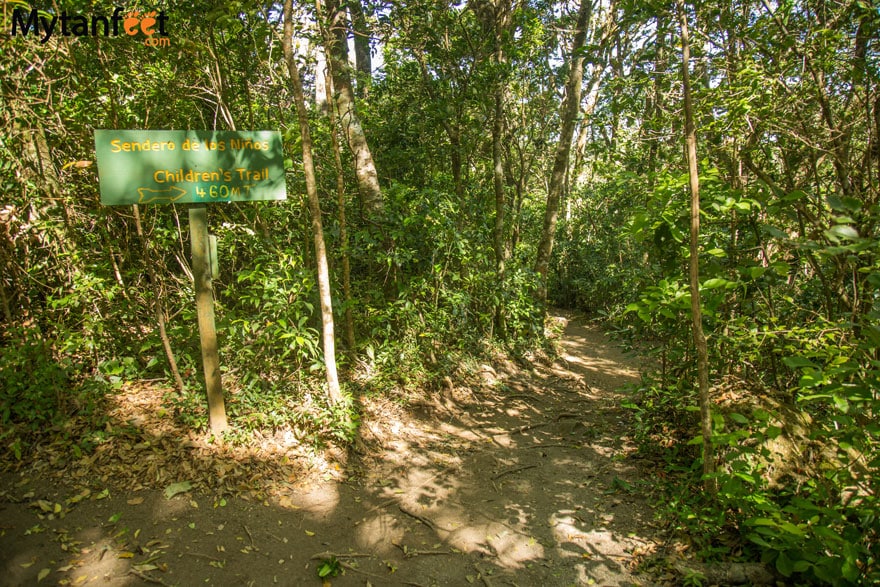 We could hear so many birds around us and saw a couple of hummingbirds. It's quite dense so it was hard to see them but we could hear toucans and hummingbirds everywhere!
In certain areas, there was a hand rail and every few hundred feet or so was a bench which I thought was extremely nice, especially if there are older folks on the trail. We could tell this trail was designed for kids and we passed by a large school group studying the vegetation.
Sendero Mirador
Since we wanted to go to the mirador, we continued onto Sendero Jaguar and then to Mirador. Here is where it gets a bit steep so it's not recommended for those who have issues walking. They do have a nice guard rail to hold on to but it is steep with some loose rocks.
Once you get down to the bottom, there is a bench and a look out spot with a beautiful view of the forest.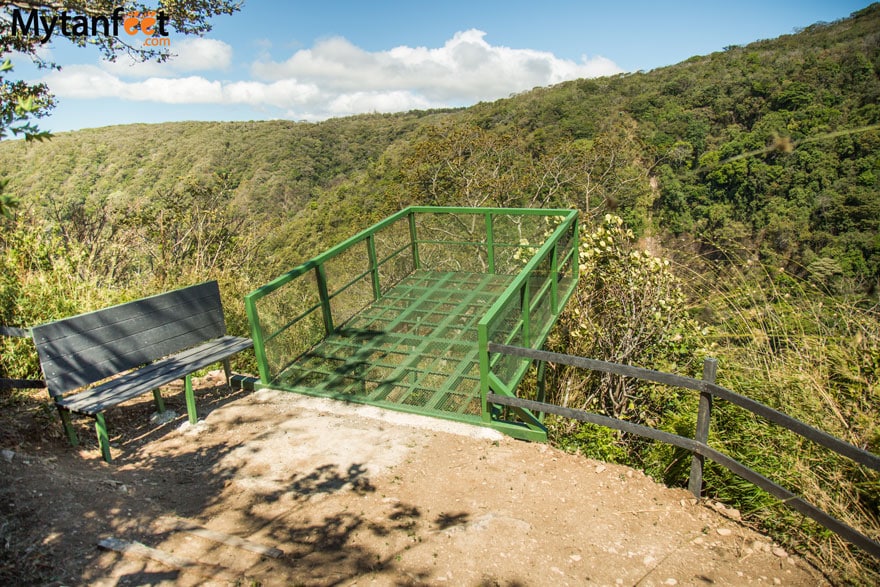 The last kilometer back to the entrance was fairly easy. It was just a little bit steep in one part which is why I assume they labeled it "moderate." It took us about 1 hour total to walk these trails.
What to Know About Bajos del Tigre Station
You can go on a guided or self guided hike. For guided hikes, reservations are required or must book through a tour company.
It's much drier in this area so bring sunglasses, sunscreen, mosquito repellent and a hat.
Closed toed shoes required but hiking sandals will work fine since it's not as wet or muddy as the other Monteverde Cloud Forests.
You can also do a Children's Eternal Rainforest night walk at the Bajos del Tigre station. Reservations required from their website.
Pocosol Station
We recently visited the Pocosol station as a day trip from La Fortuna. This station is in between the rain and cloud forest so it's completely different than the Bajos del Tigre station.
Location
Pocosol station map

As you can see, it's on the completely other end than Bajos del Tigre. That shows you just how big this reserve is!
Getting there
It's about a 1.5 hour drive from La Fortuna and a 4×4 is absolutely mandatory. You can find it under the Pocosol biological station on Google Maps and Waze. You'll pass by the Penas Blancas rivers and two hydroelectric dams.
Lake, Waterfall and Volcanic Vents
For our day trip, we hiked to the lake, Pocosol waterfall and volcanic vents. In total, we hiked about 2.5 hours on 3 trails. However, as you can see there are 12 different trails available! You can spend days hiking different trail which is why they have the rooms for guests. If you absolutely love hiking, nature and going to places that not many tourists go to, then staying a night or two would be a wonderful choice for you.
Here are some photos we took on our hike.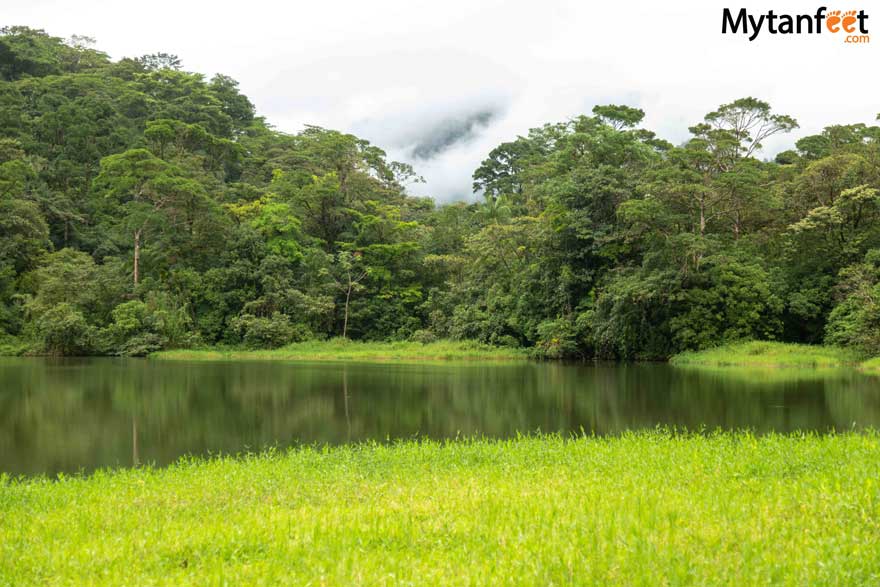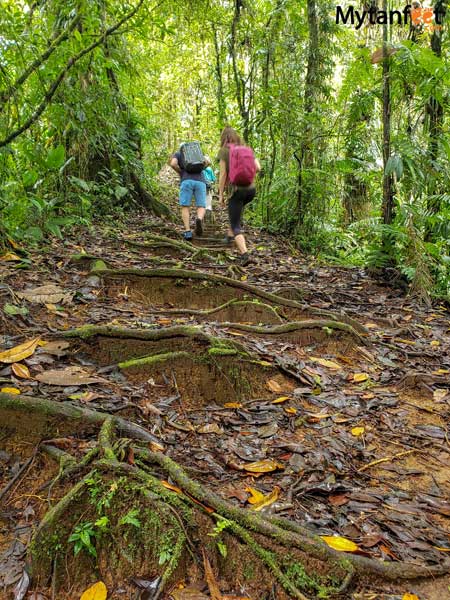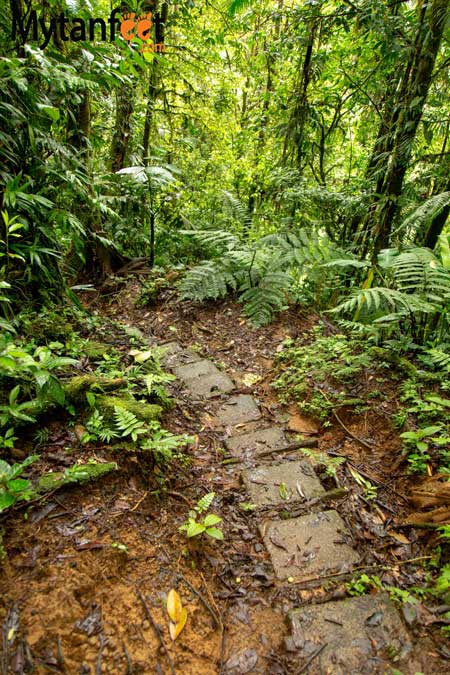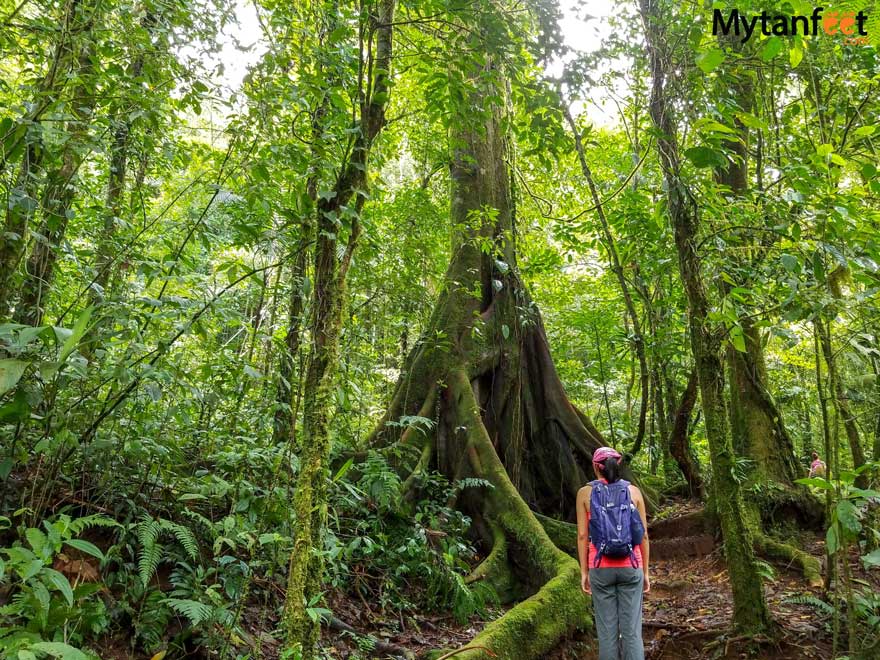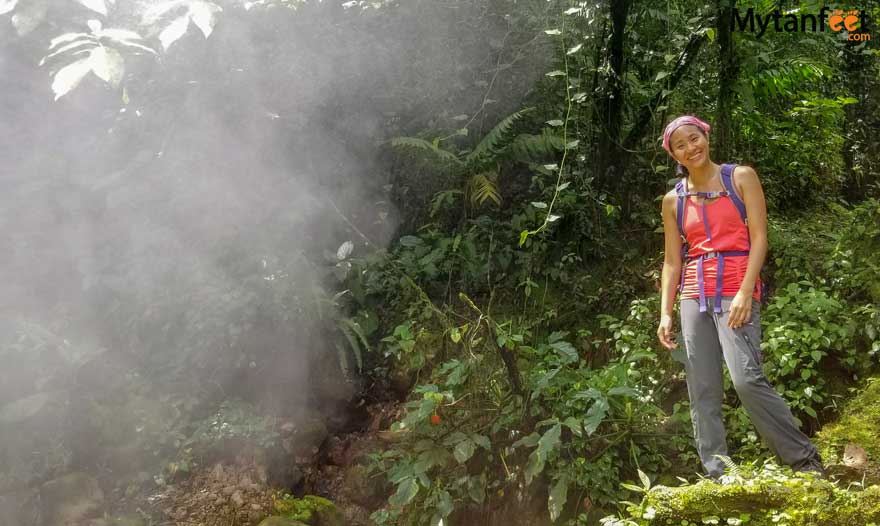 We brought our drone so here are some amazing aerial videos of the reserve!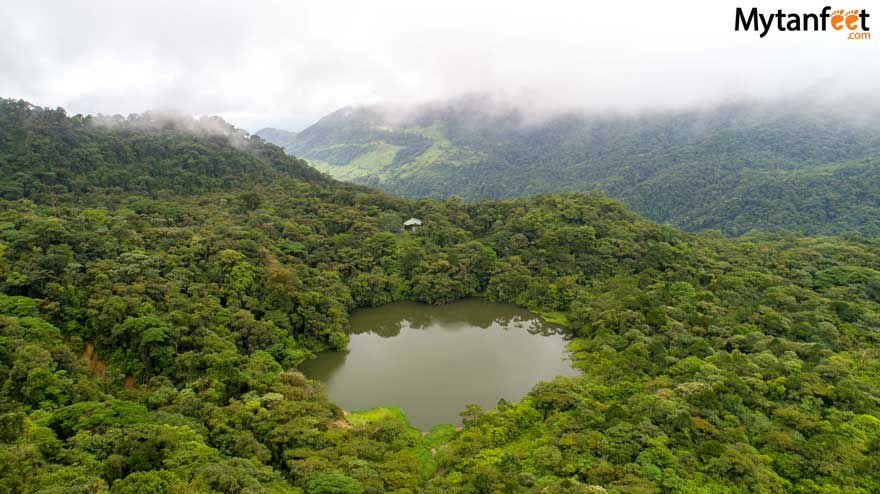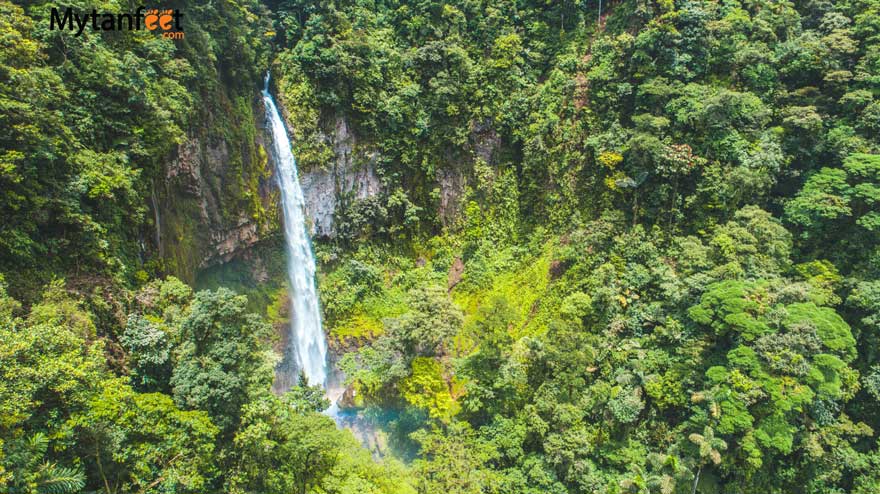 You can really see how lush and pristine the reserve is from that angle. The waterfall is simply stunning as well!
The Pocosol station at Children's Eternal Rainforest was definitely one of our favorite Costa Rica hikes. We were the only ones there, the scenery was absolutely incredible and I loved that they kept it as pristine and untouched as possible. Although we didn't see a lot of wildlife (a couple snakes and frogs), I felt like we were transported deep into the jungle!
Pocosol Station Rates
$15 USD per adult, $10 for child and $13 USD per student for the entrance fee for trails only. Lunch is an additional $15 USD per person extra.
For the rooms, a private single is $103 per night per adult and a shared room is $78 USD per night per adult. Rates include 3 meals, internet and taxes. Reservations required to stay in their rooms which you can do on the Children's Eternal Rain Forest website.
What to Know About Pocosol Station
It reopened summer 2018 so visitors can stay overnight in their rooms or go as a day trip.
Visitors can do a self guided hike. They will give you a map at the office.
Closed toed hiking shoes highly recommended.
Bring a rain jacket, backpack with rain cover and mosquito repellent.
Need to be in moderate physical shape. There are steep stairs on many of the trails and there are a lot of rocks and roots everywhere.
Make sure not to touch anything when hiking in the forest. It is a good idea to get a stick and clear away big leaves and bushes on the trail. Snakes, insects and other critters can be there!
Don't expect a ton of wildlife. Since this reserve is so big, you may not see many animals as they have so much room to roam. One of the reasons why it's recommended to go with a guide so they can find animals and share information about the flora and fauna.
There are no facilities on the trails. The office has bathrooms and water.
Children's Eternal Rainforest La Fortuna Day Trip
If you don't have a car, you can go as a day trip from La Fortuna. Just make sure you have a 4×4. If you want to book this as a tour with roundtrip transportation, get a discount for this tour here.
Read about other hikes in Costa Rica!
Corcovado National Park: A huge national park in the Osa Peninsula, one of the most biodiverse places on earth. Excellent hiking and tons of wildlife.
Rincon de la Vieja National Park: A national park in Guanacaste with dry tropical forest, volcano, rivers and waterfalls. Very close to Liberia Airport.
Manuel Antonio National Park: A small popular national park in the Central Pacific with white sand beaches, wildlife and hiking trails.
There are affiliate links in this post.