Want to know what it feels like to be just a couple miles away from the bottom of a volcano? You can find out if you stay at the Arenal Observatory Lodge, a hotel located 1.7 miles from Arenal Volcano.
This huge property of 350 hectares offers 7 miles of trails, waterfalls, daily guided hikes, a museum, an observatory tower and a garden all with incredible views of the volcano. In case you are worried, the lodge is in the Zone D (low danger) part of the volcano.
Built in 1972 originally as a Smithsonian Institute scientific research station, it is now a hotel perfect for those seeking a vacation immersed in nature.
With so many activities to do on the property, one will have a most fulfilling and enjoyable time staying at the Arenal Observatory Lodge.
Arenal Observatory Lodge Video
Our Stay at Arenal Observatory Lodge
Tucked away deep in the forest near the Arenal National Park, Arenal Observatory Lodge offers some of the closest views of the volcano in the area.
We stayed one night at the lodge in the Smithsonian room which has a deck to sit outside and marvel at nature. You can easily see monkeys climbing trees, butterflies perched on flowers, hummingbirds flying around and of course, a fantastic view of the volcano.
The Property and Trails
They have many trails and since we didn't have enough time for the longest one, we explored the easy hike to the waterfall. It didn't take us more than 20 minutes to walk there. The waterfall is small but still very nice to look at.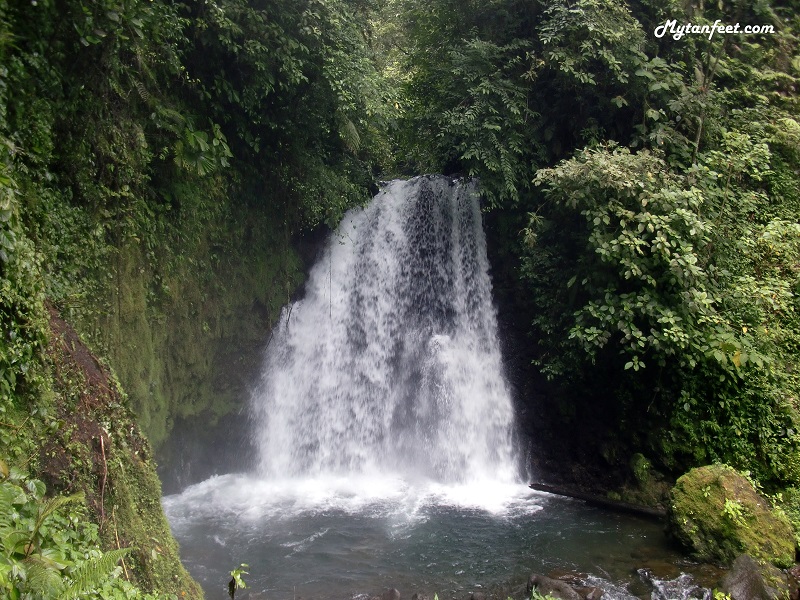 You can't bathe in it but there is a small observation area where you can feel the sprinkling of fresh water. Nearby is the Danta hanging bridge that overlooks the waterfall and you can follow the bridge back up to main building.
The more difficult trails take around 4-5 hours total and it goes to a crater lagoon called Cerro Chato.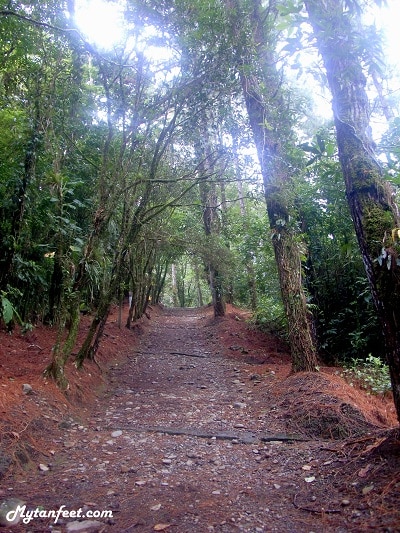 All around the property they have many gardens with gorgeous flowers and plants, a bird sanctuary and astonishing views of the volcano. The infinity pool and jacuzzi is a great place to relax and take it all in.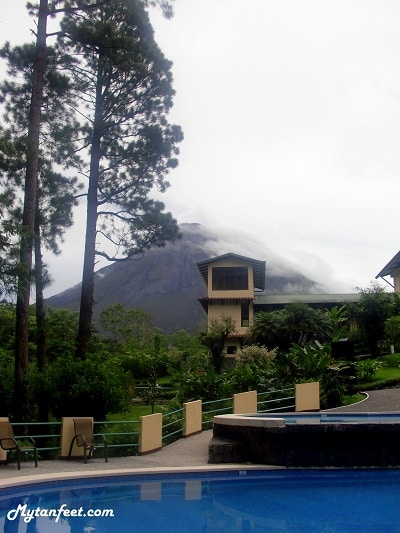 The staff at this hotel is so nice, they were excited to have us here and it was fun to talk to them. Apparently the newest worker at the hotel has been there for 5 years already so the majority of the employees have been there for 10+ years. Talk about employee dedication!
Horseback Riding at the Lodge
They scheduled us to go horseback riding and based on my previous experience, I was ready for a laid back ride. This actually turned out to be the most exciting one I've ever had!
It was just Yeison, me and our guide and the first thing our guide asked us was, "Who wants the more calm horse?" Um, definitely me… I grabbed the reins of the brown and white beauty and the not so calm horse went to Yeison.
The guide was not lying, Yeison's horse was on a mission! He galloped away a quarter of a mile ahead of us and good thing Yeison has riding experience. It was hilarious to watch, every time the guide and I caught up, his horse would trot away to be first again.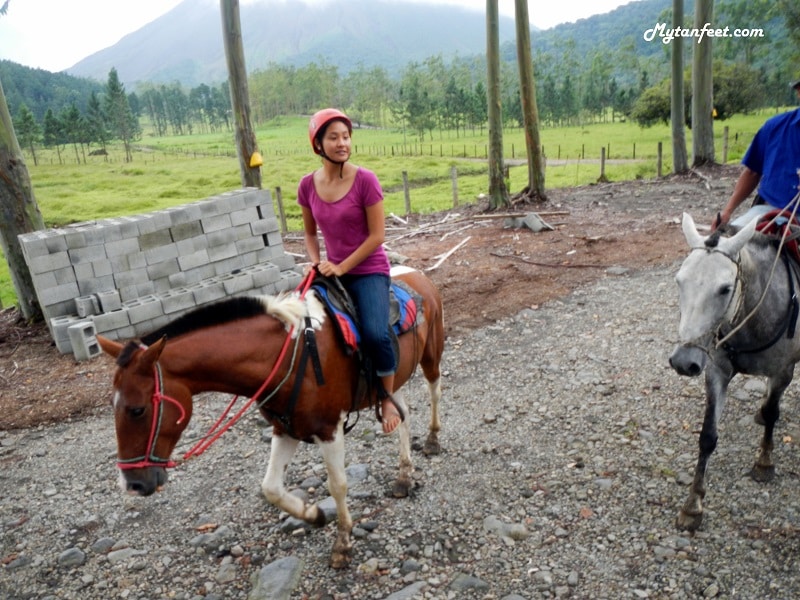 Even though it was a cloudy day, I think I said the word "wow" about twenty times. I kept looking around and gazing at the nature surrounding me.
This property is very impressive, not just because it is so close to the volcano but also because of how tranquil and well kept it is. Despite the moderately high level of commercialism present in La Fortuna, they have kept this property pristine and unsoiled.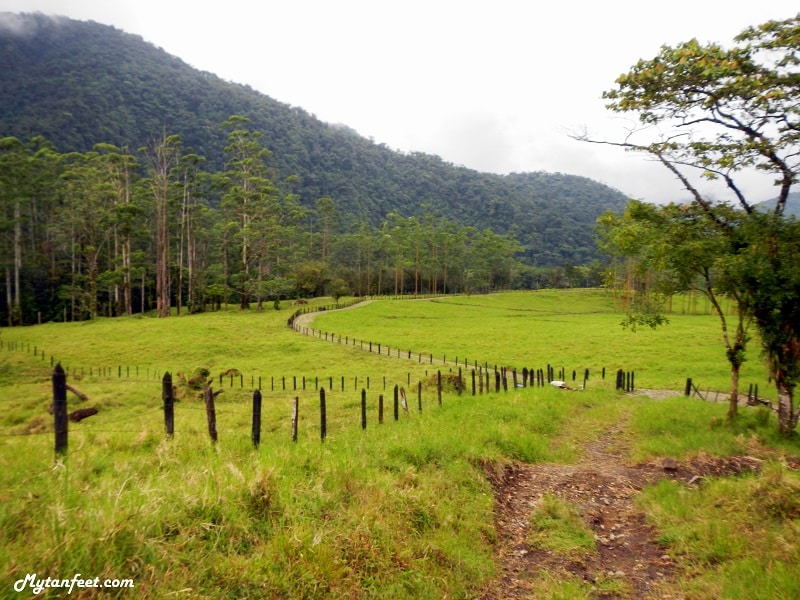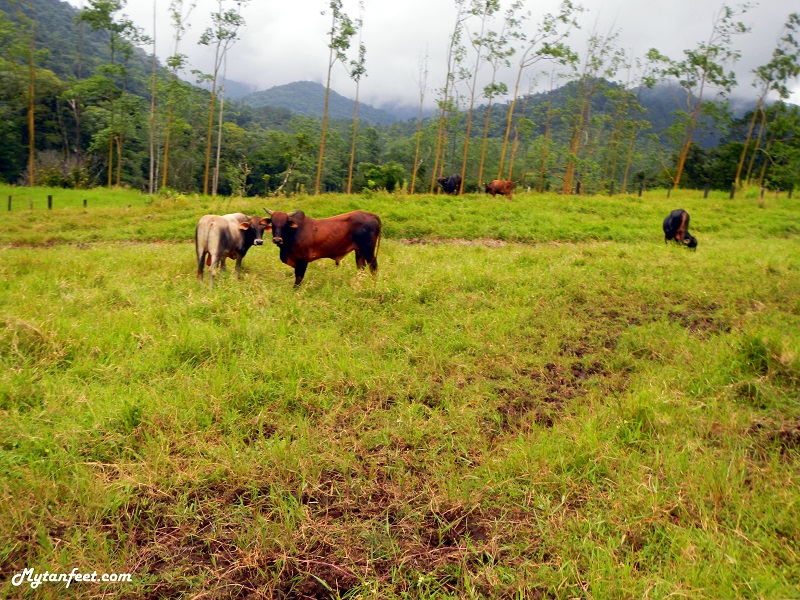 The Restaurant
After our ride we went to the restaurant to grab some food. The restaurant has a magnificent view of both the volcano and lake and they have a little garden where you can enjoy your meal alongside birds and other wildlife.
They offer typical Costa Rican food so Yeison and I both ordered arroz con pollo and this was the best I have had yet. Granted all the food I've had on the trip so far has been delicious but in regards to the chicken and rice, it was hands down my favorite.
The lunch prices are reasonable, around 3000-6000 colones for a plate ($6 t0 $12) but dinner is much more expensive with dishes averaging around 8000 colones ($16) and up.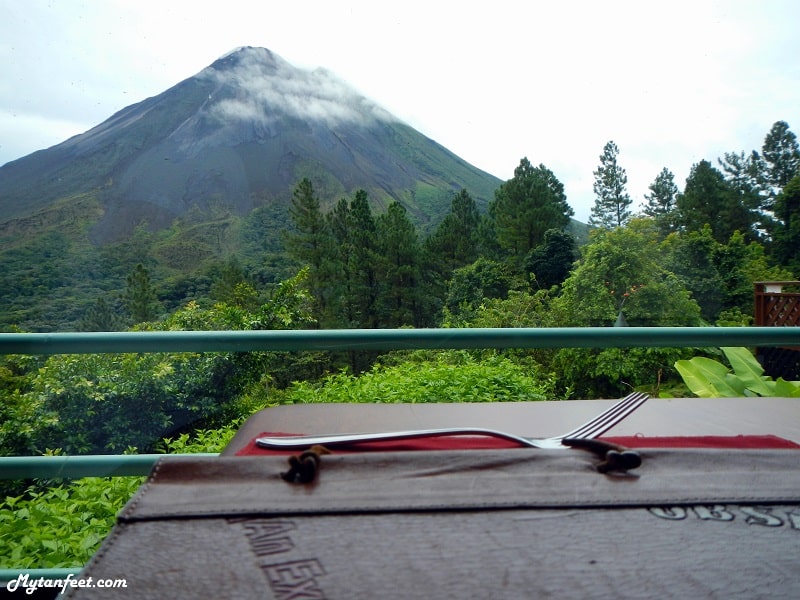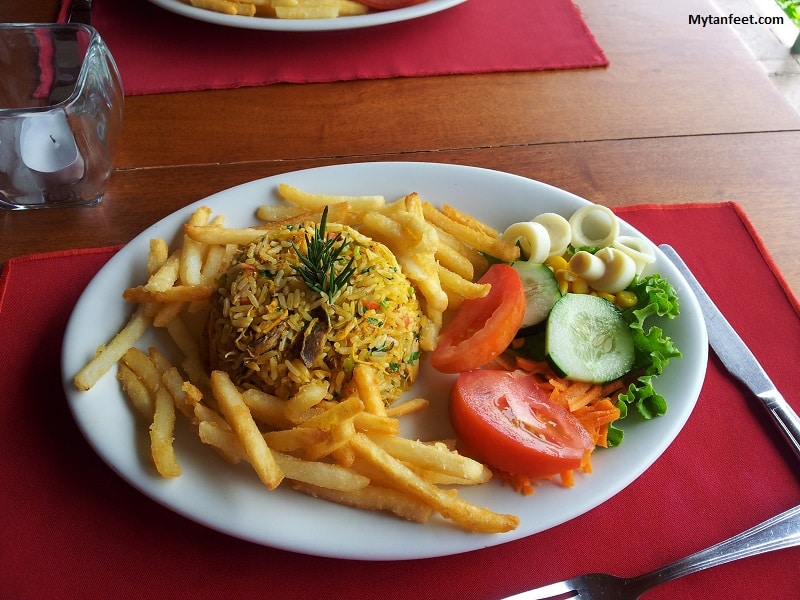 The Rooms
One thing I noticed is that there are no TVs in the rooms. They want you to enjoy being in nature but there is a TV and free Wi-Fi in the lobby. There is a game center with a foosball and ping pong table so we decided to try our hand at pingpong. I was so sure I'd whip Yeison's butt… however after an hour of ping ponging, I sadly lost 2-1.
Our room was fairly spacious with a comfortable bed and plenty of room for our things. You can tell the place is a bit older but they have done a good job taking care of it while keeping a rugged wilderness feel.
I was awakened very early the next morning by several howler monkeys having what seemed to be a quite intense conversation. After they sorted our their differences I was then finally able to fall back asleep. But hey, that's part of living in the jungle right? Experiencing nature at it's best.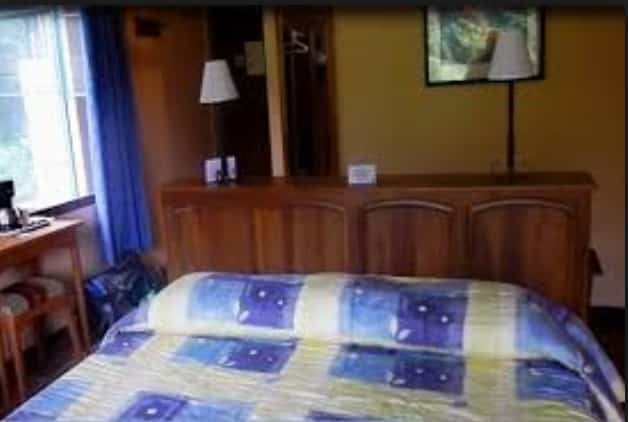 The Lobby
The lobby has some nice seating, a chess table, lots of information about the volcano and a fireplace for guests to relax and hangout. The reception has a book of newspaper articles from the time of the biggest volcano eruption in the 60's up until the last major activity.
The observatory museum is small but very informative as well. They have walls and boards full of facts about the volcano and La Fortuna and there is also a seismometer that monitors the volcano's activity. With the seismometer, you can see movement on the graph if any activity occurred which is pretty cool.
Unfortunately (or fortunately), there was no movement when we were there but when it was more active, I bet you could have seen plenty. They didn't start monitoring the volcano until after the big eruption in the 60's so now they know what to look for and have the right instruments to do the job.
Experiencing the real Costa Rica at the Lodge
Nowadays, many hotels that are being built are more of the resort type – stocked with everything from casinos to their own shopping district which keep you fairly locked in and fail to show you real Costa Rica.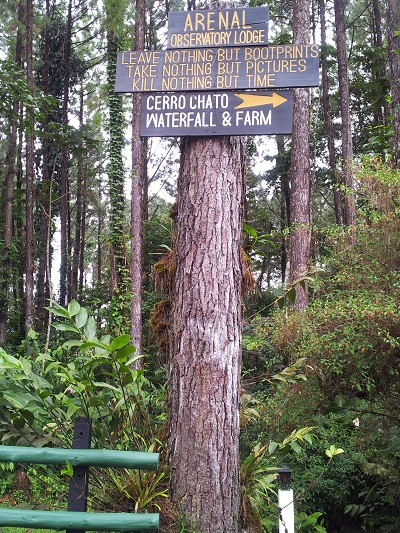 Despite how big this lodge's property is and how far away from town it is, guests still have many fun and relevant activities without compromising the feeling of being in another country.
No casinos, no huge fancy buildings or rooms, just a glimpse of true Costa Rica starting from the staff to the food to the upkeep. This is not a 5 star or an all-inclusive resort but that is not the appeal of this hotel, the appeal is that it gives visitors a real taste and a chance at a true appreciation of nature at it's finest.
More stories and Arenal adventures here
Thank you to the Arenal Observatory Lodge for hosting us. As always, opinions and thoughts are our own.