Although the sloths in Costa Rica are not critically endangered, there are many non-profits and groups dedicated to helping these mammals. As more of the country gets developed, the more trees are cut down which means loss of habitat for sloths (and other animals). They end up having to climb on power lines or crossing the road, increasing their chances of getting electrocuted or hit by cars so many charities and non-profits have dedicated themselves to rescuing and rehabilitating sloths.
If you want to learn more about sloths and how you can help them, then visiting one of the charities and rescue centers is the best way. One of these centers is The Sloth Institute in Manuel Antonio which is one of the best places to see sloths in Costa Rica.
We recently did a sloth walk with The Sloth Institute and I was very impressed with the way they operate and educate the public. You can tell their volunteers are passionate about sloths and the work they do. Although their institution is not open to the public, they offer guided walks on the property for guests of Tulemar Vacation Rentals and Resort where they can see both types of sloths.
Sloth Walk with The Sloth Institute
The Sloth Institute focuses on sloth research, education and conservation and their main goal is to rehabilitate and release as many sloths back into the wild as possible. As such, they are very strict about human interaction, permitting the least amount of it as possible.
But for those guests staying at Tulemar Vacation Rentals, they offer sloth walks every day except Tuesday (by donation). One of their volunteers will take you around the Tulemar property to look for sloths and share information about them. Even though Tulemar is a vacation rental resort, there is so much wildlife on their property and they did an excellent job of keeping as much rain forest as possible.
Here are some photos from our sloth walk. According to Robin, our guide, we didn't see quite as many sloths as they usually do but we still saw a good handful. Many of the sloths we saw were ones they had rescued and released before so it was nice to hear the success stories.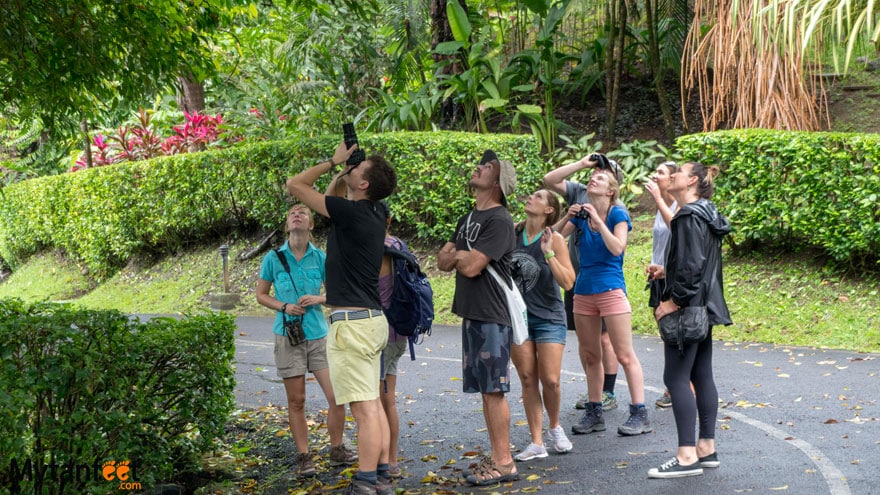 All the sloths we saw were soaking wet since it had been storming the past couple nights so it was a bit hard to see them. A lot of them were huddled in a ball and since their fur has moss, they blended in very well. Luckily Robin, who had been volunteering at The Sloth Institute for almost a year already knew which trees they like and were able to spot a few.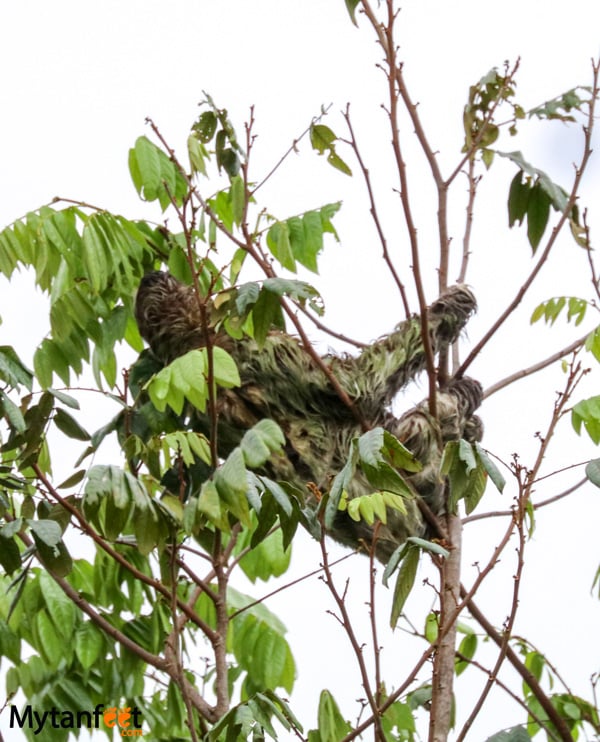 This is Jon Snow, one of the sloths they released back into the wild. It's hard to see in the picture but he's wearing a collar which they use to keep track of his movement.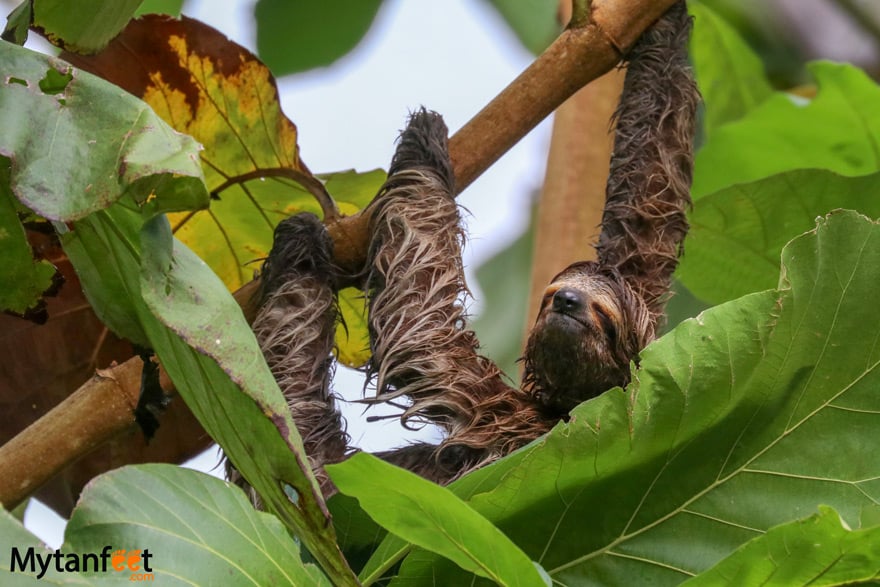 Not far from Jon Snow was this guy who looked like he just woke up. We saw this large 2 fingered sloth not too far above our heads, it was yawning and scratching itself for the longest time.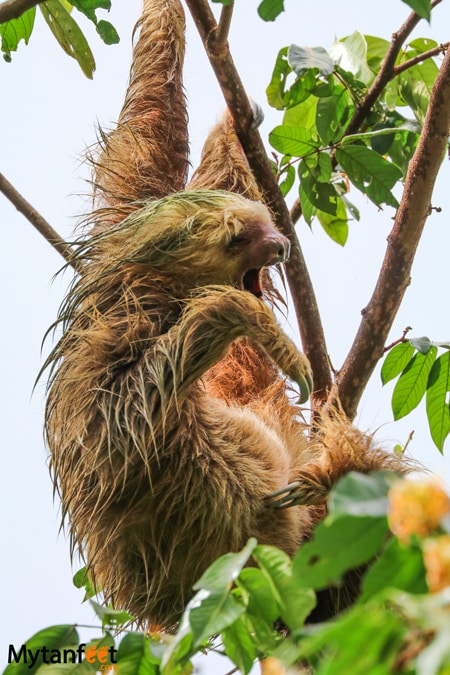 This is a 3 fingered sloth we saw that was at first huddled in a ball. He slowly started climbing around the trees and you can see he's all stretched out here.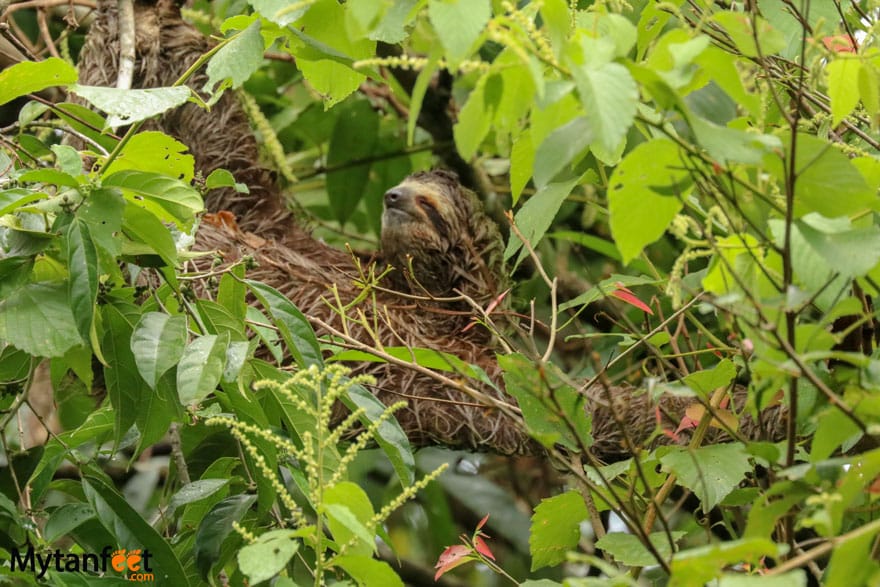 Robin told us a lot of stories about the rescue encounters they've had and the different sloths they've released back into the wild. Most stayed on the Tulemar property but there was one that traveled all the way to Manuel Antonio National Park, about 3 kilometers away!
We didn't see these sloths on our walk but there are seriously so many sloths inside the Tulemar property that you will probably spot one on your own. A couple of other guests actually pointed this mom and baby out to us as we were walking down to the beach.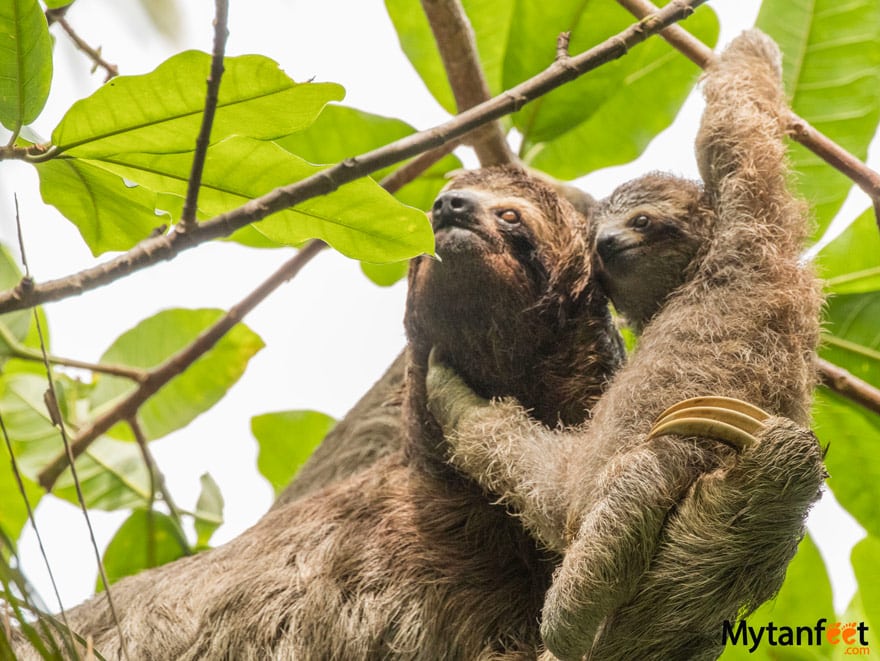 If you would like to donate your time or money, check out The Sloth Institute. They take volunteers for 1 month up to 1 year and you get to live in the jungle surrounded by sloths! They also have a sloth shop where you can buy cute slothy trinkets and you can also symbolically adopt a sloth. All of their profits go towards sloth conservation.
Unfortunately if you're not a guest at Tulemar, you can't go on their sloth walks but follow their Sloth Institute Facebook page because I have seen them do giveaways and they raffle off a sloth walk to outside visitors. And if you are staying at Tulemar, then the sloth walk is an absolute must do!