If you are visiting Puerto Viejo and looking for a hotel that is on the beach, has an on-site restaurant and offers many other amenities, you must check out Hotel Banana Azul. They are also adult only and have a variety of rooms for different budgets. We stayed here for four nights in November and it was an excellent location to explore the Puerto Viejo area.
Location
Hotel Banana Azul is on Playa Negra, 2.5 kilometers (1.5 miles) from Puerto Viejo town.
Playa Negra isn't the prettiest beach in the area but it is very quiet and peaceful since not as many people go there compared to other beaches around.
Rooms
Hotel Banana Azul has 7 different types of rooms from standard rooms to suites and apartments. Their standard ocean rooms are on the second floor of the main building, each with a balcony with a partial ocean view or garden view.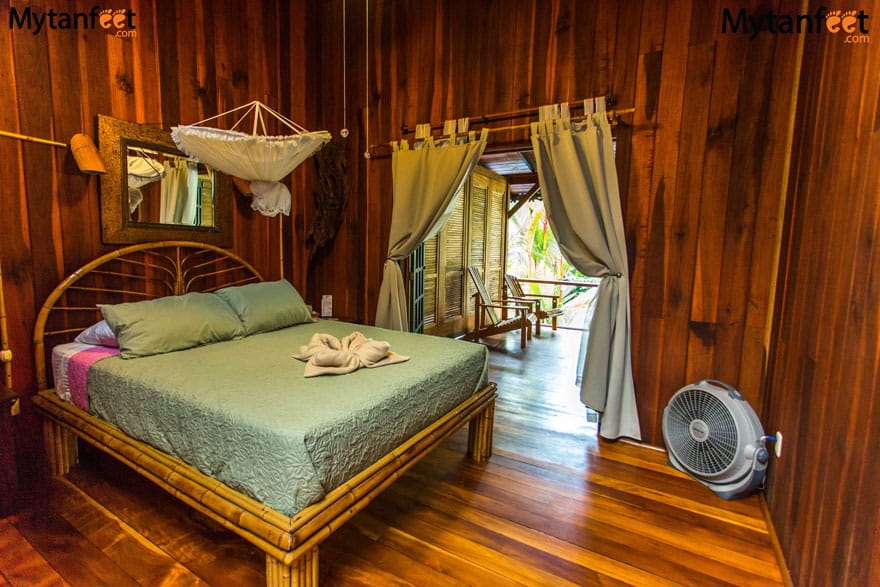 Most of the rooms don't have air conditioning so if you want AC, you will need to book the suites.
We stayed in Red Frog Suite which has AC, a little fish pond, its own private patio and an outdoor jaccuzi.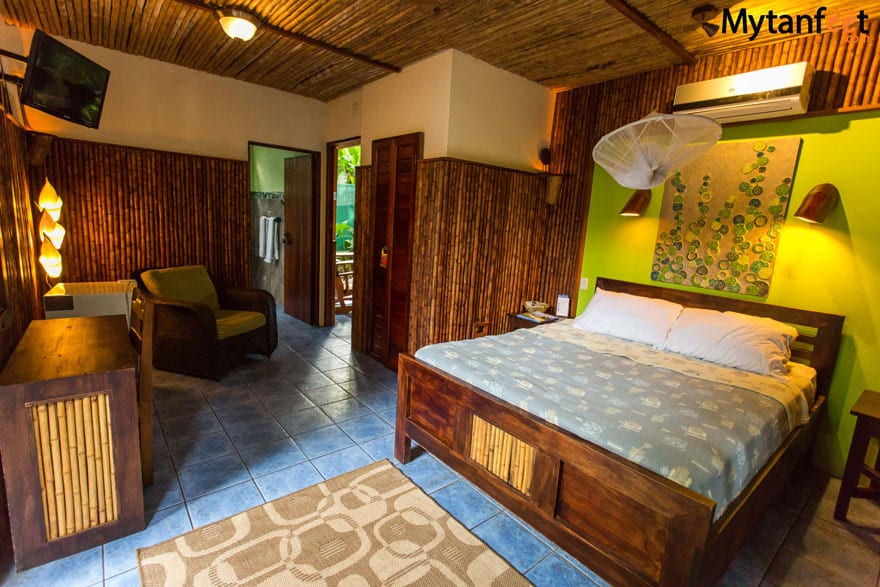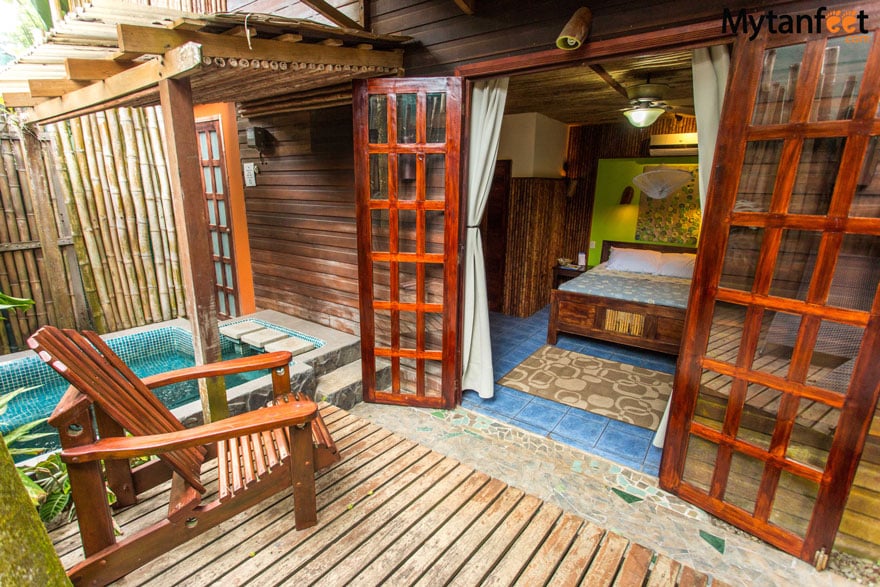 This is a great option for couples who want more privacy since it is in a building separate from the main building and the patio is completely fenced off. It does get a bit noisy since it's by the main road so you can hear people and cars but you don't see anyone.
All the rooms come with a mosquito net so you can open the doors and let the Caribbean breeze come through without worrying about bugs. Since the temperature in the Caribbean doesn't reach super high, it is quite comfortable at night. It is very humid in this area though so do keep that in mind if you have trouble dealing with humidity, then you definitely will want air conditioning.
The Property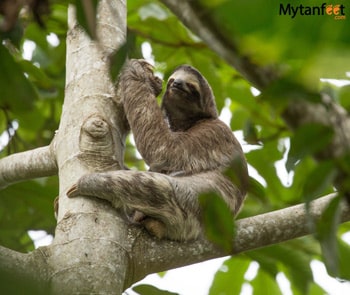 The property of the hotel is much bigger than it looks.
When you enter the hotel property, you will see the small parking lot and reception in the main building. The main building has the reception, tour desk, restaurant and stairs to the second floor rooms.
There is a short boardwalk from the restaurant to Playa Negra where the beach club is. Make sure to look in the trees in the gardens between the restaurant and beach because you may see a sleeping sloth or two! On the first day we got to the hotel, we saw two sloths in the garden which was a nice welcome treat.
The rooms and building blend in nicely with the gardens and trees on the property, so it doesn't feel overly commercial. Even though it is a resort, they did a wonderful job keeping it very natural with the lush gardens, beautiful flowers and ponds filled with fish and turtles.
Services and Amenities
The resort has a great on-site restaurant that is open for breakfast, lunch and dinner, a beach club and small pool. The beach club is really nice since they have chairs, an umbrella and table with a bartender so you can order drinks and take them out to the beach which is just steps away from the hotel.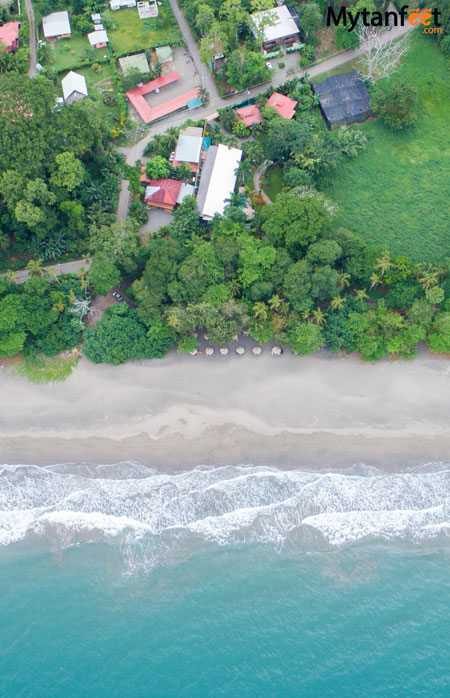 Other amenities they offer are bike rentals, boogie boards and a beach massages. Another nice thing is that they have free Wi-Fi throughout the property.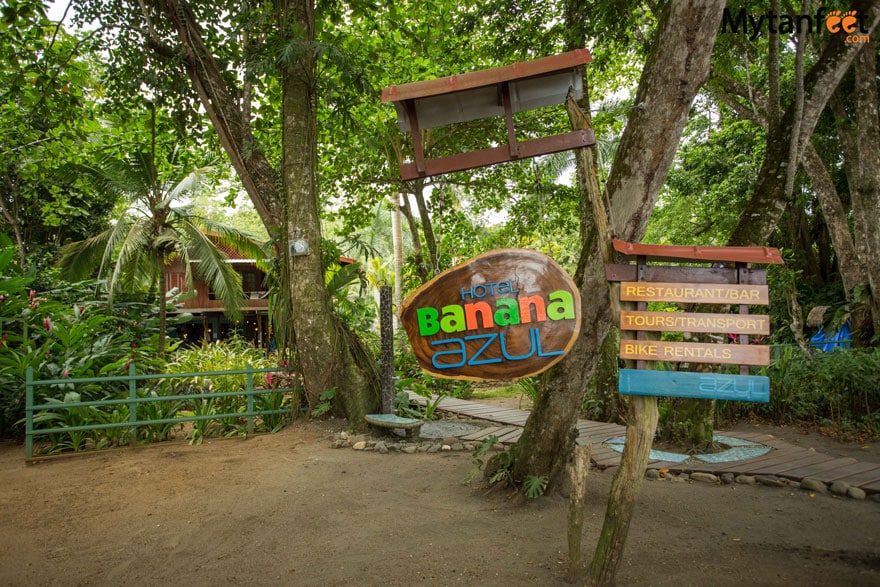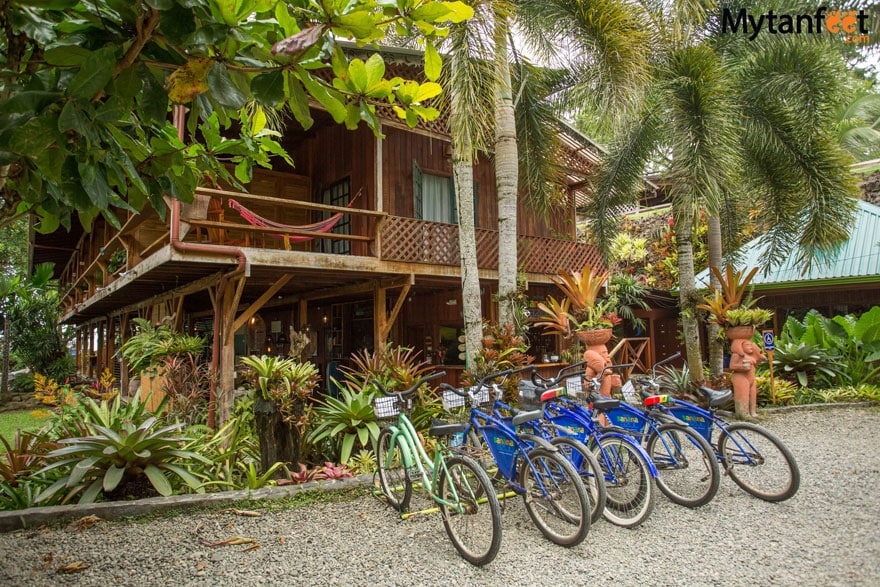 One other convenient feature of the hotel is the tour desk for Caribe Fun Tours. They have a set schedule of tours for the week such as Jaguar Rescue Center and Punta Uva on Wednesdays and Fridays and Cahuita National Park on Tuesdays and Thursdays but you can also book other activities they offer like horseback riding, Tortuguero or even a trip down to Bocas del Toro in Panama.
They can also help you book your transportation down to Puerto Viejo if you're not renting a car and don't want to take a bus. They will put together your local flight to Limon airport and shuttle transfer to the hotel which is super convenient for visitors who don't want to rent a car and are staying in Puerto Viejo for many days.
The Restaurant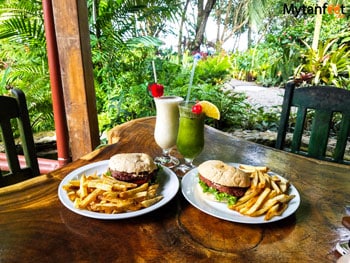 We loved the concept of the restaurant. The menu changes every day for breakfast and dinner and they always have an option for vegetarians which is really nice. Instead of the same buffet or continental breakfast every day, you can choose from 3-4 different options.
Lunch has a set menu of burgers and wraps and you have to try their drinks. We had pina coladas and limonada (lemonade) which were delicious.
Another thing I loved is the salad and soup bar they have for dinner they offer. Every night is a different soup and we never had a bad meal at Hotel Banana Azul.
Overall Thoughts
For hotels in Puerto Viejo, Hotel Banana Azul is definitely one of the best. You will see them pop up every time you look for hotels in Puerto Viejo and for a good reason. They offer amenities, services and a hospitality not very common in the Caribbean coast of Costa Rica.
They're in a nice quiet location on Playa Negra so you're far from town but you can easily get a taxi or walk if you want to, its adult only so perfect for those who don't want to be around kids (honeymooners, couples) and service is excellent. Rooms are a bit expensive as standard ocean rooms start around $150 taxes included with no AC) but you are paying for the amenities the hotel offers, not just the room.
Watch our video below to see more of Hotel Banana Azul!