La Fortuna is one of the most popular tourist destinations in Costa Rica thanks to the nearby active Arenal Volcano, tropical rainforest and many fun outdoor adventures. Thanks to La Fortuna's popularity, there are plenty of restaurants, activities and hotels. There are so many lodging options in fact, that it may be a bit difficult to choose where to stay in La Fortuna since you can find everything from ultra luxury rainforest resorts to basic budget shared rooms.
In this guide, we're going to give some of our recommendations for where to stay in La Fortuna. Don't have an itinerary yet? Check out our 8 day Costa Rica itinerary that goes to Playas del Coco and La Fortuna!
There are affiliate links in this post.
La Fortuna At a Glance
Location: In the Alajuela province. Approximately a 3 hour drive from Guanacaste Airport and San Jose International Airport. You can fly into either international airport for La Fortuna.
Known for: Hot springs, Arenal Volcano, nature, family friendly activities, farming, adventure, ziplining.
Main attractions: La Fortuna Waterfall, Lake Arenal, Arenal Volcano National Park, Arenal hanging bridges
How to get there: Driving (4wd not required), direct public bus from San Jose, private shuttle (~$200 USD for 1-8 passengers from SJO and LIR Airports), shared shuttle (~$59 USD per person), and domestic flights (~$100 USD one way from SJO). In La Fortuna, there are a handful of Ubers and many official red taxis.
Tourists stay on average 2-3 nights in La Fortuna. They can also visit as a day trip from San Jose or day trip from Guanacaste.
Weather: Daytime mid 80s F (29 C), nighttime mid 70s F (23 C). Very humid year round. Dry season is December through April, rainy is May through November but as tropical rainforest, it can rain any time of the year.
Must bring: rain jacket, mosquito repellent, sunscreen, fitness clothes (dry fast, lightweight, moisture wicking, odor resistant) and hat
Budget
Budget most likely will be your biggest deciding factor for where to stay in La Fortuna. Thankfully, La Fortuna has hundreds of lodging options at every price point. Something to keep in mind is that generally the closer you are to the volcano, the more expensive hotels become. The closer you are to the town center, the cheaper the place. Find out how to travel to Costa Rica on a budget here!
Another note: As Fortuna is known for hot springs, some hotels have their own hot springs and pools. These hotels are generally more expensive so it's ideal for those not on a tight budget.
Cheaper Hotels
Downtown La Fortuna: Hotels here are much cheaper. These options are ideal if you're on a tight budget or a solo traveler on a strict budget as all hostels are in downtown. It's cheap and convenient as you're in walking distance to everything but it's loud without nice views or rainforest around. Budget hotels can be around $20 USD – $100 USD a night.
Some options: Las Colinas, Selina, Monte Real, San Bosco Inn, Hotel La Choza Inn, Arenal Xilopalo
Mid to High Range
There are many mid range options a little bit further outside of downtown near the waterfall and on the road to the national park. Mid range prices are around $100-200 USD a night.
Some options: Volcano Lodge, Arenal Parasio Resort Spa, Los Lagos, Kokoro Hotel, Hotel Lavas Tacotal, Arenal History Inn, Casa Luna Hotel, Hotel Roca Negra del Arenal, Hotel Campo Verde
Luxury
When it comes to luxury hotels in La Fortuna, you have a lot to choose from. Most of these hotels are close to Arenal Volcano with spectacular views of the volcano and surrounding rainforest. If you are visiting Costa Rica for your honeymoon or just want to splurge, consider staying at one of these hotels in Fortuna for a very luxurious experience.
Some options: The Springs Resort & Spa, Tabacon, Arenal Kioro, Amor Arenal, The Royal Corin, Nayara Hotel, Nayara Springs, Nayara Glamping, Hotel El Silencio del Campo, Lost Iguana
Hotels or Airbnb?
You will find tons of hotels, hostels and Airbnbs in La Fortuna. Although Airbnbs are very common and can be a good alternative to hotels, there are reasons why you should stay at one rather than the other. We have stayed in both Airbnbs and hotels in La Fortuna. All were good experiences but I definitely have some points to share about them.
You Should Rent a Car If Booking an Airbnb
Unless your Airbnb is right in town, then you should rent a car. Many Airbnbs in La Fortuna are outside the town center in small neighborhoods so you should rent a car otherwise it will be hard to get around. Although there are a few Ubers in La Fortuna, do not depend solely on Uber. I have seen the most 5 Ubers or so spread out throughout town and not really any at night. However, there are official red taxis around.
Furthermore, some Airbnbs may require a 4×4, 4wd or high clearance car or they may not have secure parking. Make sure to check with your host what kind of car is required and if they have secure parking on site (not open street parking). Get our Costa Rica car rental discount here to save some money!
Tour Companies Do Not Usually Pick Up at Airbnbs
Which means you will have to meet the group at the closest hotel or meeting point. Or drive to the tour operator office and meet the group there.
Some tour companies may make exceptions if your Airbnb is on Google Maps with a pindrop and name. It has to be easy to find and within the free transportation zone but you must consult the company first.
Booking tours in La Fortuna? Get our discount for tours like hiking, safari floats, horseback riding, ziplining and more!
Bare Minimum
Airbnbs and VRBOs in La Fortuna tend to offer the bare minimum in amenities, likewise they normally do not offer house cleaning or breakfast. Even if you book an entire house, they most likely will have the minimal amenities.
It is nice to have a kitchen and stay in a house, but if you don't want to clean, you don't want to cook and you don't want to tidy up all the time, then consider staying at a hotel instead.
Join our mailing list and get our free Costa Rica eBook for MORE travel tips!
Other Important Things to Think About When Deciding Where to Stay in La Fortuna
Are you renting a car?
If you are renting a car in Costa Rica, you can look at hotels and vacation rentals beyond the downtown area as you can find more unique or special ones. You can drive to the supermarket, parks and places of interests on your own. If you book tours and your hotel is outside the free transportation zone, you can drive to the tour operator office.
But if you are not renting a car, then you do need to take these factors into consideration. Check out our 13 day Costa Rica itinerary that goes to La Fortuna without renting a car!
Tour Companies Include Transportation from Certain Zones
For those without a car, tour companies normally include roundtrip transportation for free from Tabacon Resort to La Fortuna Waterfall and around downtown. If you are staying outside these areas, you will need to either pay for an extra transportation fee, meet the tour group at a designated location near your hotel or meet the group at the tour operator office on your own.
Some hotels that are outside free transportation zones are Arenal Observatory Lodge, Lost Iguana Resort, Hotel Los Heroes, La Mansion Inn, Arenal Lodge, Chachagua Rainforest and Rancho Margot. The fee is usually around $40 USD + taxes roundtrip per service and can be more depending on your party size.
Map
Click here to go to our interactive map to see where the hotels are located.
Below you can read our reviews of a few hotels we've stayed at in La Fortuna.
Nayara Springs
The Nayara Hotels ranks as some of the top luxury hotels in Costa Rica. They have three different Nayara Hotels.
Nayara Gardens is open for everyone but if you're there for your honeymoon or a couples getaway, book a villa at the adult only Nayara Springs. You don't have a volcano view but each villa has their own private natural hot spring pool. Furthermore, the huge villa has indoor and outdoor showers with separate his and her bathrooms.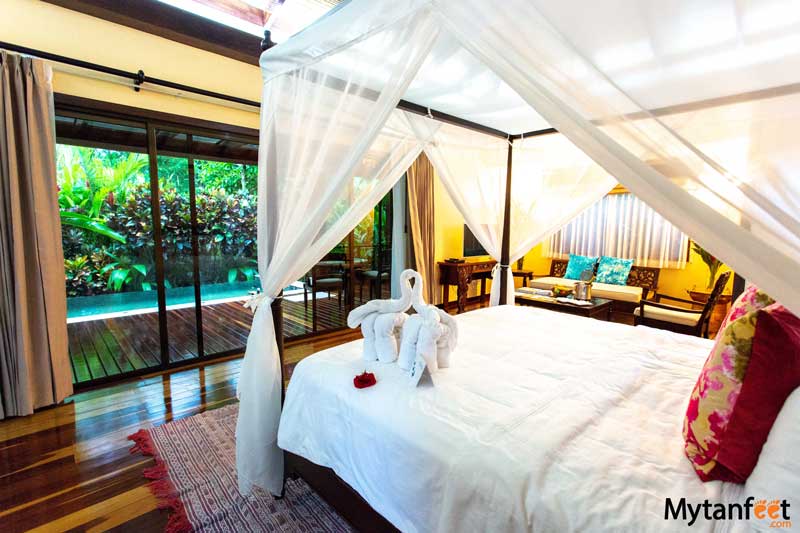 Nayara Springs truly focuses on privacy and exclusivity as they offer breakfast in villa and nighttime turn down service. We stayed at the adult only Nayara Springs once which was an absolutely luxurious experience for a romantic getaway. It is VERY $$$$ though!
They also have a glamping resort, Nayara Tented camp for a luxury experience closer to nature.
The Springs Resort & Spa
Not only is The Springs Resort a gorgeous property, their hot springs are one of our favorites. They have a huge hot spring section with various pools near their hotel and down by a river. They also have a lagoon like area closer to the hotel with a swim up bar and a waterslide for kids.
We stayed in a standard room with a beautiful view of the volcano, extremely comfortable bed and full bathroom amenities. Hot breakfast included, the restaurant also has a fantastic volcano view.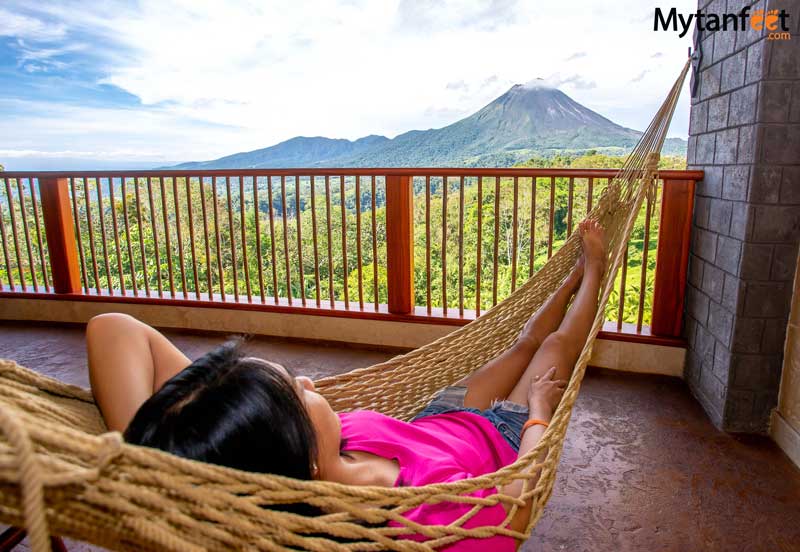 The resort property has their own on-site adventure center called Club Rio. Their adventure club offers horseback riding, tubing, river kayaking, a wildlife sanctuary and rock wall climb.
The Springs Resort & Spa is amazing for all luxury travelers and their Club Rio center makes it an excellent place for families.
Read our review of the Springs Resort and Spa and get $10 USD off the Club Rio Outdoor Center multi adventure package!
Hotel Arenal Kioro Suites & Spa
Hotel Arenal Kioro Suites & Spa is VERY close to Arenal Volcano. They designed their suites to take advantage of this view with high ceilings, tall windows and Jacuzzis. We've stayed here twice and waking up to the towering view of Arenal Volcano every morning was truly spectacular.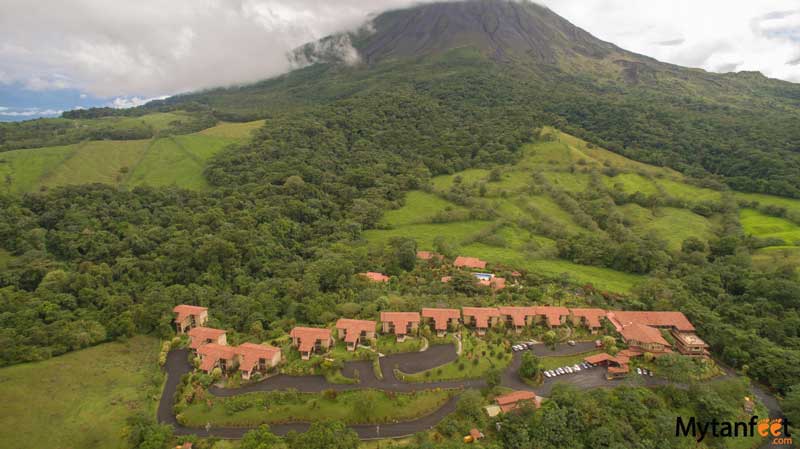 One nice thing about the Kioro is that their hot springs are private. Only hotel guests are permitted in the hot springs, ensuring guests complete privacy and enjoyment of the pools. They also include a free pass to Titoku hot springs.
Rooms, pool, hot springs and spa were beautiful but we found their restaurant for dinner to be so-so.
Check the latest rates for Hotel Arenal Kioro Suites & Spa.
Arenal Observatory Lodge
Arenal Observatory Lodge is actually inside the Arenal Volcano National Park. This lodge offers a wonderful experience for nature lovers as it used to be a research center. Now as a lodge, it has hiking trails, a waterfall, hanging bridges and horseback riding trails.
Rooms are typical lodge style with no televisions or air conditioning. It doesn't offer the typical luxury experience but it offers a one-of-a-kind luxury experience to get close to the rainforest, volcano, nature and wildlife. We've stayed here twice and it's one of our absolute favorite lodges in Costa Rica. It is perfect for those who really want to immerse themselves in nature.
You should rent a car to get to the lodge because tour companies charge an extra fee to pick up from there. Since it's in the national park, there is nothing around but they do have an on-site restaurant.
Check the latest rates at Arenal Observatory Lodge.
Hotel Secreto la Fortuna
This cute family run small hotel is located very close to downtown La Fortuna within walking distance. Their rooms are simple but cozy and comfortable with air conditioning. The hotel property has a beautiful garden and small on-site pool. You don't hear any car traffic, however since the main pathway is right outside your door, you will hear people and luggage leaving/arriving at all hours of the day.
It's an excellent budget side option and the staff was incredibly sweet. They pointed out a sloth that was hanging out in the trees as well as a hummingbird nest! A hot typical breakfast was included in the rate and free parking was available.
Check latest rates at Hotel Secreto La Fortuna.
Read More About La Fortuna and Arenal Below to Help Plan Your Trip!
Best hot springs in La Fortuna
Driving from Guanacaste to La Fortuna and vice versa
Driving from San Jose to La Fortuna and vice versa
Costa Rica Vacation Checklist