If you're planning a trip to Costa Rica, you've most likely heard of Arenal or La Fortuna. Filled with plenty of outdoor adventure, wildlife watching opportunities and a huge national park, Arenal ranks as one of the favorite places in Costa Rica for visitors.
Because of this, it isn't too difficult to plan your trip to La Fortuna. When it comes to picking a hotel, you have plenty fo choose from. In fact, some of the nicest hotels in the country are in this area so if you want a luxury vacation, Arenal is definitely the best place to go.
We love the Arenal area and have visited many times and stayed in many places. If you're doing research for your trip and need some insight on the best luxury hotels in Arenal, here are the ones we recommend.
Nayara Hotel, Spa & Gardens
Named as one of Travel and Leisure's best hotels in 2013, the Nayara Hotel ranks as one of the top in Arenal for a luxury getaway. They have the normal Nayara Hotel that is open for everyone but if you're there for your honeymoon or for a couples getaway, book a villa at the adult only Nayara Springs.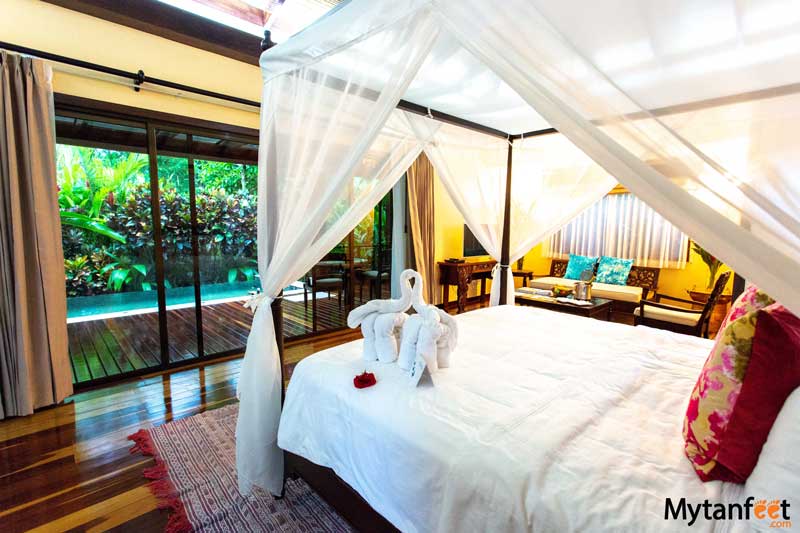 You don't have a volcano view but each villa has their own private natural hot spring pool. Nayara Springs truly focuses on privacy as they offer breakfast in villa and nighttime turn down service. They also have outdoor and indoor showers and separate his and her bathrooms.
Check the latest rates at the Nayara Hotel.
The Springs Resort & Spa
Sitting 1,000 feet above the Arenal Volcano, visitors get one of the most stunning views of the volcano from every inch of the boutique Springs Resort & Spa's property. They have their own cold and hot springs which are open to both guests and the public, lagoon-like pools, a spa, ballroom and four international restaurants.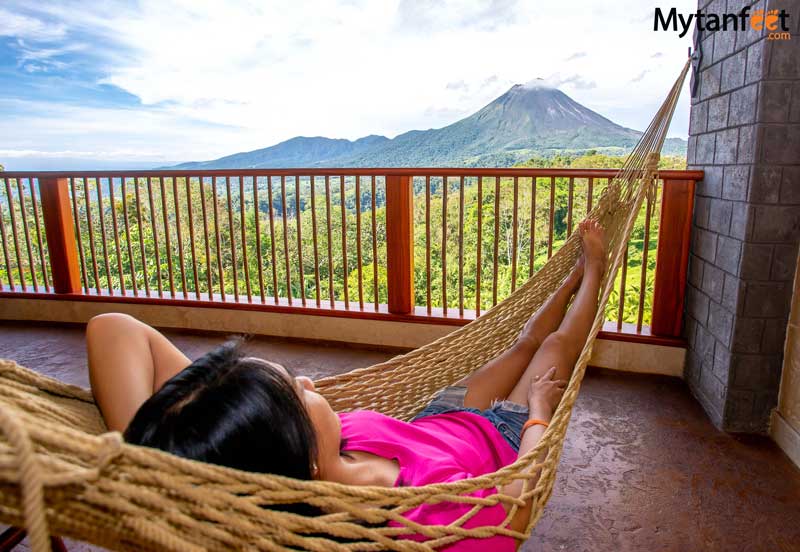 Though this resort is also a favorite for honeymooners, it is also a top pick for business and family travelers. They have on-site activities at the Club Rio Outdoor Center just 1.5 kilometers from the hotel so you don't have to go far to enjoy hiking, rafting and outdoor adventure. Kids will love the Spring's Wildlife preserve, created to take care of injured animals.
Read our review of the Springs Resort and Spa and get $10 off the Club Rio Outdoor Center multi adventure package!
Hotel Arenal Kioro Suites & Spa
The modern rooms at the Hotel Arenal Kioro Suites & Soa were designed specifically for an amazing view of Arenal Volcano. The high ceilings, tall windows and Jacuzzi in every room will leave your jaw dropping.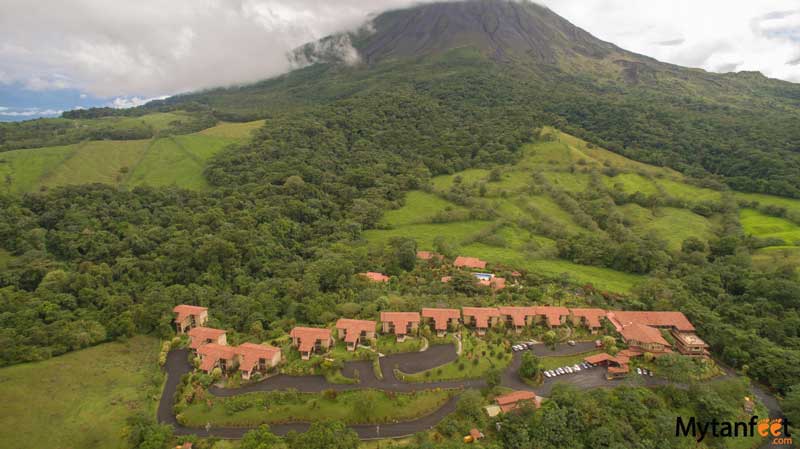 One thing about the Kioro that sets it apart from other hotels in Arenal is the fact their hot springs are private. Only hotel guests are permitted in the hot springs, ensuring guests complete privacy and enjoyment of the hot springs all to themselves. They also include a free pass to Titoku hot springs.
Check the latest rates for Hotel Arenal Kioro Suites & Spa.
Tabacon Grand Spa Thermal Resort
If you've seen any photos of the hot springs in Arenal, most likely you've seen the ones at Tabacon. The resort offers the natural hot springs as part of a package so if it's your goal to visit those specific hot springs, it's best to book the package that includes a free shuttle to and from the springs.
Rooms have vaulted ceilings and are decorated with a vibrant nature feel. Each has a private balcony and large bathtub, complete with five star amenities. Upgrade to a suite on the second floor for even bigger rooms and better views.
The resort and hot springs are ideal for both couples and families and they also have a hotel guest section only. There you can enjoy the waterfalls and soothing water in a romantic garden setting.
Check the latest rates at Tabacon
Hotel Royal Corin
This luxury hotel lies fairly close to La Fortuna so you can still enjoy the conveniences of town but stay in a beautiful elegant room. Enjoy a drink from the swim up bar, relax in their whirlpools and soak in the pools of varying temperature all with an amazing view.
They have very modern and spacious rooms and suites with balconies and large terraces. Splurge for a suite and your room will come with an in-room Jacuzzi with a TV!
If you're looking to spend most of your time in Arenal relaxing (particularly by the pools and springs), the Royal Corin is one of the best to do exactly that.
Check the latest rates at Royal Corin
Lost Iguana Resort & Spa
The name truly reflects the property, as it is tucked in the rain forest. Stroll along the trails throughout the property and meet some wildlife along the way, marvel at Arenal volcano from your balcony and enjoy their happy hour surrounded by the forest.
The pools are a bit small so you must go to the other hot spring facilities to get the full experience. It's next to Arenal Dam so it's further away from La Fortuna but in a very quiet area. This is a great option for couples and families who wants their kids to enjoy more nature.
Check the latest rates at Lost Iguana Resort
Arenal Observatory Lodge
The lodge is the closest hotels to Arenal Volcano and focuses on a true nature experience. The property used to be a research center and now has hiking trails, a waterfall, hanging bridges and horseback riding trails.
Rooms are typical lodge style with no televisions or air conditioning. It doesn't offer the typical luxury experience but it offers a one-of-a-kind luxury experience to get close to the rainforest, volcano, nature and wildlife. That itself is luxury for those who want a vacation filled with exactly those things.
It's quite far from La Fortuna but they have an on-site restaurant, pools and game room.
Check the latest rates at Arenal Observatory Lodge
Hotel Lomas del Volcan
You'll feel like Arenal volcano is in your backyard as the Lomas del Volcan sits at the base of Arenal. Stay in a bungalow with a Jacuzzi or balcony and let the sounds of nature surround you. Since the hotel is located off the main road and not close to town, it's very quiet and peaceful.
Check the latest rates at Hotel Lomas del Volcan
Los Lagos
This beautiful 4 star hotel has their own hot springs and offer day passes to outside guests. They also have a very special view of Arenal Volcano and lake at the top of their property.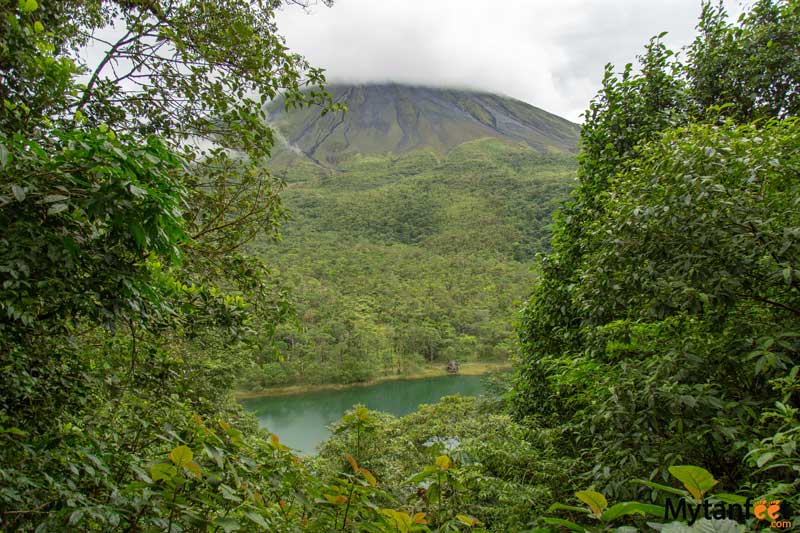 Check the latest rates at Los Lagos.
Read about things to do in the Arenal area!
This post contains affiliate links.