In Southern Guanacaste, you can find one of the most relaxing, picturesque and cleanest beaches in Costa Rica: Playa Carrillo. With just 500 year round residents, Carrillo is an excellent beach to get away from crowded Samara.
In this guide, we'll help you plan your visit to Playa Carrillo, Costa Rica.
Carrillo Beach
Playa Carillo is absolutely gorgeous with it's bright blue clear waters, tall coconut palms and clean tan sand. It is truly one of the most beautiful beaches in Costa Rica!
During low season (May – November), you will find only handfuls of tourists at Carrillo lounging around and soaking up the sun.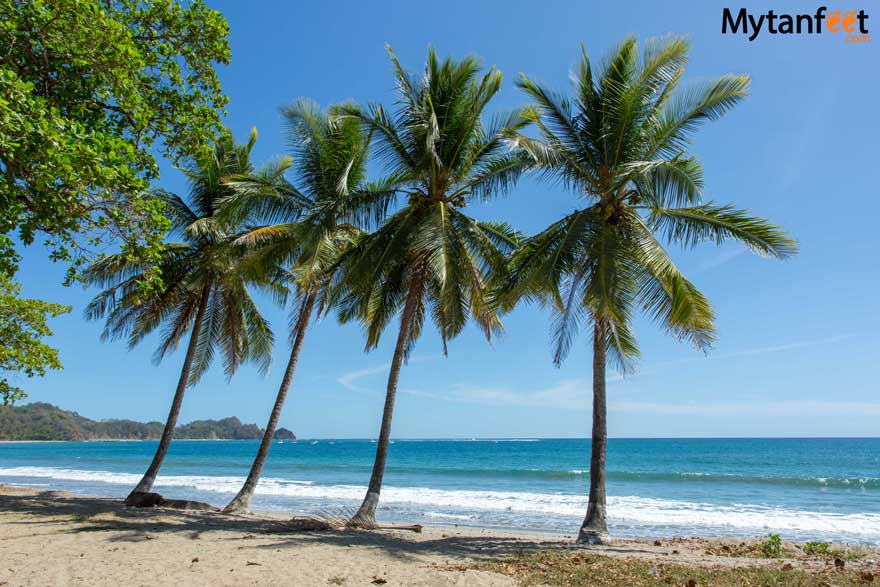 If you walk all the way to the east end of the beach, you will reach Puerto Carillo where all the fishing boats are. The beach is a bit different on that end with more rocks and less clear water.
Swimmable
Waves are very calm at Carrillo, making it much better for swimming and bathing, especially for little kids. The soft inviting sand is perfect for sunbathing and relaxing. There are some rocky reefs on either side of the beach, suitable for some decent snorkeling in high tide.
One thing I love about this beach is that you won't hear music blasting from bars or see garbage everywhere. There may be locals pushing around copo (shaved ice) stands and selling pipa frias (cold coconut water) but that's it!
Although Carrillo beach is normally very quiet and empty, it does get quite busy on weekends and holidays with local tourists. Costa Ricans like to camp and have barbecues on Carrillo.
Puerto Carrillo Town
The tiny town of Puerto Carrillo sits up on the hill of the southern end of the beach. A well paved and nicely laid out boulevard runs parallel to Carrillo beach.
Follow the boulevard south (away from Samara) to reach where the town and most of the hotels, supermarkets and restaurants are.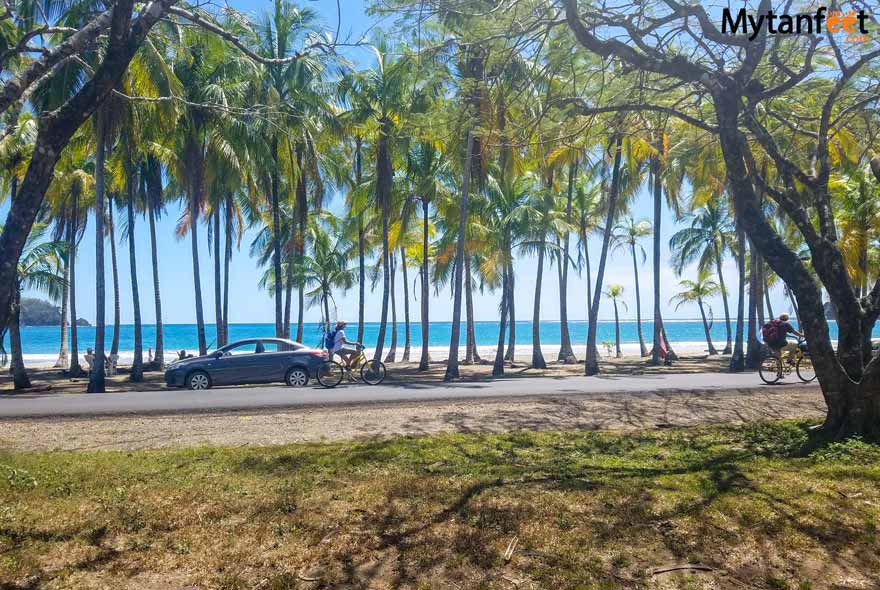 Puerto Carrillo actually became famous due to their excellent fishing, specifically sport fishing. Many city Costa Ricans visited Carrillo to fish back in the day and then more tourists discovered the charm of Carrillo.
Playa Carrillo Hotels
There aren't a ton of hotels in Carrillo. We stayed at the Nammbu Beachfront Bungalows which was extremely nice. They have a big pool, spacious rooms and beautiful views of the beach.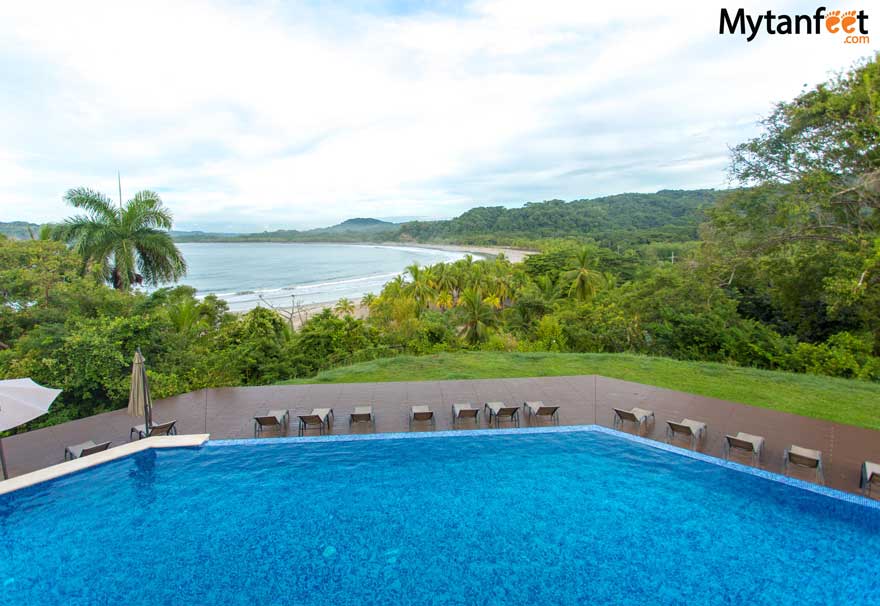 Hotel Palmeras Carrillo and Hotel La Posada are two other options for a boutique, mid range hotel.
Since Carrillo is a small town, it is recommended to rent a car to get around. Without a car, you will need to taxi back and forth to Samara which will add up.
Playa Carrillo Weather
Carrillo is in the Guanacaste province, which has nearly year round sunny days and excellent weather in Costa Rica. Dry season (beginning of December to end of April) temperatures are around high 80s and low 90s F (32 C). March and April are the hottest months.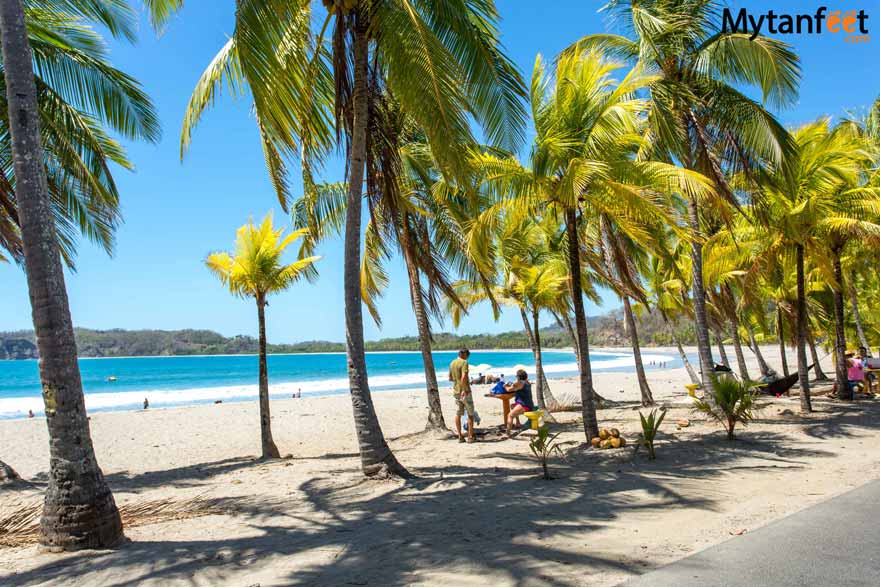 Rainy season (beginning of May to end of November) temperatures do not vary much from dry season. It may be around mid to high 80s F (31 C) for the day and then cool off to mid 70s F (24 C) at night. There may be some off and on showers in May and June.
The rainiest month is October. A normal rainy season day is cloudy but dry in the mornings, off and on rains in late afternoons and intermittent showers at night.
Playa Carrillo Restaurants
There aren't a lot of restaurants in Carrillo either but Hula Jungle has good drinks and pizza. El Colibri Hotel has a steak house which is very good.
Things to Do in Playa Carrillo
Undoubtedly, the most popular thing to do in Carrillo is relax. It's a beach that most people visit for a day from Samara to escape the crowds.
Our favorite thing to do at Playa Carrillo is hang up a hammock, enjoy some cold drinks, swim and relax with friends. Just a warning, be careful when under the palm trees because the coconuts can fall at any second!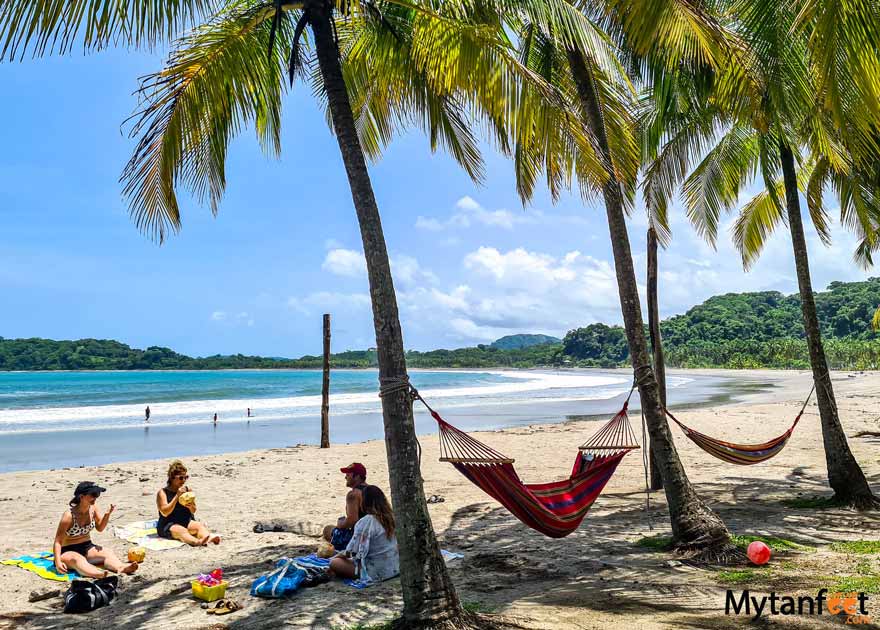 There is also a small lookout point called "Puerto Playa Carrillo Mirador" at the end of the beach.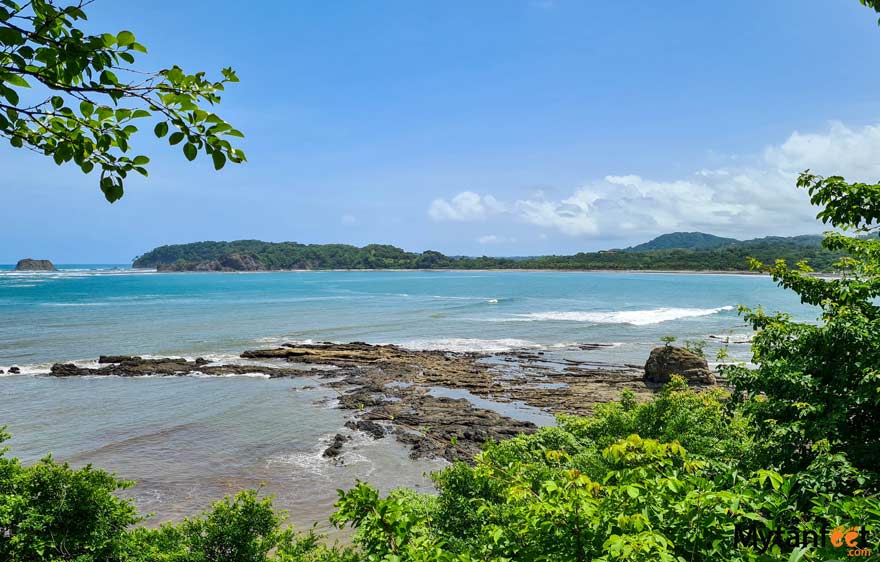 There is a parking lot and you have to walk just a few steps up to the viewpoint and it has some benches.
How to Get to Playa Carrillo, Costa Rica
Driving: The fastest way to get to Carrillo is by car via Route 21 and 150 going through Santa Cruz and Nicoya. This is on a paved road, a 4×4 is not necessary. You can check out our Costa Rica car rental discount here.
Shuttle: You can take private or shared shuttles to Carrillo. A shared shuttle from San Jose and Liberia to Carrillo is around $59 USD per adult. Click here to read more about Costa Rica shuttles. A private shuttle is around $130 USD from LIR Airport.
Bus: There is a daily bus from San Jose with Empresa Alfaro at Terminal 7-10 at 12 PM and 5 PM (only in high season). It is a 5 hour ride and costs about 4,500 colones (~$8 USD USD). There is also a bus from Nicoya with Empresa Traroc 400 meters east of the Municipality. They run Monday – Saturday at 5, 5:45 AM, 8 AM, 10 AM, 11 AM, 12 PM, 1 PM, 2 PM, 3 PM, 4:30 PM, 6:30 PM , 8 PM and 9:45 PM. This bus takes about 1 hour 15 minutes.
On Sundays, there are buses from Nicoya to Samara at 6 AM, 8 AM, 10 AM, 12 PM, 1 PM, 2 PM, 3 PM, 6:30 PM and 8 PM. If you're coming from Liberia, the best way would be to bus from Liberia to Nicoya then to Samara.
Location
Playa Carrillo is in the southern zone of the Guanacaste province on the Pacific coast. Playa Carrillo is 4 kilometers (2.5 miles) from Samara and about a 2 hour drive from Liberia International Airport, the closest international airport.
Parking
There isn't a dedicated lot but you can park anywhere along the street or the section dividing the boulevard.
Services
Not really any services. There are picnic tables strewn along the boulevard underneath the coconut trees. No public bathrooms, showers or changing rooms.
There are some locals selling coconut waters and shaved ice. You can't miss them, they'll be walking with their carts up and down the beach.
4×4 Required?
No.
Read about other beaches and beach towns in Costa Rica below!
Montezuma: Small beach town in Nicoya Peninsula
Tamarindo: Popular surfing beach town in Guanacaste
Jaco: Developed beach town, famous for surfing
Puntarenas: Small local fishing town and port
There are affiliate links in this post.