As San Jose International Airport is the main international airport in Costa Rica, many visitors have to stay in an airport hotel the night they arrive or before they fly out for their flight. If you're looking for a place to sleep after a long flight or to rest up before an early flight, here are our top picks for the best hotels near San Jose International Airport, Costa Rica with free airport shuttle and without airport shuttle.
Remember, SJO Airport is not actually in San Jose – it is in Alajuela but you can stay in San Jose or Heredia as they're close to the airport but you do need to account for traffic. San Jose International Airport to San Jose downtown takes around 30 minutes or more depending on traffic.
All prices listed in USD and are an approximate.
Budget Hotels Near San Jose Airport with Free Airport Shuttle (under $70-80)
Hotel Santa Maria Inn
This is a cozy family owned hotel just 5 minutes (4 kilometers, 2.5 miles) from San Jose Airport. It's a small, clean and basic with 8 rooms. All rooms have air conditioning, free wi-fi and hot water and they also have a communal kitchen. Excellent option for a budget hotel near San Jose Airport with free airport shuttle.
A double is $70 in high season, $59 single and a family room is $120 without taxes. The price includes free transportation to the airport and continental breakfast.
Click here for the latest rates.
Hotel La Guaria Inn
A simple but clean hotel in a local area close to restaurants and small grocery stores. Only a couple kilometers (~ 1 mile) from San Jose Airport and the hotel pays for the taxi to and from the airport. Continental breakfast included.
A double standard starts at $60. Check the latest rates.
Alajuela Backpackers
This hostel is only 3 minutes from San Jose Airport, includes a free airport shuttle, taxes in their price, dorms, private rooms and suites. All rooms have hot water, air conditioning and and the suites have a tv. They have a fun party atmosphere for backpackers with a rooftop bar and restaurant. Prices start at $14 for 10 bed dorm, $55 for private double. Check latest rates here.
You can also read our post on the best hostels in Costa Rica if you're traveling on a budget.
Budget Hotels Near San Jose Airport (no shuttle)
Airport Costa Rica B&B
Lovely small hotel just 5 minutes from the SJO Airport with a very nice garden and spacious comfortable rooms. Breakfast for $7 USD. Check rates here.
Terida Airport B&B
Very clean, cozy and comfortable little B&B about 1 mile (2 km) from the airport. Great breakfast and they have a nice garden and terrace with seating areas. Taxi costs around 2,000 colones (around $3.50), you can easily call an Uber. You can check rates here.
Berlor Airport Inn
Hotel with a pool and rooms for single travelers and families. Modest hotel with basic amenities, 3 kilometers from the airport. Rates start at $55. Check latest rates here.
Mid to High Range Hotels near San Jose Airport with Free Airport Shuttle (~ $100 and up)
Adventure Inn
This beautifully decorated boutique hotel is a great option not only for their close proximity to the airport and free shuttle, but also to take in the last bit of Costa Rica, as they decorate all their rooms with a special Costa Rican characteristics. They have an on-site restaurant, gym and business room so it's great for families and business travelers.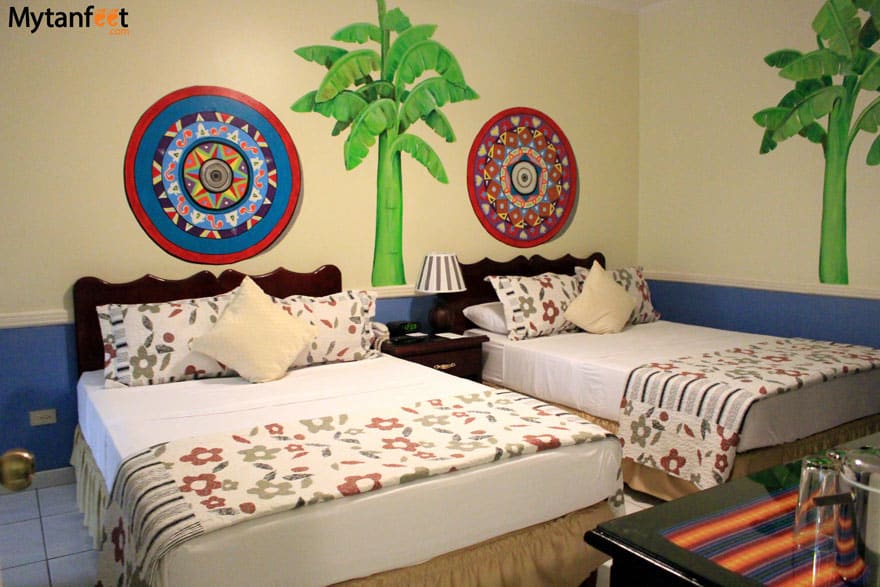 We've stayed here several times and it has always been an excellent experience. Additionally, their breakfast and restaurant is really good. This is one of the best hotels near San Jose Airport with free airport shuttle.
Rooms start at $120 for a standard. You can read our review and get 10% off your booking here: Adventure Inn San Jose.
Hotel Aeropuerto (Airport Hotel)
For hotels near San Jose Airport, this is one of the most popular options as it's only a 5 minute drive from San Jose airport. Hotel Aeropuerto also offer a free shuttle to and from SJO airport.
Rooms are spacious and comfortable and is a great option for business travelers as they have a conference room, on-site restaurant, large parking lot, pool, free wi-fi throughout the property and an Internet room.
Standard rooms start at $90 and you can check for the latest rates here.
Hampton Inn & Suites Airport Boulevard San Jose Airport
The Hampton is a great choice for a San Jose Airport hotel since it's super close, less than 2 kilometers. They have a 24 hour airport shuttle service or you can take a $2 taxi. They have a business center, pool, gym, handicap friendly rooms and free wi-fi. Their suites are great for families as they are very spacious. For a safe and modern hotel by San Jose International Airport with free airport shuttle, this is an excellent choice.
Rooms starts at $120. Click here to check the rates.
Courtyard by Marriott San Jose Alajuela
With 7 business rooms, rooms and suites, an on-site restaurant and you can earn Marriott Reward points. More for business travelers, those who have Marriott Rewards or want an upscale option. Very nice for a Marriott and I feel like it meets the standard of other Marriott airport hotels I've stayed in other cities.
Rooms start at $150. Check rates here.
Barcelo San Jose Palacio
This resort like hotel offers free airport transfers in and out. It has a pool, gym, restaurants and very comfortable rooms. Check rates here.
Doubletree by Hilton Hotel Cariari San Jose – Costa Rica
Very nice Hilton close to the airport. Has a pool, great restaurant and comfortable rooms. All guests get a free cookie upon check in. Excellent options for Hilton members.
Country Inn and Suites By Radisson, San Jose Aeropuerto
This Radisson branch is only 10 minutes from San Jose Airport, very convenient location. It has an onsite restaurant and pool, friendly staff. Breakfast is included. Check rates here. Rooms start at $110.
Holiday Inn Express San Jose Airport Costa Rica
If you're looking for comfort and convenience in a hotel near San Jose Airport, this Holiday Inn is another excellent option as it's less than 2 kilometers from the airport. Holiday Inns in Costa Rica are considered more upscale and this one is very clean and convenient with amenities such as a pool and a gym.
They include complimentary 24 hour shuttle service. Rooms start at $110, you can check their latest rates here.
Mid – High Range Hotels Near San Jose Airport Without Shuttle (~$90 and up)
Hotel La Rosa de America
This hotel is 15 minutes from San Jose Airport in Alajuela. They don't offer transportation so it's best if you have your own car or you can pay around $20 for a taxi. They have a very nice garden area, pool, spa and on-site restaurant.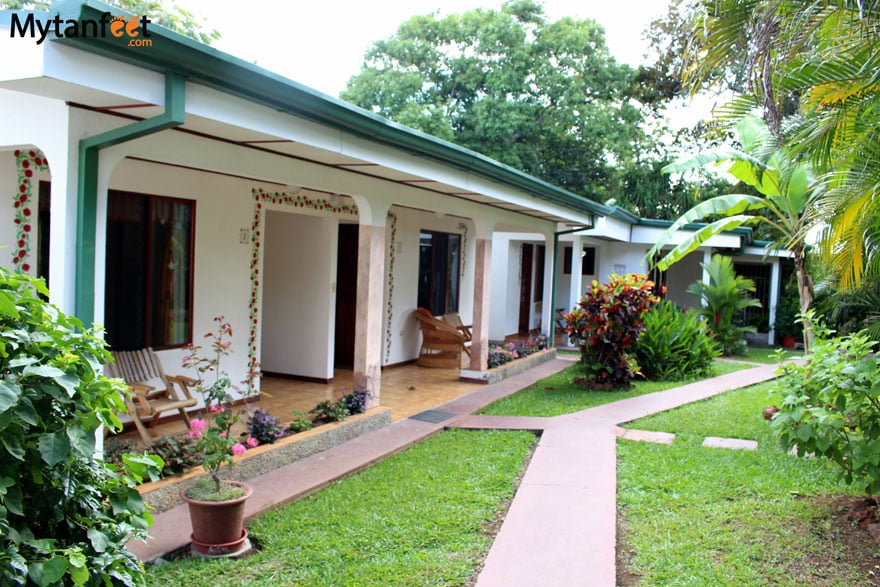 Rates start at $80 for single standard cabin with breakfast. You can get the latest rates here.
Trapp Family Inn
Cozy family hotel 1 mile (1.6 km) from the airport in Alajuela. Rooms are spacious with a balcony overlooking gardens. Taxi costs around $3 USD to the airport.
Rooms start at $108 plus tax. Check availability here.
Villa San Ignacio
Posh hotel with a pool, restaurant and 16 rooms and suites. Also pet friendly! It is around 8 kilometers (5.5 miles) to the airport.
Rates start at $140 a night. Check rates here.
How to Get to Your Hotel from San Jose Airport
If your hotel doesn't offer complimentary airport transportation, here are our tips for getting to and from San Jose Airport.
If you are arriving at the airport and need to get to your hotel, you can:
Take a taxi. There are a bunch of taxis right outside the airport but make sure to get one from the official airport taxi stand. Airport taxis are orange, regular taxis are red and they should all have a code/emblem on their doors.
Call an Uber. Uber is everywhere in San Jose and you can call one from the airport. Read more of our Uber in Costa Rica tips and get $10 off your first ride.
Book a private shuttle. This is a good option for big groups or young families or if you're landing at an odd hour, as the driver will wait for you directly at the airport. They will also wait for you in case of flight delays.
Car rental: You can pick up your rental car after you land, or if you don't want the car just yet, you can get your car the next day. Renting a car in Costa Rica? Click here to save money with our discount and extra benefits with our partner Adobe Rent a Car. They can deliver your car to any of the previously mentioned hotels in this post for free!
How to Get to San Jose Airport from Your Hotel
If you need to get to San Jose Airport from your hotel, you can ask your hotel to call you a taxi or book transportation if they offer free airport shuttles. If your flight is super early in the morning like 4 AM, Uber might be your best option. Or else, make sure to ask your hotel's front desk the day before to arrange a taxi for you.
Uber: We have called Ubers at 4 AM to the airport before and were always able to find one.
Private shuttle: Very convenient as you set your pick up time and they will be there waiting for you.
Car rental: If you rented a car, the normal procedure is you will return the rental car to the office and then they will shuttle you to the airport free of charge (during business hours).
If you're flying in and out of LIR Airport in Liberia, here is our list of the best hotels near Liberia Airport.
Don't forget to read our post on tips for going through immigration and customs in San Jose and Liberia airport.
Read more Costa Rica travel tips below
Tips for finding accommodation
15 things to know before you go
There are affiliate links in this post.