With grey sands and clear waters, Playa Hermosa, Guanacaste has been given the prize of "Bandera Azul" for upholding high environmental standards. It has gorgeous scenery, surrounded by mountains and lush vegetation so if you're looking for a quiet beach in Guanacaste, Playa Hermosa is a top choice. Below is our guide to visiting Playa Hermosa in Guanacaste.
Click the section to skip to it.
Location and Directions
From Liberia International Airport: Leaving the airport, turn right onto the main road and right again at the next big intersection. When you hit the intersection with all the large ads (a few kilometers before you enter Playas del Coco), turn right once more.
Follow this road for another 3 kilometers and you will see a sign for Hermosa and turn left just before the "Hermosa del Mar" board. About a 35 minute drive.
Playa Hermosa, Guanacaste Map
To take the bus, there is one from Liberia to Playa Hermosa.
A shuttle costs around $50-55 USD each way for 1-4 people, and a taxi costs around $60 USD. From Playas del Coco, a taxi ride to Playa Hermosa costs about $15 USD each way.
There are two entrances to Playa Hermosa which you will see signs for (primera/segunda entrada). Either one is fine to go to.
Playa Hermosa Guanacaste Beach
Hermosa is a popular place to watch sunsets as you can get a full view of the sun going down for the day. The beach itself is calm, relaxed and immersed in nature because of the few amount of commercial businesses around.
The tide is fairly calm and since it rarely gets crowded, there is plenty of space underneath the trees to grab a spot. Stretching 2 kilometers, dark grey sands contrast brilliantly with the blue waters and dark green vegetation and it is easy to spot monkeys, colorful birds and butterflies around.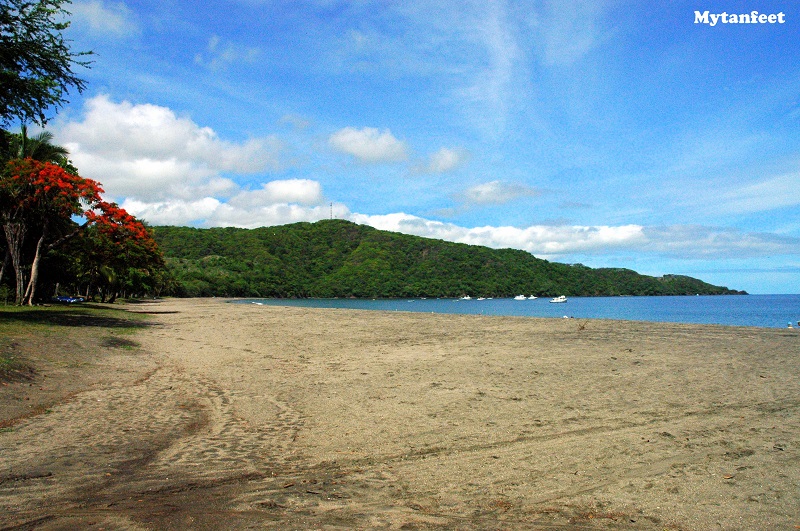 Playa Hermosa is a lovely beach that offers all the amenities plus the added bonus of not being overcrowded. The care that has been given to this beach, the cleanliness and the friendliness of the locals makes this one a big favorite in Guanacaste.
For those looking to stay in a more laid-back environment, this is the place for you. Families flock here as the surf is calm enough for toddlers but have enough activities to keep the older ones entertained. However, it is not ideal for a single traveler since there isn't much here and it can get a little boring, especially in the off season when some bars and restaurants are closed or don't provide nightly entertainment.
As soon as you spend one night here, you won't want to leave. Playa Hermosa is rightly named for what it means – truly a beautiful beach.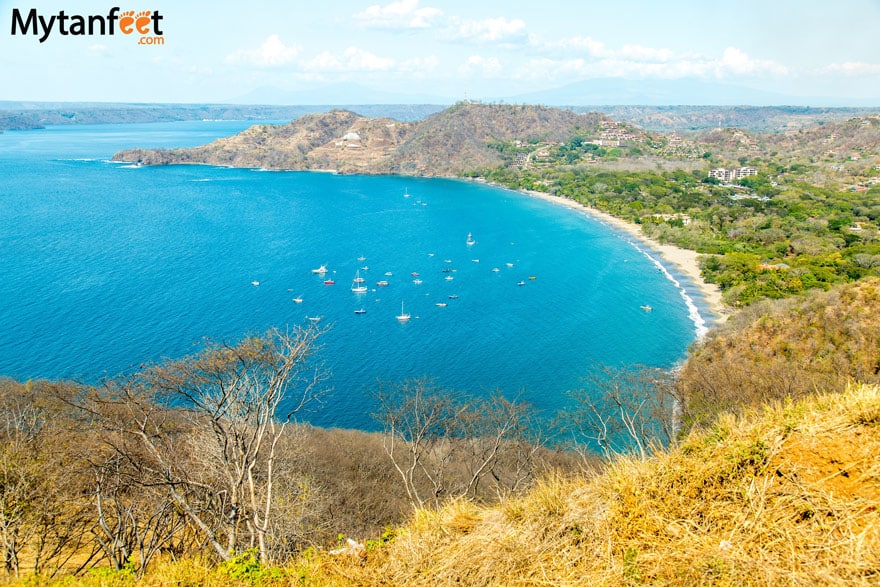 We do recommend that if you're staying in Playa Hermosa to rent a car so that you can go back and forth to Coco town easily for shopping and nightlife.
Restaurants in Playa Hermosa
Playa Hermosa doesn't have a town center or a downtown but many of the restaurants and businesses are located on the main road. There are a couple nice restaurants and hotels on the beach and off the main road is the mini supermarket, restaurants, a laundry mat, apartment complexes and real estate offices.
Most of the restaurants serve international and local food.
Ginger
Roberto's Bar & Restaurante
Aqua Sport
El Valero
Papa Hog's Smokehouse
Vista Hermosa
Rock Beach bar
Sandbar
Playa Hermosa, Guanacaste Hotels

Hermosa is well known for having some of the nicest houses and condos in the area. You can find many residential communities such as Palo Alto and Hermosa Heights that have giant houses with a spectacular view overlooking all of Hermosa Bay. Most of the lodging are considered to be mid to high luxury with a few budget hotels.
Here are the top hotels in and around Playa Hermosa.
Villas Sol Hotel & Beach Resort – they mostly do time shares but you can stay in the rooms. They are a resort with a couple of pools and a beautiful view of both Playa Panama and Hermosa. They have a range of budget standard rooms to fully furnished condos. They offer an all-inclusive option.
Hotel Condovac La Costa – This is another very nice resort on Playa Hermosa with a pool, great view and is beach front.
Bosque del Mar – This is a very beautiful hotel on the beach. It's a nice option if you don't want to be in a resort or in a hotel with hundreds of rooms like Villas Sol or Condovac as this one is smaller and quieter.
Hotel Mangaby – Excellent budget option close to the beach
Congos Hostel – Hostel on the beach, good for backpackers and solo travelers. They also have a camping area.
Depending on what you are looking for, there are many hotels in Playa Hermosa that provide comfortable and clean rooms that can accommodate to your budget and needs. However, vacation home and condo rentals are extremely popular in Playa Hermosa since most of them are owned by snowbirds who own several properties or only come down once a year so check out Airbnb and VRBO if you would like a luxury home rental. (Get $40 in Airbnb credit here).

Things to do in Playa Hermosa, Guanacaste
Whether you just want to lay in the sun or be out in the water, there are plenty of activities to keep you busy at Playa Hermosa. Jet skiing, snorkeling, scuba diving, horseback riding, water biking, wind surfing, canoeing along with organized fishing trips and catamarans are all available.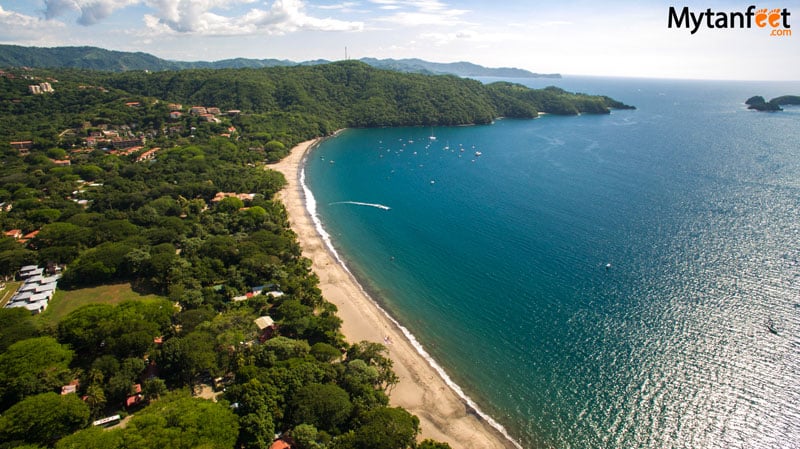 Being a more tranquil beach, it is the perfect place to enjoy some relaxation time with loved ones whether you're getting a massage or enjoying a nice cold pipa fria (coconut water).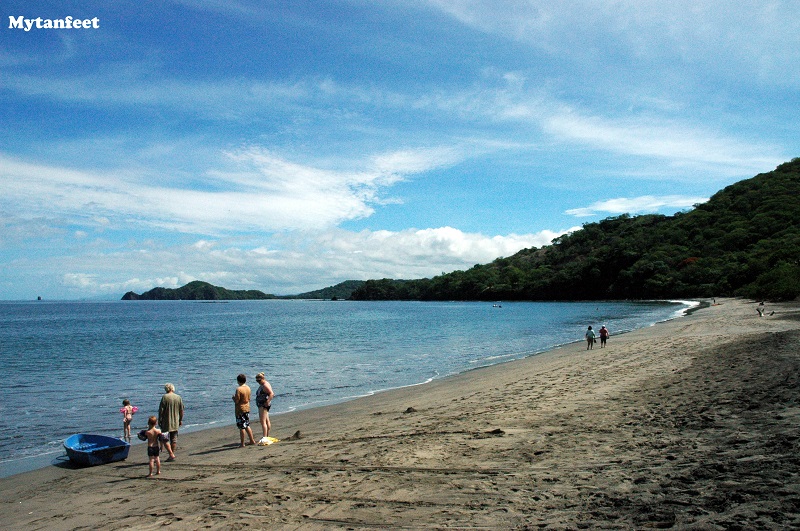 Many national parks are close by such as Rincon de la Vieja, Palo Verde and Santa Rosa and you can find tours offered by companies for hikes, boat rides and adventure tours which do pick up at Playa Hermosa if you don't have a car.
Some popular day trips from Hermosa are Guachipelin combo tour, Diamante Adventure Park, beach hopping Gulf of Papagayo, Nicaragua one day tour and Arenal/Monteverde day trips.
Playa Hermosa, Guanacaste Nightlife
Much of the nightlife at Playa Hermosa is contained at the bars and restaurants. Some places open late and have happy hour but most of the residents of Playa Hermosa like to travel elsewhere to party.
Since Hermosa doesn't have a town center and the bars are fairly spaced out, many people head to Coco. If you want to experience a more full nightlife with locals or other tourists, the best place to go is Playas del Coco.
Check out our video of Playa Hermosa in Guanacaste to see more!
Want to read about more beaches in Costa Rica? Here you go!

Or read our guide to the best beaches in Guanacaste.