With dark sand and stunning sunsets, Playa Hermosa, Guanacaste has been given the prize of "Bandera Azul" for upholding high environmental standards as one of the cleanest beaches in the country.
Below is our guide to visiting Playa Hermosa in Guanacaste.
Location
Playa Hermosa, Guanacaste Map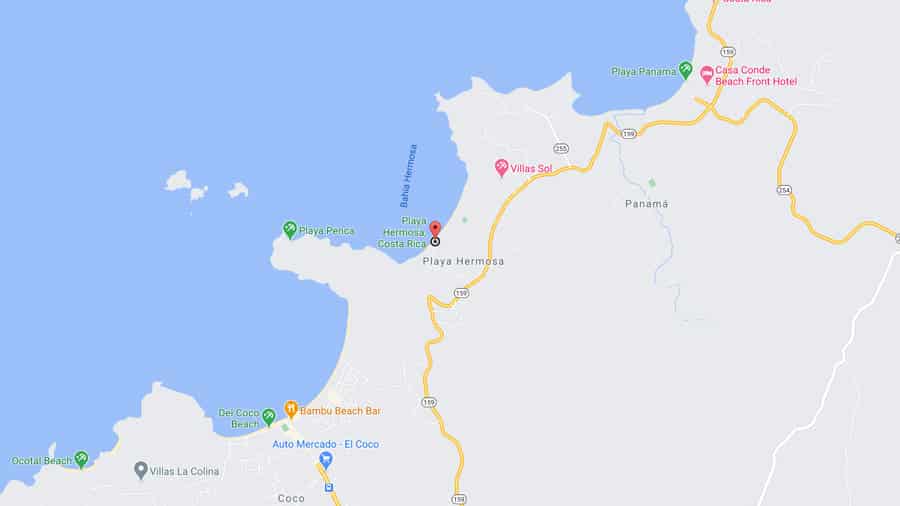 Playa Hermosa, Guanacaste is 25 kilometers (15 miles) from Liberia International Airport and 231 kilometers (143 miles) from San Jose International Airport. It is about a 30 minute drive from Liberia Airport and a 4 hour drive from San Jose Airport.
Travel tip: There are MANY beaches named "Playa Hermosa" in Costa Rica. Make sure to check which Playa Hermosa you are staying at! There is a Playa Hermosa by Jaco, Playa Hermosa in Uvita and Playa Hermosa in Santa Teresa. There is even a volcano crater called "Playa Hermosa" in Irazu Volcano National Park!
How to Get to Playa Hermosa, Guanacaste
Driving
From Liberia International Airport to Playa Hermosa, Guanacaste, it is only about a 25 minute drive. You can use Google Maps or Waze for navigation.
Shuttle
A private shuttle costs around $65-75 USD each way for 1-8 people and a taxi costs around $60 USD. From Playas del Coco, a taxi ride to Playa Hermosa costs about $30 USD each way.
Beach Entrances
There are two entrances to Playa Hermosa which you will see signs for (primera/segunda entrada). Either one is fine to go to. Remember if you drive to the beach, to lock your doors, roll up your windows and don't leave any belongings visible in your car as the parking is only street parking.
In Google Maps, you can select "Playa Hermosa, Costa Rica" as your final destination (and just double check it's the right beach).
Playa Hermosa, Guanacaste Beach
Hermosa is a popular place to watch sunsets as you can get a full view of the sun going down for the day. The beach itself is calm, relaxed and immersed in nature because of the few amount of commercial businesses around.
The tide is fairly calm and since it rarely gets crowded, there is plenty of space underneath the trees to grab a spot. Stretching 2 kilometers (a little over a mile), dark grey sands contrast brilliantly with the blue waters and dark green vegetation.
Hermosa beach's chill and low key vibe makes it a favorite for visitors looking for a quiet vacation. Additionally, the cleanliness and friendliness of the locals makes this one a big favorite in Guanacaste.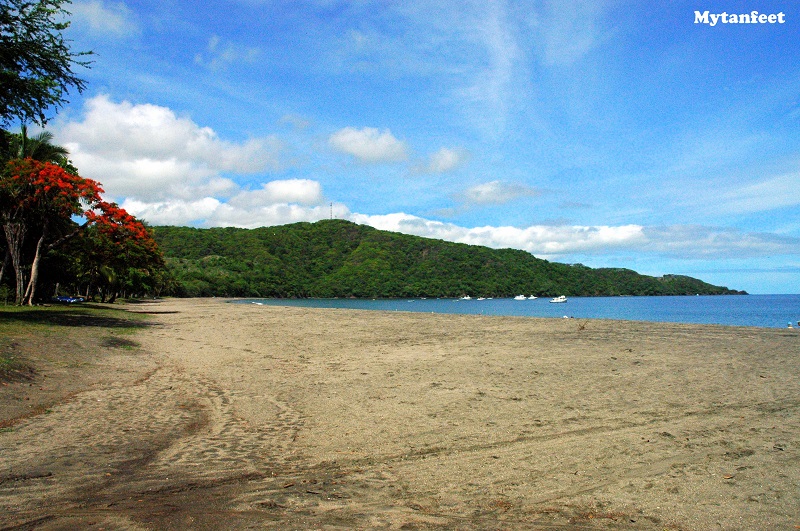 However, it is not ideal for a young single traveler since there isn't much here and it can get a little boring. It's especially quiet in the off season and low travel months like September and October as some restaurants and businesses close.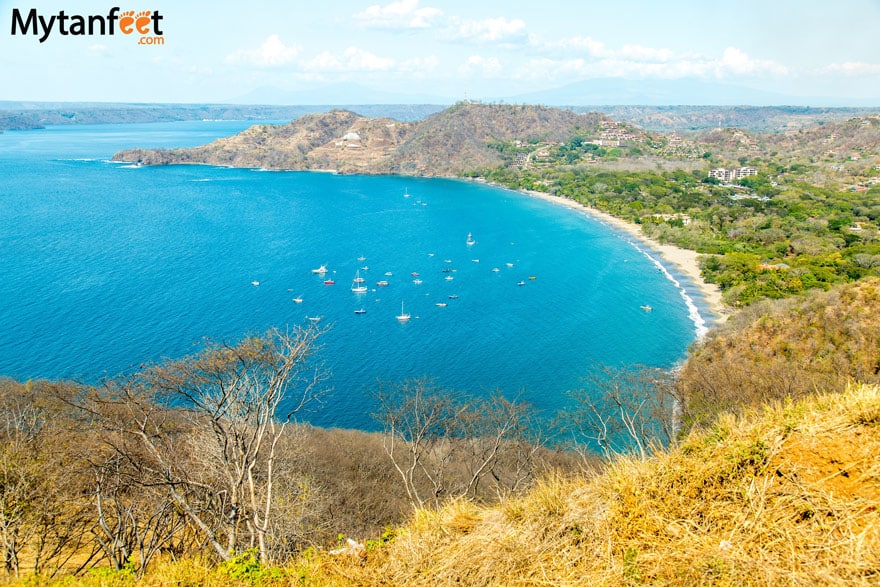 But for those looking for tranquility, solitude and a quiet beach, this is the place for you. Playa Hermosa is rightly named for what it means – truly a beautiful beach.
How to Get Around Playa Hermosa, Guanacaste
We highly recommend to rent a car for Playa Hermosa. Since there isn't really a town in Playa Hermosa and all of the services, bars and nightlife are in Playas del Coco, it will be much more comfortable and convenient. Without a dedicated downtown or town center, everything is spread out.
As I mentioned earlier, Hermosa is very quiet and can get boring at night so if you want an exciting nightlife with parties, dancing and drinking. If that is you, we'd actually recommend to visit Tamarindo instead or you can stay in Playas del Coco proper to be closer to the good nightlife.
However, it is possible to stay in Playa Hermosa without a car if you're only there for a night or two. If you don't rent a car and want to use Playa Hermosa as a home base, you have to book tours with round trip transportation included or take taxis everywhere. You can also look into renting a golf cart to get around just Playa Hermosa if your hotel is near the beach and not up in the mountains.
Restaurants in Playa Hermosa
There are some restaurants on the beach and around Playa Hermosa such as Ginger, Roberto's, Aqua Sport, and Pescado Loco Bar and Restaurant.
Services
All the restaurants and businesses are right off the main road and spread out in the area. There are a couple nice restaurants and hotels on the beach and off the main road is the mini supermarket, restaurants, a laundry mat, apartment complexes and real estate offices.
For a supermarket, there is a small market which has all the basics and a small produce aisle. If you want a bigger supermarket, then you will need to go into Playas del Coco.
Playa Hermosa, Guanacaste Hotels
Hermosa is well known for having some of the nicest houses and vacation rentals in the area. You can find many residential communities such as Palo Alto, Monte Paraiso and Hermosa Heights that have giant houses with a spectacular view overlooking all of Hermosa Bay.
Check out Airbnb and VRBO if you would like a luxury home rental.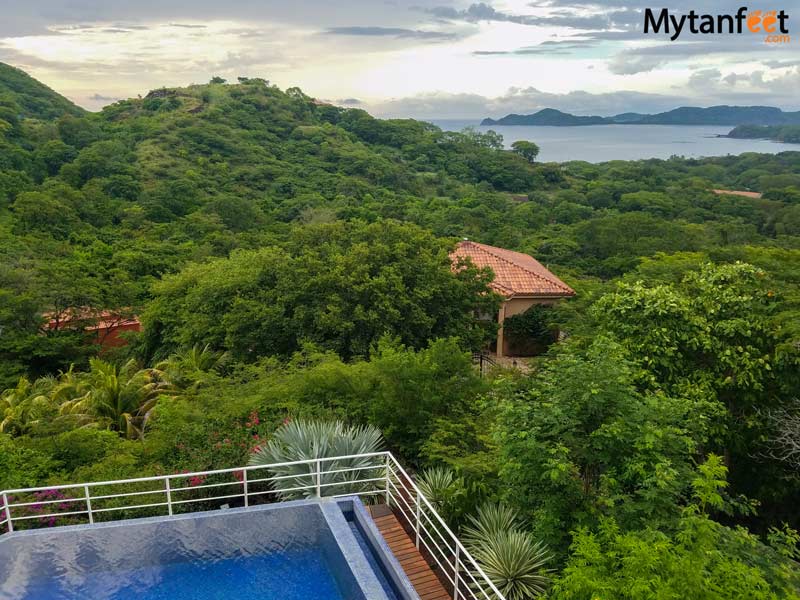 Depending on what you are looking for, there are many hotels in Playa Hermosa that provide comfortable and clean rooms to accommodate to your budget and needs.
Villas Sol Hotel & Beach Resort – Rooms and time shares, popular with locals. They are a resort with a couple of pools and offer an all-inclusive option. Beachfront.
Villa del Sueño Hotel & Restaurant: Nice hotel with beautiful gardens, clean standard rooms and suites for groups/families up to 4 people. Has a pool and is walking distance to the beach (2 minutes). Also has a restaurant and live music on weekends.
Hotel Condovac La Costa – This is another very nice resort on Playa Hermosa with a pool, great view and is beach front, right next to Villas Sol.
Bosque del Mar – This is a very beautiful hotel on the beach. It's a nice option if you don't want to be in a resort.
La Gaviota Tropical: Beach front, small hotel with rooftop pool.
Hotel El Valero: Boutique hotel on the beach, clean, reasonable prices. Has a restaurant.
Hotel Mangaby – Excellent budget option close to the beach
Congos Hostel – They have a family room, private chalets and camping. Good budget option for basic accommodation on the beach.
Things to do in Playa Hermosa, Guanacaste
Whether you just want to lay in the sun or be out in the water, there are plenty of activities to keep you busy at Playa Hermosa. The best things to do in Playa Hermosa, Guanacaste are watching the sunset, happy hour on the beach, kayaking and swimming.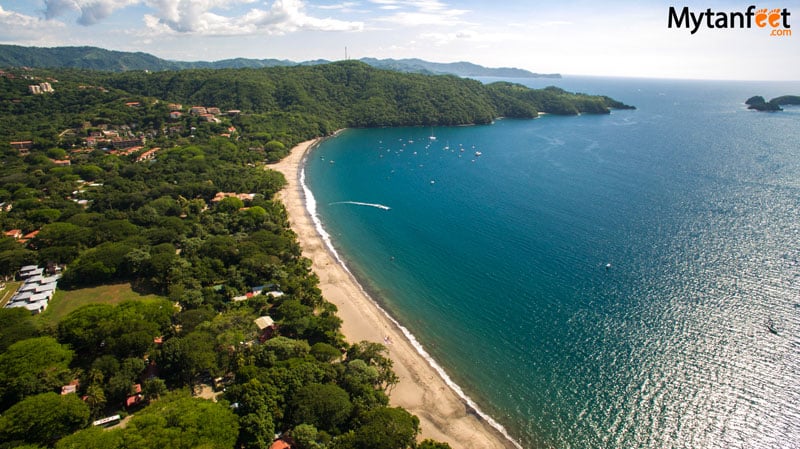 Being a more tranquil beach, it is the perfect place to enjoy some relaxation time with loved ones. Sunsets here are spectacular!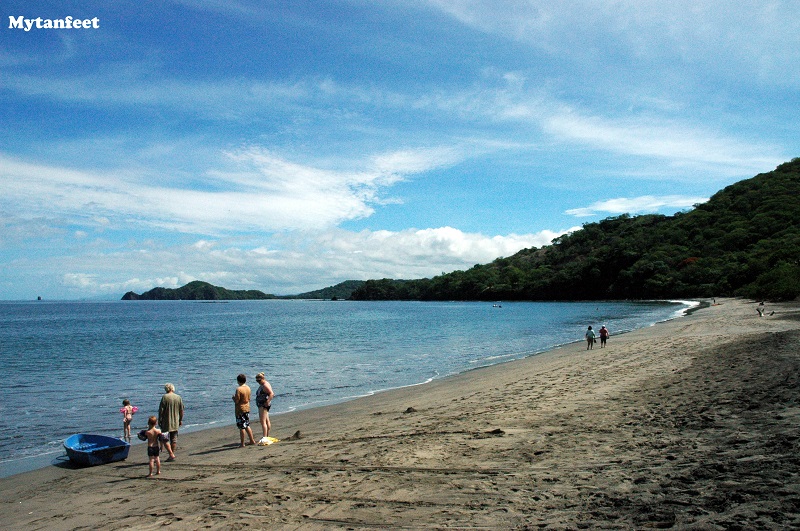 You can also book organized excursions such as fishing, scuba diving, snorkeling and beach hopping in the Gulf of Papagayo.
Some popular day trips from Hermosa are Guachipelin combo tour, Diamante Adventure Park and Arenal. There are several national parks in the area perfect for day trips such as Rincon de la Vieja, Palo Verde and Rio Celeste (Tenorio Volcano). If you don't rent a car, you can book tours with transportation from Hermosa included.
For day trips, you can check our post on day trips from Playas del Coco (which works for Playa Hermosa too). In case you'd like to book a day tour with transportation, we offer small discounts for excursions which you can check out in this link.
On Saturdays, they have an artisan market from 10 AM to 2 PM in Hermosa Heights. You can check out local vendors, meet the community and pick up some treats and knick knacks.
Shopping
There aren't any big full service supermarkets in Playa Hermosa proper. There is a small convenience store that has basics and produce.
If you want to pick up lots of groceries, it is best to go to the supermarkets in Playas del Coco. You can also go to the Walmart/supermarket in Santa Rosa Plaza in Liberia after you land at the airport for more variety and options and slightly cheaper prices.
Playa Hermosa, Guanacaste Nightlife
Aqua Sport is a great place on Hermosa beach for nightlife as they have happy hour, live music, sunset drinks, swings, lounge and a beach volleyball net. However, for more nightlife fun, head to Playas del Coco for nightlife. Playas del Coco has many more bars, restaurants and places to dance, enjoy live music, good food and happy hour.
Sample Itineraries
Here are some ideas of visiting Playa Hermosa, Guanacaste.
One week in Costa Rica Itinerary: Stay in Playa Hermosa instead of Playas del Coco. Also has a few days in La Fortuna (volcano + rainforest). Get around by renting a car.
Two weeks in Costa Rica itinerary: Same as above. Stay in Playa Hermosa instead of Coco. Itinerary also includes Santa Teresa (beach), La Fortuna and Monteverde (cloud forest) by renting a car.
Some people only have 4-5 full days in Costa Rica. It is possible to use Playa Hermosa as your homebase without renting a car. You will just have to book tours with transportation.
Day 1: Land in airport, take private shuttle to hotel
Day 2: Full day or half day fishing/snorkeling/beach hopping in Gulf of Papagayo (pick up from Hermosa beach). Other options are scuba diving or surfing at Witch's Rock.
Day 3: Sleep in, taxi to Playas del Coco in afternoon to souvenir shop, walk around town, happy hour, sunset drinks. Have dinner at Le Coq or one of the bars if it's a weekend.
Day 4: Today is a dedicated outdoor adventure day. Go to Diamante Eco Adventure Park for ziplining and animals, Hacienda Guachipelin for ziplining, hot springs and horseback riding or Rio Celeste to hike in the rainforest and see a blue colored waterfall. Another option is a rainforest and sloth tour in Bijagua.
Day 5: Relax and enjoy the beach on your last full day.
Day 6: Fly out, transportation via private shuttle
Want to read about other beaches in Guanacaste Here you go!
Playa Conchal: Beautiful turquoise colored water beach with white shells (one of the most beautiful beaches in Costa Rica)
Ocotal: Local beach by Playas del Coco
Playa Grande: Big surfing beach near Tamarindo in the Marino Las Baulas National Park
Playa Avellanas: Surfing beach near Tamarindo
Or read our guide to the best beaches in Guanacaste.