Manuel Antonio arguably has the most amount of luxury hotels in Costa Rica with 4 and 5 star high end resorts huddled on the hill overlooking the national park. They all have stunning views, gourmet restaurants, fancy rooms and tasty drinks but if you're looking for a unique, more personalized luxury experience, then you will have to look elsewhere for that something special.
And that place is Tulemar Vacation Rentals and Sales. We've driven past their gate so many times I've lost count and it wasn't until last month that we stayed in one of their vacation rentals. It's safe to say that we were blown away. Not just because they have over 50 luxury houses and bungalows, but because of the service and amenities they offer.
Now we can say that we had an incredible time at Tulemar. They have truly raised the bar on luxury accommodations in Costa Rica for us and we have stayed in at least 100 different hotels in the country!
So if you want a slightly different experience than your typical resort in Manuel Antonio, book a house at Tulemar. We can't wait to go back with our friends and family and below, you can read why.
*This review has been updated in October 2019 to include the new premium bungalows which you can read about below.*
The Tulemar vacation rental houses are gorgeous
And I mean, it will leave your mouth gaping after you've picked up your jaw from the ground. Since the vacation rentals are all owned by different people, each one has a unique style and design. On the outside they may look like normal houses but it's the inside that matters!
They have houses with deep plunge infinity pools, bathtubs made of a rock imported from halfway across the world, outdoor showers and jaccuzis, wrap around decks on each floor, state of the art kitchen furniture and other amenities.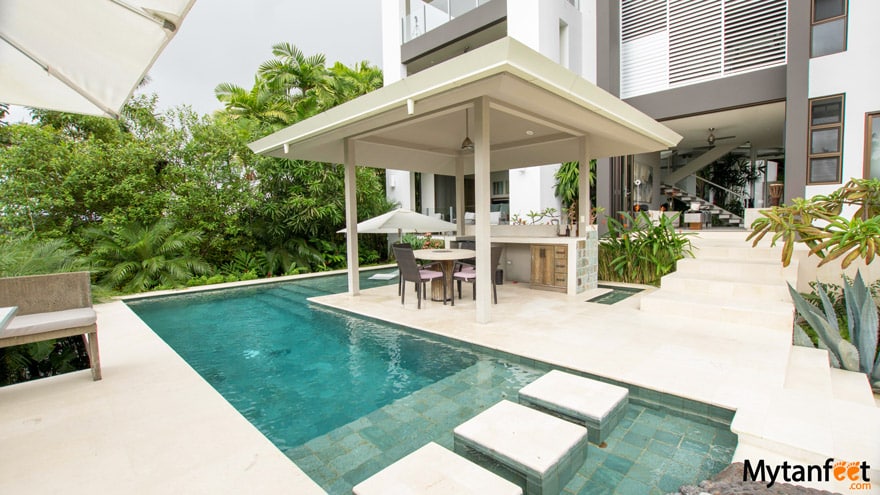 Some of the owners designed and built the house themselves, either as a passion project or just to build their dream home and share it with others. It was incredible to see the different designs and you could feel the love they poured into each one.
Casa del Mar
The house we stayed at, Casa del Mar was a cozy house with two floors, wrap around decks, outdoor showers, an outdoor jaccuzi and two bedrooms that fits up to 7 people.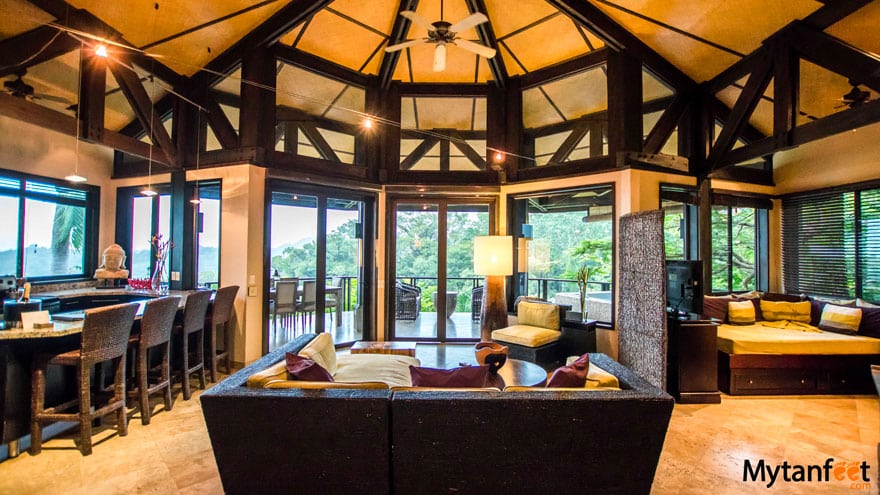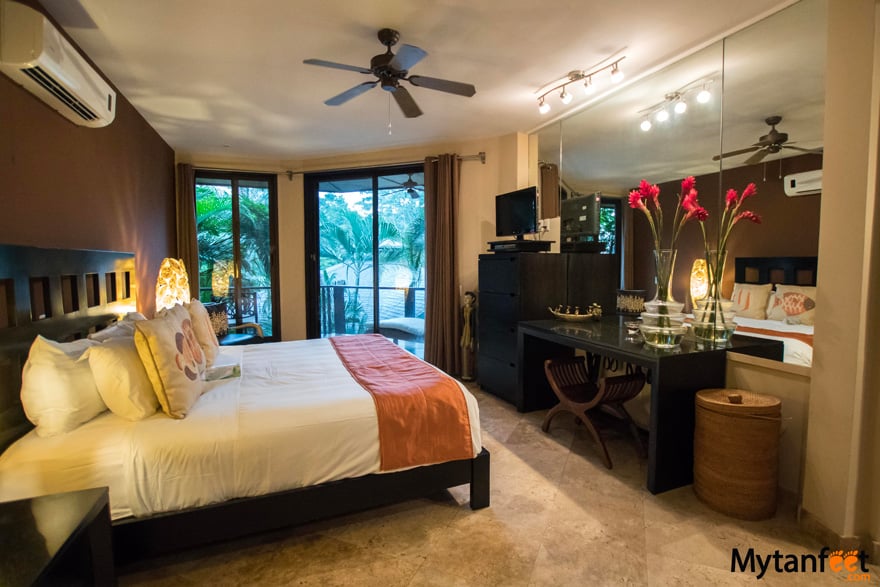 Any interior designer or architect will go crazy checking out all the unique details and designs of the houses. I'm not either of those things and I was absolutely amazed by how creative some of the houses were!
Rent a house or bungalow at Tulemar, Manuel Antonio
Renting a house in the Tulemar Vacation Rentals and Sales isn't cheap but many of the houses can hold anywhere from 4-12 people. Don't feel like it's out of your range if you don't need a huge house though! Tulemar also has 1 bedroom bungalows, ideal for young families and couples.
Tulemar Bungalows
The bungalows are the original rooms from when Tulemar was first built over 30 years ago. Although they are older, all of them are well maintained and offer a more natural experience as they are kind of like treehouses with their octagonal shape and tall windows.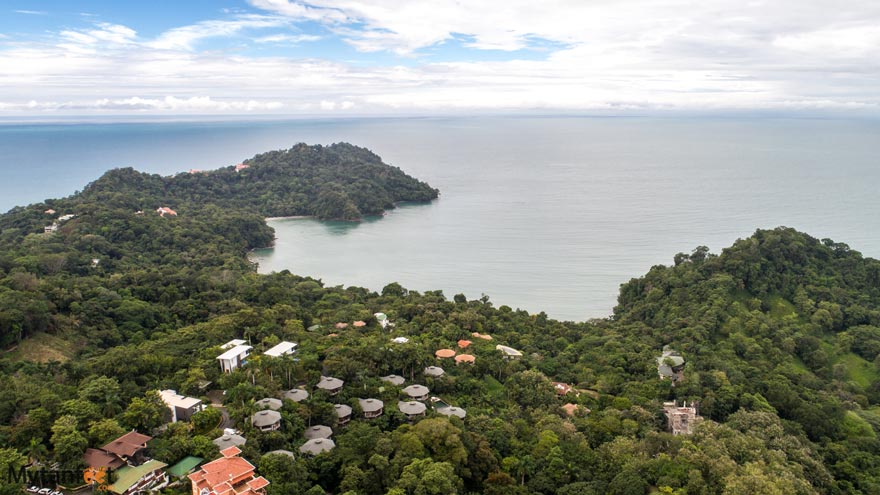 Currently they have two bungalow options: standard and premium. Both premium and standards have ocean views, 1 room with two queen beds, daily housecleaning, are the same size and are in the same part of the Tulemar property.
However, the premiums have upgraded furnishings, a contemporary tropical design and decor, a full kitchen, an island and more extravagant detailing. For couples, especially honeymooners, the premium bungalows are absolutely perfect for a cozy and intimate tropical vacation. They've kept the classic Tulemar "treehouse" touch with the bungalows but now they just have more "modern rustic" vibe. And they are still a great value!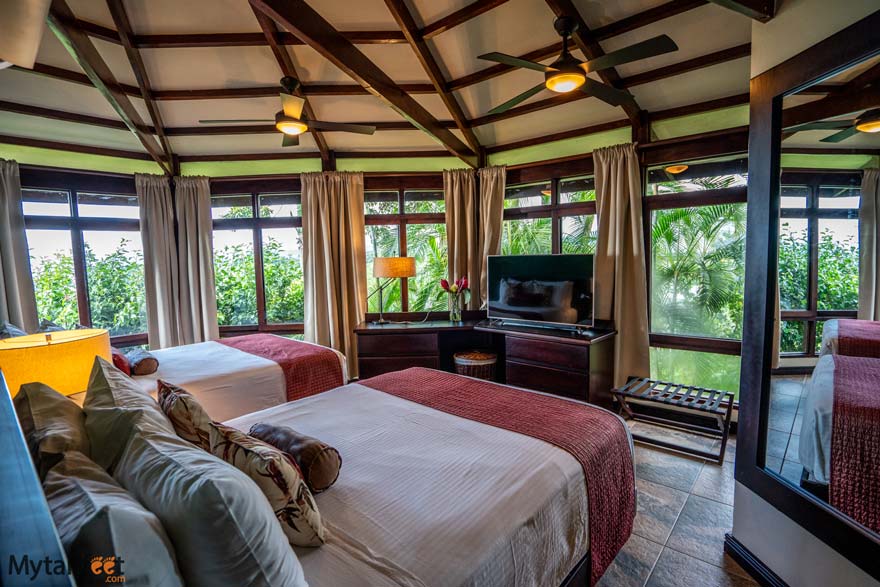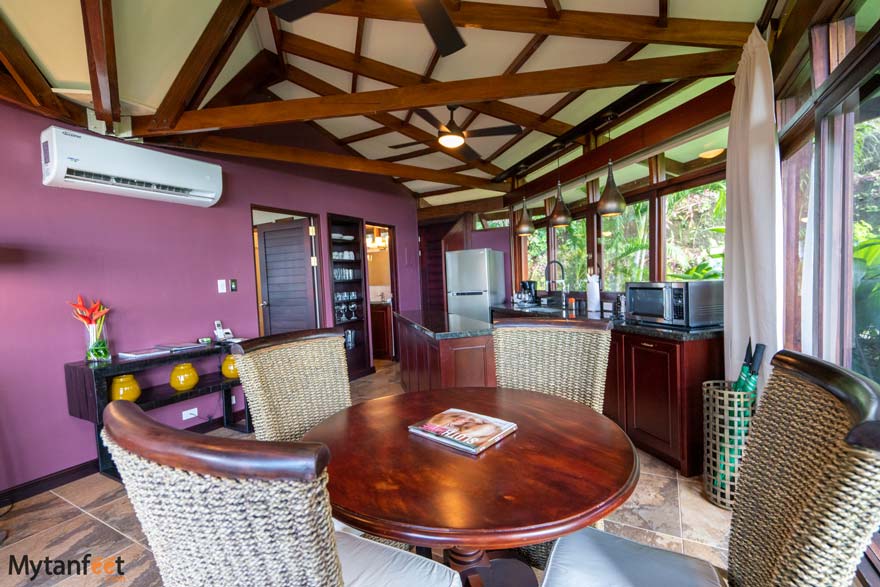 The bungalows are also be an excellent option for a young family, like a couple with a baby/toddler or two young children. Having a full kitchen, living room and dining area gives you all the comforts of home which is very convenient for families. Pair that with the 24/7 concierge and it'll take away a lot of stress of vacationing with babies and little kids without hurting your wallet too much.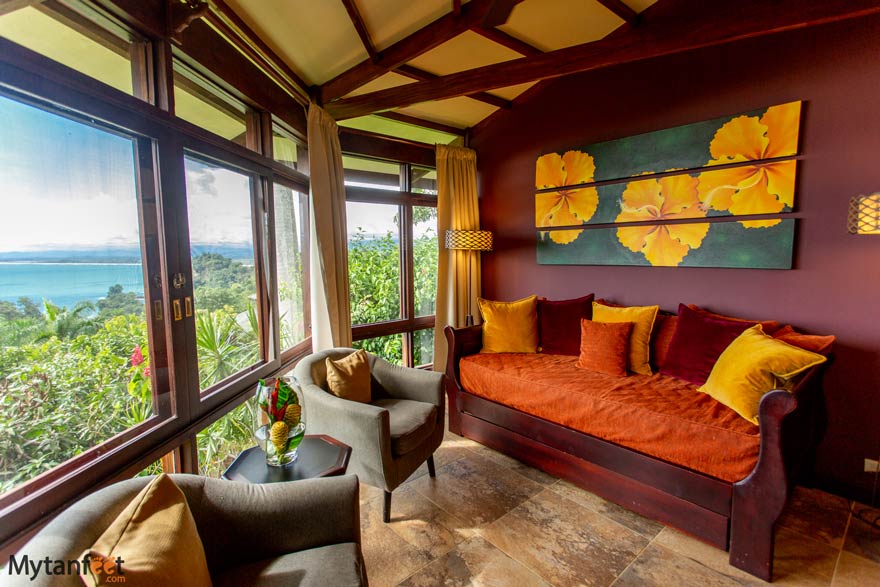 Even though the bungalows don't have balconies or outside patios, they offer splendid ocean views from every corner. Additionally, you can still see lots of wildlife like birds and monkeys thanks to the bungalow's vast windows and surrounding rainforest.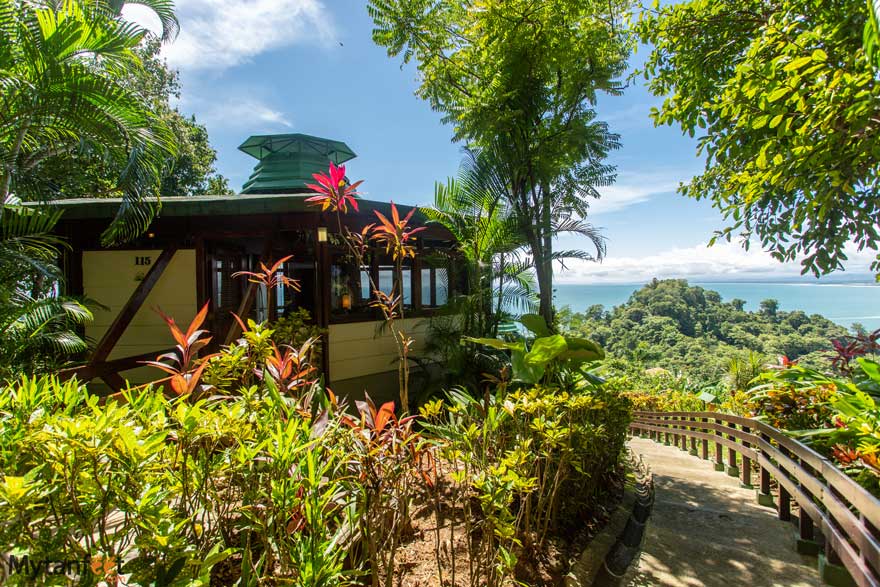 One of their bungalows named Amapola is the "original" premium bungalow so if you stay in that one, you'll be staying in the one and only original Tulemar premium bungalow!
The service is one of a kind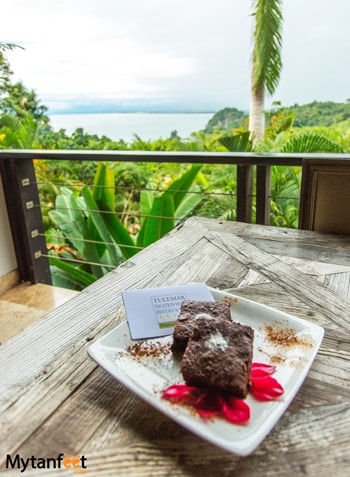 Luxury hotels usually always have excellent service. The employees are nice, attentive and engaging which should be expected for a high end place but at Tulemar, you get much more than quick service. You get your very own 24/7 concierge!
They meet you at reception, take you to your house, show you around and give you their personal number so that you can always reach them in case you need anything.
Our concierge, Ashley, called us in the mornings and evenings to check what our plans were, if we needed any recommendations or hotels or tours and just to see how our day was.
All the employees are incredibly nice and attentive at Tulemar. At the restaurant, the waiters always filled up our waters (a rarity in Costa Rica), the drivers gave us a ride even though they were off duty and the gardener even pointed out a porcupine to us!
From the moment you enter their property, they treat you not just like a paying guest but as family. They really do go above and beyond to make your stay as comfortable as possible.
They have their own "private" beach
I had no idea that Tulemar had their own beach. All beaches in Costa Rica are public but since the beach on their property is boat access only, no other guests really go there.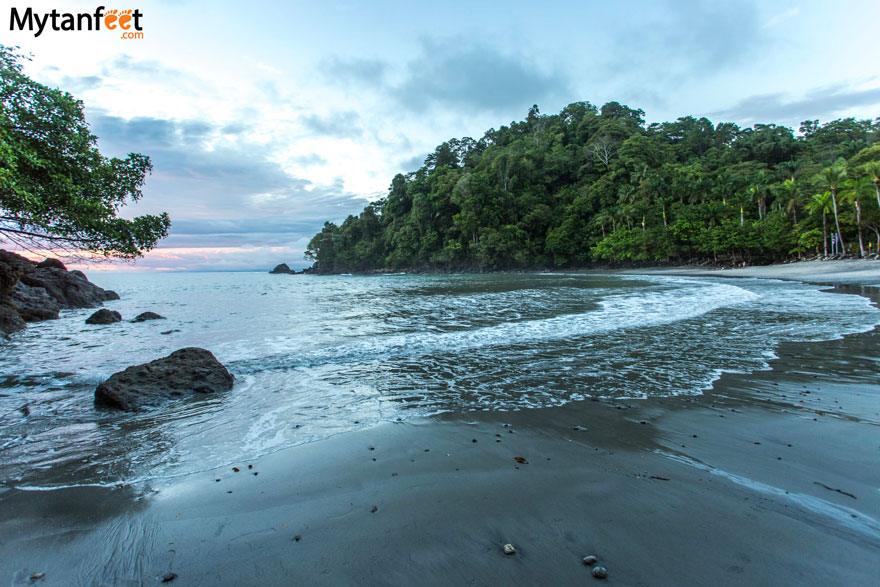 They have a nice beach club with a bartender, boogie board rentals and chairs so you can enjoy a beach day without having to go far or fighting to find a spot like you would in the national park. You can see the sunset from there and maybe run into some monkeys!
The wildlife on the Tulemar property

Speaking of monkeys, you will see a lot of them in the Tulemar property. We saw all 3 types of monkeys you can see in Manuel Antonio just outside our front door (squirrel, white face and howler).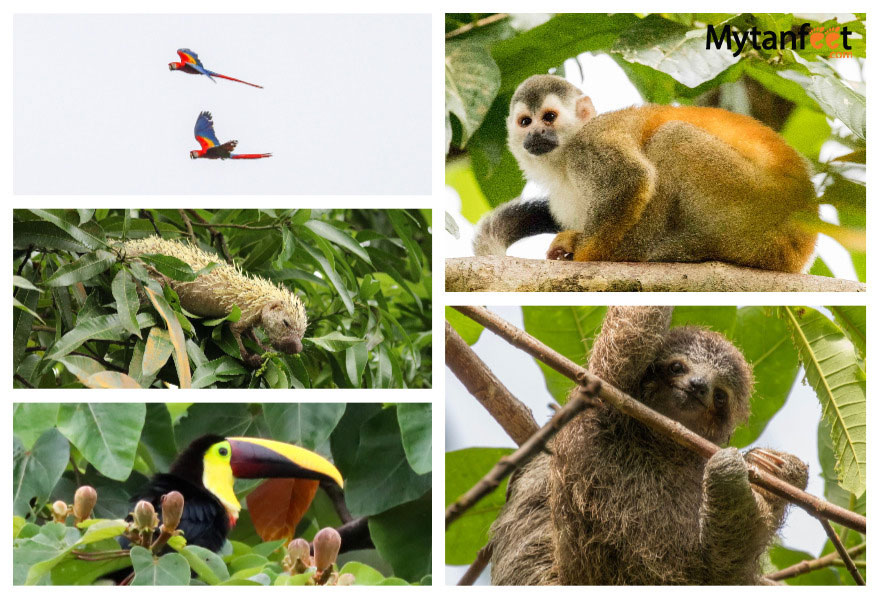 The balcony of our house had the best view of the macaws as they flew over the property. They perched on the building in front and I was able to get some incredible photos of them.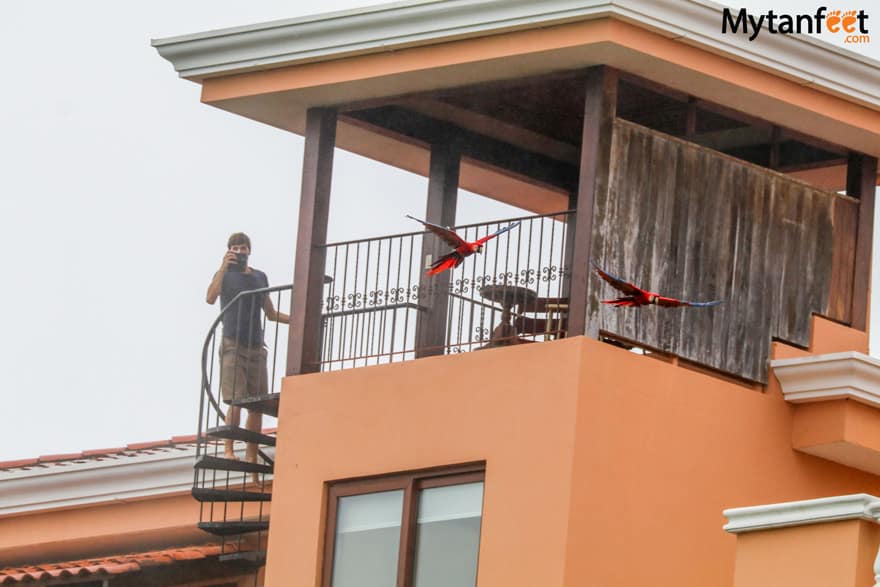 Tulemar's property has arguably more wildlife than Manuel Antonio National Park and that's saying a lot. Every day we were woken up by howler monkeys, toucans and macaws. Monkeys also sometimes jumped around on our balcony!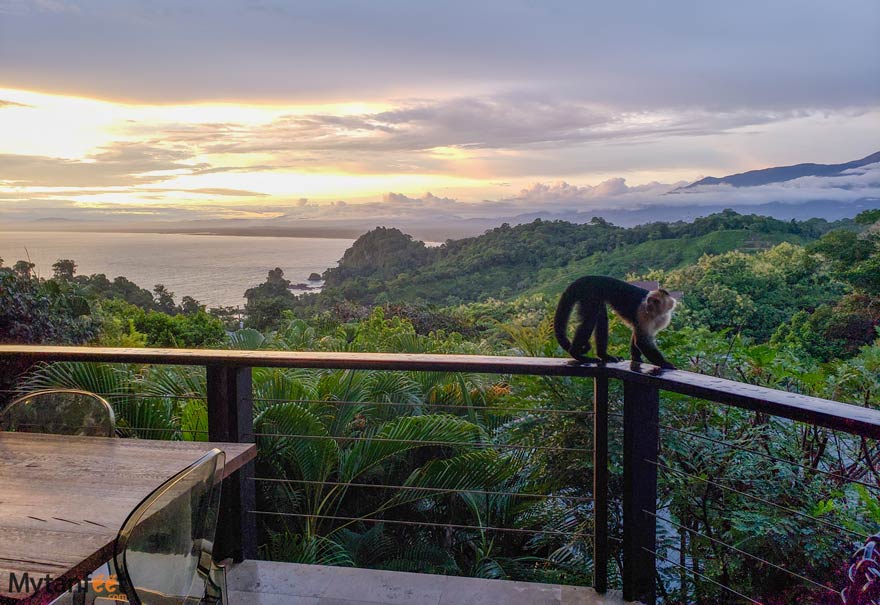 But the best part of the Tulemar wildlife are the sloths and this is because Tulemar offers a very special tour exclusively for their guests.
The Sloth Institute Exclusive Walk

The Sloth Institute is a non-profit organization that is dedicated to rescuing, rehabilitating and reintroducing sloths back into the wild. 100% of their profits go towards sloth conservation and education. Since the Tulemar property has such an abundance of wildlife, the Sloth Institute's decided to set up their base camp in Tulemar.
Every day except Tuesdays, the Sloth Institute does a nature walk for only Tulemar guests around the resort so that they can learn more about these adorable creatures in a small group setting. You can read more about the Tulemar sloth walk here.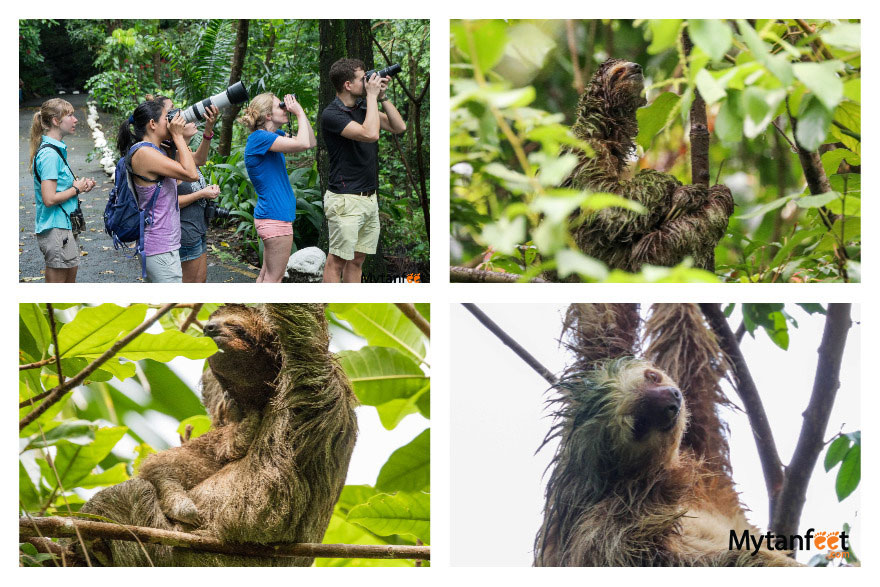 This is incredibly nice since the national park can get super crowded with tons of groups. We did the sloth walk with around 4 other couples and saw a lot of sloths up close!
Video of Tulemar Vacation Rentals
You can watch our video below to see more of Tulemar!
Our stay was sponsored by Tulemar and all thoughts and opinions are our own. Thank you Tulemar for an awesome time!