Visiting Costa Rica for two weeks but not sure where to go? This two weeks in Costa Rica sample itinerary will help! We put together this specific trip for some friends who wanted to experience both the Caribbean and the Pacific sides of the country.
In this 14 days Costa Rica itinerary, you will be able to see tons of wildlife, hike, visit several different national parks, go on adventures, see a volcano and relax at the beach. You get a little of everything!
What to Know About This Two Weeks in Costa Rica Itinerary
Here are the destinations for this sample 2 week itinerary in Costa Rica:
Day 1: San Jose
Days 2 – 3: Tortuguero
Day 4: San Jose
Days 5 – 7: Arenal
Day 8 & 9: Monteverde
Days 10 – 13: Guanacaste
Day 14: Fly home
Two Weeks in Costa Rica Itinerary Map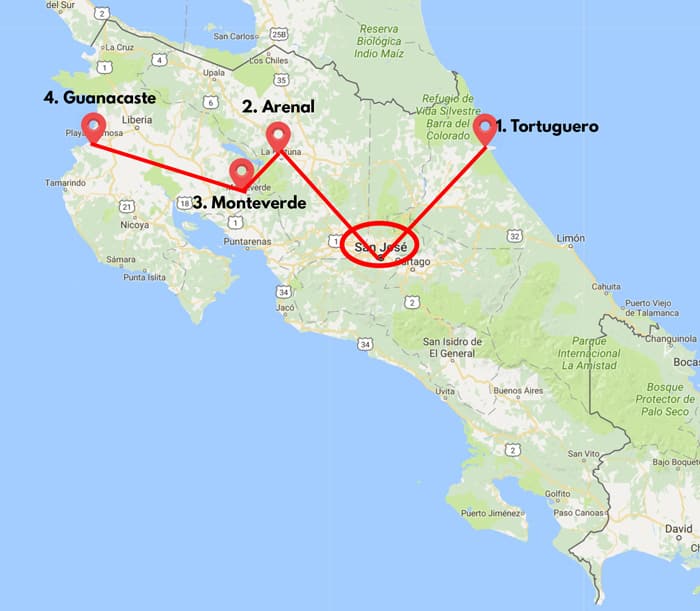 You land in San Jose and leave from Liberia
If you want to do this itinerary, you will need to have different arrival and departure destinations unless you want to drive 4 hours from Guanacaste back to San Jose which we don't recommend. You'll be losing a lot of beach time!
You can also fly from Liberia to San Jose but that is more expensive.
There are several transportation options

This itinerary will start by booking a tour package to Tortuguero, getting the rental car in San Jose and returning it in Liberia.
But you can also fly (except for Monteverde) or book shared shuttles. You can take the bus but we don't highly recommend it unless you're on a strict budget. You will have to transfer several times from San Jose to Tortuguero, Monteverde to Guanacaste and you will be more limited on time.
For the car rental, we recommend Adobe Rent a Car who have a partnership with. Save with our Costa Rica car rental discount and get 2 free drivers, free baby & booster seats and more!
If you would like shuttles, you can read more about Costa Rica shuttles if you want to book shuttles.
You will need to rent a 4×4 for this 2 week Costa Rica itinerary
Unfortunately since Monteverde roads are not in good condition, you will need to rent a 4×4 for this 2 week itinerary. If it is just 2 people, a Suzuki Jimny is a good option (manual only), a Hyundai Tucson or Daihatsu Bego. If you have a large group of people (up to 6), a Mitsubishi Montero Sport or Hyundai Gran Santa Fe will work.
This itinerary includes a booked tour to Tortuguero but you can also go on your own
For the first destination, Tortuguero, I chose to do it as a package from a hotel as it is the easiest and most stress free way to get there. It is about a 4 hour drive from San Jose to the La Pavona boat launch dock and another 1-2 hour boat ride. The hotel provides transportation, meals, guided boat rides and walks and arranges everything for you. (Save 7% on your Tortuguero package!)
However, if you don't want to do it that way, you can go on your own. You can book a flight to Tortuguero or you can take the bus and stay in a hotel/hostel in Tortuguero town. As most of the hotels in Tortuguero are expensive, this is the ideal option for budget travelers. You will first need to take the bus from San Jose to Cariari, then to La Pavona and then a boat to Tortuguero village. Read about how to get to Tortuguero here.
Prepare for rain at the Caribbean side

The Caribbean coast tends to rain more throughout the year. If you are visiting beginning of May to mid December, come prepared for rain as that is the Costa Rica rainy season. Monteverde and Arenal tend to rain more since it is the rain forest and in higher elevation, Guanacaste tends to be drier.
Check our Costa Rica packing list for tips on what to bring.
Day 1: San Jose
Welcome to Costa Rica! Today is a rest day to get ready for your trip. If you arrive early, you can walk around downtown to check out the sights and sounds or simply relax.
Where to stay in San Jose

We recommend staying in a hotel in or near downtown San Jose so that you can easily walk around downtown and experience local city life. The Tortuguero package includes pick up at hotels in San Jose only as well.
It is about a 25 minute drive from SJO airport to downtown San Jose which you can either book a shared shuttle, take a taxi or Uber. Uber costs around $15 USD depending on type of car and fare you choose. Get $10 USD Uber credit in our Uber Costa Rica guide.
Hotel recommendations are Hotel Presidente, Hotel Grano de Oro, Exec Center San Jose, Selina San Jose, Costa Rica Backpackers Hostel San Jose.
Day 2: Tortuguero
About Tortuguero: Tortuguero is a small village in the northern Caribbean coast of Costa Rica, famous for the Tortuguero National Park and beaches where several species of turtles nest. It is a rural area of Costa Rica, with a population of around 500, no ATMs and the only way to get around is by boat.
Since this area is made up of canals and beaches, you have to take a boat to get there which is the reason behind Tortuguero's nickname of "little Amazon." This area is famous for the turtle nestings and other wildlife such as sloths, jaguars, birds and monkeys.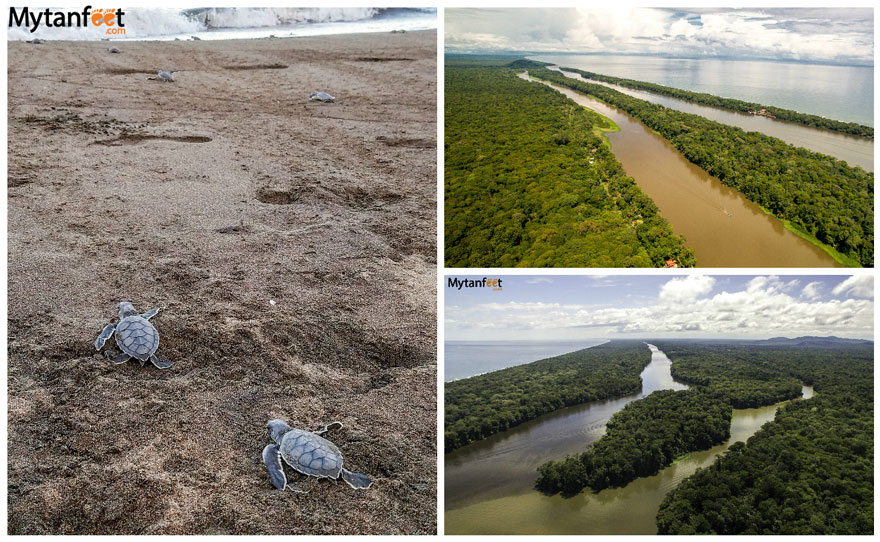 Today is an early day as you get picked up around 6 AM to head to Tortuguero. It is about a 4 hour bus ride and they stop for breakfast on the way. Then you will reach La Pavona boat launch where you will take an hour boat ride (depending on the tide, it may take longer) to the hotel.
After you have lunch, take the boat to Tortuguero village to walk around town and go on the beach to see turtles. If you are visiting during turtle nesting season (July – October), you will be able to see the turtle nestings. If you visit in November, you will likely be able to see baby turtles hatching.
Recommended packages/tour companies and cost
Pachira Lodge and Mawamba Lodge are the two biggest ones. Neither lodge has air conditioning, the only hotel in Tortuguero that does is Manatus and they have packages too.
A 2 night, 3 day Tortuguero package costs around $300 USD per person for a double occupancy. Single costs more, around $350 USD. Click here to get our Tortuguero package discount!
Day 3: Tortuguero
Day 3 is dedicated to exploring Tortuguero National Park. For the best wildlife watching opportunities, take a 5 AM boat ride around the national park to see different birds and mammals. This is about a 2 hour boat ride, make sure to bring binoculars or a telephoto lens to get pictures of wildlife!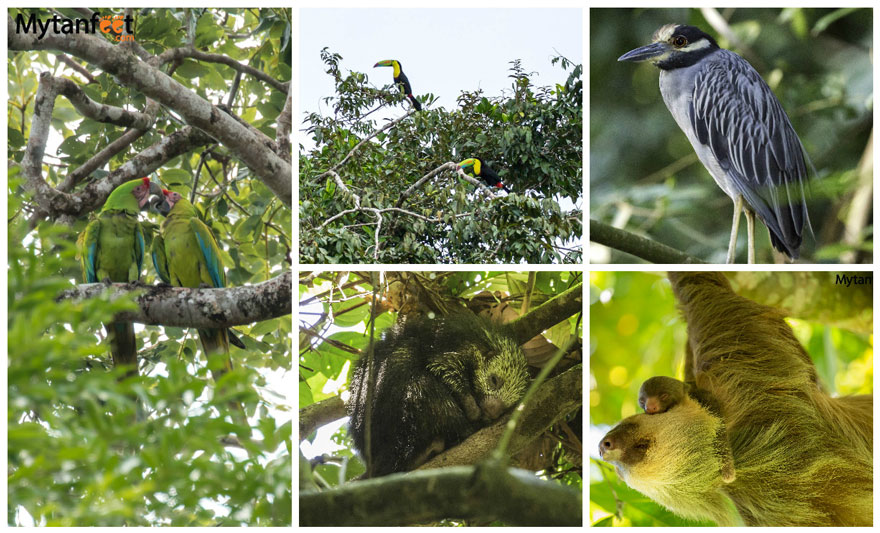 After the boat ride, it's time for breakfast and to relax a little. Most packages also include a guided walk around the trails. This takes about 1.5 hours and you can see more wildlife like monkeys and sloths.
Then the afternoon is free for you to do what you wish. You can relax and go to the pool but we recommend kayaking in the national park.
Even though you already went to the national park in the morning, there are places in the park that motored boats can't go. We kayaked through Tortuguero National Park when we visited last November and it's still one of our favorite Costa Rica experiences.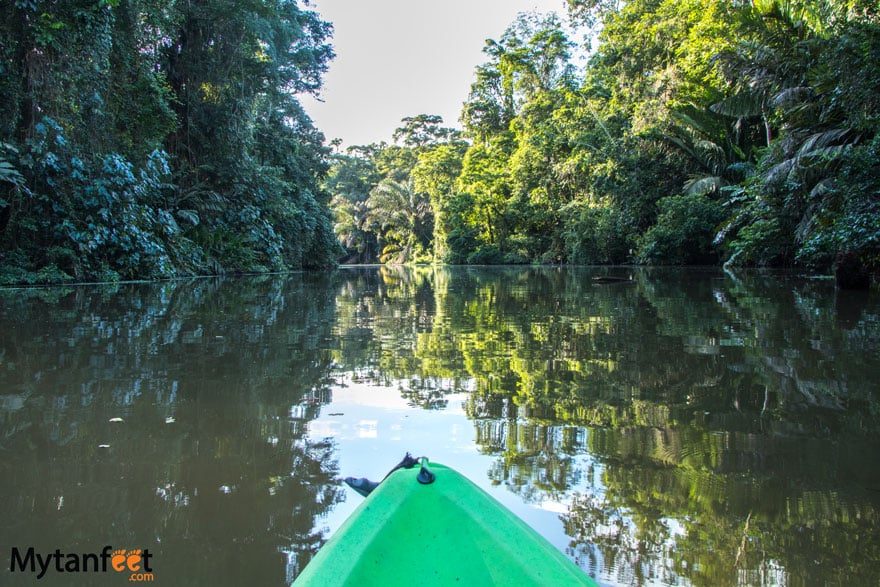 We glided quietly through the mangroves, with nothing but the sound of the water and birds all around us. The water shined a stunning green due to the reflection of the trees and in our kayaks, we were able to paddle up just a few feet away from turtles, ducks, an anteater and a kingfisher.
It's a breathtaking experience to get so close to nature without disturbing them and since not many people go kayaking, we were completely alone the whole time.
Go back to your hotel before 5 PM (sunset) to relax for the rest of the day. Tomorrow you will travel back to San Jose.
Day 4: Travel to San Jose
Today is a travel day back to San Jose. Since it will be a long day, you'll stay in San Jose for one night. The package includes drop off at your hotel in San Jose as well as lunch on the way back.
Day 5: Travel to Arenal
Since you rented a car with Adobe Rent a Car, they have free car delivery for Mytanfeet readers so you don't need to go to their office to pick up the car. The car will be delivered to the hotel at 8 AM and then you're off to Arenal!
The route from San Jose to Arenal is around 3 hours and is on a well paved road. We recommend using Waze as your GPS. The route gets a little curvy past San Ramon but the views are very nice and you can stop for lunch on the way.
Where to stay in Arenal
You have a ton of options for hotels in Arenal. There are hostels in La Fortuna town or luxury hotels in Arenal. If you want to splurge on a hotel for this 14 day Costa Rica itinerary, Arenal or Guanacaste would be the best places (for the volcano or ocean view). Many upscale hotels in Arenal have a great view of Arenal Volcano, hot springs, spa or their own private hot tub/pool.
High end hotels ($300 USD and up): Nayara Hotel, Springs Resort & Spa and Tabacon are among the best. You can read about other Arenal luxury hotels in this post.
Standard hotels ($100-200 USD): We recommend Kokoro, Hotel Magic Mountain or Arenal Springs.
Budget hotels (below $100 USD): You will have to stay in La Fortuna if your budget is below around $75 USD a night. Check Hotel Las Colinas, El Secreto, La Choza Inn or Hotel La Fortuna. We have stayed in both and are nice places to stay in town. Basic but clean and comfy rooms.
If you're coming in a big group or family, we stayed at an Airbnb in Arenal that was awesome. Fits up to 8 people and only 5 minutes from town with tons of wildlife on the property!
Day 6 & 7: Arenal
About Arenal: Arenal is the area encompassing the lake, volcano and La Fortuna town. Famous for its plethora of outdoor adventure, the national park, hot springs and the volcano, it's an excellent place for first time visitors. You can experience the rain forest and volcano.
Things to do
You have a lot of adventure activities in Arenal to choose from for your 2 full days there.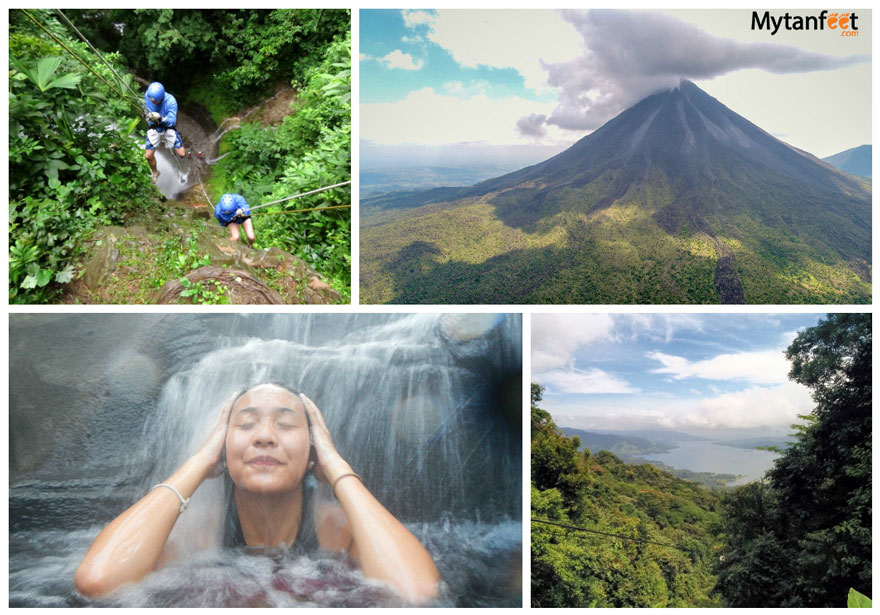 Ziplining: Our favorite zipline in Arenal is SkyTrek. You go up the aerial tram to zipline over the rain forest with views of both the volcano and lake!
Canyoning: An exciting adventure deep in the rain forest. Jump down 200 foot waterfalls!
Hot springs: No trip to Arenal is complete without visiting the hot springs. Many hotels have their own or you can visit hot spring establishments like Baldi, Eco Termales or Paradise.
Click here to read more of our favorite things to do in Arenal.
Book tours or guide?
Since you have a rental car, you don't need to book a tour. You can drive yourself to the attractions and if you'd like a guide for the national park or hanging bridges, you can hire one there or from a tour company. But you can perfectly visit the national park, hanging bridges, La Fortuna waterfall, Cerro Chato and go to the hot springs on your own.
Day 8: Travel to Monteverde
On Day 8, you will travel to Monteverde. The drive takes around 3 hours and goes around the lake and up the mountains to Monteverde so you will get some gorgeous views.
If you decide not to rent a car, a cool way to get from Arenal to Monteverde is by the Lake Arenal taxi boat. Get picked up at your hotel in Arenal, take a 2 hour boat ride across the lake and get dropped off at your hotel in Monteverde. This costs around $25 per person, takes 3 hours and they have one in the morning and afternoon. Way more fun than sitting on a bus!
Where to stay in Monteverde
Monteverde has hostels and hotels and since this area is more rural, lodges and inns are very common. There are a few hostels in town such as Santa Elena Backpackers or you can stay at a hotel with views of the cloud forest such as Hotel Poco a Poco or El Establo.
We stayed at 2 Airbnbs in Monteverde that were lovely. Perfect for couples or 2 friends.
Day 9: Monteverde
About Monteverde: This area is famous for the vulnerable cloud forests of which hundreds of birds, insects, plants and flowers call home. Tropical cloud forests are unique in that they only exist in a few places in the world, one being Costa Rica. Monteverde has been named as the best place in the world to see Resplendant Quetzals so if you love birds, this is your chance to see them. Monteverde is also great for hiking and ziplining, as they claim to have set up the first recreational zipline in the world.
There are a lot of things to do in Monteverde but since you went on adventures already in Arenal, we recommend to hike the cloud forests. There are 3 cloud forest reserves: Monteverde Cloud Forest Biological Reserve, Santa Elena Reserve and Children's Eternal Rain forest and they are all wonderful places for hiking.
Not sure which one to visit? Check our post comparing the three Monteverde cloud forest reserves.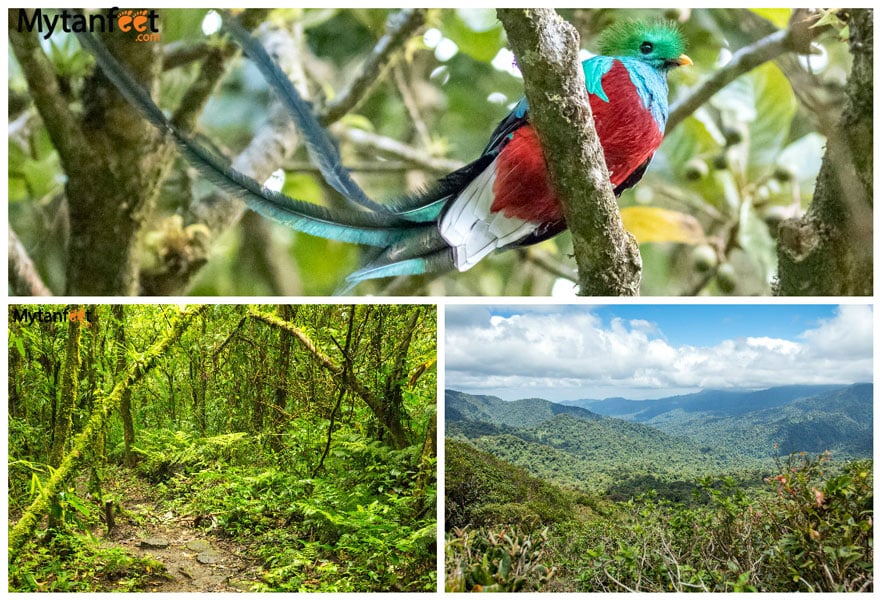 Things to do

Take an early morning bird watching tour at Curi-Cancha Reserve to see Resplendant Quetzals and then hike one of the cloud forests in the early afternoon. There are trails of varying lengths and difficulties in all the reserves so you can do an easy loop. Or if you're not super interested in seeing birds, you can go straight ahead to the cloud forest reserves.
We recommend hiring guides for any hike or walk you do as they can point out wildlife (specifically birds) and teach you about the importance of cloud forests.
You can also take a night walk at 6 PM. They offer night walks in Arenal too which has more opportunities to see frogs, snakes and both sloths. In Monteverde, you can only see the 2 fingered sloth and birds, there aren't many snakes or frogs.
If you decide not to go ziplining in Arenal, we recommend doing the 100% Aventura, SkyTrek Monteverde or Selvatura Park zipline. These are the only two that actually go over the cloud forest and both offer full day activities. SkyTrek also has an aerial tram and hanging bridges, Selvatura Park has hanging bridges, a butterfly and hummingbird garden and an insect exhibit.
Day 10 – 13: Guanacaste
Now it's time to hit the beach! You have several choices for beach towns in Guanacaste that are all about a 3.5 hour drive from Monteverde. The most popular places are Gulf of Papagayo, Tamarindo, Flamingo and Samara.
Playas del Coco/Gulf of Papagayo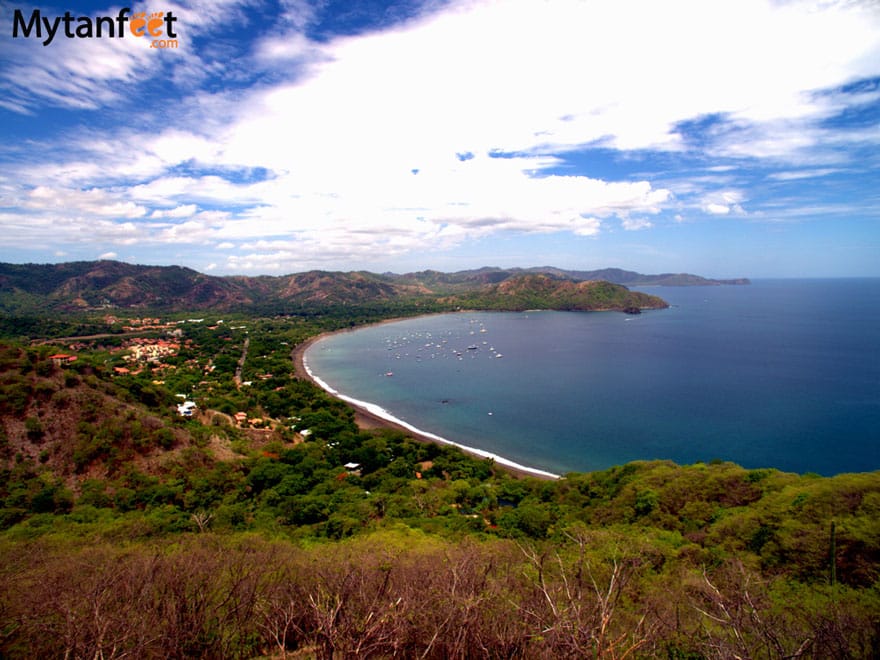 Playas del Coco is the main beach town in the Gulf of Papagayo and is excellent for scuba diving, fishing and boating. You don't have to stay in Coco as there are many beaches in this area with hotels like Playa Hermosa, Playa Ocotal and Playa Panama and they are all close to each other.
If you want to splurge for a luxury hotel, the Gulf of Papagayo has the most with the Occidental Papagayo, Planet Hollywood, Kasiiya, Secrets, Four Seasons, Andaz Papagayo and Riu.
Tamarindo/Conchal/Flamingo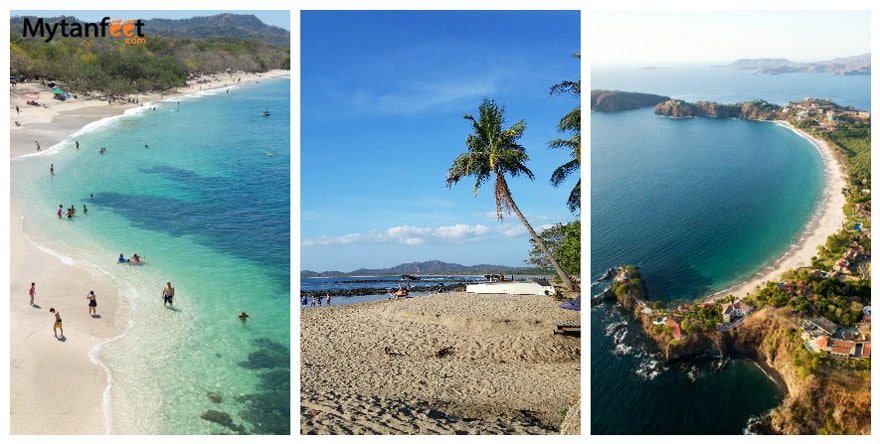 Tamarindo is more for surfers and backpackers as it is a popular surfing beach. Conchal is a beautiful white sand beach. Flamingo is a white sand beach with a luxury beach community.
This area is great for surfing, fishing and horseback riding. You can splurge at the Westin Conchal, the JW Marriott by Tamarindo or one of the luxury condos in Flamingo.
What to do in Guanacaste

Boating: This is a must in the Gulf of Papagayo which has the best snorkeling in Guanacaste. Discover boat access white sand beaches that you can have all to yourself! Read more about boating in Playas del Coco here.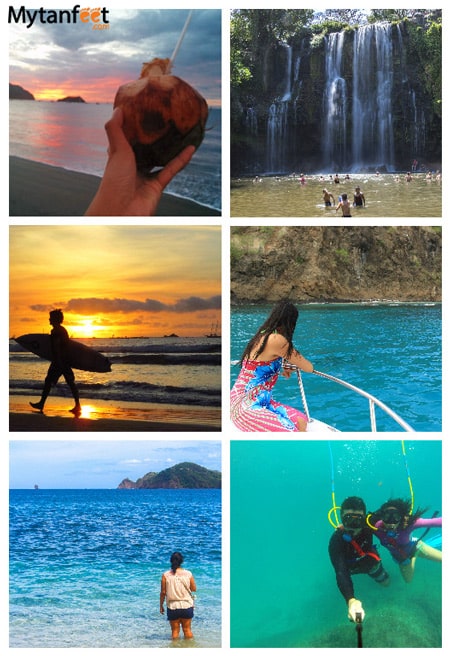 Scuba diving: Flamingo and Coco are two of the best beaches for scuba diving.
Kayak and snorkel to Isla Chorro in Samara
Surfing: Tamarindo is an excellent beach for surf lessons that is one hour from Coco. If you are an intermediate to expert surfer, you can boat to Witch's Rock.
Catarata Llanos de Cortes waterfall: This beautiful waterfall is near Liberia and makes for a nice day trip. Here is our guide to visiting Catarata Llanos de Cortes.
Here are some more ideas of fun activities in Guanacaste. If anything, you must watch the sunset on the beach and just enjoy!
Day 14: Fly out from Liberia airport
And today you go back home. Drop off your car at the Adobe Rent a Car Liberia office and they will take you to the airport in their free airport shuttle.
With this itinerary, you will have had a wonderful time exploring the Caribbean and Pacific coasts. You got to experience the rain forest, volcano, cloud forest and beach during your two weeks in Costa Rica.
Estimated Two Weeks in Costa Rica Cost
If you're staying in hotels that cost around $100 USD a night, eating around $40 USD a day and doing several tours, the estimated cost for your two weeks in Costa Rica is around $1600 USD per person not including the car rental. The average cost of a 10 day car rental for a Hyundai Tucson automatic is usually around $800 USD and a Suzuki Jimny manual is around $650 USD (without insurances, fees, taxes, extras, etc. and it also depends on the time of year you visit).
You can keep a lower travel budget by staying in hostels or budget hotels, only doing a couple tours and eating in local places. If you eat at high end restaurants, stay at hotels on the beach and do more than 3 tours, you'll end up spending more.
Check out these other Costa Rica itineraries below for more ideas!
1 Week Costa Rica itinerary: Jaco, Manuel Antonio and Uvita (Central and South Pacific)
5 days in Arenal and Monteverde
14 days in Costa Rica: Tamarindo, Monteverde, Bijagua and Rincon de la Vieja
There are affiliate links in this post