If you're looking for a luxury hotel in Arenal, the Springs Resort and Spa Arenal is one of the best. It has a large property with its own adventure center, a spa, several on-site restaurants, luxury private villas and a stunning view of Arenal Volcano.
The Springs Resort and Spa is ideal for honeymooners, couples and families and it's also a favorite among celebrities who visit Costa Rica (Kardashians, Will Smith and Beyonce and the Bachelor was filmed there). So if you're visiting La Fortuna and looking to splurge on a high end hotel, check out the Springs Resort & Spa.
Here is our Springs Resort and Spa review (and you can get our Club Rio discount below!)
The Springs Resort and Spa Costa Rica
The Springs Resort and Spa is 13 kilometers from La Fortuna.
Rooms
They have 3 buildings for rooms: toucan, oropendola and aracari. We stayed in the Aracari building which had a beautiful view of Arenal Volcano, Jaccuzi tub, terrace, pull out couch and twin size day bed.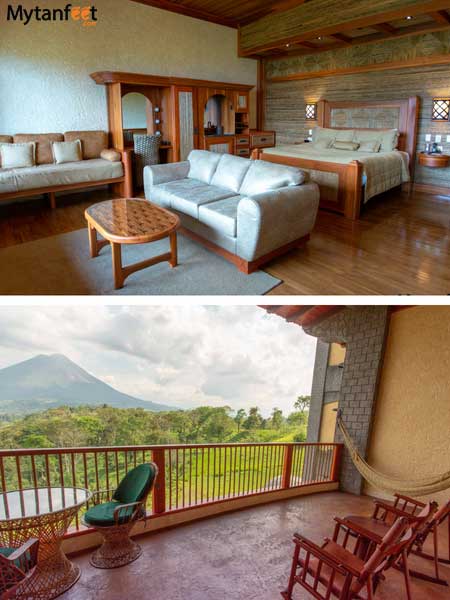 They have a variety of suites for families and honeymooners as well as a handful of ultra private, super luxury villas.
Property Amenities and Services
We ate at the Ginger sushi bar, terrace grill and Tres Cascadas restaurant. The breakfast and Tres Cascadas food was excellent and it was reasonably priced. I was happy they had lots of vegetarian, vegan and gluten free options. For me, the sushi bar wasn't really worth the price so I recommend sticking to Tres Cascadas for dinner.
The spa was lovely with big fluffy robes and a very nice dressing room. They even gave us a plate of chocolate covered strawberries at the end which was very nice!
Los Perdidos Hot Springs and Club Rio Hot Springs
The Springs Resort and Spa has several beautifully maintained hot springs on their property. They have the Los Perdidos hot springs, Las Lagunas hot springs and the Club Rio hot springs. Las Lagunas are the ones by the main building and have a swim up bar, ranchito and restaurant.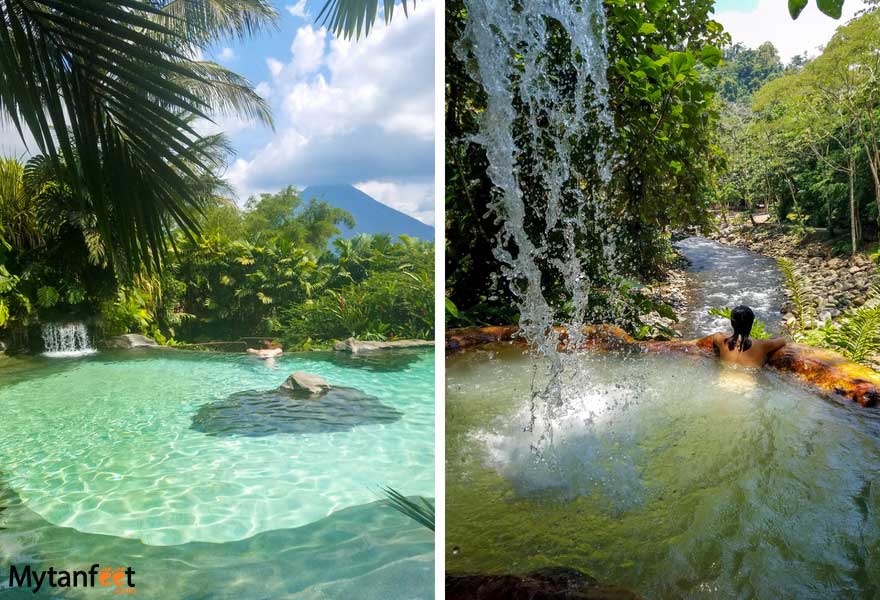 From Las Lagunas, you can walk down the property to reach Los Perdidos. Los Perdidos has seven pools and a fun monkey waterslide! At night when the lights turn on, the hot springs are absolutely gorgeous.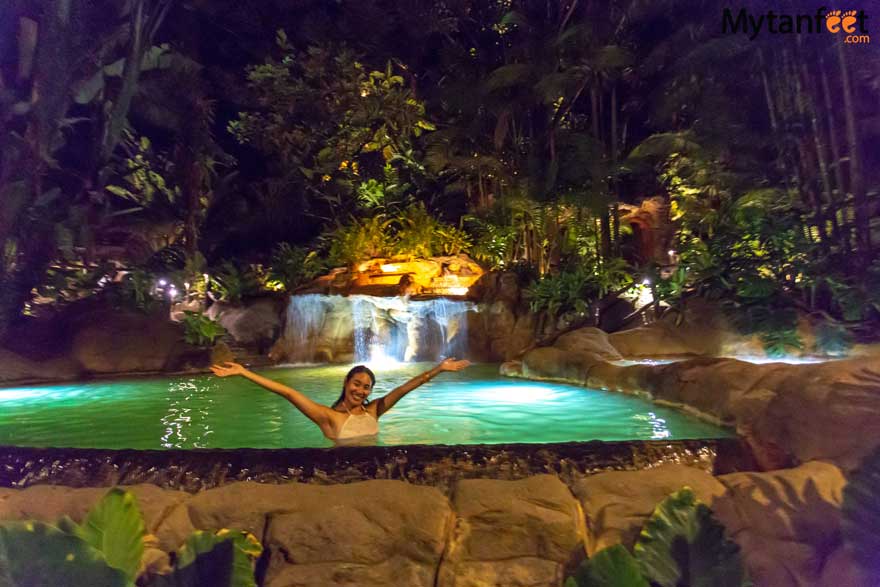 The hot springs down by Club Rio are around the river. There is a path that goes from the activity center along the river to the hot springs and you can also see a giant guacimo tree. We loved the Rio Vista springs because like the name says, you have a great view of the river! I sat under the waterfall while watching people white water tube down the river.
Club Rio Outdoor Center
**IMPORTANT: THE CLUB RIO MULTI ADVENTURE PACKAGE WILL NO LONGER BE OFFERED AFTER DECEMBER 16, 2023. THE ONLY SERVICES OFFERED TO NON-HOTEL GUESTS WILL BE THE 1 DAY AND 2 DAY HOT SPRING PASS. If you would like to book the hot spring passes, please contact us.**
The Club Rio Outdoor Center is one of the reasons why the Springs Resort is such a great place for families and those looking for an "all in one" hotel. You can have adventure, relaxation, nature and wildlife all on the Springs property!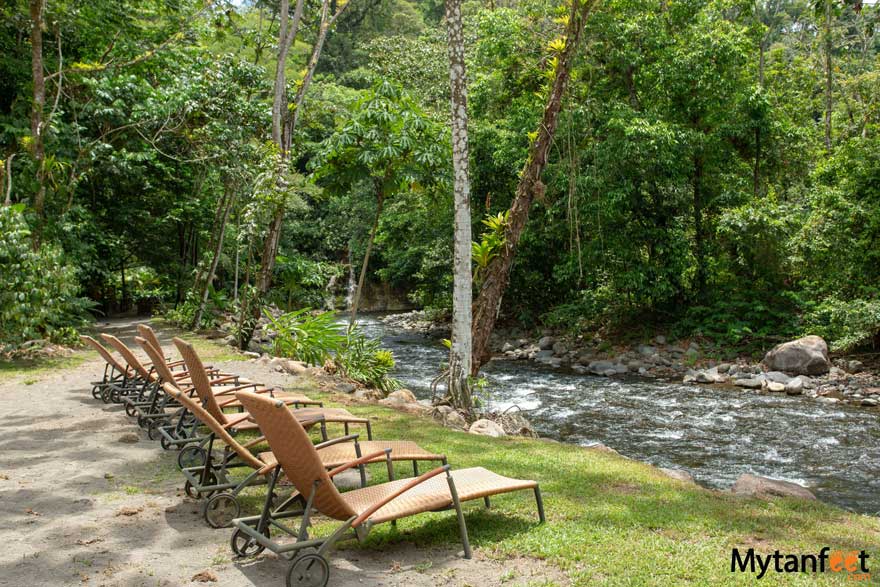 The outdoor center is built around the lush Rio Arenal and has a restaurant, hot springs, hammocks and adventure center. Guests can go tubing, kayaking and fishing on the river, soak in the hot springs, tour the animal sanctuary, go horseback riding and much more.
The Springs Resort and Spa Day Pass and Club Rio Outdoor Center Multi Adventure Package
The Springs Resort offers day passes to their hot springs which allow you access to all the hot springs, pools, restaurants and bars. It is $65 per person and it is a 2 day pass. This doesn't include food or transportation.
Then if you want to add some fun, the Club Rio Outdoor Center multi adventure package offers all of that. It includes a 2 day hot springs pass, transportation, lunch, and 2 of the following activities: tubing, kayaking, horseback riding, rock wall, wildlife sanctuary tour and guided nature walk.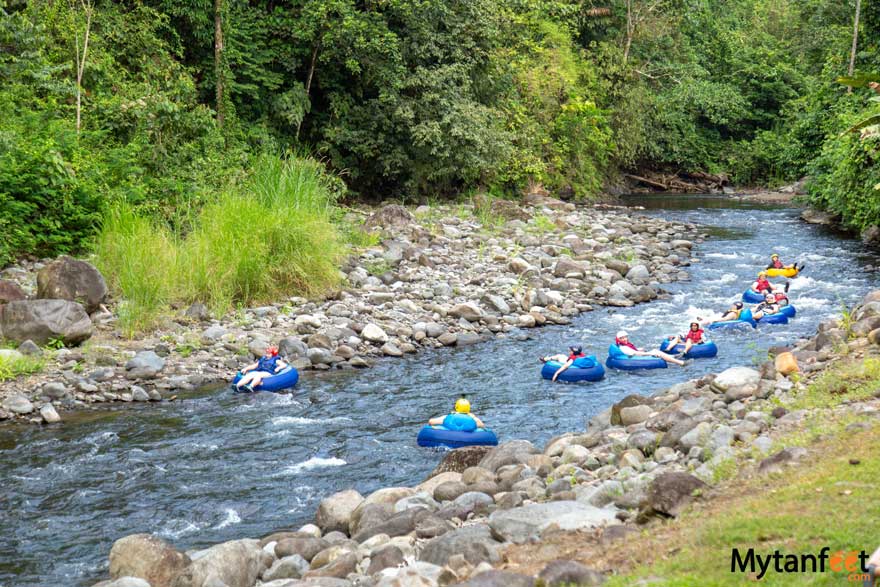 You don't need to be a guest of the Springs Resort to visit Club Rio which is really nice. Outside guests can enjoy pretty much everything the hotel guests can except for the rooms. The Springs Resort is not a cheap place to stay so this is a wonderful way to experience the property and Club Rio without having to stay there.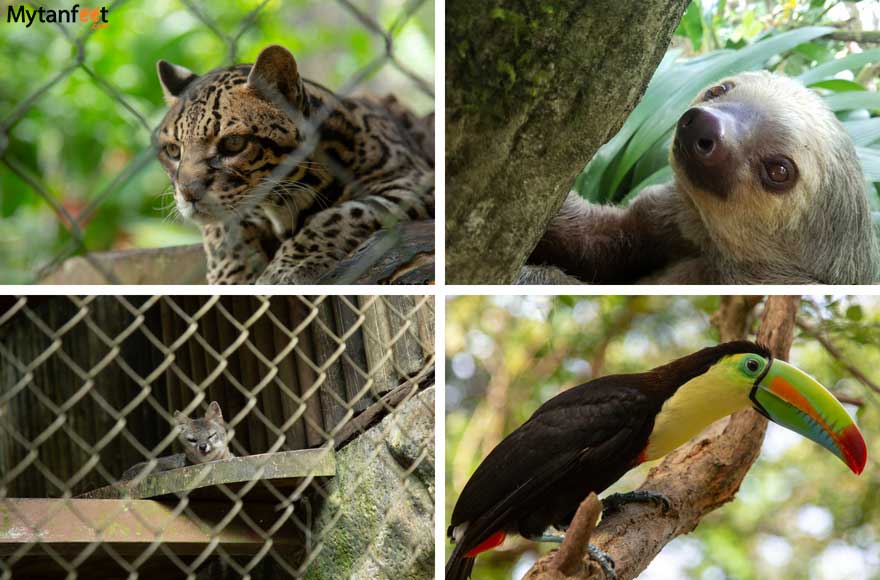 We loved their hot springs because the pools are spread out throughout the large property, so even if there are a lot of people it doesn't feel like it. You're not limited to a small hot spring space.
One thing that we especially liked about their tubing and kayaking is that it's very controlled and safe. You go on the same section of the river twice and their tubes were super comfortable. Excellent for kids and adults!
Club Rio Costa Rica Video
Check out our video of the Club Rio Outdoor Center and the various activities you can do. We spent two days at Club Rio and it was a ton of fun. I especially loved their horseback riding tour! The multi adventure package is a great value, especially for families and for us, the Springs hot springs are one of the nicest in La Fortuna.
We visited the property in May and since it was the transition time from dry to rainy season, the water level in the river was quite low. It was still a lot of fun but if you visit during rainy season, the river will be much fuller and way more fun.
Club Rio Discount and Details
If you're interested in the Club Rio multi day adventure package, we have an awesome offer for you! All Mytanfeet readers get $10 off the package price for adults.
The multi adventure package is $134.47 per adult and $111.87 per child so it is $124.47 per adult. Click here to get our Club Rio discount!
When it comes to hot springs in Arenal, we loved Club Rio and the Springs. We thought the value for the multi adventure package is definitely worth it for everything it includes and the Springs property is gorgeous. It's a great way to spend one full day in La Fortuna and Arenal.
Get our other Costa Rica tour discounts below!
Pacuare River rafting discount