Have 10 days in Costa Rica? Awesome! That's a nice amount of time to visit a couple destinations and not feel too rushed.
Here is a sample 10 day Costa Rica itinerary that takes you to the Caribbean, around the Central Valley and the Central Pacific. Each of these destinations are easy to get to, are very different in terms of landscapes and activities and have beach, wildlife and rain forest. You will get to experience both the Caribbean and Pacific coasts too!
What to Know About This 10 Days in Costa Rica Sample Itinerary
You can rent a car, book shuttles or take the bus
Since you are only visiting 3 touristic destinations, you can get around by bus, shuttles or renting a car. Renting a car gives more freedom but is not necessarily not the most wallet friendly option. Save up to 20% on our car rental discount here.
Click here to get your discount!
Then if you're on a budget, you can take the bus. Just make sure to check the schedule, especially for the day you land since the last bus from San Jose to Puerto Viejo is at 4 PM and this ride takes around 5 hours.
Pack appropriately for San Jose and Puerto Viejo
Because the Caribbean side tends to rain more (June and November are rainiest months, October is the driest), bring a rain jacket/waterproof backpack. Even if you're visiting in the normal dry season months (December to end of April), I highly recommend bringing some rain gear just in case for Puerto Viejo.
For San Jose, it is recommended to wear long pants/capris and closed toed shoes because it is the city and colder if you're staying in the mountains. If you're visiting in rainy season, you will need a jacket.
At Manuel Antonio, bring your typical beach wear as it's hot and humid on the coast all year round.
Costa Rica in 10 Days Map
Here is an interactive Google maps of this itinerary. You can find driving routes, hotels and activities recommendations.

Day 1: Land in San Jose in the morning, travel to Puerto Viejo
To maximize your time in Costa Rica for this itinerary, we recommend booking a flight that lands in SJO Airport before noon and this 10 day Costa Rica itinerary needs to start at San Jose. The drive from San Jose to Puerto Viejo is around 4 hours and we recommend getting there as early as possible to avoid traffic and driving late at night as the route is windy and signage is not great.
**Driving tip** If you get a pre-paid sim card or have an international data plan, use Waze. It is a GPS app that works better than Google Maps. Just make sure to open it when you have strong Wi-Fi so it can download all the prompts. It'll help you navigate through San Jose and avoid the traffic.
Other transportation methods:
Day 2 & 3: Puerto Viejo
Spend the next two days exploring Puerto Viejo, the gem of the Caribbean. Take in the funky Caribbean-Costa Rican culture, dance the night away or explore the lush jungle. There is so much to do in this area and is best for beach bumming, wildlife watching and relaxing.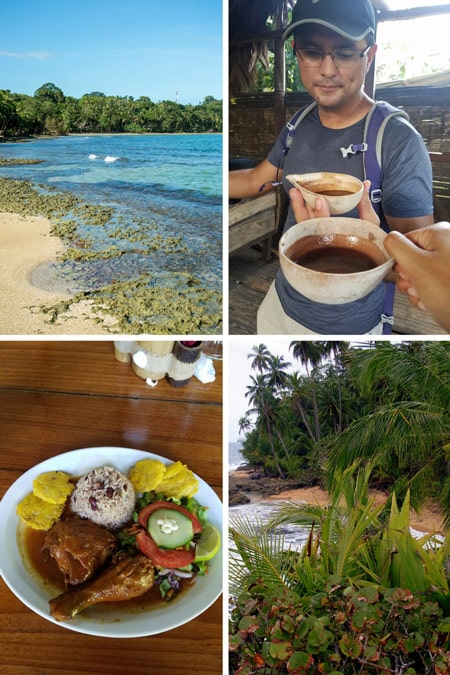 Where to stay in Puerto Viejo

If you don't have a car, it is best to stay in Puerto Viejo town since you'll be close to all the restaurants, banks and services without having to walk far. If you have a car, you can stay at the many beaches like Playa Negra, Cahuita, Playa Cocles or Chiquita. Puerto Viejo is a party town though, so keep that in mind if you are coming with little ones.
You can also check out Airbnb (get $20 credit here), there are many apartments and casitas for rent. For my first trip to Costa Rica, we stayed in a little house near Puerto Viejo.
What to do in Puerto Viejo
You can read about other things to do in Puerto Viejo here.
For places to eat, we love Soda Lidia's Place. For the best Caribbean-Costa Rican food, that's the place to go. Some dishes to try are rice and beans (with chicken is the best) and rondon (soup). Bread & Chocolate is also delicious and they have great breakfast.
Safety tips for Puerto Viejo: Don't walk by yourself at night, don't go to the beach at night and don't leave your belongings on the beach.
Day 4: Travel back to San Jose
After a few days enjoying the Caribbean, it's time to head back to San Jose and explore the Central Valley. If you're taking the bus, the bus from Puerto Viejo to San Jose is at 9, 11 and 4 PM.
Since the next 2 days in this itinerary are in the Central Valley, you don't necessarily have to stay in San Jose if you have a car. The city is too noisy and full of traffic so why stay there when there are beautiful hotels up in the mountains? The Central Valley cities of San Jose, Heredia, Alajuela and Cartago are all fairly close to each other so you have plenty of choices.
But if you want to explore San Jose, it is best to stay somewhere downtown so you can walk everywhere and not have to deal with traffic.
Where to Stay in San Jose
Day 5 & 6: The Central Valley
For days 5 and 6 of your 10 day Costa Rica itinerary, you can explore the Central Valley. I know a lot of people automatically think "I don't want to stay in the city in Costa Rica!" when you mention San Jose but there is so much to the area than just the city. Not quite convinced? Here are some reasons why you should visit the Central Valley.
You'll get to experience the local culture and city life plus there are a ton of nature and outdoor activities just one hour from the city!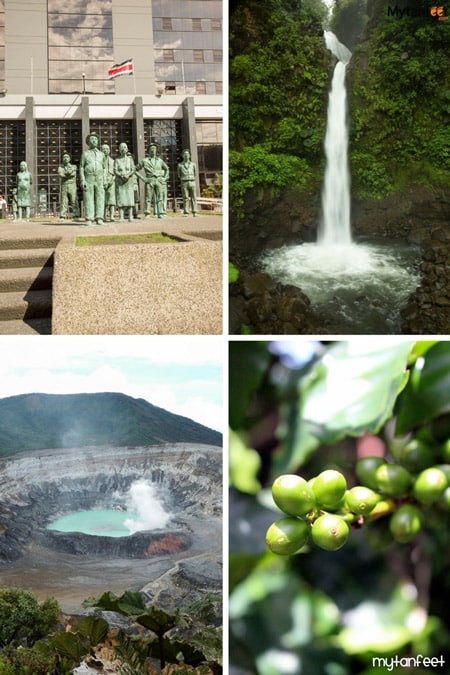 Things to do in the Central Valley
Day 7: Travel to Manuel Antonio
After spending a couple days in the mountains/city, it's time to hit the beach again! This time you'll head to the Central Pacific coast to the popular Manuel Antonio for the last couple days of your 10 day Costa Rica itinerary. It's only a 2 hour drive or you can take a bus from San Jose to Manuel Antonio/Quepos (Calle 5, Ave 4, Terminales Transportes Tracopa. 7, 10, 2 PM, 4 PM and 5 PM).
Since Manuel Antonio is very touristic, there are a ton of hotel options. You can splurge and stay at a luxury hotel with a view of the beach book a villa or stay down by the park.
Hotels in Manuel Antonio

Day 8 & 9: Manuel Antonio
Spend your last couple days in Costa Rica taking in as much lush jungle and beautiful beaches as you can. Manuel Antonio is not a big destination but there are many things to do whether you want to hike, see wildlife or simply relax.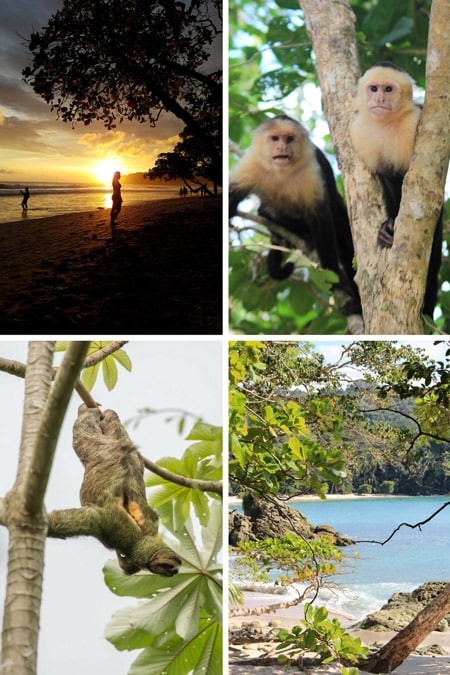 What to do in Manuel Antonio
We have a post about things to do in Manuel Antonio but a must do is to visit the national park. You can hike Manuel Antonio National Park or relax at the beach.
Day 10: San Jose
It's time to head back to San Jose and say goodbye to Costa Rica. This 10 day Costa Rica itinerary should give you an amazing time in Costa Rica discovering the Caribbean, exploring the Central Valley and relaxing at the Central Pacific coasts. You get to experience mountain, volcano, beach and rain forest as well as see some famous Costa Rica wildlife!
Estimated 10 Day Costa Rica Itinerary Cost
If you're staying at hotels that are around $100 a night, spending about $40 for food and doing a few tours, your estimated budget for this 10 day itinerary will be around $1200 per person without the car rental. A 10 day car rental for a Hyundai Tucson automatic is around $800, a sedan is around $500.
Check out more Costa Rica itineraries here!
2 week Costa Rica itinerary: Arenal, Monteverde, Santa Teresa, Playas del Coco
1 week Costa Rica itinerary: Jaco, Manuel Antonio, Uvita
Two weeks itinerary: Tortuguero, Arenal, Monteverde, Guanacaste
There are affiliate links in this post.