If you're visiting Costa Rica for the first time, you probably have a lot of questions and concerns. In this post, I put together the most commonly asked questions about Costa Rica we have received from our readers.
Don't forget to check our Costa Rica travel tips and Costa Rica section for more information!
Costa Rica Questions and Answers
Can I Get Around Costa Rica Without Knowing Spanish?
Yes, you can get around Costa Rica without speaking Spanish. Since Costa Rica is a touristic country, many locals who work in the tourism industry speak a high level of English. This is one of the reasons why Costa Rica is a great destination for first time international travelers who only speak English.
However, don't count on all Costa Ricans speaking English (one of the things to know about Costa Rica before you go). Small family run hotels may not speak much English and bus/taxi/shuttle drivers know little or basic English. We recommended to write down Spanish words and phrases if you have special needs like allergies, dietary restrictions, disabilities, etc.
And if you want to practice your Spanish, locals do highly appreciate it, even if it's broken Spanish. Refresh your high school Spanish with our downloadable Spanish cheat sheet!
If there is any one Spanish phrase you will learn in Costa Rica, it is pura vida. This is the country's slogan and means "pure life" directly translated but it's meant for anything good!
When is the Best Time to Visit Costa Rica?
The best time to visit Costa Rica will depend on the type of vacation you want. If all you want is sun and beach, the best time to visit is January – April or October on the Caribbean coast.
Want to see wildlife like whales, dolphins and turtles? Then July – November are the best times of the year. If you're on a budget or want to avoid large crowds, then May, June, September and October are excellent months but it is our rainy season.
You can read more about the best time to visit Costa Rica in this post.
Where is the Best Place to Visit in Costa Rica?
The best place to visit in Costa Rica depends on what you want to see and do. If you're looking for a beach vacation, then Guanacaste, Puerto Viejo, Santa Teresa, Montezuma or Manuel Antonio are great places. Looking for hiking or adventure? La Fortuna is the place to go. Want to get away from it all and rough it out in the wild? Head to the Osa Peninsula!
You can read more about the best places to visit in Costa Rica in this post.
Where Can I See a Volcano in Costa Rica?
Costa Rica has around 60 dormant volcanoes and 6 currently active ones. The most popular volcanoes that are easily accessible are Arenal, Irazu and Turrialba. Poas has reopened and is open to the public again.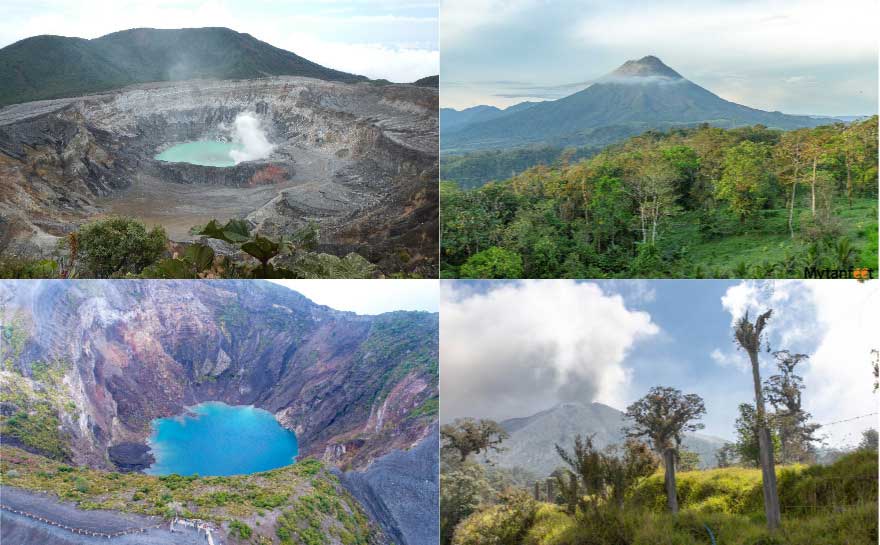 All of these volcanoes are active and are the best volcanoes to see in Costa Rica. Arenal Volcano is the most popular volcano to see for tourists.
What is Rainy Season in Costa Rica Like?
Rainy season in Costa Rica is from beginning of May to end of November approximately. The rainiest months in Costa Rica are September and October except for the Caribbean coast. The Caribbean coast's rainiest months are June and November.
On the coasts, a normal rainy season day is sunny in the morning and rainy and cloudy in the afternoon. In mountainous, high elevation areas, it can rain in the morning and is usually quite cloudy and rainy by late afternoon. In rainforest areas, it rains more often and can rain in the dry season.
Furthermore, it doesn't pour every day during rainy season and it's not like someone just turned on the faucet. It's more of a gradual transition from dry to rainy season. Costa Rica's transition months are May and June (dry to rainy) and December (rainy to dry).
To read more about rainy season, you can read our Costa Rica weather article here. And get our Costa Rica rainy season travel tips here.
Is Costa Rica Safe for Solo Female Travelers?
Costa Rica is a safe country and is a great place for solo travelers, especially female solo travelers. Their culture is very friendly and open, making it easy for solo travelers to have a good time. Additionally, English is widely spoken in touristic areas and there are several towns popular for backpackers and solo travelers such as Tamarindo, Dominical, Jaco, Manuel Antonio, Santa Teresa, Monteverde, La Fortuna and Puerto Viejo. Additionally, Costa Rica doesn't have an army and has little violent crime.
The main crimes are petty theft or car break ins. However, using common sense will go a long ways in Costa Rica (lock your car doors, don't leave belongings unattended, etc.) You can read our post for Costa Rica safety tips and common Costa Rica scams for more tips.
One thing to note is that some male Costa Ricans are quite outspoken and are not shy about persistently hitting on female travelers. If you don't feel comfortable, politely but firmly tell them to leave you alone and that you're not interested.
Is Costa Rica Safe for Families?
Yes! Costa Rica is a wonderful country for families whether they are young families, seniors or multi generational families. These is something for everyone and toddlers, kids and teens will have a blast exploring this beautiful tropical country. They will love all the beaches, rainforest and volcanoes.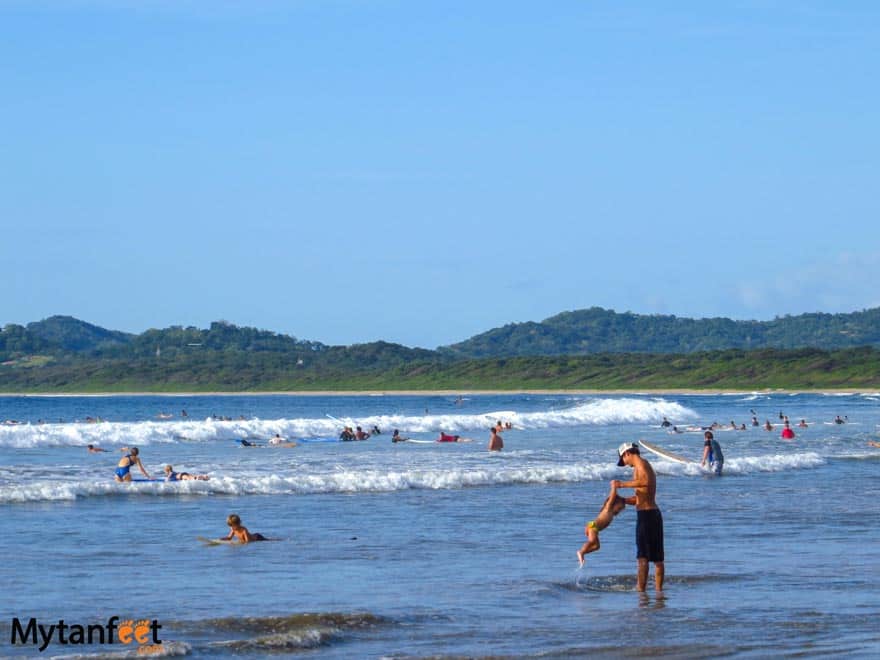 Additionally, Costa Ricans love kids and babies as their culture is very family centered. Don't be surprised if you're walking down the street and the locals come up to you to hug and kiss your baby! They are particularly respectful to pregnant woman and young children. When it comes to security, Costa Rica is a very safe country for families.
Keep in mind that families with babies, toddlers and children under 5-8 will not be able to partake in many of the activities since there are height and weight limits. Parents will need to switch off and most tour companies and hotels don't offer child care services unless you stay at a luxury resort. There are some towns that offer babysitting services or pack and plays like Tamarindo and Samara.
You can read about things to do in Costa Rica with kids and get more tips for traveling with your family. We also have written a Costa Rica itinerary for families so you can get planning!
How Much Should I Tip in Costa Rica?
Tip, or service tax as it's called in Costa Rica is 13% and is included in the restaurants, tours and hotels' prices. It is not mandatory to tip more but if you want to, it is greatly appreciated. You can tip in USD or Costa Rican colones.
If you want to tip more, the standard is 5-10%.
You can read more about tipping in Costa Rica in this post.
What is the Currency of Costa Rica?
The currency of Costa Rica is the colon, colones plural.
Does Costa Rica Take USD and How Much Cash Should I Bring?
USD is readily accepted in Costa Rica when it comes to tourism. The current exchange rate is around 600 to 1 but it changes daily. You can read more about handling money in Costa Rica in this post.
Credit cards are also widely accepted in Costa Rica (more Visa than any other type) but some remote places are still cash only (like Osa Peninsula) and some businesses in places like Tamarindo, Samara, Santa Teresa and Puerto Jimenez.
We recommend to bring around $150-200 USD cash per person for one week in Costa Rica and then you can go to the ATM to get out more if you need to.
What do I Need to Pack for Costa Rica?
We recommend bringing clothes that dry fast and wick away moisture, closed toed hiking sandals or good walking shoes, lots of sunscreen and mosquito repellent, sunglasses, hat, a micro fiber towel, an insulated water bottle and a swim suit.
If you're visiting in rainy season, then we recommend bringing a waterproof rain jacket and a waterproof backpack or rain cover. If you plan to do any activities like hiking, ziplining, rafting then you need to bring proper outdoor gear.
You can read our Costa Rica packing list for more tips.
Which Shoes Should I Bring to Costa Rica?
The best shoes for Costa Rica are closed toed hiking sandals. These are excellent all terrain shoes that go easily from land to water with good support. Since you will most likely be doing some activities, these shoes are the best. You don't need to worry about soggy socks, wet sneakers or stuffy feet with closed toed hiking sandals. Some activities require closed toed shoes (like rafting) so closed toed sandals are the best. Flip flops are also a must.
You don't necessarily need hiking boots or shoes unless you plan to do Corcovado, Chirripo and hikes like those. A pair of water shoes and a pair of tennis shoes works in case you don't already have closed toed hiking shoes.
You can read this post for more tips on the best shoes for Costa Rica.
What are the Best Beaches in Costa Rica?
Costa Rica has a plethora of beautiful beaches and it's difficult to designate just a few as the best beaches. Again, it all depends on what you're looking for. Some of our personal favorite beaches for tourists are Conchal, Cocles, Flamingo, Punta Uva, Santa Teresa, Manuel Antonio, Grande, Avellanas, Samara, Uvita, Carrillo and Playa Hermosa in Guanacaste and by Jaco.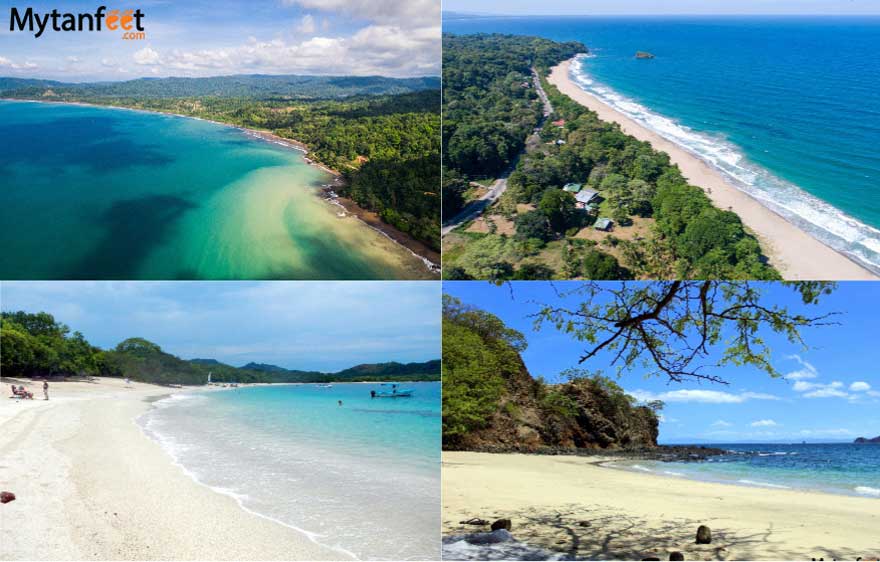 Read our post on the best beaches in Costa Rica or best beaches in Guanacaste for more ideas.
What Are the Must Do's in Costa Rica?
Costa Rica's fame for outdoor adventure and eco-tourism is rightly earned as it has some of the best adventure and nature activities in the world. It's hard to say what are the "must do's" because there are so many!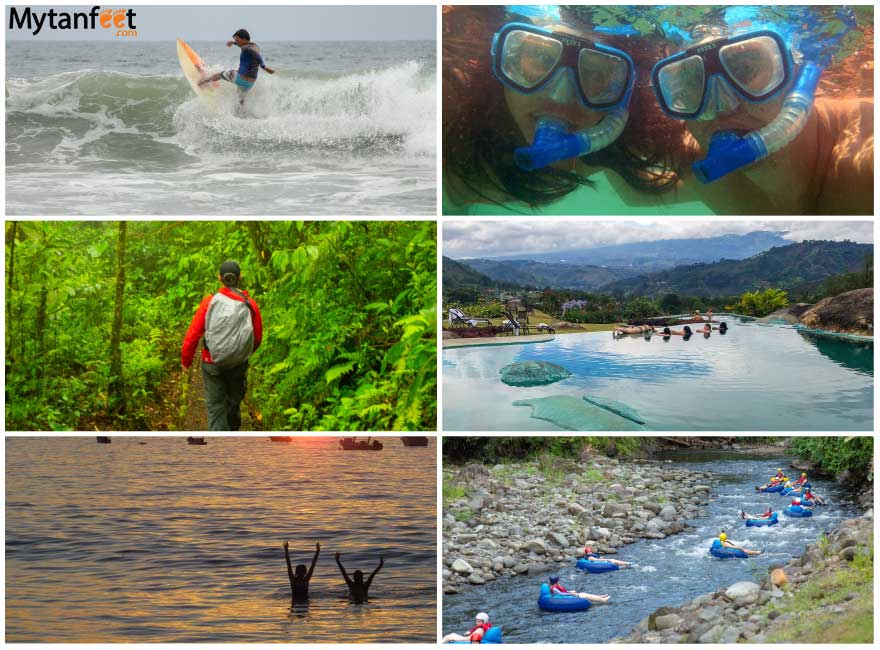 Some of our recommended must do's in Costa Rica are white water rafting at the Pacuare River, canyoning in La Fortuna, boating in Playas del Coco, snorkeling at Cano Island, hiking Corcovado National Park, kayaking in Tortuguero National Park and going on a coffee tour.
If I had to choose at least 3 must do's in Costa Rica, I recommend ziplining, hiking a national park and eating at a Costa Rican soda (local restaurant). And of course watching a sunset on the beach!
Read our 50 things to do in Costa Rica for more ideas.
What are the Must See's in Costa Rica?
Ohh another tough question! Costa Rica's stunning rainforest, coastal, volcano and jungle landscapes make it an incredibly photogenic country. See beaches, waterfalls, rivers, volcanoes and jungle all in one trip!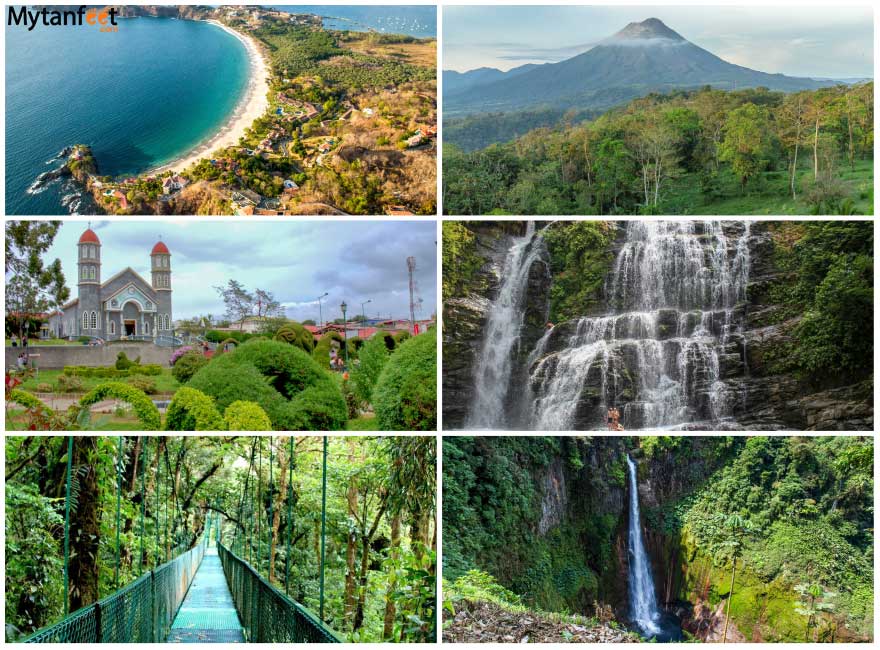 Some of our absolute must see's are Rio Celeste, Monteverde Cloud Forest, Gulf of Papagayo, Catarata del Toro, Arenal Volcano, Puerto Viejo beaches, Nauyaca waterfalls and Conchal beach.
What Voltage Does Costa Rica Use?
Costa Rica uses 110 volts.
Should I Rent a Car or Take Shuttles in Costa Rica?
It will depend on your budget and time you have in the country. We recommend renting a car if you want to explore, want more freedom and flexibility and aren't on a strict on a budget. Renting a car in Costa Rica is the ultimate way to discover the country and all it has to offer on your on terms. (Get our Costa Rica car rental discount here)
However, if you are not used to driving in foreign countries and are on a strict budget, then we recommend taking shared shuttles. Shared shuttles are not as cheap as private but are more convenient than buses as they offer door to door hotel drop off and pick up. (Read more about Costa Rica shuttles). Take the bus for a fun local experience and if you have more than 5 days – 1 week as the bus takes a long time and can require multiple changes depending on your destinations.
Private shuttles are an excellent option for families and big groups who don't want to drive.
Do I Need a 4×4 to Drive in Costa Rica?
It will depend on where you are going. For most touristic destinations and the cities, there are well paved roads and a 4×4 is not necessary. But other remote and rural parts of the country do and these are Osa Peninsula, Nicoya Peninsula and the Costa Ballena.
Check our Costa Rica road conditions post to see what kind of car we recommend and what the road conditions are like for popular places in the country.
What Side of the Road Does Costa Rica Drive On?
Costa Rica drives on the same side of the road as the USA (right hand side).
Do I Need a GPS to Drive in Costa Rica?
Yes. We highly recommend renting a GPS from the car rental company or using GPS apps. If you have Internet on your smart phone, we recommend using the app Waze, it works excellent in Costa Rica. Google Maps also works for main destinations.
Costa Rica doesn't exactly have street names or house numbers so don't worry about using the "address". Signage is not the best so if you use Waze, all you have to do is type in the name of your destination and it'll take you there. Especially helpful for navigating San Jose.
How Bad are the Mosquitoes in Costa Rica?
Mosquitoes are found throughout Costa Rica all year round. The only places that don't have mosquitoes are high elevation areas like Monteverde, San Gerardo de Dota, etc. There are a few diseases you can catch from mosquitoes and in Costa Rica, dengue is the biggest concern.
We recommend bringing plenty of mosquito repellent, reapplying often and covering up to avoid getting bit. The worst areas are on the coast and worst time of year for mosquitoes is during rainy season.
Should I Be Worried About Snakes or Spiders in Costa Rica?
If you're scared of spiders, bugs or any type of creepy crawley, prepare to face your fears in Costa Rica. There are 4,000 known species of insects in Costa Rica so you will see bugs like grasshoppers, bees, millipedes, ants and spiders.
But don't fret! Pretty much all touristic destinations are zoned and developed. Hotels are clean and get fumigated.
Just be a bit cautious if you're staying in a super cheap hotel or a remote destination, you may see an unwelcome guest or two in your room. Be prepared to see lots of bugs if you're going to the Osa Peninsula or Tortuguero.
As for snakes, it is not common for people to get bit by snakes in Costa Rica. Unless you're trekking deep into the jungle by yourself and not properly dressed, it is not a concern. When you're hiking, never go off the path or touch trees and plants and always follow your guide's instructions. You never know what's sleeping there!
Can I Drink the Tap Water in Costa Rica?
You can drink the tap water in Costa Rica is main cities and major tourist destinations like San Jose, Heredia, Monteverde. However, if you have a very sensitive stomach, are sick or getting over a cold, we would recommend you to bring a water filter or buy bottled water if you have to.
Furthermore, be aware that it is not recommended to drink the tap water in rural areas such as Tortuguero, Osa Peninsula, Santa Teresa and Golfito. Hotels will tell you if the tap water is safe to drink and most hotels will have filling stations with bottled water.
You can read more about drinking tap water in Costa Rica here.
Can I Flush Toilet Paper in Costa Rica?
Yes and no, but 99% no. Due to the type of sewage system Costa Rica uses, you have to throw the toilet paper in the trash in nearly all places. There are very few high end resorts and hotels where you can flush the toilet paper but most places will have signs to please throw the toilet paper in the bin.
How Soon Should I Book Tours in Costa Rica?
If you're visiting in high season (December – April and end of June to August), we recommend booking tours at least a few weeks to a month beforehand, especially if it's something you absolutely have to do. This is high tourism season in Costa Rica and you will want to reserve your spots. Many places like Tabacon hot springs, Mistico Hanging Bridges and Sky Trek require reservations and sell out quickly during Christmas in Costa Rica.
If you're visiting during the busiest tourism times in Costa Rica which is Christmas, New Years, February, March, Easter Week, we recommend at least 6 weeks to book tours. For hotels and car rentals, we recommend booking these at least three months out.
If you're visiting in low season months like September – November, it's not necessary to book way ahead in advance. We recommend doing it at least a week out. You can read our Costa Rica trip planning timeline for more information.
Where Can I See Sloths in Costa Rica?
Sloths are not found everywhere in Costa Rica. If you want to see a sloth in Costa Rica, then you will need to go to the right places!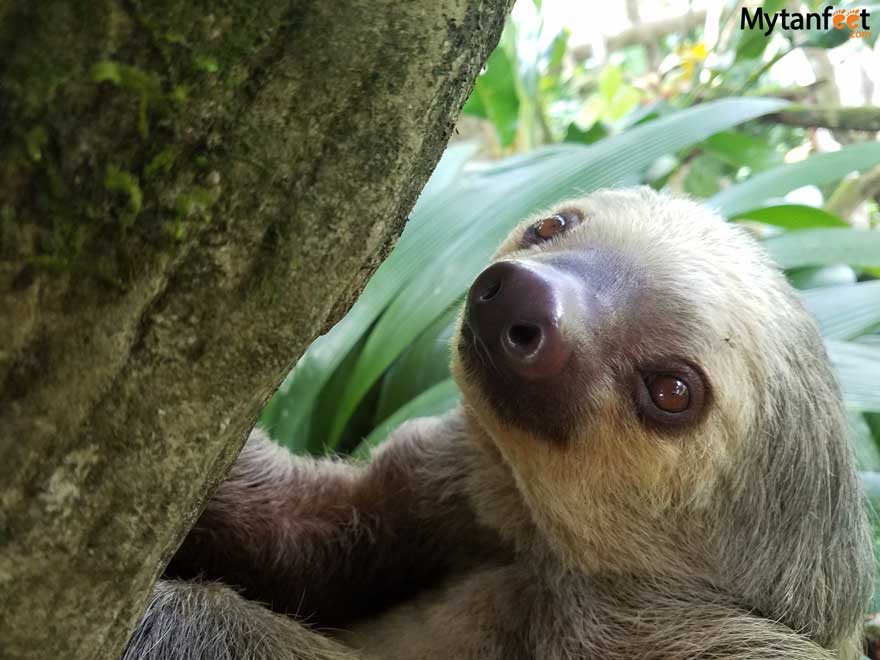 The best places to see sloths in Costa Rica are Manuel Antonio, Puerto Viejo, Dominical, Uvita, Bijagua, Osa Peninsula, Tortuguero and Arenal. You can see both 2 and 3 fingered sloths in these areas and they are quite common.
There aren't any sloths on the Guanacaste coast so if you're staying in Playas del Coco, Tamarindo, Samara, Santa Teresa or Montezuma, then you're out of luck. You can go to Diamante Eco Adventure Park which has an animal sanctuary or NATUWA wildlife sanctuary. Otherwise, you will need to travel to the rainforest to see sloths.
Read more about sloths in Costa Rica in this post.
What is Costa Rican Culture Like?
Costa Ricans are very loving, gregarious and outgoing people. There is a reason why the slogan of the country is pura vida! It means pure life in English and they say this for everything good. They use it as a greeting, a goodbye, as a way to say thanks or a way to describe how life has been. They're laid back, relaxed people who like to enjoy what life has given them.
Since the country depends heavily on tourism and their reputation as an eco-friendly country, the locals love to teach and share their knowledge, experience and love of nature and wildlife. Their culture is very friendly and they want every visitor to have a great time in their country which is one of the reasons why tourists love Costa Rica so much – the people!
How Can I Move to Costa Rica?
This is a question I get all the time. It is actually quite hard to move to Costa Rica if you aren't retired, rich, planning to open a business or working online. Work visas are difficult to get since they are given to foreigners who are filling a position that a Costa Rican cannot (which is not many).
Wages in Costa Rica are also quite low (average monthly salary is $800 USD a month) which makes it difficult for those to move here permanently unless they open their own business. And even still, businesses in tourism fluctuate a lot and we see businesses open and close ALL the time. Something important to note is that we have a ton of taxes in Costa Rica for businesses and taxes are high (for example, sales tax is 13%).
Most people who move to Costa Rica are retirees (it is one of the top retirement destination in the world), digital nomads or entrepreneurs. But something interesting is that most people do not stay here permanently. Many people who retire in Costa Rica end up going back (to be closer to family when they reach a certain age) and digital nomads move on after 6 months or a year.
Entrepreneurs are more likely to stay in Costa Rica for a longer period of time but even families with kids born in Costa Rica end up leaving for at least part of the year if not completely. Some families end up moving back to their home country to be closer to other family or get better schooling for their children when they're older.
Most people take the best of both worlds. Stay in Costa Rica 2-6 months of the year, the other months back home.
Our Advice on Living in Costa Rica
My best advice if you want to move to Costa Rica is to first try staying down here for at least 3 months at a time to see if you like it. Vacationing and living somewhere is very different. Second, figure out how to make an income or save up a lot of money. Costa Rica is not cheap and many foreigners tend to live the lifestyle they did back in their home country which is expensive here.
Most people find that they can't live in Costa Rica full time so they find a job in their home country that allows them to become snowbirds (visit during the winters up north) and it works for them very well. Or they have a full time remote job so they work online and only need a good Internet connection.
More Helpful Costa Rica Articles
10 mistakes to avoid traveling in Costa Rica