Although Puerto Viejo de Talamanca is the main town in the Caribbean South of Costa Rica, Punta Uva is a favorite among many visitors. It's a tiny town, made up of a few dirt roads, restaurants and hotels but the main attractions are the stunning beaches, quiet atmosphere, wildlife and beautiful view points. It's only 8 kilometers (5 miles) from Puerto Viejo so it's the perfect escape for those who want to get away from the noisier and more crowded parts of the area.
In this guide, you'll find out all you need to know about visiting Punta Uva.
How to get to Punta Uva
Punta Uva is 8.5 kilometers from downtown Puerto Viejo and is easily reachable by bike, car and bus. It's quite far to walk (around 5 miles) but the bus is an easy way to get back and forth if you don't have a car.
From Puerto Viejo to Punta Uva: Take the bus to Manzanillo which runs at 6:45, 7:45, 9:45, 11:45, 13:45, 16:45, 18:45 and 19:45 every day. On Sundays, they have extra service at 12:45. 15:45 and 17:45. Get off at Punta Uva.
From San Jose to Punta Uva: There is a bus that goes all the way from San Jose to Manzanillo at 12 PM from Terminal Atlantico Norte Calle 12, Ave 7-9 and you can get off at Punta Uva. Or you can grab the bus to Puerto Viejo (every day at 6, 10, 14:00 and 16:00) and then grab a bus/taxi to Manzanillo.
Here is a map of Punta Uva.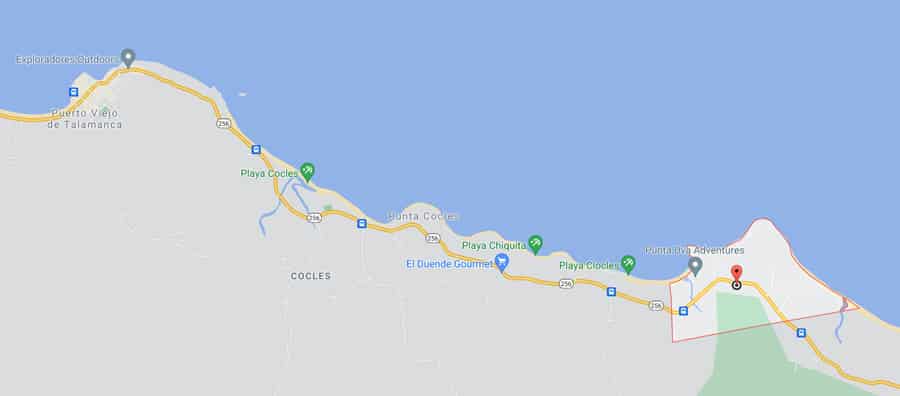 Beaches
Playa Punta Uva and Playa Punta Uva Arrecife are two of the most beautiful beaches in Costa Rica with palm tree dotted beaches, turquoise water and soft tan sand. In between the two beaches is a great little sightseeing spot with a short trail.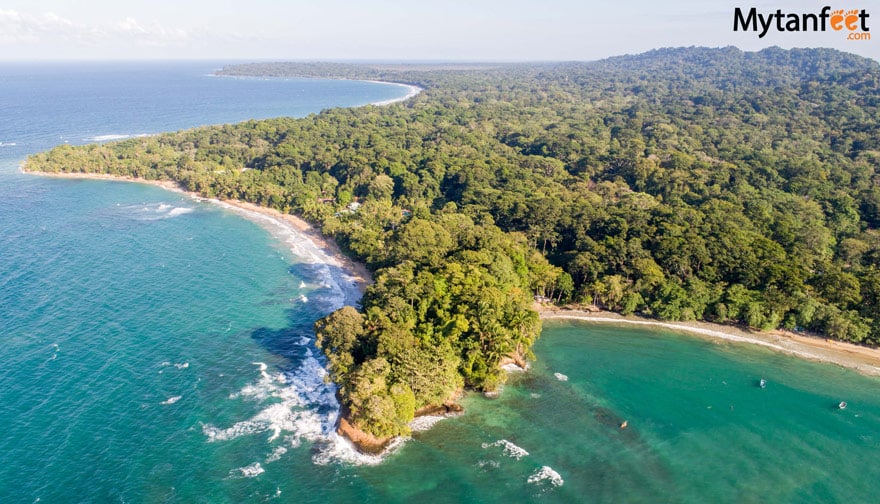 To get to the beaches, there are a couple of entrances.
You can get to the beach from the road where Selvin's Restaurante is or by the Punta Uva Adventures entrance. The one by the adventures entrance is a popular one called "Sloth Point" as many sloths live in that area. You will see locals selling pipa frias (cold coconut water), little souvenirs and renting kayaks/snorkel gear. You can walk on the beach to get to the sightseeing point (to the right).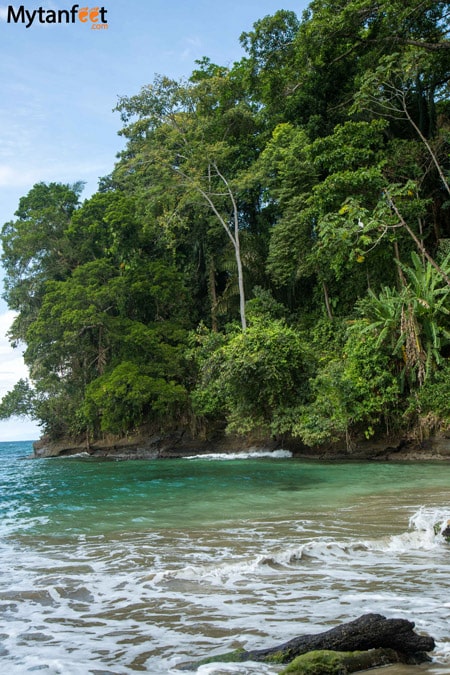 The trail is very easy and short, it takes only about 5-10 minutes the whole way. Go up, stay to the left, go down and around to get an awesome view of Arrecife.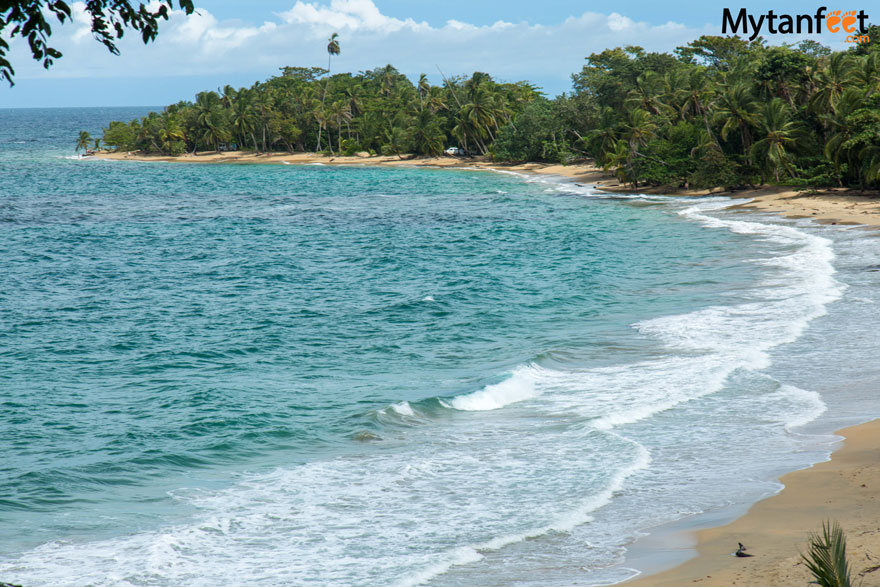 We loved Playa Arrecife, it was our favorite beach in the Puerto Viejo area by far. We spent two days there, hanging up a couple of hammocks and enjoying the nice cool Caribbean breeze.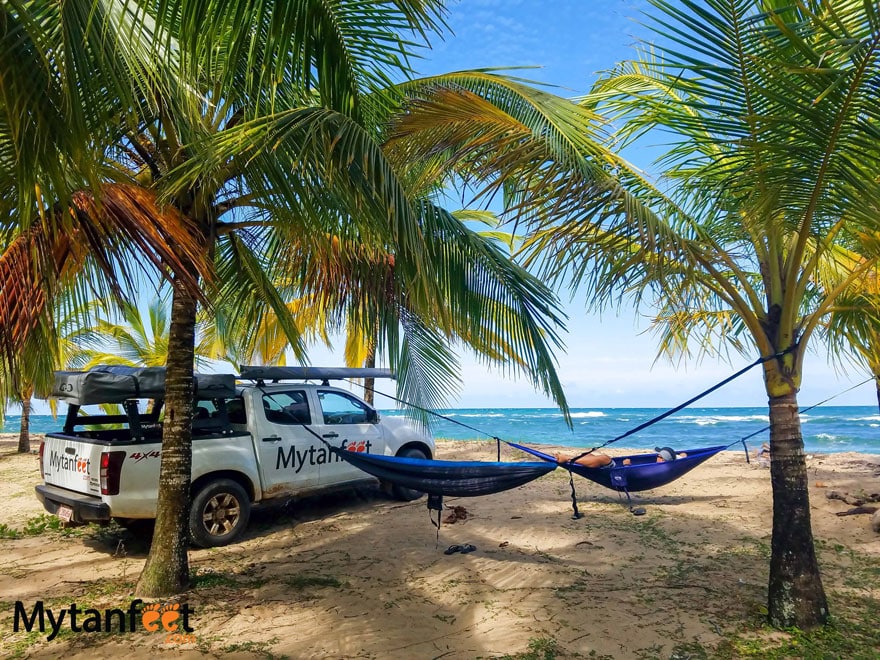 If you drive, do know that it gets super crowded on the weekend and the parking lot is tiny (it's just the end of a street). We couldn't find any parking for Playa Punta Uva which is why we went to Arrecife twice.
What to do in Punta Uva
Besides relaxing at the beach, there are several fun things to do in Punta Uva that we highly recommend.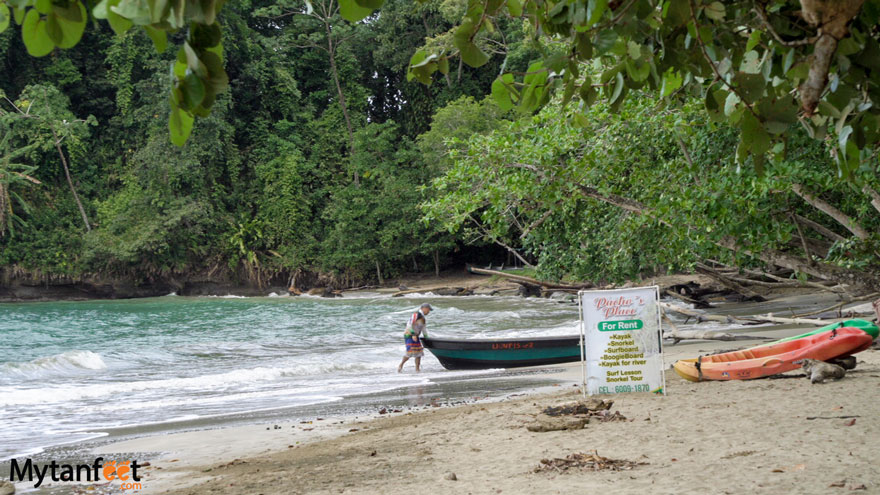 Snorkeling
Snorkeling Punta Uva is actually quite good, there is a nice spot near the view point and you can actually swim up to the coral reef! Just keep an eye on conditions as the waves here are not that gentle. We do not recommend it for children. We have visited Punta Uva in September, November and December and every time it was quite windy with rough waves.
Kayaking
This is a nice place for kayaking since you can go around the corner to the other beach but do watch out for the wind conditions like I mentioned.
We saw a couple kayaking but they got knocked over by the waves 4 times in a row!
I honestly was a bit surprised the locals even rented out the kayaks to them since it was very windy that day so please be careful and check the conditions before going. We don't recommend it for first time or beginners kayakers.
You can also go kayaking in the river in Punta Uva. The river is nice and much calmer with beautiful scenery and lots of wildlife.
You can see turtles, sloths, toucans, monkeys and other birds and kayaking is the best way to experience it since you don't disturb the animals with an engine.
Scuba Diving
Punta Uva Dive Center is located in town if you are scuba diving certified or want to get certified as they do have courses. They also offer night dives which sounds amazing!
SUP
You can also go stand up paddle boarding but again, check the conditions when you go out.
The beach is the main attraction but you can also visit the Gandoca Manzaillo wildlife refuge (part of it is in Punta Uva) or the many other attractions in the Puerto Viejo area.
Sightseeing Walk
The first time we visited Punta Uva was on a tour that took us around the sightseeing point. It was a great way to get introduced to the town and beach. Our guide pointed out a ton of sloths and taught us about the various plants and trees in the area.
Punta Uva Weather
Weather in the Caribbean doesn't strictly adhere to the typical dry-rainy tropical seasons. This area can rain all year long, it has a very high humidity factor and temperatures hover in the mid 80s F (29 C) during the day and 70s F (21 C)at night. The driest months are typically February, March, September and October. September and October are considered their summer months, which is opposite to the rest of Costa Rica.
Make sure to pack properly for the beach and for humidity so bring clothes that dry fast and wick sweat away. A swimsuit, mosquito repellent, sunscreen, hat, sunglasses are a must.
Punta Uva Hotels
There are a handful of small hotels and small cabins in Punta Uva. Most hotels in Puerto Viejo don't have air conditioning so expect modest and comfortable rooms. Staying in Punta Uva is really nice for those who don't want to be near town since it's noisier with more traffic, you'll feel more like you're in the jungle!
This hotel has four very nice bungalow right on the beach. Each one has a private porch equipped with hammocks. Mid – high range prices.
The lodge has a few villas and bungalows that are great for couples or groups, fitting up to 6 people. It is about 300 meters from the beach and right by the river Rio Ernesto.
5 luxury eco-lodges near the beach in Punta Uva on a 10 acre property. Also close to Playa Chiquita. Each house has something unique, such as the Garden House which is made of almost all bamboo.
Punta Uva Restaurants
There are a few restaurants in Punta Uva, most of the restaurants are in Puerto Viejo are spread out throughout the 30 kilometer (18 miles) stretch between Puerto Viejo and Manzanillo.
The most popular restaurant is Restaurante Selvin's where they serve typical Caribbean Costa Rican food. I had their whole fried red snapper with rice and beans, it was delicious!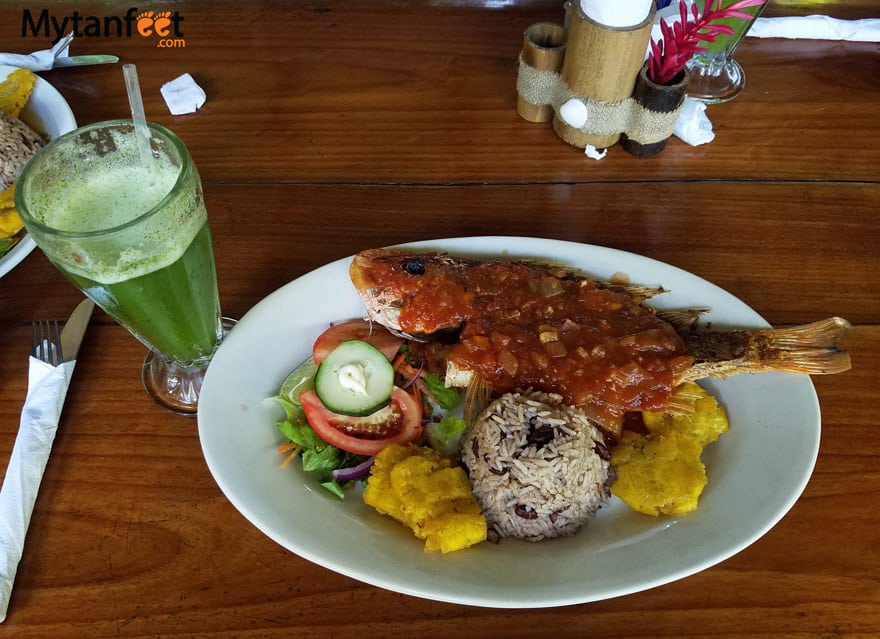 Pita Bonita and El Refugio Grill are two other good ones. Get the guacamole and chips at El Refugio and the hummus at Pita Bonita. We also recommend getting a couple of cold coconut waters to cool down on the beach!
See Punta Uva from above in this aerial video of Puerto Viejo, Playa Negra and the Caribbean South!
Read more posts about the Caribbean coast of Costa Rica below!
There are affiliate links in this post below.