Taking shuttles in Costa Rica is a time efficient and comfortable way to get around the country. If you don't want to drive or take the bus, booking shuttles is your best option. Here are important things you need to know about taking shuttles in Costa Rica.
First, should you book a shuttle?
There are many ways to get around Costa Rica and it really boils down to a few things. Time vs money, number of people and destinations in your itinerary. We have flown, driven, bused and shuttled all around Costa Rica and each one offers a different experience. However, taking a shuttle is ideal for those who are:
On a time limit.
Not on a strict budget.
Not keen on driving.
Looking for something simple and efficient.
If that sounds like you, then taking shuttles in Costa Rica will be the best transportation.
Private VS Shared Shuttles
In Costa Rica, there are private and shared shuttles.  And here are the differences below.
Private Transportation vs Shared Transportation

The key difference between a private and shared shuttle in Costa Rica is that with a private shuttle, they wait for you directly at the airport, you are allowed to ask them to stop and they don't have a set schedule. If you want, you can ask the driver to stop at a restaurant, a souvenir store, a viewpoint or for a bathroom break. Most companies offer refreshments (bottled water) and free Wi-fi. But the best part is that you'll have the entire shuttle to yourself and your group.
Costs
Costs vary depending on destinations and number of people. Private is more expensive than shared for 1- 2 travelers but comes out about the same for 4 or more. A shared shuttle from La Fortuna to Tamarindo is around $59 USD per person and a private is around $250 USD total for 1-4 passengers.
So if you have a big group of at least 4 people, the cost works out to be cheaper or equal as a shared. However, if you have a large group (more than 8 passengers), companies will have to switch to a larger vehicle which costs more.
Space and Privacy
Private shuttles are excellent for families with young kids or seniors, since you will be able to ask the driver to stop at any time. You also have way more space, privacy and flexibility. Private shuttles also give you a more personalized experience, since many drivers like to share information about Costa Rica. If you're in a big group and don't want to drive, private shuttles are the way to go and aren't very expensive when you calculate it out the cost per person.
Additionally, if you are a bigger person like very tall or stout, a shared shuttle will not be very comfortable because usually the vehicle is full and it gets cramped if it's full of bigger adults. You can't really stretch out either so if that is you, I would book a private shuttle.
Advantages of Taking Shuttles in Costa Rica
There are quite a few advantages of taking shuttles in Costa Rica.
Faster than a bus. Whether you take a private or shared shuttle, it's way faster than a bus. Being direct, hotel door to hotel door, it's super convenient. You don't need to switch buses or wait for people to get on/off.
You can sleep! You don't have to worry about driving at all. Just sit back, relax, enjoy the views and take a nap!
You don't need to worry about directions like you would if you were renting a car. Getting lost is one of my personal fears when traveling abroad. A shuttle takes away all that stress.
Efficient. Did I mention that shuttles are super stress free? All you have to do is book the shuttle, get picked up at your hotel and you're good to go! And that's awesome if you're going to destinations that don't have a lot of bus routes like Santa Teresa, Samara, etc.
Meet other travelers. You're all going to the same place so why not chat to pass the time? We've actually met some Mytanfeet readers who were on the same shuttle with us!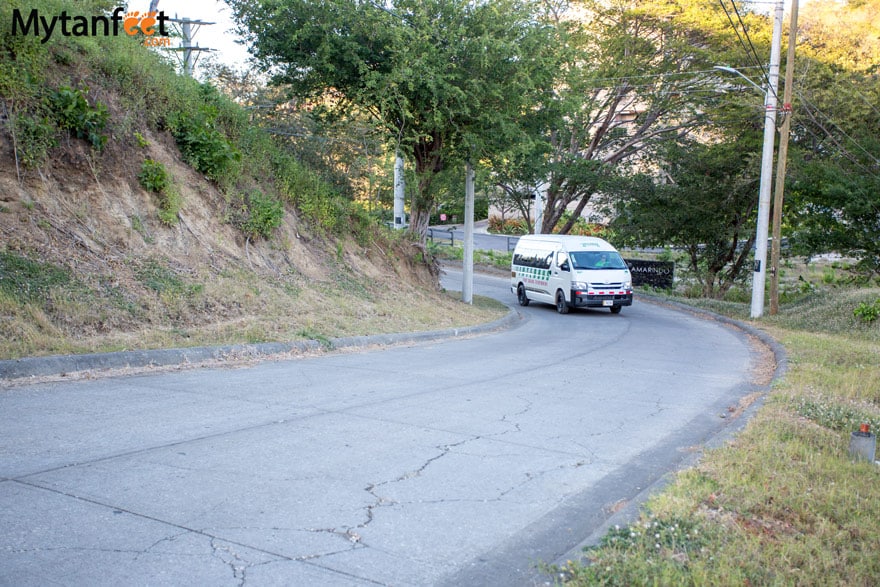 That being said, there are also disadvantages.
Disadvantages of Taking Shuttles

Not much flexibility. The best thing about renting a car in Costa Rica is the flexibility. If you happen to see a cute souvenir store or restaurant, you can stop with a rental car. Not with a shuttle. Since shuttle companies are on a schedule and have other travelers, they can't pull over on the side of the road and let you take pictures at multiple viewpoints. A car is the only option and best way to explore Costa Rica, a shuttle is more limited.


Travel planning tip: Some people will shuttle to their destinations but rent a car when they get there. For example, many people book a shuttle from San Jose to Puerto Viejo and then rent a car for their days in Puerto Viejo. Then shuttle back to San Jose/next destination.

Way more expensive than a bus. A shared shuttle can be $20-95 USD one way per person depending on destinations. You can take country wide public buses for as little as $10 USD one way per person. But again, you save a ton of time and it's door to door, making it much more efficient.
Limit to luggage. Since shared shuttles only have so much space, they can only allow for so much luggage per person. If you have more than the limit, there's an extra charge.
Can't do direct door to door service if staying at an Airbnb or vacation rental.
They have a set hotel pick up and drop off route. If your hotel is not in their route, you will need to Uber/taxi/walk to the closest hotel to your location.
Set times. Shared shuttle companies have set times for pick up and they need to meet that schedule. If your flight gets delayed, they can't wait for you and you can hope they have space on the next available shuttle (which could be the next day). If you hire a private shuttle, they can wait for you even if your flight is delayed.
Our Personal Experience with Taking Costa Rica Shuttles

Want to know what it's like to take a shuttle in Costa Rica? Read our personal experience!
We have taken shared shuttles to and from Liberia International Airport to our place near Tamarindo and have had great experiences each time. Tamarindo Tours and Transfers waited for us at the airport directly and dropped us off as close as they can to our place (we don't live in Tamarindo proper). Granted, they have run a little late a few times because they have to pick up other passengers but they do their best to stick to a schedule.
We have also taken Interbus from Tamarindo to San Jose. It was a long drive due to traffic and a bit cramped since all seats were full and somehow our group were all very tall adults. The driver was good though and although he didn't speak any English, he tried his best to let us know when the rest stop will be.
We have taken private shuttles from San Jose International Airport to Jaco and Manuel Antonio. The driver asked us if we wanted to stop at view points to take pictures, if we needed the bathroom or wanted to go to the bank or supermarket before dropping us off. We had the entire van to ourselves and it was much more comfortable and relaxing It was also super nice to be able to ask the driver to stop for bathroom, food, etc.
Important Things to Know About Booking Shuttles
If you are staying at an Airbnb or vacation rental, check which hotel is closest to you. Like I mentioned earlier, shared shuttle companies can't drop off/pick up at private residencies so you'll have to go to the closest hotel to your place.
Check the schedule of the shuttle when booking your flight. If your flight arrives after late afternoon, you will have to get a private shuttle or wait until the next day. Shared shuttle services usually only have an AM and PM schedule. The PM shuttle is usually around 2:30 PM.
If your hotel is out of their route, shared shuttle services may not pick up or may charge extra. Some hotels are really far away so inquire first if service to that hotel is possible. If the hotel is outside their route, they'll drop you off at the closest hotel and you will have to take a taxi the rest of the way.
Shared shuttle companies will have booster/baby seats available. Inquire about wheelchair accessibility as not all vans have the automatic lift.
Read more travel tips below!
Get more of our Costa Rica discounts below!
Costa Rica car rental discount
La Fortuna and Arenal tours discount
Diamante Eco Adventure Park discount
Rio Pacuare white water rafting discount