Taking shuttles in Costa Rica is a time efficient and comfortable way to get around the country. There are many ways to get around Costa Rica but if you don't want to drive in Costa Rica or take the bus, booking shuttles is your next best option.
Here are important things you need to know about taking shuttles in Costa Rica as your transportation method. If you'd like to get a private shuttle quote, please fill out the form at the bottom of the post. We will be happy to help you with your Costa Rica shuttle needs!
Costa Rica Quick Facts
San Jose is the capital city.
In Central America. Nicaragua is to the north, Panama to the south
Official language is Spanish with many indigenous languages spoken. English is widely spoken in touristic areas like San Jose, Guanacaste, Jaco, Manuel Antonio and La Fortuna.
Currency: the Colon. Approximately 540 CRC to 1 USD
GMT-6 time zone
Two major international airports: San Jose International Airport in Alajuela province and Guanacaste Airport in Guanacaste province.
Costa Rica Shuttle Services: Private and Shared Shuttles
In Costa Rica, there are two different types of shuttles: private and shared shuttles. Here are Costa Rica transportation services differences below between the two.
Costa Rica Private Transfers
The key difference between a private and shared shuttle in Costa Rica is that private shuttles are exclusively for your group and no one else. Shared shuttles take up to 10-15 passengers at a time in their vehicles.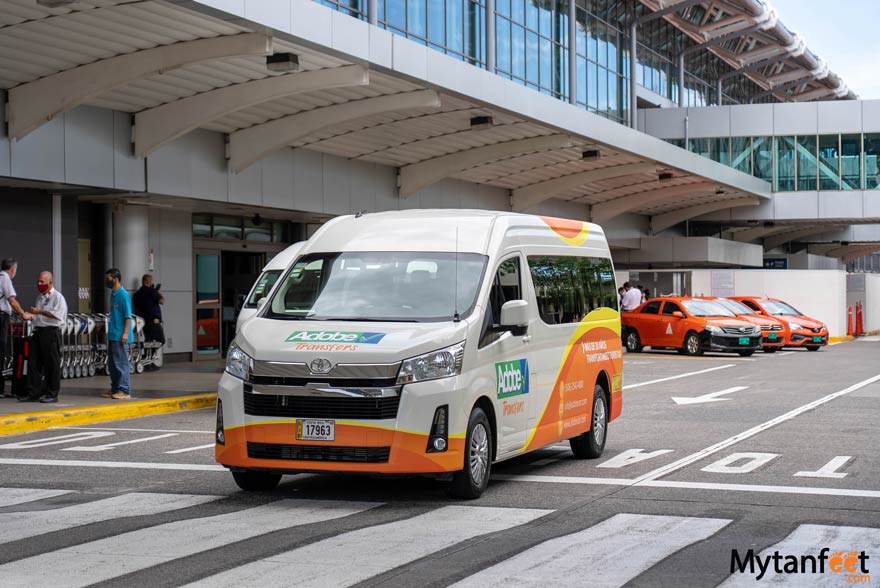 Additionally, private shuttles wait for you directly at the airport (San Jose International Airport, Guanacaste Airport aka Liberia Airport or any of the domestic airports). You can also be picked up or dropped off at a vacation rental, you can ask them to stop during the drive and they don't have a set schedule. Most private shuttles offer refreshments and free Wi-fi.
If you want to book a private shuttle, please contact us or use the form at the bottom of the post for a quote. We work with a private transportation company that has routes all throughout Costa Rica and uses air conditioned, well maintained vehicles that hold up to 9 passengers.
Shared Shuttles
On the contrary, shared shuttles have a set schedule, require a minimum number of people to run, normally cannot pick up directly at the airport, only make 1 rest stop and offer hotel to hotel door service only. Costa Rica shared shuttles do use air conditioned vehicles that hold up to 10-15 passengers usually.
Shared shuttles take longer because you have to go around and pick up other people from different hotels. Additionally, passengers can usually just bring one check in luggage and one personal item.
However, shared shuttles are an excellent option for solo travelers or travelers on a budget that don't want to take the public bus. A shared shuttle is around $60-65 USD per person for popular destinations like San Jose – La Fortuna.
For shared shuttles, check major companies like Interbus, Easy Ride, Tropical Transfers, Caribe Shuttle and Ride CR.
Why We Recommend Private Shuttles in Costa Rica as Your Costa Rica Transportation
We have taken both shared and private shuttles and had a great experience. However, we personally recommend using private shuttles in Costa Rica to get around Costa Rica, especially for a large family, young family or multi-generational family.
More Routes Throughout the Country
As private transfers can operate nearly any route, many companies offer a one stop shop so you can book all of your transfers in one go no matter where your destinations are. You can even book a private shuttle to a national park and back in one day or for a day trip.
Space and Privacy
Costa Rica private shuttles are more comfortable, more spacious and faster than shared shuttles. You have the vehicle all for yourself and your luggage, you don't have to sit next to strangers and you can stop when you need to. Stretch out, sit by the window and watch the beautiful scenery go by.
Additionally, if you are a bigger person like very tall or stout, a shared shuttle will not be comfortable when the vehicle is full. When it's full, it is cramped (think basic economy flight seats but in a vehicle instead of a plane so you can't get up to stretch your legs). If you are of big stature, then a private shuttle will be more comfortable and the best option for you.
More Personalized Experience
Private shuttles also give you a more personalized experience as you will be spending a few hours with the driver. Some private Costa Rica transportation services drivers speak to a degree of English so you can also get an education and entertaining van ride.
Private shuttles are on time. Shared shuttles may not be on time since they have to pick up other people.
Transportation Services
Costa Rica private transfers also offer more services such as one stop along the way with the option to stay longer for a reasonable fee. Most private transfers provide coolers inside the vehicle, so you can have ice cold drinks the whole time.
Furthermore, the driver will wait for you directly at the airport after your flight. Shared shuttle drivers aren't able to pick up clients right from the airport.
Costa Rica Private Transfers Costs
Shuttle costs vary depending on destinations and number of people. Private shuttles in Costa Rica are more expensive than shared shuttles.
Here are examples of average private transfer rates for popular routes. *Rates may vary as it depends on the season, number of passengers and the company.*
San Jose Airport – La Fortuna: ~$200 USD
Guanacaste Airport – La Fortuna: ~$200 USD
San Jose International Airport – Jaco: ~$185 USD
Guanacaste Airport – Tamarindo: ~$110 USD
San Jose International Airport – Puerto Viejo de Talamanca: ~$320 USD
Costa Rica Shared Shuttle Costs
Shared shuttles cost approximately $58-65 USD per person for major routes of ~3 hours such as San Jose – La Fortuna. For longer routes like San Jose – Montezuma, the rate is around $75 USD per person.
Check the company you want to book with to see what their rates are, since it may vary slightly. Always ask for the final all-inclusive rates so you don't get any surprise fees with booking private transfers and shared shuttles in Costa Rica.
Important Things to Know About Booking a Costa Rica Shuttle
If you are staying at an Airbnb or vacation rental, ask your host for GPS coordinates or if the place is on Google maps/Waze. Many vacation rentals are in the middle of who knows where and the driver will need a pindrop on Google Maps or Waze so they don't get lost on the way there.
Prices are quoted in USD. Everything in tourism like hotels, tours and transportation services are quoted in USD. Read more about Costa Rican currency and using USD in Costa Rica.
Many shared shuttles require 2-4 passengers minimum to run. This can be tough for solo travelers, especially if they are visiting during the low season. You may need to cough up the extra money for a private shuttle or sacrifice time and space for the public bus.
Shuttle companies will have booster/baby seats available BUT they do not have seats for all ages. Most companies have seats for 3 years and up. I recommend asking the company to send you a photo of the seat they have so you can verify it will work for you.
Inquire about wheelchair accessibility as not all vans have the automatic lift.
Advantages of Taking Costa Rica Shuttles
Faster than a bus. Public buses make a ton of stops and you can avoid switching buses.
If staying at hotels, the shuttles are direct for both shared and private. If staying at vacation rentals, private is direct.
You don't need to worry about directions or bus schedules. Getting lost is one of my personal fears when traveling abroad. A shuttle takes away all that stress.
Efficient. All you have to do is book the shuttle, get picked up at your hotel and you're good to go!
Travel-planning-tip: Some people do not book shuttles for their entire trip. They will shuttle to their destination and then rent a car. For example, many people book a shuttle from San Jose to Puerto Viejo and then rent a car for their time in Puerto Viejo. Then they will return the car and take a shuttle to their next destination.
Book Your Private Costa Rica Transportation Services Below!
If you want to book a private shuttle, please fill out the form below for a quote. We work with a private transportation company that operates routes all throughout Costa Rica, offer all inclusive pricing, are pet friendly, employ professional drivers and have been in the transportation business for 30 years. Create your dream itinerary ahead of time by pre-booking your transportation services.