When it comes to tipping in Costa Rica,it's important to know about the Costa Rican tipping culture so you know what to expect and how much cash to bring to Costa Rica.
Something very important to note is that I am writing this from a Costa Rican AND foreigner point of view since Yeison is Costa Rican and I am from the United States. Obviously the tipping cultures in both countries are drastically different so what someone from the United States tells you about the Costa Rica tipping culture may be different than what Yeison, who is Costa Rican, tells you.
So in this post, I'm going to tell you about the tipping culture in Costa Rica from a local and foreigner point of view.
Tipping in Costa Rica
So first things first. Tipping is not a normal part of the Costa Rican culture. Costa Ricans normally don't give anything extra no matter how great or lousy the service is. It's nothing personal. It's just not their culture because the tip is already included in the price so that is what they're used to and what they grew up with.
Yeison never tipped as a Costa Rican growing up, even working in the tourism industry. It just isn't part of the Costa Rican culture and it's not something taught to them.
How Much to Tip in Costa Rica
But as a tourist, what if you want to tip?
Then that is totally fine and is very very much appreciated. The standard percentage to tip in Costa Rica is 10% for tourists.
A good way to see the tipping etiquette in Costa Rica for tourists is that there isn't a mandatory minimum percentage so any amount is very much appreciated. Especially since the minimum wage is not that high in Costa Rica and the tourism industry shut down for many months due to the pandemic. If you have the privilege to travel to Costa Rica, then we highly recommend to tip.
Tipping in Costa Rica – Dollars or Colones?
You can tip in Costa Rican colones or USD. Locals readily accept USD, especially now that the exchange rate is getting higher so they get more colones to the dollar.
You can read more about exchanging money, Costa Rican currency and using USD in this post.
We personally leave colones since that is the currency of Costa Rica. As a tourist, you may use USD to pay for things and you may tip with American dollars in Costa Rica.
Something interesting about the tourism industry is that you will see more tip boxes and people asking for tips in Guanacaste, La Fortuna and Manuel Antonio. This is because these areas receive a lot of American tourists.
Tipping Culture in Costa Rica for Restaurants
Some of the times, you don't need to worry about calculating tip at restaurants. In Costa Rica, it is required by law that restaurants include the service tax, which they call tips and sales tax in their menu price. Sales tax is 13% and service tax (tip) is 10%.
However, some restaurants don't include the taxes in the menu prices and will write somewhere "taxes not included" or impuestos no incluidos. If neither of the taxes are included, then you should expect to pay an extra 23% on top of the menu price. If just service tax is not included, it's an extra 10%.
Sometimes they will include only one of the taxes but not the other so just keep that in mind.
Menu that includes all taxes in their listed prices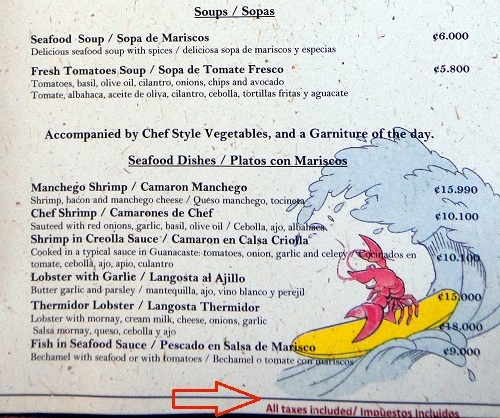 Menu that does not include the 10% service tax in their listed prices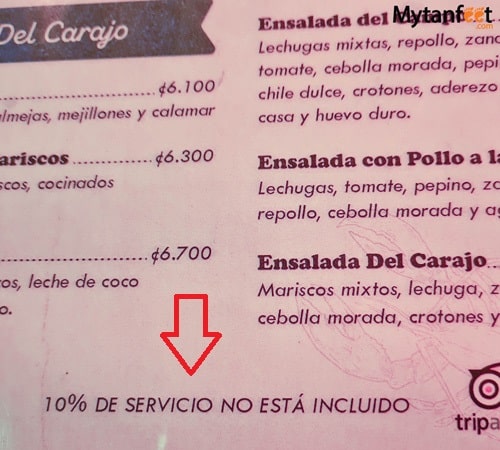 Watch out for this…
In the more touristic areas, some resorts will give you an extra receipt with a tip section. You do not need to tip extra if you don't want to as you will be paying extra on top of the 23% you already paid for service and sales tax.
For example, you get your bill and it comes to $50 USD with the 10% service tax and 13% sales tax included. At this point, you've paid everything you're supposed to. But then they hand you another American looking receipt in English with a "tip" section, making you think you haven't tipped yet so then you add an extra tip which in the US, it is a minimum 15-18%, even 20% now.
Tiping Etiquette in Costa Rica for Tour Guides
Some tour places (particularly in Guanacaste where they get mostly American tourists) will have tip boxes. Again, this is optional. You can tip in USD or CRC and the amount is up to you. If you feel they did an exceptional job, feel free to tip more if you want to.
Tipping Drivers
Same with drivers. If you want to tip the driver, do. For a normal shuttle driver, you can tip the standard 10%.
If you hired a private driver who guided you around and speaks English, I highly recommend giving them a tip 10% or more.
Tipping Taxis
Tipping the taxi driver is not normal in Costa Rica for locals. Yeison has never tipped taxis because they unfortunately have a pretty bad reputation. But again, you can if you want to. If you do – tip in CRC.
Tipping Etiquette in Costa Rica for Hotel Maids
We always try to leave a little for the maids since they don't make very much here. You can leave around 1000-2000 CRC or a few dollars a day.
Tipping All Inclusive Resorts in Costa Rica
We like to give a small tip to the valet (if we use one), hotel maids and the bell boys. We don't normally tip bartenders unless they are really good. I usually like to give a little bit to the masseuse too if we go to the spa.
Parking guys…watch out for them
These are the ones wearing an orange vest. They'll come up to your car and charge you for parking, saying they'll "watch your car" for you or that you have to pay them to park in "their spot". However, these guys are not official nor is the parking lot an official parking lot. This means they do not own that parking lot, do not have insurance and do not have security cameras or actual guards. Basically it means they will not be responsible if anything happens to your car or belongings.
I feel kind of torn about this because Yeison had a terrible experience with them before. Instead of watching the vehicle like they said they would, it got broken into it and robbed since the parking guy was in on the robbery.
Also another thing we don't really like about them is that they can be rude and persistent to get you to park in "their area." We've seen some of them get nasty if you try to ask a question, leave, or not give them "enough." I've seen them charge international and local tourists a ridiculous amount of money to park, especially during the holidays in very touristic places such as Manuel Antonio National Park and Tamarindo beach.
At the end of it, we avoid parking in unofficial places if we can't help it. Unfortunately in Costa Rica, majority of parking is unofficial or is street parking, so if we have to pay, we will give them the money after we get back to the car.
To Tip or Not to Tip
The bottom line is that tipping in Costa Rica is completely optional but very very much appreciated. 10% is the standard percentage.
So coming from a Costa Rican point of view, Ticos do not tip since it's not the tipping culture in Costa Rica. But tipping has become more of an expectation in the more touristic and Westernized destinations.
So as tourists, it is very very much appreciated to tip in Costa Rica and we do recommend to tip well if you feel the service was good. You can tip in USD or local currency, both are accepted in Costa Rica.
Read more travel tips for Costa Rica!
Guide to finding accommodation in Costa Rica