There are 4,000 known species of insects in Costa Rica so it's impossible to vacation here without running into one of them at one point or another. Costa Rica does have a good handful of creatures that definitely make the list of weird animals in the world and I know a lot of people are scared of bugs but remember, it was their jungle first and they actually aren't all too bad.
It's pretty fascinating just how diverse they are and for someone living in Costa Rica, you learn over time to not let them bother you. In fact I've learned not to freak out anymore whenever I see one!
Arachnids and Insects in Costa Rica
Spiders
I haven't seen any huge spiders here but Yeison has. I've never been bitten and haven't heard of many stories of people who have. Out here at the beach we run into quite a few spiders and isn't something you have to worry about greatly. We get the daddy long legs in the house and have to clean their webs every couple days or they know how to expand fast!
There are also venomous spiders so you need to be careful if you are hiking in the jungle so take the necessary precautions if you're out in the proper jungle, somewhere very remote. However, most tourists don't go far out into jungle like that. Most of the hikes like hanging bridges in La Fortuna and Monteverde, Manuel Antonio National Park, Cahuita National Park or Rio Celeste are on well maintaned and groomed trails.
If you do encounter a large spider in the wild, I suggest walking the other direction and just leaving it alone. No need to kill it just because, unless it's inside your shoe or something.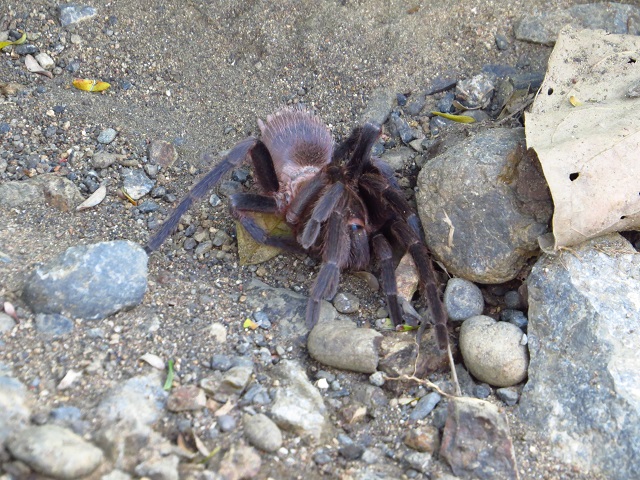 We have seen a couple of tarantulas but they aren't super common and they don't attack people without being provoked. Just walk the other direction.
Most spiders like to hide away or burrow, coming out in heavy rains or when it's time to mate. As the rule of nature, don't bother it and it won't bother you.
Scorpions
14 different species of scorpion live in Costa Rica and you need to watch out for these guys because if they sting you, it hurts. We have encountered quite a few of them in our house.
They've lived in our clothing drawer, the kitchen, even Yeison's underwear! Their sting won't kill you but it will be painful. I've unfortunately been stung a few times and it really hurts but I know I am not allergic. If you see one, don't touch it or provoke it as they are feisty.
If you do get stung by a scorpion, they say to immediately wash the area with soap and water or if you have access, put some lime on it. If the area starts to swell, put a cold pack on it to keep the swelling down and to relieve the pain. The pain should subside within a hour or so. If it doesn't and your symptoms start getting worse or you begin feeling other types of pain, you should see a doctor.

Millipedes and Centipedes
We occasionally see a dead rolled up one in our house or walking around outside especially during rainy season. I have seen them get really long, about the length of my hand!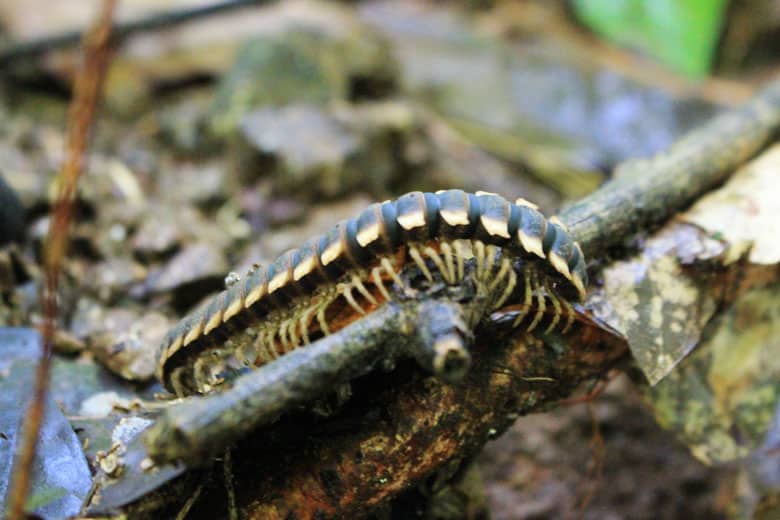 I know they will release a venom if they bite you so I would avoid these at all costs. It's painful and it will swell but it's not life threatening to humans. However, it can cause severe allergic reactions that you need to look out for if you do get bit. They don't attack people though and are harmless when left alone.

Ants
It is impossible not to see any ants, it seems like there's nothing you can do to stop these guys from coming in. Most of the time, the ants are harmless and the ones you see in your kitchen are sugar ants.
They'll nest and it's very hard to get the whole tribe exterminated without fumigating several times in a row. Outside, it's very common to see leaf cutter ants. Most of the time you can recognize them by seeing little pieces of flowers and leaves moving.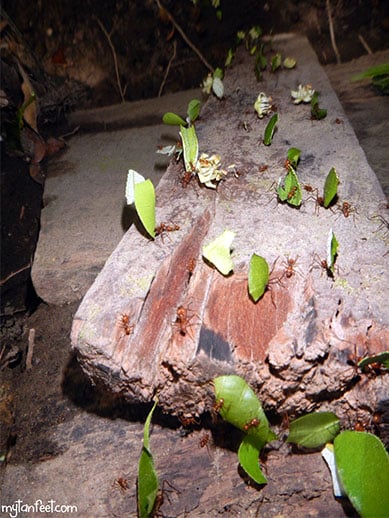 Some of the ants are much bigger and more aggressive. Be careful when you're hiking because if you accidentally step on a hill, they will bite and attack you.
Make sure you avoid the big black ants though. These are called Bullet Ants and have the most painful bite. You can't miss them, they're a couple centimeters long and very black. We have seen them while hiking in Bijagua and Sarapiqui, out in private rainforest reserves. If you see them, don't touch them!
Cockroaches
These ones are usually the insects people are the most grossed out by. Cockroaches are fairly common here and they get big. Like they make that ant or spider look like speck of dirt on the floor compared to them. They'll come inside your house whether it is clean or not and surprise you out of nowhere.
I was washing the dishes one day when a huge cockroach flew in front of my face and landed on the curtain. They particularly love the bathroom and any dark place like our storage room. During rainy season, I was finding a cockroach in the shower every single day!
Mid to high end hotels do a fairly good job of fumigating so cockroaches shouldn't be something normal to see. However, if you are staying in really cheap, budget places, you may see one. I saw dead cockroaches in our room when we stayed at Arenal Backpackers Resort.
Mosquitoes
When you come to Costa Rica, you will get bit. Mosquitoes are present all year round since Costa Rica is a tropical climate and they especially love rainy season when they can reproduce in stagnant water. Not only are their bites really annoying, but you can get several diseases from an infected mosquito such as dengue and zika.
Dengue is a problem in Costa Rica so for your trip, make sure you bring plenty of repellent or bring it here. You can read up on our favorite products to protect from mosquitoes. We've experimented with lots of products and give our verdict on each one.
Butterflies
Now here's an insect that people love! You can see beautiful butterflies throughout the country since Costa Rica has around 1,500 species of butterflies. The best places are around Monteverde, the Central Valley and the South since you can see the famous Blue Morphos. The most fascinating one in my opinion is the Glasswinged butterfly, it has see through wings!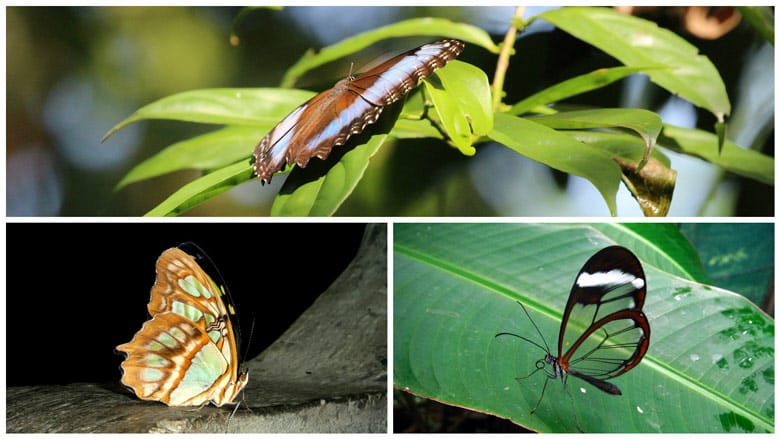 You can visit butterfly farms to learn more about these insects and their life cycle at La Paz and Monteverde.
If you're really into insects, you have to take a night tour. We took one in Monteverde and saw a variety of insects and arachnids!
Other critters
Here are some other critters and insects in Costa Rica we've seen. I don't know the names to all of them but they are pretty cool!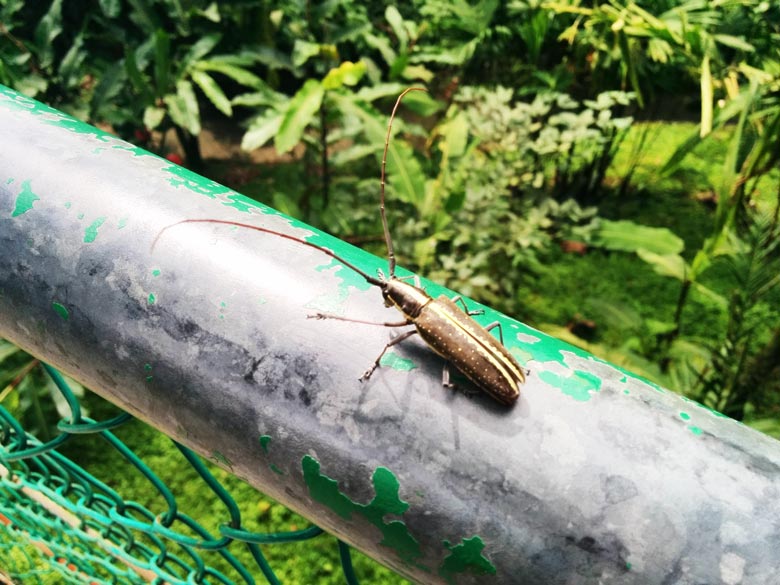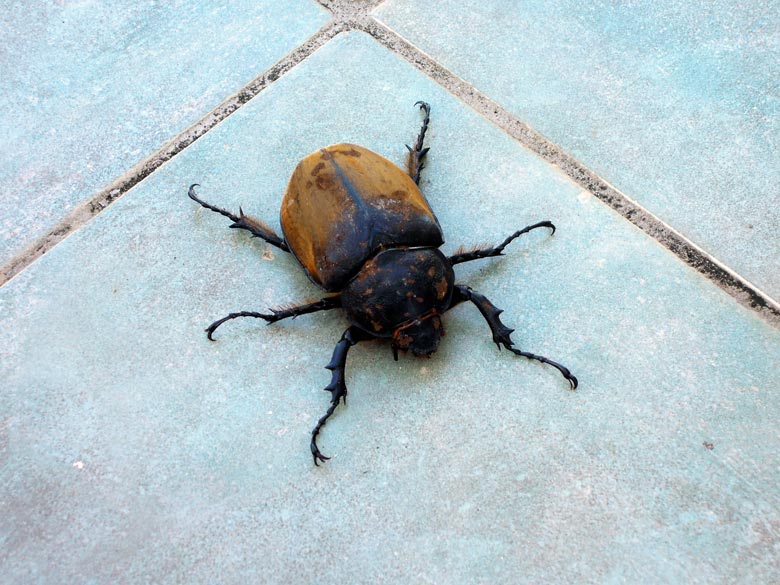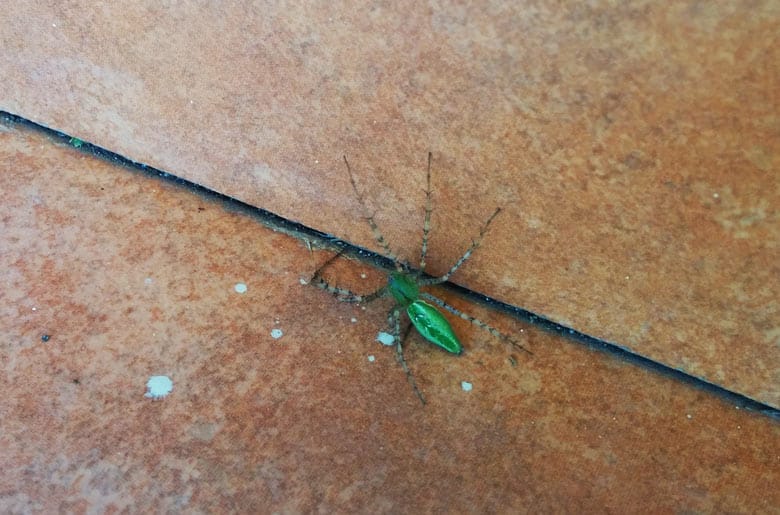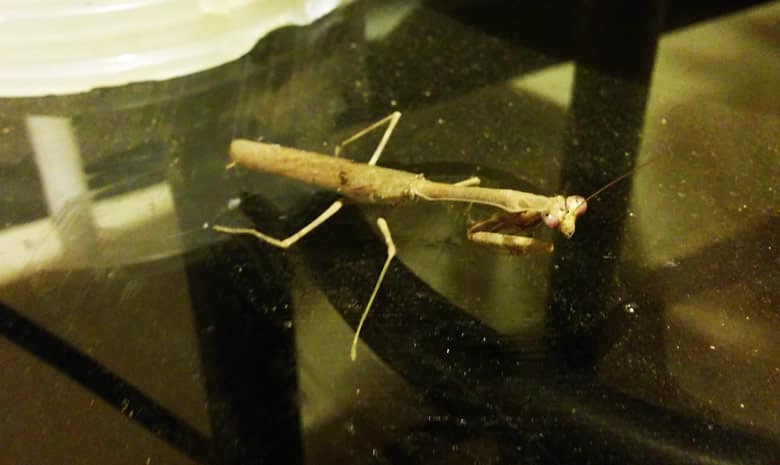 For all the cute and cuddly creatures Costa Rica has, they have just as many of the "scary" creatures as well. Insects and spiders are just a part of everyday life here.
If you want to learn more about them, we highly recommend taking a guided walk. Your naturalist guide will share interesting facts about the creatures which will make you appreciate and respect them more.
More posts on wildlife in Costa Rica:

Wildlife watching guide
Birds
Amphibians and Reptiles
If you like this article, follow us on Facebook for more Costa Rica travel tips and inspiration!
This post has affiliate links.