Whether you're coming to Costa Rica to lay on the beach, hike up a mountain or embrace your adventurous spirit, which pair of shoes you bring can make or break a trip so it's crucial you research what shoes to bring for Costa Rica.
This post will tell you which are the best shoes for Costa Rica and which shoes you should bring for your trip.
There are Amazon affiliate links in this post.
What Are the Best Shoes for Costa Rica?
What kind of shoes you bring to Costa Rica depends on the type of trip you are planning to have and where you are visiting.
For sightseeing, easy walks/short hikes and beach, we recommend to bring flip flops and a pair of comfortable walking shoes.
For a trip with beach, longer hiking/walking in the rainforest and easy outdoor adventures, we recommend flip flops, closed toed hiking sandals or light trail running shoes and casual sneakers.
If you are visiting more rural areas, doing more extreme outdoor water/land activities and visiting during peak rainy season, we recommend waterproof trail running shoes, flip flops and casual sneakers.
We've traveled extensively throughout the country and I'll tell you why below.
We recommend the casual comfortable sneakers for the plane rides, sightseeing, etc.
Don't forget to check our complete Costa Rica packing list for more information on what to bring!
For Sightseeing, Easy Walks/Short Hikes and Beach
If your trip consists of beach, a visit to a popular, well maintained national park like Poas Volcano and Irazu Volcano, some city sightseeing, then a pair of flip flops and comfortable and sturdy walking shoes will work.
However, if you want to add a light water activity like ATV tours, river tubing, snorkeling, a pair of water shoes is recommended or else you will have soggy sneakers for the rest of your trip.
For Beach, Longer Hiking/Walking in theRainforest and Outdoor Adventures
For beach, longer hikes and several outdoor adventures, we recommend flip flops, closed toed hiking sandals or light trail running shoes and casual sneakers.
Longer hikes will be places like Rio Celeste (Tenorio Volcano National Park), Arenal Volcano National Park, Rincon de la Vieja National Park, Manuel Antonio National Park, Los Quetzales National Park, Monteverde Cloud Forest Reserve, Carara National Park, and Cahuita National Park.
Outdoor adventures where closed toed hiking sandals or light trail running shoes will work great are like white water rafting, canyoning (water rappeling), river tubing and waterfall hikes.
For Rural Areas, Long Hikes and Visiting During Peak Rainy season
If you are visiting more rural areas and plan to do long hikes or more extreme outdoor adventures, then we highly recommend waterproof trail running shoes or waterproof hiking shoes.
These are places like Corcovado National Park, Bajos del Toro, Turrialba, Tortuguero National Park (hiking in the national park – not the boat ride), San Vito, Tapanti National Park, Braulio Carrillo National Park or any of the more rural, lesser visited parks and areas. This also includes any rural hikes like Cerro Dragon, Cerro Tinajita, etc.
If you plan to hike Chirripo (hardest and tallest hike in Costa Rica), then you must have waterproof hiking boots.
Then if you plan to visit any of those places during the rainiest months such as September and October, then waterproof shoes are a must if you are hiking a lot in rural areas.
Manuel Antonio National Park
For Manuel Antonio National Park, you can get by with hiking sandals if you plan to only walk to the beach. A couple of their trails use wooden platforms and are well maintained. You'll even see lots of locals wearing sandals or flip flops in Manuel Antonio National Park as they are just walking to the main beach.
If you want to hike the entire park, I recommend something more comfortable like hiking sandals. This area is extremely humid and you will most likely want to swim in the ocean after your hike so hiking sandals will provide the comfort and protection for hiking and then it dries fast if you want to swim.
I normally wear my closed toed hiking sandals for Manuel Antonio National Park.
Arenal Volcano National Park or the Reserves
For Arenal Volcano National Park or any of the private reserves such as Arenal 1968, we recommend good walking shoes instead of hiking sandals. This is because some of the trails go through the old lava flows from the 1968 eruption, so there are sharp and big lava rocks around.
There are also insects and ants on the paths so although the trails are not difficult, protect your feet! If you are visiting in the rainy season, waterproof shoes will be helpful as this area can rain hard. Trails don't get extremely muddy but it can get very wet with puddles.
Rio Celeste
I recommend waterproof trail running shoes for Rio Celeste. This is because this area tends to rain more and the trails DO get muddy when it has rained a lot. Likewise, some trails have tree roots and rocks sticking out. Even in dry season, there can be a random rain shower and then your sneakers will be soggy and muddy the rest of the time.
If you are an avid hiker with experience, closed toed hiking sandals can work. I have visited Rio Celeste more than 5 times and wore my closed toed hiking sandals each time as I'm very careful when I walk. Even though it poured rain on us once, it was easy enough to wash the mud off my feet and hiking sandals with the hose by the ticket office.
If you are visiting on a very rainy day, I saw a small stand renting rain boots outside the national park.
Monteverde Cloud Forest
I recommend hiking shoes or trail running shoes for Monteverde. A sturdy pair of sneakers can work in dry season.
I do not recommend neither open toed or closed toed hiking sandals because it is colder in Monteverde, especially if you visit the Santa Elena Cloud Forest Reserve. It can also rain more often and some trails do get muddy in the cloud forest reserves.
Hiking Sandals
Yeison and I love our closed toed hiking sandals. They are excellent for going from land to water, dry fast and let your feet breathe. As many outdoor adventures in Costa Rica go from land to water and vice versa, it's wonderful having these protective sandals that dry fast.
For closed toed hiking sandals, we love our KEEN closed toed hiking sandals.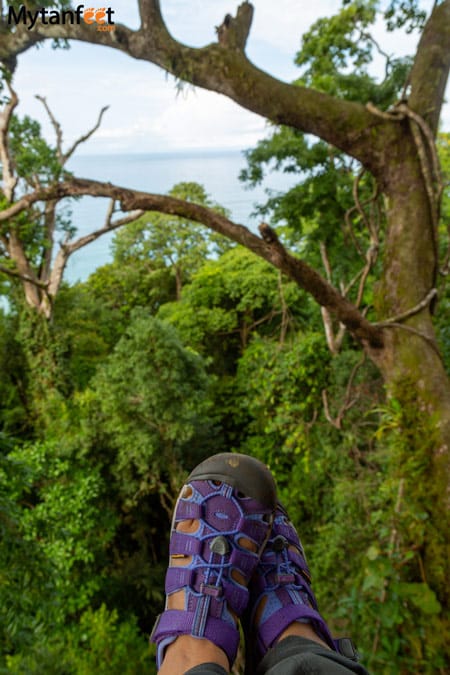 Yeison and I both have a pair of Newport H2 and have used them for years. They're not cheap but are worth the money. If you buy KEENs, buy a half size smaller as they do stretch out. The Whisper and Astoria are two other models besides the Newport H2 that are very good.
However, there are other excellent hiking sandals like Hi-Tec (used to have these before KEEN), Teva, Clarks (love their shoes, so comfortable), Chacos and Merrell.
One downside to hiking sandals is that little rocks can sneak in there easily but I love that my feet can breathe and I don't have to carry around wet socks.
Tip: Make sure to read about Costa Rica weather as some places tend to rain more than others.
Closed VS Open Toed Hiking Sandals
One of the questions we get a lot is "Which is better: open or closed toed hiking sandals?" They're both great but let me tell you why we recommend closed toed hiking sandals.
The difference is in protection. Obviously with open toed shoes, your toes aren't covered and are vulnerable to getting stubbed and poked. It's easy to accidentally kick a rock when you're walking, get a thorny branch stuck between your toes or worse, be bitten by ants. Not all hiking trails are well maintained in Costa Rica and ants are everywhere, so closed toed shoes are better in our opinion.
With closed toed shoes, you have a sturdy toe bumper and more coverage. For many activities in Costa Rica, they require closed toed shoes so in general, they are better than open toed.
If you are doing extremely light activities such as boating, snorkeling, sailing, fishing, walking around town, then open toed sandals can work.
Sneakers
We mostly wear sneakers in the city. Sneakers aren't the best shoes for Costa Rica when it comes to outdoor activities. This is because many adventure activities involve water, dirt or mud but sneakers don't have the best traction nor are they waterproof.
If you're doing mostly sightseeing and nothing hardcore, sneakers are fine.
Trail Running Shoes
For a completely covered shoe, bring trail running shoes or an all-terrain shoe that is light, breathable, protects against mud and dirt and has a good grip. Yeison recently bought a pair of Salomon trail running shoes that are amazing. They're GORE-TEX waterproof, have excellent grip and traction and are lightweight yet high performance.
I personally have a pair of Nike trail running shoes. They're not as good as Yeison's Salomons though because they aren't waterproof. My next pair of trail running shoes will be a waterproof Salmon pair like Yeison's for sure.
Hiking Boots
Hiking boots aren't really necessary for most of the tourist attractions in Costa Rica but there are a couple of places where they are recommended instead of trail running shoes or hiking sandals.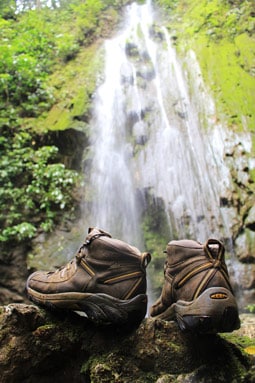 Specifically, you will need hiking boots if you plan to go to Chirripo. This is the tallest hike in Costa Rica and the mountain goes up 12, 000 feet in elevation so you need a sturdy pair of hiking shoes.
Additionally, if you're bringing hiking boots, we recommend a waterproof pair. That area tends to rain more and you may cross streams.
Another place hiking boots are recommended are Corcovado National Park, specifically if you plan to hike to Sirena station, Leona or San Pedrillo. 100% necessary to have waterproof ones in rainy season.
Yeison has a pair of tall KEEN Targhee waterproof hiking shoes (in the picture) which he wore crossing several rivers to a waterfall and his socks stayed 100% dry. I have a pair of waterproof Salomon hiking shoes which I love. I bring these ones whenever I need a waterproof closed shoe.
Tip: Bring a pair of lightweight long wick dry socks to protect your skin and keep your feet from feeling too stuffy.
Rain boots
You don't need rain boots in Costa Rica but there are a couple of places that you may need them.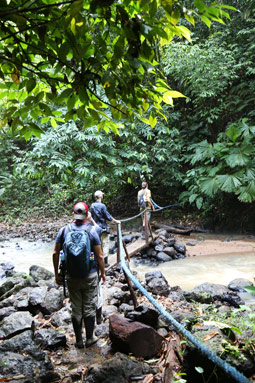 We wore rain boots at the San Pedrillo station in Corcovado National Park because it poured rain the night before and the trails were incredibly muddy. We crossed several small rivers and streams and the rain boots protected against all of the elements.
Initially, we were going to wear our hiking shoes but thankfully our hotel, Casa Corcovado Jungle Lodge provided rain boots. We were up to our ankles in mud in some places!
For rain boots, you don't necessarily need to bring them. They are sold at most hardware stores for cheap and then you can give them away when you leave Costa Rica so you don't have to take them back home with you.
Rain boots are also useful in Tortuguero National Park and Rio Celeste if visiting in very rainy months like April, September, October and November. You don't need to bring boots for those places either as they are for rent outside these two national parks.
Water Shoes
Water shoes are an excellent option if you don't want to purchase a pair of closed toed hiking sandals just for Costa Rica. These shoes are cheaper, work perfectly for activities like rafting, tubing and horseback riding and are easy to carry in luggage. You can also purchase them here in Costa Rica as many supermarkets carry water shoes. Don't wear water shoes for hiking though, they don't offer much protection.
You could bring water shoes + sneakers/trail running shoes.
Other Things to Know
Before putting on your shoes, and shake it out to get rid of any unwelcome visitors. Scorpions, snakes and other critters like to call shoes home sometimes
If you're coming in rainy season, see what other essential gear you should bring in our packing for rainy season in Costa Rica post.
You May Need Completely Closed Shoes Depending on Where You Are Going
Some parks and places require you to have COMPLETELY covered shoes. These are places like Rainforest Adventures Park (Braulio Carilloo and Jaco) and Mistico Hanging Bridges Park in La Fortuna. If you do not have completely covered shoes for Mistico Hanging Bridges Park, they will make you sign a waiver to say they are not responsible or liable if anything happens to you due to not having completely covered shoes.
Make sure to check the places you are visiting if they are require completely closed shoes or not.
Bottom Line
If you're planning to do a lot of activities like white water rafting, tubing, ziplining, long hikes, canyoning, horseback riding, etc. then we recommend you to bring a pair of waterproof trail running shoes or closed toed hiking sandals.
For lighter activities like snorkeling, boating, tubing, easy hikes, hanging bridges, kayaking and sightseeing, closed toed hiking sandals work great. You can bring sneakers + the closed toed hiking sandals.
If you're mostly sightseeing, sneakers work. And if you plan to do sightseeing with one or two outdoor adventures, sneakers + water shoes work (no intense hikes).
For more intense hikes, waterproof trail running shoes or hiking shoes.
Make sure to check our complete Costa Rica packing list to find out all the essential items you need to bring.
Read more Costa Rica travel tips here!
10 mistakes to avoid in Costa Rica