Whether you're coming to Costa Rica to lay on the beach, hike up a mountain or embrace your adventurous spirit, which pair of shoes you bring can make or break a trip.
This post will tell you which are the best shoes for Costa Rica and which shoes you should bring for your trip.
There are Amazon affiliate links in this post.
Best Shoes for Costa Rica
We personally recommend closed toed hiking sandals and trail running shoes for Costa Rica. We've traveled extensively throughout the country and I'll tell you why below.
Hiking Sandals
Yeison and I love our closed toed hiking sandals. They are excellent for going from land to water, dry fast and let your feet breathe. Specifically, we really like our KEEN sandals.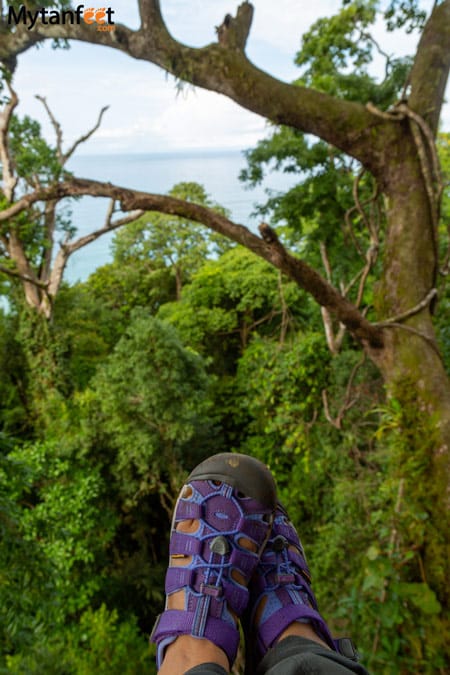 Yeison and I both have a pair of Newport H2 and have used them for years. They're not cheap but are worth the money. If you buy KEENs, buy a half size smaller as they do stretch out. The Whisper and Astoria are two other models besides the Newport H2 that are very good.
However, there are other excellent hiking sandals like Hi-Tec (used to have these before KEEN), Teva, Clarks (love their shoes, so comfortable), Chacos and Merrell.
One downside to hiking sandals is that little rocks can sneak in there easily but I love that my feet can breathe and I don't have to carry around wet socks.
Tip: Make sure to read about Costa Rica weather as some places tend to rain more than others.
Closed VS Open Toed Hiking Sandals
One of the questions we get a lot is "Which is better: open or closed toed hiking sandals?" They're both great but let me tell you why we recommend closed toed hiking sandals.
The difference is in protection. Obviously with open toed shoes, your toes aren't covered and are vulnerable to getting stubbed and poked. It's easy to accidentally kick a rock when you're walking, get a thorny branch stuck between your toes or worse, be bitten by ants. Not all hiking trails are well maintained in Costa Rica and ants are everywhere, so closed toed shoes are better in our opinion.
With closed toed shoes, you have a sturdy toe bumper and more coverage. For many activities in Costa Rica, they require closed toed shoes so in general, they are better than open toed.
Flip flops are the best shoes for the beach in Costa Rica.
Sneakers
We mostly wear sneakers in the city. Sneakers aren't the best shoes for Costa Rica when it comes to outdoor activities. This is because many adventure activities involve water, dirt or mud but sneakers don't have the best traction nor are they waterproof.
If you're doing mostly sightseeing and nothing hardcore, sneakers are fine.
Trail Running Shoes
For a completely covered shoe, bring trail running shoes or an all-terrain shoe that is light, breathable, protects against mud and dirt and has a good grip. Yeison recently bought a pair of Salomon trail running shoes that are amazing. They're GORE-TEX waterproof, have excellent grip and traction and are lightweight yet high performance.
I personally have a pair of Nike trail running shoes. They're not as good as Yeison's Salomons though because they aren't waterproof.
You can definitely bring waterproof trail running shoes instead of closed toed hiking sandals and sneakers.
Hiking Boots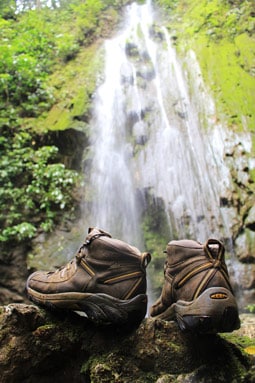 Hiking boots aren't really necessary for most of the tourist attractions in Costa Rica but there are a couple of places where they are recommended instead of trail running shoes or hiking sandals.
Specifically, you will need hiking boots if you plan to go to Chirripo. This is the tallest hike in Costa Rica and the mountain goes up 12, 000 feet in elevation so you need a sturdy pair of hiking shoes.
Additionally, if you're bringing hiking boots, we recommend a waterproof pair. That area tends to rain more and you may cross streams.
Another place hiking boots are recommended are Corcovado National Park, specifically if you plan to hike to Sirena station, Leona or San Pedrillo. 100% necessary to have waterproof ones in rainy season.
Yeison has a pair of tall KEEN Targhee waterproof hiking shoes (in the picture) which he wore crossing several rivers to a waterfall and his socks stayed 100% dry. I have a pair of waterproof Salomon hiking shoes which I love. I bring these ones whenever I need a waterproof closed shoe.
Tip: Bring a pair of long wick dry socks to protect your skin and keep your feet from feeling too stuffy.
Rain boots
You don't need rain boots in Costa Rica but there are a couple of places that you may need them.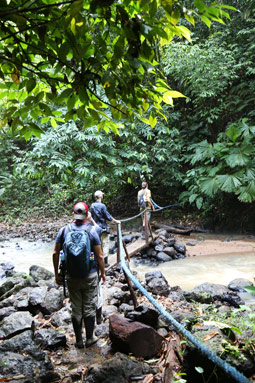 We wore rain boots at the San Pedrillo station in Corcovado National Park because it poured rain the night before and the trails were incredibly muddy. We crossed several small rivers and streams and the rain boots protected against all of the elements.
Initially, we were going to wear our hiking shoes but thankfully our hotel, Casa Corcovado Jungle Lodge provided rain boots. We were up to our ankles in mud in some places!
For rain boots, you don't necessarily need to bring them. They are sold at most hardware stores for cheap and then you can give them away when you leave Costa Rica so you don't have to take them back home with you.
Rain boots are also useful in Tortuguero National Park and Rio Celeste if visiting in very rainy months like April, September, October and November. You don't need to bring boots for those places either as they are for rent outside these two national parks.
Water Shoes
Water shoes are an excellent option if you don't want to purchase a pair of closed toed hiking sandals just for Costa Rica.
Water shoes are cheaper, work perfectly for activities like rafting, tubing and horseback riding and are easy to carry in luggage. You can also purchase them here in Costa Rica. A lot of supermarkets carry water shoes. Don't wear water shoes for hiking though, they don't offer much protection.
You could bring water shoes + sneakers/trail running shoes.
Extra tips
Before putting on your shoes, and shake it out to get rid of any unwelcome visitors. Scorpions, snakes and other critters like to call shoes home sometimes
If you're coming in rainy season, see what other essential gear you should bring in our packing for rainy season in Costa Rica post. Or our general Costa Rica packing list post.
If you're going to Corcovado National Park, ask your hotel if they provide rain boots. Most of the luxury hotels do.
We recommend to bring two pairs of outdoor shoes so in case one gets wet, you will always have another dry pair.
Bottom Line
If you're planning to do a lot of activities like white water rafting, tubing, ziplining, long hikes, canyoning, horseback riding, etc. then we recommend you to bring a pair of waterproof trail running shoes.
For lighter activities like snorkeling, boating, tubing, easy hikes, hanging bridges, kayaking and sightseeing, closed toed hiking sandals work great. You can bring sneakers + the closed toed hiking sandals.
If you're mostly sightseeing, sneakers work. And if you plan to do sightseeing with one or two outdoor adventures, sneakers + water shoes work (no intense hikes).
For more intense hikes, waterproof trail running shoes or hiking shoes.
Read more Costa Rica travel tips here!
10 mistakes to avoid in Costa Rica