Guanacaste, Costa Rica, or the "gold coast" earned its nickname due to the plethora of beautiful beaches in the province. You can spend days exploring the coast, finding gorgeous beaches that you can have all to yourself!
Yeison and I love living in Guanacaste for this exact reason. We've had a blast discovering hidden gems only the locals know. So in this article we're going to share some of our favorites and the best beaches in Guanacaste.
Best Beaches in Guanacaste, Costa Rica
Map
Click here to go to a map of all the beaches in this article.
The More Popular Beaches
Who doesn't love a white sand beach? Though Costa Rica doesn't have as many as people think, there are still a handful of spectacular white sand beaches. The two of the best beaches in Guanacaste with white sand are Playa Conchal and Playa Flamingo. Because of the white sand and clear waters, they are also two of the most popular beaches.
Conchal Beach
Conchal beach was made famous for one unique characteristic – it had shells instead of sand. Nowadays, there aren't as many shells since many people took them home as souvenirs, but when you grab a handful of the sand you can still see bits and pieces of sparkling shells.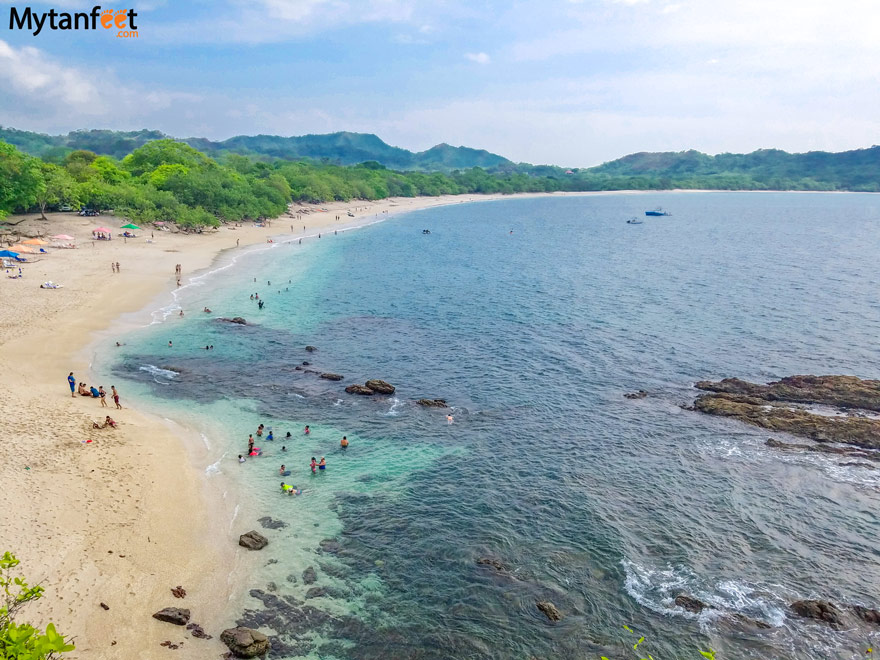 There are two entrances to Conchal: through the all-inclusive Westin Conchal or Playa Brasilito, the adjacent beach with the public entrance.
This beach is one of the most beautiful and is certainly one of the best beaches in Guanacaste so don't pass up an opportunity to visit.
Flamingo Beach
Flamingo beach is another white sand beach, not too far from Conchal. This beach has more of a town than Conchal so it is more touristic, catering to visitors looking for a luxury vacation. You'll see plenty of high end condos, upscale restaurants and luxury resorts such as the Margaritaville.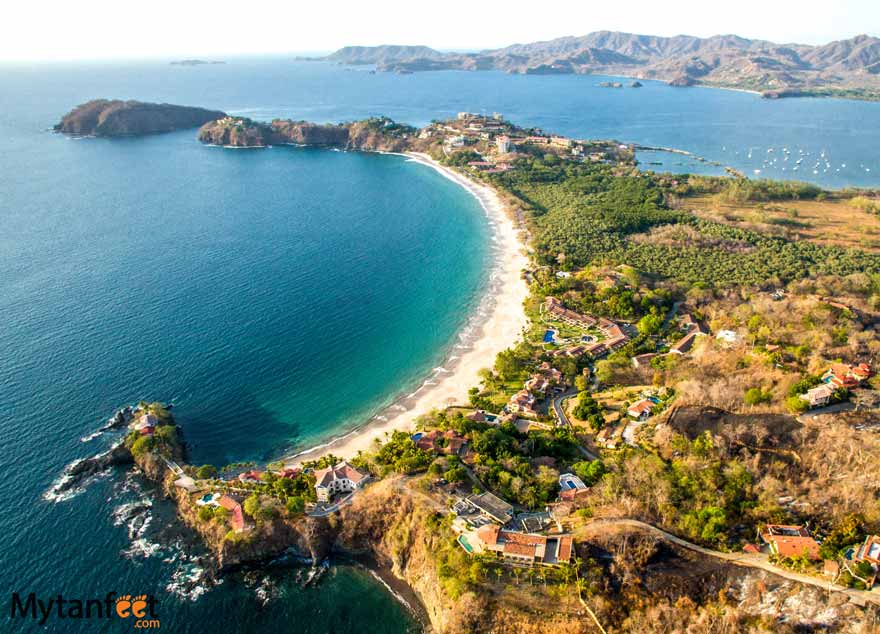 These are the two main white sand beaches in Guanacaste but there are actually several secret beaches with white sand. This is why you have to explore when you're in Costa Rica, nothing is what it seems like on the surface! The best way to find them is to rent a car, learn some Costa Rican Spanish and ask locals!
Surfing
Costa Rica is known world wide for excellent surfing so don't miss these spots if you're here to catch a wave or two!
Playa Tamarindo
Tamarindo is the go-to beach for beginners and mid level surfers. Come for a lesson or book a surf vacation. Schools and shops line the streets with surfers filling up the beach in hopes of catching the perfect wave.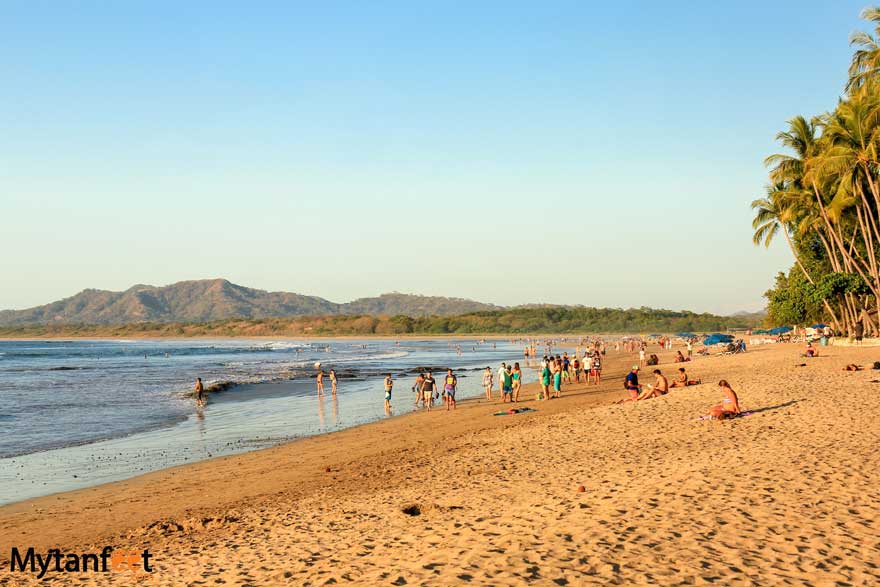 There are always waves at Tamarindo and it has a long break, perfect for beginners.
Playa Grande
Playa Grande is another beloved surfing beach and for those who want to hit the waves from sun up to sun down, Grande is a great place to go. Has gorgeous sunsets and is less crowded than Tamarindo.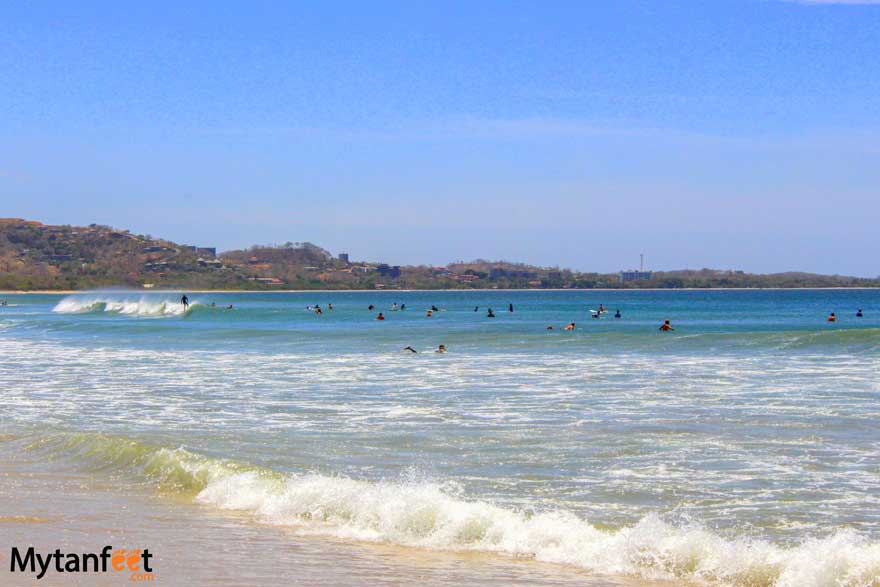 Since it is part of a national park, visitors aren't permitted on the beach after sunset but you can spend all day, every day surfing.
Playa Avellanas
Surf lovers can't miss Avellanas. With waves up to 18 feet, both intermediates and pros can happily surf at Avellanas. There's a reason why it's nickname is "Little Hawaii!"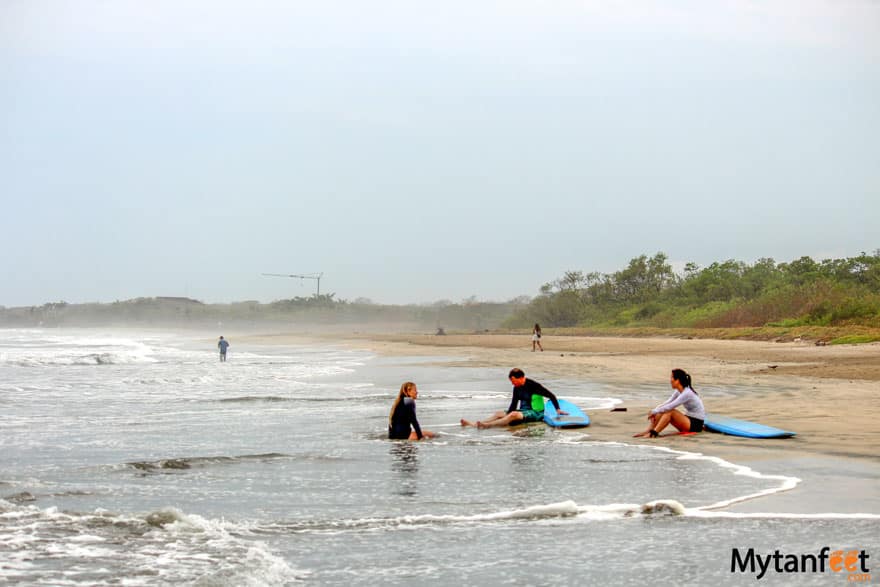 As it's fairly close to Tamarindo, visitors can have a complete surfing vacation between the two beaches. Some surf camps start you off with lessons at Tamarindo for a week and then take you on your last day to Avellanas.
Family Friendly
Playas del Coco
Playas del Coco is usually the beach town that locals flock to for the holidays and weekends and it's because this beach is very family friendly. There's a park where families can have a picnic, kids can lay down, run around, have a copo and play in the sand. There is also a children's playground with swings and monkey bars.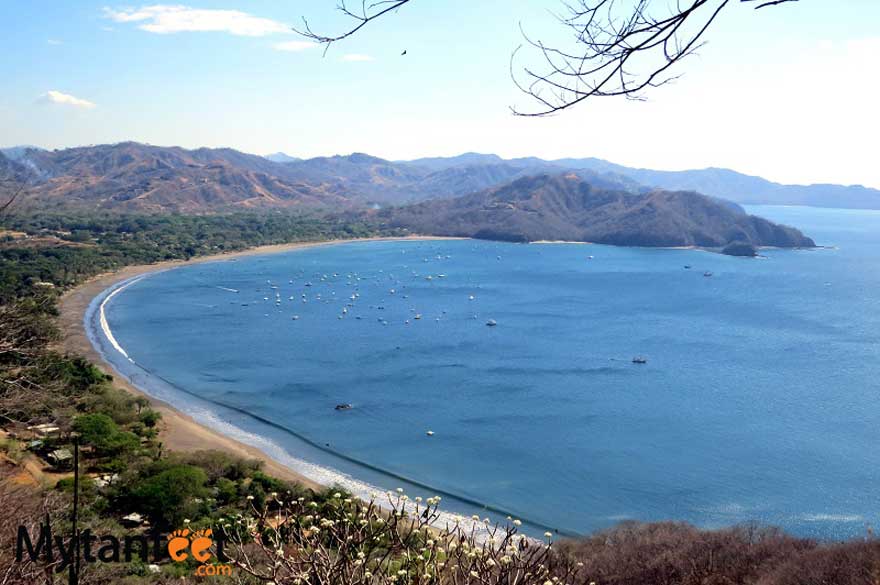 Waves are usually gentle enough for kids to swim and the beach is long enough so that no matter how crowded it gets, you'll always be able to find a spot for your family.
Playa Panama
Panama is a favorite among families due to its extremely soft waves. Babies, toddlers and little ones will love splashing around in the calm waters and the adults can enjoy a swim or have a drink on the beach.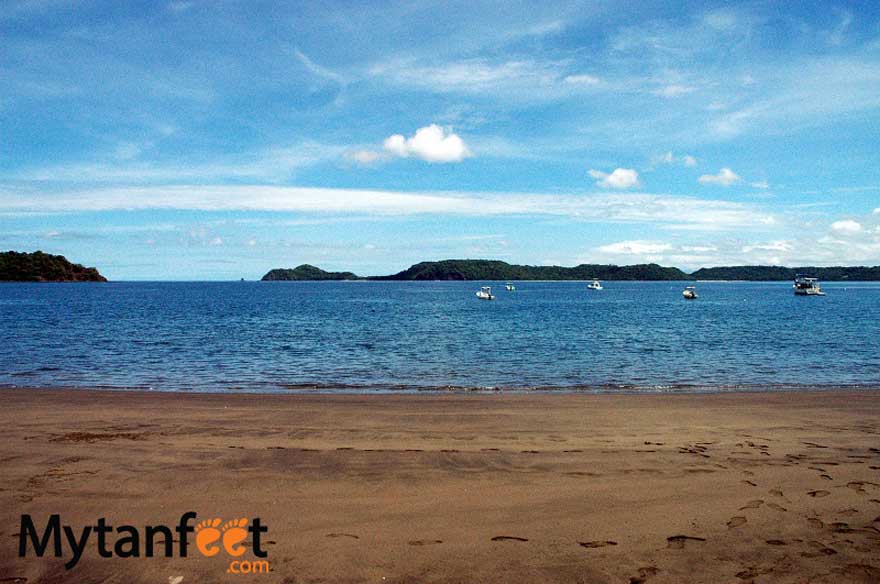 Sunsets here are stunning and since Playa Panama doesn't have a town (the closest is Playas del Coco), it is much quieter and less populated than its bustling neighbor.
There are plenty of trees and shady spots to lay down to have a intimate family beach day. You can even stay at the two resorts on the beach, El Mangroove Hotel and the all-inclusive Casa Conde.
Samara
Samara is a popular beach town in southern Guanacaste. It has great beginner surfing waves, beautiful coastal views and a nice family friendly atmosphere.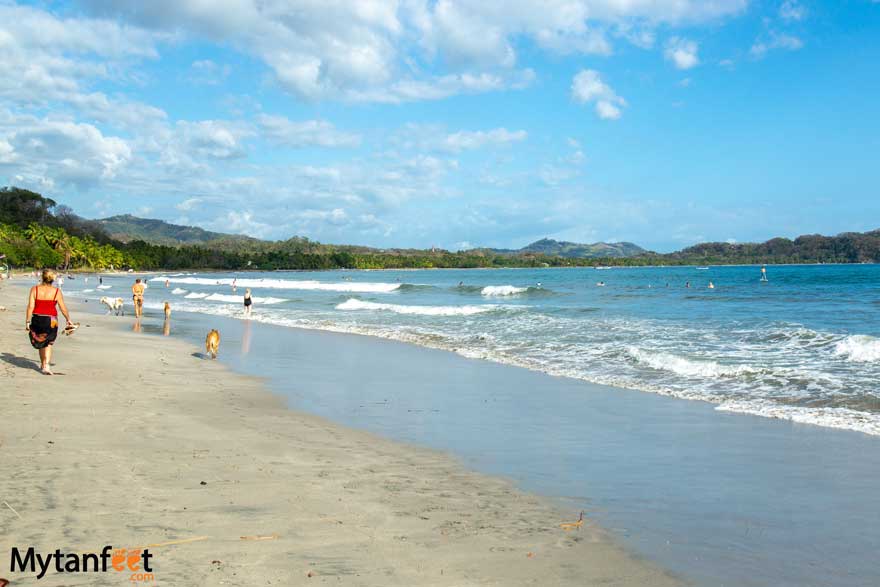 Lesser Known Beaches
We've written a post about 5 beaches in Guanacaste you've never heard of but here are a couple more.
Playa Mina
Playa Mina is one of our favorite secret beaches near Tamarindo. It has soft white sand, crystal clear waters and lots of trees for shade.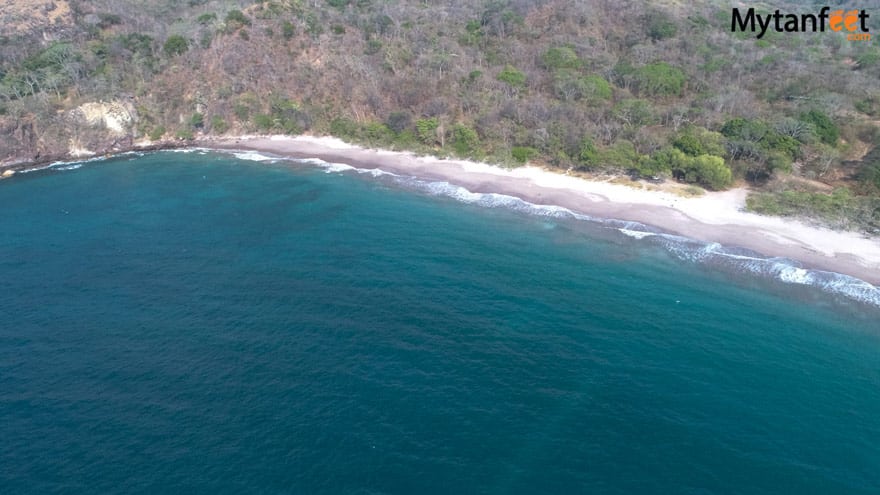 Waves can get a big strong so just keep an eye out if you want to swim, especially in rainy season. We also recommend a high car if you visit during rainy season since the road is unpaved with lots of pot holes and mud. In dry season, it is passable with a normal car going slow and carefully.
Las Catalinas (Playa Prieta, Sugar Beach, Danta and Dantita)
This area has some amazing beaches that aren't as well known as the Gulf of Papagayo beaches. You can do all the same activities like swimming, snorkeling, kayaking and sailing with way less people!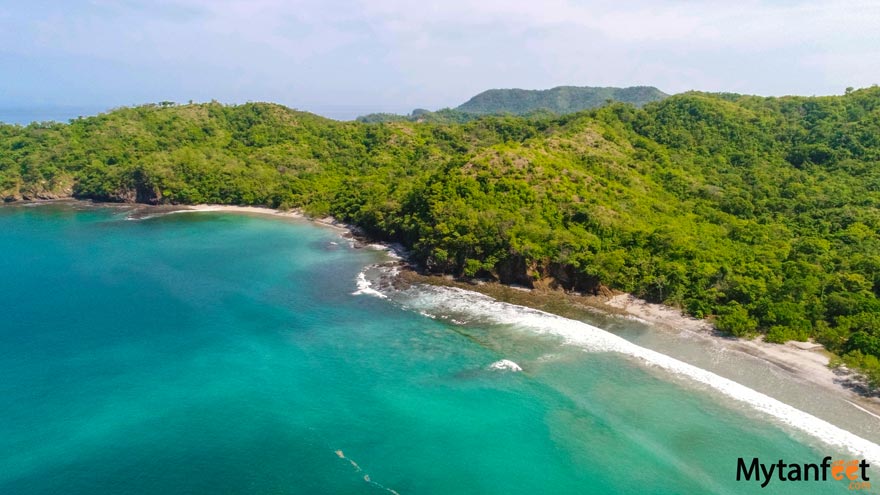 Las Catalinas is a small developing community so there isn't much there. Casa Chameleon Las Catalinas is a gorgeous adult only resort with ocean views on the hill or you can find a vacation rental nearby.
Playa Cabuyal
Gorgeous Playa Cabuyal is on the road to the Four Seasons with whiteish sand and bright blue waters. There are picnic benches, a playground and bathrooms so this would also be another great family friendly beach. It's one of the best beaches in Guanacaste for those who don't want to be around crowds.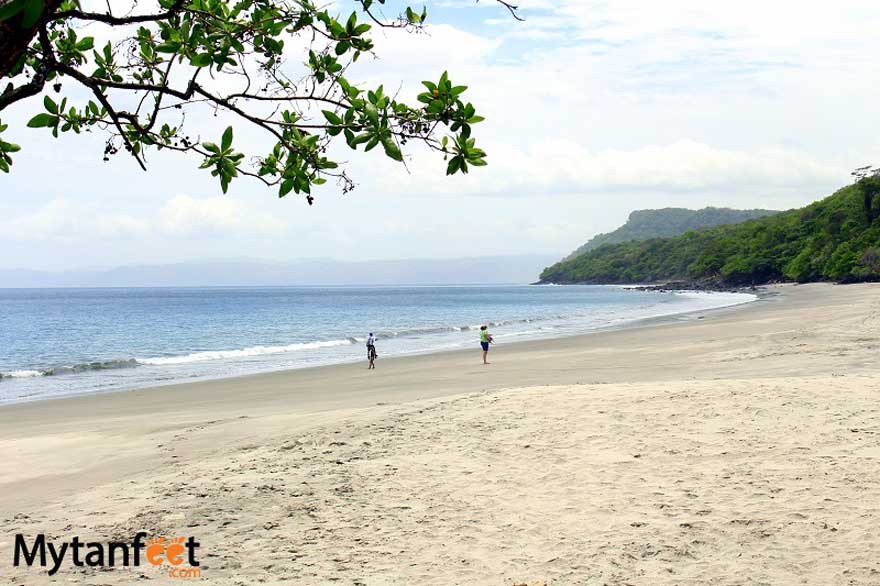 Just make sure to bring your own food and water and keep an eye out for the mantas that like to frolic close to shore!
Playa Ostional
Ostional beach makes the list of best beaches in Guanacaste, Costa Rica because of the nesting turtles. It is one of two beaches in Costa Rica where arribadas (mass gathering of turtles) occur. During an arribada, you can see thousands of turtles on the beach!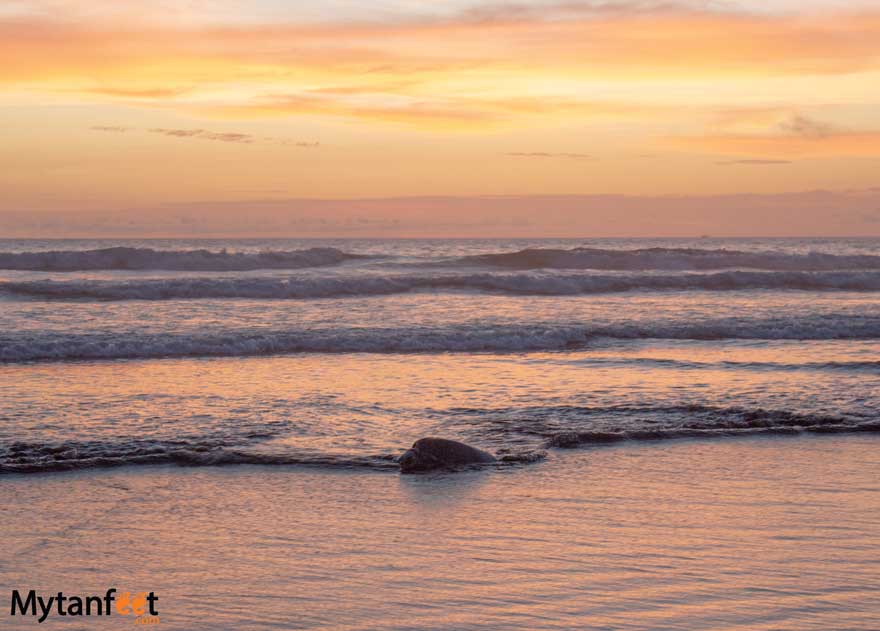 Sunsets here at spectacular and you can witness a natural phenomenon only found in 7 places in the world. Ostional is definitely one of the most incredible places in Costa Rica!
Playa Real
Playa Real is in the Bahia de los Piratas and is also a turtle nesting beach. It has white sand, calm waters and is absolutely beautiful. You need a 4wd to get there, which makes it even more an adventure.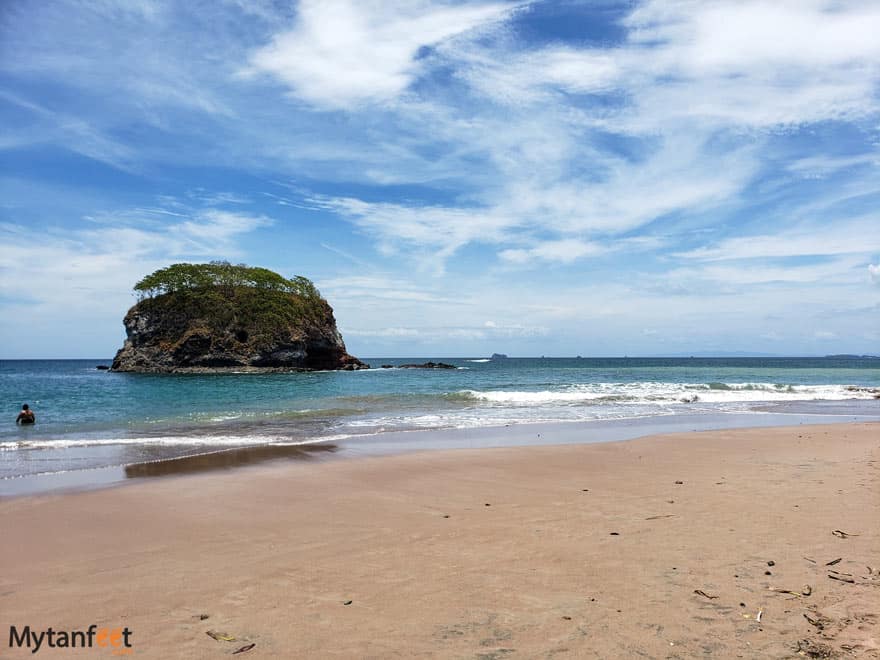 Great day trip from Tamarindo or Conchal!
Need more beach wanderlust? Check out our post on the best beaches in Costa Rica and our favorite white sand beaches!
This post has affiliate links.