As a tropical country, mosquitoes in Costa Rica are present year round. Here is what you need to know about mosquitoes in Costa Rica and we included a list of our recommended mosquito repellent. Living somewhere that has mosquitoes year round, we test and use a lot of repellent!
Mosquito Borne Diseases: Dengue, Malaria, Chikungunya and Zika in Costa Rica
When it comes down to diseases from mosquitoes in Costa Rica, dengue is the one to be concerned about.
Dengue: Dengue is a big concern in Costa Rica. In 2020, Costa Rica had 9438 documented cases of dengue. There are 4 different types of this viral disease and is treatable for acute or mild cases. It is not very common for people to die of dengue although it can happen.
Malaria: Malaria is not common in Costa Rica. Costa Rica has done a great job eradicating malaria in the country with 8 cases in 2012, 108 in 2018 and and 11 in 2020. They've reduced malaria over 90% since 2000. Although your travel doctor may recommend to take malaria medication, with the near eradication of malaria in Costa Rica, it is not necessary.
Chikungunya virus: Also present in Costa Rica and doesn't have a vaccine or cure. It was found for the first time in the Americas in 2013, before it was only in Africa, Asia and Europe. Chikungunya is not that common in Costa Rica with only 49 cases in 2020.
Zika: Zika has been around since the 1950's mostly in Asia and Africa but has been showing up in North America the past couple years. Costa Rica had only 121 cases of Zika in 2020.
Which Areas Have the Worst Mosquitoes in Costa Rica?
Although there are mosquitoes year round, mosquitoes are generally not found in higher elevations in Costa Rica, around 1600 meters and up (5249 feet). They are prolific on the coasts, beaches and low elevation areas.
There are mosquitoes in Tamarindo, Playas del Coco, Samara, Puerto Viejo, Tortuguero, Jaco, Osa Peninsula, Uvita, Manuel Antonio, Santa Teresa, aka everywhere on the coasts. Likewise, there are mosquitoes in La Fortuna, Sarapiqui, and the lower elevation rainforests.
However, there aren't really mosquitoes in higher elevation places such as Monteverde, Vara Blanca and Poasito as that's about 1500 meters and above.
Mosquitoes also like swimming pools so be careful when you're laying out at your hotel pool. They are relentless!
Additionally, sunset time (5-6 PM) on the beach is happy hour for sand gnats/flies and they bite hard so be aware of them.
Worst Time of Year for Mosquitoes in Costa Rica
Mosquitoes are present all year long in Costa Rica. However, since mosquitoes breed in stagnant water, rainy season (May to end of November) is the worst time of year for mosquitoes.
Unfortunately streets in Costa Rica do not have good drainage and when it rains, drains get clogged. Huge pools of water stay on the streets for days allowing mosquitoes to breed prolifically. For these reasons, you will need to bring or buy plenty of mosquito repellent for your trip to Costa Rica.
The Best Protection Against Mosquitoes
The best protection against mosquitoes in Costa Rica is to wear long sleeves and pants and to cover up. That is the only surefire protection against mosquitoes.
However, it's not ideal to be wearing long sleeves and pants in 90 F tropical heat and humidity. So then you will need to apply mosquito repellent.
Best Insect Repellent Against Mosquitoes in Costa Rica
Here are the best products we tried ourselves. We recommend bringing mosquito repellent for your trip because it is more expensive in Costa Rica. Additionally, there aren't a ton of options if you prefer natural products.
Remember, what works for me may not work for you 100% and I am a mosquito magnet. I try to use non-DEET products as much as possible but honestly for me, DEET works the best compared to other products.
There are Amazon affiliate links in this post.
Spray
I particular love a brand called Jungle Juice that is available at REI or this brand, Repel 100. It's a little bottle but you don't need much and it's the perfect travel size. Whenever we go to the national parks or into the jungle for hiking, we always use this one and we don't get bit at all.
Another one we like is Ben's Max. This one contains around 30% DEET and works great. I could see the bugs hovering over my arm but never got bit!
Natural spray
For those who don't want to use DEET, the Repel Natural is one of my favorite DEET free products but I do need to reapply about every half an hour or so.
Mosquito Repellent Wipes
Mosquito wipes are great for those who don't like to use sprays. It is also very convenient to carry as they weigh practically nothing and aren't considered a liquid (better for those traveling with a carry on). These are 30% DEET and lasts up to 10 hours.
We used these on our legs and arms and they worked well for us. They're not my favorite product to use but they are super light to carry.
Insect Repelling Bands
These insect bands don't contain DEET this is another natural product. It contains Geraniol, a plant based material that repels mosquitoes.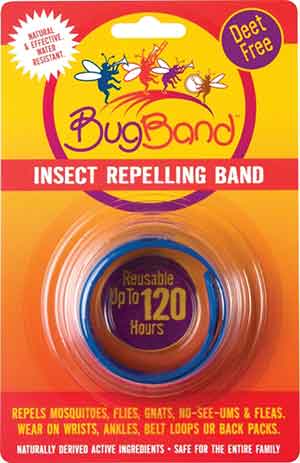 These bands are for your wrists and feet and you can just leave it on. They are water friendly and supposedly works up to 120 hours.
We put the bands on our ankles to test out how well it worked without any other product. It didn't work for me at all, I got bit the first hour I had the bands on so I personally won't be buying these again.
Mosquito Repellent Lotion
This mosquito lotion is applied with a sponge. It's good up to 12 hours (time release) with 33% DEET and it worked great for us.
The lotion is heavy though so you definitely feel like you're wearing it. It isn't as quick as putting on a spray but you can make sure that you got all exposed areas covered with the sponge.
When it comes down to it, I prefer the spray since it's faster and lighter but the lotion does make you feel like you're really covered.
Mosquito repellent clothing
If you really want the ultimate protection against mosquitoes in Costa Rica, then covering up and wearing insect shield clothing is the best option. Then apply repellent products to the areas that are not covered.
We have some pieces from Columbia, ExOfficio Bugs Away and a Buff Headwear with Insect shield that have worked great for us.
DEET Alternative
We tried a DEET alternative spray called Avon Skin so soft. It contains Picaridin which is still a synthetic chemical compound. I recently discovered this and it's much more pleasant smelling than DEET. It also works decently for me!
Another excellent insect repellent that doesn't use DEET (it has 20% Picaridin, a non toxic ingredient) is Proven Insect Repellent.
Afterbite Itch Eraser
If you do get bit, you'll want to put something on those bites especially if they swell.
The After bite eraser also works well and we found that it took away the itchiness pretty fast. You just dab a little bit on and let it do it's magic.
Purchasing Mosquito Repellent in Costa Rica
If you have to buy mosquito repellent in Costa Rica, you can find them in all supermarkets. Nowadays, natural products are getting more popular but something to note is that mosquito repellent is more expensive in Costa Rica with limited options. If you can, bring it.
Another way to get non-DEET mosquito repellent is to go to a macrobiotica or organic store in Costa Rica. Sometimes they will have more natural products like oils or natural sprays. Additionally, there may be some vendors at the farmer's markets that have natural mosquito repellent.
Other Costa Rica Travel Tips
Need some tips on what to bring for Costa Rica? Check out our Costa Rica packing list.
Need some tips about sunscreen? Here are the best sunscreens for Costa Rica plus the different ones you can find here.