As a tropical country, mosquitoes in Costa Rica are everywhere all year long. They are a huge concern for traveler since there are some diseases you can get from mosquitoes.
Here is what you need to know about mosquitoes in Costa Rica and we included a list of our recommended mosquito repellent. Living somewhere that has mosquitoes year round, we test and use a lot of repellent!
*Post updated May 2020.
Mosquito Borne Diseases: Dengue, Malaria, Chikungunya and Zika in Costa Rica

Dengue: Dengue is a big concern in Costa Rica as there is no vaccine available. In 2019, Costa Rica had 8179 cases of dengue. There are 4 different types of this viral disease and is treatable for acute or mild cases. It is not very common for people to die of dengue although it can happen.
Malaria: Malaria is not common in Costa Rica. According to the Ministerio de Salud (department of health), there have been 93,030 cases of malaria since 1957. But Costa Rica has done a great job eradicating malaria in the country with 8 cases in 2012, 108 in 2018 and and 11 in 2020 so far. They've reduced malaria over 90% since 2000. Although your travel doctor may recommend to take malaria medication, to be honest, with the near eradication of malaria in Costa Rica, it is not necessary.
Chikungunya virus: Also present in Costa Rica and doesn't have a vaccine or cure. It was found for the first time in the Americas in 2013, before it was only in Africa, Asia and Europe. The most affected provinces are Puntarenas and Guanacaste. But it's not that common in Costa Rica with only 145 cases in 2019.
Zika: Zika has been around since the 1950's mostly in Asia and Africa but has been showing up in North America the past couple years. In February 2016, there has been a reported and confirmed case of a tourist falling ill with Zika after visiting Samara but it is not as prevalent as the news makes it to be. Costa Rica had only 431 cases of Zika in 2019.
When it comes down to mosquitoes in Costa Rica and diseases, dengue is the one to be concerned about.
Which Areas Have the Worst Mosquitoes in Costa Rica?
Mosquitoes generally do not live above elevations of 6,500 feet (2,000 meters) so the worse areas are on the coasts. These are places like Guanacaste beaches, the Caribbean, Nicoya Peninsula, Osa Peninsula and Central/South Pacific. Any rainforest, hot and humid areas are mosquito hot spots.
There are also mosquitoes in the cities like San Jose, Heredia, Alajuela, Cartago, Grecia and San Ramon. However, there aren't really mosquitoes in high elevation places such as Monteverde as that's about 1500 meters and above.
Mosquitoes also like swimming pools so be careful when you're laying out at your hotel pool.
Worst Time of Year for Mosquitoes in Costa Rica
In tropical countries, mosquitoes are present all year long. However, there are some times of the year when they are especially abundant.
Since mosquitoes breed in stagnant water, rainy season (May to end of November) is the worst time of year for mosquitoes. Unfortunately streets in Costa Rica do not have good drainage and when it rains hard, drains get clogged. Huge pools of water stay on the streets for days and weeks allowing mosquitoes to breed prolifically.
For these reasons, you will need to bring or buy plenty of mosquito repellent for your trip to Costa Rica.
Best Insect Repellent Against Mosquitoes in Costa Rica
Here are the best products we tried ourselves. We recommend bringing mosquito repellent for your trip because it is expensive in Costa Rica. Additionally, there aren't a ton of options if you prefer natural products.
Remember, what works for me may not work for you 100% but I am a mosquito magnet. I try to use non-DEET products as much as possible but there have been times when we've been out in the remote jungle (like Osa Peninsula, Caribbean) where I just had to use DEET as the mosquitoes were too intense.
Spray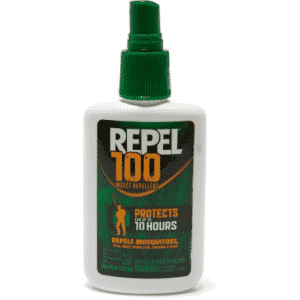 Many sprays come with 10%-30% DEET but I found that I still get bit sometimes with those. I need at least 30%.
There is a brand called Jungle Juice you can buy at REI or this brand, Repel 100 which we really like. It's a little bottle but you don't need much and it's the perfect travel size. Whenever we go to the national parks or into the jungle for hiking, we always use this one and we don't get bit at all.
Another one we like is Ben's Max. This one contains around 30% DEET and works great. I could see the bugs hovering over my arm but never got bit!
Natural spray
For those who don't want to use DEET, the Repel Natural is one of my favorite DEET free products because it does work and smells like lemon. It doesn't last super long for me though, I found it only worked for about half an hour and then I had to reapply.
I recently found another one called Bull Frog Mosquito Coast that doesn't use DEET and also has sunscreen. It actually works for me! But I do need to reapply every couple hours but for a non-DEET product, this one is my favorite. I love that it also has sunscreen in it so I only have to apply one product one instead of two.
Mosquito Repellent Wipes
Mosquito wipes are great for those who don't like to use sprays especially for the face and neck. It is also very convenient to carry and you can take them on on the plane with you. These are 30% and lasts up to 10 hours.
We tried these on our legs and arms and they worked well for us but not a full 10 hours. Luckily it barely takes up any space so it's easy to reapply and when you're hiking, it's much easier and lighter to carry than bottles and spray cans.
Insect Repelling Bands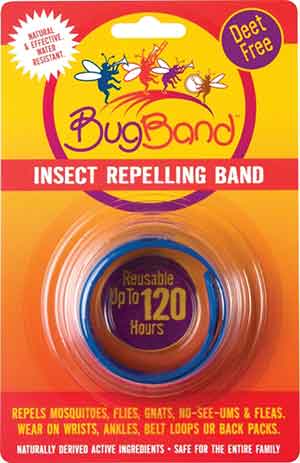 These insect bands don't contain DEET so it is also ideal for those who don't like spraying chemicals all over their body. It contains Geraniol, a plant based material that repels mosquitoes.
These bands are for your wrists and feet and you can just snap it on and leave it for a couple days. They are water friendly and works up to 120 hours.
We used them on our ankles but we also combined it with a little bit of spray because with the bands alone, I still got bit and it definitely didn't work for 120 hours. At least it smells good and you don't have to wash bug spray off of yourself at the end of the day.
I don't recommend depending solely on these bands though. And definitely don't believe it works for up to 120 hours.
Mosquito Repellent Lotion
This mosquito lotion comes with a sponge so you can rub in the lotion with that instead of your hands. It's good up to 12 hours (time release) with 33% DEET and it worked great for us.
The lotion was a tad heavy so you definitely feel like you're wearing it, it's not as light as I'd like. I only used it on my legs and arms and even those annoying little gnats stayed away. This one isn't as quick as putting on a spray but you can make sure that you got all exposed areas covered. I don't prefer the lotion, to be honest I like the spray better.
Mosquito repellent clothing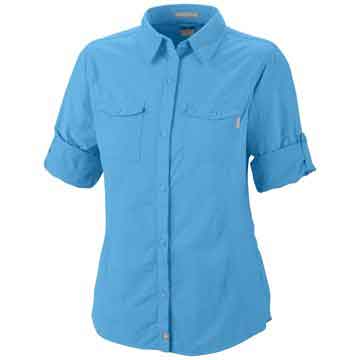 Quite a few outdoor sports brands have developed an insect repellent technology that they put in some of their clothes.
Columbia is one of them and we have one of their bug shield shirts which we love.
However, I don't recommend depending on solely the clothing to keep bugs away if it is a short sleeve shirt or capri pants since part of your skin will still be exposed. Get long sleeve shirts and long pants with bug shield or cover the exposed areas with something light like a wipe or a moderately low DEET spray.
Since there are several brands, it's good to read reviews or talk to the salesperson before you invest in buying the clothing since they can get quite expensive. We love our Columbia shirts!
DEET Alternative
We did try a DEET alternative spray called Avon Skin so soft. It contains Picaridin which is still a synthetic chemical compound. I recently discovered this and it's much more pleasant smelling than DEET. It also works decent for me! I recommend reapplying every hour or two. Another excellent insect repellent that doesn't use DEET (it has 20% Picaridin, a non toxic ingredient) is Proven Insect Repellent.
Afterbite Itch Eraser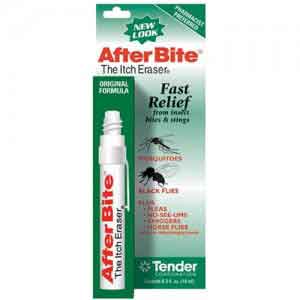 If you do get bit, you'll want to put something on those bites especially if they swell. I once got bit over 20 times in Nicaragua in 1 hour on my calves and the only thing that saved me was hydrocortisone cream as my bites swelled up very bad!
The After bite eraser also works well and we found that it took away the itchiness pretty fast. You just dab a little bit on and let it do it's magic.
The Best Protection
These are only a small sampling of the myriads of products out there to repel mosquitoes but these are ones that we have tested and worked for us. Always be sure to read the labels first and read reviews to see which ones will work best for you and your needs.
For the best protection, cover up. That is the only surefire protection against mosquitoes. So for little ones, I highly recommend covering up instead of covering them in sprays and lotions with chemicals. Wear long pants and long shirts especially in the national parks and forests. And when using repellent, the key is to reapply.
Purchasing Mosquito Repellent in Costa Rica
If you have to buy mosquito repellent in Costa Rica, you can find them in all supermarkets. Some supermarkets like Maxi Pali or Mega Super may only have a few options with only DEET. If you go to a supermarket like Auto Mercado or Vindi, they usually do have a natural option or two.
Another way to get non-DEET mosquito repellent is to go to a macrobiotica or organic store in Costa Rica. Sometimes they will have more natural products. Additionally, there may be some vendors at the farmer's markets that have natural mosquito repellent. The Tamarindo night market and farmer's market usually has vendors that sell organic natural items including repellent.
Just in case….
We recommend purchasing Costa Rica travel insurance because just in case you do get dengue or some for some other health issue, so you can be covered when it comes to medical emergencies.
Need some tips on what to bring for Costa Rica? Check out our Costa Rica packing list.
Need some tips about sunscreen? Here are the best sunscreens for Costa Rica plus the different ones you can find here.