Although Costa Rica is a fairly safe country, it would be irresponsible of me to say that there aren't any tourist scams. Since tourism is one of their main sources of income and the country is receiving over 2 million visitors a year, travel scams in Costa Rica do exist.
Common Costa Rica Tourist Scams
In this post are some of the most common Costa Rica travel scams. I also included Yeison's tips so you have insider knowledge from a local who has worked in the tourism industry for over 20 years.
Broken Taxi Meter/Not Official Taxi
This is one of the most common scams in Costa Rica, the broken taxi meter. All official taxis in Costa Rica have a meter, which is called the Maria in Spanish. When you get into a taxi, the driver may not turn it on. They know that tourists may not notice, don't speak Spanish or if they do ask, they will claim that it is broken.
So whenever you get into a taxi, make sure you ask the driver to turn it on right away. If he says it's broken (no funciona in Spanish), then get out and find another one that will use it.
You also need to make sure the taxi you're taking is an official taxi and is operating within his province. This is what an official taxi looks like: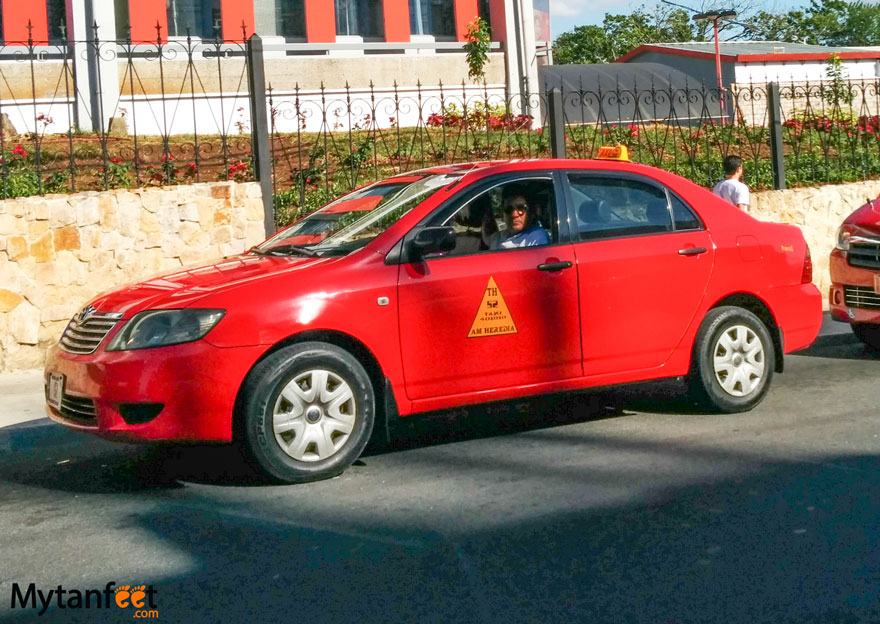 You will see he has the official triangle emblem and code on the door.
Here are the main things to know about taking taxis in Costa Rica
Red are official taxis. Orange are airport taxis. All official taxis have a meter and they must turn it on.
They can only operate in the province they're licensed in. Province codes work like this: TSJ stands for Taxi San Jose and the numbers tells you the taxi number. Taxis in Heredia will have plates TH, in Limon TL, in Guanacaste TG and so on.
There are official taxi stands right outside both San Jose and Guanacaste International Airports.
Also make sure to use only small bills and Costa Rican colones. If you use USD, they may say they don't have change. Or they may not give you the right exchange rate which I'll talk about in a second.
In some areas like Tamarindo, you will see that there aren't any official taxis, only pirate taxis. Take these under your own caution! These guys do not have insurance and their cars are usually old and beat up. Negotiate a price before since they don't use a meter.
Read more about taking taxis in Costa Rica in this post.
"Donations" to the Police
This one is a bit tricky to avoid. In Costa Rica, transit police can pull people over for any reason and there are many traffic stops in the country where they can ask anyone to pull over and check their car (mostly for drugs). The officers will normally ask for your ID (passport, drivers license) and take your information down, this is normal.
However, there are some corrupt police officers (notably in the Guanacaste area), that may try to get more from tourists. We've had stories from tourists where the officially looking police officer handed them a note in bad English saying they are "asking" for a donation to fix the local sewer system or something. Then they don't let the tourists go until they get their "donation" of $10, $20 USD, etc.
This one is super tricky since most tourists don't speak Spanish, the transit officers may not speak English and tourists will feel really stuck and trapped. Most of them just give some cash if they have some and get let go on their way without any other problems, but the "officer" is scamming tourists. If you feel like it, ask for their badge, take a photo of it and a photo of their face because it is illegal for officers (transit/police) to ask for money to tourists and you can file a report at the local OIJ or police station.
Also make sure to send any complaints to the official Costa Rican tourist website. This is extremely important as it will make them pay more attention the more complaints there are.
Incorrect Currency Exchange
The current exchange rate of Costa Rican colones to United States Dollar is 540 ish to 1. However, the Costa Rican exchange rate changes every single day. Before, when the exchange rate was closer to 500, it was easy to calculate how much you'll spend.
All you had to do was remember 500 colones is 1 USD, so 10,000 colones is $20 USD right? Wrong. Now that the exchange rate has been going up lately, you can only use that method to get an estimate but it is not accurate. Some places will keep using that 500 to 1 which means you'll be losing a little bit each time with them using that ratio.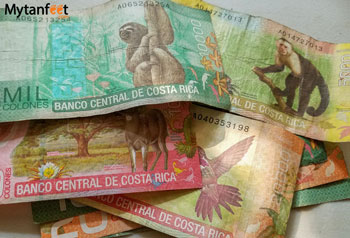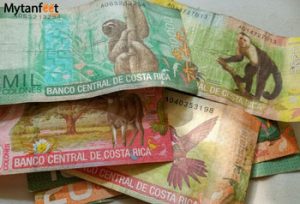 You can pay in USD and get your change back in CRC at many establishments in touristic destinations. However, all establishments can set their own exchange rate which should be close to the current ratio. Full size supermarkets, gas stations, banks and hotels should post a sign near the cashier their exchange rate. Small restaurants, taxis and souvenir stores normally do not so make sure you are on top of the rate if you pay in USD.
For example, tou buy 50,000 colones worth of souvenirs at the shop. You pay $100 USD and they don't give you change. They're stiffed you because 50,000 CRC actually comes out to around $94 USD, not $100 USD!
Read more about handling money in Costa Rica in this post.
Buses Aren't Operating
If you're at San Jose International Airport and need to get to a bus station in San Jose, the taxi driver may try to tell you that the buses aren't operating. Or that all the seats are sold out. They will then try to sell you a ride for something ridiculously expensive. This unfortunately is common around the 7-10 bus station in San Jose, one of the main bus stations.
Do NOT accept their offer, always go into the bus station and check for yourself.
They also may try to do this with hotels. They may tell you that your hotel is overbooked or have no vacancy. Then they'll try to take you to another place where they have a deal with the owner.
"Cheap" Car Rentals
This is unfortunately a common scam in Costa Rica. Many of the big car rental companies will post super cheap car rental prices so you think "Wow it's so cheap to rent a car in Costa Rica!" But what you don't know is that they're omitting many insurances, taxes and fees.
The price you're seeing is actually just the car rental price. They will add all the extras on when you arrive to pick up the car. That means your total car rental amount turns out to be significantly much higher than you thought. Your $200 USD car rental for 1 week turns out to be $900!
When you're reserving a car online, here are some things you need to know
There is a mandatory insurance in Costa Rica for car rentals. If you don't see any insurance options on the site you're booking, they will add it on at the last minute.
Car rental companies will also have crazy high deposit amount ($3000-5000 USD) if you decide not to take any insurance but you wouldn't know that until you get there or if you asked.
Tourists can legally decline one type of insurance using credit card car rental insurance. Companies might not explicitly post this on the booking page so you aren't aware until you get there.
They may add last minute fees for airport transfers, online booking fees, etc.
To avoid these hidden taxes, insurances and fees, do extensive research about insurances and book with reputable companies. Since we want to make sure everyone has a good experience renting a car in Costa Rica, we have partnered with Adobe Rent a car, a Costa Rican car rental company. They are 100% transparent about their prices, insurances and fees. We personally take care of every single reservation so you will be in good hands. Get our Costa Rica car rental discount here!
Read more about renting a car in Costa Rica below.
Tips for renting a car in Costa Rica
Costa Rica car rental insurances breakdown
Friendly Border Crossing "Agent"
Land border crossings can be super intimating in Latin America. Unfortunately here, there are definitely more people at the border who will try to take advantage of tourists. The most important thing to remember at the border is to only talk to official officers. Do not talk to the random people hanging out at the border.
These random local guys will pretend to "help you" with your border crossing, offering to take your passport to go to the front of the line and get a stamp without papers and then charge you a ton of money for it. Do NOT take this offer, do not EVER let anyone take your passport! You never know if you'll see it again, you don't know what they did with it while you weren't looking, you don't even know if the stamp they got you is real. Never give your passport to anyone.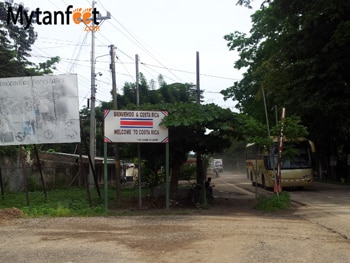 My Personal Experience
I unfortunately fell victim to this during my very first time crossing the Peñas Blancas border between Nicaragua and Costa Rica. All I did was say hello and smile at a man who seemed friendly but then he would NOT leave me alone, even when I told him I do not want his help. He would try to stay at my elbow and act like to everyone we were together. He kept trying to take my passport and charging me money because he was "escorting" us across. We got extremely uncomfortable and tried to lose him in the crowds but to no avail. It wasn't until my big guy friend pretty much yelled at him in the face to leave that he finally sulked up and angrily left.
We made sure to walk the complete opposite direction when we crossed back over to Costa Rica. This man was on the Nicaraguan side, after we exited Costa Rica. So be aware of these "friendly" people, they are not official immigration agents, police offers or border control. They are just local guys trying to take advantage of unaware tourists.
Here are some other scams I saw at the border
Charging money for the custom and immigration forms. These forms, if they still require them, are free.
Offering to help you pay the Costa Rican exit tax but charging something completely ridiculous. (You can go to the office and pay this yourself, it's super easy).
A guy offering to skip the line and get your stamp for you without documentation. One of my silly friends accepted this once and his passport was returned to him bent with little rips. Then the Nicaraguan immigration officer told him he couldn't cross unless he paid him $100 USD because his passport was damaged. They were totally in on it together to damage tourists' passports and charge ridiculous money.
Never accept help from anyone at the border and if you have questions, ask an official officer or ask other tourists. If you're a solo traveler, talk to other tourists and see if you can cross together.
Read our post on crossing the border between Nicaragua and Costa Rica for more tips.
Persistent and Pesky Hawkers
This one is more common in Guanacaste. You will see little kids walking around with an armful of palm leaves. Then they come up to you to try to give you a flower. If you accept, they'll chase you down to give them money for it. This is a common practice in Nicaragua and since Guanacaste is right at the Nicaraguan-Costa Rican, it's become a common tourist scam in that area.
They're not violent but they will not leave you alone if you take the flower or cricket or whatever they made. I've had friends who gave them some colones just to make them go away but they kept following us down the street for more money. One time they even yelled at us that we didn't give them enough for their "generous gift."
I've also seen this in Jaco. A woman kept bothering these two girls who were dining outside. She kept trying to sell them postcards for about 20 minutes and finally the girl gave her 2000 colones. Right after, I saw the lady walk into the liquor store across the street.
Cheap Tours Off the Street
This is another common Costa Rica travel scam. In touristic destinations like La Fortuna, Conchal, Manuel Antonio and Playas del Coco, you'll get approached by people selling tours on the street. They'll make it sound really good, charging you up to 50% less then the tour company next door and offering you all these special services.
But when you finally do the tour, they take you to a completely different place, don't include everything they said they would and charge you more money at the end because of some lame excuse. Or some are just illegal operators, running tours without licenses, insurance or certifications which is why they can charge so cheap…
How to Prevent This Costa Rica Tourist Scam
We don't recommend booking tours from these illegal tour operators, we recommend researching companies online and booking tours beforehand. Tours in Costa Rica are expensive so it may be tempting to book that super cheap tour but there is one big reason for it: insurances. Certified and licensed tour companies have to pay for a lot of insurances but that is good for the tourist. All the drivers are licensed drivers, all the guides are certified guides, they have insurance on their vehicles, their vehicles have passed the yearly inspection, etc.
There have been many incidents when tourists decide to book a cheap tour with an illegal tour operator in La Fortuna. He took them on a closed hiking path, the tourists got injured because the trail is in literally the jungle and the tourists were not prepared, and they had to get airlifted to the hospital. The "guide" suddenly disappeared because he didn't have any insurances so nothing's covered. So please book with certified, reputable tour companies and you can find them on the Visit Costa Rica website.
If you need recommendations, we can help. We work with only licensed companies and offer discounts for tours in Costa Rica with only licensed, certified companies with a reputable standing.
Hiring Non Certified Guides
This is very common street scam at national parks like Manuel Antonio National Park, Ostional Wildlife Refuge and Cahuita National Park. When you get to the entrance of the park or about 1 mile from the entrance, you'll be approached by a lot of guys asking if you want a guide. For people who don't know, it doesn't seem like a big deal but if you hire a non-certified guide, it is a big deal.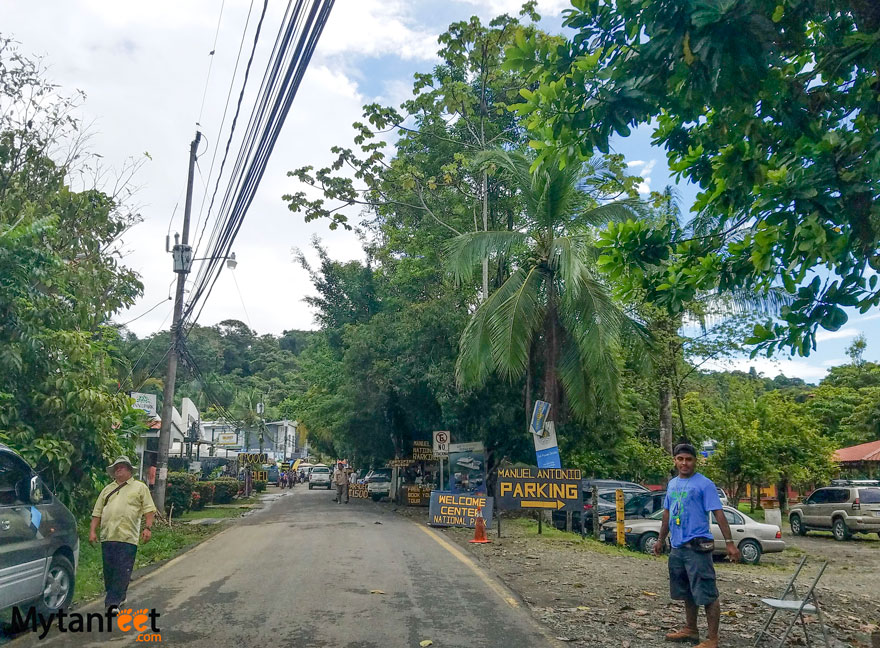 This is because certified guides have to go pay to go to guide school, take the test and pay insurances and for their certification. It's a big process in Costa Rica to become a certified naturalist, tour guide and tourism drivers. Those people who are doing it illegally are harming the tourism industry in the country. First, you're not even paying for a certified guide and then they may try to pull more tricks like making you go to a certain souvenir stand or telling you wrong information.
So when you're looking for a guide, hire one from a reputable tour company or ask to see their certification in person. All guides have to be ICT (government institute of Costa Rican tourism) certified and have their badge with them. This is one of the ways you can be a sustainable and responsible traveler in Costa Rica as you will be helping the real guides who are doing things correctly and trying to make an honest living.
Bottled vs Glasses of Water
This is one of those little things that seem obvious but it's not. In North America, it's normal for customers to get a glass of water for free when dining out. In Costa Rica, it is not. Restaurants won't give you glasses of water unless you ask for it. Make sure to say "Yo quiero un vaso de agua, no quiero una botella" (I want a glass of water, not a bottle).
If you don't specify, they will bring you a bottle of water and charge you for it. Whereas a glass of water is free. I've fallen victim to this when I first moved here. I asked for agua por favor and got a 2 liter bottle that cost me $7!
Sketchy Online Vacation Rentals
We've seen this scam pulled by locals and foreigners as many foreigners who retire in Costa Rica become property managers or real estate agents (anyone can be one, there is no test or license needed). Their website looks legit and the pictures look good but you don't see any reviews of them online anywhere else. You put down a deposit and then…nothing. No communication, no answer, no reply.
Then when you arrive, the house doesn't look the pictures at all, it's dirty and none of the amenities described are there. You already sent the full amount and you can't get a hold of the owner, just the local who lives on the property and doesn't have access.
Those situations can be a bit hard to see if it's a scam or not since the website looks legit. However, that is why I recommend going through platforms like Airbnb or VRBO. Read reviews and you have the platform to help you file complaints. Reviews are the one thing I go off of when I book vacation rentals and I personally prefer to use Airbnb. I've never had any issues using Airbnb around the world at all. If you want to book through the property management website, request a video call and see if they can show you the property through video. Also ask them if you can get the contact information of a previous tenant so you can talk to them and get their feedback.
Another tip is to join the Facebook groups like Costa Rica Expats or Gringos in Costa Rica since many of those members can give recommendations for legit property managers and vacation rentals. If you're looking for long term rentals, look up the "real estate and rentals" Facebook group of the place you're going to. For example, the Tamarindo Rentals and Real Estate or Atenas Costa Rica Classifieds.
Credit Cards
Another thing you need to be aware of are is your credit card. You can use credit cards almost everywhere in Costa Rica but make sure you check your statement often because there may be people who will steal your credit card information. Learn more about handling money in Costa Rica here.
Gas stations in Costa Rica are full service. If you pay with credit card, ask them to bring the card reader machine to you, or get out of your car to the cashier if it's not portable. Always have an eye on your credit card, never let them take and charge your credit card without you looking. Always check your receipt before driving off.
If you're using a debit card (we don't recommend this), cover your pin number when at an ATM and watch out for lurkers. Use the ATM only during the day and don't accept anyone's offer to help you use the ATM. All ATM's have an English option.
Check the Amount and Type of Currency Before You Hit Accept
If you pay with credit card, make sure you double check which currency it is charging you in. Check if it is in Costa Rican colones or USD because it is a HUGE difference and some vendors will try to sneak charge you in Costa Rican colones.
For example, if you purchase something that is $20 USD, the vendor may try to scam you by putting in the credit card machine 20,000 Costa Rican colones which is about $37 USD. Always ask which currency you are being charged!
Read more Costa Rica travel tips below!
10 mistakes to avoid traveling in Costa Rica
10 best places for 1st time visitors
Going through immigration and customs
Costa Rica Vacation Checklist