With dark sand, beautiful sunsets and a lush jungle backdrop, Playa Hermosa in Uvita is a special one to see for visitors. Joining the ranks of other Playa Hermosas in Costa Rica (Playa Hermosa in Guanacaste, Playa Hermosa by Jaco and Playa Hermosa in Santa Teresa), you won't be disappointed by this very beautiful beach!
If you want to visit this beach, here is what you need to know.
This article has affiliate links.
Map
Playa Hermosa is 5 kilometers (3 miles) north of Uvita and 220 kilometers (136 miles) from San Jose via the Costanera Sur highway, Route 34.
How to get to Playa Hermosa Uvita
Signage is not the best but coming north from Dominical, there is a small wooden sign above the Uvita and National Car Rental on the right hand side for the first entrance.
You can find directions to the entrance on both Google Maps and Waze. The Google Maps QR code is 56MH+7R Uvita, Puntarenas Province and GPS coordinates are 9.183482, -83.770485.
Parking
There is no secure parking lot, but there is an area to park. Make sure not to leave valuables visible, roll up your windows and lock your doors.
4×4 required?
Although it is not absolutely necessary to have a 4wd/4×4 to go to Playa Hermosa in Uvita, you should rent one. For the Costa Ballena, renting a high car is always recommended especially if you want to visit lesser known beaches and other attractions.
Food or drinks
There are coconut and ceviche stands on the beach.
Facilities
You can pay $1 to use the fresh water showers or lockers. No other facilities.
Is it good for swimming?
It's a surfing beach and can sometimes experience rip tides. Don't let children swim out alone and don't swim too far out but you can jump and play in the small waves near shore.
Other things to know
No driving on the beach or bonfires.
The Beach
Playa Hermosa is the perfect beach to hang up a hammock, enjoy drinks on a beach chair, make sand castles or go for a stroll on its long 2 kilometer (1.2 mile) shore.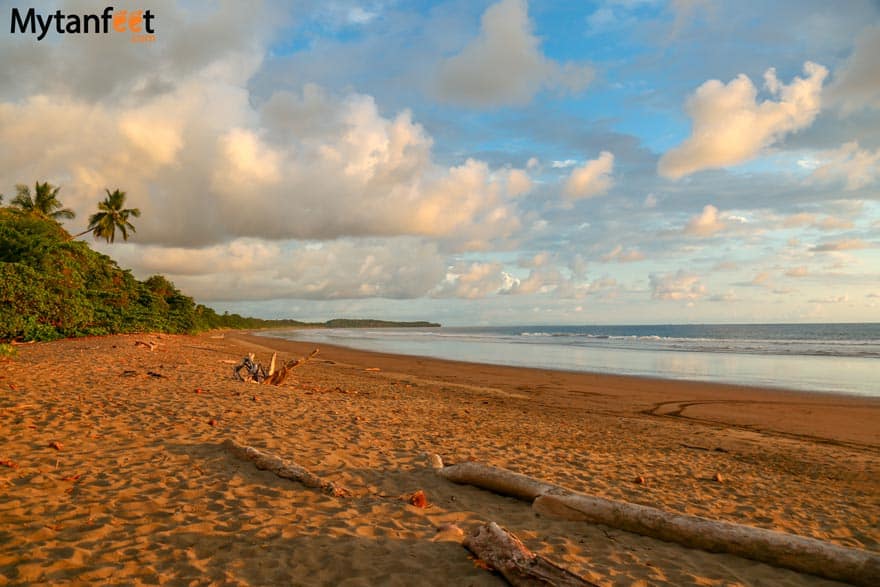 We visited in the late afternoon, staying for the sunset which was incredible. We saw a few local families there and a guy selling cold coconuts.
As we went on a Monday, there weren't that many people. In fact, as you can see in the picture above, there were zero people at the north end!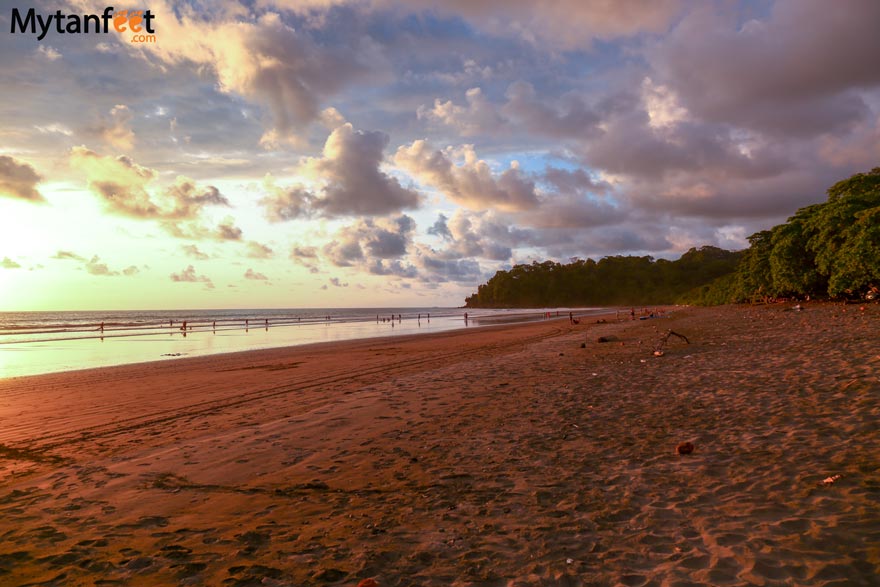 The beach was only a 10 minute drive from the hotel we were staying at, Manoas.
In low tide, you can dip your toes or go for a swim but you don't want swim too far. However, Hermosa is great for surfing as it has very consistent left and right breaks. The waves are smaller than Dominical, perfect for beginner and intermediate surfers.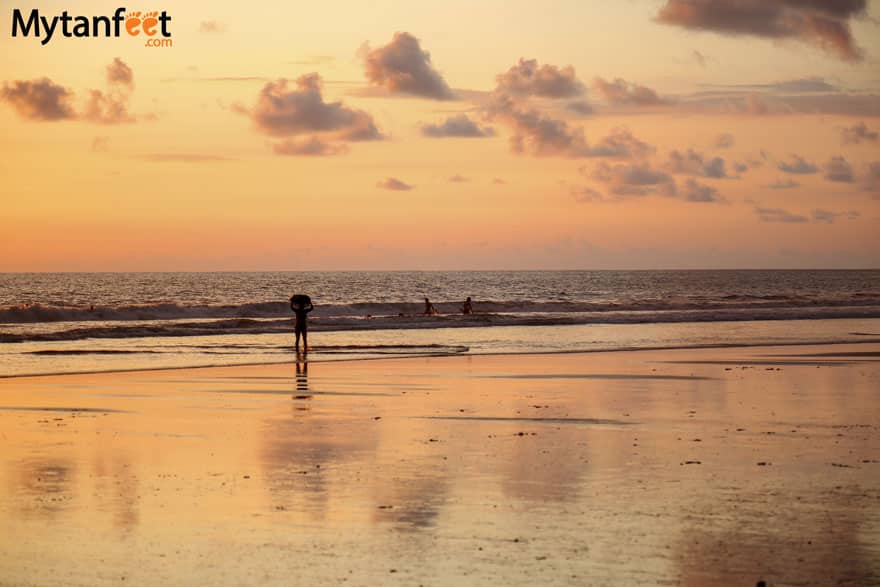 As it was low tide when we went, the sunset was incredible. The colors of the sky reflected off the sand, surrounding us with beautiful oranges, yellows, red, pinks and purples as the sun went down.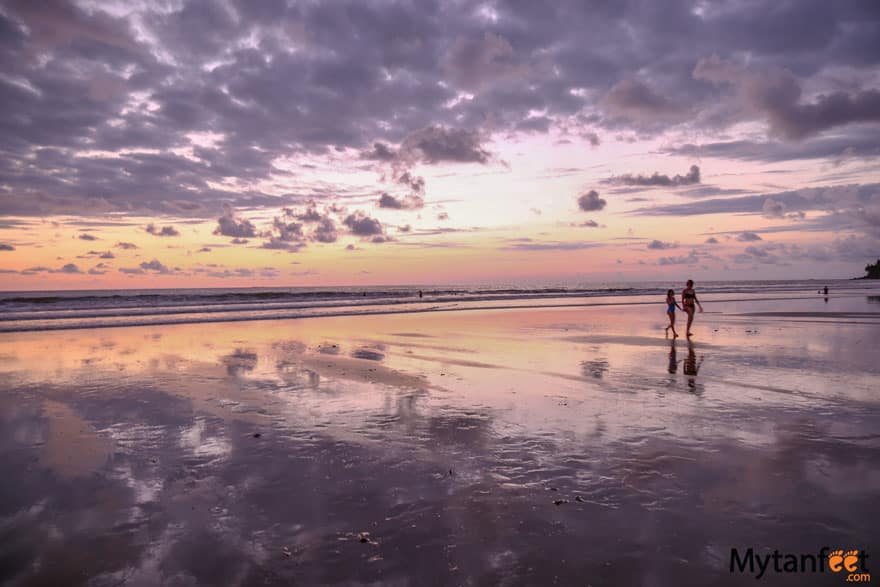 What a view to end a day!
Read about other similar beaches!
Playa Linda: Beautiful beach by Dominical with surfing waves
Ventanas beach: Small, dark sand beach in Ojochal with caves
Playa Bejuco: Long, dark sand beach with good surfing waves about 30 minutes from Jaco