Not far from the most popular beaches in Guanacaste is a spectacular under the radar beach: Playa Real. We love visiting these beaches when we feel like going on an adventure and escaping the crowds.
If you rented a 4×4 and want to explore Guanacaste, you have to visit this area. Read our guide for more information!
Map
Playa Real map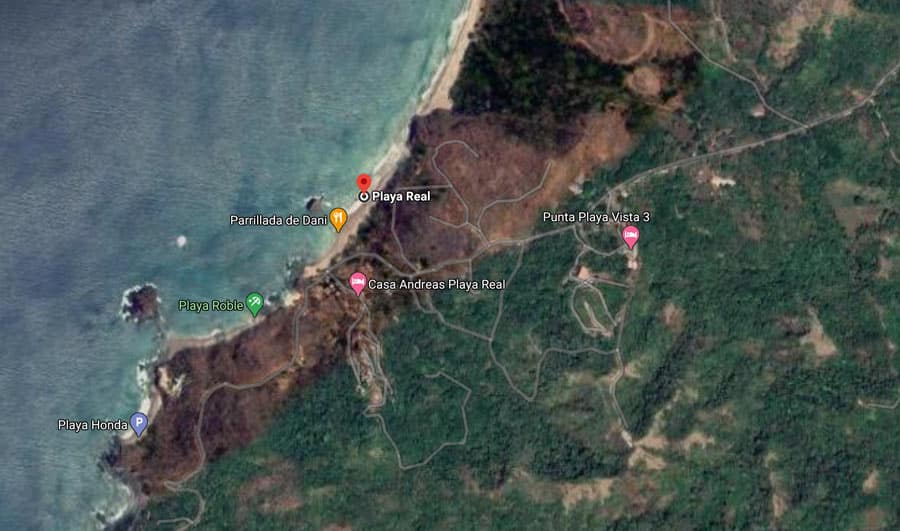 Playa Real is 74 kilometers (46 miles) and a 1 and a half hour drive from Liberia Airport in the Guanacaste province. It is 35 minutes from the popular Tamarindo beach town and Playa Conchal.
How to Get To Playa Real
You can find Playa Real on Google Maps and Waze. We recommend to use those apps for GPS to find the beaches. You can also put in "Hotel Bahia de los Piratas. which is another nickname for this beach.
4×4 required?
We highly recommend to have a 4wd or high car to get to Playa Real for tourists. The road is bumpy, narrow and is rough going in and out. It is necessary in peak rainy season months of September, October and November. The last 8 kilometers (5 miles) or so is a pot hole riddled dirt path that gets very muddy when it rains.
In the dry season, you can get by with a sedan but you need to drive extremely careful as not to damage the car due to all the potholes.
Parking
There is a parking area at the beach. No parking fee.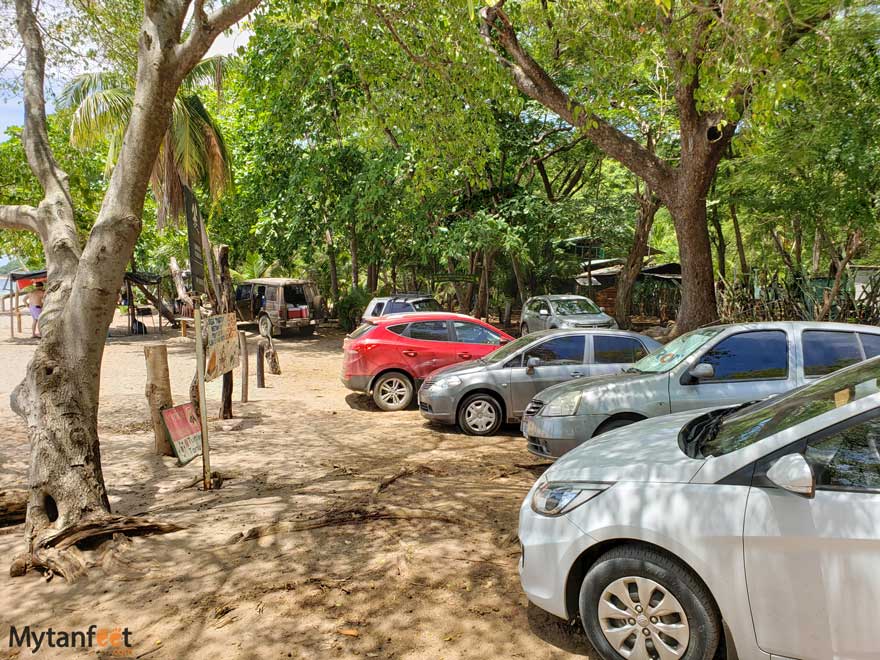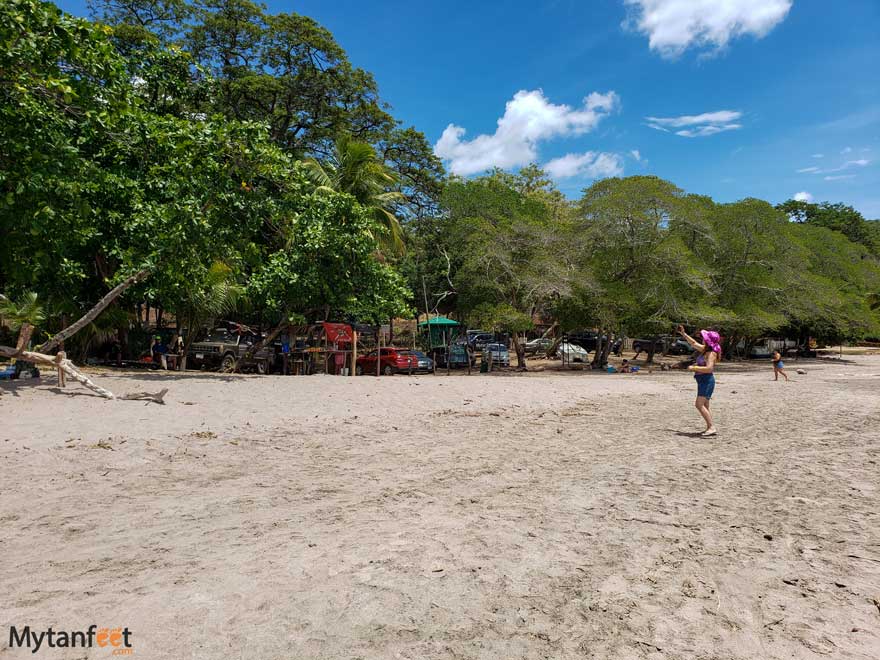 The Beach
Playa Real is not only a beautiful beach but also a turting nesting site. Although it is not part of a private reserve, the beach is so clean and pristine. During the day, visitors can swim, relax, walk and sunbathe. It has soft sand and lots of trees for shade.
Swimming or Snorkeling?
The waves at these beaches are really nice for swimming, even for young families. Lots of calm and sheltered waves and areas. The only thing is that this beach is a bit rocky at some parts so just be careful.
As for snorkeling at Playa Real, you can go snorkeling towards the southern side of the beach. Usually there are tropical fish around the rocks.
In low tide, you can go out to the island that has a small cave. Water shoes highly recommended!
Facilities
No public bathrooms, showers, changing rooms, drinking water. Bring food, beer, snacks, water, cooler, towels and sunscreen.
There is a small street food stand at the beach last time we were there that offered drinks, ceviche and snacks.
Photos
Here are some photos of Playa Real. We visited beginning of August so the surrounding forestry was very lush and green. It was a Sunday so there were many local families enjoying the beach with a few tourists here and there.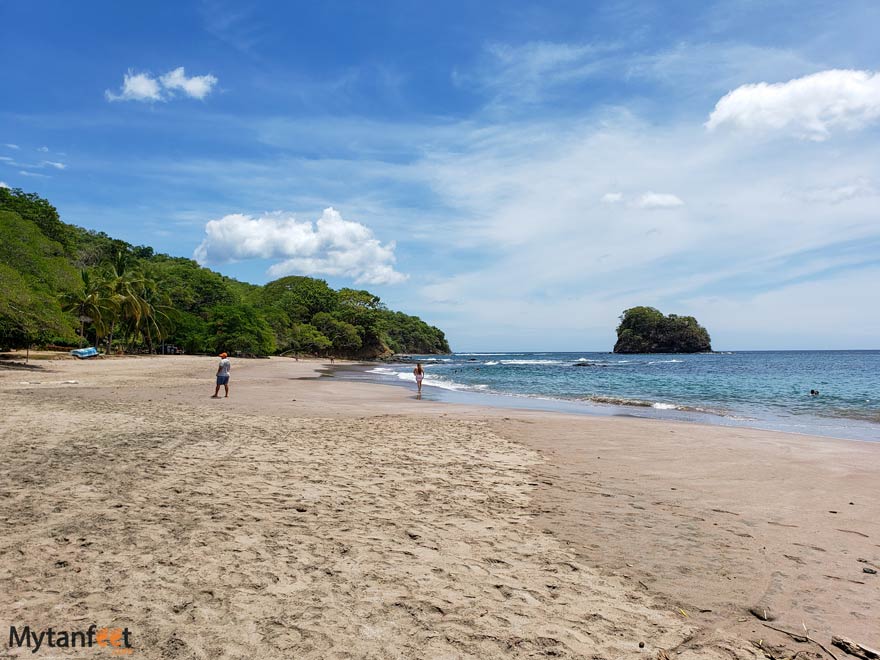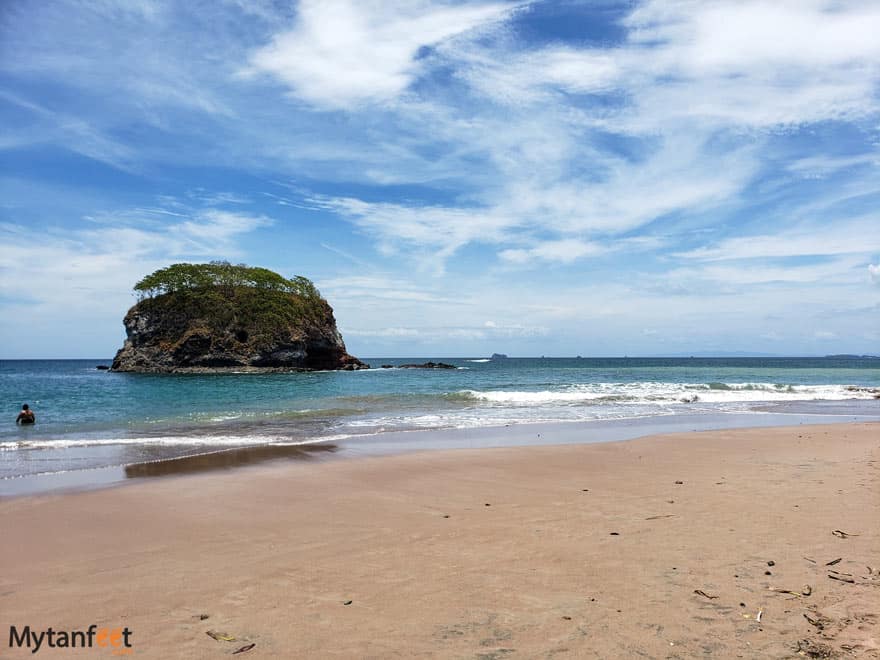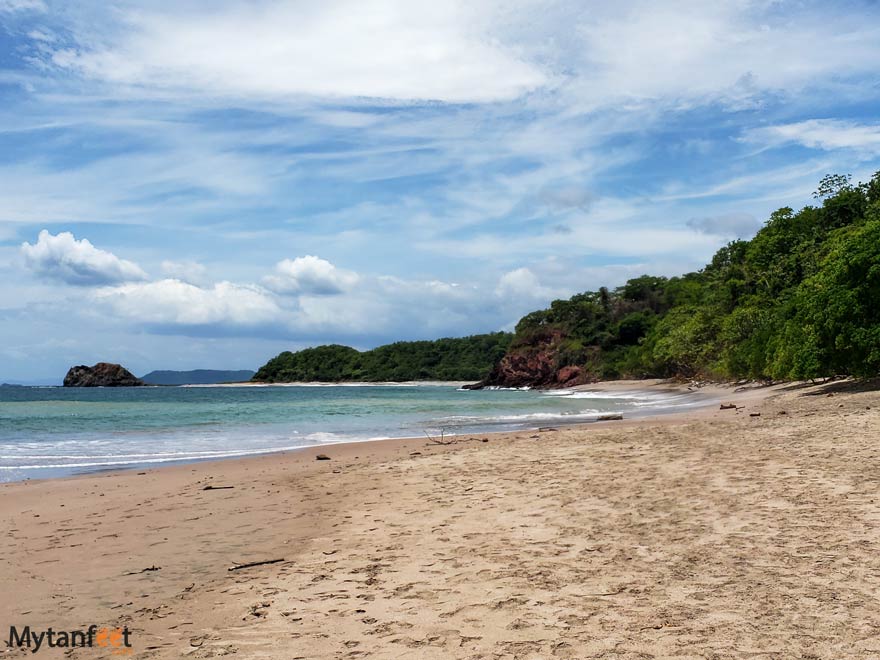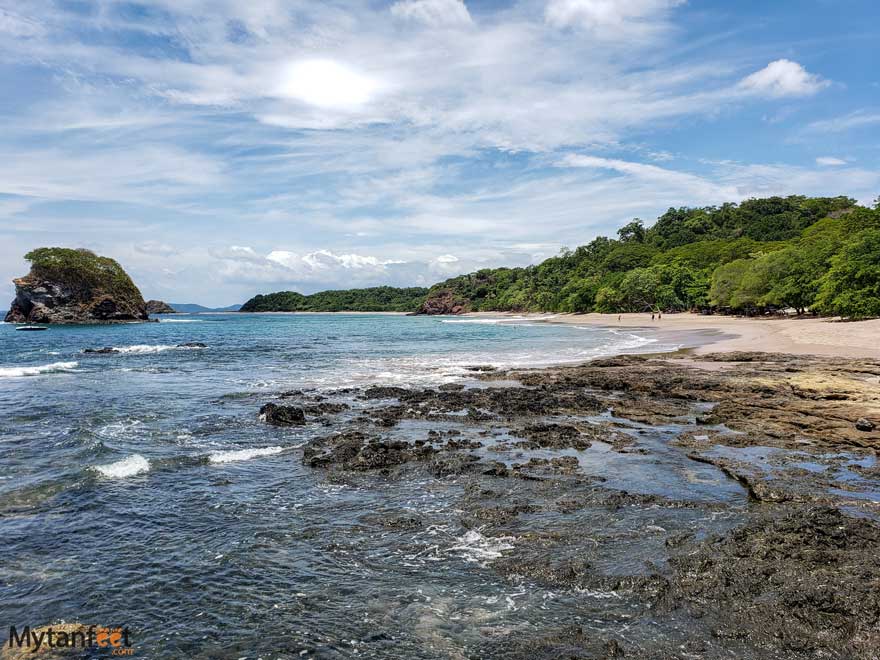 If you visit during dry season (January – April), the forestry will not be green like when we went. During those months, the weather is very dry so the trees and forest turn yellow.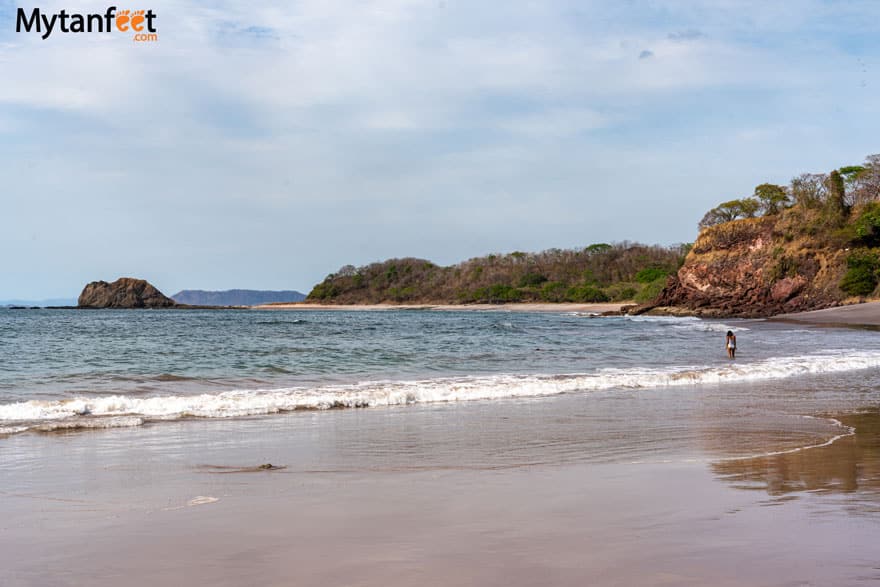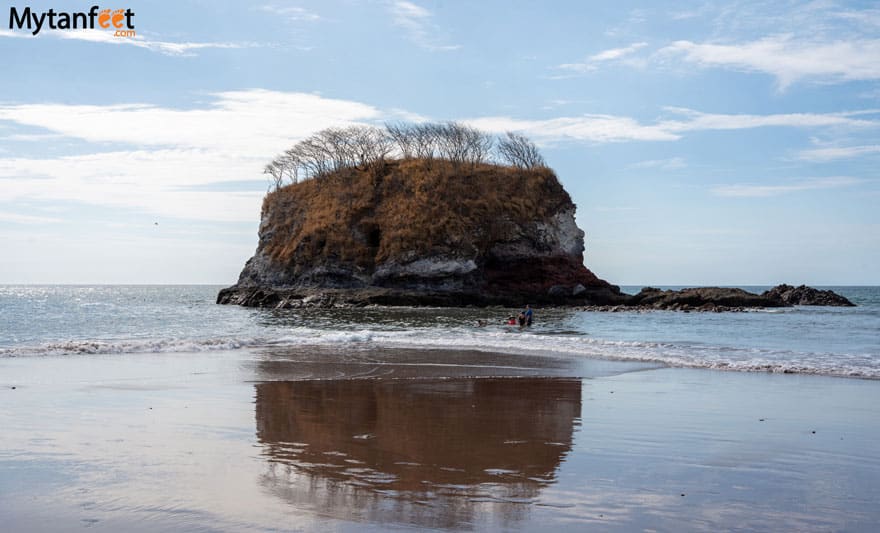 What Else to Know About Playa Real
If you walk north, you will reach a beach called Nombre de Jesus. It is best to go in low tide since you have to walk on the rocks to get to this beach.
Some people call this beach "Bahia de los Piratas" because of a hotel here.
If you walk south, you will reach Playa Roble (low tide recommended).
This beach is best as a day trip from Tamarindo, Conchal, Flamingo.
Since it is a turtle nesting beach, please make sure to collect your garbage. Don't leave a mess, make bonfires or bring dogs to the beach.
No vehicles are allowed on the beach. Someone told us camping is not allowed either.
See other beaches like this one!
We made a video showing other similar beaches near Playa Real you can check out below. They are Puerto Viejo de Conchal, Playa Mina and Playa Ventanas.
Read about other beaches like this one!
Playa Cabuyal: White sand beach in the Gulf of Papagayo (Guanacaste)
Chiquita: Small, turquoise water, rocky and white sand beach in the Caribbean South (Limon province)
Punta de Pelencho: Small, natural local beach in between Flamingo and Brasilito
Playa Rajada: Gorgeous white sand, clear water beach up in the Salinas Bay/La Cruz area (Guanacaste province)
Playa Calzon de Pobre: Small, white sand beach with calm waves near Playas del Coco (Guanacaste province)