Brasilito, Costa Rica is an excellent beach town in Guanacaste for a relaxing beach vacation. With an authentic Costa Rican town feel, Brasilito offers a low key atmosphere and serves as a great anchor location to other destinations.
Let us help you plan your visit to Brasilito in this guide. Click the section to skip to it below.
Location and Directions
Brasilito, Costa Rica map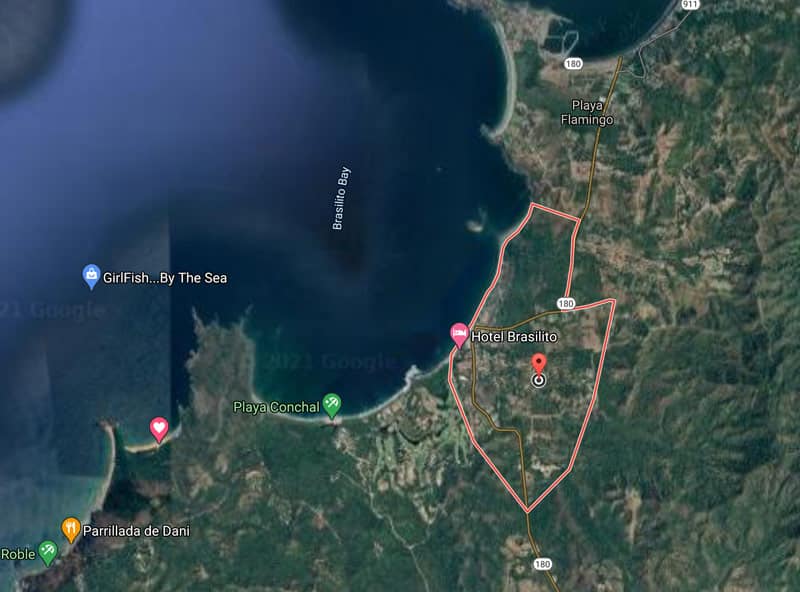 Brasilito is 62 kilometers (39 miles) from Liberia International Airport, about a 1 hour drive and it is 259 kilometers (161 miles) from San Jose International Airport, about a 4 hour drive.
Driving directions from Liberia Airport to Brasilito
From Liberia International Airport, it is about a 1 hour drive to Brasilito. We recommend to take Route 21, 156 and 180.
You can use GPS apps like Google Maps and Waze to get to Brasilito.
The road is completely paved so a 4×4 is not required to get to Brasilito. If your GPS leads you to take Route 911, this road is not paved and requires a 4×4/4wd which is why we recommend to take the paved roads of the other route.
Bus
You can take the bus from Liberia to Playa Flamingo and get off at Brasilito. There is a bus every day at 430 AM, 6 AM, 8 AM, 11 AM and 6 PM from the Transportes La Pampa in Liberia.
Flying
The closest local airport is at Tamarindo. You can fly to Tamarindo and from there, take a taxi or pick up your rental car. Tamarindo to Brasilito is about 25 minutes driving.
Brasilito Beach
Brasilito beach is not as popular as Conchal which is right next to it but it's still beautiful.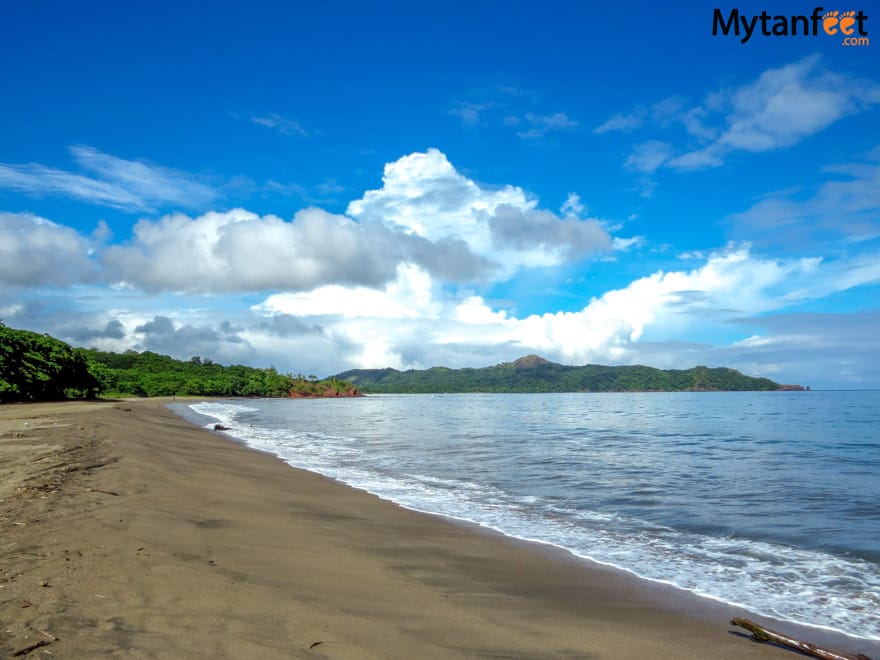 It has light brown sand with blue grey waters. Waves on a normal day are fine for swimming but when there's a swell, you can actually surf at Brasilito on the southern end with the rocks. There is a break there and when there's a swell, you'll see locals surfing at Brasilito.
Brasilito beach is fairly long and stretches over 2 kilometers from end to end.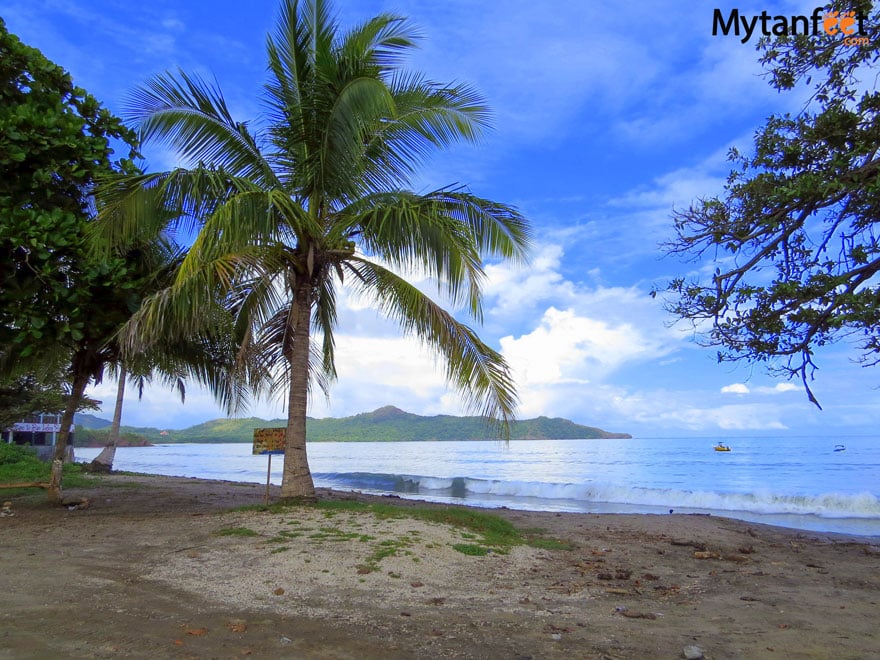 The sand does get very hot at Brasilito but there is a good amount of shade. Plus, the sunsets are beautiful.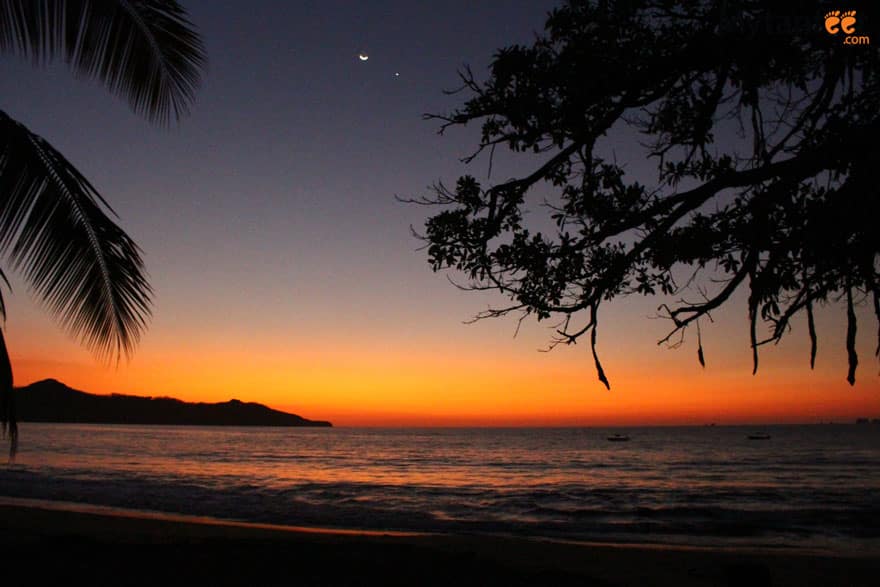 Playa Brasilito is very much a locals beach as most tourists go to Conchal or Flamingo.
Weather
Brasilito is in Guanacaste, one of the hottest areas of Costa Rica. This area experiences typical tropical weather with dry and rainy seasons. Expect sunny skies and high temperatures nearly all year long!
Rainy season is from end of April to beginning of December and dry season is from December to April. Average temperatures in dry season range from low to high 90s F (35 C). The rainiest months are October – November. The hottest months are March and April.
Brasilito, Costa Rica Town
The town of Brasilito is nothing fancy, nothing to brag about. It's a modest town with a few local restaurants, small hotels, the church, the school, a field and a couple or small markets.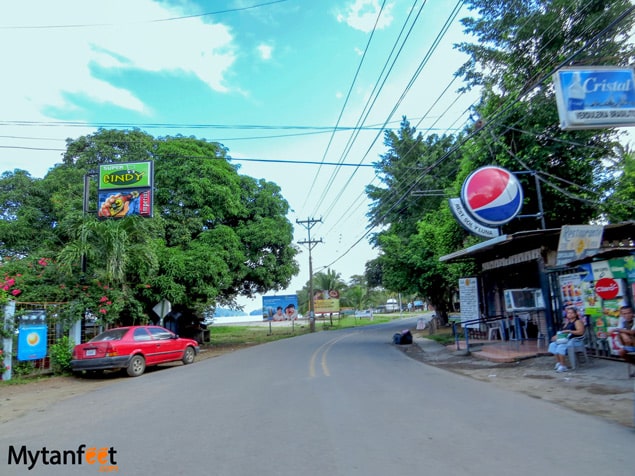 It is a small local community but all the beaches in the area are very close to each other so Brasilito is in an excellent location for a home base in Guanacaste. Especially if you're looking for someplace quiet and not as expensive as Flamingo or Conchal.
You can see what Brasilito town looks like in this video!
Just a quick note, the video above is from before 2019 so you can't drive on Brasilto beach anymore to get to Conchal.
Brasilito, Costa Rica Hotels
There aren't a ton of hotels in Brasilito but vacation rentals more than make up for the lack of hotels. Check Airbnb, VRBO and other vacation rental websites to find listings.
Westin Conchal: all inclusive resort on Conchal
Hotel Brasilito: Good budget option by the beach
Conchal Hotel: Cute little B&B style hotel on Brasilito
W Costa Rica: New chic upscale resort on the same Westin Conchal property
Personally, if you don't plan to stay at the Westin or W, I would book a vacation rental in Brasilito rather than a hotel since there are many houses and apartments/condos for rent.
There is also a campsite right on Playa Brasilito called Don Julian with bathrooms, water and electricity.
Brasilito, Costa Rica Restaurants
For local food, Soda Brasilito is very good. Soda El Coco is not bad either. Both are family run local restaurants serving traditional Costa Rican food.
We also like Deli Cafe (coffee shop and artisan bakery with amazing cinnamon rolls and cupcakes), Patagonia (steak), Masala (Indian food), Soda Sol y Luna (another Costa Rican restaurant) and Xanadu Cafe & Grill (different specials every day). Ander's Restaurante is another good local place.
The Las Olas BrewPub is right near downtown which is a must if you like craft beer.
Things to Do in Brasilito, Costa Rica
This beach town is in a good location to explore the beaches in Guanacaste and to visit natural attractions and national parks since they aren't too far away.
Here are some popular things to do in Brasilito and day trips from Brasilito.
Farmers Market
Every Saturday from 11 AM to 6 PM, there is a farmer's market in Brasilito in the Brasilito Plaza. You'll find homemade jewelry, artisanal products, food, produce and more from the locals and the immigrant/expat community in Brasilito.
Conchal Beach
A visit to Playa Conchal is a must do in Brasilito as Conchal is one of the most beautiful beaches in Costa Rica. Additionally, Brasilito is the gateway to Conchal as it has the only direct public access.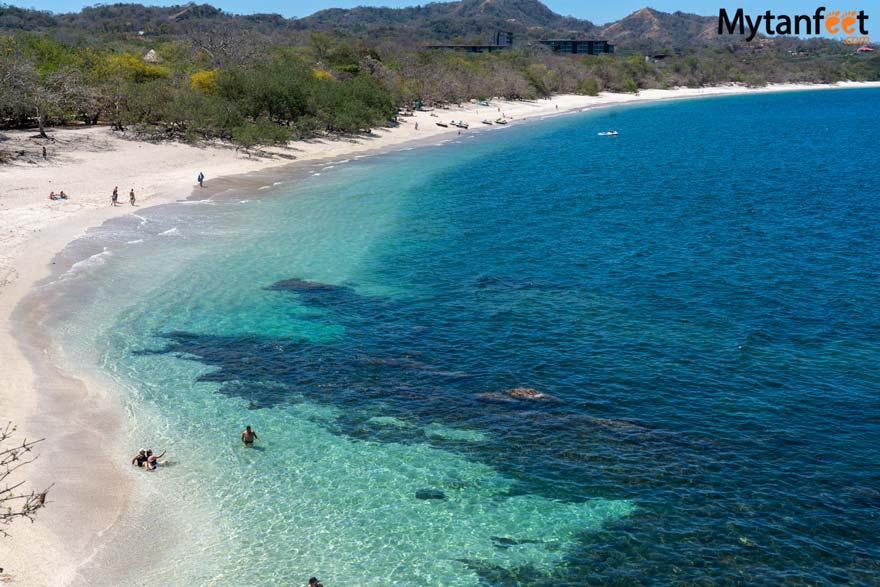 Plan your trip to Conchal beach with our guide!
Fishing
Playa Flamingo near Brasilito has a large marina where visitors can go off and in shore fishing.
ATV Tours
You can find ATV rentals at Conchal beach and they take you through Brasilito and around Flamingo for some nice view points.
Horseback riding
You can go horseback riding on the beach and up in the mountains. Check out Pacific Horses horseback riding tour.
Sunset sailing
There are some open catamaran sailing tours in the area which are very nice. Some recommendations are Panache, Lazy Lizard and Serendipity.
You'll go on the catamaran in the afternoon and sail back under the sunset. For a more exclusive experience, check out the private Flamingo snorkeling and fishing tour.
Scuba Diving
The Catalina Islands are not too far from Brasilito and they are an excellent place to go scuba diving. You can see sharks, manta rays, turtles and fish. Most scuba diving shops leave from Flamingo.
If you don't have your certficiation, it's OK! Scuba dive shops offer a discovery dive specifically for those who aren't certified. It's so worth it.
Fiestas Civicas
If you are in Brasilito in February, you can check out the local parties or fiestas civicas, usually on the two middle weekends. You can play, gone on rides and watch the bull riding. (Pre-COVID). Hopefully when the pandemic is over, the fiestas will be able to resume.
You can read more ideas for things to do in Brasilito and Conchal in this post.
Day trips from Brasilito
Here are some popular day trips from Brasilito. You can visit all these places on your own or you can book with a tour company who will pick you up at your hotel.
Guachipelin adventure tour
Hacienda Guachipelin is a family farm up in the Rincon de la Vieja area (about 1.5 hours away) and they have lots of activities on their property. The most popular activity is their combo adventure tour where you go ziplining, horseback riding, white water tubing and to the hot springs.
It's around $160 USD per person with transportation from Brasilito or if you have a car, you can drive yourself and it's $101 USD per person. About a 1.5 hour drive one way.
Rio Celeste
See the amazing sky blue river in the Tenorio Volcano National Park and hike through the tropical jungles of Rio Celeste. About a 2.5 hour drive one way.
Gulf of Papagayo snorkeling and beach hopping
If you want to see some beautiful white sand boat access only beaches, head to the Gulf of Papagayo to go on a beach hopping and snorkeling tour. The best option is to go on a private boating tour in Playas del Coco. A 1 hour drive.
This national park protects dry tropical forest and caves so you can go hiking and do a cave tour to explore the mysterious caves of Costa Rica. About a 2 hour drive.
Surfing lessons Tamarindo
If you want to learn how to surf, head to Playa Tamarindo, the best beach for beginner surfers in the area. Surf shops to take your lessons are Iguana Surf, Banana Surf Club or Seafari.
Palo Verde National Park
If you want to see wildilfe, go on a boat ride down the river in Palo Verde National Park. This river is filled with iguanas, monkeys, birds, crocodiles, caimans and many other animals so it's one of the best places to see wildlife in Guanacaste.
Another option is Hacienda El Viejo which also runs boat tours down the same river as Palo Verde National Park. They also have their own cultural tour, traditional house and rum tour so it offers more activities for a full day of Guanacaste fun. Read more about El Viejo in this post and we also offer a discount for Hacienda El Viejo tours. About a 1.5 hour drive.
Diamante Adventure Park
If you want to do a fun zipline, head to Diamante Eco Adventure Park. They have the longest ocean view zipline in Costa Rica! They also have ATV tours, horseback riding tours and an animal sanctuary so you can see sloths, jaguars, monkeys and toucans up close. Get 10% off any tour, read our post on Diamante Eco Adventure Park to get the discount!
You can also do day trips to Arenal Volcano, Monteverde Cloud Forest, Rio Celeste and Ostional Wildlife Refuge.
Read about other beach towns in Costa Rica below!
This post has affiliate links.