Brasilito, Costa Rica is an excellent beach in Guanacaste to experience a laid back, small local beach town. It is right next to Playa Conchal, the famous beach with white shells instead of sand but with astonishingly different characteristics.
Though it isn't as beautiful as Conchal, Brasilito has the only public entrance to Conchal beach. With an authentic Costa Rican town feel, Playa Brasilito offers a low key atmosphere and serves as a great anchor location to other destinations.
This post was updated February 2018.
Click the section to skip to it.
Location and Directions
Playa Brasilito, Costa Rica map
Brasilito is in the Guanacaste province, part of the Brasilito Bay in between Conchal and Flamingo.
Driving directions from Liberia Airport to Brasilito
From Liberia International Airport, take a right onto the main road and continue until you see the signs for Playa Tamarindo, Flamingo and Grande, (70 km  or 44 miles from Liberia).
Follow these signs until you come to an intersection in a town called San Carlos. Turn left and continue through another town, Huacas. You should see another sign for Reserva Conchal and turn right. Continue a bit more and you will see the sign for the Westin on your left.
Continue on this road until you pass over a small bridge and you are in the town of Brasilito. Turn left past the school and Brasilito will be on your right.
Bus
You can take the bus from Liberia to Playa Flamingo and get off at Brasilito. There is a bus every day at 430, 6, 8, 11 and 6 PM from the Transportes La Pampa in Liberia.
Flying
The closest local airport is at Tamarindo. You can fly to Tamarindo and from there, take a taxi or pick up your rental car. (Get our Skyway discount to save 10% and get an extra 10 lbs of luggage on your local flight).
Brasilito Beach
You may have heard about Conchal beach which has shells instead of sand but despite being right next to it, Brasilito has normal brown sand with blue grey waters. These two beaches are the best examples of the stark contrast of beaches in Costa Rica. You have a white sand beach right next to a dark sand one!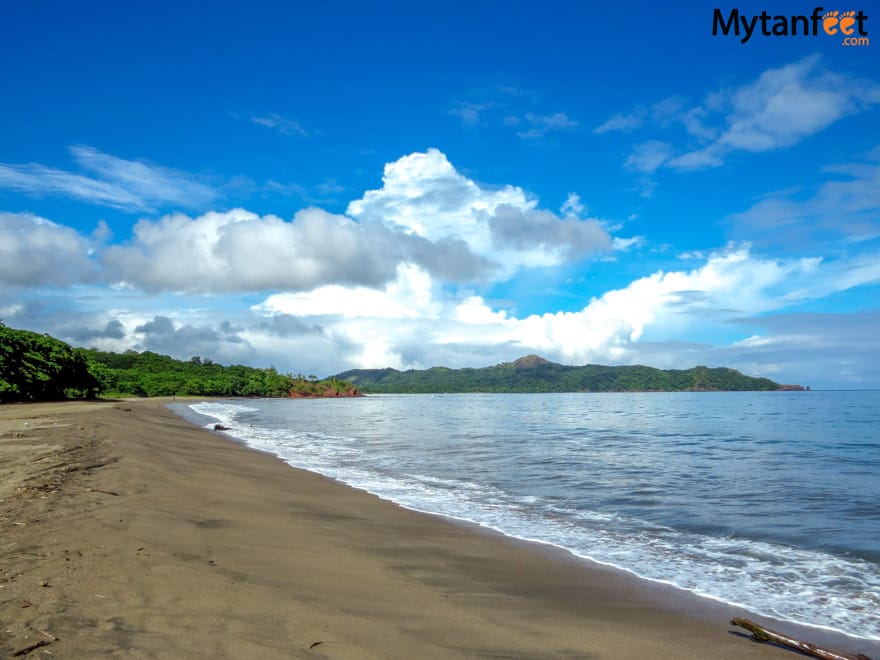 This beach is fairly long and stretches over 1 kilometer. The waves are generally quite calm but during certain times of the year, there are swells and the waves are good for surfing.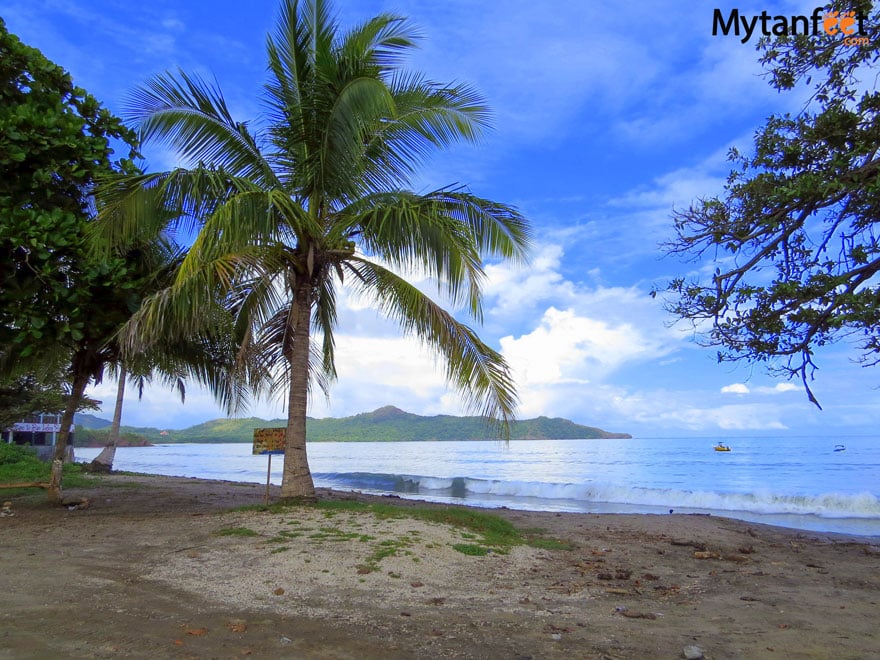 You can walk the whole length of Brasilito beach and enjoy the beach all for you. Most tourists skip Brasilito beach and go to Conchal instead which is understandable since it's much prettier. A lot of locals like to go to the north end of the beach so if you want to experience more local life, you can drive through town to get to that end of the beach.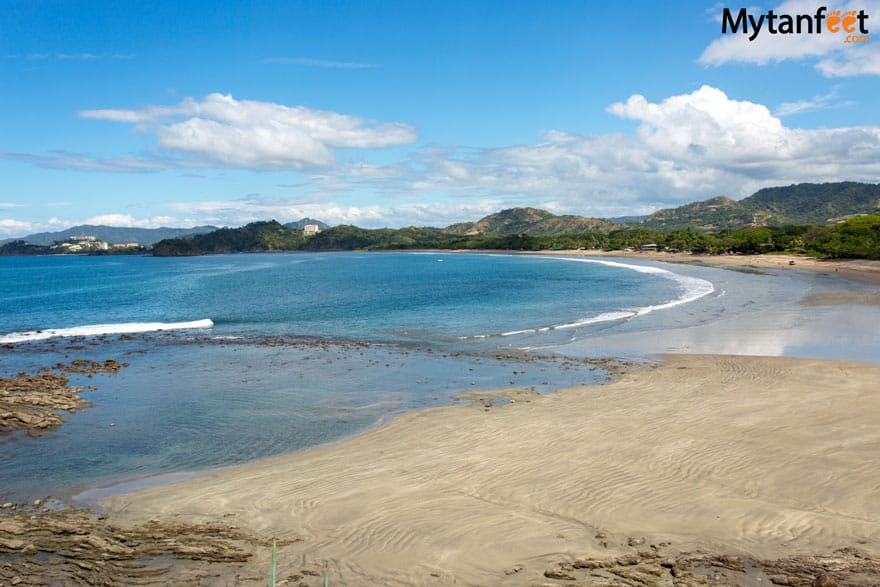 If you walk up the hill at the entrance of Conchal, you can get a nice view of both Brasilito and Conchal. Be careful in rainy season because the trail gets super overgrown.

Weather
Brasilito is in Guanacaste, one of the hottest areas of Costa Rica. This area experiences typical tropical weather with dry and rainy seasons. Rainy season is from end of April to beginning of December and dry season is from December to April. Average temperatures in dry season range from low to high 90s (35 C). The rainiest months are October – November.
Brasilito Town Costa Rica
The town of Brasilito is nothing fancy, nothing to brag about. It's a modest town with a few sodas, small hotels, the church, the school, a field and a couple or small markets. It is a small local community but all the beaches in the area are very close to each other so Brasilito is in an excellent location for a home base in Guanacaste.
The town is so small, you can drive throughout the whole thing in about 10 minutes!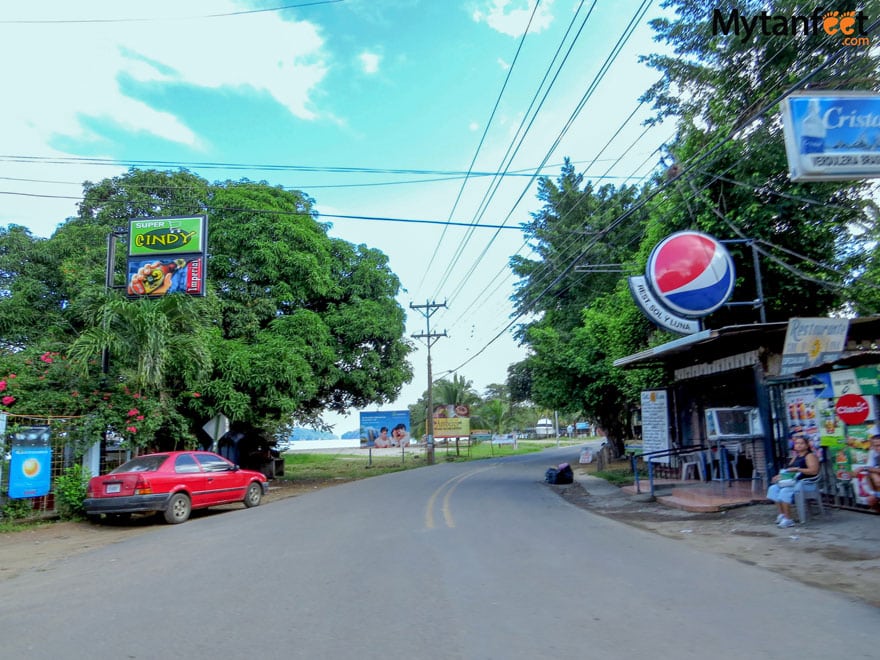 Although there isn't much at Brasilito and the beach isn't the prettiest, the location makes it very convenient for tourists. To reach Conchal (not going through the Westin resort), one must cross Brasilito beach. This leisurely 15 minute walk has beautiful views and sunsets here are breathtaking. You also need to drive through Brasilito to get to Playa Flamingo and Playa Portrero.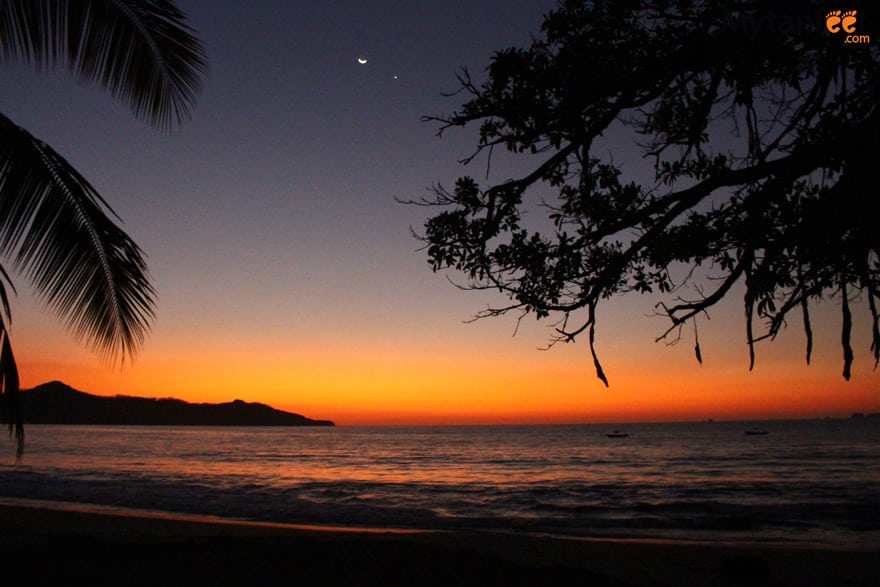 Brasilito is kind of the hub for people who want to stay in this area but not want to be in the ultra luxury condos/resorts of Playa Flamingo or at the Westin Resort at Conchal. This is the best beach to stay at if you want to experience more local life, especially if you don't have a huge budget.
You can see what Brasilito town looks like in this video!
Playa Brasilito Costa Rica Hotels
There aren't a ton of hotels in Brasilito but there are a few budget and mid range options. Brasilito is the only other path to Conchal so guests who do not want to stay at the Westin can stay in one of the accommodations offered in Brasilito.
You can also find quite a few vacation rentals and Airbnbs in Brasilito which is a nice alternative to hotels since there aren't that many. If you prefer to have an apartment or condo with a kitchen, then definitely check out Airbnb or VRBO.

Brasilito Costa Rica Restaurants
Our favorite place to eat at Brasilito is a soda (local Costa Rican restaurant) called Playa Brasilito, right by the little alley where you drive to get to Conchal. The soda next to it is not bad either (Soda El Coco) but we like the big portions at Soda Brasilito.
Other good restaurants are Camaron Dorado and Ander's Restaurant for seafood.

Things to Do in Brasilito
This beach town is in a good location to explore the beaches in Guanacaste and to visit natural attractions and national parks since they aren't too far away.
Here are some popular things to do in Playa Brasilito (and nearby beaches).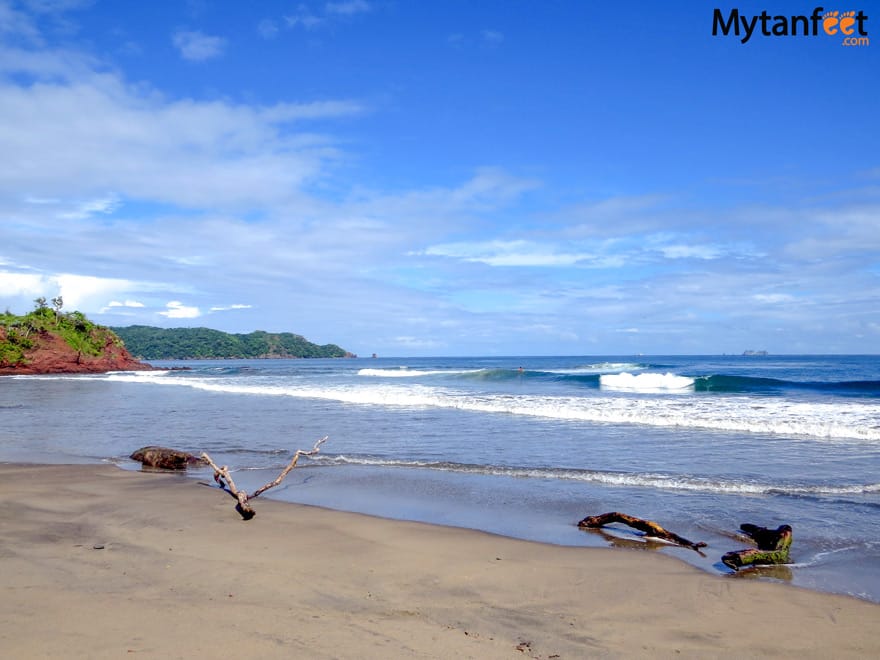 Deep sea fishing
Playa Flamingo near Brasilito has a large marina where visitors can go off and in shore fishing.
ATV Tours
You can find ATV rentals at Conchal beach and they take you through Brasilito and around Flamingo for some nice view points.
Horseback riding
We saw some locals on the beach with horses for tours. They are usually around $35-50 for a 2 hour tour on the beach and mountains.
Sunset sailing
There is a sailing tour out of Playa Portrero called Panache that is nice. Go out on the catamaran in the afternoon and sail back under the sunset.
Scuba Diving
The Catalina Islands are not too far from Brasilito and they are an excellent place to go scuba diving. You can see sharks, manta rays, turtles and fish. Most scuba diving shops leave from Flamingo.
If you are in Brasilito in February, you can check out the local parties or fiestas civicas, usually on the two middle weekends. You can play, gone on rides and watch the bull riding.
You can read more ideas for things to do in Brasilito and Conchal in this post.
Day trips from Brasilito
Here are some popular day trips from Brasilito. You can visit all these places on your own or you can book with a tour company who will pick you up at your hotel. These are all about 1 hour away (except for Tamarindo which is 20 minutes and Barra Honda is about 1.5)
Guachipelin is a hacienda (farm) up in the Rincon de la Vieja area (about 1.5 hours away) and they have lots of activities on their property. The most popular activity is their combo adventure tour where you go ziplining, horseback riding, white water tubing and to the hot springs. It's around $150 per person with transportation from Brasilito or if you have a car, you can drive yourself and it's $98 per person.
Gulf of Papagayo snorkeling and beach hopping

If you want to see some beautiful white sand boat access only beaches, head to the Gulf of Papagayo to go on a beach hopping and snorkeling tour. The best option is to go on a private boating tour in Playas del Coco.
This national park protects dry tropical forest and caves so you can go hiking and do a cave tour to explore the mysterious caves of Costa Rica.
Surfing lessons Tamarindo
If you want to learn how to surf, head to Playa Tamarindo, the best beach for beginner surfers in the area. The best surf shops are Witch's Rock, Kelly's and Iguana Surf.
If you want to see wildilfe, go on a boat ride down the river in Palo Verde National Park. This river is filled with iguanas, monkeys, birds, crocodiles, caimans and many other animals so it's one of the best places to see wildlife in Guanacaste.
Diamante Adventure Park
If you want to do a fun zipline, head to Diamante Eco Adventure Park. They have the longest ocean view zipline in Costa Rica! They also have ATV tours, horseback riding tours and an animal sanctuary so you can see sloths, jaguars, monkeys and toucans up close. Get 10% off any tour, read our post on Diamante Eco Adventure Park to get the discount!
You can also do day trips to Arenal Volcano, Monteverde Cloud Forest, Rio Celeste and Ostional Wildlife Refuge.
Read about other beach towns in Costa Rica below!
This post has affiliate links.