In this guide, we share with you detailed and up to date information about the biggest concerns travelers have about visiting Costa Rica. Worried about driving? We got you covered. Visiting for a short period of time? We'll help you make the most of your trip. Have food allergies? We'll make sure you stay safe!
There are Amazon affiliate links in this post.
Mytanfeet Survival Travel Guide to Costa Rica
Yeison is a Costa Rican and has worked in tourism for over 10 years and I moved to Costa Rica over 10 years ago. Since then, we have been traveling to every corner of the country so it's safe to say we have a lot of knowledge! We're excited to share with your our insider tips from Yeison, a local and from me, to provide a foreigner perspective.
Driving
Many would argue, including us, that driving is the best way to explore Costa Rica. Costa Rica's public transportation system is getting better every year but you will never have the same freedom and flexibility as you would with a car.
Many visitors want that convenience of renting a car, but there is one thing preventing them from doing so: the driving.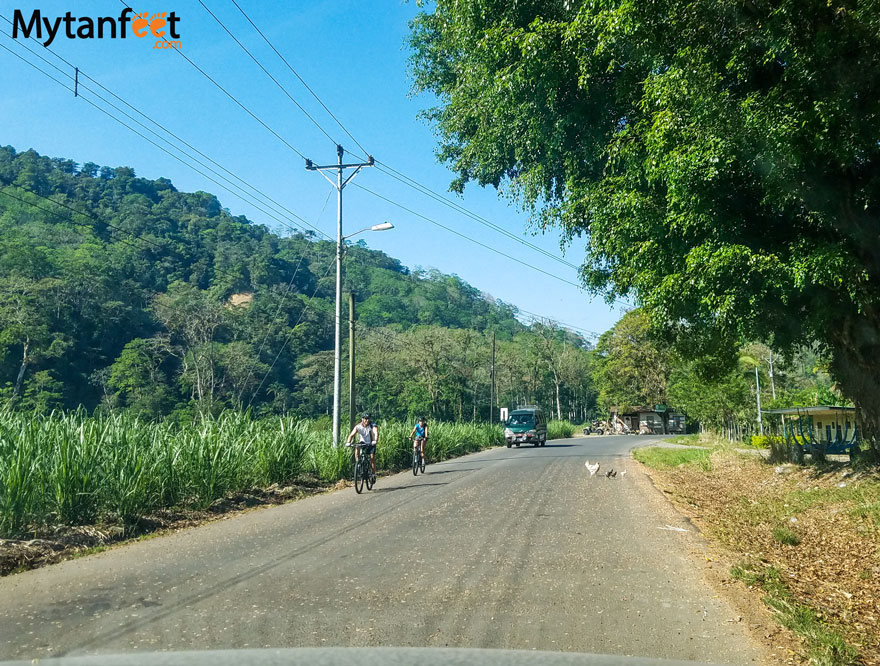 If you've never driven in a foreign country or are not used to the type of driving where there are no lines or lights, driving in Costa Rican can be intimidating. You have probably heard that the roads are bad, drivers are crazy, etc. etc. and despite that being mostly true, many foreigners drive in Costa Rica.
Costa Rica drives on the same side of the road as the United States and they use kilometers. Signs are in Spanish so it's good to know the common ones.
Costa Rica road signs
Alto – stop
Velocidad maxima – maximum speed
Ceda el paso – yield
Puente angosto – narrow bridge
Desvio – detour
Despacio – slow
Una via – one way
Carretera en mal estado – road in bad condition
Puente en mal estado – bridge in bad condition
Curvas peligrosas adelante – dangerous curves ahead
No hay paso – don't enter
No estacionar – no parking
Calle sin salida – dead end
Zona escolar – school zone
Tips for the city (San Jose, Heredia, SJO airport in Alajuela, etc.)
Traffic in San Jose is one of the worst (if not the worst) in Latin America. Try to avoid driving in rush hour, 6-8 AM and 3 – 6 PM.
Costa Rican drivers tend to be more aggressive so drive defensively.They pass even when there is a solid line, overtake you at stop signs, they honk the second the light turns green and they do not yield. That is their driving culture so try not to get road rage.
Drive with caution. When you change lanes, make sure to check twice as some cars will pass 2-4 cars at a time and a motorcycle can come out of nowhere.
Use Waze. It's the best GPS app and will take you to alternative routes to avoid traffic.
Always roll up your windows, lock the doors when driving and put your belongings on the floor.
If you're driving in front of a taxi driver, let him pass. It's best to give them plenty of space and drive away from them.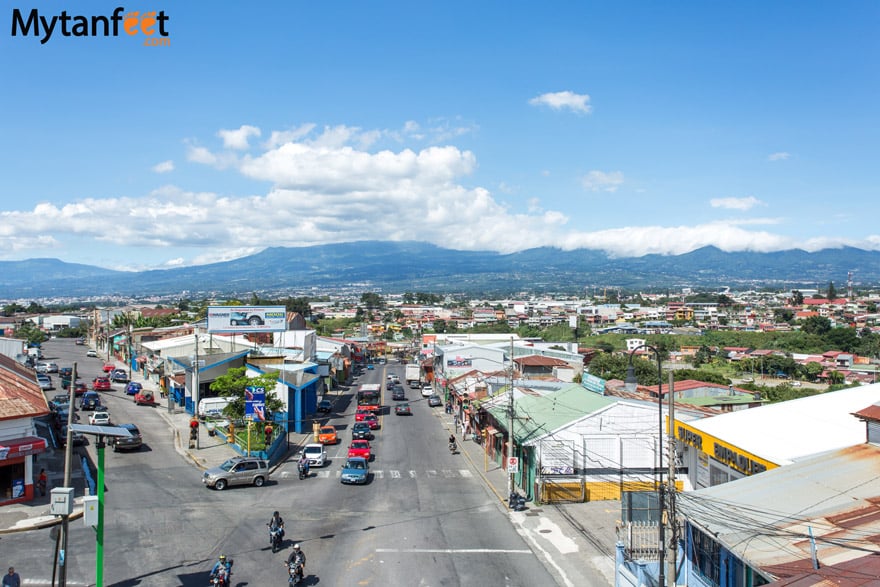 Tips for rural driving (Guanacaste, South Pacific, Osa Peninsula, Caribbean)
There aren't as many cars but there are other things to watch out for.
No have painted lines, no street lights.
Be very careful when driving at night. Huge lack of sidewalks means locals walk and bike on the road. Many of them don't use reflectors so be very aware of that.
If you're driving on a major road like the Interamericana 1 or Route 27, you will run into those big trailer trucks that are very slow. Pass only if you're comfortable and 100% sure it is clear, never pass on a curve and before you pass, make sure no cars behind you are going as well.
Many roads are very windy and curvy so drive slow at the speed you're comfortable. It's OK if it's under the speed limit (which is not really respected anyways). Locals will pass you but don't freak out.
Some cars in rural areas do not have both brake lights. Give plenty of space between you and the car in front of you no matter what.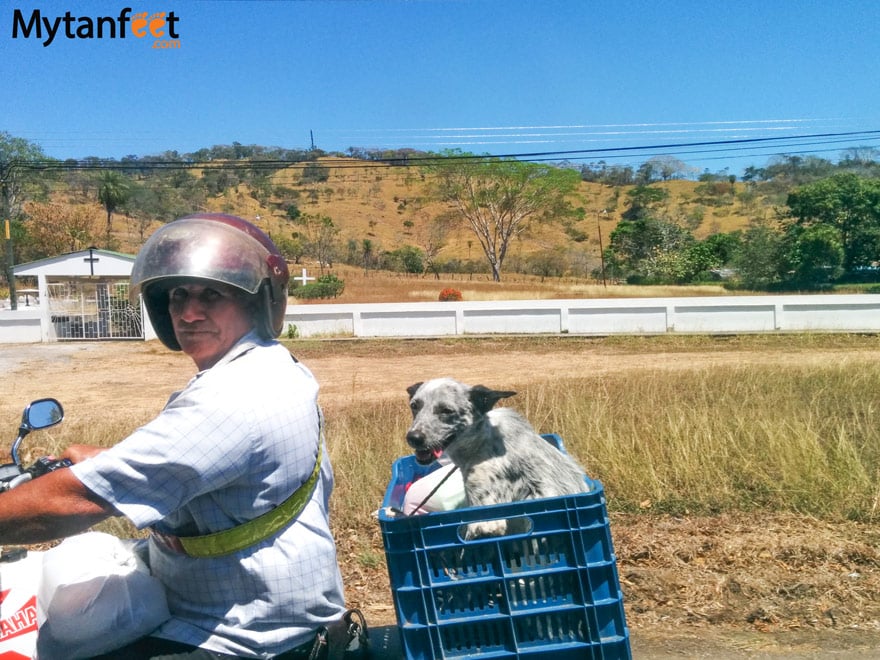 For more tips, we have a driving in Costa Rica guide. We also have a detailed post for renting a car in Costa Rica so you know what to expect, how to get a good deal and have a good experience.
Planning on renting a car? Get our car rental discount!
Road Conditions
Roads in Costa Rica are a work in progress. The infrastructure in the country is lacking quite a bit. But it is getting a lot better and you will find that many roads in the non-city areas are well paved with brightly painted lines and raised pavement markers.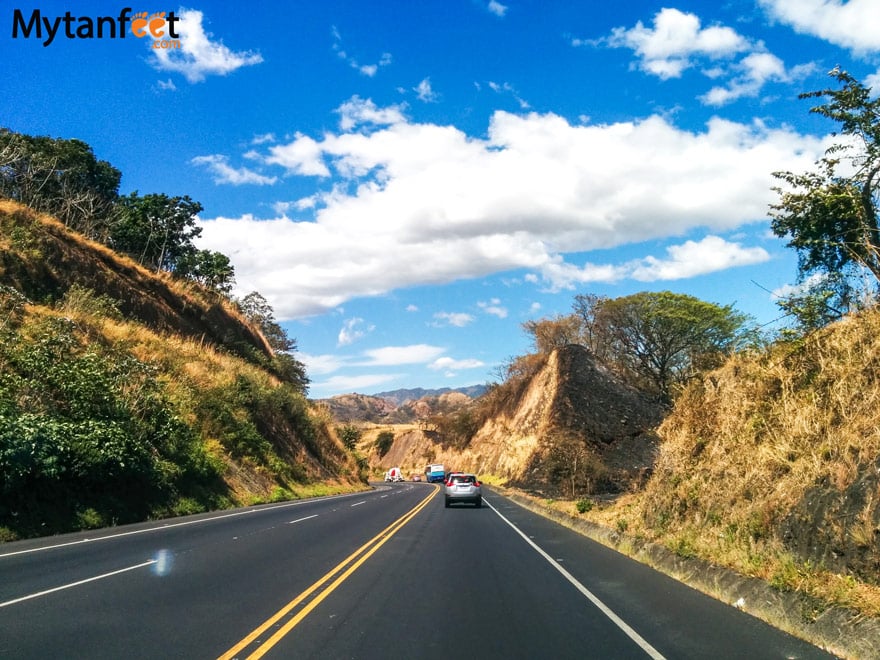 However, there are some still some areas where roads are unpaved, bumpy and require a 4×4. Here are some popular destinations and their road conditions.
Costa Rica Road Conditions
La Fortuna: 4×4 not required.
Monteverde: Roads there are not in good condition so a high car is recommended. Route 606 is now fully paved though! Read about Monteverde roads to find out more.
Puerto Viejo: 4×4 not neceassary if you're staying around town and the beaches.
Costa Ballena (Dominical, Uvita, Ojochal): 4×4 highly recommended, many hotels and restaurants up in the mountains are on steep, unpaved roads requiring a 4×4.
Central Valley: 4×4 not required.
Manuel Antonio: Nnot necessary for a 4×4.
Jaco: 4×4 not required.
Playas del Coco: 4×4 not required
Osa Peninsula: A 4×4 is highly recommended or at least a high clearance car in dry season.
Tamarindo: 4×4 not necessary. There are some nearby beaches that have bumpy roads but you don't need a 4×4, just go slow.
Samara: Road to Samara by way of Nicoya Peninsula doesn't require a 4×4.
Santa Teresa/Mal Pais/Montezuma: Recommended to get a 4×4 if you want to explore the area. The route around Nicoya Peninsula is paved for some sections and bumpy for others.
We have a driving around Costa Rica section where you can watch our videos driving around certain towns and beaches or check our road conditions in Costa Rica guide with photos and videos.

Sim Cards
Even though Wi-Fi is readily available at most hotels, it is still good to get a prepaid sim card when traveling in Costa Rica. You will have a local phone number to call in case of emergencies, you can use Waze and you can stay connected.
Getting a sim card in Costa Rica is easy and cheap. You just need a phone that is unlocked, uses a sim card and is quad band. Having a pre-paid sim card means you load a certain amount of credit on it and the credit is deducted according to your usage.
Where to get a sim card
At San Jose International Airport, there is a kiosk in baggage claim. Outside the airport, you can purchase a pre-paid sim card in any computer store or phone store in town.
How much it costs
The card itself is around 1000 CRC (~$2 USD) and you can put as much credit as you want on it. It is best to pay in colones.
Which carrier to get
There are 3 main carriers in Costa Rica: Kolbi, Claro and Liberty. Kolbi is the most common with the most coverage since it is the original telecommunications company.
How to recharge
You can recharge the sim card at a supermarket or the phone store. Or anywhere that has a sign of the phone carrier company in the window. Just tell them Me puedo recargar X (Kolbi/Movistar/etc).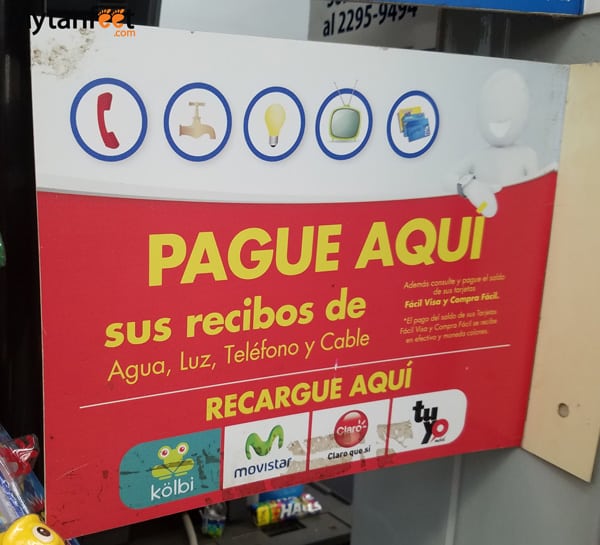 How much credit should you put
It depends. If you want to use your phone for GPS, surfing the Internet and checking emails, I'd put at least 5,000 colones your first time. You can recharge as necessary. If you just want it to check Facebook and email, you don't need to put that much.
eSIM
If your phone has eSIM, check out Airalo. They offer world wide eSIM packages.
Read this post for more information about sim cards in Costa Rica.
Visiting in Rainy Season
A lot of people don't want to visit Costa Rica during rainy season but it's not that bad. The key is to coming prepared and packing appropriately. Even if you run into rain on your vacation, you will still have a great time.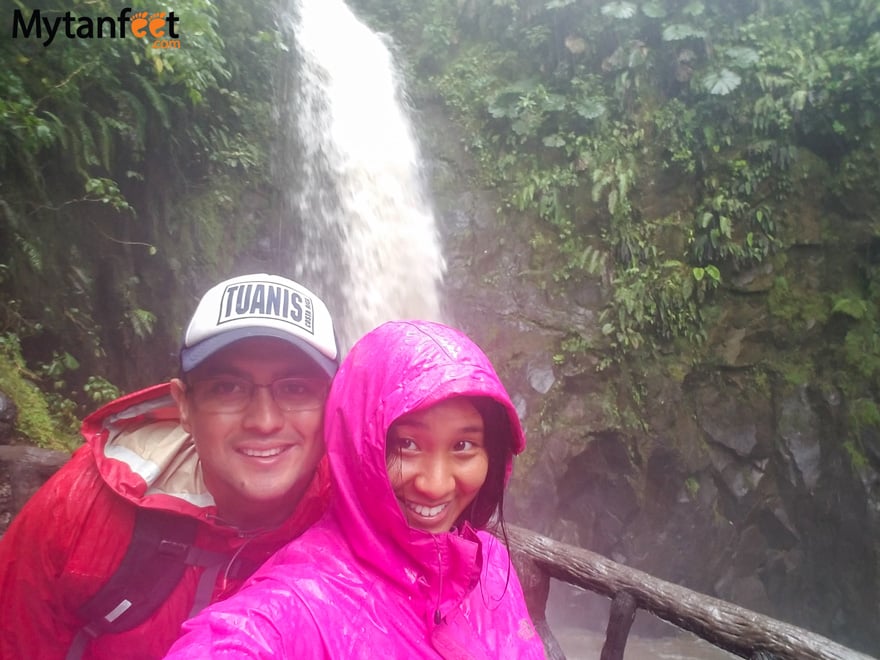 You can still do all the fun things like ziplining but you need to be prepared in case of rain.
When is rainy season
Rainy season for most of the country is from beginning of May to beginning of December roughly. Remember, tropical weather is fickle and is never a guarantee! The rainiest months are generally September and October for most of the country.  In July, we receive somethingcalled "little summer"  where it stays dry for a couple weeks. But like I said, tropical weather is not predictable.
Guanacaste has a shorter rainy season and it may start really raining there until about August and the months from May – July, you may see a few sprinkles here and there or cloudy days.
The Caribbean side however follows a different pattern. It can rain all year there and October is generally the driest month. November and June are usually the wettest.
Read more about Costa Rica weather here.
What to bring
A rain jacket, waterproof backpack or rain cover and waterproof equipment if you're bringing cameras or other electronics. Plenty of plastic bags to wrap wet clothes, a extra battery pack or two since the electricity may go out and a good pair of hiking shoes or sandals (read about the best shoes for Costa Rica) as well as fast drying clothes. One of my favorite items I always bring with me for rainy season is a microfiber towel.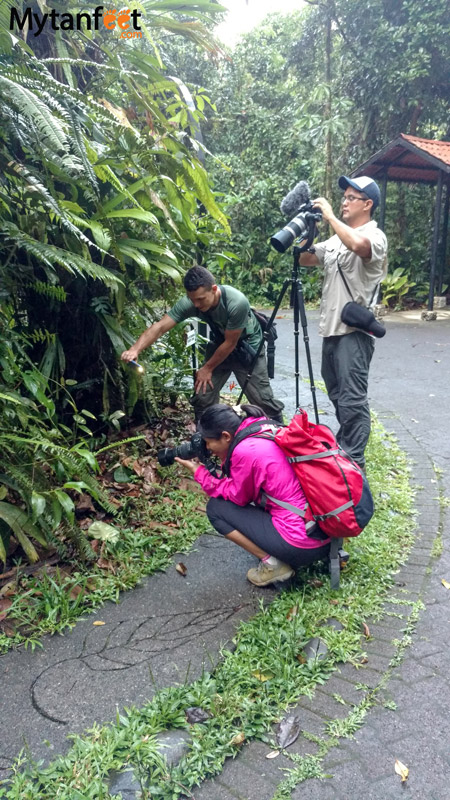 You can check our ultimate rainy season packing list for more tips.
The places that rain the most
Anywhere high up in the mountains and trpical rainforest rains a lot. This includes Monteverde, Poas, Bijagua, San Isidro de Perez Zeledon, Nuevo Arenal, La Fortuna, Costa Ballena and Osa Peninsula. The Central Valley rains quite a bit during August – December and it can flood in some areas.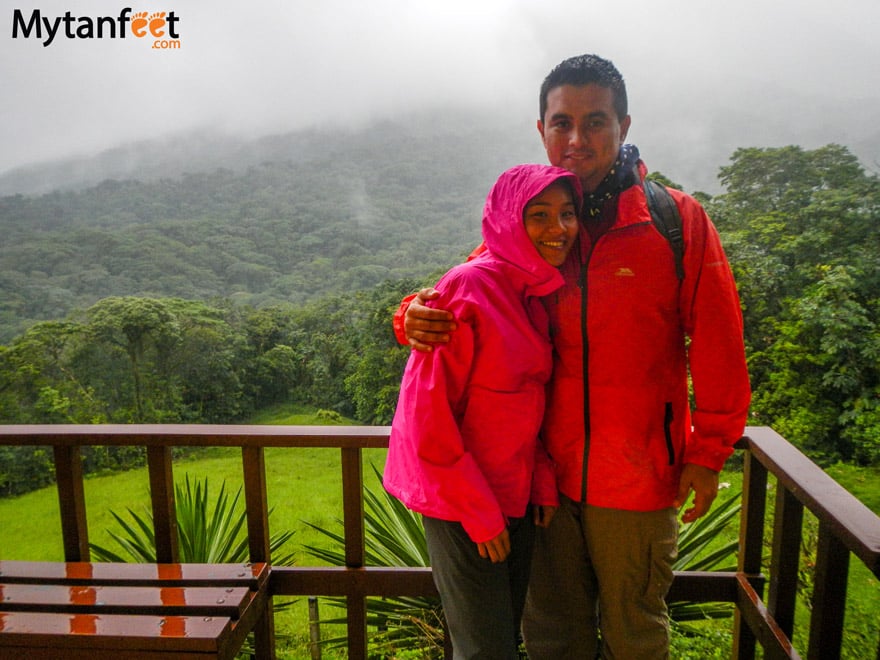 The South Pacific is also much more humid and it can rain even in the dry season. We visited Dominical in February where it poured for a week!
During rainy season, days are usually sunny in the morning and rains in the late afternoon and at night. Only in the very rainy months like October and November that it may rain all day if there is a tropical wave or tropical storm.
Mosquitoes
Mosquitoes are indeed bad in Costa Rica and it is important to bring repellent. Though malaria is not a big problem in Costa Rica, dengue fever and Chikungunya are. Zika is not a big deal in Costa Rica either.
You must bring mosquito repellent. Whether you prefer natural or are OK with DEET, mosquito repellent is necessary and you need to re-apply throughout the day. You can see a list of our favorite mosquito repellent as well as some other methods like shirts, washes and candles.
The worst areas for mosquitoes
The coasts. Since it's at sea level, very hot and humid, mosquitoes are very bad on the Pacific and Caribbean coasts. You will also need it if you're going into the forest or on a night walk. Mosquitoes are worse in rainy season since they breed in stagnant water and the ill-designed infrastructure of the street drains always get clogged so mosquitoes have the perfect place to multiply.
Areas you don't really need to worry about mosquitoes is anywhere above around 2000 meters. Mosquitoes are not that big of a problem in Monteverde but you will still need repellent in the Central Valley which is only about 1000 meters.
Here are some other tips for bugs and critters people worry about when visiting Costa Rica.
Snakes
Yes, there are poisonous snakes in Costa Rica. But it is not common to see them. The only times you may run into one is if you're hiking deep in the jungle off any paths and even that is very slim. We have seen a fer-de-lance in Braulio Carrillo National Park and in Bijagua. We have also run into vipers in Arenal, Osa Peninsula and Monteverde and regular garter snakes in Guanacaste and Turrialba.
Never stray off the path if you're hiking in the rain forest and if you're with a guide, always follow the guide and his instructions. Also don't go around hugging trees or touching plants, you never know what is living in them!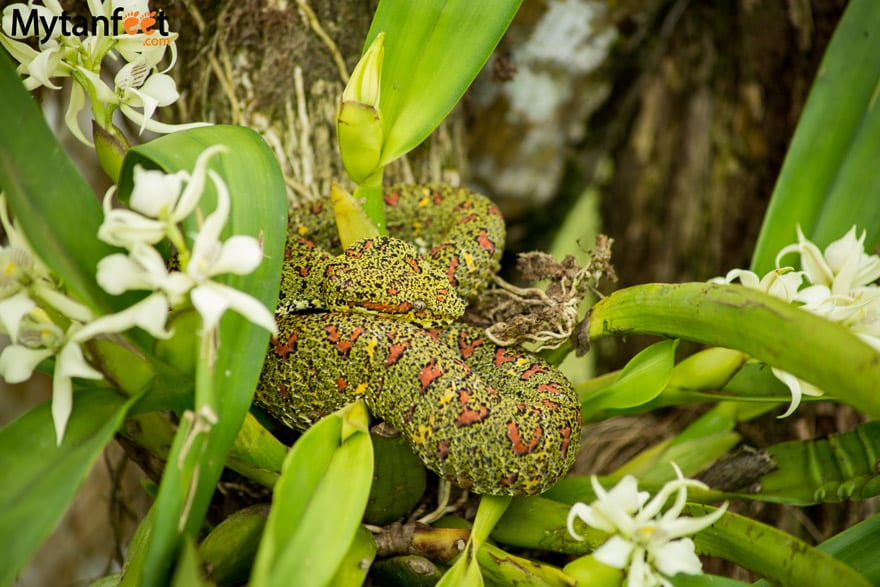 Scorpions/Cockroaches
Always shake out your shoes before putting them on to check for spiders, scorpions and cockroaches (those suckers love dark dank places). Be very wary if you see a scorpion as their sting can hurt very bad (I speak from experience) and you probably don't know if you're allergic. These bugs are present year round but come out more during rainy season.
Getting Around Costa Rica in a Short Period of Time
Are you only in Costa Rica for several days? Getting around will be your biggest headache, sorry to say. Due to Costa Rica's minimal public transportation system, road conditions and expensive transportation methods, you will need to sacrifice one or the other: time or money.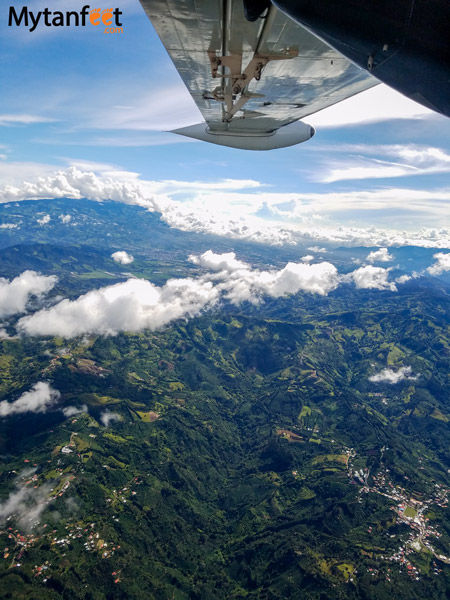 If you are here for a short period of time, I highly recommend renting a car or booking private shuttles. You'll save lots of time, although you may spend more money.
I have a detailed post about the different ways to get around Costa Rica but I will break it down to the best options for those on a short period of time.
Shuttles
You can take a private or shared shuttles in Costa Rica. Shared shuttles are cheaper but have limitations: can only pick up at hotels, have a set schedule, luggage limit. Private can pick you up at the airport, drop you off wherever, stop wherever, don't need to wait for other people, more room.
A shared shuttle is on average around $57 USD per person depending on your destinations and a private can be anywhere from $75-350 USD total depending on number of people and your route.
Driving
Leave whenever you want, drive as fast as you want and go directly to your hotel/vacation rental/hostel. Car rentals in Costa Rica cost anywhere from $20-200 USD a day depending on the type of car, time of year, availability, extras and insurance. Save money with our Costa Rica car rental discount and get our freebies!
Flying
For those whose budget is not a problem, take a local flight to your destinations. You will save SO much time. For example, the drive from San Jose to Liberia is 4 hours, on a local flight it is about 30 minutes! Local flights are expensive though, anywhere from $50-250 USD one way one person but the time you save can be totally worth it.
Make an Easy Itinerary
If you're here only for several days, I highly recommend putting together an itinerary that has destinations close together and easy to get to. Don't try to cross the entire country in a 5 day trip. It won't be fun and it's just not worth it.
Handling Money
Most important thing to know about handling money in Costa Rica: USD is readily accepted. Some companies actually prefer USD and only take USD. Some may take colones but it is super normal to see prices quoted in dollars for hotels, food and tours.
Costa Rican currency is called colones and the current exchange rate is around 540 but it changes every day. Most people use 500 to 1 since it is easiest to remember but you will lose colones if you do that since the actual rate is higher (around 620 CRC to 1 USD).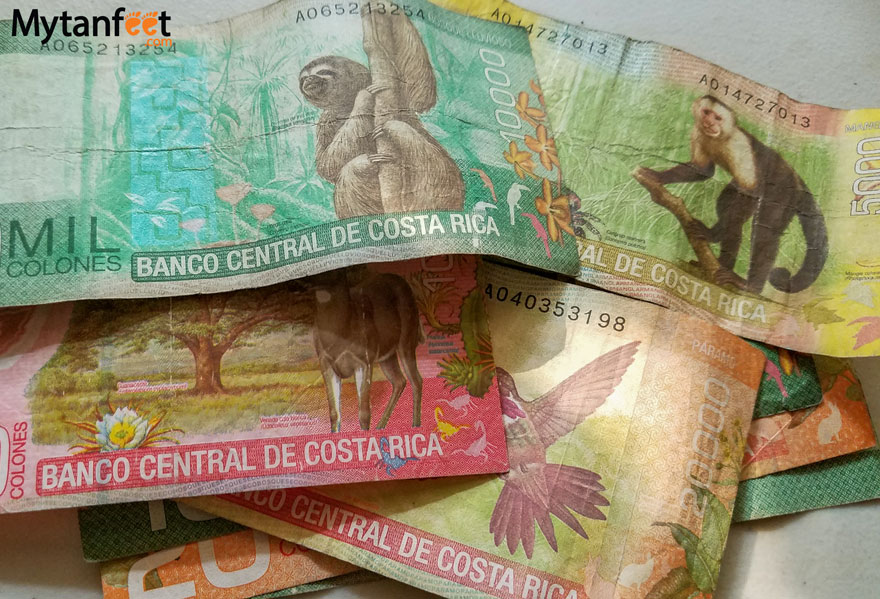 You don't have to exchange currency before your trip or even at the airport.
Because USD are readily accepted, you don't need to exchange your currency before your trip. You can exchange at the bank which gives you the best rate but if you use dollars at a restaurant or supermarket, they will give you your change back in colones. However, not every establishment will use the correct daily exchange rate so if you don't want to lose out (it does add up), then exchange at the bank.
For Canadian dollars, Euros, etc. it is best to bring dollars
Since only banks can exchange these types of currencies (and not all do and just Euros/Canadian dollars), it is best to exchange your foreign currency into USD before going to Costa Rica. You can also use your bank card at the ATM to take out dollars or colones but make sure what the fee is at your bank.
You can also ask to pay in Costa Rican colones if you are able to exchange directly to CRC.
Credit cards are also readily accepted… in most places
You can perfectly use your credit card if your bank doesn't have international fees. Many places also accept American Express but just in case, have a Visa or Mastercard handy.
However, if you are visiting places like Osa Peninsula, Drake Bay, Santa Teresa, Samara and Tamarindo, bring cash. Many businesses only accept cash.
Make sure your bills are in good shape, not bent or ripped.
They are very strict on accepting bills only in good shape. We received a $20 USD bill from a Costa Rican ATM with a misprint and we couldn't get it accepted anywhere!
Also make sure to bring small denominations for USD like 1's, 5's and 10's. 50's and 100's are not accepted in most establishments and the only place that will break those bills are casinos or banks.
Food Allergies
Allergic to shellfish or something else? No worries! Yeison is highly allergic to shrimp, crab and anything with a shell so we know how to deal with it.
The most important thing is that you need to know how to say "I'm allergic to X" in Spanish. Most restaurants in touristic areas have waiters that speak English but in case you are going to a less touristic area or to a local restaurant, you will need to learn how to say it. Soy alergico a X. Or write it down!
Here are some other things to know:
Many local restaurants, called sodas, use the same pan and oil to cook fish/chicken/beef/etc.
So if you are very allergic to seafood, then I don't recommend eating at a soda. I would eat at a touristic restaurant where waiters and chefs speak English and are familiar with allergies. Sometimes local restaurants forget or take allergies seriously. You don't want to take any chances.
Costa Rican food is great for those who can't have gluten.
One of my friends who medically can't have gluten, had a blast eating in Costa Rica. Traditional Costa Rican food is mostly rice, beans, salad, plantains and a meat. You can learn more about Costa Rican food here.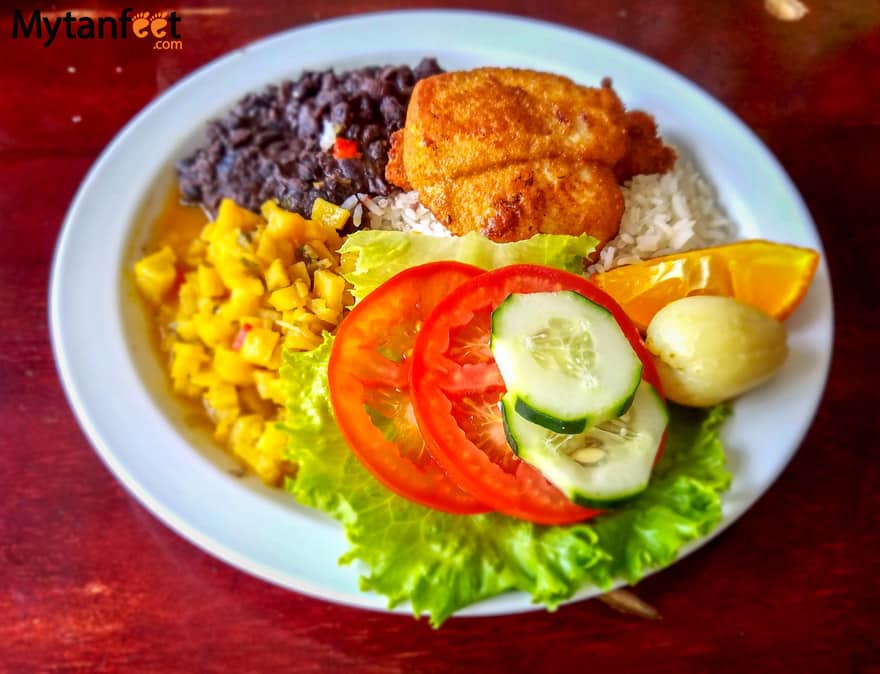 If you're allergic to peanuts, peanuts are not commonly used here.
In fact, many Costa Ricans don't like peanut butter and peanut oil is not commonly used at all. But just in case, it is good to know how to say I'm allergic to peanuts (Estoy alergico al mani, nueces y todo tipo de semillas) and ask at any local restaurant if they use peanut oil.
Bring your epi-pen
Even in touristic areas, clinics or hospitals are far away so in case of a reaction, you need to bring your epi-pen with you.
Safety
Like any other country in the world, crime happens. Here are some tips to stay safe:
Always have a color copy of your passport and keep your original in a safe place at all times. Do not ever leave your passport hanging out of your backpack or in a place that's easily reachable.
Always keep your belongings close to you. At a restaurant, never leave your purse on the ground or hanging behind you on a chair. Make sure you are able to see it at all times.
Never leave your belongings unattended. This goes for swimming at the beach too.
Never leave belongings in plain sight in your car.
Don't carry around a huge wad of cash.
Don't walk to unfamiliar areas including the beach by yourself early in the morning and in the dark.
If you're driving and at a rest stop, always have one person at the car to watch your things.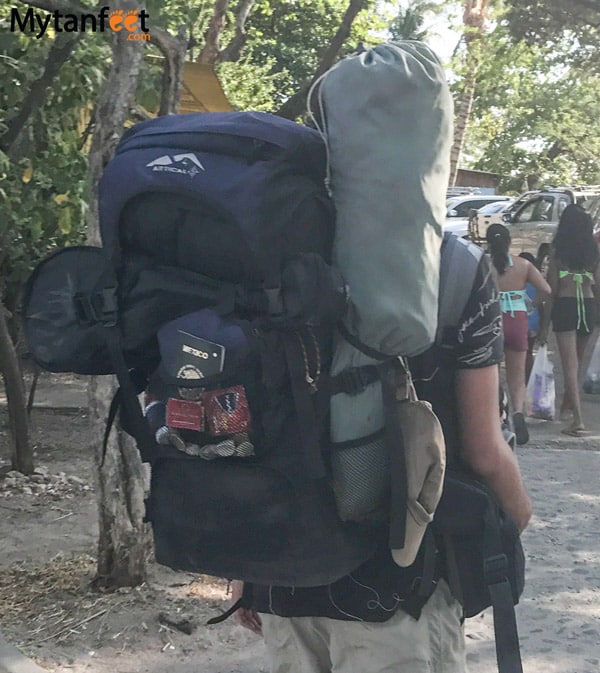 Theft is the biggest crime in Costa Rica against tourists. So never leave your stuff unattended and always keep your belongings close to you.
Cultural Differences
Truthfully, Costa Rica has been highly Westernized, at least in the cities and the popular beach towns. Due to their immense amount of American tourists, ever growing numbers of Americans/Canadians/South Americans/Europeans relocating to the country and many big American companies opening offices in San Jose, Costa Rica has been Westernized in many places.
But there are still aspects of the culture that are still to the core, very traditional Costa Rican. Here are some important things to know.
Costa Rican Culture
Costa Rica is a Catholic country. It's common for Costa Ricans to say Gracias a Dios, si Dios permite or Dios te bendiga a lot (Thank God, if God allows, God bless you).
For women traveling alone or with friends, don't be alarmed if men try to talk to you. Constantly. They have this idea that they have to turn on the Latino charm and talk to every foreign women they see (especially if you're blonde). This is mostly in the beach towns.
Costa Rican society loves babies. Don't be surprised if locals come up to you, pick up your baby and try to kiss them without permission. If you don't feel comfortable with that, just say politely No los toques por favor.
When in San Jose, dress in more city attire. No leggings, no short shorts for men, no board shorts.
Costa Ricans kiss one cheek for greetings and men don't kiss men.
LGBTQ+ awareness is growing despite gay marriage not being legal.
If you ever get the chance to visit a Costa Rican home, they will offer you fruit juice, coffee or beer before water. Offering water is not common when they have guests but you can ask for it, it's not rude.
Pura Vida
The most important thing to know is pura vida. All Costa Ricans say this as a way of expressing anything good. You can say Gracias, pura vida. Or use it as a greeting. Hola pura vida! Or just as a way of expressing how happy you are, how great life is, etc. It's what foreigners take away the most from Costa Rica – how to live a little bit more pura vida.
If you found this survival guide to traveling in Costa Rica useful, please share with anyone else you think will find helpful as well. Our goal is to make sure everyone has a safe and fun time in Costa Rica!
Costa Rica Vacation Checklist