If you're looking to splurge for your Costa Rica vacation, then you must check out the Peace Lodge, Costa Rica. This small lodge is only a one hour drive from San Jose, the capital city, yet ensconced in the pristine tropical rainforest, truly living up to its name.
The Peace Lodge's intimate atmosphere and cozy rooms also make it a great place to stay for a Costa Rica honeymoon. It also has an on-site nature park called La Paz Waterfall Gardens Nature Park with an animal sanctuary and 5 waterfalls, making it one of the best places to visit Costa Rica, especially for families.
Read our review of the Peace Lodge to see what we thought! This review was originally published in 2018.
Peace Lodge, Costa Rica Location
The Peace Lodge is in the small town of Vara Blanca in the Heredia Province. Peace Lodge is a 30 minute drive to Poas Volcano National Park.
From the San Jose International Airport, the Peace Lodge is 35 kilometers (22 miles) and is about a 1 hour drive.
How to Get to the Peace Lodge, Costa Rica
Driving
If you rent a car, a 4×4 is not required to get to the Peace Lodge. Although the route is on a fully paved road, it is quite steep and curvy so be extremely careful when driving if it's raining. Also try not to ride your brakes too much, since the road is steep, you can burn your brakes if you're riding them very hard.
Our tip: If you are a group of 3-4 with lots of luggage, we recommend an SUV. Even though you can get there in a sedan, a SUV has a stronger engine and also more space for luggage. Sedan car rentals in Costa Rica don't have the strongest engine and might have trouble going up the hills if your car is very heavily loaded.
You can easily find the Peace Lodge on Waze and Google Maps to use as navigation.
Private Shuttles
If you decide not to rent a car, the next best option is to book a private shuttle. There are no public buses no shared shuttles that go directly to the lodge. The best option is a private shuttle.
A private shuttle from San Jose International Airport to Peace Lodge is around $104 USD for 1-8 people. The driver will wait for you directly at the airport exit terminal and take you to the lodge, with one stop included along the way. Contact us if you'd like to book your private shuttle to the Peace Lodge!
Uber
Another option is to call for an Uber from SJO Airport or San Jose. There are a ton of Ubers in San Jose that can take you to Peace Lodge. But depending on time of day, this may be very expensive due to surge pricing or drivers may reject it.
The Peace Lodge Property
First of all, the Peace Lodge is one of the most beautiful boutique hotels in Costa Rica, surrounded by nature and lush jungle. The Peace Lodge only has a handful of rooms, all with splendid views of the tropical rainforest.
One of the highlights of staying at the Peace Lodge in Costa Rica is that on the same property is the La Paz Waterfall Gardens. This nature park is home to 5 enchanting waterfalls, rainforest walking trails, a restaurant and an animal sanctuary. Guests staying at the Peace Lodge get free access to La Paz Waterfall Gardens anytime during their stay.
If you are not a guest of Peace Lodge and want to visit the waterfall garden park, no problem! La Paz Waterfall Gardens is open to the public. Get a discount off park tickets here!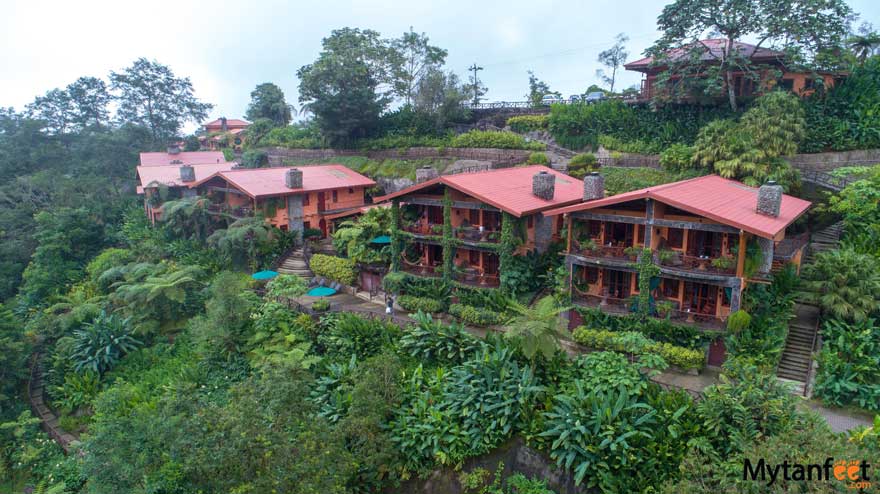 Right below the rooms is the animal sanctuary and there is direct access from the rooms to the nature park.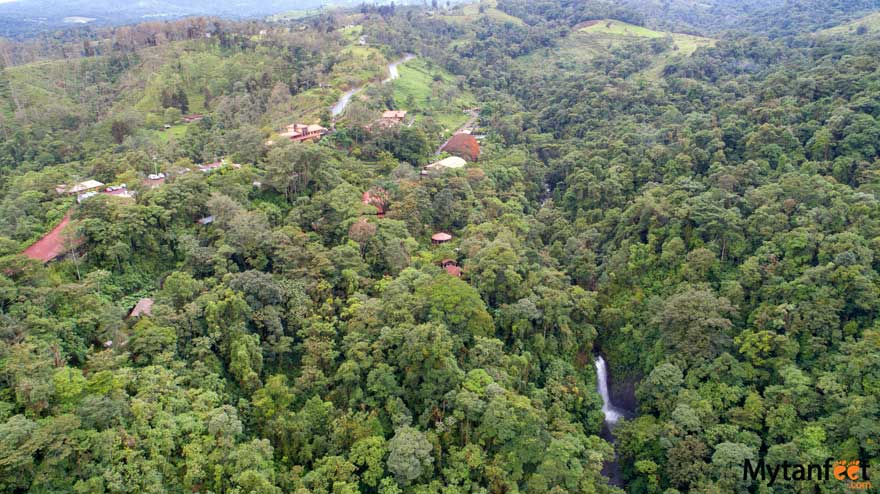 Food
The Peace Lodge has 6 different restaurants. We tried all of them and they were all excellent. We especially loved the Big Trout cafe, I had a fantastic fish sandwich and salad. They even have a trout pond so you can fish for your trout if you want!
The breakfast buffet is equally as good with plenty of freshly cooked plantains, gallo pinto, pastries and fresh fruit.
The Rooms
All the rooms are extremely nice with a fireplace, outdoor Jacuzzi and balcony but there are a few differences between the standard and deluxe. The standard guest room is 60 meters squared (200 sq feet) and the deluxe is 74 meters squared (242 feet) so the bathroom is bigger with another Jacuzzi.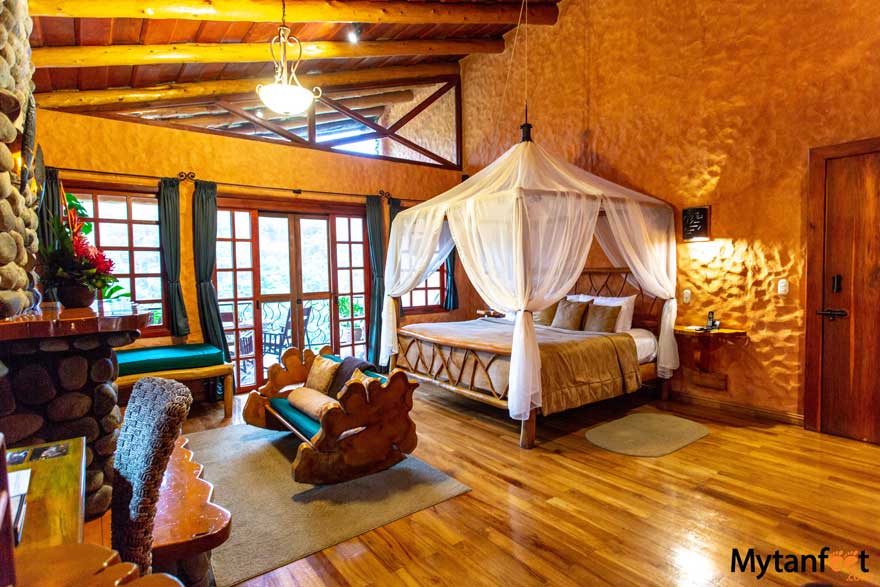 We absolutely loved the fireplace and hard wood floors. It made us feel like we were staying at a cabin during a winter vacation. It got cold at night (around 50s F or 10 C) when we were there (June) and rained every night so we curled up in front of the fireplace with a nice cup of tea.
And when we felt like we needed more relaxation, we jumped in the outdoor Jacuzzi!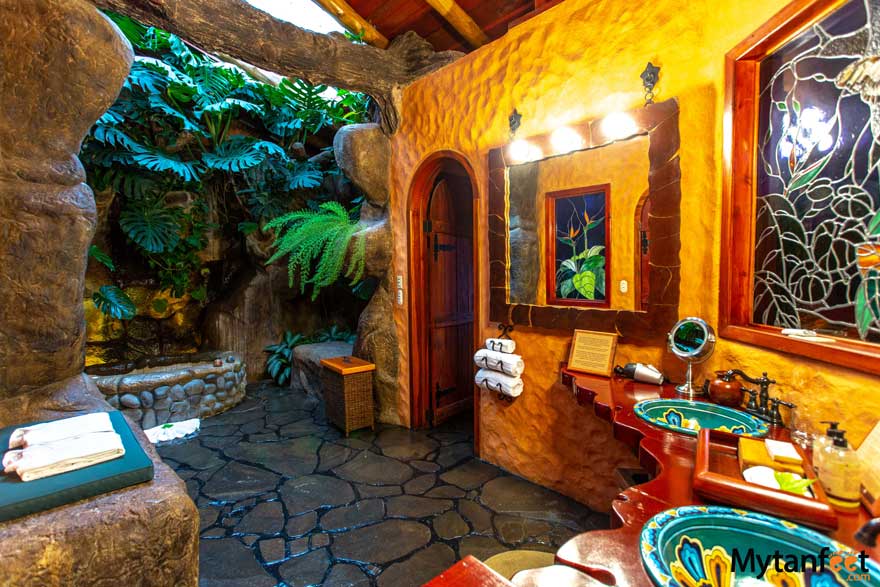 This bathroom was so big that I was able to do yoga and Zumba in there. It had a fun jungle based decoration and the bathtub and waterfall with real tropical plants was a sweet touch.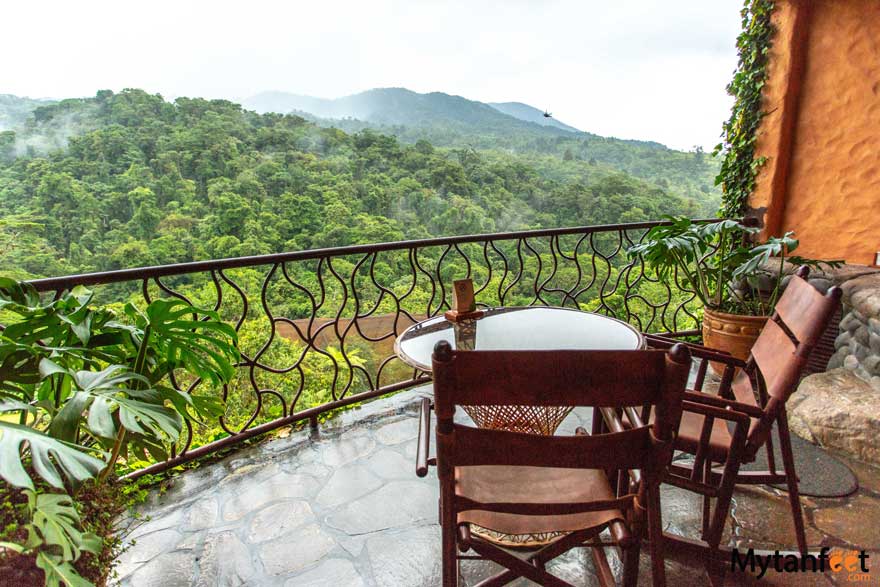 All the balconies have hummingbird feeders so every morning we saw the pretty birds zoom around. It was so relaxing to have a hot cup of coffee while looking at the view too!
They also have two large villas: Monarch and Villa Lago which fit large groups or families as they have all the comforts of home.
La Paz Waterfall Gardens
The privately owned 70 acre (28 hectares) La Paz waterfall gardens park is open to the public and offers a wonderful introduction to Costa Rica. Their animal sanctuary provides an educational and fun experience for people to learn about conservation and native animals of Costa Rica.
All the animals in their property were given by the MINAE, which is the Costa Rica Ministry of Environment and Energy as they cannot be released back into the wild. Many of them have permanent injuries or they were kept as pets so they can't survive in the wild on their own.
They have a nice aviary with toucans and other birds, Scarlet Macaws, monkeys, jaguars, snakes, and many other animals.
Get a discount off La Paz park tickets here!
The waterfalls
There are 5 waterfalls in the park: Templo, Magia Blanca, Encantada, Escondida and La Paz. The trails are all well built and very sturdy with hand rails. However, there are a lot of steps so we don't recommend it for anyone with mobility issues that cannot walk up and down many steps. Unfortunately there is no handicap or universal access trail.
The trail goes through a lush rainforest with many different viewpoints.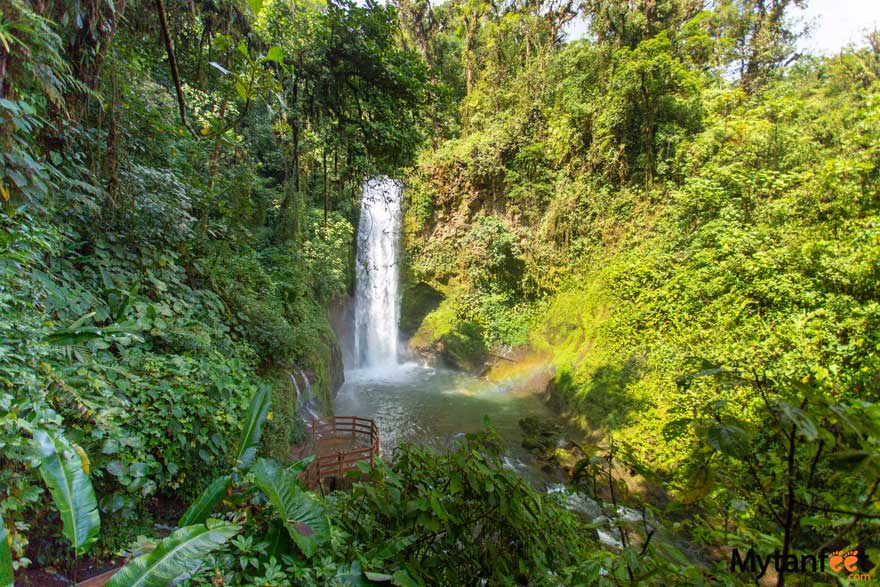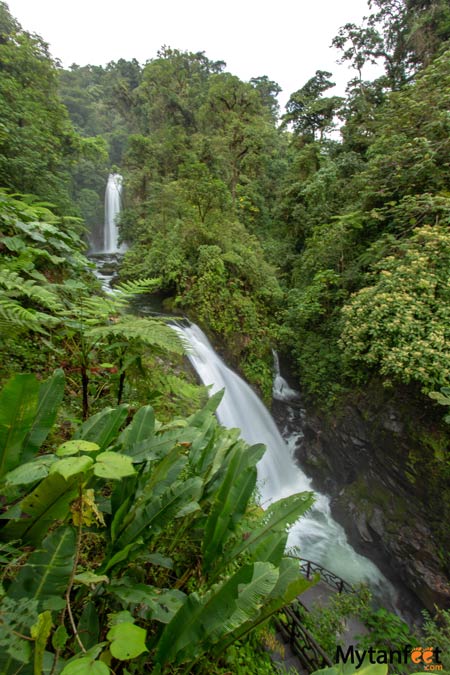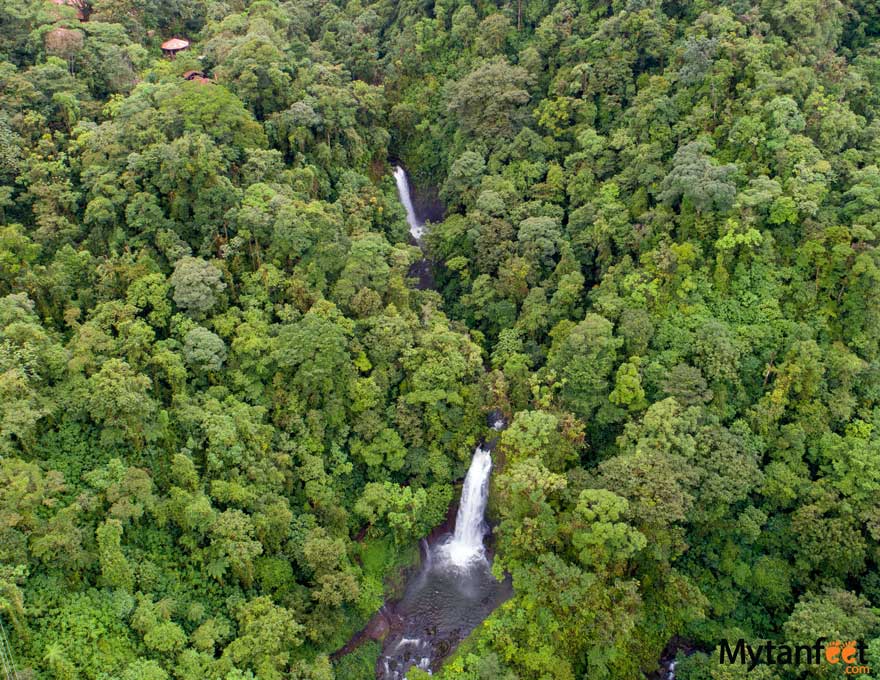 When we stayed two nights at the Peace Lodge, we visited the park twice. The waterfalls were so beautiful we wanted to see them again! It is also very nice that hotel guests have access to the park whenever because most tour companies arrive around 10-11 AM. By then, it gets very crowded so it was amazing to have the waterfalls to ourselves.
Overall Thoughts
We loved our time at the Peace Lodge. It's a high end boutique hotel for a reason and they exceeded all our expectations of a luxury hotel. The friendly staff, delicious food, spacious and cozy rooms and incredible views make it well worth the money to visit.
It's not a cheap place to stay but for anyone looking for a luxury hotel for a honeymoon or with a family, this is an excellent choice. The location is amazing and is worth staying at least one or two nights. I have to say that having access to the gardens before opening and and after closing hours was awesome!
If you're traveling onto La Fortuna, Peace Lodge has a sister property called The Springs Resort & Spa. This hotel is amazing with gorgeous views of Arenal Volcano from every corner. They also have their own hot springs and adventure club.
We also have a $10 discount for their Club Rio multi adventure package where you can go kayaking, tubing, horseback riding or hiking on their beautiful property. Also includes a 2 day hot spring pass!
Huge thanks to the Peace Lodge for comping our stay. This review was an exchange and it is 100% honest with our thoughts and opinions.