If you're staying in Tamarindo, Playa Grande or Flamingo and want to explore some local beaches, then you must put Playa Mina on your list. This secluded beach in Guanacaste has soft tan sand, stunningly clear water and you can have it all to yourself!
We discovered this beach back in 2010 on one of our random Guanacaste adventures and it's one of our favorites. It's no longer that secret but it's still spectacular!
Here is our guide to visiting Playa Mina, one of our favorite local beaches in Guanacaste.
Location and Directions to Playa Mina (Zapotillal)
Playa Mina map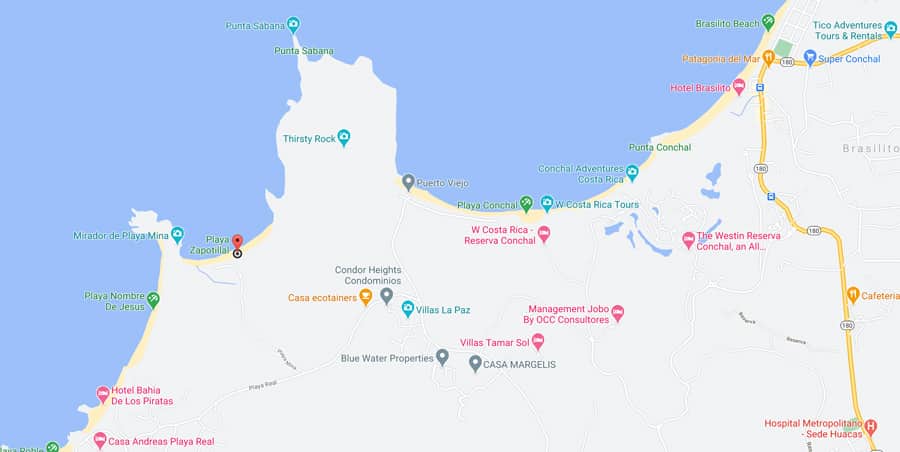 On the Maps, Playa Mina is also called Playa Zapotillal but they are the same (Mina is the local name).
You can find Playa Mina on Waze and Playa Zapotillal and Playa Mina on Google Maps. Playa Mina is a 30 minute drive from Tamarindo.
The only way to get to Playa Mina is by car.
4×4 required?
Yes. We do recommend a 4wd/4×4 or high car to get to Playa Mina for tourists. The turn off the main road in Matapalo is unpaved and has a ton of big pot holes, rivets and dips. Even in the dry season, a high car is highly recommended. If you drive in a sedan or low clearance car, you will definitely hit the bumper or damage something even if you go slow.
If you visit during rainy season, be aware that this road turns into a slippery mess in the rainiest months of October and November if it has been raining a lot.
Parking
There isn't a designated parking lot but you can park anywhere under the trees. Unfortunately petty theft is becoming more common at this beach so make completely sure you lock your doors, do not leave any valuables visible and roll up your windows. There are no security guards as this is not secure parking.
Services
None. No bathroom, showers, changing rooms, drinking water, etc. So bring drinks, food, umbrella, chairs, everything for a fun beach day under the hot sun! And please take your garbage with you.
Kolbi (the telecommunications provider) doesn't work in Playa Mina so if you have their SIM card, there will be no service here.
Mina Beach
Once you reach the beach, you're greeted with bright blue water and tan sand. In dry season, the trees are bare and the hills are yellow but once rainy season rolls around, vibrant green surrounds the entire beach.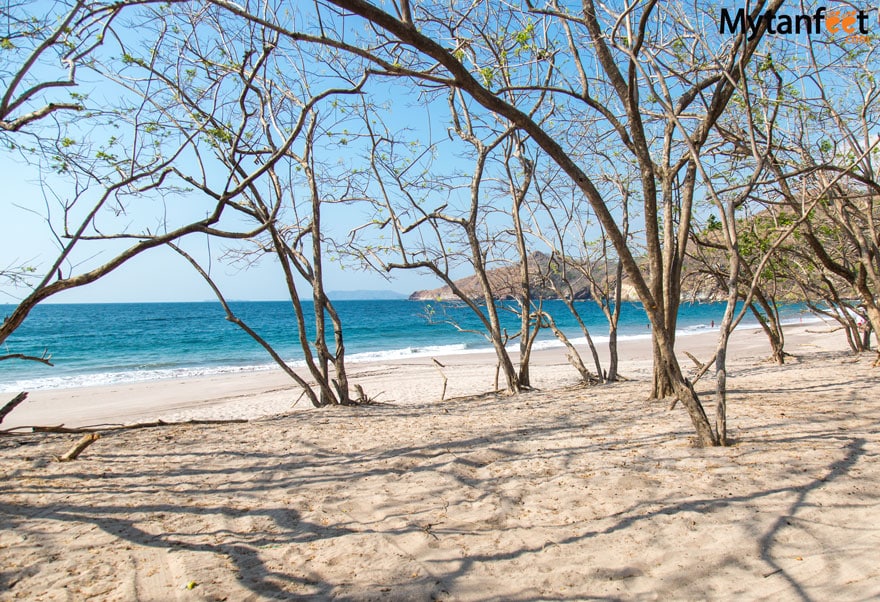 Playa Mina is not that big and you can walk from end to end in less than 15 minutes. Snorkeling isn't that great here but if you go early in the morning, you may be able to see some fish on the north end of the beach.
We saw a couple of locals fishing from shore, don't know if they caught anything but if they were fishing, it must be because they've caught something there before!
There isn't anything at Playa Mina except an old run down building. It looked like someone wanted to build a house or hotel but abandoned it which happens fairly often in Costa Rica.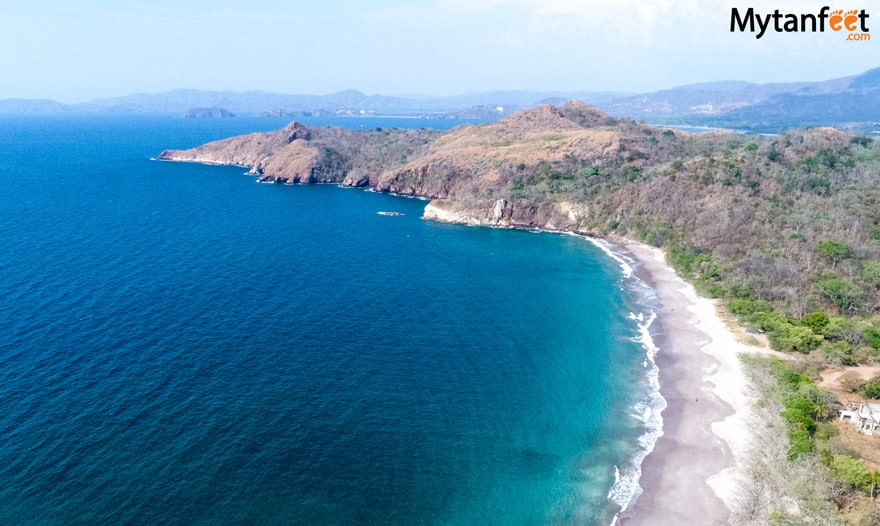 Playa Mina doesn't have bathrooms, tables, nothing. And that's what makes it one of our favorite beaches: it's not developed, crowded, or commercial. Just a beautiful beach and that's it.
Swimming
Waves can get strong at Playa Mina so please be careful. If you're coming with little ones, make sure to keep an eye on them. Don't swim if the waves look too strong!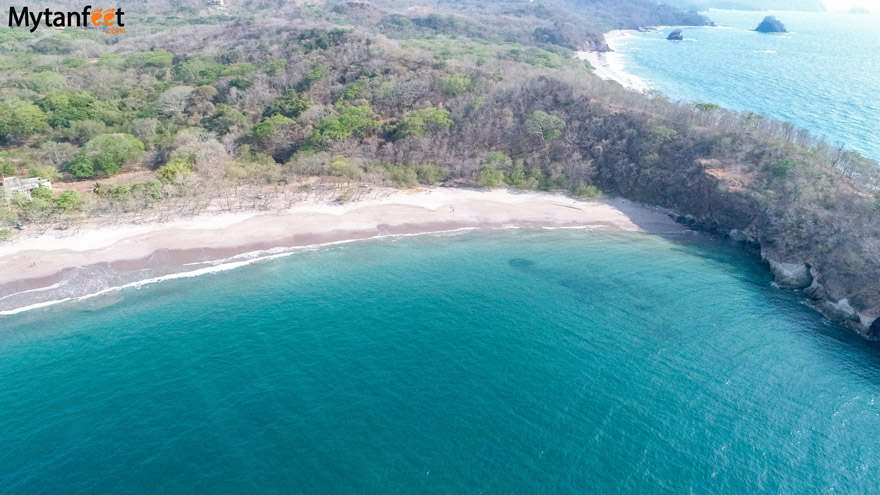 There is some shade under the trees and if you have a hammock, definitely bring it. There are plenty of places to tie up a hammock which in our opinion, is the best beach accessory.
ATV tours do visit Playa Mina so you will see ATV's occasionally come to the beach. Usually the tours stop for a few minutes so the tourists can take pictures and then leave.
Our First Visit to Playa Mina
When we visited Playa Mina in April on a Sunday, there were barely 10 people there. There was 1 family and a few couples. It's so empty and under the radar, that I saw one guy tanning completely naked on the south end of the beach.
Unfortunately it's not as empty as it used to be, especially on weekends and holidays as many San Jose Costa Ricans like to camp there. But if you go early on a weekday, you can definitely still have this beach to yourself.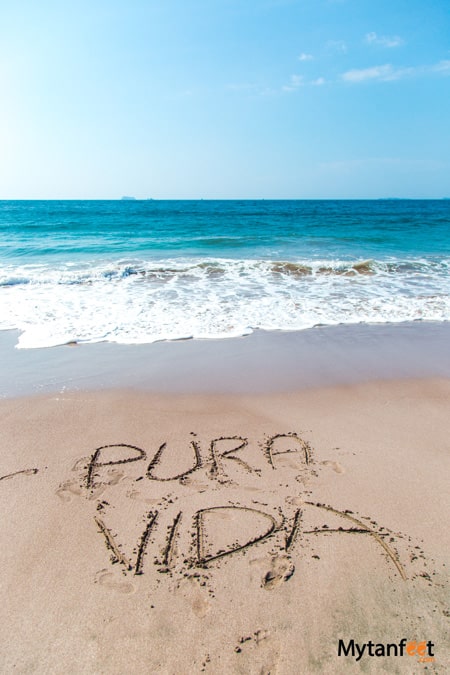 So if you're looking for a very under the radar beautiful beach in Guanacaste, Playa Mina is it. Especially if you're staying in Tamarindo/Conchal area and want to get away from all the crowds! You can enjoy pura vida at the beach just for you.
What Else to Know About Visiting Playa Mina
This beach is generally not busy. If you go on a weekday, there may be a couple local families or a tourist here and there. But if you visit on the weekends, it can get crowded. This beach does get very crowded during two times of the year: Holy Week (Easter) and Christmas/New Years.
Sometimes turtles nest at Playa Mina around December to March, so please take your garbage. It's not super common so if you want to see turtles, we recommend Ostional Wildlife Refuge instead. Some locals may run tours to Playa Mina to see turtles at nigh but as it's not guaranteed to see them, this isn't a commonly offered tour and it's only during a certain time of year.
Car theft is not uncommon at this beach unfortunately. Do not leave ANY valuables in your car!
Locals like to camp at this beach. If you camp, just be careful, lock up your belongings and take your garbage. There are no services though (no showers, bathrooms, drinking water, benches, etc.).
Discover more beautiful local beaches in Guanacaste like Mina!
We made a video to showcase 4 other beaches similar to Playa Mina in the same area. Check it out below! They are Playa Real, Playa Ventanas and Puerto Viejo de Conchal. Video taken 2021.
Below are our guides to other beaches in Costa Rica.
San Juanillo: White sand beach that is made of up two beaches coming together.
Pelada: Crescent shaped white sand beach in Nosara
Buena: Small white sand beach between Playa Panama and Hermosa
Junquillal: Surfing beach 30 minutes south of Tamarindo. Small town.
Cabuyal: White sand beach in Papagayo Gulf
Rajada: Beautiful white sand beach up in La Cruz/Salinas Bay
Penca: White sand beach near Playas del Coco
Lagartillo: Hidden beach near Avellanas