Heredia, Costa Rica, the capital city of the province with the same name is locally known as the Ciudad de las Flores (city of flowers). This affectionate nickname came from the cultivation of beautiful flowers in its high mountain and also because Heredia is recognized as the city with the most beautiful Costa Rican women.
Yeison grew up in Heredia so he knows this city very well. All his immediate family still lives in Heredia so we visit often and when I first moved to Costa Rica in 2012, we lived up in the mountains in San Isidro de Heredia. It's a city that we always visit and in this guide, we'll help you plan your visit to the city of flowers.
Please note this post has affiliate links.
Location
Heredia is 10 kilometers (7 miles) from San Jose International Airport, about a 20 minute drive.
How to Get to Heredia from SJO Airport
There are many public buses throughout San Jose to Heredia everyday at 5 AM to 11 PM every 10 minutes. The buses will usually have a sign in the front of where they're going like Paseo de los Flores, Heredia, etc. You must pay in Costa Rican colones as you get on. (Learn more about taking the public bus in Costa Rica here).
You can easily grab an airport taxi or Uber to Heredia, it costs around 3800 colones (~$6 USD) one way.
Heredia, Costa Rica City
Heredia is part of the GAM (Greater Metropolitan Area) of Costa Rica along with San Jose, Alajuela and Cartago. It's one of the most populated cities in Costa Rica with around 435,000 residents in the entire province.
As a bustling city in Costa Rica, Heredia offers good food, nice hotels, friendly locals, deep culture and a great location to experience the country.
Visiting Heredia, Costa Rica
Since Heredia is very close to San Jose and the airport, you can perfectly stay in Heredia the night you land or the night before you fly out. If you do want to stay a couple nights in the GAM, Heredia is a great base. You can get around without a car easily by bus or Uber.
Most tour companies will pick up at hotels in Heredia but be aware that not all of them will. If your hotel is on the outskirts of Heredia, roundtrip transportation won't be included. You will have to taxi to a meeting point or inquire with your hotel to help you.
Why stay in Heredia rather than San Jose?
Both are great options for a couple days in the city and both are close to San Jose International Airport. However, San Jose is a better option if you plan to base yourself in the capital city for your entire vacation and book day trips because all tour companies will pick up from San Jose downtown.
One reason to choose Heredia is that it's a little bit more laid back than San Jose as it's not the capital. You can find the same attractions in San Jose and Heredia such as museums, local markets and stores but Heredia is a bit less touristy than San Jose. If you're thinking about moving to a city in Costa Rica, Heredia is a great place to check out as a potential new residency that is new the capital city.
You can read our San Jose travel guide in this post to learn more about the capital city.
Heredia Weather
Heredia, being in the Central Valley, has nice weather. It experiences typical tropical dry and rainy seasons and being around 1200 meters (~4000 feet) in elevation, temperatures hover in the comfortable 70s F and low 80s F (21-26 C) during the summer months of December – April. It cools down at night to mid 60s F (18 C). Night time is perfect sweater weather.
In the winter months of May – November, it can rain quite hard, especially May, June, September and October. Temperatures stay around mid 70s F (24 C) during the day and can lower down to the 60s F (15 C) at night. It may feel even colder if it's raining and very windy out.
So make sure to bring long pants, a sweater or jacket and rain gear in rainy season when visiting Heredia.
Heredia Hotels
Heredia has a nice mix of charming hotels and rentals. We normally stay in an Airbnb (condo complex) since we prefer the facilities of a gated condo complex and having a kitchen but have stayed in a couple hotels before.
Some Recommended Hotels
Suites Merlyn: Hotel close to the airport with standard rooms and suites with equipped kitchens. Offers airport shuttle, gym, complimentary breakfast and a pool. Great for business travelers passing through.
Hotel Chalet Tirol: Beautiful chalets up in the mountains of Heredia for a cozy forest getaway. Great for 1 or 2 nights for couples. The nicer chalets have fireplaces, jaccuzis and space heaters.
Hotel Monte Campana: Small hotel with a large property that is very popular with locals. It's in the Barva mountains with activities like hiking trails, waterslides and playgrounds for kids.
Hotel Bougainvillea: Popular hotel for Costa Rican weddings thanks to the beautifully landscaped and lush garden. Also has a swimming pool and tennis courts. Read our review for Hotel Bougainvillea here.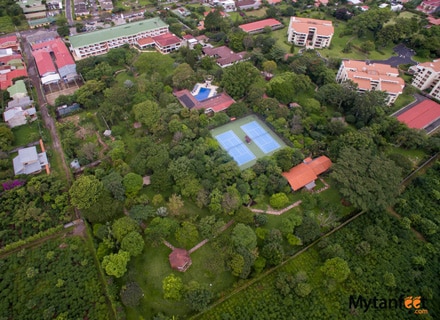 Cariari Bed & Breakfast: Beautiful Spanish style guesthouse in a residential area. They have normal suites, upgraded suites and royal suites.
Finca Rosa Blanca Coffee Plantation Resort: Beautiful luxury boutique hotel on a coffee plantation. Only 10 kilometers (6.2 miles) from the airport up in the mountains. They offer coffee tours and tasting and an on-site birdwatching tour. Read our review of Finca Rosa Blanca Resort here.
Country Inn and Suites San Jose Airport: More of an airport hotel and they offer a free airport shuttle. They have two outdoor pools, gym, restaurant and business center.
Costa Rica Marriott Hotel Hacienda Belen: A very nice Marriott hotel with a Hacienda style property. Has a gold course, two outdoor swimming pools, spa and restaurant.
DoubleTree by Hilton Cariari San Jose: Although says San Jose, it's in Heredia and very close to the airport, offering free airport shuttles. Has outdoor pool, gym, business center, bar and restaurant.
Terrazas de Golf Boutique Hotel: Another good airport hotel option with a family friendly atmosphere and access to Cariari Golf Course. Rooms start around $135 USD.
Airbnbs (Condo Complexes) We Like in Heredia
Heredia Lindo Apartamento Torre and Altos de Palermo. Both gated communities with parking and facilities. Close to the airport. You can find both listings on Airbnb.
What to Do in Heredia
There are several fun things to do right in the city and many day trips you can take.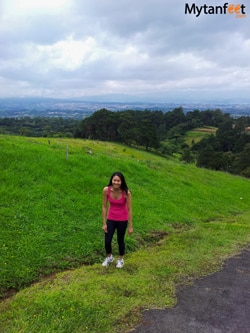 Britt Coffee Tour and Chocolate Tasting
Coffee lovers must take a coffee tour while in Costa Rica, especially in the Central Valley which grows some of the best coffee in Costa Rica. The Britt Coffee Tour is right in town and is a fun and entertaining way to learn about the way Costa Rica grows and processes their coffee.
There are many coffee tours in this area so you don't have to go to Britt. Other really good ones are Espiritu Santo, Doka and Hacienda Alsacia.
Bosque de la Hoja
Great place for families and to mingle with locals. It's a park with playgrounds, trails, soccer fields and a gym.
Shopping at Oxigeno Human Playground or Mall Paseo de las Flores
If you want to do some shopping, check out these two malls. Oxigeno Human Playground is newer and is geared more for families as they have playgrounds and a very nice rooftop with a view. Paseo de las Flores is your typical mall.
Monte de La Cruz Viewpoint
If you rented a car, go up to Monte de la Cruz viewpoint to watch the sunset and city lights after dusk. Also has some trails and picnic tables. Another nice place to people watch with the family.
Toucan Rescue Ranch
Tour or volunteer at the Toucan Rescue Ranch, an animal rescue and sanctuary up in the hills of Heredia. You can even stay overnight on their property for an exclusive experience! One of the best animal rescue centers in Costa Rica.
Museo de Cultura Popular
Small but interesting museum to visit to see the old Costa Rican way of living with adobe structures and artifacts. Free!
Mercado de Heredia
The main local market in Heredia. Fun place to explore with lots of stalls.
El Fortin
This is Heredia's National Monument and most well known landmarks. It's a fort tower made of brick in 1876. It's not that big and you can't go inside but it's an interesting structure. We like to get a copo (Costa Rican shaved ice treat) and sit in the town square to people watch outside the fort.
Also, if you happen to be in Heredia around holidays like New Years or in February, they usually have the mask parades going on, a local tradition. Very interesting to see!
Heredia Day Trips
Barva Volcano
This dormant volcano in Heredia inside the Braulio Carrillo National Park offers hiking lovers an excellent reward for its challenging hike up. You can walk around the base of the volcano or go up the lagoon trail for views of the valley, city and volcano. It's best to have a 4×4 and go in dry season however as the road is not a well paved, easy drive. In rainy season, landslides and rockfall may occur. Best times to go are January through April.
Cerro Dantas Wildlife Refuge
This private wildlife refuge is only 20 kilometers (12 miles) from Heredia downtown up in the mountains inside Brauilio Carillo National Park. It has 57 hectares (140 acres) of hiking trails that lead to viewpoints, waterfalls and through the cloud forest. Visitors can go on a self guided walk or a guided walk through the refuge. Another great one for hikers.
Cerro Dantas and Barva Volcano are excellent places for hiking lovers who are looking for off the beaten path, less touristic places.
La Paz Waterfall Gardens Nature Park
Just a 1 hour drive from Heredia is the popular La Paz Waterfall Gardens Nature Park. This nature park has an animal sanctuary with bird, jaguar, monkey, sloth and butterfly sections and 5 stunning waterfalls. The well maintained trails take you up close to the waterfalls, to beautiful viewpoints and through the cloud forest.
You can spend a whole day at the park slowly taking in all the nature and beauty. They also have a restaurant with a buffet lunch.
This is one of the best things to do in Costa Rica for families and best day trips from San Jose.
You can drive (paved road) or book a day tour. If you go on your own, make sure to get our La Paz Waterfall Gardens discount!
Poas Volcano National Park
Combine your trip to La Paz Waterfall Gardens with a stop at Poas Volcano National Park, just a 30 minute drive away (1 hour from Heredia downtown). This national park is home to Poas Volcano, one of the biggest volcano craters in the world. It is very active so guests can only stay in the park for a total of 40 minutes: 10 to walk to the observation point, 20 to stay, 10 to walk back. It's up in the cloud forest so bring a jacket and purchase your park ticket beforehand as they don't sell tickets at the door.
Planning tip: You can do La Paz, Poas Volcano and a coffee tour all in the same day. Doka Coffee Estate is the closest to Poas and Doka but you can also go to Britt as it's in downtown Heredia. If you have a rental car, you can make reservations and drive on your own or book a tour if you don't have a car (get our San Jose day tours discount here).
Heredia Restaurants
These are some of our recommended restaurants in Heredia.
Artisan Brew Pub: A fun local spot inside Mall Paseo de Las Flores. Has a great selection of Costa Rican craft beer and has a fun bar atmosphere.
C Lounge – Cariari: A fun sports bar close to the Doubletree Hilton and Country Inn and Suites. Have a drink, watch sports games, kind of like an American Pub with American bar food and drinks.
La Casona de mi Tierra: Great place for traditional Costa Rican food with big portions and nice service. The restaurant building is over 100 years old which is a nice historical touch.
KATTA Pub: Nice place for craft beer, wings, nachos and that kind of food. Right across the street from Torres de Heredia (condo complex).
Kawah Cafe: Coffee shop with delicious coffee and good breakfast.
Restaurante Leno y Carbon San Francisco: Local steakhouse with meat dishes, fries, salad, drinks. Across from Oxigeno Shopping Center. Good option if you don't want to eat in the mall.
Comida Callejera XL: Fun place with "gourmet" fast food dishes like burgers, meat and fish and chips. Nice family friendly spot with cool anime and animation wall murals.
Taqueria Fatima: They make huge Costa Rican tacos and I highly recommend to try it if you ever wanted to see what a Costa Rican taco is like. It's nothing like a Mexican taco.
Las Delicias del Mariz JR: Nice traditional restaurant with local food and flair. Highly recommend the olla de carne (beef soup) and fish/chicken casado. Great for food photos since they serve it on a banana leaf.
Ideas for Visiting Heredia, Costa Rica
Although most people pass through the city as soon as they land at San Jose International Airport, there are actually many things to do and see in the GAM. If you decide to stay a few nights in Heredia, you'll be able to experience the culture, local life and traditions very easily. And as you can see, there's a ton of nature and outdoor activities to do.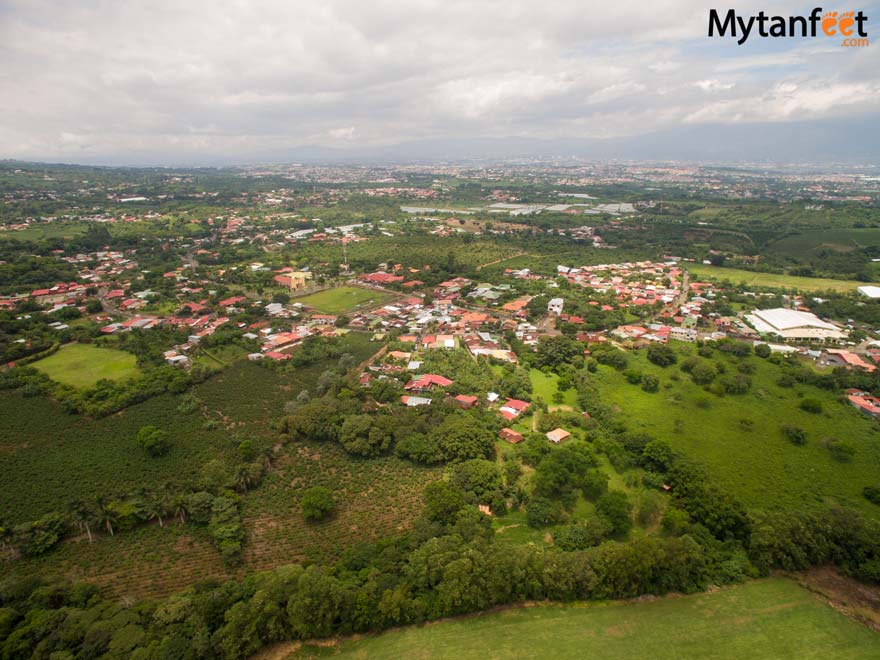 If you decide to stay a few nights in Heredia, we recommend to do so before you fly out since we know many tourists want to get to the beach or jungle ASAP. It's a nice way to end your trip.
Another way to visit Heredia is to do a Spanish school with Intercultura as they have a campus in Heredia. Great way to learn Spanish while exploring the country as they also have a campus in Samara, a fun beach town in Guanacaste.
Read more Costa Rica city guides below!
Cartago, Costa Rica: Another city in the GAM, it was the previous capital city of Costa Rica and is home to many natural attractions
Turrialba, Costa Rica: The small farming town, gateway to the Caribbean
Puerto Viejo, Costa Rica: Popular beach town and tourism hub in the South Caribbean
Liberia, Costa Rica: Capital city of the Guanacaste province
San Vito, Costa Rica: A mountain town in the South, off the beaten path destination for nature and wildlife
Costa Rica Vacation Checklist