Although there are beautiful beaches everywhere in Costa Rica, there is one particularly beach in Guanacaste that is extremely popular, Playa San Juanillo. This dreamy beach has white sand, clear turquoise water and an amazing view point. Additionally, it's a less touristic beach in a very small town in a rural area so it's perfect to see a more local area of Guanacaste.
So if you're a beach lover who isn't quite into beach bumming with large crowds and want to experience a Costa Rica less populated, here is one beach you have to put on your list, Playa San Juanillo. It's one of our favorite local beaches!
Our last visit to this beach was April 2021.
Location
San Juanillo beach is in the Guanacaste province, a 2 hour drive from Liberia Airport. It is 97 kilometers (61 miles) from Liberia Airport.
Getting to San Juanillo Beach
It took us 1.5 hours driving from Tamarindo. We recommend to use Waze as your GPS to get to San Juanillo beach. The best route is through Route 152 and Route 160 from Tamarindo. Route 160 is not a fully paved road.
4×4 required?
It is highly recommended to have a high car to get to San Juanillo beach. There is a long part of Route 160 where it is unpaved, hilly and has big pot holes. It will be much more comfortable and safe in a high car or 4wd/4×4.
It will be necessary to have one in the rainy season (May – November) as this road gets muddier with bigger pot holes.
San Juanillo Beach Parking
There isn't really a designated parking lot. You can park anywhere at the beach.
However, because the parking area is in the sand, be careful. We had to pull someone out who got stuck and the sand wasn't even that deep. There is no parking fee, just make sure not to leave valuables visible in your car and always roll up windows and lock your doors.
The town has also made a parking lot very close to the beach when there are too many cars on the beach. You can park there and then walk down to the beach. There is a short trail on the right hand side that says (peatones like pedestrian way) to the beach.
Facilities
There are now some public bathrooms and showers in 2021. They were OK when we visited, not the cleanest but we've definitely seen worse.
The was a little stand for snacks and food when we went but nobody was there manning it. We went on a weekday morning so maybe on the weekends, somebody will be there offering food and drinks.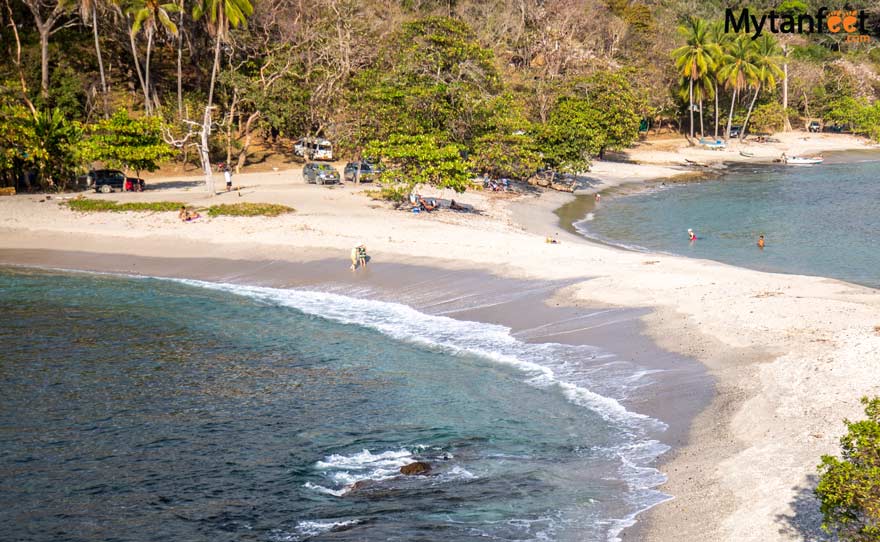 If you plan to spend a few hours at this beach, we recommend to bring your own food and drinks.
Playa San Juanillo Beach
You'll drive through a very small town and end up at what looks like the road to nowhere. But instead, you end up at a gorgeous beach! This beach isn't huge but it's absolutely lovely. And the reason for that is that there are actually two beaches that come together as one!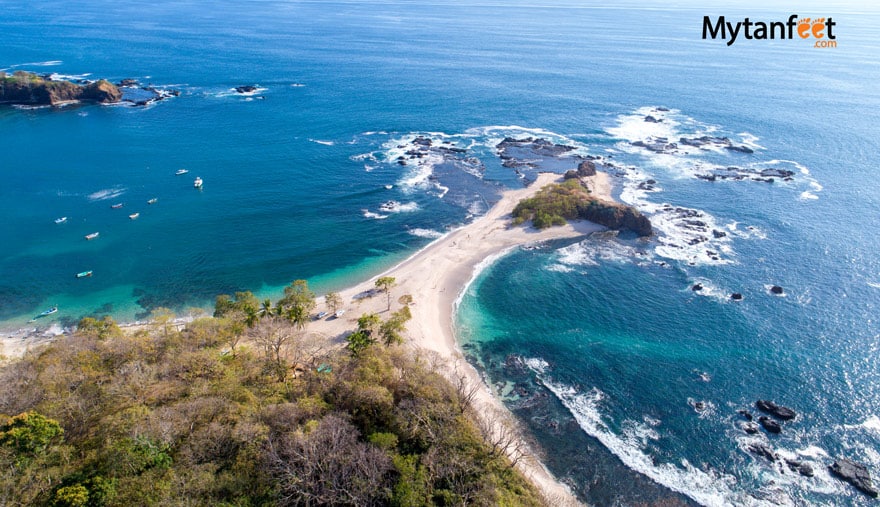 As you can see, there are some boats on the left side. San Juanillo is a tiny, sleepy fishing village and the locals are determined to keep it that way.
You'll see graffiti saying "No Marina" and signs about keeping the beach clean. The locals know that they have a special gem and want to make sure it stays as pristine and pure as possible.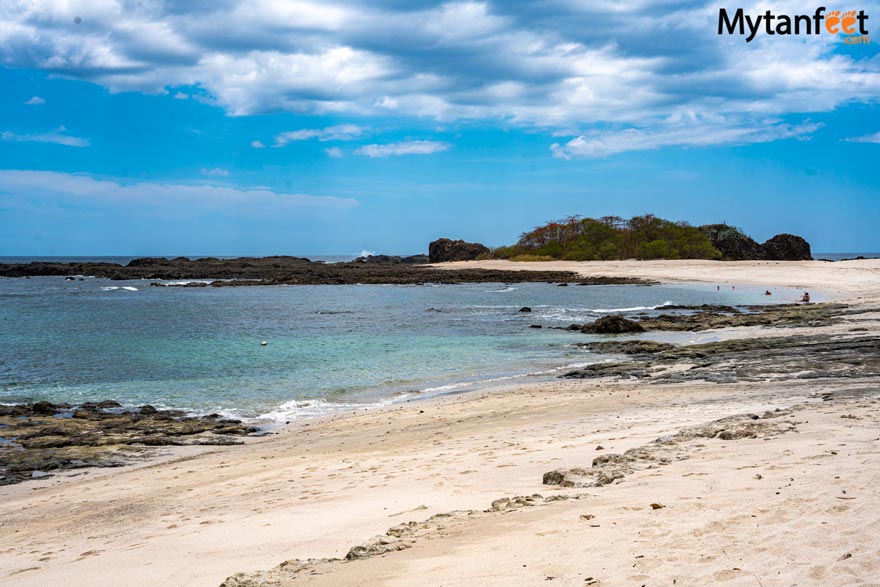 However, this town and beach has grown immensely in popularity the last few years. Many Costa Ricans from the cities like to visit this beach and it's gotten more famous among tourists as well.
During our latest visit (April 2021), we went on a Tuesday morning and there were a good handful of tourists there. When we first started coming to this beach in 2016, it was always empty with absolutely nothing so it has grown a bit.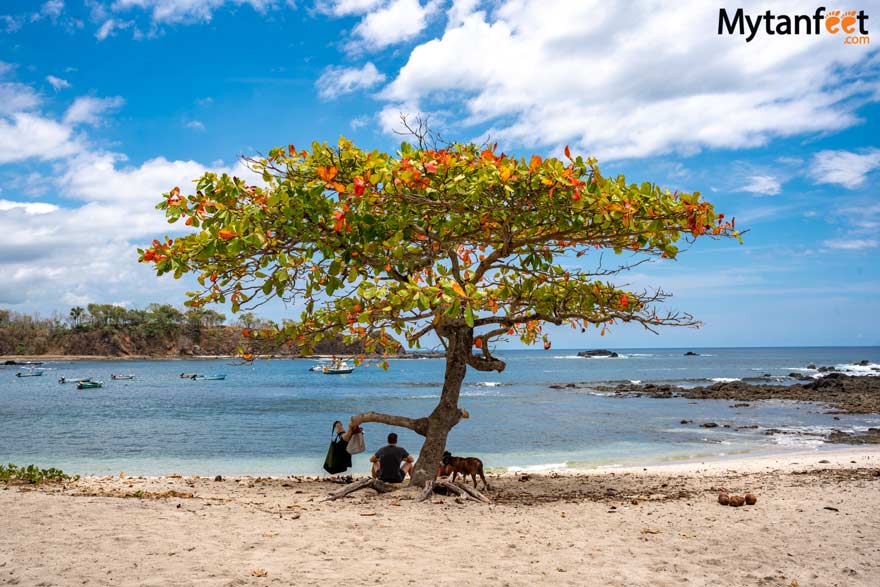 Swimmable? Snorkeling?
The waves are not too strong so you can swim and the water is crystal clear. However, it is very rocky so be careful when swimming. Keep in mind that because of the rocks, you can't really swim in low tide. High tide is the best time.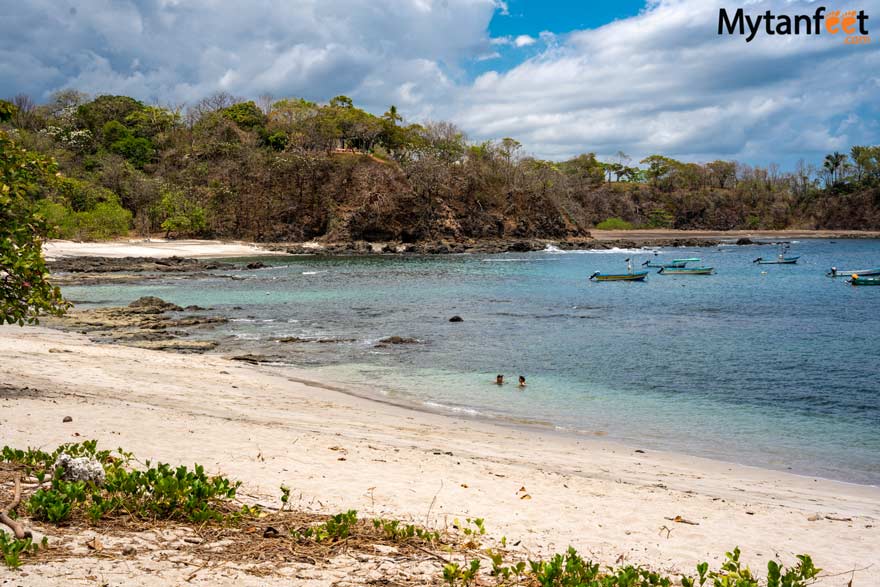 We have seen some people snorkel on the left side where the rocks are.
Mirador (Viewpoint)
There is a little hill at the end of where the beaches meet and there is a short path to walk up for stunning view. On Google Maps, it is called "Mirador Playa San Juanillo." There isn't a sign or clear cut path but it's very short, just follow the clearing through the trees up the small hill.
From the parking lot, it's about a 10 minute walk to the top and most of it is on the beach. You do need to walk on some rocks and tree roots on the hill but it is not difficult.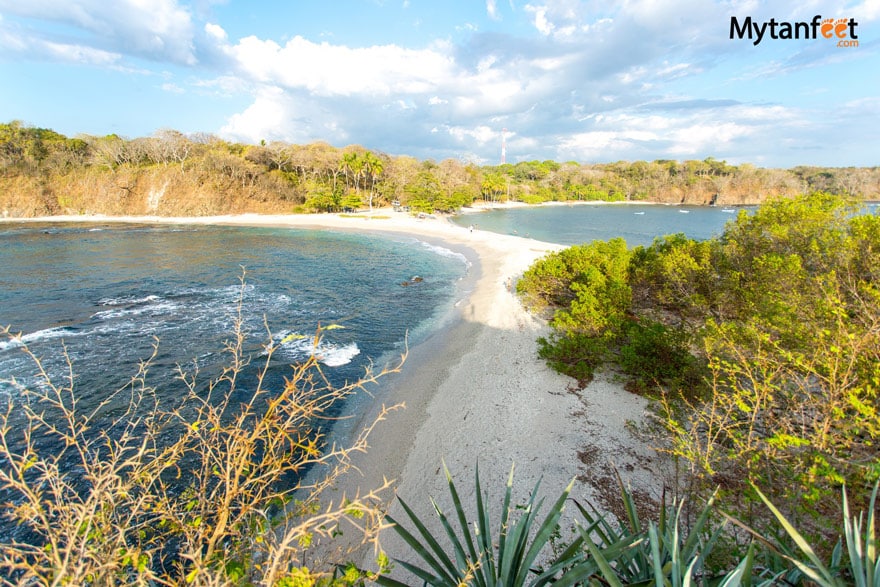 For the best view of the two beaches, you must go in high tide. The first time we visited this beach was in low tide and though it was still beautiful, it's way more incredible at high tide when you can see the water of both beaches coming up. Otherwise, all you see are rocks.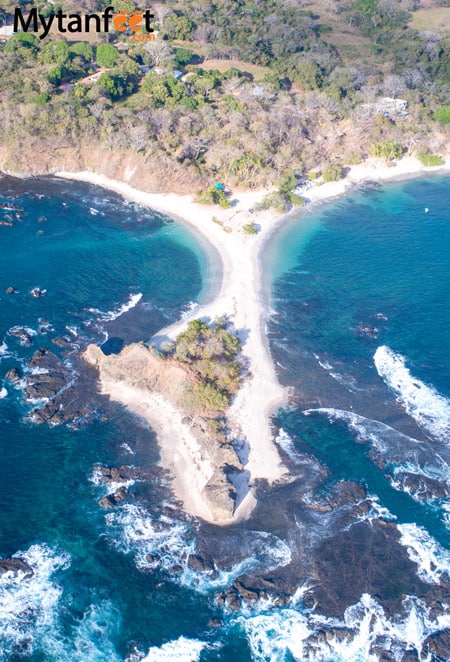 As you can see, it looks like there's nobody on the beach! And when it came sunset time, there was only one other family and one couple enjoying it with us.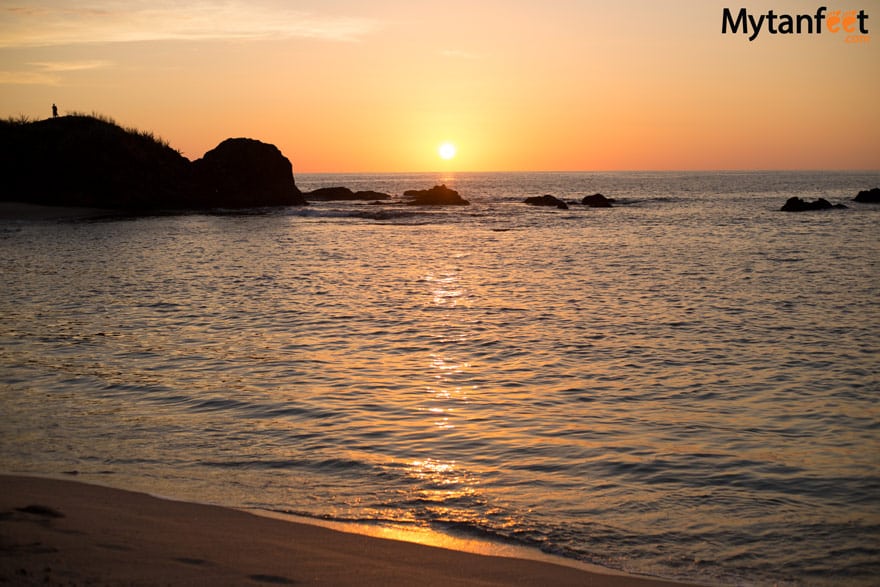 Popular Beach During Holidays
This beach is quite popular with locals so if you visit during holidays like Christmas, New Years or Easter, it is really crowded. We visited once in March during Holy Week and it was so packed, we had to leave and come back later to find parking!
Locals like to camp on this beach and blast their reggaeton so it may not be as tranquil if you visit during those times.
Videos
We have made a couple videos of this beach for you to enjoy.
We also have an aerial video for you to enjoy!
Things to Know About Visiting Playa San Juanillo
Please pick up your garbage, there aren't too many trash cans around.
Be careful with your valuables, there aren't any parking guards so don't leave your stuff unattended.
It's a small beach. Camping not recommended but you can. Locals like to.
We saw a lot more signs for B&B's and restaurants in town.
High tide is best to visit to see the white sand shores of both beaches.
How to visit: We visited San Juanillo beach during the day and then visited the Ostional Wildlife Refuge to see turtles after sunset. We visited from Tamarindo so it was a full day trip. If you're staying in Ostional or Nosara, you can make a day trip to Playa San Juanillo since it's on the way.
Read about other beaches in Costa Rica!
Esterillos Oeste: Small surfing beach town south of Jaco
Barrigona: Beautiful beach by Samara
Rajada: Gorgeous, white sand beach up in La Cruz/Salinas Bay.
Coyote: Dark sand beach in northern Nicoya Peninsula
Pelada: White sand beach in Nosara
Marbella: Surfing beach north of Nosara
Junquillal: Surfing beach in Southern Guanacaste