Although there are beautiful beaches everywhere in Costa Rica, there is one particularly beach in Guanacaste that is extremely popular, Playa San Juanillo. This dreamy beach has white sand, clear turquoise water and an amazing view point. Additionally, it's a less touristic beach in a very small town in a rural area so it's perfect to see a more local area of Guanacaste.
So if you're a beach lover who isn't quite into beach bumming with large crowds and want to experience a Costa Rica less populated, here is one beach you have to put on your list, Playa San Juanillo. It's a stunning beach that is unlike any other in Costa Rica!
Map

Playa San Juanillo map
San Juanillo beach is in the Guanacaste province, a 2 hour drive from Liberia Airport. It is 97 kilometers (61 miles) from Liberia Airport.
Getting to San Juanillo Beach
We left from our place near Tamarindo and it took about 1.5 hours driving. There are 2 routes you can go. One has more paved road than the other but the paved road route is longer. The difference is not too great, but it is nicer to drive on paved roads!
The paved road goes through 27 de Abril and the other goes past Hacienda Pinilla. If you're coming from Tamarindo like us, we went by way of Hacienda Pinilla so turn right off the main road towards Avellanas. You'll continue all the way down past Negra and turn left towards Ostional. From this turn, it's a very bumpy road and continue on this road to Playa Lagarto and finally Playa San Juanillo.
4×4 required?
It is recommended to have a high car to get to San Juanillo beach. The unpaved road from Hacienda Pinilla is in better shape but it's still not paved and gets big potholes in rainy season. It will be much more comfortable and safe in a high car or 4wd/4×4, especially in rainy season.
Parking
There isn't really a designated parking lot. You can park anywhere at the beach. However, because the parking area is in the sand, so be careful. We had to pull someone out who got stuck and the sand wasn't even that deep. One reason to have a 4×4/4wd!
Facilities
There are no public bathrooms, showers or washrooms. A couple times we visited, there was a local selling cold coconut water at the beach. Since the beach is in the small town of San Juanillo, there are a couple of local restaurants in town.
Playa San Juanillo Beach
You'll drive through a very small town and end up at what looks like the road to nowhere. But instead, you end up at a gorgeous beach!
This beach isn't huge but it's absolutely lovely. And the reason for that is that there are actually two beaches that come together as one!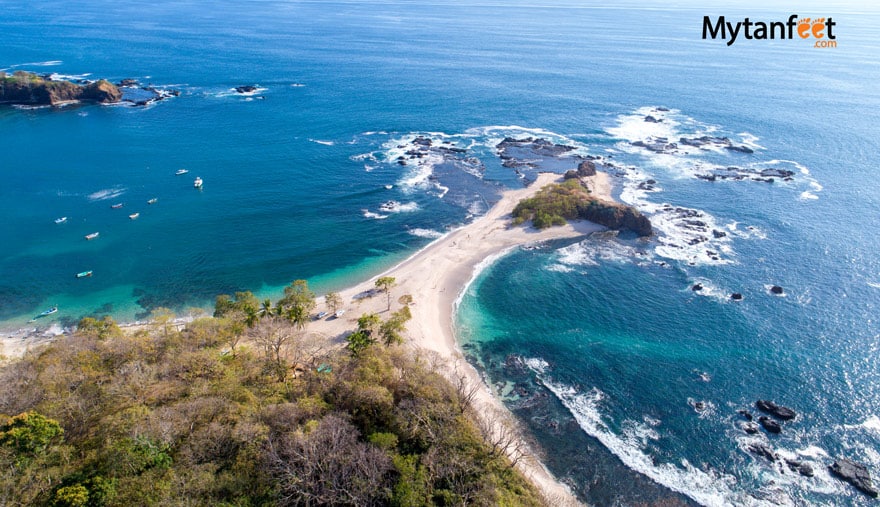 As you can see, there are some boats on the left side. San Juanillo is a tiny, sleepy fishing village and the locals are determined to keep it that way. You'll see graffiti saying "No Marina" and signs about keeping the beach clean. The locals know that they have a special gem and want to make sure it stays as pristine and pure as possible.
There aren't any facilities like bathrooms or changing rooms but there are plenty of trees to hang up a hammock or have a picnic under. We saw a good mix of locals and foreigners when we visited and there were barely 10 people!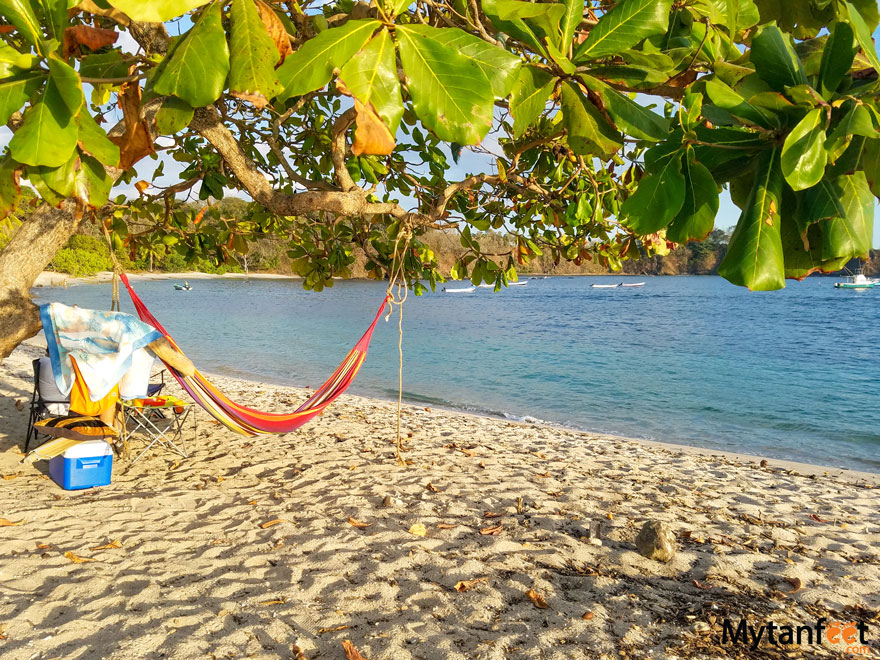 Swimmable?
The waves are not too strong so you can swim and the water is crystal clear. It is very rocky so be careful when swimming. There is a little hill at the end of where the beaches meet and there is a short path to walk up for stunning view.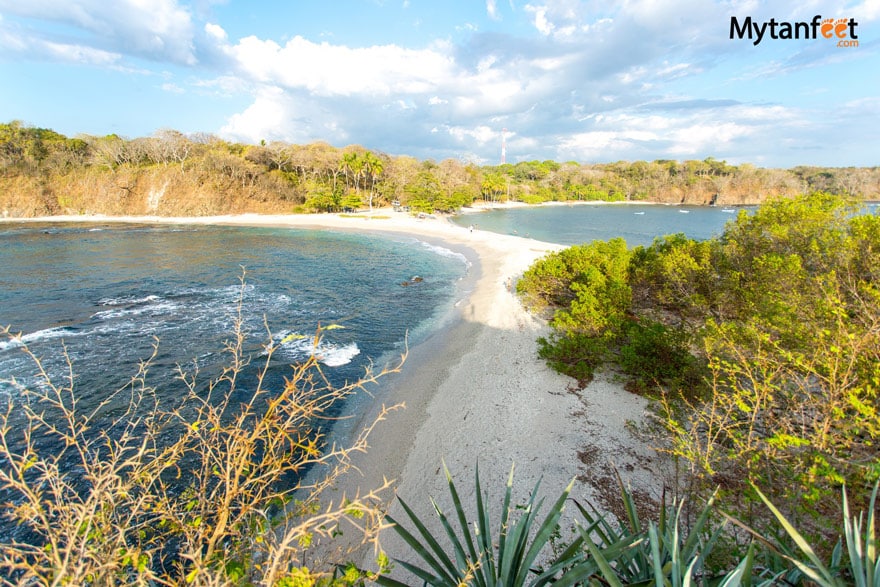 For the best view of the two beaches, you must go in high tide. The first time we visited this beach was in low tide and though it was still beautiful, it's way more incredible at high tide when you can see the water of both beaches coming up. Otherwise, all you see are rocks.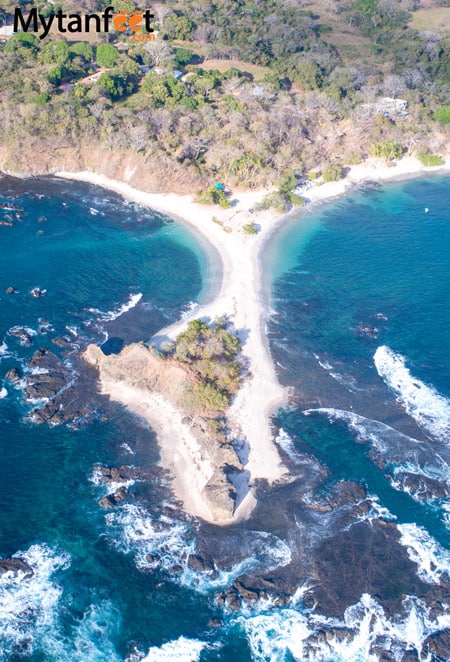 As you can see, it looks like there's nobody on the beach! And when it came sunset time, there was only one other family and one couple enjoying it with us.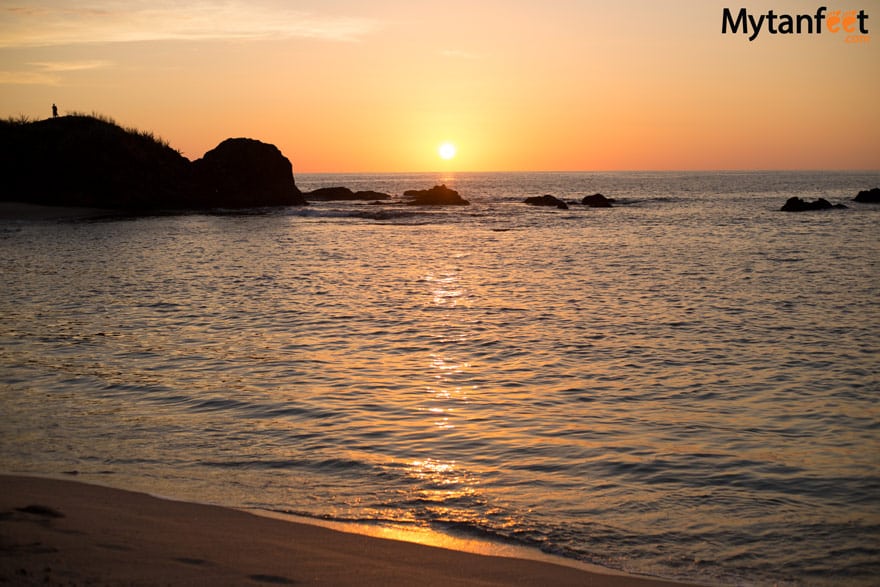 Videos
We also have an aerial video for you to enjoy!
Things to Know About Visiting Playa San Juanillo
No bathrooms or changing rooms.
Although normally fairly empty, it gets extremely crowded during Christmas, New Years and Easter. This is because the locals have vacation and many of them camp at this beach.
Please pick up your garbage, there aren't too many trash cans around.
Be careful with your valuables, there aren't any parking guards so don't leave your stuff in your car.
It's a small beach. Camping not recommended but you can.
There are a couple of local restaurants in town.
It's not super far from Ostional so you can visit both. Or if you're staying in Ostional, you can make a day trip to Playa San Juanillo
High tide is best to visit to see the white sand shores of both beaches.
Read about other beaches in Costa Rica!
Esterillos Oeste: Small surfing beach town south of Jaco
Barrigona: Beautiful beach by Samara
Rajada: Gorgeous, white sand beach up in La Cruz/Salinas Bay.
Coyote: Dark sand beach in northern Nicoya Peninsula
Pelada: White sand beach in Nosara
Marbella: Surfing beach north of Nosara
Junquillal: Surfing beach in Southern Guanacaste