Arguably the most visited waterfall in the whole country, La Fortuna waterfall is a must see in Costa Rica. Dropping 75 meters (246 feet) into a bright blue pool, this waterfall paints a perfect postcard of the Costa Rican jungle.
As it's just 6 km (~4 miles) outside of the town of La Fortuna, the waterfall makes for a great half day trip. This guide will help you plan your visit.
Location
La Fortuna waterfall map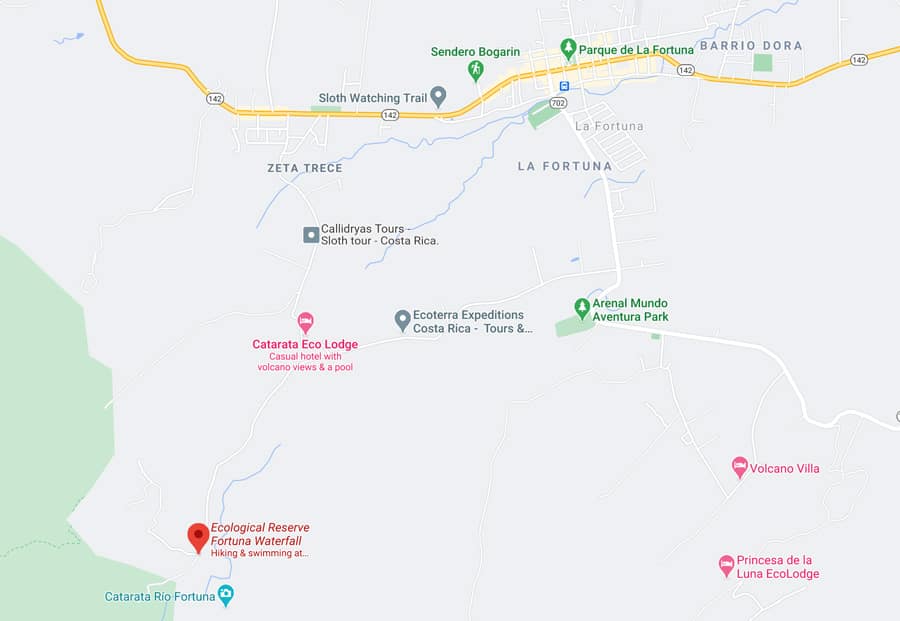 How to Get to La Fortuna Waterfall
La Fortuna waterfall park is about a 10 minute drive outside downtown, about 6 kilometers (3.7 miles). You can drive or take a red taxi to waterfall park. A taxi one way from downtown costs around $15 USD. To drive there, the road is completely paved, you do not need a 4×4/4wd to the waterfall park. Additionally, there is Uber in La Fortuna and you can check the app to call one.
Take the road south from town across a little bridge. Drive for about 4 kilometers and then turn right (you will see a big sign for the waterfall). Continue on this road for about 5 kilometers (3 miles) to reach the parking lot. You can find La Fortuna Waterfall on Google Maps and Waze.
There is no public bus directly to the waterfall park.
Entrance Fee and Hours
The Fortuna waterfall entrance fee is $18 USD for adult foreigners, $5 USD for children. Each guest needs to purchase a ticket to the waterfall park.
The Fortuna waterfall hours of operation are 7 AM to 5:00 PM, open every day. They have a big parking lot and there are bathrooms, a small cafe, garden trails and souvenir store at the entrance. The latest you can enter the park is 4 PM.
How Long Does it Take to Do La Fortuna Waterfall?
The trek down to the waterfall takes around 15 minutes from the main lookout point. There are around 400 steps down to the waterfall on a well built platform. You can spend about 45 minutes to an hour at the waterfall to swim, take photos and relax. The walk back up may take longer as you have to climb all the stairs to the top.
We would say that it takes around 2 hours to do La Fortuna waterfall.
La Fortuna Waterfall Steps
After you pay your ticket at the entrance office, walk across the bridge to get to the trail head. You'll see a gift shop and bathrooms and beyond that is an observation platform with a great view of the waterfall.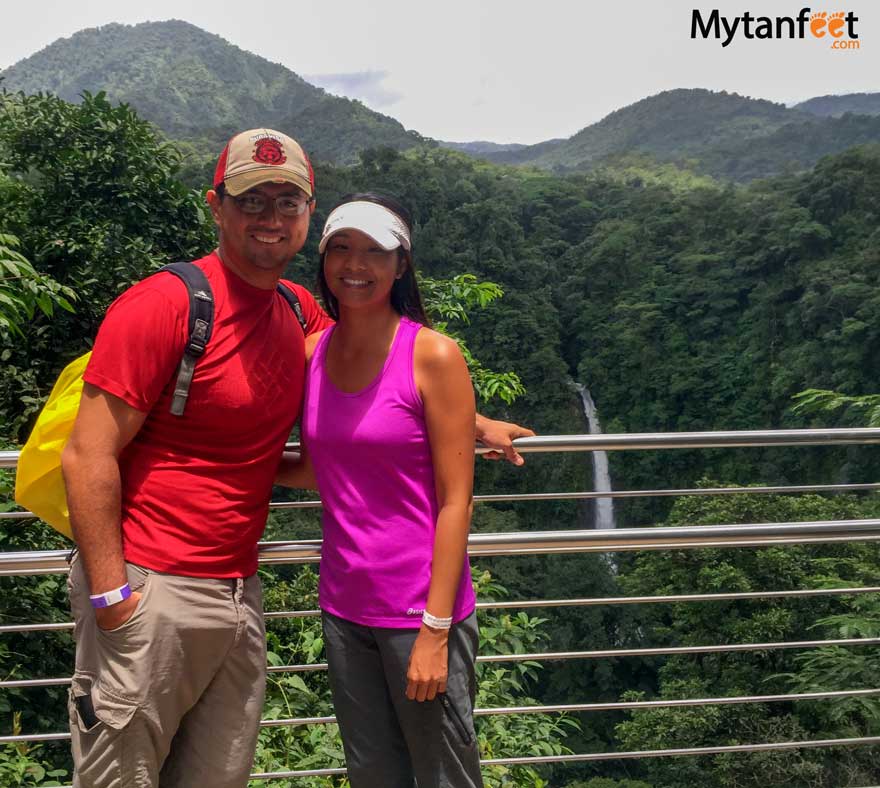 Make sure to stop by there first to take some pictures before embarking on the epic walk down.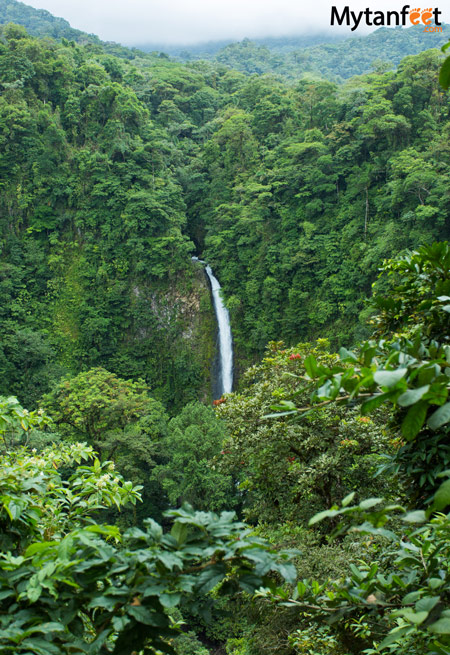 The beginning of the trail is over to the left so when you're ready, start going down the many steps. They have built a brand new platform so it's much easier and more comfortable.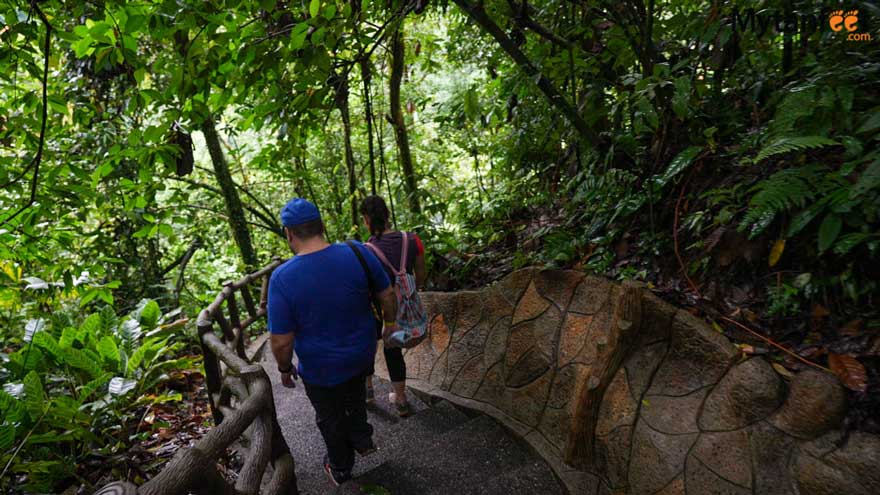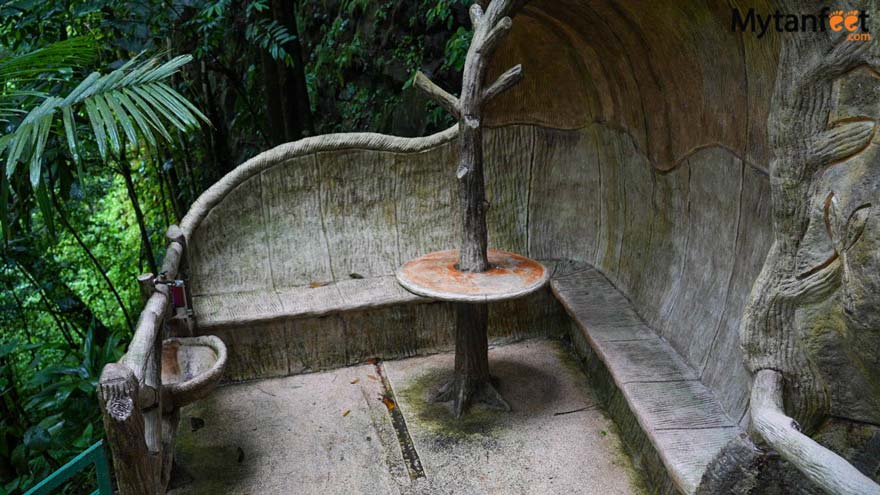 The new platform is very nice with handrails. When we first visited in 2013, it was all dirt! Now there are bars and benches to make it easier to walk.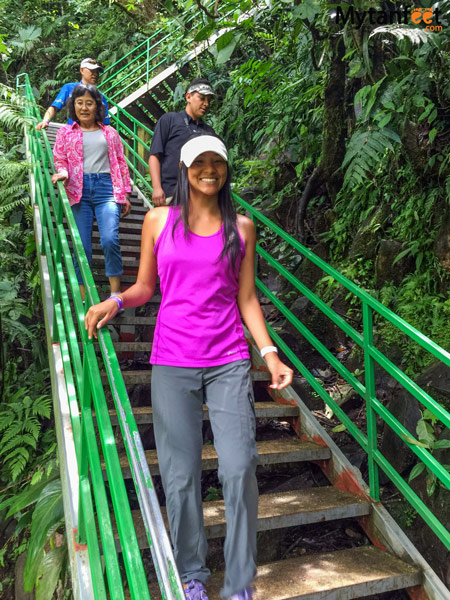 After about 10 minutes, you're going to start wondering exactly how many steps down to La Fortuna waterfall there are. But trust me, it'll be worth it when you get there!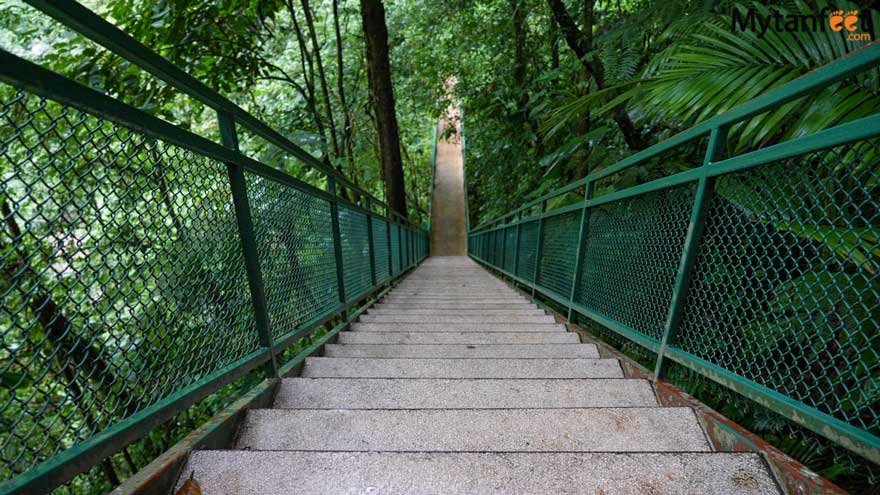 Walk across another bridge to get to the waterfall base (don't forget to look right to see another small waterfall). Hear the roaring sound of the water and see the white ribbon cascading down surrounded by a deep green rainforest.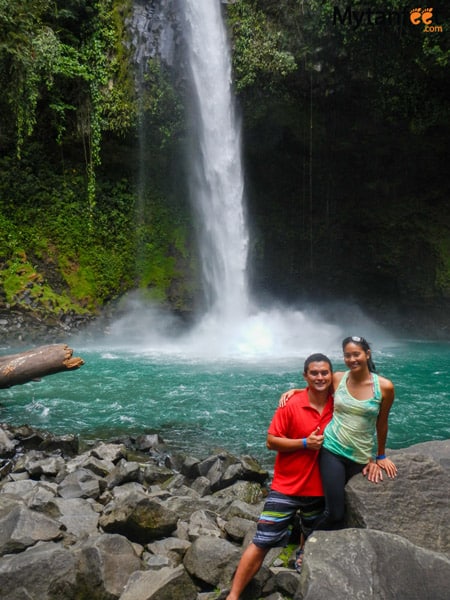 As soon as you reach the bottom, you can enjoy the beautiful tropical rainforest nature sights and sounds.
Can you swim in La Fortuna waterfall?
Yes, you can swim in the La Fortuna waterfall. However, the water is cold! And the current is super strong where the water falls into the pool, so make sure to stay by the rocks (like the people in the photo). Do not swim further out into the pool closer to the cascade.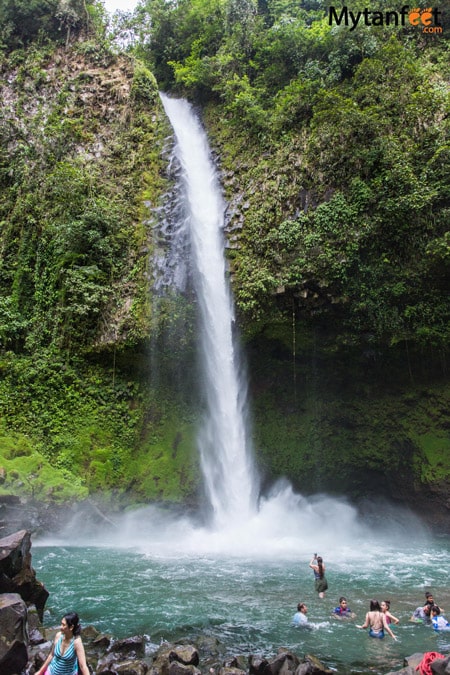 Some times of the year, like September, October or November when it has been raining very hard, the waterfall can be a brown color. The current may also be too strong to swim.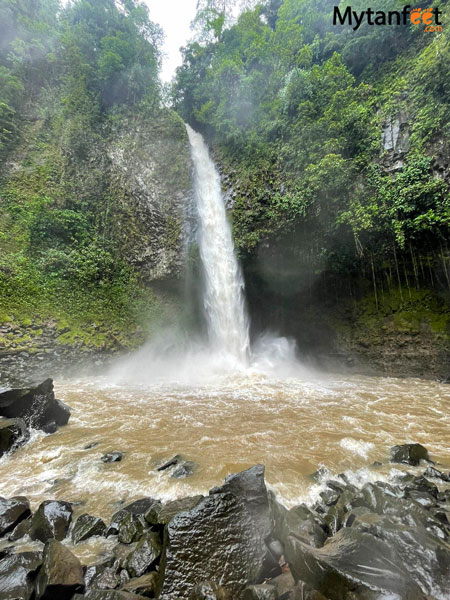 Down to the left, there is a lovely calm water pool area that is better for swimming and more suitable for little ones. If the current is too strong (when it has been raining a lot), they will close this as it's not safe to swim.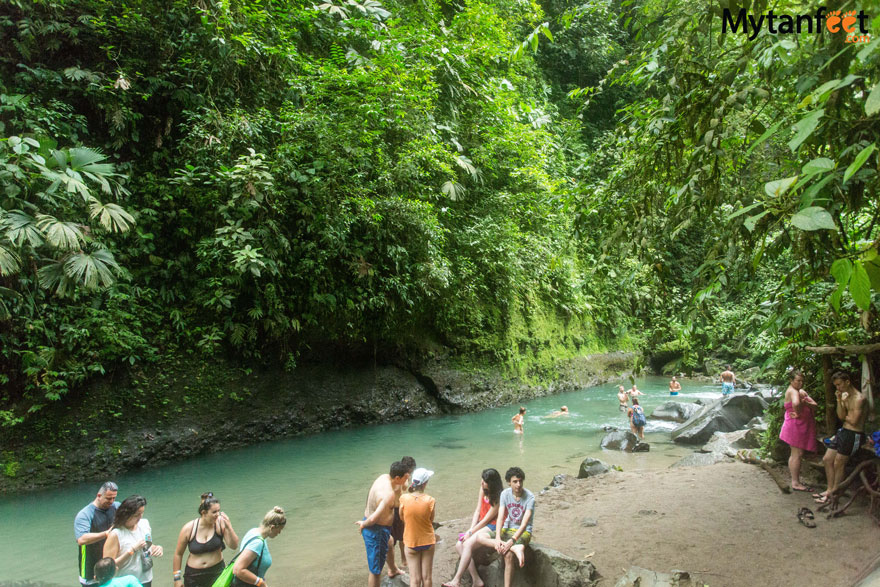 When you're all done and ready to go, be prepared to walk around 480 steps up!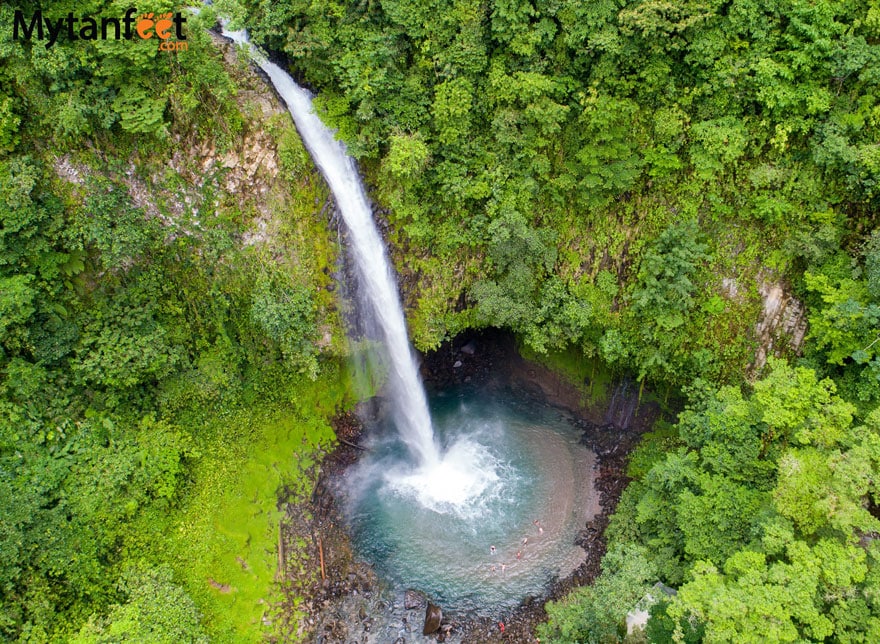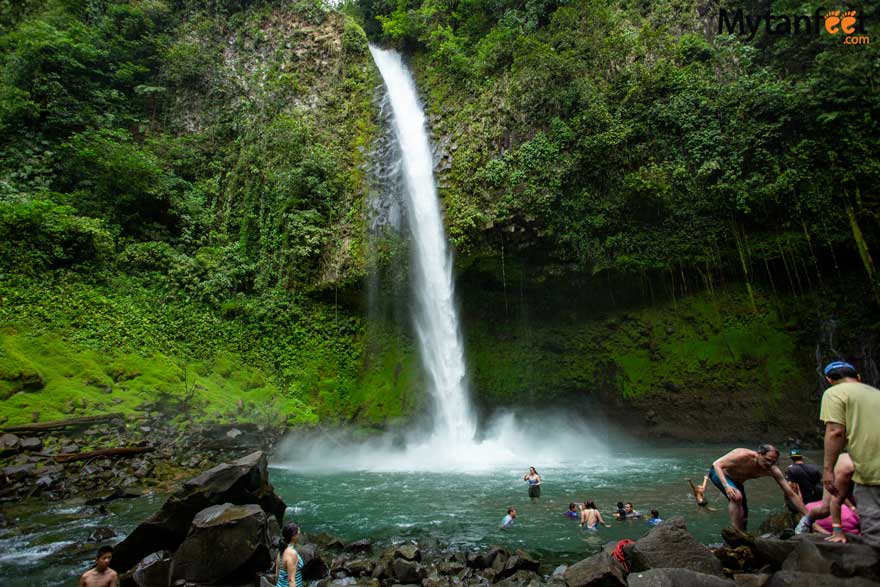 Personal tip: This waterfall does get busy on weekends and holidays. For less people, go on a weekday morning. And make sure to be very careful on the rocks as they may be slippery.
Tips for Visiting the Waterfall Park
There are facilities so you can bring a swimsuit/clothes to change into.
There is a restaurant and souvenir shop at the trail head. You can get lunch, snacks, drinks, food.
You can wear flip flops but it's better with good shoes for the steps. If you plan to swim or go in the water, wear water shoes or hiking sandals.
Make sure to bring drinking water (there are water dispensers in the gift shop too).
The climb back up can be tough, so take it slow. Be advised that this hike doesn't have a handicap trail. If you are not able to go up and down steep steps, then we do not advise going down. There is no alternate route up.
No strollers allowed on the steps.
If you don't want to pay $18 USD for the waterfall or want something more local, head to El Salto. This is a free swimming hole at the Fortuna river that has a rope swing. You don't see the waterfall but you can swim in the river.
Fortuna Waterfall Tours
You can perfectly visit the waterfall on your own. It's easy to get to and you can do the walk down by yourself. A guide is not necessary to visit the waterfall.
But if you don't have a car, you can take a tour. This waterfall is usually part of a combo tour such as the Arenal Hanging Bridges + La Fortuna Waterfall or the Arenal Combo Tour. Get 7% off this tour and other tours in the Arenal area!
We did the hanging bridges + waterfall tour which you can watch below. Skip to 2:26 to see the waterfall.
Here are some other ideas of things to do the same day you visit the waterfall:
Want to read about other waterfalls in Costa Rica? Check these out!
Nauyaca Waterfalls (Dominical area)
Catarata Llanos de Cortes (Guanacaste)
Catarata del Toro (Central Valley)
Poza Azul (Sarapiqui)
This post has Amazon affiliate links.