Turrialba, a little farming town in the Cartago province is a wonderful place for visitors get a sense of the small town Costa Rican charm. Mostly known for agriculture and textiles, it's popularity as a tourist destination is growing with authentic local experiences, outdoor adventure, historical landmarks and an active volcano. It's known as the gateway to the Caribbean and here is all you need to know to plan your visit to Turrialba, Costa Rica.
Turrialba City
The city is not very big when compared to cities like Heredia and San Jose. Since it's more of a small farming town, experiencing local life comes easily. Additionally, the University of Costa Rica is right in town so visitors can witness Costa Ricans going about their normal life of work and school.
It also has an interesting mix of city and farming cultures. Only a 15 minute drive the mountains outside Turrialba is one of the biggest farming communities in Costa Rica, famous for their invention of Turrialba cheese. Due to the importance of farming in the area, visitors can enjoy learning about the agriculture culture of Costa Rica.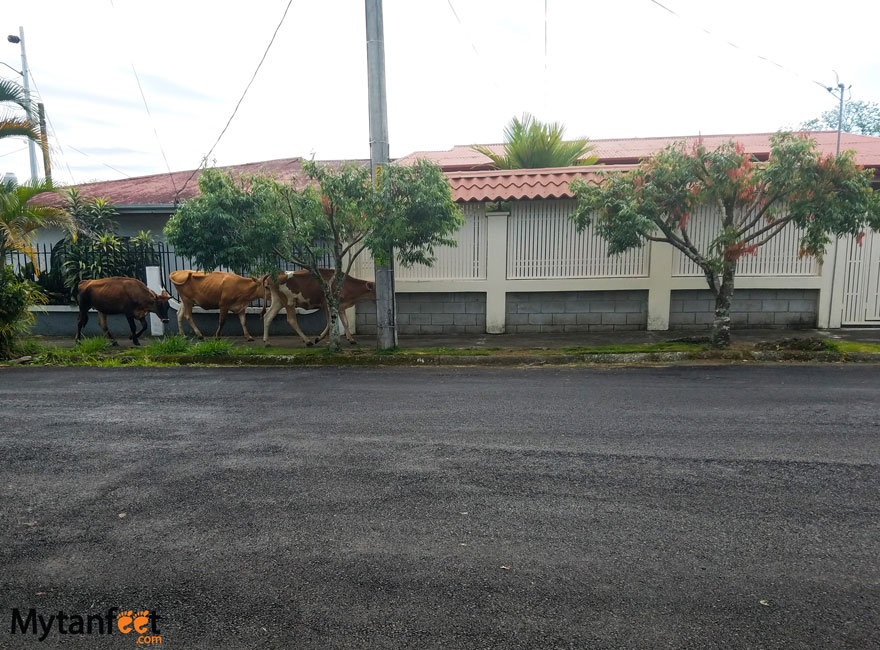 Like a typical city, Turrialba experiences traffic and has all the services like pharmacies, banks and restaurants. Most locals work either in farming, textiles or tourism. The Rawlings Major League Baseball factory played a huge part in the area's economy for many years but they unfortunately closed.
Luckily, tourism in Turrialba is growing significantly and more hotels, tour operators and companies establish themselves every year.
Turrialba Weather
Due to its location past the Caribbean slope, Turrialba experiences an interesting climate. In the city, it is hot with temperatures in the high 80s F (31 C) in dry season (mid December to beginning of May). However, the Caribbean experiences a bit of a different weather pattern so it can rain more and longer during the typical tropical rainy season (May to beginning of May). This is why this area is so great for farming and agriculture.
But if you go up in the mountains near Guayabo, Santa Cruz and Turrialba Volcano National Park, the weather is much cooler and fresher with temperatures in the 70s F (24 C) since it is higher in elevation.
Things to do in Turrialba
Turrialba Volcano National Park
The main attraction is Turrialba Volcano National Park. This volcano has made international headlines the past year with its many intense eruptions, spewing ash as far as Heredia and San Jose.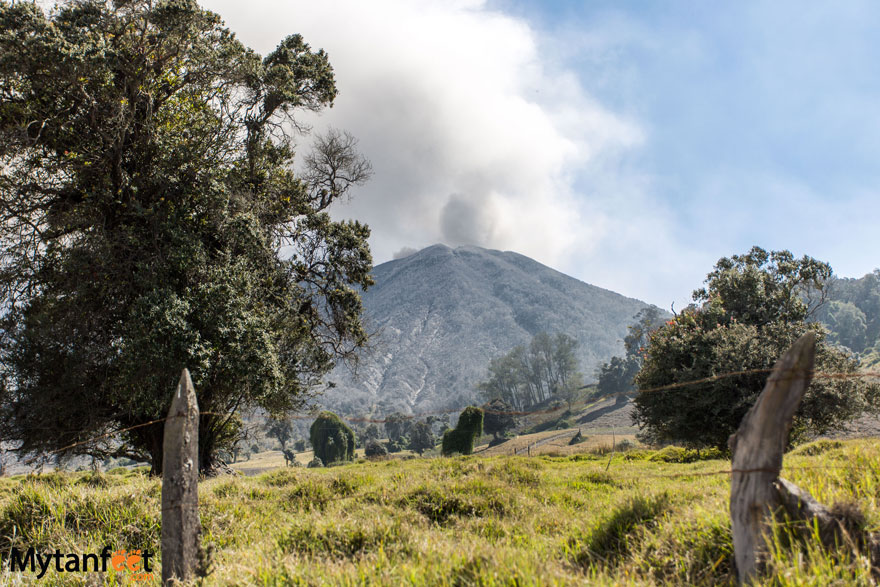 The national park is open with reservations only for visitors to hike to a viewpoint.
River Rafting and Kayaking
This area has several excellent rivers for white water rafting and kayaking. Rio Pacuare and the Rio Pejibaye are two of the great rivers where tourists can white water raft rapids up to Class 4 and 4+ or learn how to river kayak.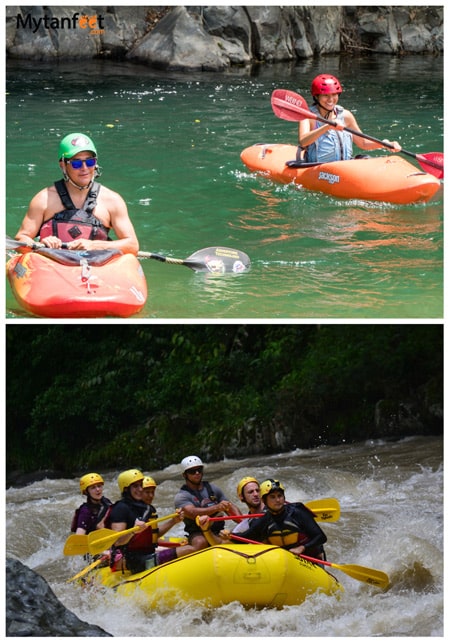 There are also river kayaking competitions and many locals are professional competitors or tour guides.
Turrialba Cheese
Turrialba cheese is one of the most iconic Costa Rican products. Although not as famous as cheese from Europe, it can be an interesting experience to learn how this simple white cheese is made.
We visited Finca La Florita, a small farm run by a mother-daughter team whose ancestors were one of the original people to make the cheese. It was super interesting to learn about the process and the eco-friendly steps they've taken to offset their carbon and methane production from having cows.
Guayabo Monument
One of the must see places in Turrialba is the Guayabo Monument, one of the most important historical sites in Costa Rica. There you can explore the remains of an ancient civilization, dating back to the pre-Columbian times.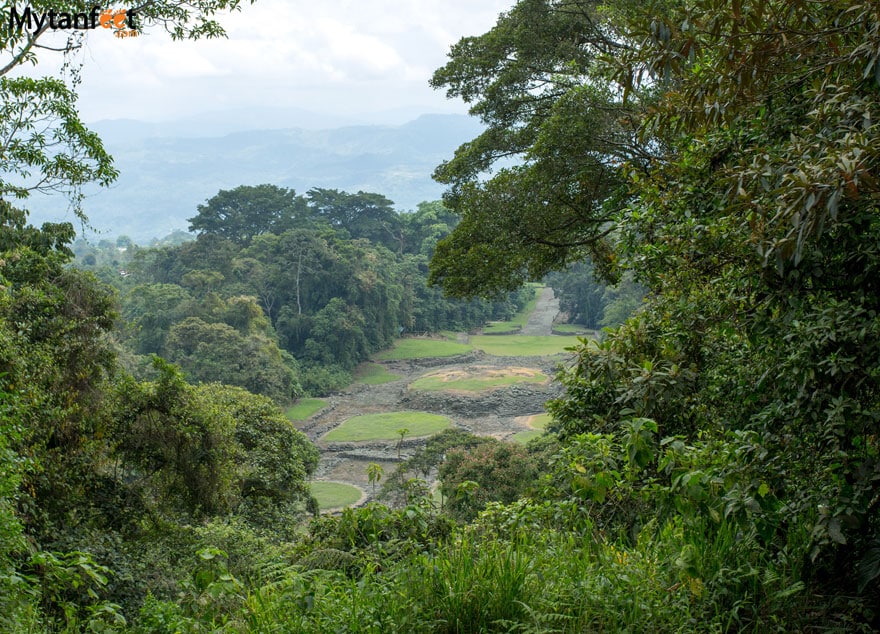 It is recommended to take a guided tour of the monument to learn more about the ruins and the ancient civilization that used to live there. We learned so much from our local guide that we would have never learned otherwise as there are not many signs or museum labels with information.
Biking
Turrialba is one of the stops of the Ruta de los Conquistadores, the toughest mountain bike race in the world. The surrounding mountains make for excellent biking, with people all over the world visiting for that specific reason. We saw several hardcore mountain bikers going up to the Turrialba Volcano National Park – that is a steep and very windy route!
Orosi Valley
Take a drive to the Orosi Valley which has some of the most beautiful landscapes in Costa Rica. Hike Tapanti National Park or relax in the hot springs at Hacienda Orosi.
You can read about other things to do in Turrialba in this post.
Turrialba Hotels
In Turrialba, you'll find more boutique inns and lodges to compliment the rural countryside of the area. We stayed at Guayabo Lodge, close to the national park, Santa Cruz town and Guayabo Monument.
Some other hotels are Casa Turire, Turrialtico Lodge and Hotel Villa Florencia. We also stayed at an Airbnb which was an apartment right in town. It was noisy but it had secure parking, good Wi-Fi and was in a convenient location.
Turrialba Restaurants
Here are the restaurants in Turrialba we liked.
Bar Treinta Y Tantos: This place has awesome drinks, a fun bar atmosphere and good bar food.
Betico Mata: Great place for gallos (Costa Rican snacks) and beef.
Soda La Hulera: Good place for Costa Rican food, popular with locals
How to Visit Turrialba
As Turrialba is still an under the radar town in Costa Rica, it's an excellent choice for visitors who don't want to go to super touristic destination. If you are visiting, we recommend staying a few nights so you can experience both the city, volcano and small towns in the area.
Here are some ideas of how to visit Turrialba.
San Jose – Turrialba – Puerto Viejo – La Fortuna
San Jose – Sarapiqui – Turrialba – Puerto Viejo
It is best to rent a car to visit Turrialba to easily get around as the attractions are spread out.
Read About Other Towns in Costa Rica to Visit
There are affiliate links in this post.