Liberia is the capital city of the Guanacaste province, one of the most popular tourist destinations in Costa Rica. Known locally as the Ciudad Blanca (White city) due to the white gravel of the surrounding soil, it's a city that tourists may not stay in but need to know about.
This is because the Liberia International (Guanacaste) Airport is only a 15 minute drive from downtown Liberia. Additionally, many major routes to and from Guanacaste pass through Liberia. For this reason, it is a common reference point. It's also very close to popular tourist destinations, national parks and beaches such as Nuevo Arenal, Rincon de la Vieja National Park, Tenorio Volcano National Park – Rio Celeste, Gulf of Papagayo, Playas del Coco, Tamarindo, Samara, Conchal, La Cruz and Nosara.
Read more about Liberia below. (Also, Liberia is pronounced Lee-bear-ee-ah in Spanish).
Location
Liberia is in the Guanacaste province, 12.4 km (7.7 miles) from the Daniel Oduber Quirós International Airport (Liberia International Airport or LIR) and 198 km (123 miles) from Juan Santamaria International Airport (SJO airport code, AKA San Jose International Airport).
It is 211 kilometers (131 miles) from San Jose downtown. Liberia is just a 40 minute drive to the closest beach town of Playas del Coco.
How to Get to Liberia, Costa Rica
Driving
From Liberia International Airport, exit the airport and turn right. Then at the next intersection, turn left onto Route 21 and drive about 10-15 minutes to Liberia downtown.
From San Jose International Airport, the best route is via Route 27 and Route 1. This drive takes a little over 3 hours.
Public Bus
As the capital city, there are many buses to and from Liberia everyday.
Buses from Liberia Downtown to LIR Airport: The first bus leaves at 05:30 am, then there is bus every hour from 07:20 AM to 06:20 PM.
LIR Airport to Liberia Downtown: The first bus leaves at 06:00 AM am, then there is bus every hour from 08:00 AM to 08:00 PM
Liberia Downtown to San Jose Downtown: With Pulmitan Bus Company, from Monday to Friday, there are buses at 03:00 AM 04:00 AM, 05:00 AM, 06:00 AM, 07:00 AM, 08:00 AM, 10:00 AM, 12:00 AM, 02:00 PM, 04:00 PM, 06:00 PM and 08:00 PM.
Buses from San Jose Downtown to Liberia Downtown: With Pulmitan Bus Company, there is one bus every hour starting at 06:00 AM and the last at 08:00 PM
Shuttles
You can take private or shared shuttles from other destinations to Liberia.
For shared shuttles, check companies like Easy Ride, Ride CR and Interbus. They offer shared services to Liberia from destinations such as La Fortuna, San Jose and Monteverde for around $59 to $69 USD per adult.
A private shuttle from San Jose to Liberia is around $265 USD for 1- 8 passengers. From SJO Airport to Guanacaste Airport, the approximate cost of a private shuttle is $280 USD for 1-8 passengers.
Visiting Liberia, Costa Rica
Liberia is not exactly a top tourist destination in Costa Rica as it is a quite small city with not that much. Because of this, most tourists stay in or near Liberia to be close to the airport on the night they fly in or the night before they fly out. They don't use Liberia as a home base, especially when there are beach towns just 30 minutes away from the airport.
Liberia can be an interesting city to check out, if you like culture and cities. One of our tour partners offers a Liberia city tour and souvenir shopping excursion from the Guanacaste beaches. Get a discount off this Guanacaste tour here!
How to Spend 1 Day in Liberia
Stay in Liberia for the two nights before your flight out. Use the full day you have to do an adventure day trip as there are a ton of choices. Some recommended options are Hacienda Guachipelin 1 day tour (30 minutes driving), Buena Vista Combo Adventure tour (45 minutes driving), La Leona Waterfall, Cerro Pelado Hike, Rincon de la Vieja National Park and Rio Celeste.
Or visit the nearby attractions for additional sightseeing. Recommendations are Llanos de Cortes waterfall, the Guanacaste museum, Centro de Rescate Las Pumas near Cañas and a Numu beer tour.
Where to Get Supplies and Groceries in Liberia
Many people who are staying at a vacation rental will go to the supermarkets in Liberia for groceries and supplies as it's a bit cheaper with more options. A lot of people go to Walmart Maxi Pali, Pequeño Mundo or Peri.
Festivals and Holidays
As the capital city, Liberia is a fantastic place to experience the Guanacasteco Costa Rica culture. July 25 is the national holiday Anexión del Partido de Nicoya and Liberia always has festivals going on those days. This holiday celebrates the annexation of the Guanacaste province from Nicaragua to Costa Rica.
On September 15, Costa Rica's Independence Day, there are always parades in the morning through downtown Liberia.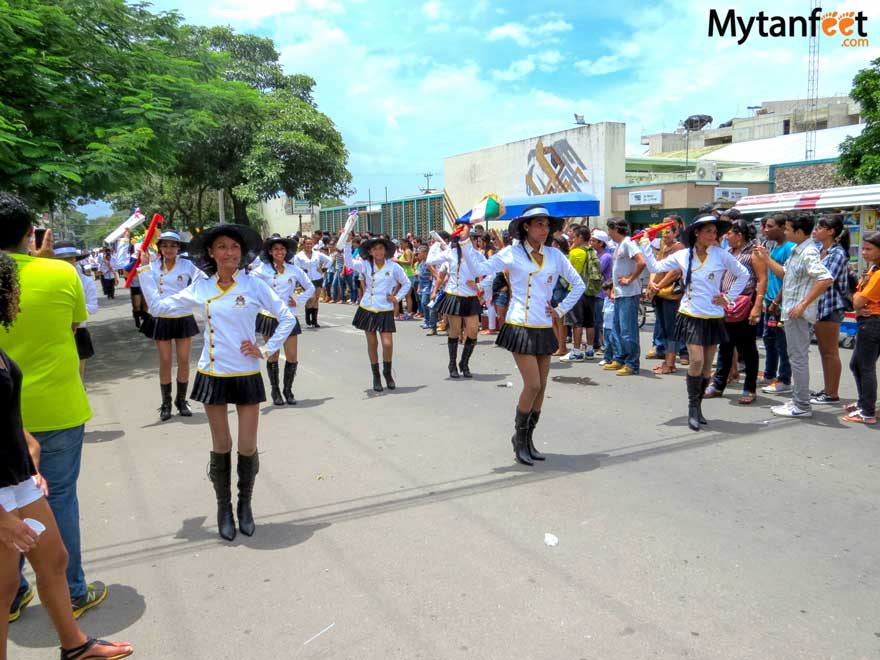 In December, there is always the Christmas parades and parties about a week before.
In February (the date changes every year), Liberia has the local festivals, horse parades and bull runs (called fiestas civicas).
If you happen to be in the area those dates, it's a lot of fun to visit Liberia to watch the parades and go to the parties on the holidays.
Liberia, Costa Rica Hotels
You can find a limited amount of hotels in Liberia with reasonable prices. These don't have an airport shuttle, you will have to call a taxi or ask your hotel to arrange a shuttle for you. The only one with an airport shuttle is the Hilton Garden Inn Guanacaste Airport as it's right down the street.
Liberia, Costa Rica Restaurants
In addition to our recommendations below, you can find all the fast food in Liberia such as Mcdonalds, Burger King, KFC, Taco Bell, Subway, Pizza Hut and Papa Johns.
Sushi & COffee House Liberia: Not just coffee but sushi, breakfast, pastries, cake and coffee.
Masala Indian Restaurant: Excellent Indian food!
Sabor Porteño Restaurante: A local favorite for seafood and steak. Nice spacious restaurant. Big portions!
Restaurante Tierra Mar: Another local favorite for seafood and meat.
Mariajuana Restaurante: Casual bar restaurant with yummy cocktails and beer. Also has a local and international menu.
Taqueria Mazatlan: Tacos. Service is a bit slow.
Foodnication: Gourmet style sandwiches, burgers, pasta, cakes and cocktails. Also has yummy desserts.
Other Things to Know about Liberia, Costa Rica
Being the capital city of Guanacaste, Liberia has everything of a city. Pharmacies, banks, full service supermarkets, a hospital, clinics, dental clinics, mechanics, fast food, money wiring services, clothing stores and more. It has the typical Costa Rican town set up with a park and church.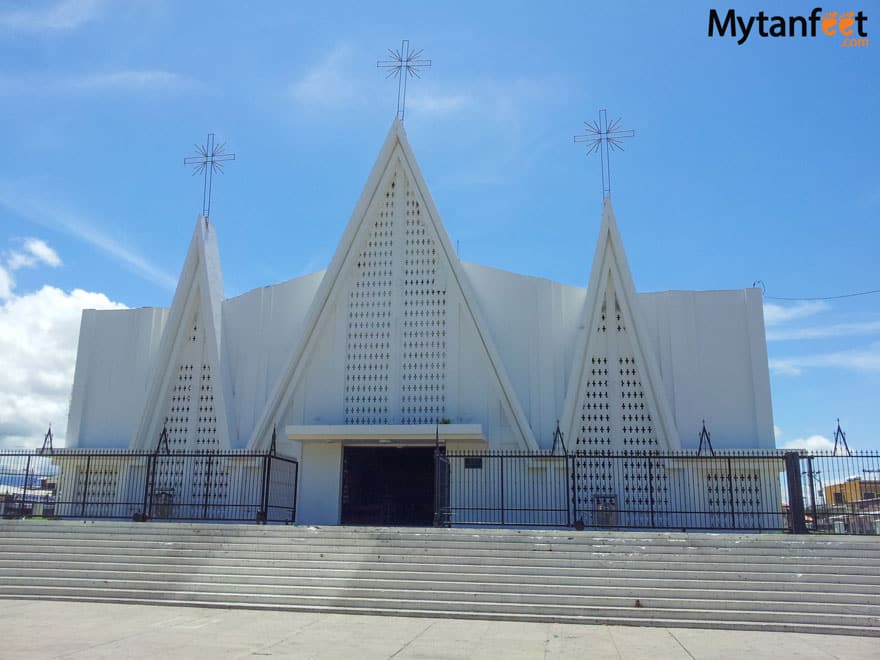 For those of us who live in Guanacaste, we have to go to Liberia anytime we need something major such as lab tests, specific car parts, etc. I used to drive to Liberia every month from Tamarindo to see my orthodontist who came once a month from San Jose. We go at least once or twice a month to stock up on supplies at Pricesmart (Latin American like Costco) and Pequeño Mundo.
Sometimes we have to go to Liberia to get car parts, computer parts and other construction supplies. Many things are also cheaper in Liberia than the beach towns.
Plan Your Trip
Here are some itineraries we've written that land in Liberia Airport for you to peruse!
1 week in Costa Rica: Playas del Coco and La Fortuna
14 days: Tamarindo, Monteverde, Bijagua, Rincon de la Vieja
2 weeks: La Fortuna, Monteverde, Santa Teresa, Playas del Coco
Costa Rica Vacation Checklist