Although getting gas in a foreign country seems like common sense, it can be a bit intimidating to get gas in a country where you don't speak the language. Luckily in Costa Rica, it's very easy since all Costa Rica gas stations are full service.
In this guide I'll show you how to get gas in Costa Rica, talk a bit about the cost of gas and how to do it all in Spanish.
How to Get Gas in Costa Rica
Renting a car in Costa Rica? Don't forget our Costa Rica car rental discount and extras to help you save some $$.
Gas Stations in Costa Rica
You can find gas stations everywhere in Costa Rica and majority of them are 24/7. They are usually located in the small local town near the tourist destination or a few kilometers away.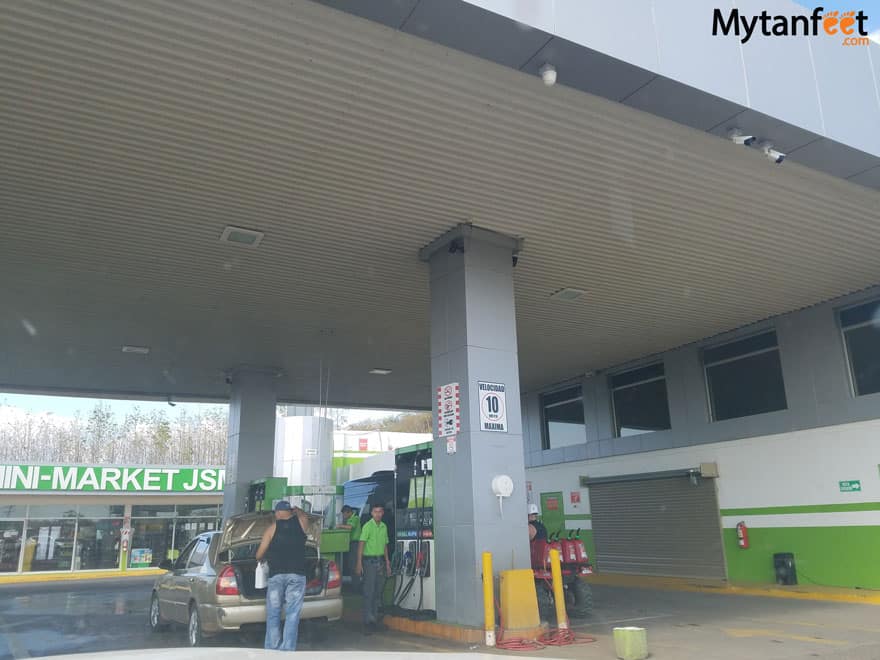 For example, in Tamarindo, the closest gas station is on the road to Huacas, about a 15 minute drive. From Santa Teresa, the gas station is up the hill out of town. In Playas del Coco, there is a gas station on the road to Playa Ocotal and one on the road towards Sardinal about a 10 minute drive out of town.
Make sure to note that in rural areas, there may be only one gas station. Puerto Jimenez only has one gas station. Montezuma's closest gas station is in Cobano.
Quality and Types of Gasoline in Costa Rica
You can find two different types of gasoline and one type of diesel in every single gas station in the country. Since there is only one oil company, you will find the same quality at every gas station in Costa Rica.
The Plus 91 type is known as regular and it comes with 91 octanes. This type of gas will be perfect for any car rental and it is cheaper than the Super.
The Super has 95 octanes and this is the premium gasoline.
Diesel is very popular in Costa Rica due to the its efficiency and the large number of diesel cars, especially SUVs. Costa Rica's diesel has the lowest amount of particles of sulfur per million in Central America with only 50. Other countries like Nicaragua or El Salvador sell diesel with over 5000 particles of sulfur per million and this is another effort of the Costa Rica government to keep the contamination for fossil fuels as low as possible.
Costa Rica car rental companies have cars that use regular gasoline and diesel. Make sure to ask which one your car is and to write it down somewhere so you don't forget. The registration in the glove box compartment will say which one it is too.
How to Find a Gas Station in Costa Rica
Gas stations look like just like any other gas station in the world. In Spanish, gas station is "Gasolinera." Many of the gas stations will have a huge sign that says something like "Gasolinera X name of area" or "Servicentro X name of area."
The best way to find a gas station in Costa Rica is by using WAZE or Google Maps. Type "Gasolinera" or click on the Gas Icon.
How to Get Gas in Spanish
Since all gas stations in Costa Rica are full service, the process is super easy. When you pull into the gas station, there will be attendants that will tell you which lane to go in. After you park, the attendant will come up to you to ask what you would like.
English note: Not very many attendants speak English so it will be helpful if you can learn it in Spanish or Spanglish. If you want to fill up your gas tank of diesel, say "Lleno de diesel por favor." That means full of diesel please.
If your car is gas, say "Lleno de gasolina regular" or if you want premium, say "Lleno de gasolina super." Make sure to remember if your car is diesel or gas!
Filling Up a Certain Amount
Or if you want to fill up with a certain amount (price), you can tell him "Diez mil colones de regular/super/diesel" which is 10,000 colones of regular/premium/diesel. You can substitute the amount you want to put in instead of 10,000 colones.
If you want to fill up with a certain price, I would use Costa Rican colones instead of USD to make the exchange easier. Learn how to say numbers in Spanish here.
Once you tell him how much of which gas you want, he will put a sign on your window saying they are filling up with gas or diesel.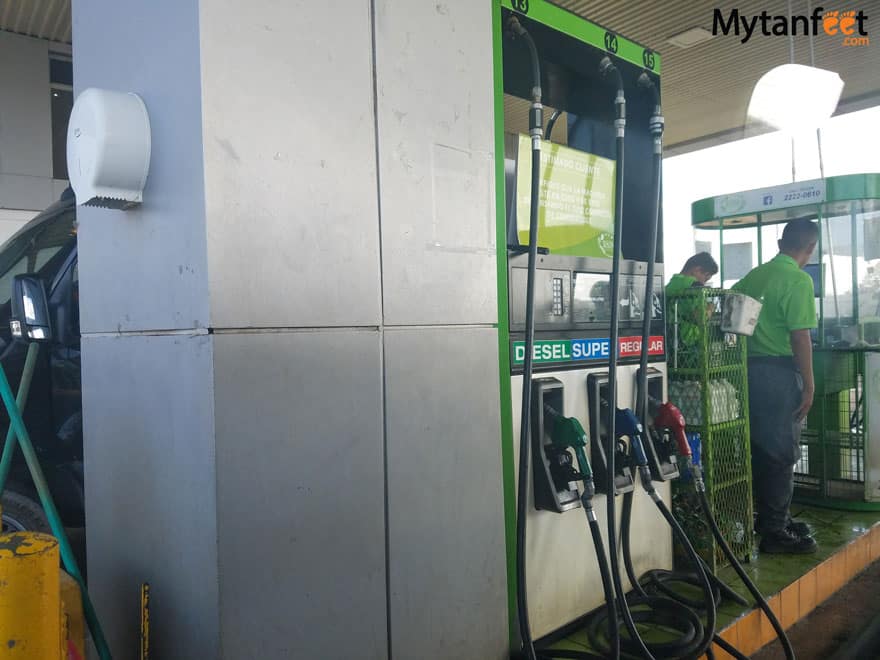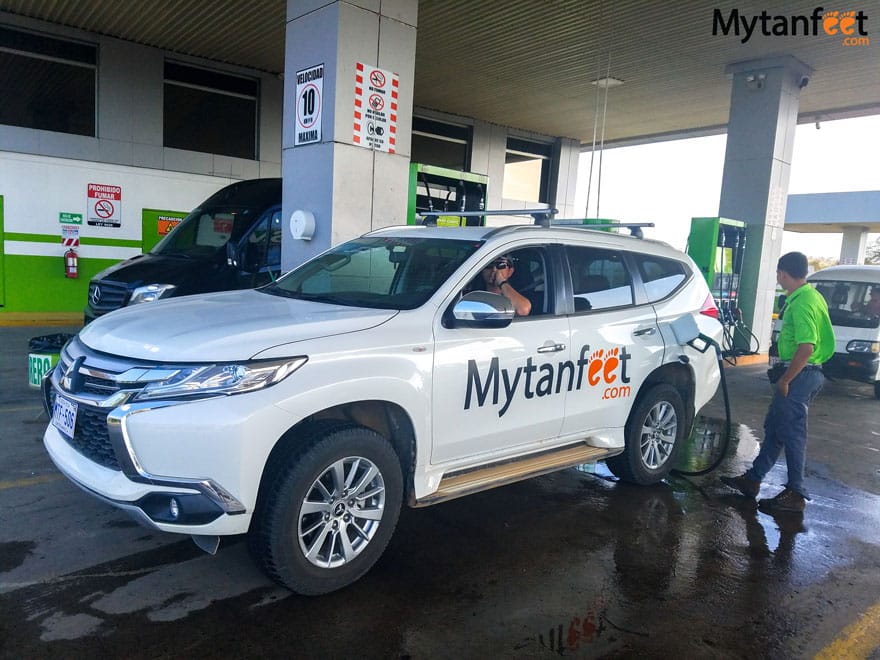 Paying for Gas
When he finishes putting in gas, he will tell you how much it costs. I recommend getting out of the car and checking the meter just in case to be safe. Not saying it's common for attendants to rip people off but you just want to make 100% sure.
Remember, gas prices are measured per liter and prices are colones per liter. The top number is the price (ventas) and bottom number is the amount of liters (litros).
Using Credit Card
You can pay for gas in Costa Rica with credit card. If you're paying with credit card, hand him the card and get out so you can always see your card. Make sure to check your receipt and see that the price on the meter matches what you are charged. Most gas stations in Costa Rica take AMEX, Visa and Mastercard.
They will require a signature and after that, you're good to go.
Paying in Cash
You can also pay in cash but we recommend paying in Costa Rican colones, not USD. Most gas stations do accept USD and will have the current exchange rate posted somewhere (printed out on a piece of paper taped up on the station). Make sure you look for it to know what ratio they use. However, the exchange rates fluctuates nearly every single day so make sure to check!
Something else to know is that the exchange rate used to be around 500 CRC to 1 USD several years ago. If the station tries to charge you using a 500 to 1 ratio – that is very wrong and that will make you lose out a lot. The gas station attendant is trying to take more money from the tourist in this case, so our recommendation to avoid this is to always use Costa Rican currency when paying in cash.
Remember, the rule of thumb is that when things are quoted in colones, pay in colones so we recommend to pay gas in Costa Rica in local currency. You can learn more about handling money in Costa Rica in this post.
Gas Prices in Costa Rica
Gas prices in Costa Rica fluctuates often nowadays. As it's regulated by the government, prices are all the same in every gas station. Lately, the cost of gas in Costa Rica is around 744 CRC per liter which is ~$5.25 USD per gallon for regular. Super is ~787 CRC per liter, around $5.56 USD per gallon.
Diesel is cheaper in Costa Rica than the US and diesel is found at every gas station. The cost is around 634 CRC per liter which is ~$4.49 USD per gallon. *Gas prices change often so the prices you see may not reflect the exact amount today.*
How much you pay in gas for your Costa Rica trip will depend on the type of car you get and how many kilometers you drive. On average for a 1 week trip around Costa Rica, tourists drive approximately 1200 kilometers (~745 miles) so they'll spend around $180 USD on gas when renting a 5 passenger automatic SUV with regular gasoline.
Costa Rica Gas Stations near Liberia and San Jose Airport
If you're renting a car in Costa Rica, normally you will need to fill up the gas tank before you return it. Usually you need to fill it up to the same level of the gas as to when you picked up your car.
Near Liberia International Airport, there is a gas station in Liberia city at the Santa Rosa Plaza and a gas station near the Do-It Hardware Center (there is a large sign that says gas for tourists).
By San Jose International Airport, there is a Delta Gasolinera in Alajuela city a little over a mile from SJO Airport, close to the Holiday Express/Hampton.
Renting a car in Costa Rica? Check out our car rental discount to save $$ and get extra benefits like free cooler and free extra drivers.
Things to Know and Watch Out for When Getting Gas
Always check to make sure the price on the meter is the same as you are charged if you are using credit card.
Keep an eye on your credit card, do not let it out of your sight. This is one of the scams I warn about in this post, common Costa Rica tourist scams.
Always check your receipt before you drive off. If you find a discrepancy, point it out to them asap. They should give you the change or difference back in colones if you catch their "error".
If you're a solo traveler and need to use the bathroom, go after getting gas. Do not leave your car unattended while unlocked.
Tipping is not mandatory. Sometimes the attendant will clean your windshield or ask to check your tires. You can tip them if they do some cleaning.
Our favorite gas station to stop at when we need to use the bathroom or get food/snacks is Delta. They have the cleanest bathrooms I have ever been in in Costa Rica and the staff is always super nice.
Costa Rica Vacation Checklist
Join our mailing list and get our free Costa Rica eBook!
Read more Costa Rica travel tips!
Tips for driving in Costa Rica