Finding out which airport you should fly into is one of the first steps in planning your Costa Rica trip. In this guide, you will learn about the two main international Costa Rica airports and which one you should fly into.
Costa Rica International Airports
The main international airports in Costa Rica are Juan Santamaria International Airport (San Jose International Airport) and Daniel Oduber Quirós International Airport (Guanacaste Airport, formerly known as Liberia International Airport).
The airport code for San Jose International Airport is SJO. The airport code for Guanacaste Airport is LIR.
What is the best airport to fly into Costa Rica?
We get this question a lot. Which Costa Rica airport is best to fly into?
It will depend on your itinerary, budget and a couple of other factors. Here is our breakdown.
San Jose International Airport (Juan Santamaría International Airport)
The San Jose International Airport is the biggest airport in Costa Rica. It has the most international and domestic flights in and out. The airport code for San Jose International Airport is SJO.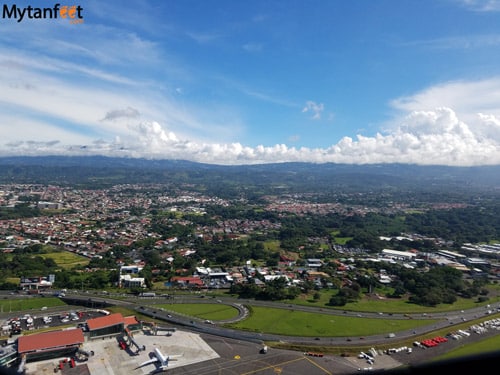 San Jose International Airport is actually in the Alajuela province and is about a 30 minute drive to downtown San Jose. The San Jose domestic airport is right next to the international airport.
You should fly into San Jose International Airport if you are going to the Caribbean, Central and South Pacific, Osa Peninsula, North Zone and South Zone
These are places such as Puerto Viejo, Tortuguero, Sarapiqui, Jaco, Manuel Antonio, Grecia, San Ramon, Cartago, Turrialba, Uvita, Dominical, San Vito, La Paz, Bajos del Toro, San Gerardo de Dota, Santa Teresa, Puntarenas, San Isidro de Perez Zeledon, Drake Bay and Osa Peninsula.
What to know about flying into San Jose International Airport (SJO)
San Jose Airport is generally cheaper than Liberia Airport. Make sure to check both airports when looking for flights to Costa Rica.
You can take a taxi or Uber right from the airport. There is an official taxi stand and lots of Ubers.
For car rentals, you will take a shuttle to the car rental agency's office to pick up the car.
There is a ton of traffic around the airport. Be super alert if you are driving.
Private shuttle drivers will wait for you directly outside the airport.
For shared shuttles, you will need to taxi to the Denny's Restaurant or Rostipollos restaurant down the street for pick up.
To catch the bus, walk down to the main street and you will see the bus stop.
Due to all the mountains, flying into San Jose generally has intense turbulence!
There are a ton of airport hotels by San Jose International Airport with free airport shuttle.
The traffic in San Jose is very bad and driving is not as easy as Liberia Airport. If you're planning to rent a car, drive carefully and be prepared for traffic if landing at rush hour.
Turbulence is very common flying into San Jose Airport since it is inside a valley.
Immigration and customs in San Jose Airport takes much longer than Liberia unfortunately. Many flights land at the same time, especially on the weekends. Have patience when waiting in line for immigration.
It is now recommended to arrive 3 hours early to San Jose Airport for departures.
Guanacaste Liberia International Airport
LIR Airport is not as big as San Jose but is growing substantially. It is about a 15 minute drive from Liberia. The Guanacaste Liberia Airport is the hub for Guanacaste, Nicoya Peninsula and Northern Lowlands.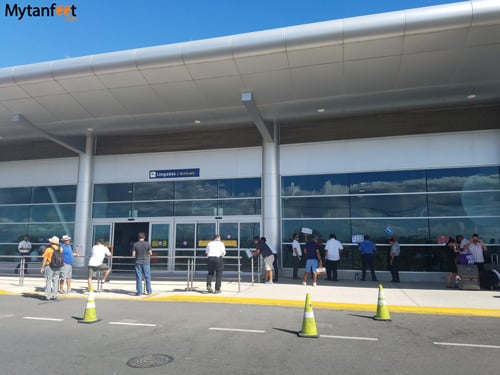 In 2019, the airport opened the new VIP lounge and more restaurants, catering to the more than 1 million visitors that it received last year.
You should fly into Liberia International Airport if you are going to Gulf of Papagayo, Conchal, Tamarindo, Langosta, Flamingo, Brasilito, Las Catalinas, Avellanas, Grande, Negra, Playas del Coco, Ocotal, Hermosa, Panama, La Cruz, Curubande, Dreams Las Mareas, Bijagua, Liberia, Tilaran, Nuevo Arenal, Samara, Ostional, Junquillal, Punta Islita, Nicoya or Nosara.
What to know about flying into Guanacaste Liberia Airport
Liberia has fewer flights and is a bit more expensive than San Jose Airport on average. Comparison shop first.
This airport doesn't have many food options and is very expensive.
It is about a 15 minute drive to Liberia downtown.
Driving from Liberia Airport is very easy.
There are not many airport hotels around unfortunately. The Hilton Liberia Airport Garden Inn is really the only one super close by with a free airport shuttle.
Liberia has a few domestic flights. Most common ones are San Jose and La Fortuna.
For those renting a car at Liberia Airport, you will take the agency's shuttle to their office to pick up the car.
Private shuttles will wait right outside the airport.
Shared shuttles need to taxi to the Hilton Garden Inn Liberia Airport down the street.
For the public bus, it will depend on which bus you are taking. There is a bus stop right outside the airport for some routes. For other routes that don't pass by the airport, you will need to walk around 15-20 minutes to the main road to the bus stop.
Recommended to arrive 2 hours before departure.
You Can Fly to Either Airports for These Destinations
Since the travel time between the two is about the same from both San Jose and Liberia, you can fly into either international airport for these destinations. You can pick the airport and itinerary that works best for you.
I personally recommend to fly into Liberia Airport because it's much easier to drive from there than San Jose. But if you fly into San Jose, you can take the Puntarenas Paquera ferry over to Paquera/Tambor/Montezuma/Santa Teresa.
There are affiliate links in this post.