Playa Negra is an excellent beach to stay in Guanacaste for those looking to get away from the touristy beach towns in Costa Rica. With sweet surfing waves, a laid back atmosphere and beautiful sunsets, visitors can't go wrong with a few days at this underrated but incredible beach.
It's important to note there are a couple of other Playa Negras in Costa Rica. Make sure you are visiting Playa Negra, Guanacaste!
How to Get to Playa Negra, Guanacaste
Playa Negra is in the Guanacaste province, 80 kilometers (50 miles) from Liberia International Airport and 246 kilometers (152 miles) from San Jose International Airport. The closest town to Playa Negra is Los Pargos.
The best way to get to Playa Negra is to rent a car and drive. There are no direct public buses to this beach and it will be extremely difficult to get around without a car since there's not much around (no big full service supermarkets, no clinics, no pharmacies, etc. within walking distance)
The main public access to Playa Negra Guanacaste is next to the Hotel Playa Negra. There is a public path that goes directly to the beach. You can set Hotel Playa Negra as your destination in your GPS if you are going to the public access.
Parking
At Hotel Playa Negra, there is street parking outside the hotel entrance for non hotel guests. There will be a "parking guard" that will charge 2000 CRC to park (they say they will watch your car) but still make sure not to leave any valuables in your car.
Once you park, you need to walk about 2 minutes to get to the beach on a cobblestone path.
4×4 Required?
The road once you exit Route 152 is unpaved with lots of pot holes and is recommended to have a high car. You can make it in the dry season in a sedan but you will need to drive very slowly and carefully around the many potholes to avoid damage to your car.
In rainy season, you will need a high car and a 4wd in the rainiest months like September, October and beginning of November. Read more about Costa Rica weather here.
Swimmable?
Playa Negra is a surfing beach so if you want to swim, it is not recommended. Waves can get big and it's quite rocky. You can dip your toes but I do not recommend swimming far out since there are surfers everywhere and waves can get quite big here.
Services
None for non hotel guests. There is a small freshwater shower at the path entrance. But you will need to bring food, drink, towels, etc. Many days there are locals selling cold coconut waters or shaved ice. No bathrooms or changing rooms.
Negra Beach
Negra in Spanish means black and Playa Negra is certainly a beautiful black sand beach. This beach is extremely rocky. In low tide you can walk around the rocks and see the small tide pools.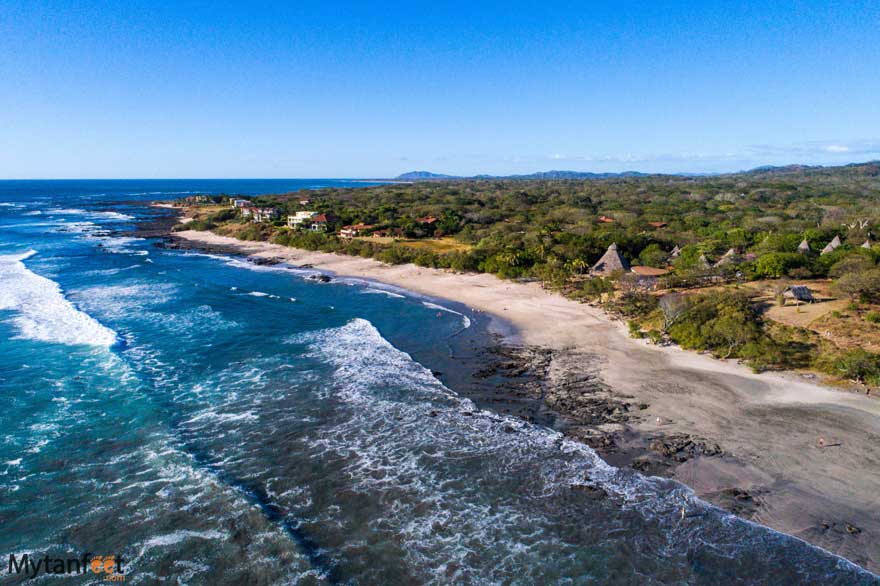 Surfing Playa Negra
Playa Negra's awesome surf break was featured in the Robert August Movie Endless Summer II. The beach has easy access for paddling out (though small take off zone) and very nice, hollow right hand barrels. If you surf, high tide is better as low tide exposes the vast rock bottom and is not recommended for anyone. Thanks to the consistent year round waves, pro surfers from all over the world come to surf at Playa Negra and it can get busy during swells.
This surf break is generally not the best for beginners. It is better to go to Tamarindo, Avellanas or Grande for beginners and lessons. However, when waves are small and there aren't any swells, it is possible for beginners and longboarders.
Something else to note is that Playa Negra has a very strong local vibe so make sure you follow all surfing etiquette. Don't drop in, don't snake, be respectful. Or else that will land you in trouble with the locals as they do not take kindly to foreigners taking their waves. They want to keep Playa Negra as low key of a surfing beach as possible.
Playa Negra Hotels
There are not that many accommodation options in Negra. There are a couple of hotels and more vacation rentals. Hotel Playa Negra is the only beachfront hotel with bungalows, a restaurant, pool, yoga studio and a rancho. Some other hotels are the Cafe Playa Negra Hotel and Restaurant and Playa Negra Surf Lodge.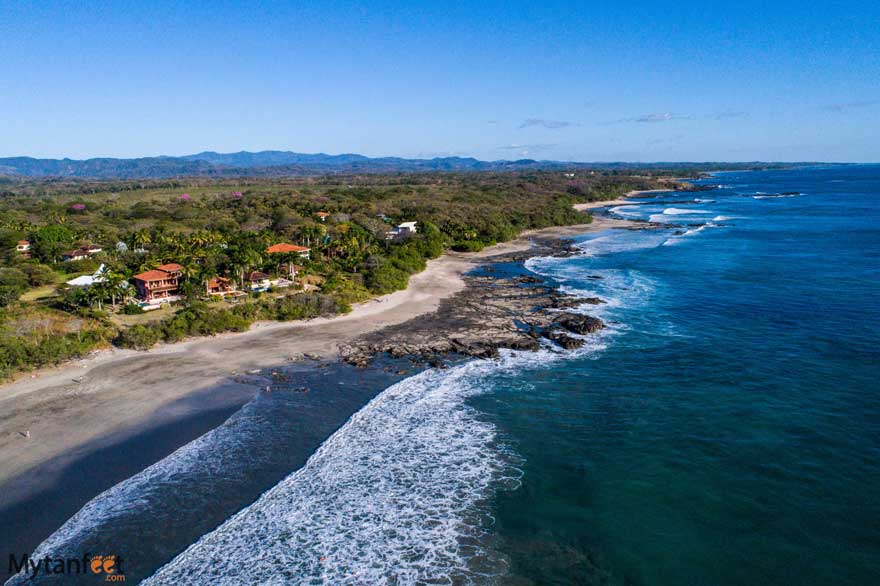 You'll find plenty of vacation rentals with full kitchens on websites like Airbnb and VRBO. There are some extremely nice houses in the area.
Playa Negra, Guanacaste Restaurants
Thehandful restaurants in Playa Negra are first class: Cafe Playa Negra (Peruvian), Jalepeno Taco Grill, Hotel Playa Negra Restaurant, Mycelium, La Ventana and Villa Daveena restaurant and Kontiki are all great places. Kontiki has really good pizza, Mycelium has a fun vibe with high end Asian fusion dishes. Corzon Surf Cafe is a fantastic coffee shop with breakfast, coffee, smoothies and sandwiches.
Things to Do in Playa Negra, Guanacaste
Playa Negra is a great beach for a day trip or for a few days. Surfing is the main activity and you'll see locals and tourists out there every day catching waves. If you're not a surfer, you can sunbathe, relax, have a drink on the beach and just soak up the sun.
Playa Negra is also close to many other beautiful underrated beaches such as Junquillal, Marbella, Callejones, and San Juanillo. Keep going down south and you can visit Ostional Wildlife Refuge and Nosara. Go up north and you're so close to Marino Las Baulas National Park. Both Ostional and Marino Las Baulas are amazing places to see turtle nestings.
Even though Playa Negra feels like a worlds away, it's still close to the developed beach towns up north so you have it all. Remote, quiet and beautiful beach but a short drive to tourist amenities and services.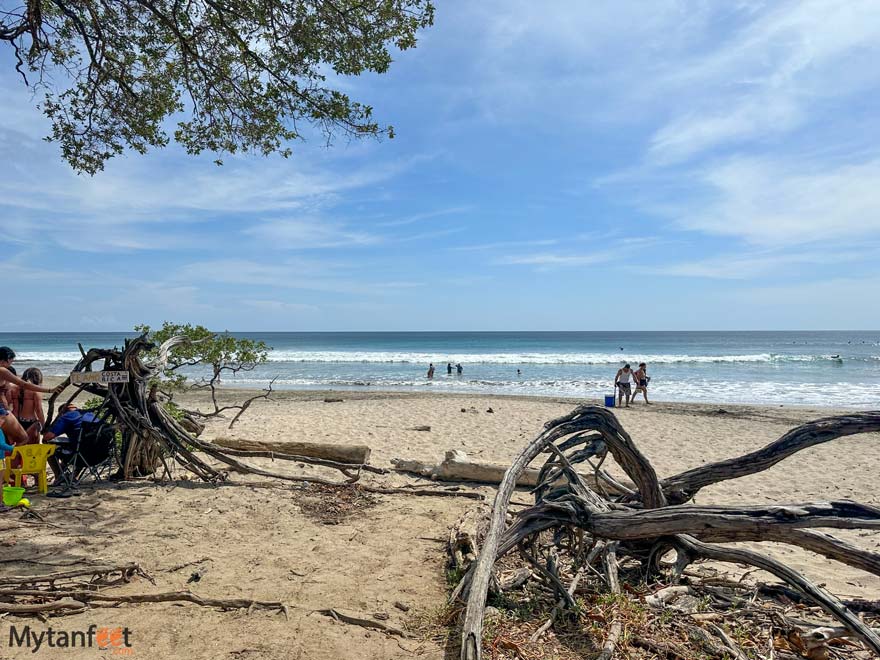 Playa Negra Guanacaste is a beach for those who want to get away from the tourist crowds of Tamarindo and are renting a car.
Read about similar beaches below!
Playa Negra by Puerto Viejo: Black sand beach on the Caribbean coast
Grande: Surfing beach near Tamarindo, not that developed, few hotels and surf camps
Dominical: Small popular surfing beach town in the South Pacific
There are affiliate links in this post.