If you need to drive from San Jose to Tamarindo or vice versa, this post will help you with the drive. This drive takes you through half the country from the Central Valley to the North Pacific in the Guanacaste province. It's a long drive to Tamarindo from San Jose so you will want to plan your travel day accordingly with this guide.
This post also works if you are driving from San Jose to Playa Langosta, Playa Negra, Playa Avellanas, Nicoya, Santa Cruz and Huacas.
Renting a car? Get our Costa Rica car rental discount and extra freebies in the link to save some $$! Plan your trip to Tamarindo and San Jose in the links to our blog guides.
This post has affiliate links.
Map of Route from San Jose to Tamarindo
Map of route here on Google Maps. However for GPS navigation apps in Costa Rica, we recommend you to use Waze as it works better.
How Far is Tamarindo from San Jose Airport/How Far is Tamarindo from San Jose, Costa Rica?
The distance from San Jose International Airport to Tamarindo is 247 kilometers (153 miles).
The distance from San Jose to Tamarindo is 258 kilometers (160 miles).
On average, this drive takes around 4.5 hours without traffic. However, this drive can take anywhere from 4 to 10 hours if there are traffic accidents, strikes and slow congestion. Additionally, if you depart between 3-5 PM from San Jose on a Friday or during a busy holiday weekend, there is always a lot of congestion and slow moving traffic.
There is a lot of construction on the Interamericana highway 1 as they are working on expanding it so it's usually slow on that section.
We Do Not Recommend to Drive to SJO Airport from Tamarindo on the Day You Fly Out
It is too risky. We have to drive from Tamarindo to San Jose at least 2-3 times a month and the travel time differs every single time due to various factors. The longest it took us was 10 hours as a fatal accident happened on one of the one lane sections and we were backed up for miles, for hours. Another was 9 hours as there was a strike and the strikers blocked the entire road. The shortest was 4 hours and 20 minutes departing at 10 AM on a Tuesday. No traffic whatsoever and we took only one bathroom break.
Don't risk missing your flight. Travel to the airport the day before you fly out and stay at an airport hotel. Need a place to stay near SJO Airport? Here are our recommended hotels near San Jose International Airport.
Pro planning tip: Always fill up on gas before you depart and bring snacks/drinks/water with you in the car in case you get stuck in traffic.
We do not Recommend Driving this Route at Night
Even though we drive to Tamarindo from San Jose at night sometimes, we are incredibly familiar with this route and driving in Costa Rica. For tourists, especially first time visitors to Costa Rica, we do not recommend driving this route at night. It's very long and there's not much open at night as most restaurants, convenience stores and supermarkets close around 8-9 PM. Only gas stations in Costa Rica are 24 hours.
Remember it gets dark at 6 PM everyday in Costa Rica! Read about other important things to know about Costa Rica before you visit in this post.
4×4 Required to Drive from San Jose to Tamarindo?
No. This route goes on main roads and highways the entire time. A 4×4 is not required.
Toll Booths (Peaje)
There are three toll booths are you exit/enter San Jose and the San Jose International Airport area. The costs range from 200-1200 CRC. You can pay in cash (USD or CRC) or credit card but we recommend to pay in CRC. If you pay in USD cash or credit card in USD, they give a poor exchange rate.
Pro tip: As you approach the toll booth, there will be a sign that says "peaje" with prices. Make sure you do NOT go in the lane that has a white sign that says "Quickpass."
Safety Tips for the Drive from San Jose to Tamarindo
If you are driving with all your luggage, please be extremely careful and aware. Unfortunately car breaks in and car theft do occur and it just takes thieves a minute to get in and out. Do not ever give them any opportunity or tempt them to target your car.
When you stop to use the bathroom or take photos, take turns so you always have one person at the car.
Do not to leave anything visible in the car.
When you are leaving San Jose/Tamarindo, take what you need to have with you in the car during the drive. Pack everything else in the trunk or under the luggage cover. This is to avoid having to take out all your luggage in the parking lot in case you forgot something that you packed in your suitcase.
Take your valuable belongings with you whenever you get out (passport, cash, credit cards, cell phone, cameras, etc.). Do not leave those in the car.
Park where you can see your car from the restaurant or wherever you stop. When you park, roll up your windows and lock your doors.
Do not park on empty, unlit or dimly lit streets.
Avoid taking out all your stuff in plain view.
Read more Costa Rica safety tips in this post. We also highly recommend to get travel insurance just in case.
The recommended stops in this post are well trafficked, well lit areas where many locals and international tourists stop at. The only exception is the Puente de la Amistad as there are no facilities there so it's sometimes empty.
Recommended Stops on the Drive from San Jose, Costa Rica to Tamarindo
Starting from San Jose, here are our recommended stops along the drive from San Jose to Tamarindo. To see all the places we recommend for food, bathroom, photo stops, etc. in this post (and more), click on our drive from San Jose to Tamarindo My Map link here!
Bathrooms
For clean bathrooms, we highly recommend the Delta Gas stations. Their bathrooms have always been super clean. There are several Delta gas stations along this route (see our map above). You can also fill up on gas at the same time.
Orotina Fruit Stands
About 1-1.5 hour from San Jose near Orotina, there is a nice fruit stand area as well as local restaurants.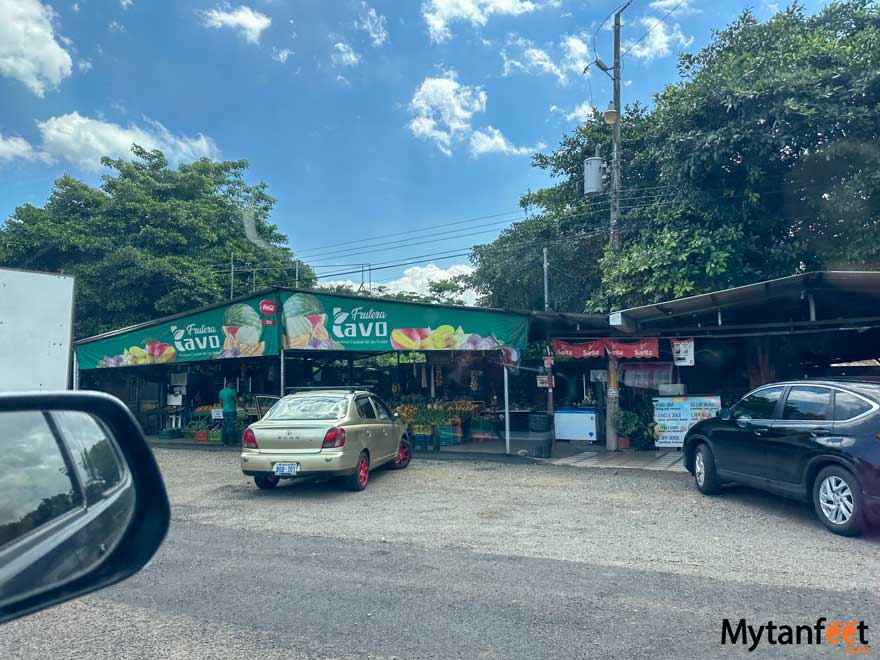 This spot is about a 1 hour drive from San Jose so it's a nice first stop. You can pick up some fruit or eat at one of the local sodas.
Caldera
Then about 1.5 hours from San Jose, you can stop at Caldera. Caldera is a popular beach with locals since it's close to San Jose and there are a ton of street food stalls here. The most popular one is for churchhills or copos which is Costa Rican shaved ice, but there are other stands for other foods.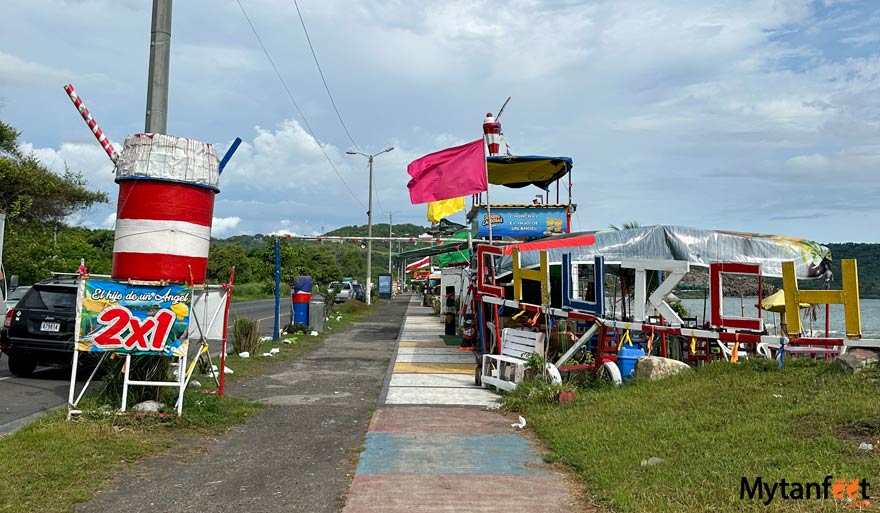 Additionally, Caldera is where the biggest port is on the Pacific side so you can see lots of ships out in the water.
We also like to stop at the Caldera dock as it gives you a very nice view of the beach. It's called Muelle del Estero Caldera. You can park, get a copo or snack and sit on the rocks.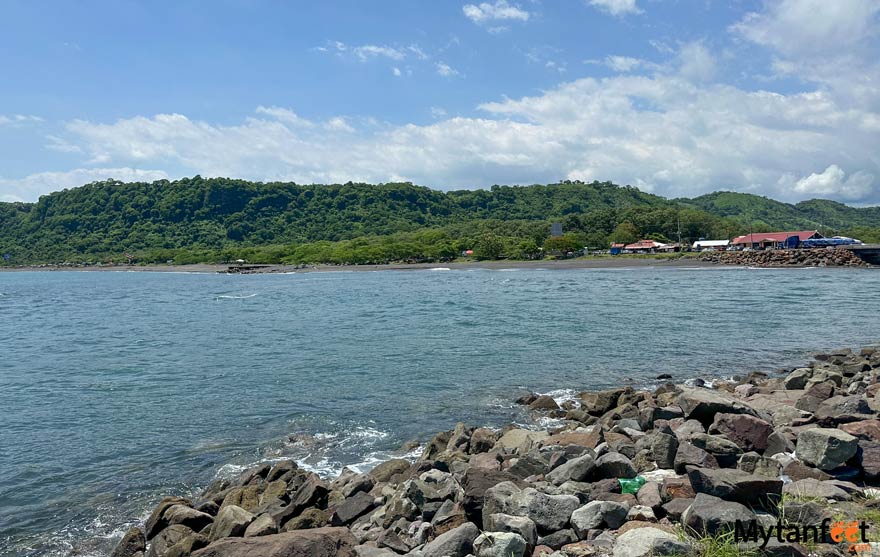 The only thing to be aware is that sometimes Caldera gets really crazy big waves. You can walk down to the beach if it's calm. There are also a few restaurants here on the other side of the road. No public bathrooms.
Plaza Limonal
From Caldera, Plaza Limonal is about a 1 hour drive. Plaza Limonal has bathrooms, a pharmacy, pizza, Taco Bell and Subway. They have a good sized parking lot and this is a very popular spot for tourists and locals.
Another option is to go to Restaurante Mi Finca which is right next to the plaza. It's a local restaurant with food, pastries and bathrooms. They also have free flying Scarlet Macaws in their trees. Lots of tour buses stop at this restaurant.
Puente de la Amistad
From Limonal, the Friendship bridge is a 30 minute drive. There is nothing here at the bridge except for maybe a local guy selling cold coconut water. You can stop here if you want or not, as it's not like super exciting. This is the longest bridge in Costa Rica so that is something notable but that's it.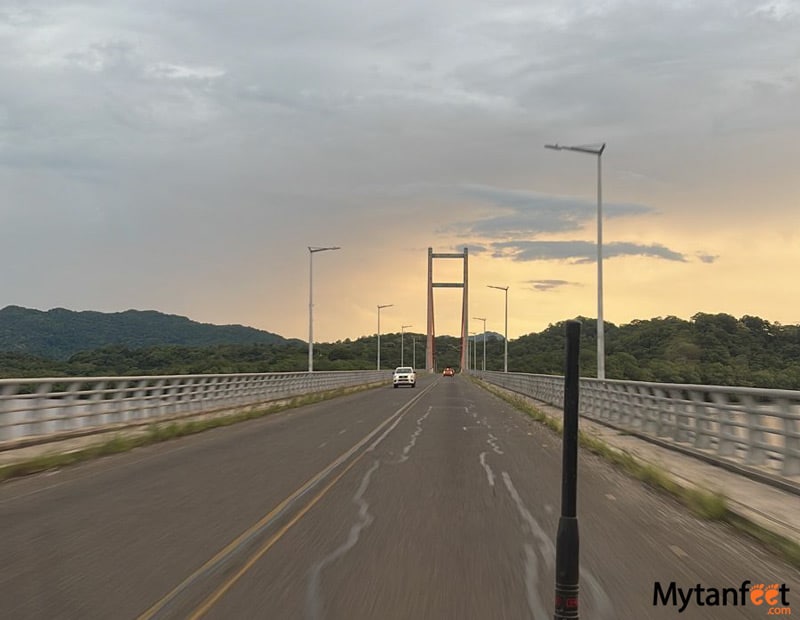 There are no facilities here like bathrooms and sometimes there aren't any cars. I recommend to have someone stay with the car if you stop here and walk on to the bridge to take pictures.
Nicoya
As you turn into Nicoya from Route 18 to Route 21, that intersection has some restaurants and fruit stands. There is also a gas station there (Rio Tempisque gas station).
Keep going about 10 minutes and you'll arrive at another popular intersection that has KFC, Pops Ice cream, Burger King, clothing stores and clean bathrooms. We like to stop here to get something quick to eat and use the bathroom.
Another stop is a soda really close by that has an ample parking lot and clean bathrooms called Rancho de Sebas. If you're driving on the weekend, stop by Fonda Chorotega for typical Costa Rican Guanacasteco food.
Santa Cruz
Santa Cruz is the next biggest town near Tamarindo, about a 30-45 minute drive away. This town has a gas station, many restaurants including fast food like Subway and supermarkets. If you need to stop to fill up gas or get something to eat, this is a good option.
Tamarindo
And you've arrived in Tamarindo! Hopefully you didn't get stuck in traffic or take too many more hours. Now you can enjoy your time at the beach.
Read all of our Tamarindo guides below to help plan your trip
Things to do in Tamarindo and Day Trips
Taking the bus from Tamarindo to San Jose
Recommended Tamarindo hotels: Wyndham Tamarindo, The Coast, Capitan Suizo, Tamarindo Diria, The Beach Bungalows and Ocho Artisan Bungalows.
Planning to drive to La Fortuna from Tamarindo? Check out our similar guide to this drive!
Costa Rica Vacation Checklist