One of the most magical places in Costa Rica is the Osa Peninsula. Famous for housing the largest national park in the country, a lush rain forest and incredible coastlines, the Peninsula de Osa contains so much biodiversity within its jungles that renown biologists and scientists visit specifically to study the flora and fauna.
However, one must keep in mind that it is the jungle, a wild, unruly jungle that hasn't seen too much human impact. If you don't like bugs, humid weather or getting down and dirty, then the Osa might not be for you.
But if strange insects in your hotel room or intense humidity doesn't bother you, then a visit to the Osa Peninsula is just what you need. You never know what kind of experience you'll have in the rugged jungle. You may see a puma napping, a tapir strolling on the beach or a mom and baby humpback whale breaching!
If you're planning a trip to the Osa Peninsula, travel information be a bit scarce as it is still fairly undeveloped. So in this post I'm going to go over the main towns and villages, hotels, how to get there and the best things to do to make it easy to plan your Osa Peninsula trip.
There are Amazon affiliate links in this post.
Osa Peninsula Travel Guide
Click the section to skip to it.
Location
The Osa Peninsula is in the Puntarenas province on the Pacific side.
Travel Map
Here is a map we made of the Osa Peninsula, including the different towns, villages and hotels we will talk about in the post further on. Hopefully the map will help you understand the Osa Peninsula better, as it is very big.
Towns/Villages
Since most of the Osa Peninsula is Corcovado National Park, there are few towns and villages scattered throughout.
Puerto Jimenez
The biggest town is Puerto Jimenez (see what the town looks like here) and this is usually where people stay if they plan to do the long hike from Leona Ranger Station to Sirena in the national park since the town is very close.
You can find pretty much everything in Puerto Jimenez: bank, ATM, supermarket, pharmacy, local airport, hostels and hotels. Many visitors choose Puerto Jimenez as their home base in Osa Peninsula since it has those conveniences.
Get in:
Driving: Drive on the Costanera Sur from San Jose about 4.5 hours. It's just one long road with plenty of signs for Puerto Jimenez. Then turn right at the huge intersection instead of going straight to Paso Canoas, the Panama Costa Rica border. Keep going for another hour or so. This road is completely paved and becomes unpaved once you reach town. You can use Waze.
Flying: A popular way to get to Puerto Jimenez is to fly. There is a local airport right in town and is a 50 minute flight from San Jose.
Boat: If you're coming from Golfito, there is a boat that goes across the Golfo Dulce to Puerto Jimenez. Tickets are around 3000 colones each way per person, they have small and big boats. Last time I checked, the schedule leaving Golfito to Puerto Jimenez was 730, 10, 1 PM, 3 PM and 5 PM and is about a 30 minute boat ride (this is subject to change!)
Bus: There is a public bus from San Jose to Puerto Jimenez everyday at 8 AM and 12 PM with Transportes Blanco. This is a 8 hour ride. You can also take the bus from San Isidro de General with Transportes Blanco everyday at 630 AM, 11 AM, and 3 PM (from San Jose) that is 4 hours. There is also a bus from Ciudad Nelly everyday at 7 AM and 2 PM with Transportes Terraba that is 4 hours.
Shuttle: You can take a shared shuttle with EasyRideCR. A private shuttle can cost around $400-500 depending on the number of people from San Jose to Puerto Jimenez.
Video
See what the Puerto Jimenez and Playa Platanares area looks like in this video.
Where to stay
Puerto Jimenez has a handful of hostels, mid range hotels and upscale lodges to choose from. Most of the upscale hotels are on the beach and the hostels and budget places in town.
Alternative options
There are also many lodges and hotels on the outskirts of Puerto Jimenez. It is best to rent a car if staying at one of these places or arrange for transportation beforehand.
Recommendations
If you aren't planning on renting a car and are on a budget, I recommend staying at one of the places in town. That way you'll be close to all the conveniences, it's cheap and you can book tours with your hotel. For those who need a place to sleep before heading off into the national park, hostels are an excellent cheap option.
For those who don't mind splurging and are interested in day trips, the upscale hotels on the beach are the way to go. They normally offer an all-inclusive option or have a restaurant. This is more for people who aren't planning on hiking overnight in the national park and want a home base to explore the Peninsula. You will spend quite a bit on food however, since it is normal for hotels to increase restaurant prices.
Cabo Matapalo
Caba Matapalo is a village on the outermost point of the Peninsula. Most people who stay in Matapalo, as known by locals, are surfers. There are beaches with waves ranging from beginner to expert and are usually fairly empty due to its remote location. Also a great place for birdwatchers.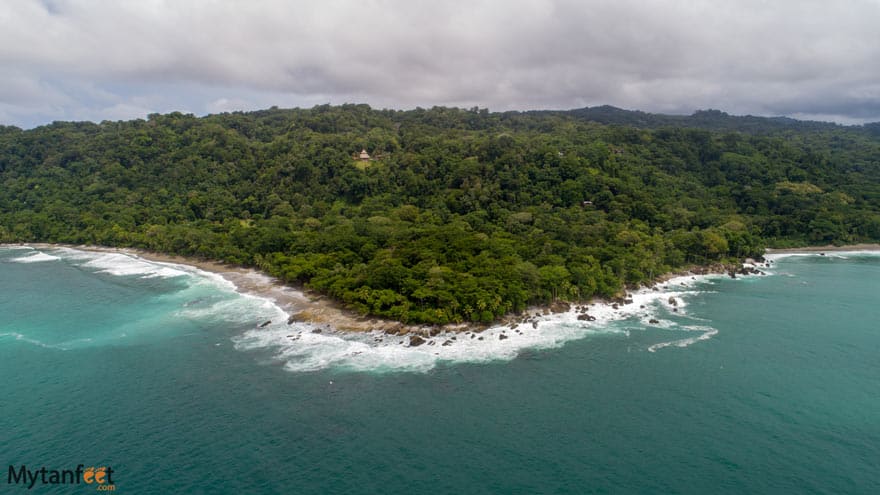 Get in
From Puerto Jimenez, continue on the very bumpy road (route 245) for about 45 minutes until you reach the small town of Matapalo.
Hotel recommendations
You won't find too many hostels or budget options in Matapalo. Some hotels are on the road to Matapalo from Puerto Jimenez, some are beach front in the village.
If you're driving, we do recommend a 4×4 as the road is in rough shape.
Carate
The tiny town of Carate is another stop over town for travelers who are hiking Leona Station in Corcovado National Park. It's about a 45 minute walk to the ranger station.
Get in
From Puerto Jimenez, continue on the route 245 road (same to Matapalo) for about 1.5 hours. This is a very bumpy road so a 4×4 is required. You can see what driving this route is like in our Youtube video below.
This video was taken in July, a month or so after rainy season started and river levels were fairly low. *Remember that water damage is not covered by any car rental insurance so be VERY careful if you are driving in rainy season! We drove our own car*
In rainy season (read more about Costa Rica weather here), you need to check the tides before driving to Carate since you need to cross about 5 rivers. During high tide, the rivers can get so full cars cannot cross.
Carate also has its own airport but it's not really used. Majority of people fly in from Puerto Jimenez and get a shuttle to Carate.
Hotel recommendations
Since it's so small, there aren't a ton of lodging options in Carate and nothing budget. Whether you decide to stay in Carate before starting the long Corcovado National Park hike or use it as a home base, it's best to research carefully if you want to stay in Carate or not. You'll notice a common theme among Carate hotels: remoteness, no AC, limited electricity and expensive meals.
The highlight of staying in Carate is its location, there aren't too many other places in Costa Rica as remote. This is a side of Costa Rica not many people experience so it can be exactly what you're looking for.
Drake Bay
Sitting on the west coast of the Osa Peninsula is Drake Bay which has a rich history as it was believed to be a port used by Sir Francis Drake, hiding treasure long lost.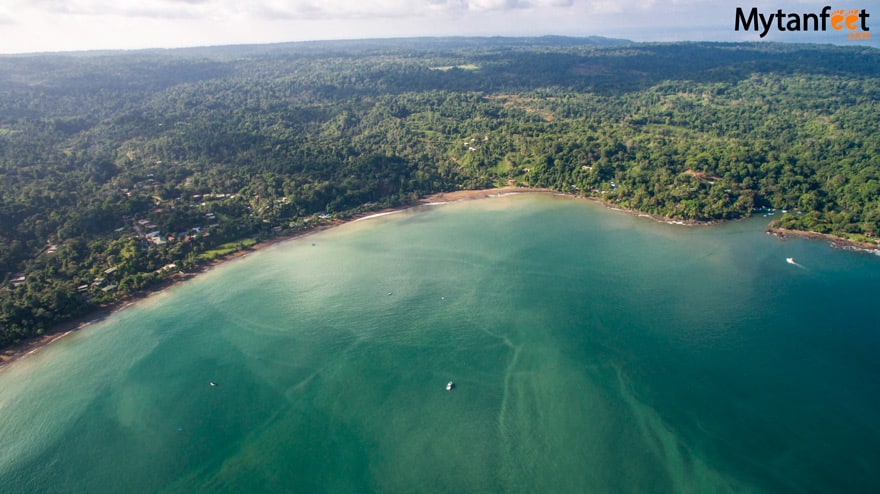 It has its own airport, doesn't have ATMs and is close to the Corcovado National Park. You can find a few hostels, budget hotels and luxury all inclusive lodges.
We've written an in-depth guide to Drake Bay which you will find information for how to get there, hotels, restaurants, activities and more. Read our Drake Bay guide here.
A hotel all on its own: Casa Corcovado Jungle Lodge
On the west coast of the Osa Peninsula lies a lodge so remote, it takes a 2.5 hour boat ride from Sierpe to get there.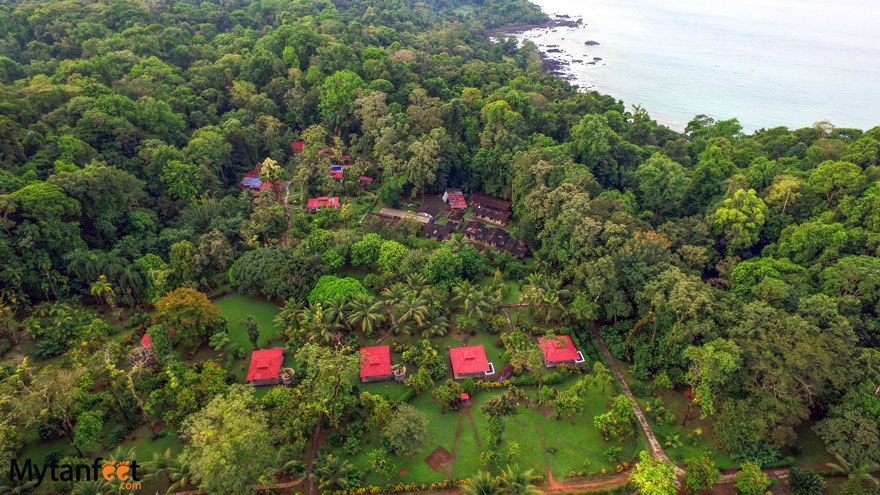 There is no road access and the entire lodge runs on hydro and solar power. They have their own trail to San Pedrillo Station in Corcovado National Park where tapirs are commonly seen strolling on the very same path. If you want the ultimate adventure, beach and jungle experience, Casa Corcovado Lodge offers just that.
There is another lodge called Jungla del Jaguar Lodge & Hostal that offers a similar experience as Casa Corcovado but not quite as expensive with the same level of luxury. A very nice place to stay to experience the Osa Peninsula more on a budget.

Best Things to Do
Most activities are centered around nature and the outdoors which is why this area is perfect for the outdoor lover.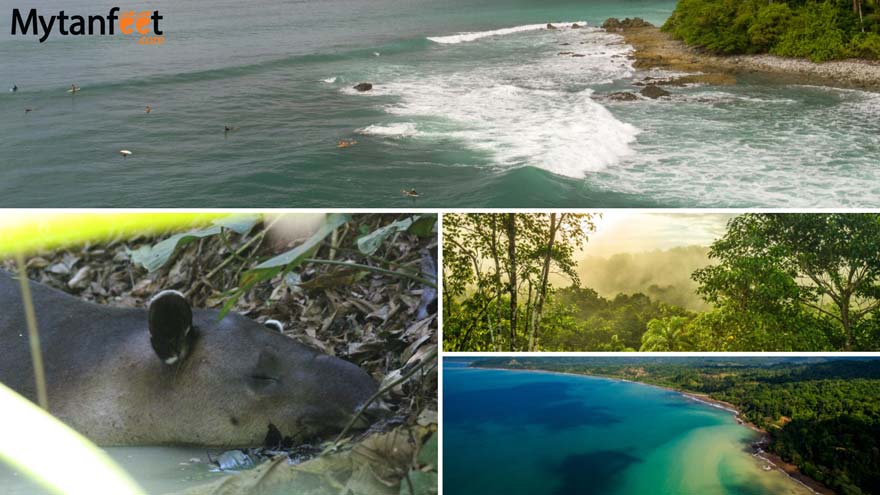 Hiking Corcovado: The ultimate activity in the Osa Peninsula is hike Corcovado National Park. You can hike overnight or do a one day hike. The most popular ranger stations to visit are San Pedrillo and Sirena and the overnight hike is from Leona to Sirena.
Snorkeling/Scuba diving Caño Island: For those staying on the west side of the peninsula (Drake Bay), this is a must do. The island is considered the 2nd best place for snorkeling/scuba diving in Costa Rica so if you want to swim with turtles, definitely do this! We did this and it was amazing! Read about our experience snorkeling at Caño Island.
Humpback whale/dolphin tour: During certain months of the year, particularly August and September, the humpback whales pass through the Osa Peninsula. You can take a whale/dolphin watching tour out of Drake Bay. If you're in Puerto Jimenez, you can see dolphins and whales in Golfo Dulce.
Sierpe Mangrove: If you're in Drake Bay, visit Sierpe Mangrove to see wildlife on a leisurely boat ride or kayak your way through the water. You can see snakes, birds, monkeys and more.
Fishing: Deep sea fishing is incredible at the Osa Peninsula. Catch huge rooster fish, snappers, groupers and more.
Tips for Visiting Osa Peninsula
This post has affiliate links.