Although growing in popularity, the small coastal village of Potrero has retained its very serene and tranquil atmosphere, making it an excellent destination for those looking for a relaxing beach vacation in Costa Rica. If you are thinking about staying in Potrero, here is what you need to know to plan your visit.
Location
Potrero is in the Guanacaste province, 38 kilometers (23.3 miles) from Liberia International Airport and 244 kilometers (151 miles) from San Jose International Airport.
How to Get to Potrero, Costa Rica
Driving
You can easily drive to Potrero from both Liberia and San Jose. From Liberia International Airport, Potrero is about a 1 hour drive going by Route 21, 155 and 180. This route is on a fully paved, main road. We don't recommend to go by Route 911 because this road is not fully paved and it is curvy and narrow so it's not a very easy drive for the unfamiliar. There is also a river that gets very deep and big in peak rainy season. (The nickname of Route 911 among locals is Monkey Road so if you hear anyone telling you to avoid the Monkey Road, this is the one).
From San Jose, it is about a 4 hour drive. We recommend to take Route 18 and 21 via the Taiwan Friendship Bridge and Nicoya instead of going through Interamerican highway 1 and Liberia because that will require you to go through Route 911. You don't need a 4×4 for this route either going through Route 18 and 21.
Public Bus and Shuttles
There is a public bus from San Jose to Potrero, Playa Flamingo, Conchal and Brasilito at 8 AM, 1030 AM and 3 PM everyday. It leaves from Ave 5, Calle 20/22 with Empresa Tralapa. This bus takes 6 hours.
There is a public bus from Santa Cruz to Potrero at 3:40 AM, 530 AM, 6 AM, 9 AM, 9:50 AM, 11 AM, 12 PM, 230 PM, 5 PM, 640 PM and 730 PM everyday. This bus takes 2 hours.
There are shared shuttles available to Potrero. Check Interbus, Ride CR or Easy Ride. From San Jose, it is around $59 USD per person.
A private shuttle from Liberia International Airport to Potrero is $90-130 USD one way depending on number of passengers. From San Jose to Potrero is around $190-230 USD one way depending on number of passengers.
Plane
There is a local airport at Tamarindo so you could fly into Tamarindo Airport and take a taxi to Potrero or pick up your rental car there. Tamarindo Airport to Potrero is a 30 minute drive.
Potrero Town and How to Get Around
There isn't really a downtown or town center in Potrero, mostly everything is off the main road Route 911 parallel the beach. The backroads of Potrero are the local neighborhoods and some businesses here and there. Potrero is right in between the luxury communities of Flamingo and Las Catalinas.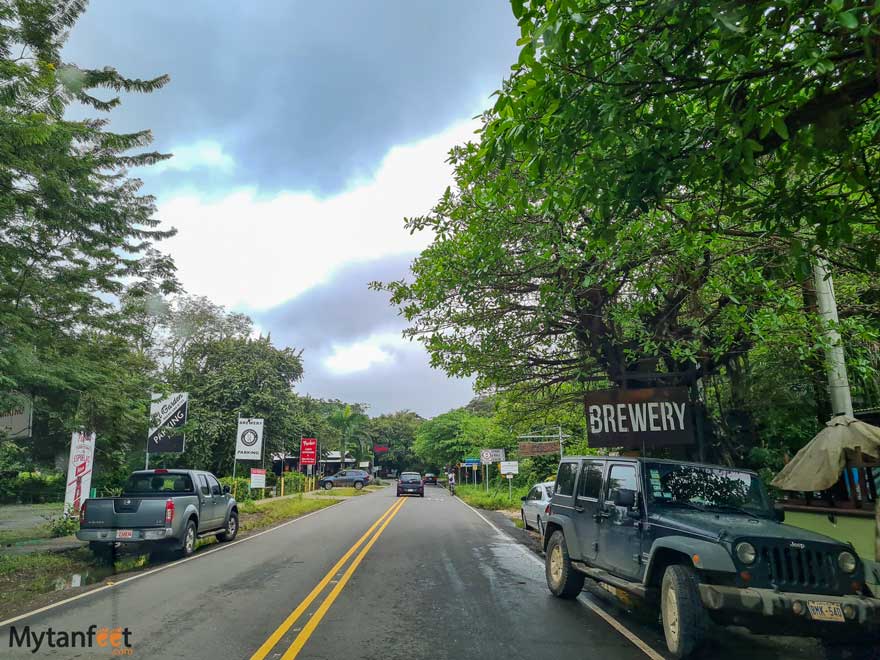 Renting a car is the best way to get around Potrero since things are spread out. You can walk to places in Potrero itself but if you want to go to Flamingo, Brasilito or Las Catalinas, you should rent a car. There aren't really any Ubers in this area but there are taxis.
Some people rent a golf cart to get around Potrero.
Playa Potrero (Potrero Beach)
Potrero beach is long with dark sand and waters. The beach lays inside Potrero Bay so the waves don't get too rough or intense and it is great for swimming, dipping your toes and sunbathing.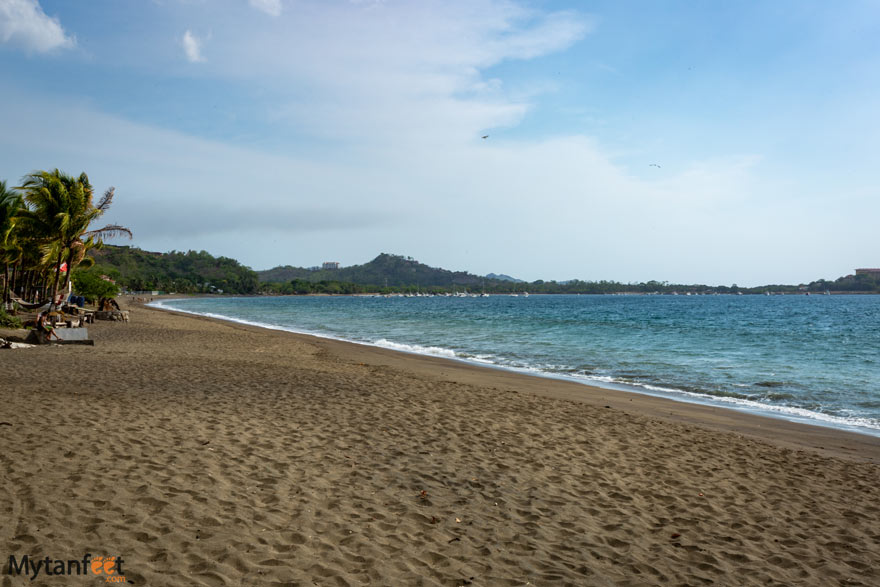 Potrero beach is much less crowded and busy than its more popular neighboring beaches of Conchal and Flamingo since those are two white sand beaches. However, Potrero has beautiful sunsets and picturesque coastal views so it's a nice beach to wind down the day or for a long, undisturbed walk at sunset.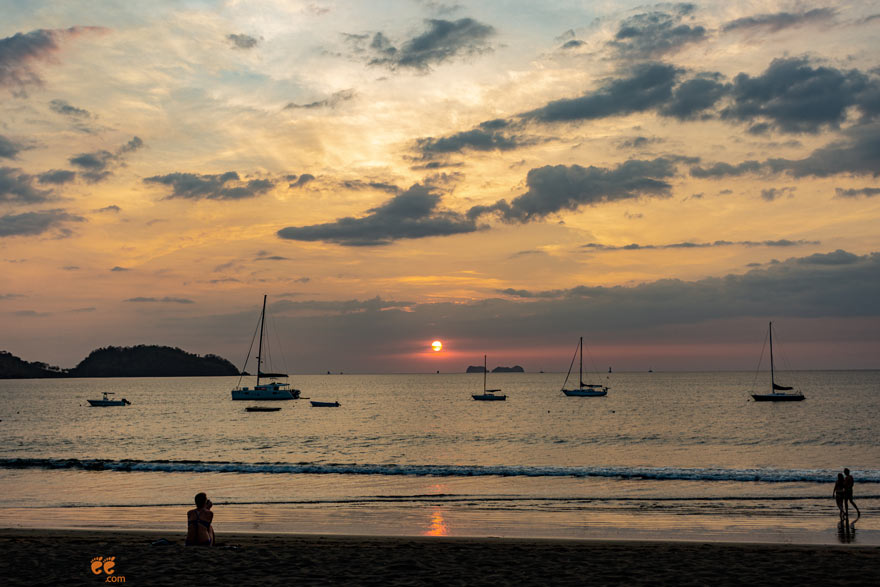 There are many catamarans and fishing boats in the bay as Potrero beach is a popular launch point for cruises and fishing tours.
Things to Do in Potrero, Costa Rica
Scuba Diving: Potrero is very close to the Flamingo marina which is the main launch point for scuba diving tours. From the Flamingo marina, it is only a 30 minute boat ride to the Catalinas Islands where there are whitetip reef sharks, turtles, manta rays and an abundance of marine life.
You don't have to be certified to scuba dive in Costa Rica as there are dive shops that offer discovery dives for non certified divers.
Sunset Cruise and Snorkeling Tours: Potrero is home to several sailing companies such as Lazy Lizard, Panache and Costa Rica Sailing Center. Go on a sunset cruise to see the beautiful Guanacaste coastlines and sail back under the dreamy sunset. Or go in the morning for better snorkeling conditions.
Fishing: If you like fishing, then a fishing excursion from Flamingo is a must.
Surfing: If you surf, then you can book a surf excursion to the iconic Witch's Rock (1.5 hour boat ride one way, must be at least intermediate level) or head over to Tamarindo to take a surf lessons for beginners and newbies.
Flamingo market: Enjoy live music, shop and eat at the artisans market on Monday evenings, 530 PM to 830 PM. At the Marie's Restaurant.
Potrero Day Trips
Neighboring Beaches and Beach Towns
Check our video below for beaches near Potrero you have to visit!
Potrero, Costa Rica Weather
Being in the Guanacaste province, Potrero has great weather with nearly year round sunshine. Temperatures don't vary greatly in Costa Rica and same goes for Potrero. Dry season, which is roughly December through April is around 90-95 F (34-35 C) during the day and 80 F (26 C) at night. March and April are the hottest months and it can be nearly 100 F (38 C) for weeks. It is extremely dry during these months.
In rainy season, which is roughly May through November, temperatures don't change much. The days are around 90 F (32 C) and nights are around 74 F (24 C) but it does get considerably more humid. A typical rainy season day is cloudy but dry in the morning and off and on showers in the afternoon and nights. October is generally the rainiest month.
Something to note is that Potrero can flood in the raininest months like October or November. Last 2020, it flooded for a couple days when we had a tropical storm. Since Potrero has a couple rivers, they can rise very quickly in heavy rains.
Potrero Restaurants
There are a lot of good restaurants in Potrero and the surrounding area.
Surf Box: Nice place for breakfast, smoothies, coffee and lunch.
Shogun Asian Fusion: Pretty decent place for Asian fusion with basic Chinese, Thai and Japanese dishes. Sushi is pretty good.
Cerveceria Independiente: Brewery in Potrero with good craft beer, pizza, sliders and other bar food. Fun atmosphere, nice location right off the main road.
Coco Loco: Seafood, local food and vegan options
The Shack: Good place for typical American food like wings, grilled cheese sandwiches, etc. Also have live music.
Soda Marcell: One of the best restaurants for traditional Costa Rican food.
Hemingways: Restaurant of the Costa Rica Sailing Center. Burgers, seafood, yummy drinks, barbecue and more
Perlas: Fun place for music, karaoke, they have a barbecue night and have good tacos and chicken wings
La Jama: Fast food (burgers, fries, nachos, etc.)
La Pizzetteria: Delicious Italian food
Las Brisas: Great beach bar with cocktails, smoothies and beer.
El Tiki: Yummy smoothies and breakfast. Also excellent seafood
The Beach House: Nice beachside restaurant for sunset happy hour drinks. Seafood and Costa Rican food.
Nita Coffee: Nice coffee shop with cakes and desserts
Aji Mahi: Peruvian Restaurant with seafood and meat fusion dishes
Restaurante Pleamar: Another beachside restaurant with good seafood, Costa Rican food and happy hour.
Mangue: Beachfront, yummy tapas, meat, and drinks
Potrero Hotels
There are more vacation rentals in Potrero than hotels and you can find condos, apartments and houses in town. Check Airbnb, Surfside Property Management and VRBO.
Visiting Potrero, Costa Rica
You can stay in Potrero and use it as your home base for your Costa Rica vacation. Many people choose this option and either rent a car or book tours for day trips. Likewise, you can also stay in Potrero for a few nights for your time in Guanacaste.
We recommend Potrero for anyone who wants a quieter, more chill beach vacation in Guanacaste, especially families. It's also ideal for those more on a budget as it's cheaper than Flamingo, Tamarindo and Conchal. We also recommend to check out Brasilito for a similar vibe to Potrero.
Potrero may not be ideal for solo travelers as it is a bit hard to meet other travelers due to lack of hostels, nightlife and a city center. For young backpackers or solo travelers, Tamarindo would be a better option with more nightlife and hostels. Otherwise, for older couples and families, Potrero is an excellent choice.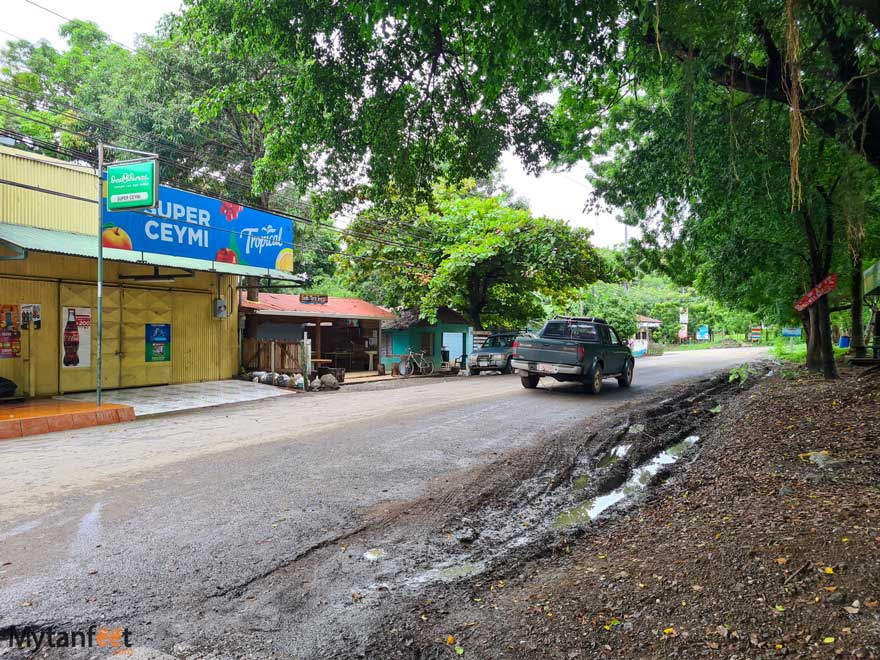 Potrero has a couple of small supermarkets such as Super Ceymi, Merkdo and Super Massai Grocery. For a full size supermarket, you can go to the markets in Huacas or Mega Super, Maxi Pali or Auto Mercado on the way to Tamarindo.
Read About Other Beach Towns Below!
Uvita, Costa Rica: Small coastal town in the South Pacific, famous for the Marino Ballena National Park and humpback whale watching
Santa Teresa, Costa Rica: Surf and yoga coastal village in the Nicoya Peninsula.
Samara: Family friendly surf beach town in South Guanacaste
Costa Rica Vacation Checklist