Only a 30 minute drive from the busy surf town of Tamarindo is Playa Junquillal, a picturesque beach with a low key atmosphere, long deserted shores and beautiful wild waves. This beach also has the Ecological Blue Flag status, given to the only the cleanest beaches in Costa Rica.
If this sounds like the type of place you're looking for for your Costa Rica vacation, read our guide to Playa Junquillal for more information.
Map
Playa Junquillal, Guanacaste, Costa Rica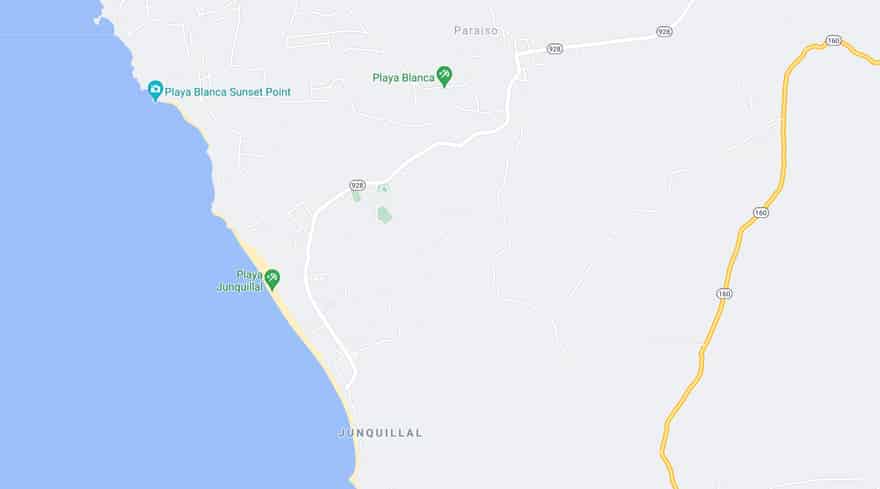 Playa Junquillal is in the Guanacaste province, 79 kilometers (49 miles) from Liberia Airport and 35 kilometers (22 miles) from Tamarindo. It is a 1 hour and 15 minute drive from Liberia Airport and a 45 minute drive from Tamarindo.
How to get to Junquillal Beach
The best way to get to Junquillal is to rent a car.
Additionally, the town is very small so having a car is the most flexible way to get around, especially for activities as tour companies do not pick up in Junquillal. (Get our Costa Rica car rental discount here).
You can find Playa Junquillal on Google Maps and Waze, it's a fairly straightforward route. Set Playa Junquillal as your destination and it'll take you to the main entrance of the beach. There are other small entrances but that one is the main one.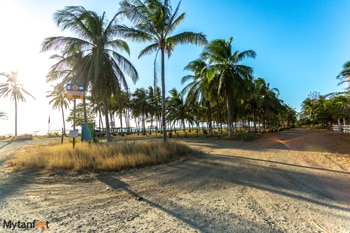 By bus, you can take the bus from Santa Cruz to Playa Junquillal at 5:00, 7:00, 10:15, 12:15, 2:30 PM and 5:30 PM with Mercado Municipal. Make sure you arrive early as buses don't tend to be very punctual and can run early or late (schedules are more like suggestions).
For shuttles, the only options are taxis or private shuttles. A private shuttle from Liberia costs from $90-120 USD one way. From Tamarindo, it can cost around $60-75 USD one way.
If you are coming from San Jose, the drive is around 4.5 hours. You can also take a local flight to Tamarindo and drive from there.
Parking
At the main entrance, there is a dedicated parking area. No parking fee. No security.
Services
There is a playground, picnic tables and sitting areas at the main entrance. At this entrance, there is also a very large turtle statue that is nice for photos.
4×4?
It's recommended to have a high car for this area of Guanacaste as it is more rural, mostly farmland. In the rainiest months, a 4wd/4×4 is definitely needed (August – November).
Camping
There is a campground on the north end of Junquillal beach called Camping Los Malinches with a beautiful view and nice space. We recommend to camp there instead of free camping as it's in a dedicated site.
Junquillal Weather
As Junquillal is in the Guanacaste province, it has sunny days for most of the year. Expect high temperatures (around mid 90s F, 35 C) during dry season, which is beginning of December to beginning of May. Rainy season still has sunny days and doesn't really start raining a lot until September through November.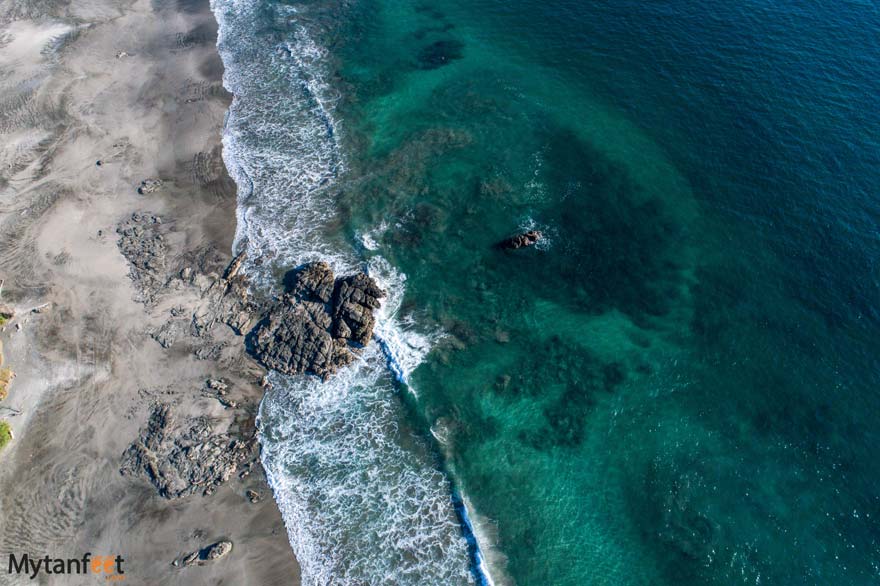 What to Do at Playa Junquillal
The best things to do at Playa Junquillal are enjoying a laid back, empty beach. You can also walk on the beach, watch the sunset, visit the sea turtle project and simply take in the beautiful tropical views. You can easily spend a few days relaxing and relishing in the pura vida and "real Costa Rican" vibe as this area is not commercialized at all compared to other popular beach towns in the area.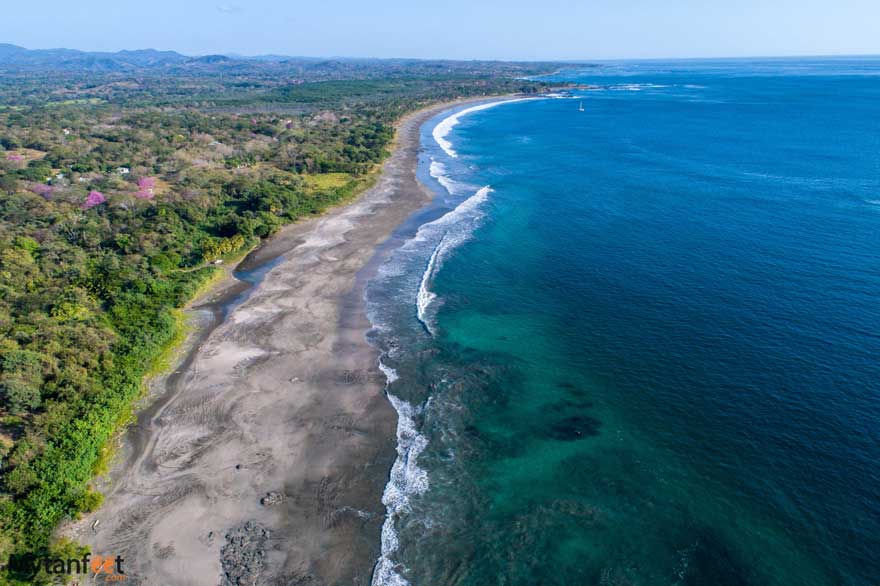 Junquillal is getting a bit more well known among locals, especially since the last couple years due to the pandemic, since it's an excellent beach to get away from crowds and the stresses of daily life. Some visitors use Junquillal as their homebase for their entire Costa Rica vacation which is absolutely possible thanks to the handful of luxury houses and communities in the area. (Remember you will have to rent a car in this case and plan your own day trips).
From Junquillal, you are not too far from national parks and attractions. And you have many other beaches to explore just a short drive away!
Long Beach Walks
With a long rural coastline and vast shores, Junquillal is absolutely perfect for those peaceful beach walks. As it's mostly deserted, you will have most of this beach to yourself on a normal day. Perfect for morning beach walks to clear your head, rid yourself of worries and start your day off fresh.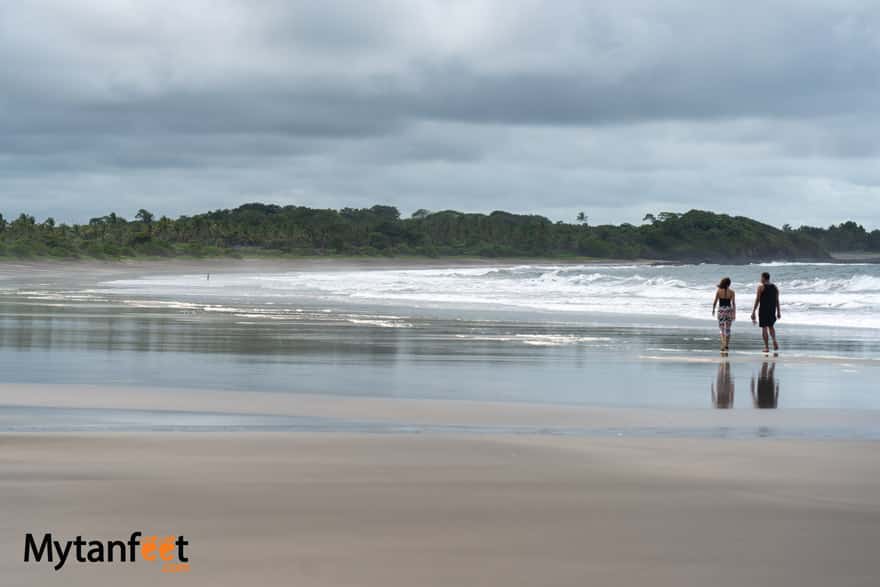 You can also find a nice shady spot under the trees to meditate to the relaxing ocean sounds.
Swimming
You can swim at this beach, though it is a bit rocky out far in some spots and waves are not that calm. Be very careful if you decide to dip your toes and do not go very far out. There are no lifeguards at this beach. If you visit during low tide, you can see the tide pools and dip in there.
Surfing
Junquillal has a beach break with a strong left hand break best at high tide. It's more for experienced surfers as the breaks are fast and hollow. Not for beginners or intermediate surfers, you'll see mostly locals out there. Fun to watch when the local kids run out to catch waves during a swell.
Sea Turtles
Junquillal has a sea turtle hatchery as a few sea turtles nest on this beach. Junquillal is not a protected beach or wildlife reserve, so locals patrol the beach at night to keep poachers away. The best time to see them is July – February (peak time is October and November).
Day Trips from Junquillal
You can do a lot of fun day trips from Junquillal as it's close to many attractions such as Ostional Wildlife Refuge to see turtles, Hacienda Pinilla to play golf and Nandamojo River to spot wildlife. Junquillal is also right in between the more popular beach towns of Tamarindo/Conchal/Flamingo and Samara/Nosara.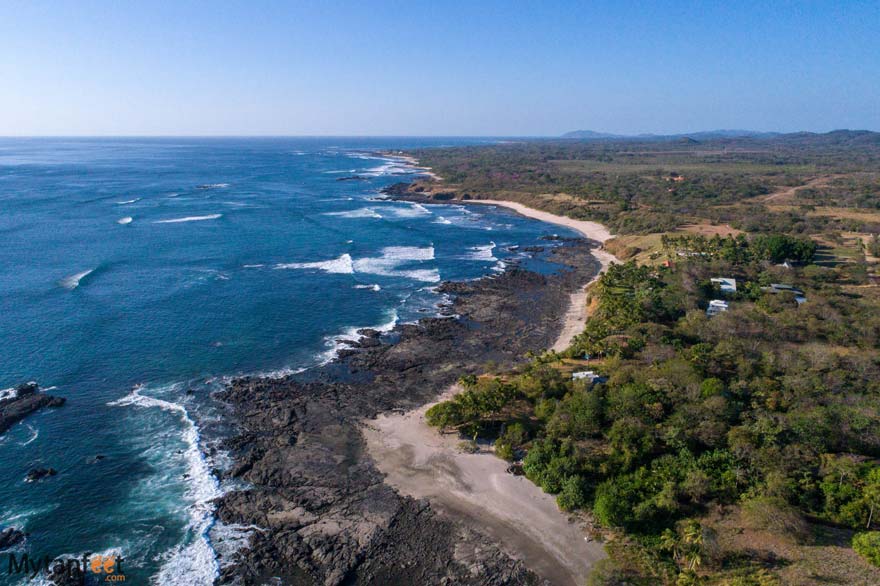 You can read our post of things to do in Tamarindo since all the activities in the post you can do from Junquillal.
One thing to keep in mind when planning your stay at Junquillal is that you will have to drive on your own to attractions. Tour companies will charge extra to pick up in Junquillal (and quite a bit) due to its location.
Hotels and Restaurants
There are surprisingly a good handful of restaurants, vacation rentals and hotels in Junquillal. Some hotels are Playa Junquillal Eco Resort, Mundo Milo Eco Lodge, Guacamaya Lodge, Hotel Tatanka and Hotelito Si Si Si. And then there are some really nice, beautiful and big houses for rent in the area such as Plumita Pacifica, Condominios Calahonda and Casas Pelicano. If you go down towards the south end of Junquillal, there are the Las Brisas Condos and even more luxury homes.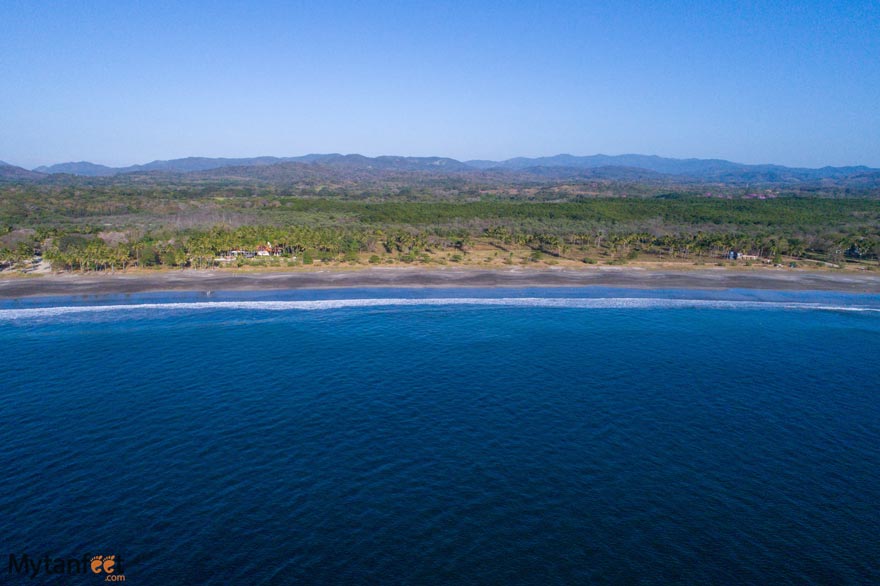 For restaurants recommendations, Mundo Milo Lodge, Restaurante Lochilto, Amigos Bar and Grill are good options.
What to Know About Visiting Junquillal
There is a full supermarket called Supermercado Junquillal. For gas, there are stations in Santa Cruz and Villarreal so make sure to fill up. There is also a bigger supermarket, liquor store and restaurants in Paraiso, a small town a bit outside Junquillal.
Here is a handy map of the Junquillal area:
Visiting or Staying at Junquillal
Junquillal is best as a beach to visit for a day trip from Tamarindo, Flamingo or Conchal. But since there are some hotels and vacation rentals there, you can definitely stay a few days in Junquillal as well.
It's a gorgeous beach that is perfect for those who are interested in seeing more remote, less touristy places in Costa Rica and it gives you that quintessential wild, tropical Costa Rica experience. We love Junquillal exactly for those reasons!
Read about other similar beaches below!
Pochote: Beach near Paquera in the Nicoya Peninsula. A local favorite with camping and Scarlet Macaws
Coyote: Dark sand beach in the Nicoya Peninsula. Not touristy, small town with few hotels and restaurants
Mina: Beautiful white sand beach near Conchal, not developed or touristy
Prieta: Pretty small local beach by Las Catalinas
Costa Rica Vacation Checklist
Join our mailing list and get our free Costa Rica eBook!
This post has affiliate links.