Playa Panama, Costa Rica is a very laid back and relaxing dark sand beach on the Guanacaste coast. It is located in the southern part of Bahía Culebra inside the luxurious Gulf of Papagayo making it an excellent destination for families and travelers who want a quiet beach escape.
Plan your visit to Playa Panama in this guide.
How to Get to Playa Panama
Driving
The best way to get to Playa Panama and get around this area is by renting a car as attractions are spread out. You can easily get to Playa Panama by car. Playa Panama is a thirty minute drive from Liberia International Airport to Playa Panama.
You can use GPS like Google Maps or Waze to get to your hotel in Playa Panama. The entire route is well paved so a 4×4 or 4wd is not necessary to get to Playa Panama. This drive takes about 25-30 minutes.
Read more about renting a car in Costa Rica, renting a car at Liberia International Airport and get our Costa Rica car rental discount!
Shuttle
If you aren't renting a car, the best way to get to your hotel in Playa Panama is by private shuttle. A private shuttle for 1-4 people from LIR airport to Panama costs around $60 USD. If you'd like to book a private transfer from the airport to your hotel in Playa Panama, please contact us!
Bus
There are buses between Liberia bus station and Panama a few times a day. You'll have to walk out to the main highway from the airport, about a 20 minute walk under the hot sun. Then you need to flag down the bus that is going to Playa Panama. It'll stop at the main bus station in Panama, then you need to walk or taxi to your hotel.
How to Get Around Playa Panama
Playa Panama has a tiny little town, about a 5 minute drive from the beach but there isn't anything really in this area like a town center. This is why it's best to rent a car if you are staying in this area for more than a couple days.
If you need to go to the bank, pharmacy, medical clinic or a big supermarket, you will need to go to Playas del Coco which is the main tourism hub of the Gulf of Papagayo, a 10 minute drive away. Even for nightlife and bars, they are all mostly in Playas del Coco.
Unfortunately there isn't a common bus or shuttle that go in between the two. You will have to ask your hotel to call you a taxi. Rideshares like Uber are very few here so don't rely on that.
Panama Beach
Panama beach has such immaculate conditions with low tides and small waves it makes you feel like you are bathing in a big natural pool. With dark sand, blue waters and forest, it gives visitors the ultimate feeling of peace and being surrounded by nature.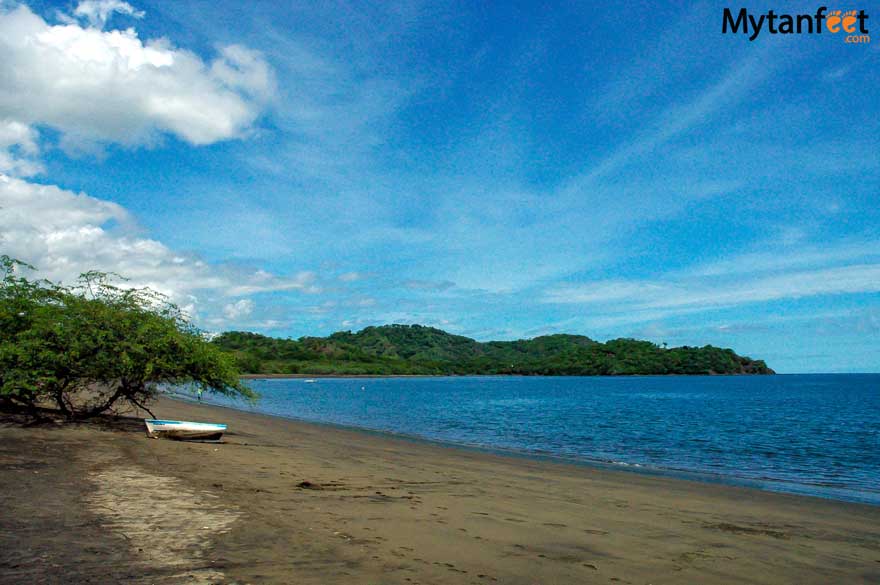 The smooth sand allows for easy walking on the 2km (1 mile) long beach. There are some trees along the shore that are perfect for laying under the shade. Since waves are pretty much nonexistent at the beach, this is the perfect beach to go for families with babies and toddlers. They don't need to worry about strong currents or rocks at this beach.
It can get a bit boring for solo travelers however, so I don't recommend staying in Panama if you're a solo traveler looking to meet other people. It is better to stay in Coco downtown where you are close to everything.
Playa Panama Hotels
There are just a handful of hotels in the area, mostly beach front resorts.
El Mangroove: An amazing beach resort with a gorgeous pool and two delicious restaurants. Rooms are a bit small but very comfortable and modern. Beautiful quiet property.
Casa Conde Del Mar – beautiful all-inclusive hotel on the beach. Their pool is really nice and the food is delicious. Pet friendly. Popular with city locals so it does get busy on weekends and holidays.
Vista Bahia Beach Resort – beach resort on the south end of the beach. Rooms are like suites with a full kitchen and balcony.
Papagayo Golden Palms Beachfront: Quiet spacious beach resort. Big property with nice gardens and breakfast included. Has a restaurant and pool.
Occidental Papagayo Adults only: An affordable adults only beachfront all inclusive resort. Two pools and a spa. Not the most luxurious all-inclusive compared to others in the area but is ideal for those who are more on a budget for an all inclusive.
Things to do in Playa Panama
Panama beach has such calm waters that it is a must for swimming. Scuba diving, sailing, snorkeling and sport fishing are all activities highly enjoyed here. Stand up paddle boarding would be great at this beach thanks to the very calm waves.
You can check with your hotel if they have ocean equipment for rent. Playa Panama doesn't have any good snorkeling right off shore so if you want to snorkel, we highly recommend a private snorkeling tour! This tour is our favorite as it takes you around the Gulf to beach hop and snorkel at white sand beaches and clear waters.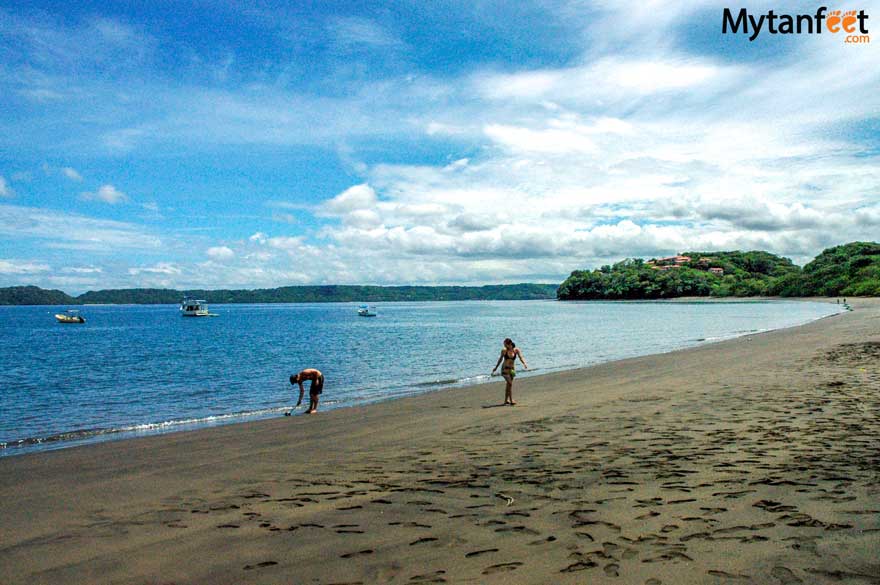 At the end of it, people come to Panama to relax with their family. This beach is so good for families with little ones since there are virtually no waves. It's also the go to for one looking to escape any type of crowd, have long private walks on the shore or take a dip with the kids.
Playa Panama Day Tours
There are a handful of fun day trips from Playa Panama. Head to the national parks like Rincon de la Vieja National Park or Palo Verde National Park to hike and see wildlife. Those are about a 1 to 1.5 hour drive. For adventure, head to Diamante Eco Adventure Park for the longest ocean view zipline and it's only a 40 minute drive away.
Fishing is a must if you like to fish as the Gulf of Papagayo is famous for its excellent fishing. If you are a scuba diver, book a diving trip. For those who want a full day of beach fun, book a beach hopping and snorkeling tour in the Gulf of Papagayo.
For nightlife, Playas del Coco is the place to go. There you will find several bars, a casino and lots of restaurants. It's a cute little coastal village to check out.
Want to do some day trips from Playa Panama? Check out our list of favorite things to do in Guanacaste and get our Guanacaste tours discount to save some $$!
Visiting Playa Panama
You can visit Panama beach for a day or use it as a home base. Stay at one of the few very nice hotels or vacation rentals in the area and rent a car for a really fun beach vacation. It's a great location for couples looking for more privacy and a quieter atmosphere and families with little ones.
Read about more beaches in Costa Rica below!