Playa Panama, Costa Rica is a beach on the Guanacaste coast that offers another beautiful and tranquil environment. It is located in the southern part of Bahía Culebra with peaceful waters and a very laid back atmosphere. Since this beach doesn't have a town center or downtown, it's very quiet. You won't ever have to deal with crowds!
Although many developments have popped up, the serenity and pristine beach has not changed. The abundance of trees, crystal blue waters and ideal swimming conditions make this place a top choice for families and for those who are looking to spend some well needed relaxation time.
This post has been updated March 2018.
Location and Directions
Playa Panama, Costa Rica map

It is about a thirty minute drive from Liberia International Airport and you take the same roads as you would going to
Playas del Coco
. Off the main road when you reach the intersection between Playas del Coco and
Playa Hermosa
from the main road, turn right.
Keep going for another couple miles past the Hermosa entrance until you see the sign for Playa Avenilla, Panama and Liberia and turn left into this entrance. You can also take the right turn off the main road from the airport at the Do-It Center. Follow that road all the way until you reach an intersection, take a left and Panama is right up ahead.
There are buses between the airport and Panama 3 times a day. A private shuttle for 1-4 people from LIR airport to Panama costs $50.
How to get around
Panama doesn't have a downtown or city center so if you need to go to the bank or a big supermarket, you will need to go to Playas del Coco. The easiest way to get around this area is with a car since there is only one bus that goes throughout Panama, Hermosa and Coco and it doesn't go often. You can take a taxi, it will be around $15 one way so we recommend renting a car in Costa Rica if you plan to stay in Panama as your home base for your trip.
If you're only staying for a couple nights, shared shuttles do go to Panama beach and you can also book private shuttles. Tour companies will pick up at Panama beach.
Panama Beach

Panama beach has such immaculate conditions with low tides and small waves it makes you feel like you are bathing in a big natural pool. With grey sands, bright blue waters and many different types of trees around, it gives visitors the ultimate feeling of peace and being surrounded by nature.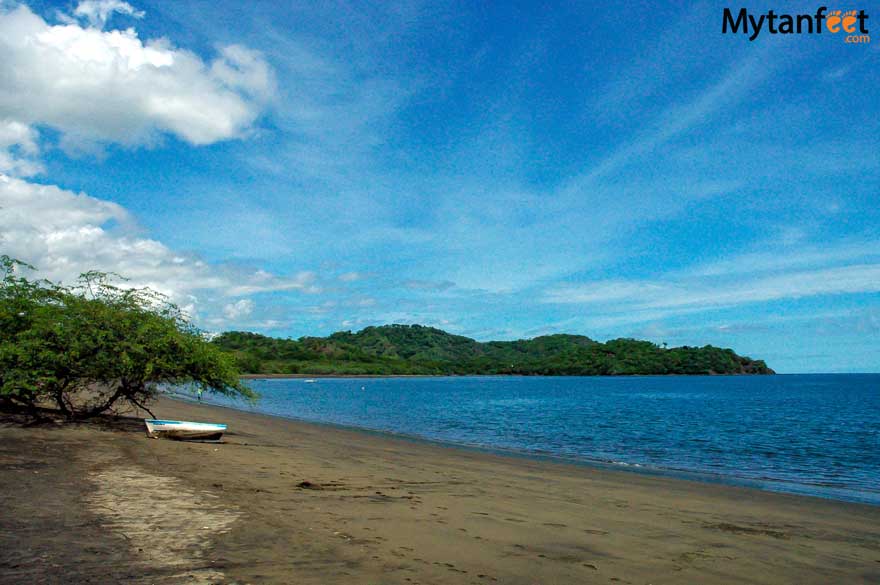 The smooth sand allows for easy walking on the 2km long beach. There are some trees along the shore that are perfect for laying under the shade. Since waves are pretty much nonexistent at the beach, this is the perfect beach to go for families with babies and toddlers. They don't need to worry about strong currents or rocks at this beach.
It can get a bit boring for solo travelers however, so I don't recommend staying in Panama if you're a young solo traveler looking to meet other people and have a fun nightlife. It is better to stay in Coco downtown where you are close to everything.
Playa Panama Hotels
There are just a handful of hotels in the area but remember: quality over quantity. And the quality of these hotels are top notch – from B&B to all inclusive hotels.
Here are a few of the popular hotels.
El Mangrove – one of the most highly rated hotels in the country. Amazing pool and delicious restaurant. Great for couples.
Casa Conde Del Mar – beautiful all-inclusive hotel on the beach. Their pool is really nice and the food is delicious.
Vista Bahia Beach Resort – beach resort on the south end of the beach. Rooms are like suites with a full kitchen and balcony.
These hotels are more high end and have higher prices but being tucked away in the jungle means more privacy and attention to service as there are usually less tourists. As mentioned before, Hermosa and Panama are very close to each other so even if you are staying at a hotel by one or the other, it will still be easy to get around and see the area.
There is a new eco-camping area right outside one of the entrances so if you're up for pitching a tent, there's a nice flat piece of land to get in touch with nature.
Things to do in Playa Panama
Panama beach has such calm waters that it is a must for swimming. Scuba diving, sailing, snorkeling and sport fishing are all activities highly enjoyed here along with jet skiing, paddle surfing and and wind surfing. You can rent kayaks and canoes on the beach and boat tours also leave from Panama.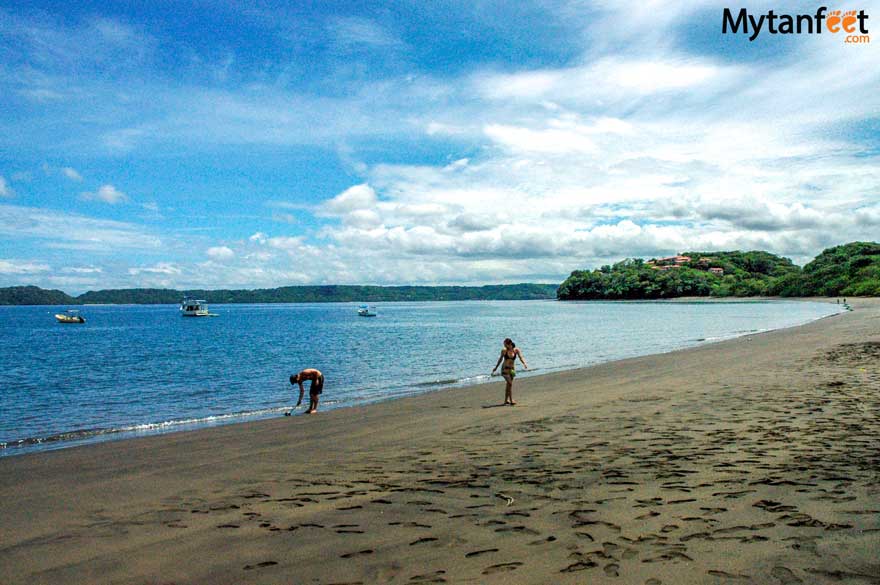 Most people come to Panama to relax. Panama is the ideal beach for families with little ones since there are virtually no waves. It's also the go to for one looking to escape any type of crowd, have long private walks on the shore or take a dip with the kids.
National parks like Rincon de la Vieja National Park or Palo Verde National Park are close by to hike and wildlife watch. You can kayak all the way to the other side and enjoy the Four Season's beach. For adventure, head to Diamante Eco Adventure Park for the longest ocean view zipline!
To see more of the beaches in the area, go boating in Playas del Coco. Panama is a beautiful beach but it has very hard dark sand. If you want to see white sand beaches and go snorkeling, you have to take a boat tour.
For nightlife, Playas del Coco is the place to go. You can also see what's going on at Playa Hermosa.
Check out our short video of Panama beach below.
Read about more beaches in Costa Rica below!