With more and more tourists visiting Costa Rica every year, it's extremely important for us to share tips like these, our top "do's and don'ts" to help everyone have a great and safe time and respect local customs.
Some of these come from Yeison, a Costa Rican and some of these come from me, an American in Costa Rica so that you have a better idea of what to expect, how to plan a great trip, what to be aware of and how to behave.
Here are our do's and don'ts of Costa Rica.
*Click here to read our Costa Rica coronavirus post for latest information.* There are Amazon affiliate links in this post.
The Do's of Costa Rica
Do plan ahead
Costa Rica is not exactly the best country to just "wing it." You can have a very bad time if you do that! It's not super easy getting around Costa Rica, it is extremely busy during the holidays and December – April, it's not that cheap and rainy seasons here are nothing to joke about (I'll get to that part in a second). If you only have 10 days in Costa Rica and don't really plan on visiting again, you want every single of those days to be as memorable as possible.
So make sure you plan your trip. Research and decide which places you want to go to, what are your "must sees" and "must dos", what kind of hotels you want to stay at, how to get around, what kind of car to rent, etc. If you don't, you may leave very disappointed. And all you had to do to change your entire experience in Costa Rica was to just spend a few days doing your research.
For more planning tips, check out our following posts:
Do prepare for rainy season in Costa Rica and appreciate the rain
Tropical weather is no joke. The two seasons, dry and rainy, can be as extreme as you can imagine, especially with Costa Rica's 26 micro-climates. You can go from dry 100 F (38 C) weather at the beach to 55 F (13 C) rainy weather up in the mountains in one trip. Heck, in even one day! If you visit during May – November, this is Costa Rica's rainy season and you need to prepare for it.
Although some people get bummed out from the rain, we always suggest to appreciate it. Rain is what keeps our jungles lush, wildlife abundant and crops fruitful. Trust me, you can still have a magical time in Costa Rica despite the rain. Just make sure you know what to expect!
If you're visiting during that time of year, make sure to read our Costa Rica rainy season guide and packing list here.
For those who don't want to run into any rain at all, then the best times to visit Costa Rica are January – April.
Do take a guided walk
Some people ask us if it's worth spending the extra money for a guided walk in Costa Rica. We always say YES! Do at least one guided walk during your time in Costa Rica because it will greatly enrich your experience in the country. You'll learn and gain a deeper insight to the country and Costa Rican rainforest, wildlife and nature . Even though we have done many guided walks, we always learn something new!
We especially recommend guided walks for families. The world is changing and our next generation needs to open up their eyes to different cultures, languages and traditions. And who knows, maybe their experience will be so inspiring and impactful that they will grow up to be a biologist or scientist or learn Spanish!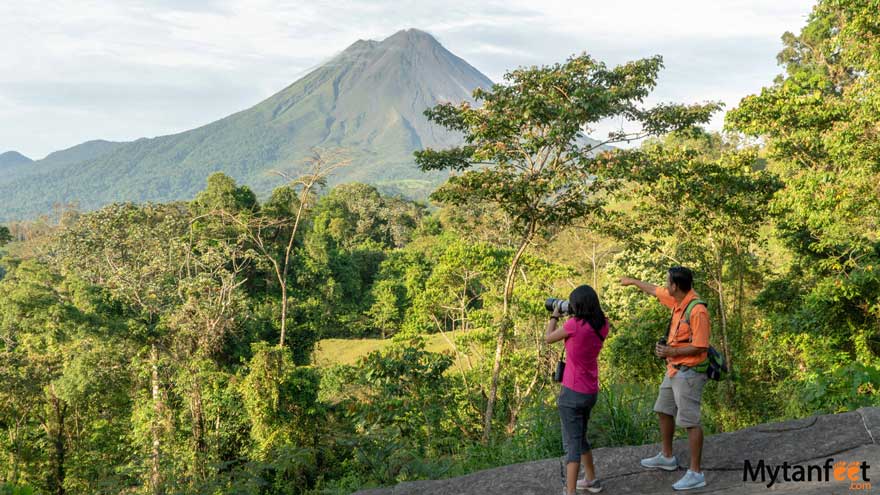 Furthermore, a guided walk is a must for birders or anyone who really wants to see wildlife. Your naturalist guide has trained eyes to see the animals and they normally carry telescopes so you can get a really close look.
Our favorite places for guided walks are Curi Cancha Reserve in Monteverde, Manuel Antonio National Park, Selva Verde Reserve in Sarapiqui and Cahuita National Park.
Learn more about guided walks here.
Do ask about cancellation policies
This is something a lot of people don't think about, but when you are booking tours, hotels and transportation, always ask for the cancellation policies when you pre-book. You never know when plans may change or you may have accidentally made a mistake in travel planning and you don't want to get caught unaware.
Do leave the resort
For those staying at a resort (all inclusive or not), make sure to leave the hotel at least once or twice during your trip and visit a local town. I understand that a lot of people want to relax and chill at the resort (don't blame you, you're on vacation), but take advantage of being in Costa Rica, especially if you don't plan to return.
Some people are only in Costa Rica for 5-7 days so they choose one destination and stay in one hotel for their trip. In those cases, it's so worth getting out and taking some day trips to see the country whether you rent a car for a day or book day tours. And on that note…
Do see a volcano, rainforest, waterfall and beach during your trip
Costa Rica's big 4 that most people want to see are a volcano, the rainforest, waterfall and a beautiful beach. And yes, you can see them all in one trip!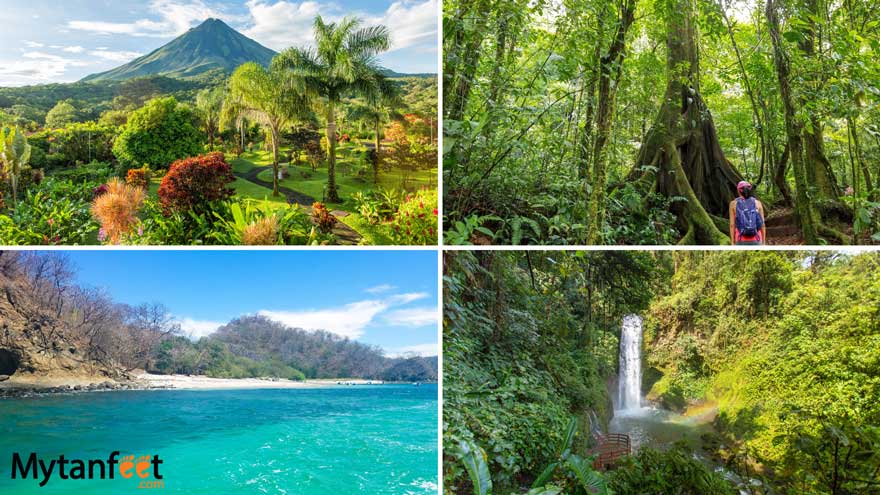 For volcanoes, Arenal, Irazu and Poas are the most popular ones and easiest to visit.
For rainforest, La Fortuna, Tortuguero, Puerto Viejo, Manuel Antonio, Bijagua, Costa Ballena (Dominical, Uvita and Ojochal) and Osa Peninsula are excellent places. Monteverde is the cloud forest but is beautiful and well worth seeing too.
For beaches, here is our post for best beaches in Costa Rica.
For waterfalls, Nauyaca, Rio Celeste, La Paz, La Fortuna waterfall, Blue Falls, Catarata Llanos de Cortes, Uvita waterfall and Catarata del Toro are great choices.
Do at least one outdoor adventure
Costa Rica has a plethora of fun outdoor adventure and you have to do at least one. Whether it's ziplining, horseback riding, snorkeling, scuba diving, it doesn't matter. Book at least one fun outdoor adventure for you and the family for a memorable day!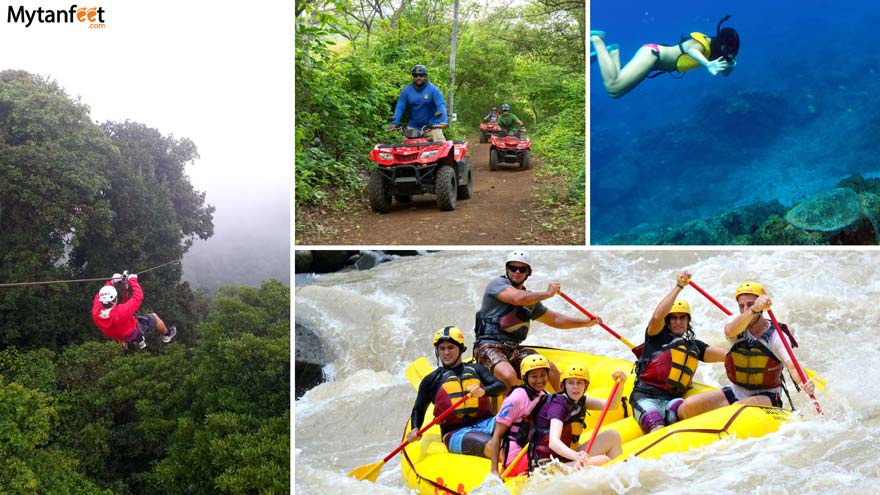 You can read about our favorite 50 things to do in Costa Rica.
Some of the best outdoor adventures in Costa Rica are the Pacuare white water rafting, ziplining in La Fortuna/Monteverde, Hacienda Guachipelin (Buena Vista/Vandara are good too), Caño Island snorkeling, Gulf of Papagayo boating, beach hopping in Gulf of Papagayo, snorkeling in Flamingo, horseback riding in Puerto Viejo, Sierpe Mangrove kayaking, Tortuga Island cruise and canyoning in La Fortuna.
Do bring a reusable water bottle
Let me tell you that Costa Rica does have drinkable water in the city and nearly all touristic destinations. Unless you have a sort of medical condition or sensitivities, you can drink the tap water in Costa Rica. If you are very sensitive, we recommend to bring a filter as opposed to buying bottled water so you can reduce your plastic use. If you're staying in remote areas, ask your hotel to see if the tap water is drinkable.
Also, we recommend to bring your own reusable supermarket bags to help reduce plastic waste.
Costa Rica aims to be the first country in the world to be single use plastic free (and carbon free) by 2021. As tourists, you can help them achieve their goal!
Do eat at a local restaurant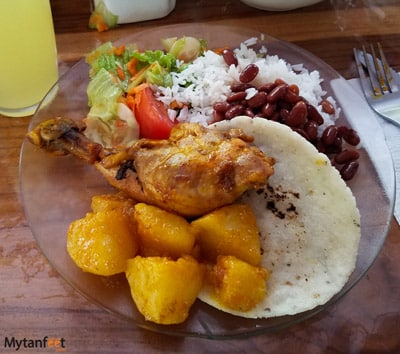 Our favorite way to get more in touch with local culture is to eat at a typical restaurant and try the local food. Food is an important part to any culture and you can learn a lot about the country just by their diet. It may not be the most interesting cuisine but one thing you will notice right away from Costa Rican food is that it's quite fresh!
Costa Rican food consists mostly of rice and beans, salad, tortillas, plantains and meat. They also eat a lot of beef, potatoes, chicken and fish.
A typical breakfast is gallo pinto, a mixture of rice and beans. They typically add tortillas, cheese, sour cream, plantains and eggs. Lunch is normally a hearty plate of rice, beans, salad, plantains and a meat.
For the best local food experience, you have to go to a soda, what Costa Ricans call traditional Costa Rican restaurants. They are typically open air, small mom and pop restaurants either menu or buffet style. There you'll find cheaper prices, more locals and a fun gastronomic experience.
Do bring an action camera
Action cameras are the best way to capture and record your adventures in Costa Rica. When you're ziplining, snorkeling, canyoning, rafting or surfing, you can't lug around a DSLR. So get an action cam like GoPro, Sony Action Cam or the Osmo Action. Remember to bring the appropriate straps and mounts.
If you're not planning to do hardcore adventures, you can get a waterproof case or a waterproof phone pouch. A waterproof point and shoot works too (we used to have this Nikon).
The Don'ts of Costa Rica
Don't book your flight to San Jose, California
Unfortunately we have seen this way too many times. People book their flight to San Jose California instead of San Jose, Costa Rica. Don't make this mistake because it's a pricey one!
The airport code for San Jose, California is SJC. The airport code for San Jose International Airport, Costa Rica is SJO. Make sure you TRIPLE check your flight before purchasing!
Don't book your flight to Puerto Rico either… their airport code is SJU.
Don't assume Costa Rica is like Mexico
If there's anything that will make locals cringe, it's tourists assuming Costa Rica is like Mexico. Remember, Latin America is not homogeneous so Mexican culture, traditions, food and people are not similar to Costa Rica's. Besides the fact both countries speak Spanish, they don't have too much in common and even Mexican Spanish and Costa Rican Spanish are very different.
So when you visit Costa Rica, make sure you don't act like that tourist and start saying "andale andale!" or start making Mexican references. Do a little bit of research before you go, even reading the Wikipedia page is something! Don't forget that it's important to be culturally sensitive when traveling abroad.
I should also probably add that Costa Rica and Puerto Rico are completely different. Many people confuse those two for some reason. Costa Rica isn't an island nor is it a territory of the United States!
Don't be afraid to speak Spanish
Hablas Español? No? Don't worry! Even if you only know the Spanish basics, don't be afraid to practice with the locals! The Costa Ricans love it! Tourism is a huge economic factor of the country, therefore many Costa Ricans in touristic destinations speak very good English. However, as guests in a foreign country, the least we can do is to learn how to say the basics, even if it is just hello and thank you.
You will, at least during your time here learn a very important Costa Rican phrase which is pura vida. It means "pure life" directly translated to English but they use it as a way to say hi, bye, hello, thank you or anything good. Como estas? Pura vida! Soy Samantha, pura vida.
If anything, you will get very good at saying that one Spanish phrase during your time in Costa Rica!
Don't freak out from the bugs
As an incredibly rich tropical country, there are lots of bugs here. You'll find all sorts of insects: ants, spiders, scorpions, grasshoppers, moths, butterflies, centipedes, beetles and much more. So just be aware that you will run into some bugs and insects in Costa Rica but don't freak out!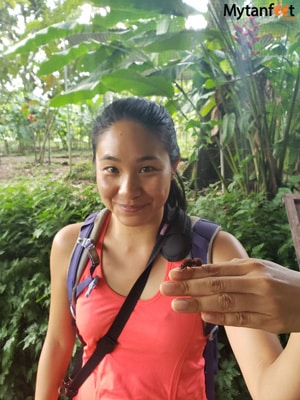 Take it as an opportunity to embrace your fear (if you're scared of bugs) and learn more about these important critters. I used to be scared of them when I first moved here but now they don't bother me.
Remember, it was their home first so we should treat them with respect. It's another reason why we recommend taking a guided walk because the naturalist guide will share more information about the flora and fauna and understanding is an important step to acceptance. And you never know, you may find yourself liking them more, or at least respecting them.
I'm not saying you should start picking up all the bugs you see but just don't cry, scream or freak out or else you will be doing that a lot during your time in Costa Rica!
Don't underestimate Costa Rican roads and don't take that shortcut!
Many people ask us if they really need to rent a 4wd or 4×4 for Costa Rica. We take a look and they plan to go to Matapalo in Osa Peninsula, rent an Airbnb up in the mountains outside Uvita and go to Monteverde in September. Yes, we tell them, for your itinerary you should rent a 4wd/4×4 for those places because September is one of Costa Rica's rainier months and all those destinations are quite remote and rural.
If your itinerary sounds something like that, do not underestimate Costa Rican roads. We do have highways and paved roads here but in rural destinations, expect unpaved roads with pot holes. So here are our tips:
Spend the extra money and rent the 4wd/4×4. You may also want to consider getting full insurance.
If you don't want to spend the extra money, highly consider picking different destinations/places to stay.
If you don't want to drive, check if it's possible to get a shuttle although it may end up being more expensive. Even consider taking a domestic flight.
For those who can drive a manual, make sure you are a confident and proficient manual driver. In rural areas, you may need to drive narrow unpaved roads up a mountain so be 100% sure you can with a manual transmission.
Don't take that shortcut. Waze and Google Maps works well in Costa Rica but if you accidentally miss a turn and they reroute you to a "shortcut", do not take it. This happened to me once. I accidentally missed the turn to Puntarenas/Caldera and Google Maps rerouted me to a "shortcut" which was an unpaved, hilly farm road. I was driving a sedan so as soon as I saw the shortcut, I turned around and went back to the main highway.
Read more driving in Costa Rica tips here.
Don't go off the trail and don't bother wildlife
Please be a responsible tourist in Costa Rica and stay on the trail. Too many times have we seen people jump fences for a photo and we have to point out to them that they're not supposed to. There is a reason why there is a sign! You can harm plants and the flora by going off the path. Not only that, it can be very dangerous.
Also don't bother wildlife. We have seen people pestering the wildlife so they can get a close photo. If you see a wild animal, don't feed it, don't touch it and don't bother it.
So when it comes down to it, don't do it from the gram – it's not worth it and it makes you a very irresponsible tourist. Respect the sign, respect the country you are visiting and respect nature.
Don't wait until last minute to book things if you're visiting during Christmas, New Years, March and Easter
Christmas, New Years and Easter are the busiest times to visit Costa Rica. If you wait until the last minute to book, you may find yourself very stressed out and scrambling to get everything together. Cars and vacation rentals go super fast and if you book last minute, it will most likely cost a lot more.
Start booking at least three months in advance so you're guaranteed a car, shuttle and the tour you want, especially if you are traveling with a large group or family. For Christmas and New Years, start booking at least 3-4 months in advance. Vacation homes in popular touristic destinations book up months, even a year in advance during the holidays.
July is another busy month since it is summer vacation in North America.
Read our Costa Rica planning guide for more tips.
Don't take shells, plants or anything from their natural habitat
Costa Rica is all about nature and leaving things as natural as possible. Even though it's tempting to take some beautiful shells home, they encourage to take as many photos as possible and leave only footprints.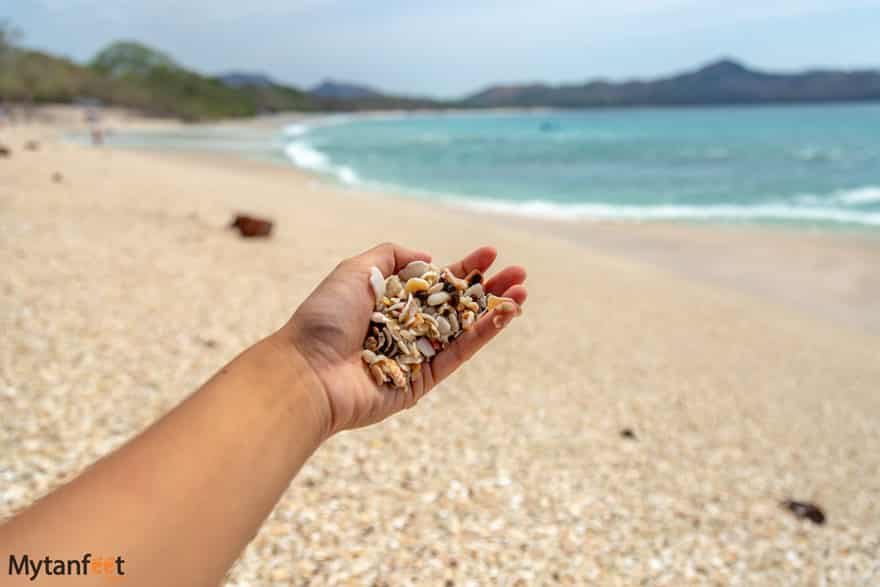 Don't buy all your souvenirs at the airport
Although there are several souvenirs stores at both international airports, it's expensive and more commercial. The main one is Britt, a Costa Rican coffee company and they do have good products, don't get me wrong. But it is always expensive at the airport no matter where in the world you are.
We don't recommend to buy all your Costa Rican souvenirs from there because being the most commercial, they also don't have the most unique products. If you want to find more unique souvenirs or local artisan products, you'll need to buy from the local stores. It takes a bit more research so here are a few of our recommendations
In Sarapiqui, the tourism office in Puerto Viejo has 100% handmade local products. At the Doka Coffee Estate, they offer all local artisan jewelry and trinkets. In San Jose, there is a national artisan market called Municipal Craft Market (mercado de artesanias). We love scoping out the smaller artisan shops we can give back directly to the artist.
We hope you have a great time in Costa Rica!
I hope this post was helpful for your trip planning and don't forget to check out our Costa Rica destination map if you're still trying to decide where to go. We also have a set of Costa Rica itineraries for those who want to put together their own trip.
This post has affiliate links.