For anyone planning on coming to Costa Rica, cost is the main concern: How much does a trip to Costa Rica cost? Is Costa Rica expensive to visit? Since Costa Rica is known for being fairly expensive, it makes it tougher to travel on a budget and many people wonder exactly how much is the cost of traveling in Costa Rica and how much they'll spend.
Here is our detailed guide to the cost of traveling in Costa Rica from food, activities, transportation, lodging and more. This post will give you an in-depth look and a well rounded idea of your Costa Rica travel expenses but remember, much of it also depends on the type of vacation you're looking for.
This post has been updated 2019.
Here is a breakdown of your Costa Rica travel budget. Click the section to skip to it. Prices quotes in USD.

How Much Does it Cost to Fly to Costa Rica?
Depending on where you are flying from and the time of year, you can spend as little as $350 on a round trip ticket from Florida or as much as an $800 ticket from Canada. Like every destination, ticket prices change constantly and depend a lot on the time of year you are coming.
More flights to Costa Rica have opened up recently meaning more options and more competition. I paid almost $1000 for a roundtrip ticket from Seattle during the Christmas holidays in 2010 but I paid $450 for my round trip ticket in 2016 at the beginning of December. Prices started rising around December 23rd so if you visit before the holidays before, you can get a great deal.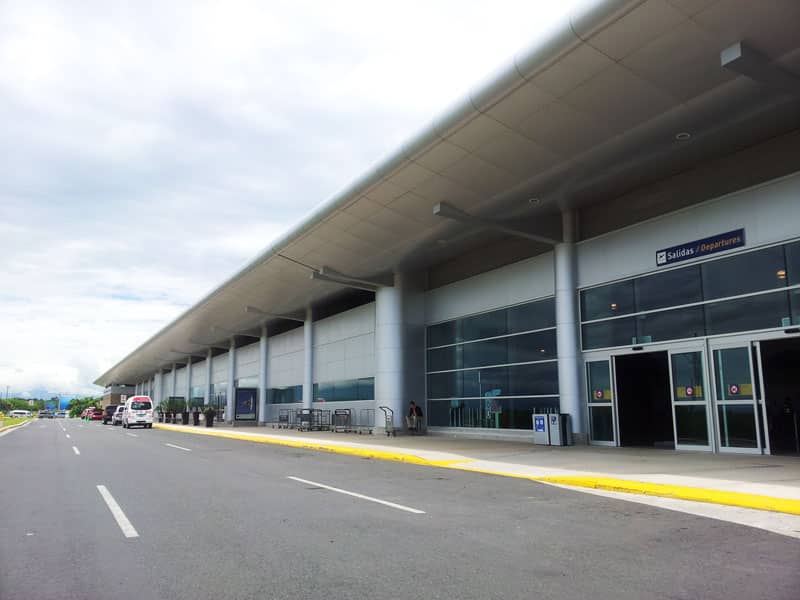 Summer and holidays like Christmas is always more expensive. We have paid $700 for a round trip from Seattle in July. In September, we paid $500! There are even more options to travel on a budget with the basic economy options on many airlines.
Research shows you should book your plane ticket at least 90 days before to Latin America and make sure you comparison shop. I personally use these websites to compare tickets: Kayak, Momondo and Google Flights. However, make sure you check Southwest Airline's website for prices since they don't show up on 3rd party search engines and they generally have excellent deals.
Tips for Finding the Best Airfare to Costa Rica
Try to be flexible on your dates. Google Flights has a calendar to see prices and you can sign up for alerts. Some low season dates with cheap airline tickets are after Thanksgiving to mid December, September and October.
Check both Liberia and San Jose airport. Liberia is generally more expensive than San Jose because the airport is much smaller with less flights. I generally find flights to be around $100-200 cheaper into San Jose.
Sign up to Dollar Flight Club. This website finds cheap flights and mistake fares. They occasionally have some to Costa Rica and Central America. Definitely worth the upgraded membership. Scott's Cheap Flights is another one.
Read more on how to get cheap flights to Costa Rica in this post!
Costa Rica Hotel Prices
As Costa Rica is a very touristic country, you will find all types of accommodation options. You have your standard hostels and hotels, but you can also find all-inclusive resorts, tree houses, eco-friendly lodges, camp sites, yoga retreats and surf camps.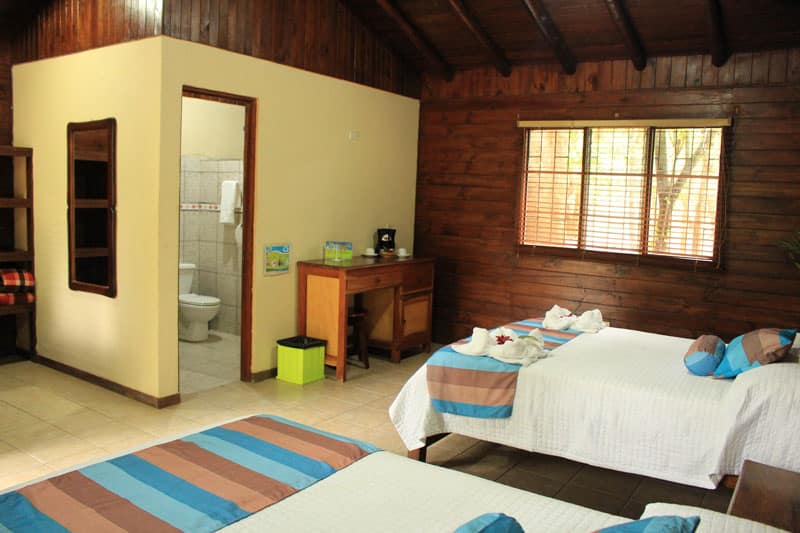 Depending on what your budget is and what kind of vacation you want, you can spend as low as $15 a night to $500 a night. Touristic areas usually have a ton of options so you'll be able to find one that fits your needs guaranteed.
Average Prices for Hotels in Costa Rica
Hostels: $10-$15 for one bed in a dorm. Not guaranteed to have hot water or AC, usually no breakfast. Couples can have a private room in a hostel for around $45 a night per person (sometimes they will charge more for AC, usually $10 more).
Basic/budget hotel: $35-$75. This includes a private room with hot water, AC and private bathroom.
Mid-range hotel: $90-150. Mid range hotels usually include breakfast, AC, hot water, Wi-Fi, cable, coffee maker, a mini fridge and basic bathroom amenities.
High end hotel: Starting around $200 and up. These high end hotels usually have a great view, a balcony/terrace, an on-site restaurant, hot water, breakfast, fridge, coffee maker, full bathroom amenities, tea and an infinity pool. Not all high end hotels are built the same – some are boutique and locally owned, some are international chains.
All-inclusive resorts: Starting around $250, all inclusive resorts have a variety of food choices from buffets to a la carte restaurants, multiple pools, night time entertainment, a gym, shopping center, child care, business center and day time activities.
One week surf camp: $800-1800 depending on the package and what's included (meals, transportation, other activities, type of room, etc.) For example, Surf Expedition Costa Rica charges $1750 USD for a beginner surf camp all inclusive.
Tips to Save Money on Accommodation
Travel during the off/rainy season (generally May to November). However, the first and second week of July is considered high season because the schools have two weeks off for mid summer break. August to October doesn't see many US/Canadians but it is a popular time for Europeans on the Caribbean side.
Like the hotel's Facebook or Instagram. Many of them throw promotions exclusively on their Facebook or Instagram.
Look on VRBO or Airbnb for alternative lodging options. You can find many apartments/condos/rooms for rent for a cheaper price usually. Read our guide to using Airbnb in Costa Rica and get $40 credit.
If you are flexible, traveling during low season and not necessarily looking for a luxury vacation, you can check hotels in person when you arrive and bargain. When it's low season, hotels are very willing to bargain since they rather get some business than not get any. (Learn how to bargain in Costa Rica here).
Use our Costa Rica hotel deals to save 10-15%! Check our deals page here for the promo codes.
Best Hotel Booking Sites for Costa Rica
We personally use a few different sites when we're looking for a hotel.
Some popular hotel booking websites are Booking.com, Hotels.com, Hotelscombined and Trivago.
One of the pros of using a hotel booking site is that hotel websites in Costa Rica aren't usually the most informative or easiest to navigate if it's not a chain. But hotels in Costa Rica are getting more tech savvy, their websites are becoming more friendly for direct bookings and sometimes they will offer discounts for booking on their site.
Some hotels don't show up on travel search engines. You will need to book directly on their website (like the Flutterby House in Uvita).
Read more tips on finding accommodation in Costa Rica.

Cost of Transportation in Costa Rica

There are quite a few ways to get around Costa Rica.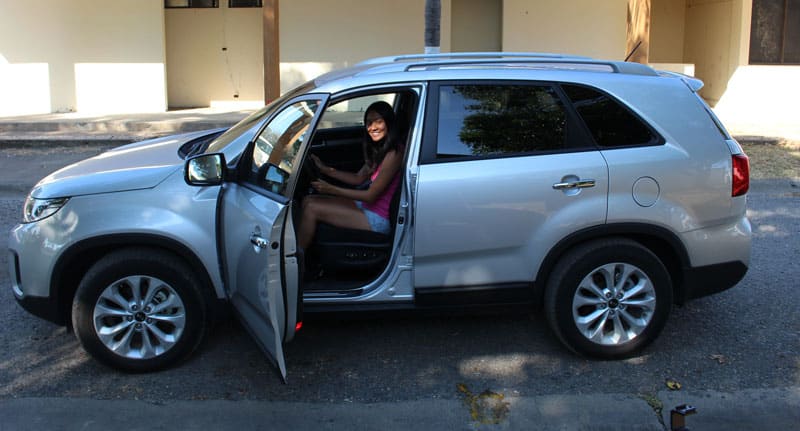 Public transportation: The bus system in Costa Rica is very wallet friendly though not always super timely or convenient. You can hop on a bus in the city for $1 (500 colones) or cross the country for around $20 USD (10,00 colones). Read our tips for taking public transportation in Costa Rica here.
Taxis: A good option for short trips, definitely not for long ones. Make sure they use the meter or decide on a price before you get in the car.Here are Yeison's tips on taking a taxi in Costa Rica.
Uber: Right now Uber is very common in San Jose and you can also find some in Quepos, Jaco and Liberia (some in Tamarindo). We've never had a problem calling one at 4 AM in Heredia to go to the airport.
Shuttle: A shuttle can cost anywhere from $50 a person to $500 for 1-4 people depending on your destinations and if it's private or shared. A shared shuttle from San Jose to Fortuna is $55 a person, a private shuttle costs $200.
Car rental: Renting a car can get very expensive during high/peak season. You really need to do your research when it comes to car rentals companies to make sure that they include all the mandatory insurance fees in their final quote.

A one week car rental for a Hyundai Accent automatic (4 door sedan) runs around $400-500 and a 7 passengers 4X4 full size SUV runs around $700-800 a week. Prices vary depending on time of year, type of transmission, insurances, fees, taxes and extras.

Flying: There are several domestic airlines such as Sansa, Skyway and Aerobell. Depending on the time of year and route, flights range from about $70-$250 one way. Get our Skyway Costa Rica promo here to get 10% off and an extra 10 lbs of luggage!
Tips for Saving Money on Transportation
Unfortunately, there's not a whole you can do on saving money in this aspect. The cheapest way is to take the bus or even hitchhike but it's not the most efficient option for those here for a short period of time and don't want to be sitting on a bus for most of their trip.
If you plan to fly on the local airlines, make sure to book asap. If you decide to rent a car or book a shuttle, we recommend to pre-book it. You can usually get one at the airport when you land but generally it'll be much more expensive. Comparison shop and be aware that prices differ whether you book online, over the phone or in person.
We have some discounts on transportation that will help save money.
Costa Rica car rental discount and extra freebies
Tours
Many activities like going to the beach or hiking you can do on your own but if you want to do something like ziplining, white water rafting or sailing, you need to book a tour. I always tell visitors that you can certainly skip tours to save money but the trip won't be quite as fun. It's always worth it to do at least one tour.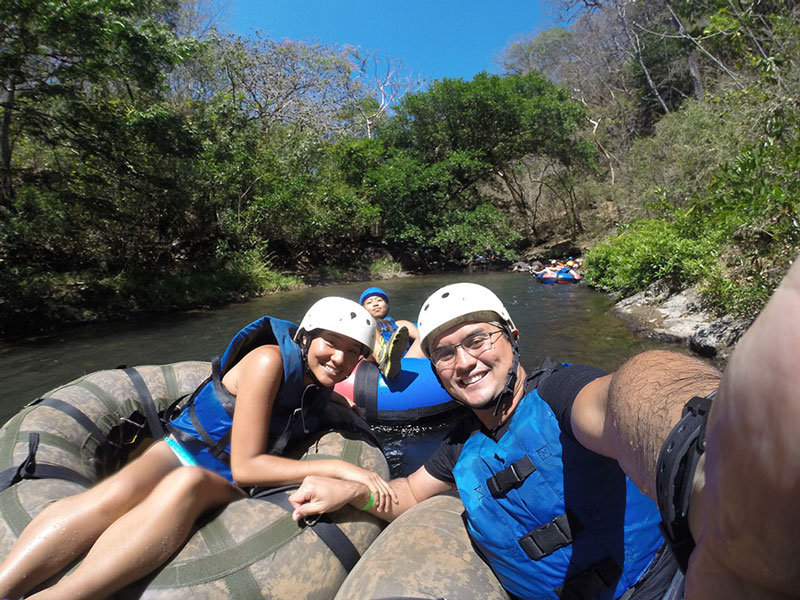 You'll miss out on a lot of amazing experiences since some natural attractions and landmarks are only accessible through tour companies, especially if you love adventure.
Average Cost of Tours in Costa Rica
Most tours include hotel pick up and drop off and a meal (usually lunch).
Ziplining: $55-85. Some canopy tours have different options like an adrenaline tour, a tarzan swing or something extra that may cost more
1 day White water rafting: $80-129 including lunch
Sunset sailing: $70-95 for a half day tour which includes lunch, snacks, drinks and snorkel equipment. You can also get private charters which can cost $500 for a half day up to 5 passengers
Half day sport fishing: $500 including equipment, snacks
2 tank dive: $115
Combo adventure tour: $90-140 which includes multiple activities such as horseback riding, ziplining, white water tubing, canyoning (depends on if you require transportation or not)
National Park entrance fee: $6-18 for foreigners. Costa Rican citizens pay around $2. Cahuita NP is free!
2 hour surf lesson: $40-60 including board rental
Horseback riding: $60-90 depending on the length and location
Tips for Saving Money on Tours
Bargain! Foreigners have no idea that you are allowed to bargain in Costa Rica but you absolutely can, especially for big groups (doesn't work that well for 1-2 people). This is a must especially if you are going during low season or in a big group. We've saved up to $40 per person by negotiating for big groups (6+).
If you have your own form of transportation (car rental), you can save money by going on your own instead of going with a tour company. Most of the times you can contact the company running the tour and coordinate the time to show up. For example, we drove ourselves to the Buena Vista Combo Tour and got the whole day tour for around $80 where normally with a tour company, it goes around $140.
Food
Food costs vary slightly in the country, depending on where you are. Touristic areas are no doubt more expensive than local or rural areas but even that depends. When we lived in Playas del Coco, we couldn't get anything at a soda (typical Costa Rican restaurant) for less than $8 to save our lives. In Jaco, an equally touristic beach town there are sodas where you can get lunch for $5!
Average Cost of a Meal in Costa Rica
A smoothie: $1.50 (800 colones)
Beer: $2.25 (1,200 colones). Depends if you go for happy hour or if you get beer at the supermarket.
Traditional breakfast: $5 (2,500 colones)
Traditional lunch: $7 (3,500 colones)
A 1750 ml bottle of water: $2 (1,000 colones)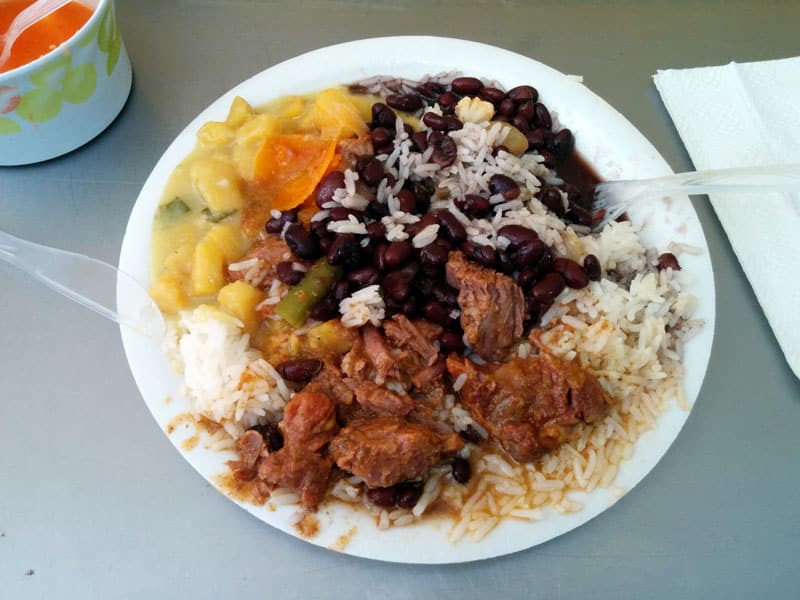 Tips for Saving Money on Food
My best advice for those looking to save money on food? Walk away from the touristic areas at least half a mile. I know that most blogs say that the best tip is to eat only at sodas which is true, but even if you eat at sodas in touristic areas, it can get expensive.
For example, we ate at a soda outside the entrance of Manuel Antonio National Park and the average price was $9-10 a plate including casados. So yes, look for sodas but one away from the touristic areas.
One more option if you're sick of sodas is to look for a bakery or panaderia. You can get empanadas, enchiladas and sandwiches for $1-2.
One more way to save money on food is by drinking the tap water. Tap water in Costa Rica is actually safe to drink (read more about it here) contrary to popular belief but if you are worried or have a sensitive stomach, save money (and help the environment) by bringing your own insulated water bottle and a filter.
Souvenirs
You can find Costa Rica souvenir stores everywhere but you can easily spend a lot. A t-shirt is around $15-25, a painted cup is around $15, a little trinket like a wooden toucan statue is around $10-15.
If you're buying several items, you can usually get a discount. Most of the time I've been given around 10% off, more if I'm buying a handful of stuff and paying in cash.
Another tip is to avoid the souvenir stores and shop at the supermarkets. Do not shop at the airport. You can find the same stuff for half the price, including coffee which is my favorite souvenir and you can get the good stuff for $3-4 a bag.
Tipping
You can read all about tipping in Costa Rica in this post but basically, tips are not mandatory here. However, since Costa Rica is a touristic country and many locals are used to receiving them from Americans and Canadians, it is kind of expected (but you don't have to if you don't want to).
If you decide to tip, the standard percentage is 10%. You will see this in restaurants under "service tax" which is what they call their tip.
Overall Cost of Traveling in Costa Rica
You can certainly travel in Costa Rica on a budget but as you can see in our breakdown, if you want to have a more exciting trip, it costs a bit more.
As a solo traveler, here is an idea of what your trip will be like according to budget (not including airfare):
For $30-$50 a day, you can travel minimally. Sleep in a bed in a dorm, eat at sodas and walk around the beach. No tours.
Spend a bit more for $75-$100 a day and you can upgrade to a private room in a hostel, have a couple beers, hop on a bus to visit a different beach or a national park or take a surf lesson.
Throw in a bit more dough and for $150-175 a day, you're looking at a mid-range hotel, a few tours here and there and a shuttle ride or two. Including meals at places other than sodas.
Splurge on your vacation and for $200 and up a day, you're looking at swanky digs, guided tours, renting a car or hiring a private shuttle and dinners at more expensive restaurants. You can even stay at an all-inclusive for as low as $180 per person a day during off season.
Handling Money and Prices
You will see that I quoted everything in USD in this post and this is because USD are readily accepted in Costa Rica and many items in tourism are quoted in USD. These are tours, hotels and shuttles. You can read more about handling money in Costa Rica in this post.
So there you have it, the breakdown of costs of traveling in Costa Rica and you have a better idea of how much a trip to Costa Rica costs. For more of an idea, check our 1 week Costa Rica travel budget breakdown to see how much we spent.
Want to read more Costa Rica travel tips? Here you go!
Tips for driving in Costa Rica
This post has affiliate links.