People always ask me how many days they should stay in Costa Rica and the first thing I ask is, "What do you want to do?"
If you're here just to get some sun and relax, then I think 5 days is plenty but if you have an adventurous spirit and want to explore, give yourself the very minimum a full week (not counting travel days). But if you only have a few days, how can you do it all? Luckily, there are several places that offer mega combo adventure tours which combine multiple adventures into one day.
One such tour is Buena Vista combo tour located in the Rincon de la Vieja area and it includes a canopy tour, horseback riding, hot springs, mud baths, and a water slide. Buena Vista is about a 30 minute drive from Liberia and a 1.5 hour drive from the Gulf of Papagayo.
As soon as you arrive, get ready for an exciting day!
There are Amazon affiliate links in this post.
Buena Vista Adventure Park Combination Tour
The tour is operated by Buena Vista Lodge and Adventure Center. They have their own hot springs, ziplining tour, horseback riding trails and water slide on the property. The tour is open to the public so anyone can go and experience adventure in the dry tropical forests of Costa Rica. It's one of the best things to do in Guanacaste!
Location and Directions
Buena Vista is in Guanacaste, Costa Rica.
How to get there from Liberia: From Liberia coming from the airport, turn left to go north on the Interamicanca highway (gas station on your right, Mcdonalds up ahead). Drive about 13 kilometers until you get to the Canas dulce intersection and turn right. You will see signs for Rincon de la Vieja National Park. Continue on this road for 17 kilometers and you will plenty of signs pointing to the Buena Vista Lodge. The last 11 kilometers are on an unpaved road.
Buena Vista Zipline
The first activity is the canopy tour with 11 platforms and 10 lines total. For first time zipliners it looks pretty scary but once you go on the first one, you'll be hooked, trust me!
Even if you have a fear of heights, just don't look down and enjoy the view and fresh wind in your face. By the time you get to your 10th line, you'll be a professional zip liner! And what else do pros do but crazy stunts like no hands, backwards and upside down?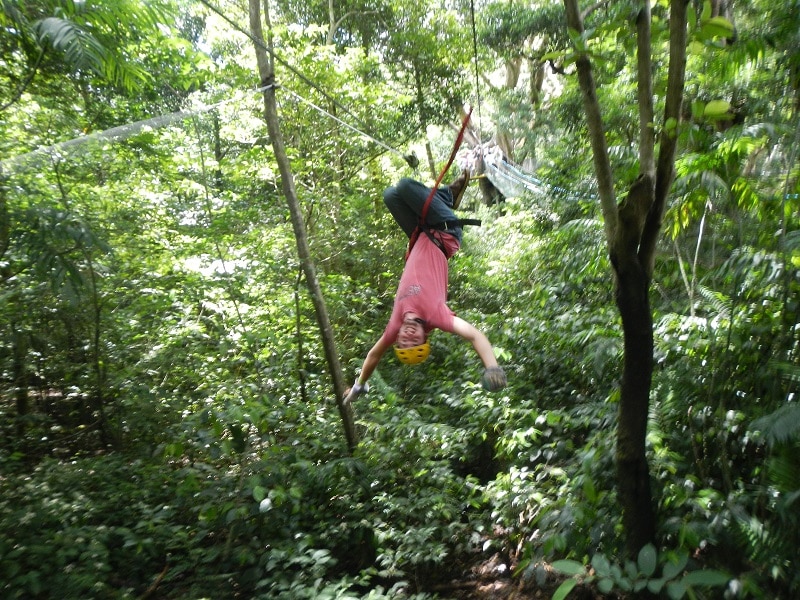 If you choose the adrenaline tour, they have an extra tarzan swing at the end of the canopy tour which is super fun!
Buena Vista Waterslide
What comes next you definitely don't want to miss: the water slide!
When you get to the top, you see another canal behind the water slide, a gate and a man holding the handle to the gate.When you sit down in the chute, the man closes the gate and waits for the tank to fill up with water behind you. As soon as he deems that there's enough, he pulls the handle to open the gate and there you go! The water shoots you down.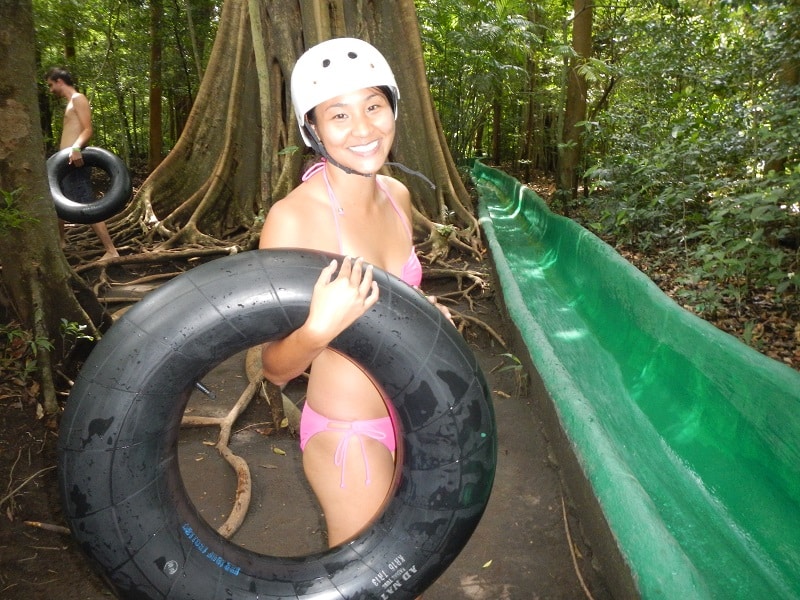 The boys went for a third time but I had to sit that one out. I was too winded by my second go around, so I was happy to take the camera and be paparazzi.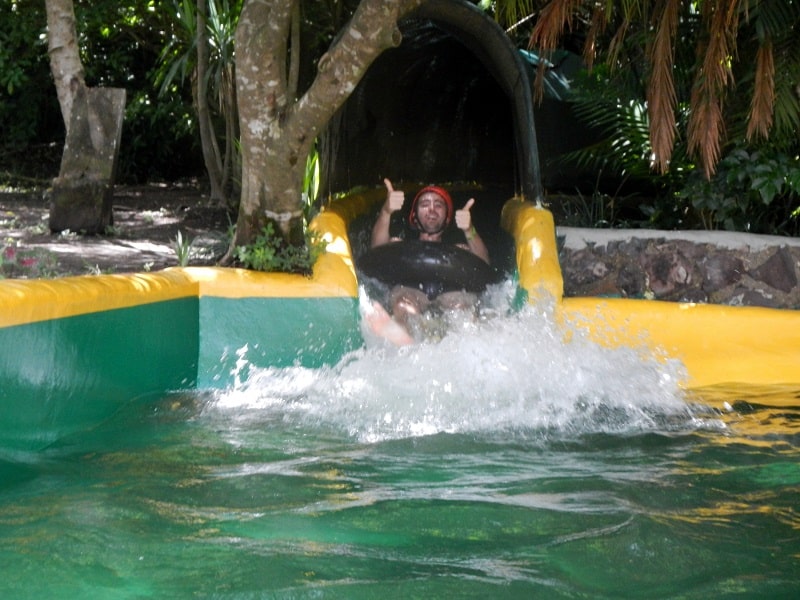 This water slide is about 420 meters long, has some twists and turns, a tunnel and then you land in the pool. The first time was really fun but it wasn't as fast as I thought it would be so we went up again (you're allowed a max of 3 rides).
The second time, the guy knew we wanted to go faster so he waited a long time for the water to fill up and holy crap! It must've been twice as fast, I almost fell out of my tube once flying around the corners!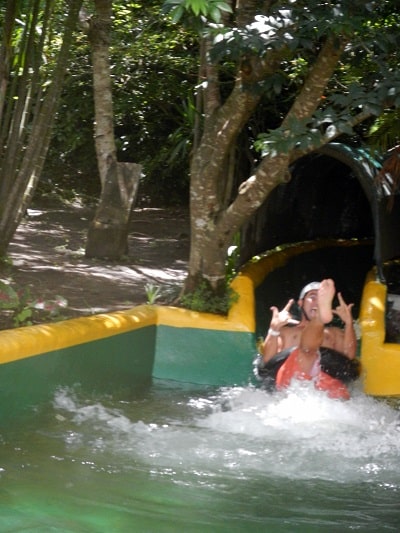 I highly recommend using the tube as it'll help you secure yourself in the slide. It can get really fast so hold on!
You can watch our video below of the Costa Rica waterslide!
Lunch and Horseback Riding
All that water sliding and zip lining made us super hungry so we went to get lunch (included in price). They served typical Costa Rican food: vegetable cream soup, rice, beans, platanos, pico de gallo, salad, meat, and fried fish with natural cas fruit juice. Good thing we all filled up with good food because horseback riding was next.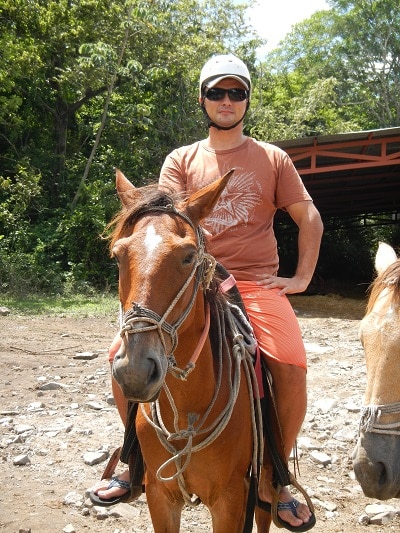 After about a 30 minute ride, the horses took us to our next stop, the waterfall. Tip: bring good closed toed shoes (hiking sandals are the best) for horseback riding because you'll be hiking about a mile to get to the waterfall and the hot spring.
The guides will bring your bags for you on a truck and your things will meet you at the springs. But do not skip the waterfall! I don't know the name of it but it is gorgeous and it is fairly easy to climb right underneath and feel the water pounding on your shoulders.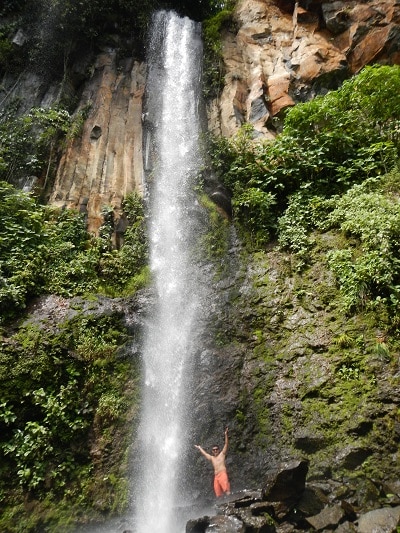 ***Update for 2018. The last time we did the tour in June 2017, we didn't go to the waterfall. You will need to go to it on your own if you want to see the waterfall.***
The hot springs are about another .5 mile hike from the waterfall and there are a couple hanging bridges to walk across.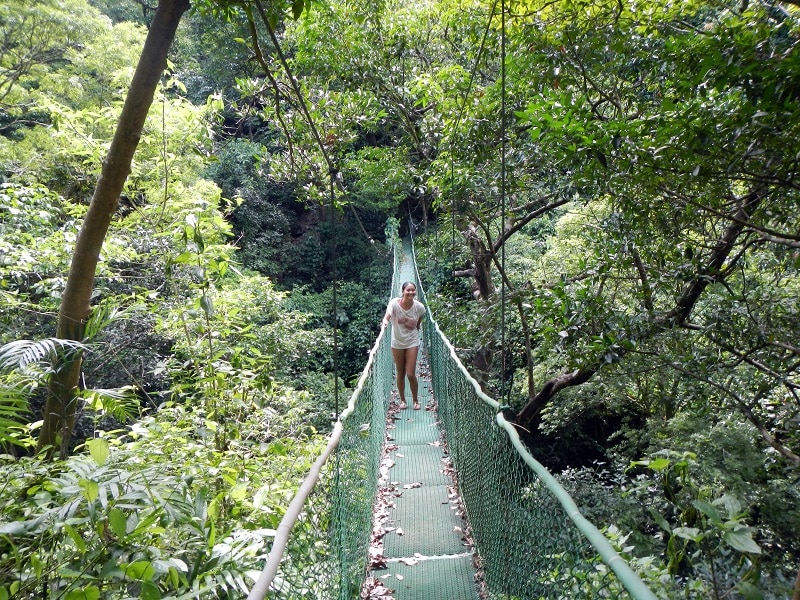 Mud Baths and Hot Springs
All that hard work hiking pays off because at last you reach the spa. First you go into the natural sauna to wash away all the toxins and then to the fun part, mud baths. Two pots are available, full of hot volcanic mud that you can slather all over yourself, exfoliating, cleansing and rejuvenating the skin.
Let dry and then wash it all off to reveal soft, smooth and refreshed skin.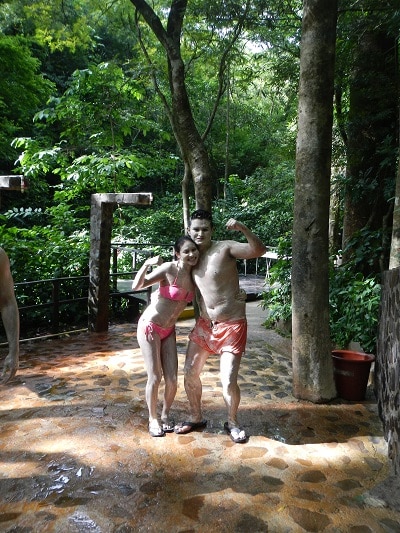 And lastly, the natural hot springs.
There are several different pools you can choose from, the hottest pool is by the bar. Below that one is a warm pool, and below that one is the coldest pool. The hottest pool is around the temperature of a Jacuzzi I would guess and it's perfect for soothing aching muscles, steaming away worries and calming the mind.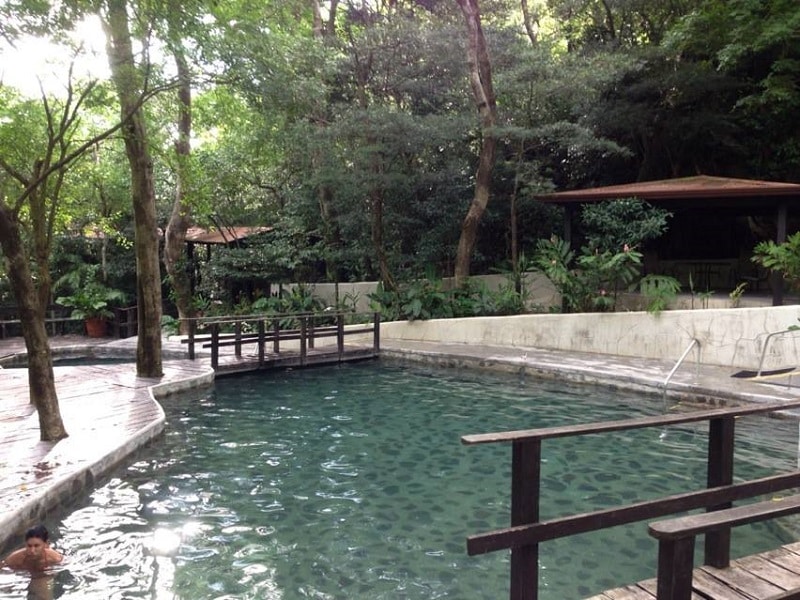 Phew, what a day! It almost seems like too much but actually, all the activities played out very nicely with each other and we didn't spend a minute being bored. I had a blast the whole day and I would definitely go back again!
As you can probably see, the Buena Vista Combo Tour is an entire day of fun, adventure and excitement. There's no way you won't leave without a smile on your face!
Tips for Buena Vista Combo Tour
Bring a GoPro or waterproof camera. You can put the GoPro on the helmets and you need a waterproof camera for the water slide. Make sure to bring the correct helmet mount.
Wear hiking sandals or closed toed shoes for the horseback riding. No flip flops allowed!
Horseback riding is optional – there is a truck that can take you to the hot spring if you don't want to ride.
Lockers are available for free at the zipline area so you can bring a small backpack.
Bring plenty of sunscreen, mosquito repellent and a change of clothes.
This is a full day tour so eat a good breakfast!
If you have a car and are driving yourself, we recommend booking beforehand in high season (December – April) to guarantee your spot. Make sure to arrive around 8:30 AM. If you don't pre-book, make sure to arrive early so you have plenty of time to check in and
This combo tour is offered by Buena Vista Lodge. If you want to do this tour and need transportation, please contact us for tour company recommendations. Please include the date of tour, how many adults and children and pick up location.
Read about other day tours in Guanacaste below!