Looking for an incredible off the beaten path waterfall in Costa Rica? Then you MUST visit the Blue Falls of Costa Rica! Tucked high up in the cloud forest, surrounded by mountains and volcanoes, these two twin blue waterfalls will take your breath away. Find out how to visit the Blue Falls in our post.
How to Get There
Here are the steps for visiting the Blue Falls of Costa Rica:
Go to Catarata del Toro Adventures
Park at their parking lot
Pay your entrance ticket and check in. They will tell you where to go next since Blue Falls are not in the Catarata del Toro Adventures park
Walk down the main road to meet the guide at a blue gate
The guide will take you to the waterfalls
There are no buses that go to Bajos del Toro or Catarata del Toro Adventures. You can take a taxi from Zarcero but renting a car is the best way to get to the Blue Falls.
Below are the detailed instructions
To visit the Blue Falls of Costa Rica, every visitor has to go with a guide from Catarata del Toro Adventures.
Driving is the easiest and best way to get to the Blue Falls. Look on Google Maps or Waze for Catarata del Toro which is right in Bajos del Toro, only a 10 minute drive from El Silencio Lodge and Spa (amazing eco luxury resort). Coming from Bajos del Toro by way of Zarcero, the office will be on your left hand side.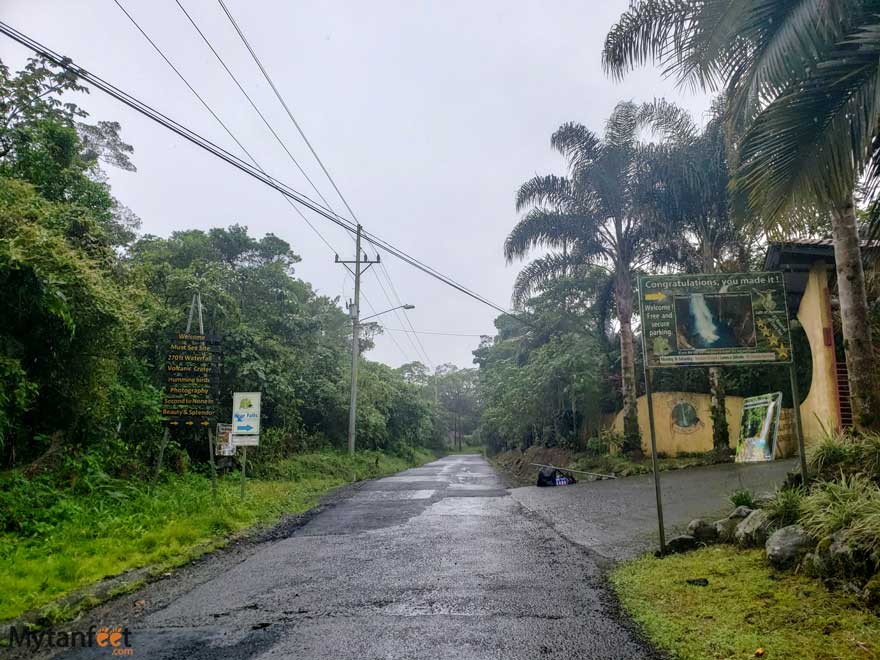 There are many signs so you can't miss it. Just make sure not to choose Blue Falls of Costa Rica or Cataratas Las Gemelas as your destination on GPS. You need to go to Catarata del Toro Adventures to park the car, pay your entrance ticket and check in.
Once you have done that, Will, the owner who is usually there will give you directions on how to get to the waterfalls. You'll walk down the main road (from the parking lot looking at the road to your left) about 5-10 minutes until you see a blue gate on the right hand side. The guide will meet you at the gate.
Note that the guide doesn't speak much English so it'll be nice for you to practice your Spanish.
4×4 required?
It is highly recommended to have a 4×4/4wd for Bajos del Toro in rainy season. This is a mountainous area with steep and curvy roads and tends to rain quite a bit. The main road is paved but with potholes in some sections and is very steep. In the summer dry season months, a sedan can work. Just drive slow and enjoy the views.
Parking
You need to park at Catarata del Toro Adventures. Parking is free.
Map
Blue Falls of Costa Rica (locally known as Catarata Las Gemelas)

The Blue Falls of Costa Rica is 71 kilometers miles (44 miles) and a 2 hour drive from San Jose. It is in the town of Bajos del Toro in the Alajuela province.
Blue Falls of Costa Rica Entrance Fee and Tours
You have two options for visiting the Blue Falls of Costa Rica. They offer 2 guided walks: a light and full. The light is $15 USD per person and takes you to the two waterfalls and the lower pool. This is only a couple of hours requiring a 30 minute walk each way. No reservations needed for Blue Falls Light. We did this one.
The full tour is $50 USD per person and it takes you to 4 more waterfalls so you see 7 total and a couple blue pools. This is a tougher hike so it is recommended for those in good shape and can hike in the rainforest. This tour is a good part of the day. Blue Falls Full requires previous reservations which must be made on their website.
Operating Hours
Blue Falls of Costa Rica is open Monday to Saturday 7 AM to 4 PM, Sunday's closed.
Video
Here's a quick video of our visit to the Blue Falls.
The Trail
Once you meet the guide at the gate, you'll walk about 30 minutes to the waterfalls. The trail is somewhat groomed with a rock path so you don't have to be walking through a ton of mud. They're always fixing up the path and making it nicer, more comfortable and safer and soon they will have seating areas, a lookout spot and more paved trails.
The trail is moderate difficulty and you do not need to be in top shape to walk it, just decent shape and not have any ankle, knee or leg problems. There are some steep steps to get down to the waterfalls that are on a metal platform.
Additionally, to get to the waterfalls, you do need to cross a river and the guide will help you across.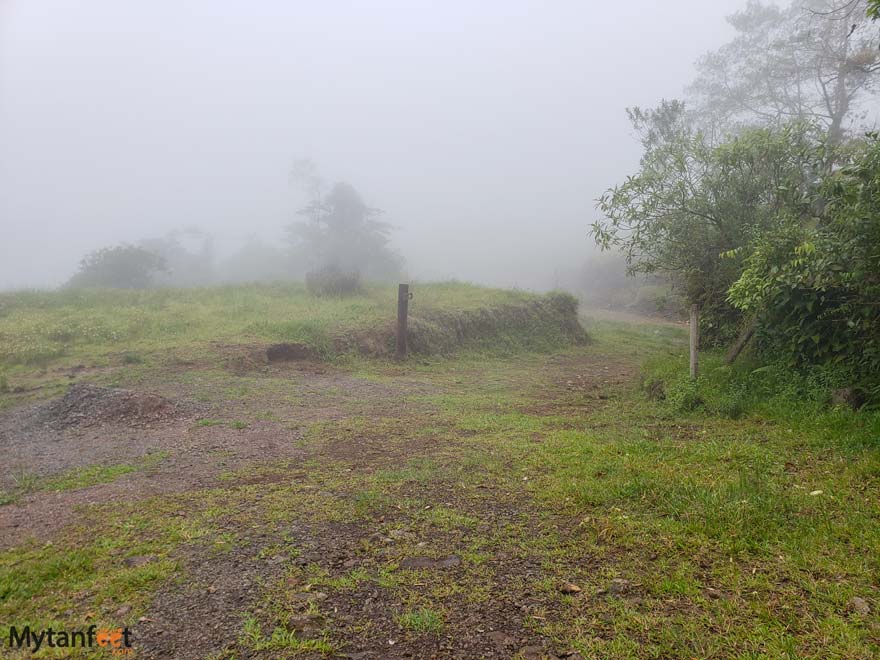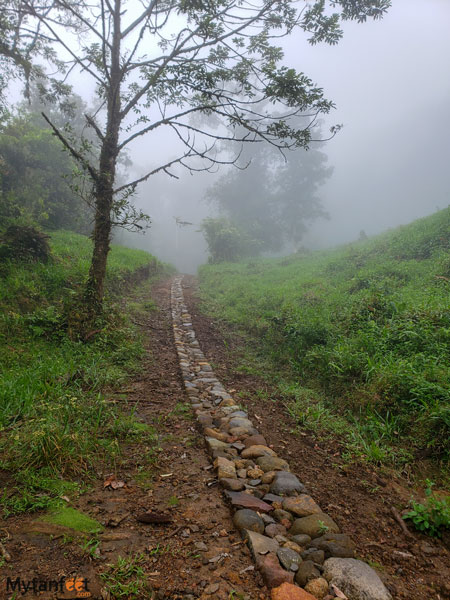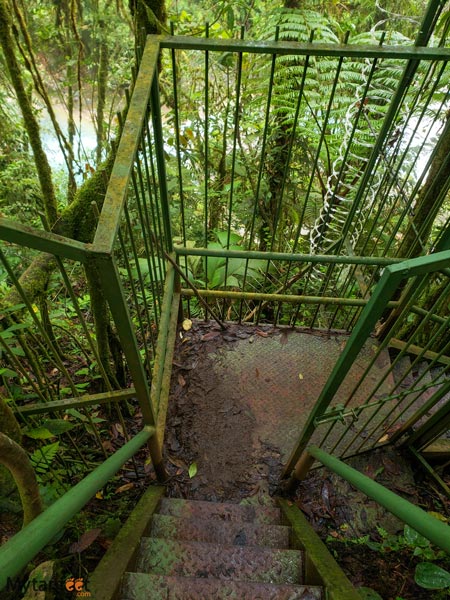 What to bring/wear
Good shoes. I wore my KEEN closed toed hiking sandals which were great because it made it easy to swim/wade in the pools with no wet socks. Bring a rainjacket, backpack, sunglasses, camera, water and food. Wear your swimsuit if you want to swim because there are no facilities at the waterfalls, only at the Catarata del Toro Adventures office. No bathroom at the waterfalls.
This area tends to rain more and is colder so if you visit during rainy season, be well prepared. We visited end of June which is one of the rainier months. When we got to the office, it was cloudy, dark and drizzling. I'm so happy we brought our waterproof backpack and rainjackets! By the time we got down to the falls, it stopped drizzling, cleared up a bit and we got to enjoy the full Blue Falls experience. It wasn't a fully clear blue sky but we got to see the beautiful blue color, especially when the sun shone through the clouds.
If you go during summer (December – April), it is usually fairly sunny and you can wear shorts/leggings and bring your sunglasses.
The Blue Falls of Costa Rica

The Blue Falls of Costa Rica are two waterfalls with blue color (locally known as Cataratas Las Gemelas). The water originates from nearby volcanoes so the minerals create this blue color illusion. It is very similar to Rio Celeste in Tenorio Volcano National Park.
As I mentioned earlier, there are two waterfalls (Cataratas Las Gemelas) for the Blue Falls Light tour. The guide will help you across the river and up to see both waterfalls. I'm SO thankful they provided us a guide because he knew exactly where to go, helped us walk on the rocks, told us the best photo spots and made sure we were safe.
You will first see the river, then the first waterfall and then the second waterfall. As soon as we crossed the river, my jaw dropped and I was blown away by how absolutely beautiful the waterfalls were! We took a ton of photos which you can see below.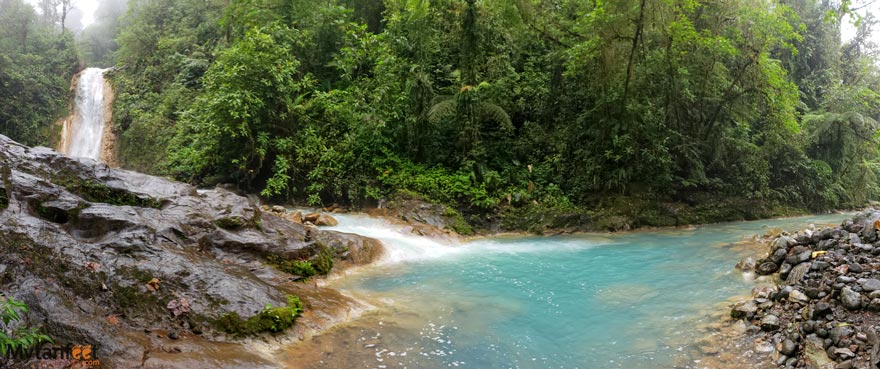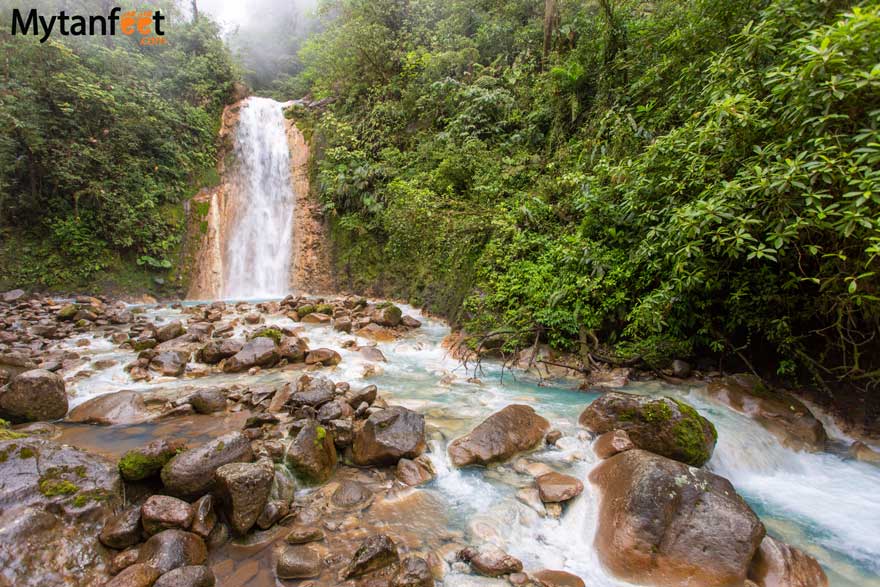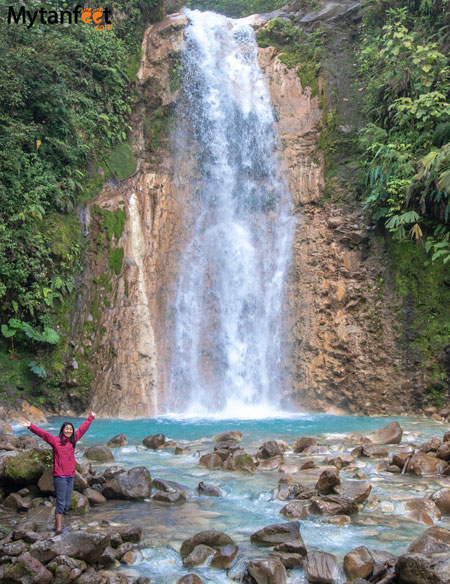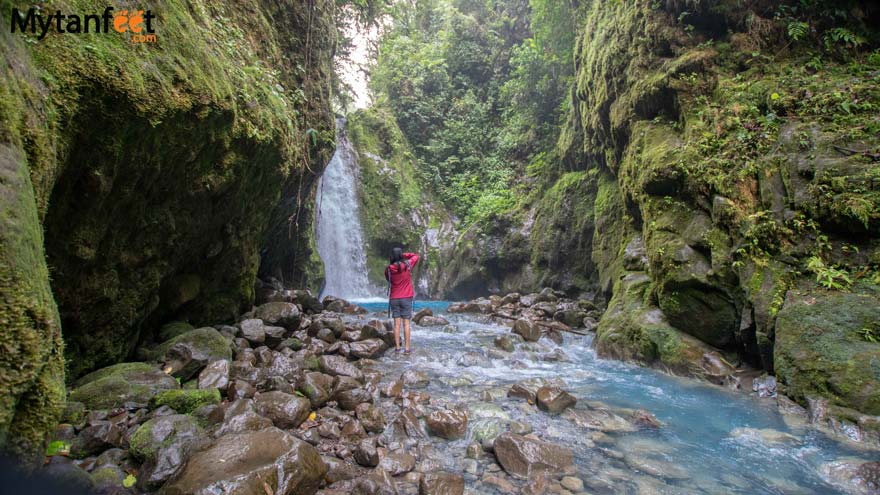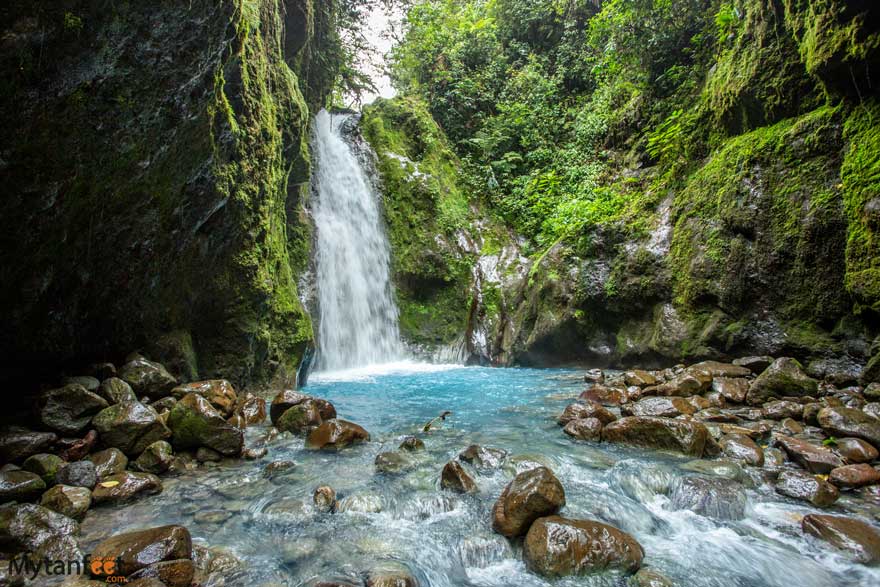 The second waterfall in the back is so much bluer than the first waterfall, it was incredible!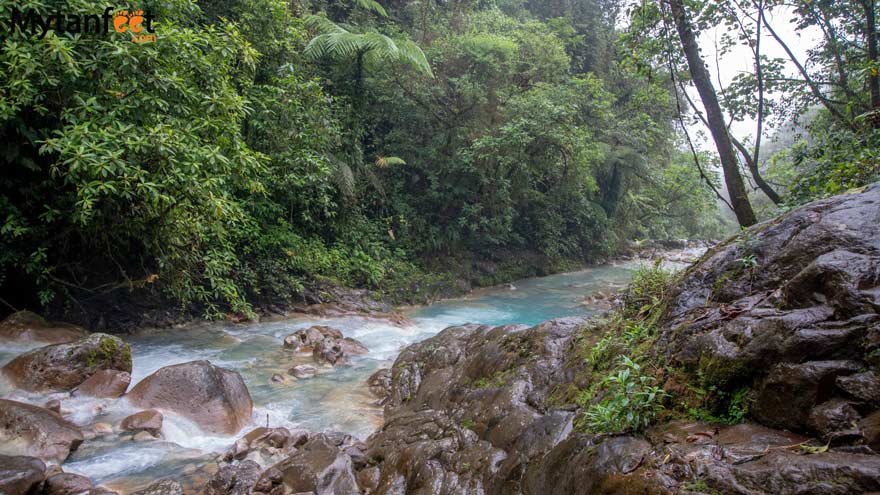 The second waterfall in the back has a small pool that is suitable for swimming. It was too cold for us though!
The Pool
After we were ready to move on from the waterfalls, our guide took us to the calm pools down from the falls. The pools are calm and big enough to swim and it's so blue!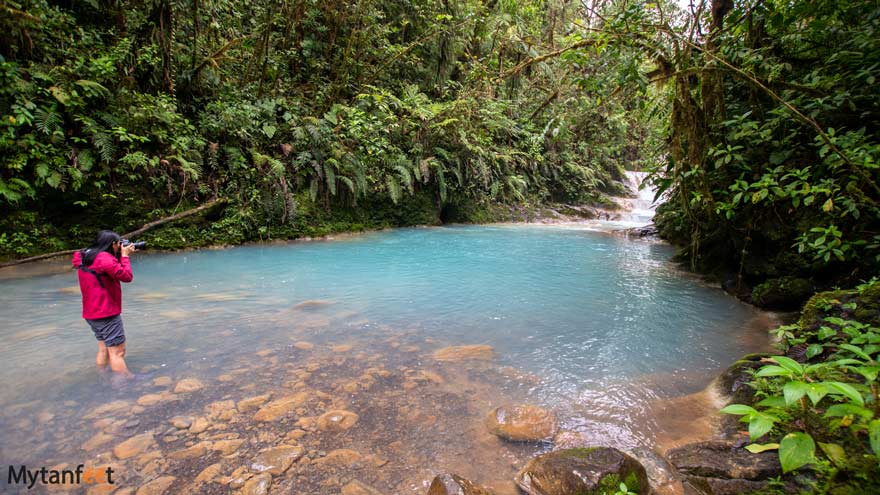 We spent a couple of hours at the waterfalls and pools and it was really difficult to leave a place so beautiful. And the most amazing thing is that we were the ONLY ones there the whole time! It wasn't until we got back to the parking lot when another couple started walking down.
This was partly because we visited end of June which is a low tourism month. If you visit during December – April, it will be very busy as this is a popular spot for city Costa Ricans, especially on the weekends. A few hundred people go at one time to the falls during that time of year. If you are planning to visit during those months and don't want to be around that many people, go on a weekday and very early in the morning, at 8 AM right when they open.
The Blue Falls of Costa Rica is now one of our favorite waterfalls in Costa Rica and it's an absolutely must see! You need to have a sense of adventure to visit however. It's not for those who pale at having to trek through the forest and getting muddy and wet but it is so worth it if you can handle it for a couple hours. We loved loved it!
Don't forget to visit Catarata del Toro, which is a gorgeous 270 foot waterfall in an extinct volcano crater. Same office where you park. If you visit both, the price is $25 USD per adult.
If you have more time in the area, we also highly recommend to check out other waterfall hikes in Bajos del Toro like Tesoro Escondido or Rio Agrio waterfall.
How to Visit
You can stop by on your way from San Jose – La Fortuna or San Jose – Sarapiqui or stay a couple nights in Bajos del Toro. We stayed a few nights at El Silencio Lodge and Spa, a luxury eco-resort only a ten minute drive away.
Read about other beautiful places in Costa Rica below!
Marino Ballena National Park in Uvita: Nice national park that protects beach and rainforest, great place to see humpback whales
Catarata Poza Azul in Sarapiqui: Small, local waterfall with a large green pool
Punta Uva: Gorgeous beach in Puerto Viejo
Cocolito waterfall: A waterfall that spills into the ocean in Tambor (Nicoya Peninsula)
Tortuga Island: Island in Gulf of Nicoya with white sand beach