If you're staying in Uvita, then you must visit Catarata Uvita (Uvita Waterfall). It's a small waterfall and swimming hole just outside town that has a natural waterfall slide. It's a ton of fun for the whole family and is a beautiful way to cool off in the humid rainforest.
Here is our guide to Catarata Uvita (Uvita Waterfall) to help you plan your visit.
How to Get to Uvita Waterfall
Catarata Uvita is just a 10 minute drive from Uvita town center and can be reached in any car. You do not need a 4×4 to get to Catarata Uvita. However, there are some things to know.
There are two entrances to the Uvita Waterfall which are privately owned by separate people. Both offer parking, bathrooms, a small cafeteria and their own access to the waterfall. The main difference is one of that one of the entrances has a small trail and butterfly garden and their parking is down the hill off the main road. This entrance costs 2000 CRC per person.
On Google Maps, both entrances are called "Catarata Uvita." The one that costs 2000 CRC is on Google Maps as "Catarata Uvita /." The other is on Google Maps as "Catarata Uvita."
The Catarata Uvita waterfall is open from 8 AM to 5 PM, open everyday.
Catarata Uvita / 2000 CRC Entrance
If you are driving, I prefer this entrance because their parking lot is down the hill so it's not right off the main road. Their parking lot is also bigger than the other one and their cafeteria has a bigger menu.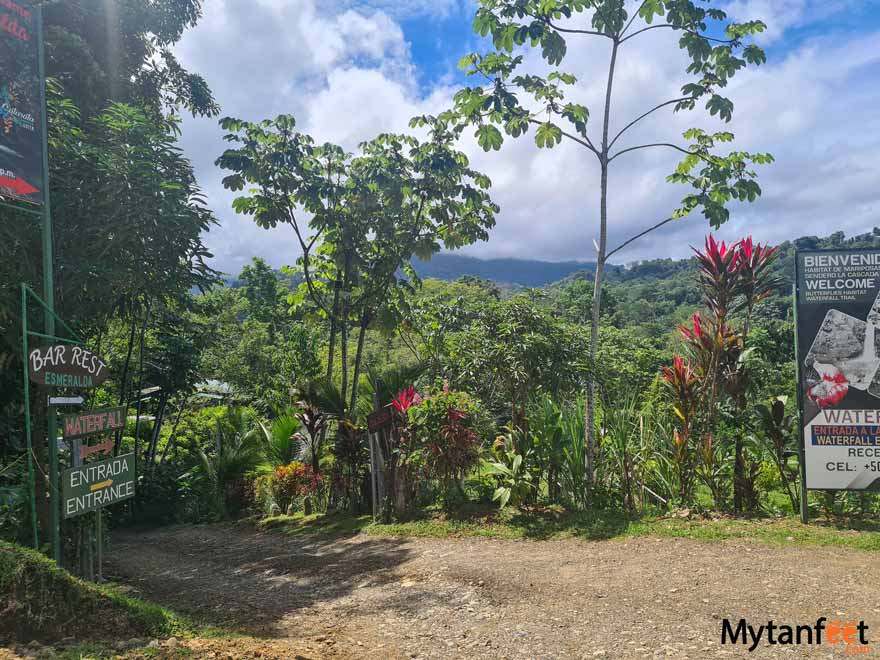 Catarata Uvita 1500 CRC Entrance
This entrance has a smaller parking area and it's right off the road. Their cafeteria is smaller.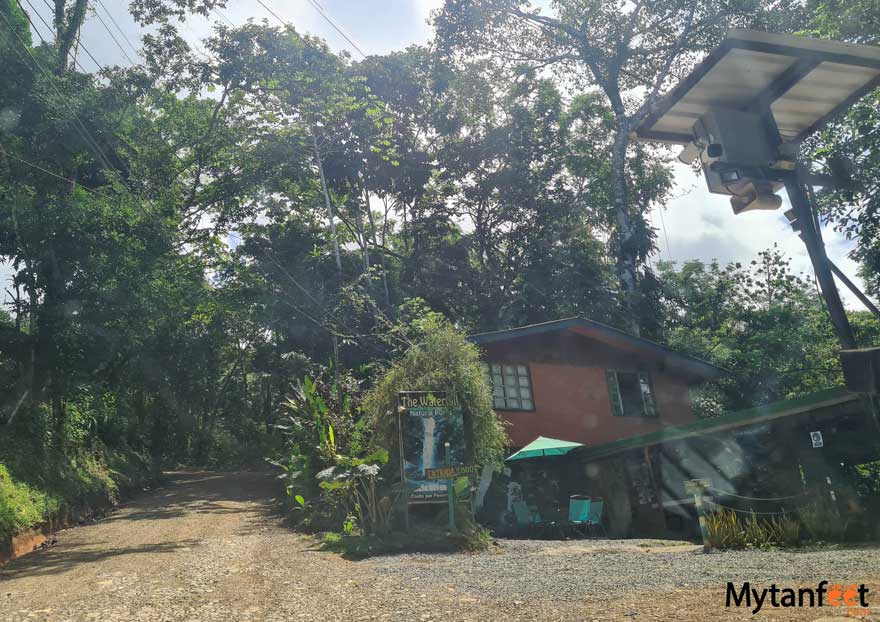 Honestly you could go to either one. If the parking lot is full at one of them, just go to the other, they both take you to the waterfall.
Catarata Uvita (Uvita Waterfall)
We went to Catarata Uvita via the 2000 CRC per person entrance (the one with the butterfly garden). This was our third time visiting the waterfall over the course of 10 years and it's changed a bit.
The trail still is kind of jungley but it's much better with a platform and more well defined trails. You'll reach the first swimming hole and then continue to walk through the river and over rocks to get to the actual Uvita Waterfall.
You can wear sandals though, it's not necessary to wear hiking shoes or boots.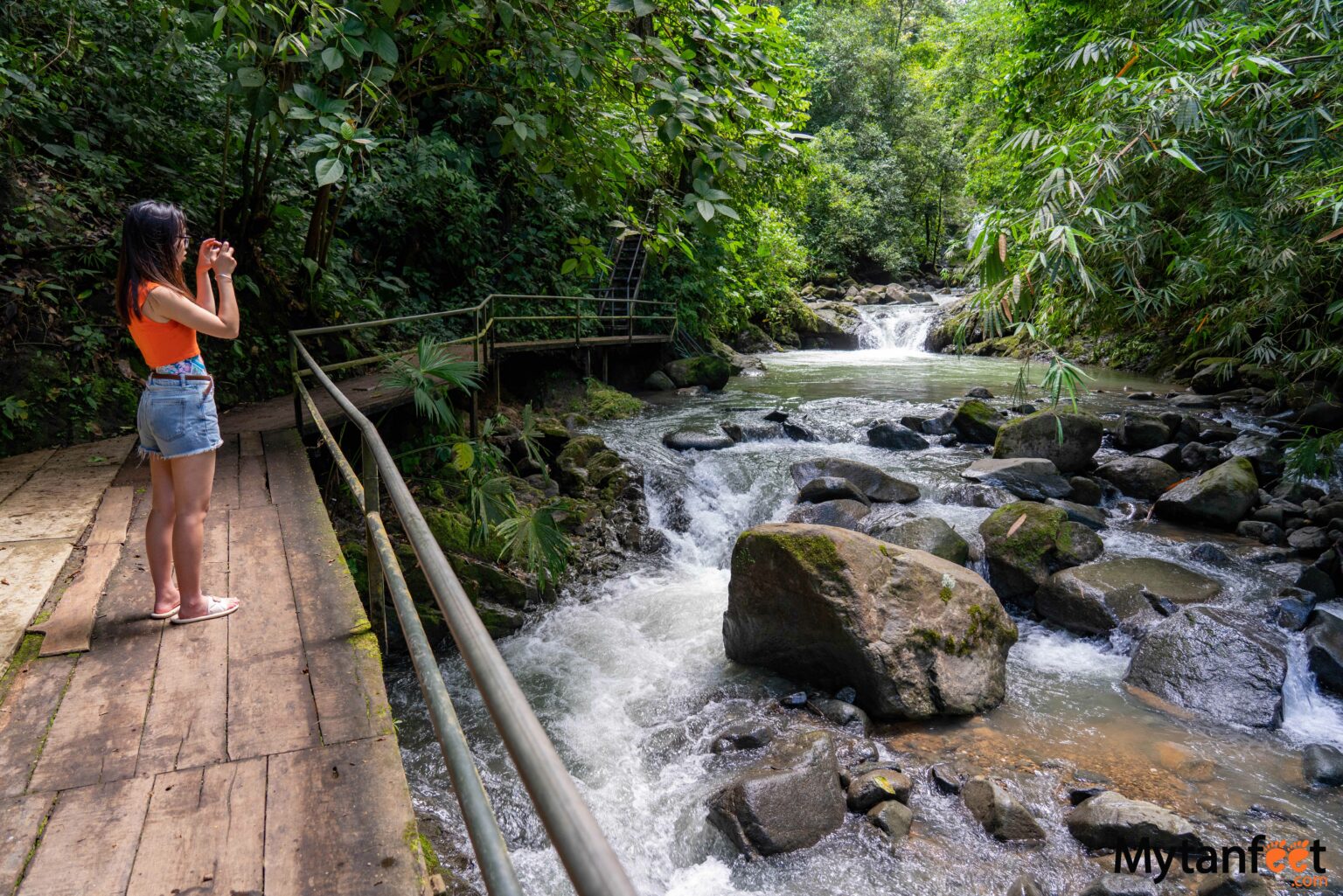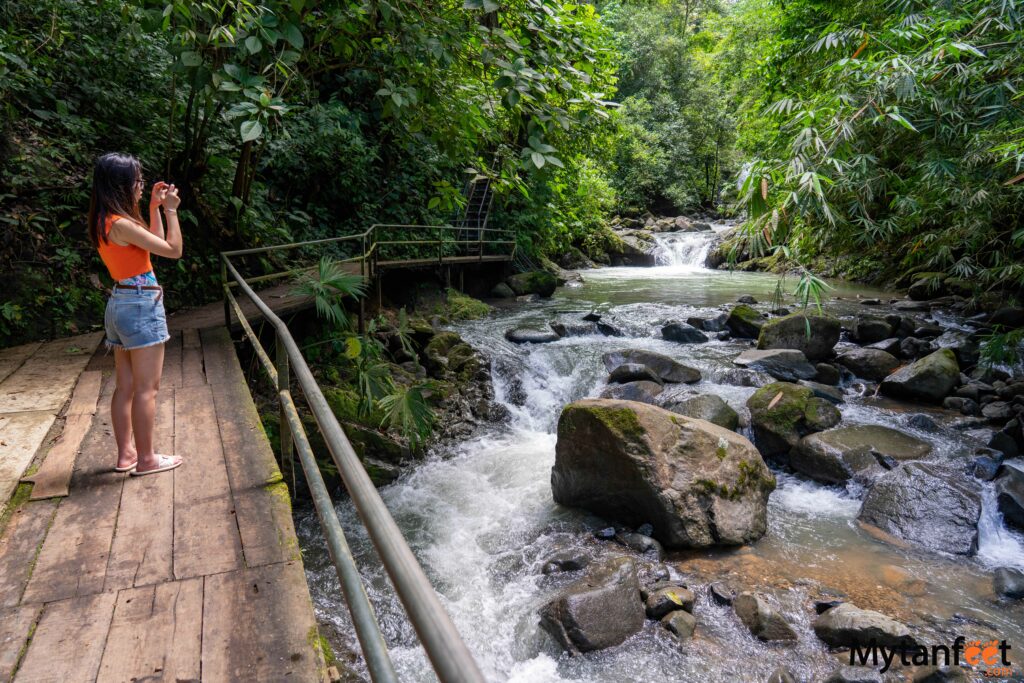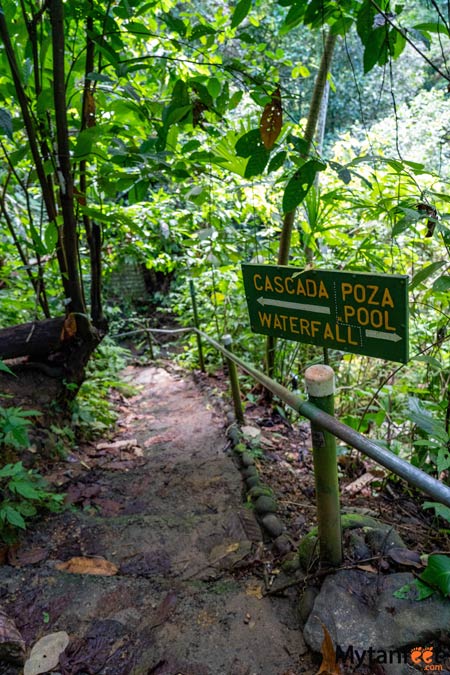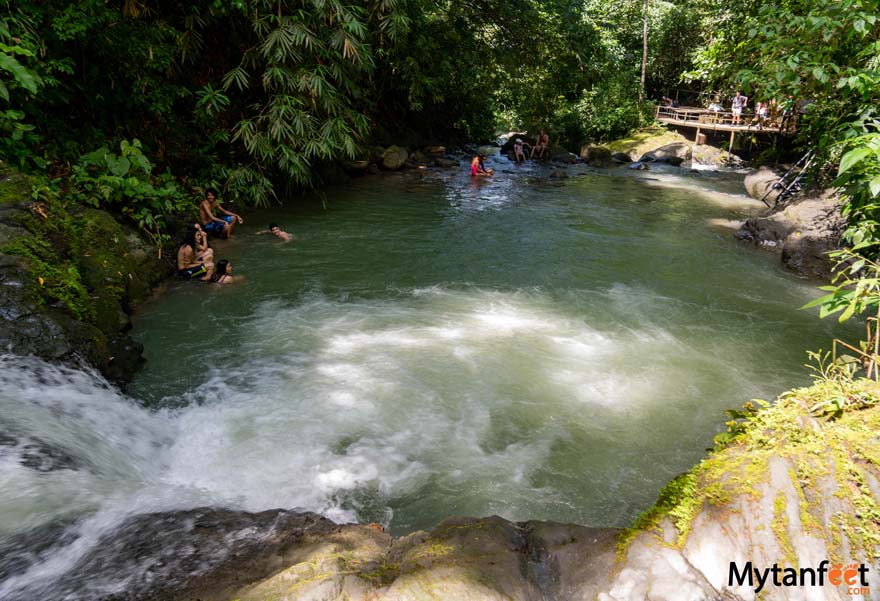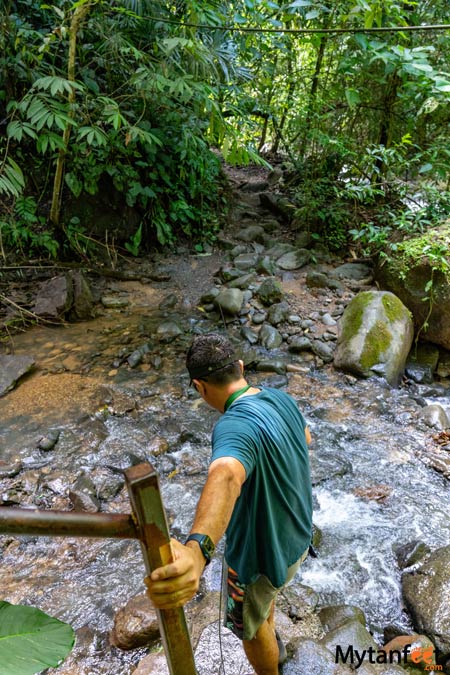 After a few minutes, you'll arrive at the pool of Uvita waterfall. You can see that the rocks where the water flows over has smoothed out turning it into a natural water slide.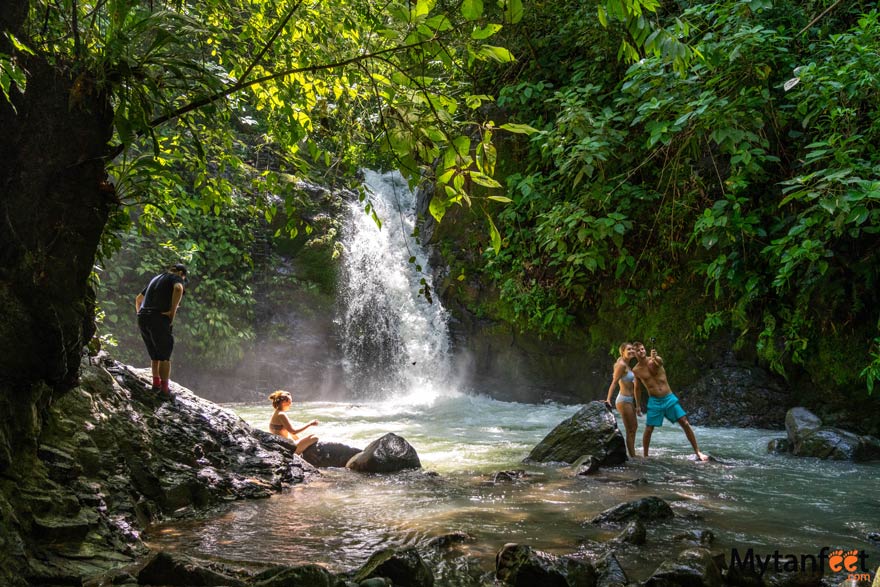 You can swim in the pool, stand under the water or slide down. The waterfall is not actually that tall so I don't really recommend jumping off the top since the pool isn't super deep but you can definitely slide down it. There is a ladder next to the waterfall that you can use to climb to the top.
Visiting Catarata Uvita
Uvita Waterfall is a wonderful little waterfall that's easily accessible, cheap and fun. On the weekends and holidays, it gets busy with a lot of people but go early morning on a weekday and you can enjoy the waterfall with just a few other people.
For other waterfalls in the area, you can also visit Casacada el Pavon in Ojochal, about a 20 minute drive away. This one is also small, it's free and has a cool rock on the top.
For a bigger waterfall, visit Nauyaca Waterfalls, outside Dominical, a 30 minute drive from Uvita. These are two huge waterfalls that are accessible via a 4 kilometer (2.5 miles) hike, 4×4 truck or horseback ride.
Check out other waterfalls in Costa Rica here!
12 wonderful waterfalls in Costa Rica