One of our favorite things about the Costa Ballena area are the many beautiful waterfalls. You can hike into the deep jungle to see impressive waterfalls like Nauyaca or walk a few steps to a small charming one. Waterfalls are wonderful way cool off from the intense humidity of the South Pacifi and make for a fun day trip.
If you're staying in Dominical or Uvita, there are numerous waterfalls that are easy to get to on your own including this one, the Uvita waterfall. It's not that tall or big, but it has something else that most waterfalls don't: a natural slide! The water has smoothed out the rocks to create a little pocket that people can perfectly lie down in.
This waterfall is super easy to get to, cheap and usually not too crowded so it's an excellent place to relax in the jungle!
Uvita Waterfall Directions and Map
You can easily drive to the waterfall and it is on Google Maps and Waze.
On Google Maps, the place is called "Catarata Uvita y Jardin de Mariposas." They have a parking lot, small cafeteria, butterfly garden and the trail down to the waterfall.
The Uvita waterfall entrance fee is 2000 colones or ~$4 USD, cash only. You will pay this to the lady at the restaurant. From the parking lot, there is a very short trail down to the waterfall that takes only 5 minutes.
Catarata Uvita
The trail isn't really much of a trail as it is walking on rocks through the jungle. It's super short but do be careful because the rocks can get a bit slippery.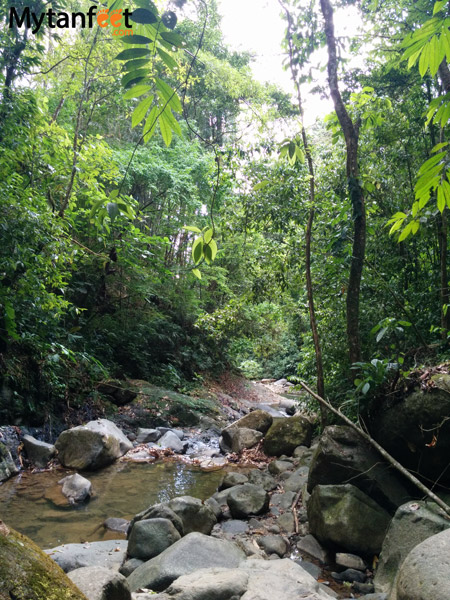 After a few minutes, you'll arrive at the pool of Uvita waterfall. You can see that the rocks where the water flows over has smoothed out turning it into a natural water slide.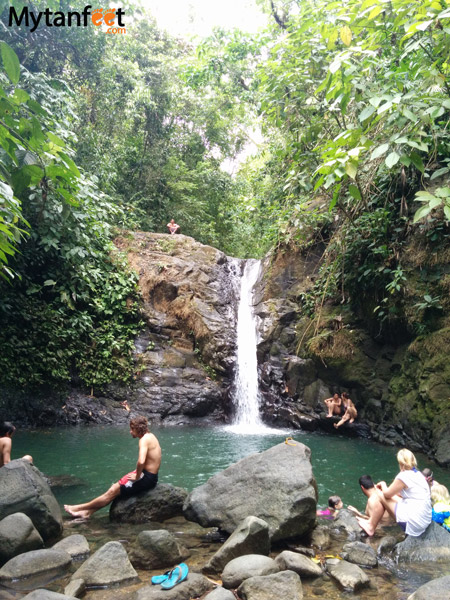 You can swim in the pool, stand under the water or slide down. The waterfall is not actually that tall so I don't really recommend jumping off the top since the pool isn't super deep but you can definitely slide down it. Be careful walking up to the top since it can be slippery.
Uvita Waterfall is a wonderful little waterfall that's easily accessible, cheap and fun. On the weekends it can get busy with a lot of locals but if you visit on a weekday morning in low season (September-November), you may very well have it all to yourself!
We also recommend getting some smoothies and sandwiches from the restaurant at the top after you're done with the waterfall. So good!
For other waterfalls in the area, you can also visit Casacada el Pavon in Ojochal, about a 20 minute drive away. This one is also small, it's free and has a cool rock on the top. There are also several waterfalls tours in the area in case you don't have a car.
Check out other waterfalls in Costa Rica here!
12 wonderful waterfalls in Costa Rica