If you're looking to experience Costa Rica to the fullest, particularly the nature and wildlife, then something you should strongly consider is guided tours. Even though you may think that you can spot the toucan or see the sloth on your own, Costa Rica (despite the marketing), is not a zoo and for someone who really wants to see tons of wildlife or learn about the flora and fauna, hiring a naturalist guide in Costa Rica is worth the extra bucks.
You have probably already been wondering and researching to see if you should take guided tours and this post will help you decide.
Booking Guided Tours in Costa Rica
There are a few things to know about booking guided tours.
All adventure activities have guides
These are activities like white water rafting, kayaking, ziplining, canyoning, horseback riding and ATV tours, activities that require trained guides with a specific skill set to operate. So whenever you sign up for any of them, they automatically have guides. (You don't know how to navigate a full raft through Class 3 rapids on your own right?)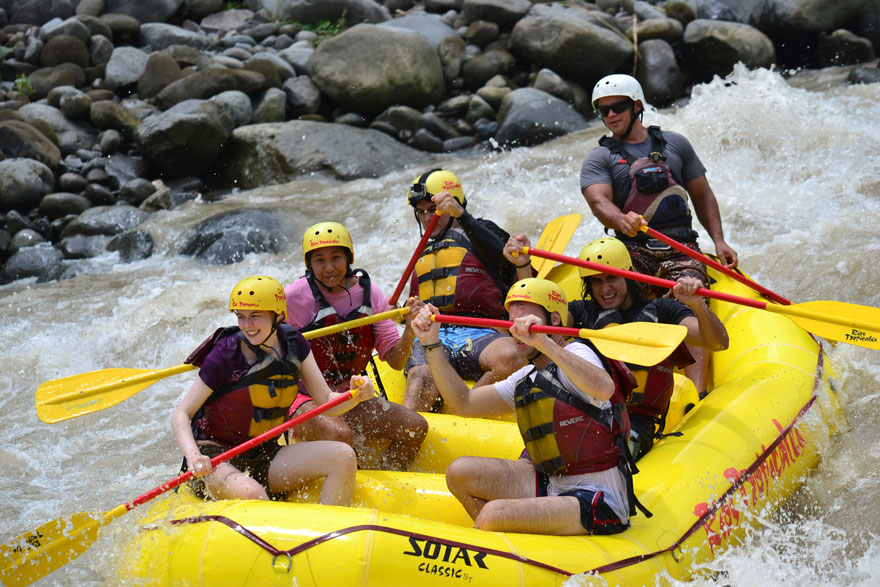 Tours such as river boat rides or safari floats automatically come with guides as well since they are usually in protected areas/national parks and only certified companies can operate there.
Activities such as national park/wildlife reserve hikes and hanging bridges do not require guides
Since these are more leisurely activities that don't require participants to have a specific skill set to do, visitors can do them with or without a guide. You can perfectly do hanging bridges and national parks walks on your own but these are also the activities that having a guide gives greater appreciation and a more fulfilling experience.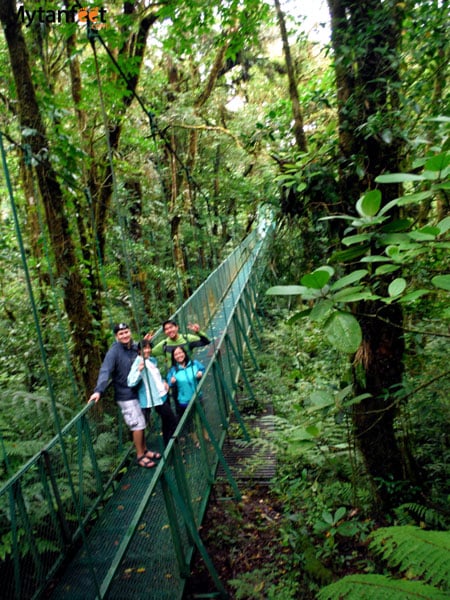 These are the activities you need to decide if you want to hire a guide or not. Although we personally recommend having a guide, sometimes it is not necessary which we'll talk about in a second.
Booking Guided Tours are Expensive Since They Include More Than the Guide

Let's say you want to visit the Mistico Arenal Hanging Bridges Park. You rented a car so you don't need transportation. The entrance fee to the hanging bridges is $26 for adults and $38 with an on-site naturalist guide. It's a tad bit more expensive but not too much. But if you book the hanging bridges with a tour company, it is around $70 per person and this includes round trip transportation, a guide, water and the entrance fee.
Another example is Rio Celeste in Tenorio Volcano National Park. If you have your own car, the entrance fee is $12 per adult and then you'll need to pay for food and gas. If you book a tour, it's around $150 per person which includes round trip transportation, lunch and the guide. So this information will also help you decide if you should rent a car or not.
Should I Hire a Guide in Costa Rica?
This depends on a few things. Do you want to learn more about the history and hear interesting facts about a place? Or are you OK with simply visiting without getting too much into it? Do you want to see wildlife? The answers to those questions will determine if you should hire a guide. It also matters the type of trip you want.
If you want:
To stay in an all-inclusive resort to relax, drink and enjoy
To visit the sites but aren't that keen about spotting wildlife or getting deeper knowledge
More freedom and independence for your trip
Then hiring a guide isn't necessary and you can still have an incredible time in Costa Rica without one.
But if you want to know more about the history or culture of a place, to see wildlife or just to learn more about Costa Rica, hiring a guide is the way to go.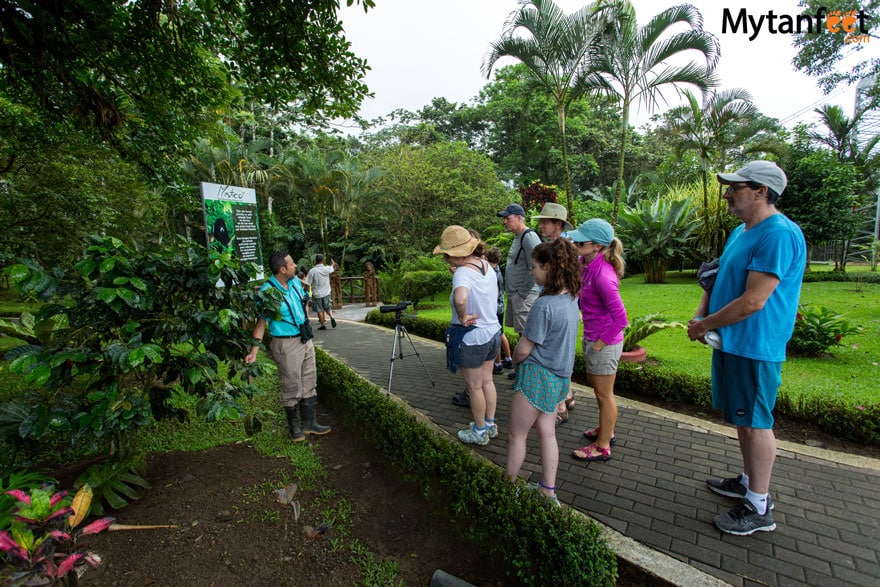 Who Should Hire a Guide?
There are some instances where you should hire a guide.
If you are a bird watcher
Bird watchers who are intent on seeing a specific bird need to hire a guide and there are some who are experts on birds. They have trained eyes, know the calls, know where the bird lives and best time of day to see them so that you have the highest chance of seeing that bird.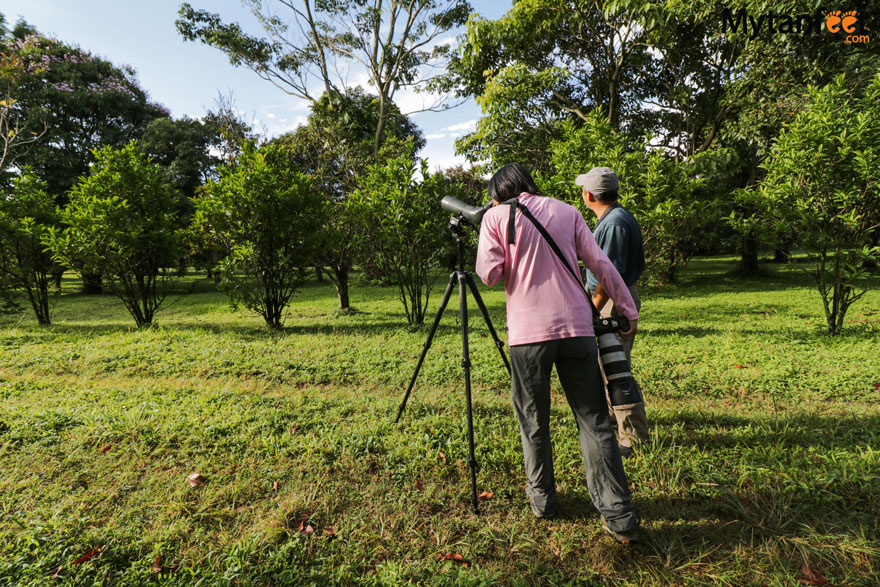 One example is the Resplendant Quetzal, a splendid bird on the bucket list of every bird watcher. They can be extremely hard to see as they are small, blend in well and only live in certain areas of Costa Rica. When we visited Monteverde in March, we would have never seen them at Curi-Cancha Reserve if not for our guides who pointed out 5 Quetzals to us!
If you are hiking Corcovado National Park
If you want to do the long hike from Leona to Sirena, you have to go with a guide (some unfortunate accidents have happened to those without one). If you want to visit El Tigre, San Pedrillo or Sirena station, you also have to go with a guide. The last two are boat access only and all visitors require a permit to go in the park.
We did a guided hike at Leona station which was incredible. Our guide pointed out so many insects and plants I never even heard of!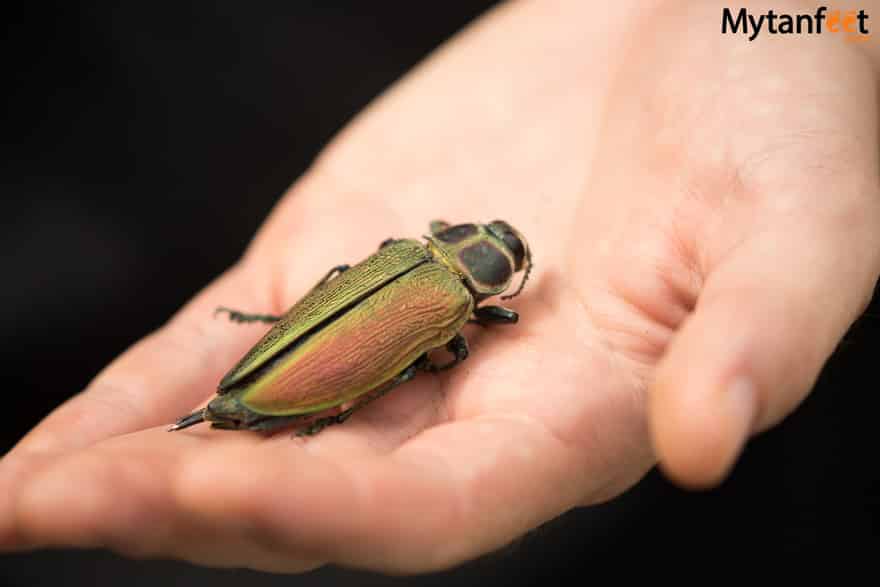 This is one of the best hikes in Costa Rica and we highly recommend it, but do make preparations in advance to get permits and guides in plenty of time.
If you're a wildlife photographer and not familiar with Costa Rica
Photographers who have been a few times to Costa Rica and are knowledgeable in the animal they want to photograph may not necessarily need one but if you're a first timer, a guide is necessary. Many guides in Costa Rica are also photography enthusiasts so they can help you find the best/most comfortable location for shooting. Additionally, guides can take you to off the beaten path locations that most people don't go to so you're not surrounded by dozens of other people and you can focus solely on photographing.
For example, I had a friend who was intent on photographing frogs in Manuel Antonio. There was no way he could have found all those frogs on his own so he hired a guide who recognized the calls of frogs and knew which kind of trees to look for. He took him to his own private property away from the extremely crowded national park and my friend was able to photograph some beautiful and unique frogs.
You want to do a night walk
Want to experience the jungle at night? You have to go on a guided night walk then. Guides know the trails, know what animals to look for and makes sure everyone is safe. Tourists aren't familiar with the trails and can easily get lost, plus it's scary to be in the jungle at night! The forest changes completely at night and the experience is incredible but trust me, don't wander in the forest by yourself!
You want to see wildlife and are visiting during rainy season
Most people don't have trained eyes to see animals in the day, let alone when it's pouring rain so by hiring an experienced guide, they can help you spot animals with their telescope.
Hiring a Guide in Costa Rica
How Much is a Guide?
Even though most tours come with a guide like I mentioned earlier, you can also hire a guide if you already rented a car. For example, you can go to the Carara National Park on your own and hire a guide at the ranger office there. Prices vary but it is around $50 for 2 people for 2 hours. Make sure to ask the guide beforehand and decide on a price.
How to Find a Reputable Guide
First, make sure they are ICT certified (Instituto Costarricense de Turismo). That means they have done the training, the courses and passed the test to be a certified guide. Unfortunately due to Costa Rica's high eco-tourism popularity, there are many people who pretend to be guides and will charge people a lot of money. This is especially present in Manuel Antonio and La Fortuna. Certified guides should have proof with them.
Second, book through your hotel or tour company. It is not advised to pick one off the street since those are more likely to be illegal tour guides without proper insurance or licenses. Majority of certified guides are hired as freelancers from a company or work for a tour company Research the tour company to see how their reputation is as well.
Our Personal Experience and Opinion on Hiring a Guide in Costa Rica
We've had great experiences with booking guided tours in Costa Rica. There have been only a couple instances where we were a bit disappointed and these were with bird watching tours since this is a very particular activity that not every guide is good at. If you're an avid bird watcher, I do recommend looking for specific birding guides.
Even though Yeison is a Costa Rican and I am very knowledgeable on Costa Rica, we still like hiring local guides. One of our favorite activities we've done with a local guide is the Guayabo National Monument in Turrialba. Our guide shared so much information about this important historical site that we never would have known since there aren't any informational signs or brochures.
We have done self guided hanging bridges and guided hanging bridges and both were great. We did see more wildlife with the guide but when we did it ourselves, we had more time to enjoy the views and scenery since we weren't on a schedule.
We know not everyone is interested in hiring local guides which is totally fine. You can still have an amazing time in Costa Rica without one! And we personally love and prefer the freedom and independence on hikes like hanging bridges and national parks. On the other hand, you learn and see so much more with a guide. So you need to weigh your options, your budget and time to see if it's worth hiring a guide in Costa Rica for the activities you want to do.
I would love to hear about your experiences with guided tours in Costa Rica if you've done any. Leave your thoughts in the comments below!
Read other Costa Rica travel tips below!