Ever since moving to Costa Rica in 2012, I've heard my fair share of wrong facts, impressions and ideas of Costa Rica. As an advocate for responsible travel, I always recommend researching at least the basics about the country you're going to visit so you aren't that tourist.
So before you come, make sure you read up on these common misconceptions about Costa Rica!
Common Misconceptions about Costa Rica
These are a collection of misunderstood thoughts about Costa Rica we have heard.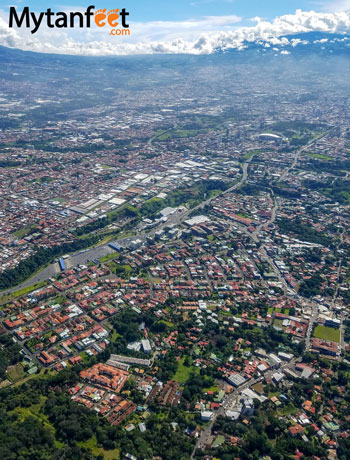 Costa Rica is an island
This is the biggest common misconception about Costa Rica. So many people confuse Costa Rica for Puerto Rico and think it's an island!
I've even had many people ask me "How is Costo Rico" or "how island life is."
So just to make it clear, Costa Rica is not an island, it's a small country in Central America. Nicaragua neighbors the country to the north, Panama neighbors the country to the South.
Costa Rica is part of the USA
Nope to this one too.
Since many people mix up Costa Rica with Puerto Rico, they think Costa Rica is a US territory or owned by the US. Costa Rica is not owned by the US, they are their own independent country.
They were under Spain's rule many years ago but gained their independence on September 15, 1821. Costa Rica is a free, democratic independent republic.
Costa Rica is cheap
This is one of the most common misconceptions about Costa Rica. People think that since Costa Rica is in Central America or think that Costa Rica is a third world country, that it is cheap. Unfortunately it is not so. Taxes, insurance, gas and other things are expensive in Costa Rica which drives up the cost of food, hotels, transportation and tours.
You can still travel on a budget in Costa Rica (read our tips in the article) but be conscious of where you go, where you eat and what you do. Read how much it costs to travel in Costa Rica in this article.
You will get malaria in Costa Rica
Actually, the worst disease from mosquitoes you can get in Costa Rica is dengue. Costa Rica has done a great job with malaria as there were only 67 cases in 2019. There were 8179 cases of dengue in 2019.
Costa Rica has a lot of shark attacks
Shark attacks are not common in Costa Rica like they are in Hawaii or Florida. It is extremely rare to hear of a shark attack here. In fact, it's actually more normal for us to hear about crocodile attacks (not that common but happens more than sharks).
You can't eat the raw vegetables or fruit in Costa Rica
I was told to not eat any raw veggies or fruit the first time I came to Costa Rica because it all has E.Coli. But you can in fact, eat the fresh produce. Restaurants and supermarkets have fairly high standards and if you buy your own food, always make sure to wash them.
You can also drink the orange juice at restaurants here. Most of it comes from the supermarket anyways!
Do be careful if you have food allergies though. It is best to either write down how to stay what you're allergic to in Spanish and choose restaurants in more touristic areas with staff that speak English if you have severe food allergies.
You can't drink the water in Costa Rica
Actually, Costa Rica has fairly high standards for water and most places have drinkable tap water. The cities like San Jose, particularly has good tap water.
However, there are some places in Costa Rica where you shouldn't drink the tap water and that's in more the more remote areas like Osa Peninsula, Tortuguero, Nicoya Peninsula, etc. You can read more about drinking tap water in Costa Rica in this article.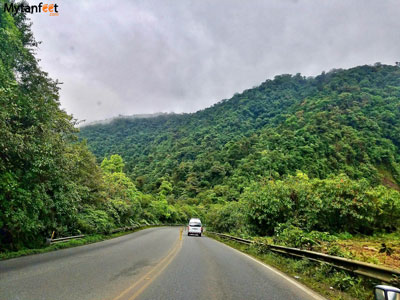 Costa Rica doesn't have paved roads
There is a hint of truth to this statement. Costa Rica does have paved roads including highways. In fact, the InterAmericana highway by Liberia is very nice (it even has 3 lanes!)
But many of the smaller roads through local towns or undeveloped areas are unpaved as they are more rural and remote. So make sure to check your destinations because you may need a high clearance car or a 4wd. Some places are Monteverde, Osa Peninsula and the Nicoya Peninsula.
It's never cold in Costa Rica
There are actually 26 micro-climates in Costa Rica and it is a very mountainous country. Due to all the valleys, some places can be more than 1500 meters (5000 feet) in elevation and though it doesn't get cold, it can get chilly.
Monteverde, San Jose, San Isidro de Perez Zeledon, Vara Blanca and San Vito are some places that are high in elevation. The average temperature is around high 70s F (25 C) and goes down to low 60s F (15 C) during dry season. In rainy season, it can get even colder if its raining so make sure to bring a jacket since it's also usually very windy.
You can read more about Costa Rica weather in this post. Also read our Costa Rica packing list so you come prepared!
Mexican and Costa Rican culture are the same
A lot of visitors think Mexican and Costa Rican cultures are the same which is absolutely not true. The two countries actually don't have that many similarities.
Mexican Spanish and Costa Rican Spanish are completely different (they don't say "andale" in Costa Rica) and the food is different. Let me tell you that Mexican tacos are nothing like Costa Rican tacos!
All Costa Ricans are farmers
Although 10% of the country's land is devoted to agriculture and farming, not all Costa Ricans are farmers. In fact, the biggest GDP factor of the country is technology services (around 75%). Agriculture is only 5.5% now. Tourism is also a big part of their economy, representing about 8%.
Many Costa Ricans in San Jose work in services because many big companies like Amazon, Dell and HP have customer service headquarters there. City Costa Ricans generally speak a high degree of English (the literary rate is nearly 98%). Furthermore, gambling is legal in Costa Rica so there are a lot of sportsbooks here.
All Costa Ricans speak English
On the other hand, many people assume all Costa Ricans speak English. If you go to touristic places, many Costa Ricans do speak good English because they work in tourism and customer service. But not all of them do!
Remember, Spanish is the official language of Costa Rica. (Learn basic Spanish in our guide here).
Costa Rica is a dangerous country
Although crime does happen here, Costa Rica is a relatively safe country. The biggest crime is petty theft and it is very difficult to get a gun in Costa Rica. Their government is stable and they haven't had an army since 1954. In fact, it is one of 23 countries in the world that do not have an active army. Instead, they spend their money on healthcare and education.
Costa Rica is a popular family and solo traveler destination due to its reputation as one of the safest countries in Latin America.
Costa Rica doesn't have "first world amenities"
Actually, Costa Rica does. Costa Rica does indeed have malls, electricity, Wi-Fi, highways, movie theaters, cars, iPhones and all the like. They even have Uber and Uber Eats in San Jose.
You can have a little bit of everything in Costa Rica. In San Jose, you have all the city amenities and services and once you get out of the city, you can find completely undeveloped and rural places like Osa Peninsula or Tortuguero.
Most Information about Costa Rica
It's important to be at least a bit educated on the countries we visit so we don't go there with only the stereotype in our head. And that's one of the best things about travel – you learn so much about other cultures and the world!
Learn some facts about Costa Rica or read our Costa Rica survival guide for more tips.