One of the best places for an Arenal Volcano hike is the Arenal 1968 private reserve. It's right next to the national park, offering impressive views of Arenal Volcano and lava fields.
Use this guide to plan your visit to the Arenal 1968 park to hike Arenal Volcano. In case you would like to do this as a tour with transportation and guide, you can book and get our La Fortuna tours discount here!
Arenal 1968 Park
This park got its name from the Arenal Volcano eruption of 1968 which was one of the most important and crucial events in Costa Rica's history. The eruption destroyed 3 towns and killed several people, but it also changed the topography of the area. The forest on the west side of the volcano was gone as lava took over.
The reserve is one of the best places in the area to observe and witness these lava fields. With two trails going through the rain forest and lava fields, visitors can see the leftover lava rocks and boulders and walk through the forest to get impressive views of Arenal Volcano and Lake Arenal.
Arenal 1968 Entrance Fee and Hours
The Arenal 1968 entrance fee is $25 USD for adults, children under 12 are free. This reserve is open every day from 8 AM – 5 PM. Last entrance is at 4 PM.
Arenal 1968 Hiking Trail Map
Here is the map of the hiking trails in the reserve.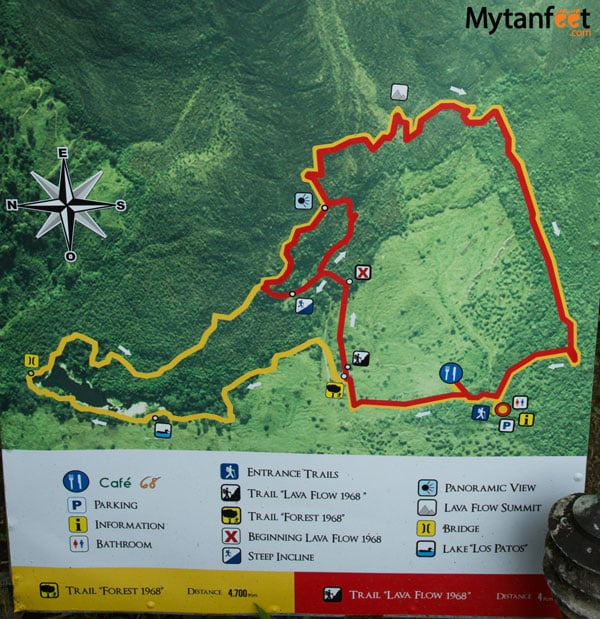 The two trails, Lava flow 1968 and Trail Forest 1968 can both be done in one day. Combined, they are a distance of 7 kilometers. If you want to do both, go early in the morning so you will have plenty of time to enjoy the day as it gets dark by 6 PM everyday in Costa Rica.
In rainy season, there is a high possibility it will rain in the afternoon.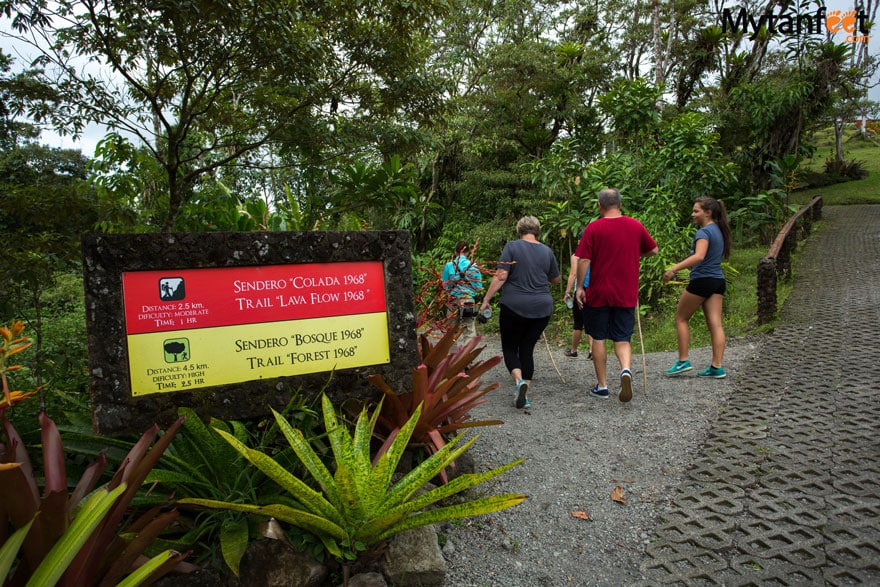 The trail tour companies will take you to is the Sendero Colada 1968 or the Trail Lava Flow 1968. The other one, Trail Forest 1968 goes around to the Lake "Los Patos" and through the rain forest. It is a little bit more challenging so I recommend it for those in better physical condition.
We recommend to hike the Lava Flow 1968 Trail only. If you really love hiking, you can go on the Los Patos trail but the Lava Flow is enough to get a good sweat and to see the volcano.
Arenal Volcano Hike: Lava Flow 1968 Trail (2.5 kilometers)
The lava flow 1968 trail is extremely interesting for visitors since it's not often they get to hike through lava! The walk starts off fairly easy, going past open fields but once you enter the rain forest, you will start seeing the trail getting steeper and steeper.
Tip: If you have trouble walking or aren't in the best physical condition, there are walking sticks at the entrance by the sign free of use. Just make sure to return it so others can use them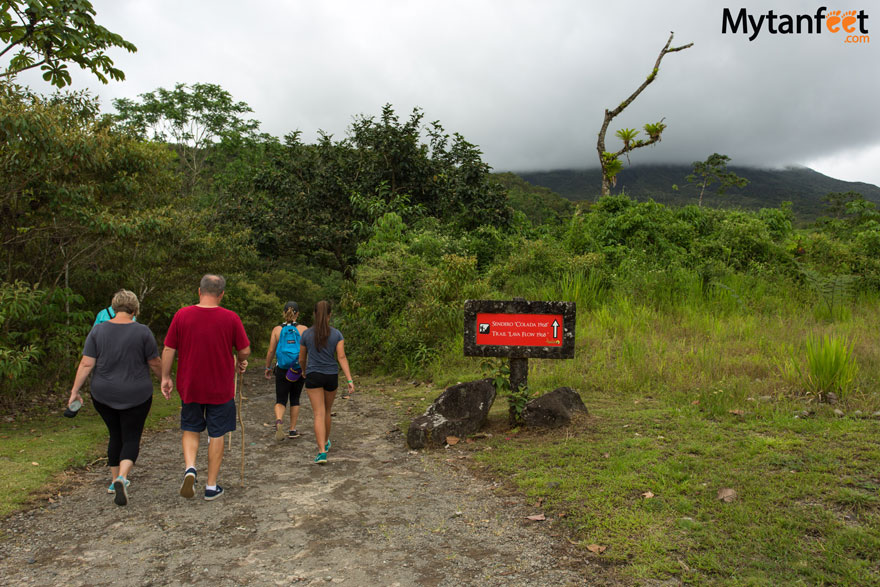 You'll see large lava rocks along the path and then you will start walking through a large lava field. This part of the hike gets fairly steep so make sure you have water and go slow because you will get sweaty, especially on a hot day!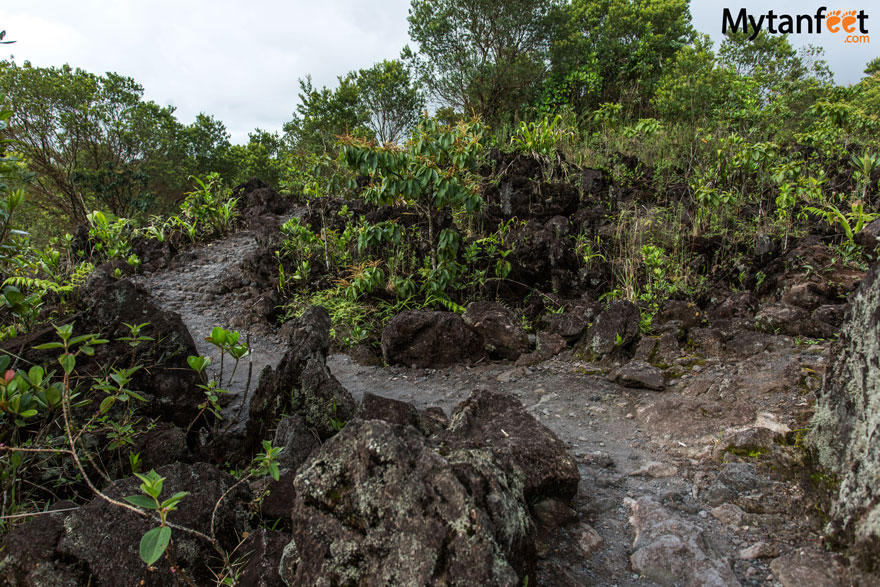 There is a nice viewpoint along the way of Lake Arenal but head all the way to the top for the best view point of both Arenal Volcano and the lake.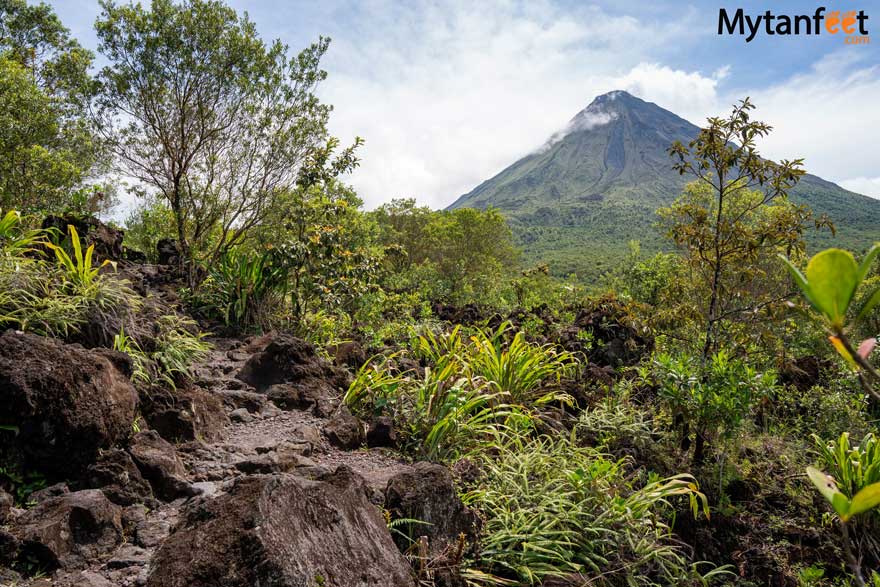 If you're lucky, the volcano won't be covered by clouds and you'll have one of the best views of Arenal Volcano in the entire area!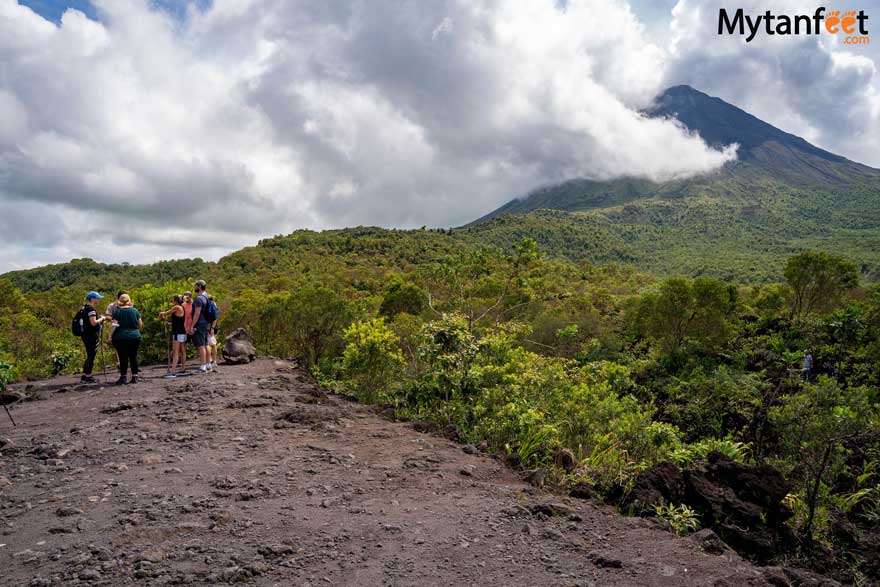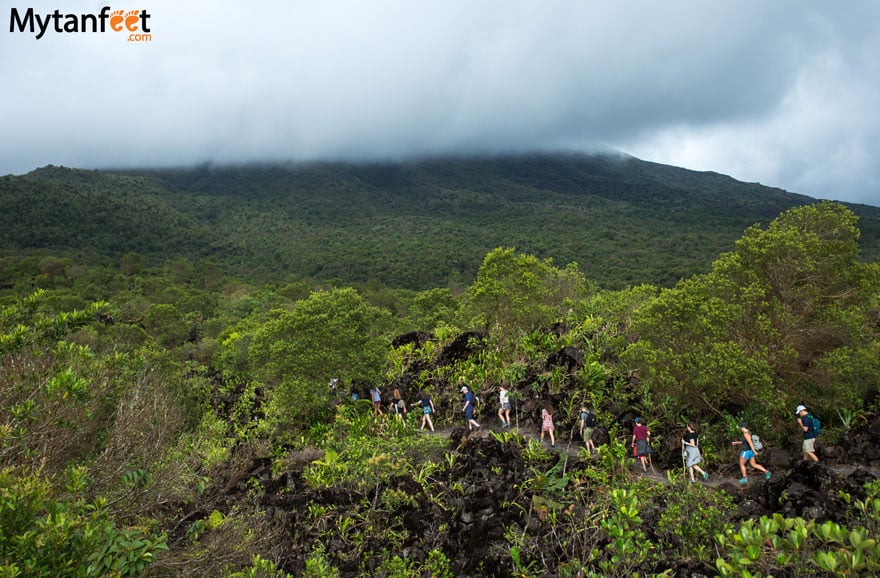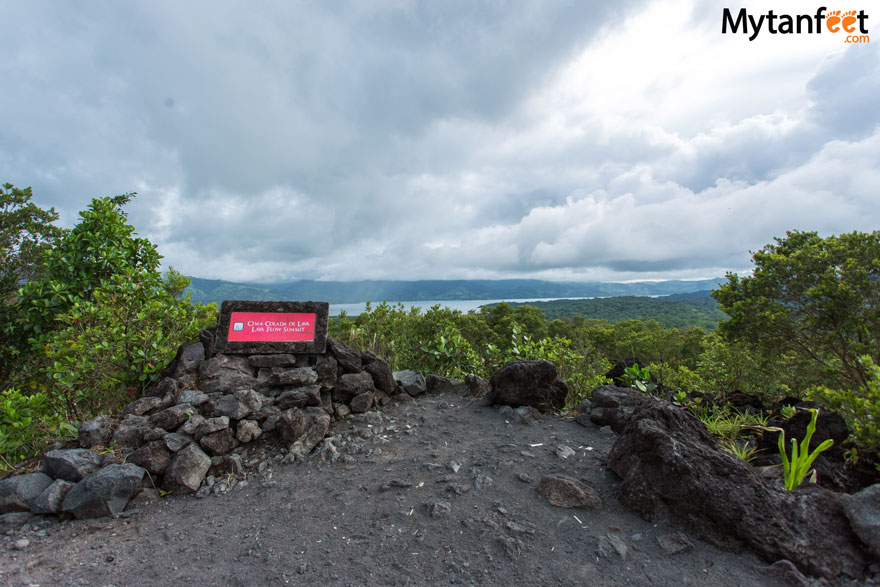 Hike Going Back
The hike back is a lot easier as you're going down. Just make sure to watch where you are walking because there are a lot of loose rocks!
Towards the end of the hike, you'll start walking through extremely tall grass, making you feel like you're in Honey I Shrunk the Kids! I love this part of the hike since it's amazing how tall grass can grow. It's at least 10 feet high!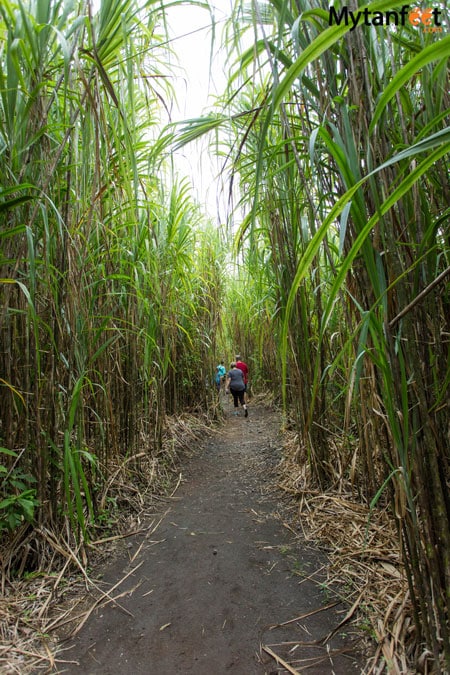 One funny thing about this particular Arenal Volcano hike is that you'll come upon an open field where you'll see what looks like a large weird white rock covered in dirt. It's actually one of the props left behind when they filmed the movie After Earth with Will Smith!
Arenal Volcano Hike and Tabacon Hot Springs Video
We did the Arenal 1968 hike as part of a tour combo with the Tabacon hot springs. Highly recommended for a way to experience 2 highlights of the Arenal area.
How to get to Arenal 1968 from La Fortuna
There is no public bus to the reserve. You can get there by taxi or drive if you rented a car.
It is about $10-15 USD one way by taxi (also check Uber as there are a few Ubers in La Fortuna).
By car, it is about a 15 minute drive from La Fortuna downtown. You do not need a 4×4 to the Arenal Volcano park. They have a large parking lot.
You can find Arenal 1968 private reserve on Google Maps and Waze.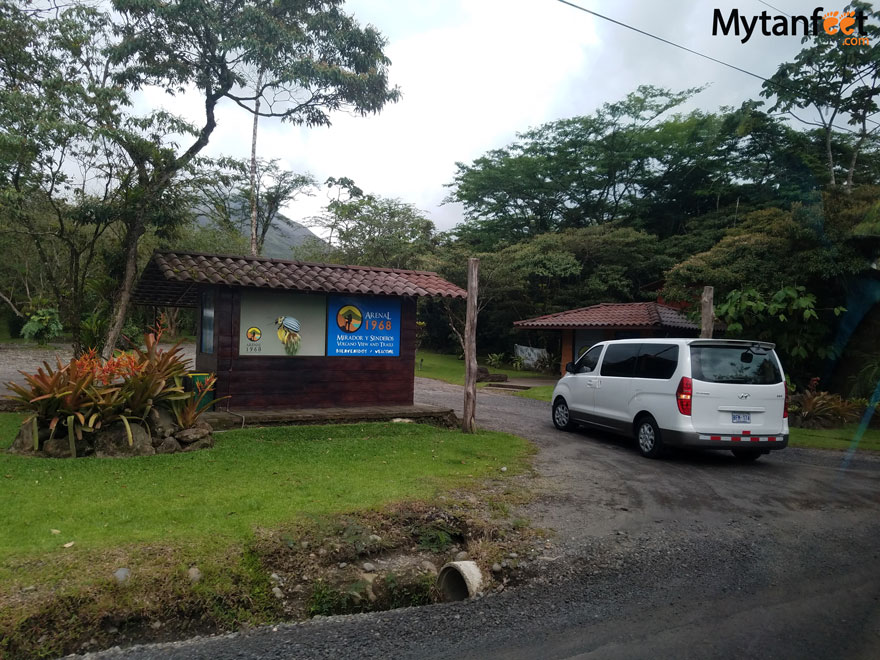 If you do want to get there by bus, you must take the bus from downtown La Fortuna to Tilaran and ask the driver to drop you off at the crossing to the Arenal Volcano National Park. Get off and walk 2 kilometers (1.24 miles) to the private reserve. We do not recommend this option because you have to walk and then you need to wait for a bus going back to La Fortuna and there are only a couple of those buses a day. If you don't have a car, grab a taxi/Uber or book a tour with transportation included.
Visiting Arenal 1968 Without a Guide
We have always gone with a guide to Arenal 1968 for a couple of reasons. We appreciated having a knowledgeable guide so that we learned more about the volcano and forest and point out wildlife.
It is also very nice to have transportation included in the tour.
But that being said, you can also perfectly visit Arenal 1968 without a guide and you will be able to hike both trails on your own time, not on a schedule.
Just please make sure when you are hiking, do NOT stray off the path. Do NOT touch any trees or plants with your bare hands as there are snakes. And don't feed the wildlife.
Arenal 1968 vs Arenal Volcano National Park vs Arenal Observatory Lodge
All are great trails so whichever one you choose, it will be a wonderful experience and the views are excellent!
However, the Arenal 1968 private reserve has one advantage over the nationa park in that it is open everyday until 6 PM. The national park is open only until 4 PM and must enter before 230 PM.
Then the Arenal Observatory Lodge also has hiking trails and is open to the public. The Arenal Observatory Lodge day pass costs around $12 USD per person. With the entrance pass, visitors have access to the hiking trails, museum, hanging bridge, waterfall, visitor center and observation tower.
Arenal Observatory Lodge also offers a day pass where visitors can visit the pool and jacuzzi and lunch is included. Their day pass costs $32 USD per person. 7 AM to 9 PM for both passes.
What to Wear/Bring
Closed toed shoes, a rain jacket: a waterproof backpack or a rain cover, especially if you are bringing camera equipment, camera, long pants, hat, scunscreen and sunglasses.
Arenal Tours Deal
If you want to do this hike, we have a discount for this tour and others in La Fortuna! Get your La Fortuna tours discount here.
If you're in San Jose, we have a tour partner that visits Arenal 1968 as part of their Arenal Volcano one day tour from San Jose.
You can also read about other things to do in La Fortuna and Arenal below!
Arenal combination tour (hanging bridges, La Fortuna waterfall, lunch, volcano hike and hot springs)
There are Amazon affiliate links in this post.